Copycat Celebration Cider from Snooze
(This post may contain affiliate links. Read my full disclosure.)
I am a big fan of brunch. And breakfast. Okay…so I'm a big fan of eating; I'm not afraid to admit that. I recently had the chance to check out Snooze A.M. Eatery in San Antonio and I skipped my usual brunch sip (I always have a hard time deciding between a Mimosa and a Bloody Mary) and sampled the Celebration Cider on Snooze's Holiday Menu. If you're looking for a good spice cider, I've found it for you.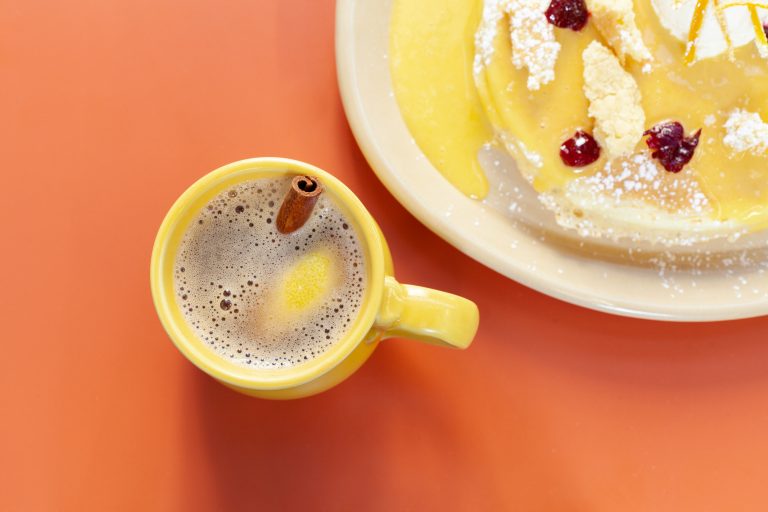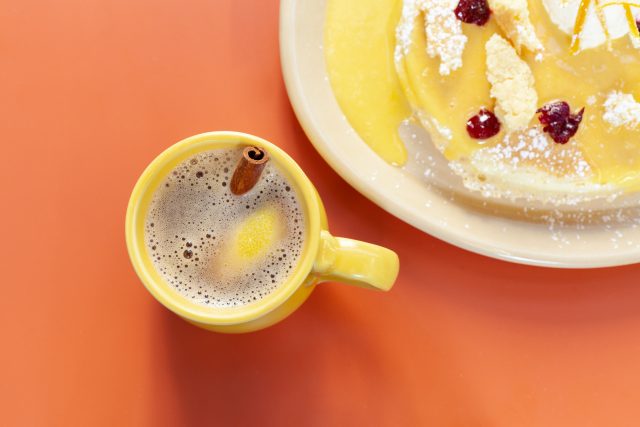 My husband and I were hosted by Snooze for brunch and we're sharing the Celebration Cider with permission.
Copycat Celebration Cider from Snooze A.M. Eatery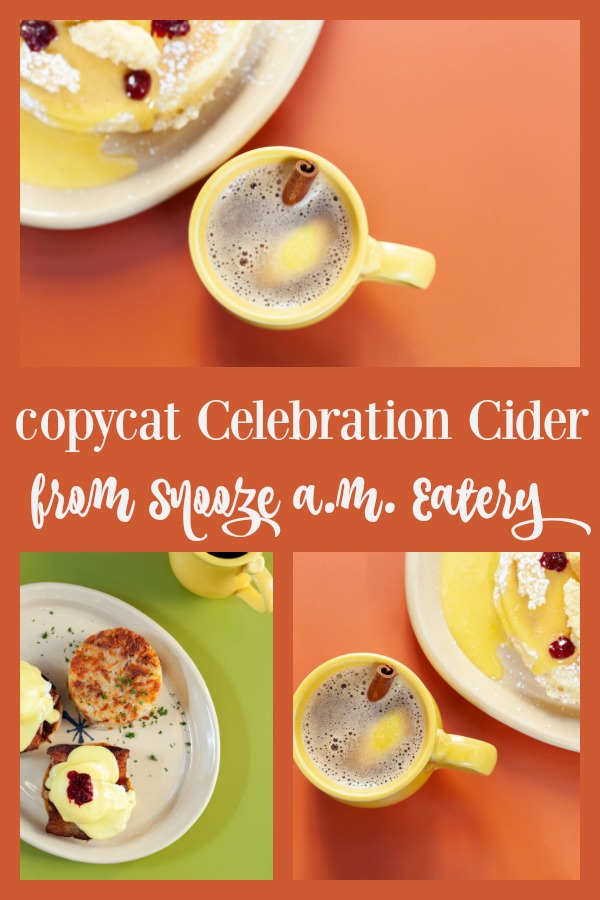 But I'm not really a cider person…
I'm just not. My husband makes apple cider (not the spiked apple cider) at Christmas and I almost never drink it. When we went to Snooze to sample their seasonal menu, I was really tempted by the robust selection of Mimosas and Bloody Marys on their menu…it's probably the most extensive brunch cocktail menu I've ever seen so if brunch sips are your thing, you need to go check out Snooze. Since the seasonal menu featured two cocktails, I wanted to make sure I tried one while I had the chance, so I went with the Celebration Cider, even though I'm not a cider person. But, for spiked cider, I figured I could make an exception.
The other seasonal cocktail offered is a spiked hot chocolate and the presentation is gorgeous. It's made with the unlikely combination of peppermint and tequila. My husband enjoyed it but I am not a tequila person more than I'm not a cider person. And yes, there's a story behind me not being a tequila person but I think I'll save that one for another time.
We are a participant in the Amazon Services LLC Associates Program, an affiliate advertising program designed to provide a means for us to earn fees by linking to Amazon.com and affiliated sites.
But maybe now I am a cider person…
The Celebration Cider at Snooze A.M. eatery was very much to my liking. The boozieness and the lemon added a little something extra to the cider and I'm so excited to share the recipe with you. See also, I'm excited to make this at home this holiday season. I didn't think I'd be this enthusiastic about spiked cider but here we are.
Copycat Celebration Cider
Celebration Cider is a seasonal cocktail at Snooze A.M. Eatery, one of my new favorite brunch places. I'm excited to share this copycat recipe with you.
1 oz White Rum
1/2 oz Aperol
6 oz Steamed Mulled Cider
Mix liquors and cider together. Garnish with lemon and a cinnamon stick.
Related: Where to eat breakfast in Tempe AZ
Celebration Cider – Substitutions and Shortcuts for this amazing spiked cider
Although the recipe calls for steamed, mulled cider, you can easily substitute plain or prepared apple cider. If you want to get all fancy with homemade cider and mulling spices, I'm sure the result is worth the extra effort but I am a "keep it simple in the kitchen" kind of gal most of the time and I would make it with an instant mix like these Alpine Cider Packets. Don't forget the cinnamon sticks – they make everything better and they're just the right amount of fancy.
One of the best parts about Celebration Cider is its simplicity so if making homemade mulled cider sounds too complicated, don't be afraid to take a shortcut. And, while my cocktail with white rum was 100 percent delish, I don't think substituting dark rum would make anyone mad.
Celebration Cider is a deliciously simple spiked cider that's meant to be enjoyed – so cheers!
Check out Snooze's Holiday Menu
The Celebration Cider is part of Snooze's holiday menu. In addition to the plethora of yummy brunch eats they offer (can you say Pancake Flight?) they've got a couple of spectacular seasonal dishes you should try. The Nana's Hot Cocoa Pancakes are pure deliciousness and the Home for the Hollandaise Benny combines unique flavors like habanero pork belly, bacon espresso jam and cranberry relish. It's definitely not your run of the mill Eggs Benedict.
The holiday menu is available at Snooze until January 1st so make sure you go and check it out. It's really my new favorite brunch spot…and don't you know? 8:00 a.m. is the new happy hour. And don't forget to make this copycat Celebration Cider at home – I know you'll enjoy it!
More Brunch Cocktails: