Where to eat breakfast in Tempe – The Most Important Meal of the Day never tasted so good!
(This post may contain affiliate links. Read my full disclosure.)
If you're a breakfast lover, brunch lover, or a breakfast for lunch or dinner kind of person, you need to go to Tempe. It might or might not be an out-of-the-way place to grab the most important meal of the day but just trust me on this one and go. My family and I went to Tempe for spring break and it's a great place to visit with kids we'd go back to in a heartbeat. What I didn't expect was how much the food scene would impress me – particularly the breakfast food options. If you're looking for ideas on where to eat breakfast in Tempe, I've got xx delicious recommendations. The most important meal of the day never tasted so good. I may or may not be bumping this one up on the re-do list just for the breakfast alone!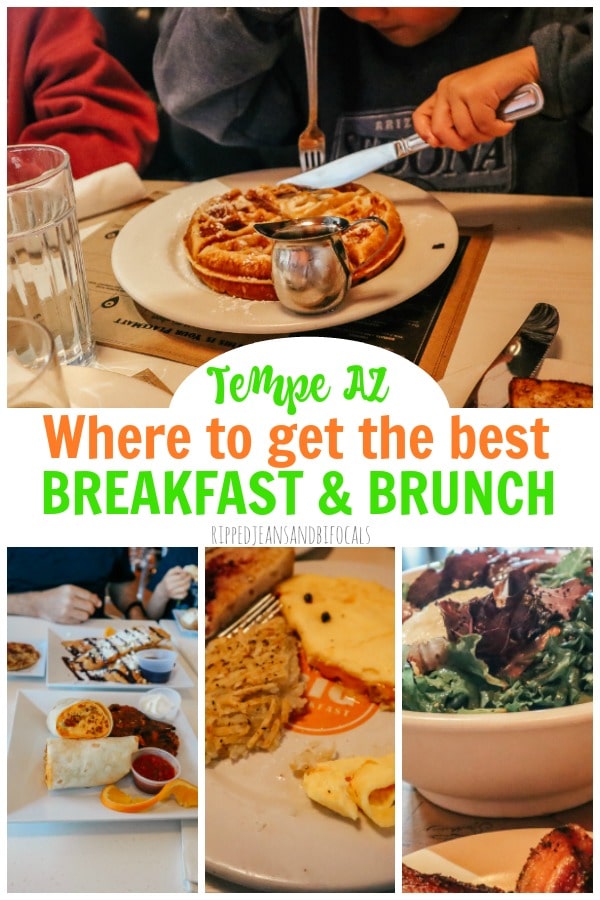 Our family was hosted by the Tempe Tourism office on the most incredible spring break trip ever. All opinions are my own.
Where to eat breakfast in Tempe Arizona – our favorite breakfast and brunch spots:
Here's a list of the places we tried. Let me point out that we only spent four days in Tempe, which is a good amount of time to be able to see all the things. If we could have stayed more days and eaten more breakfasts, I would have been okay with that.
Scramble – Our top kid friendly place to eat breakfast in Tempe
It's hard to have a favorite but I think this is it. Scramble is a self-proclaimed "breakfast and brunch joint." Now, I don't know about you, but I like any restaurant that describes themselves as a "joint." Scramble has walk-up ordering with food and drinks brought to your table. They have all kinds of yummy breakfast and brunch items, to include alcohol if you like a mimosa with your brunch.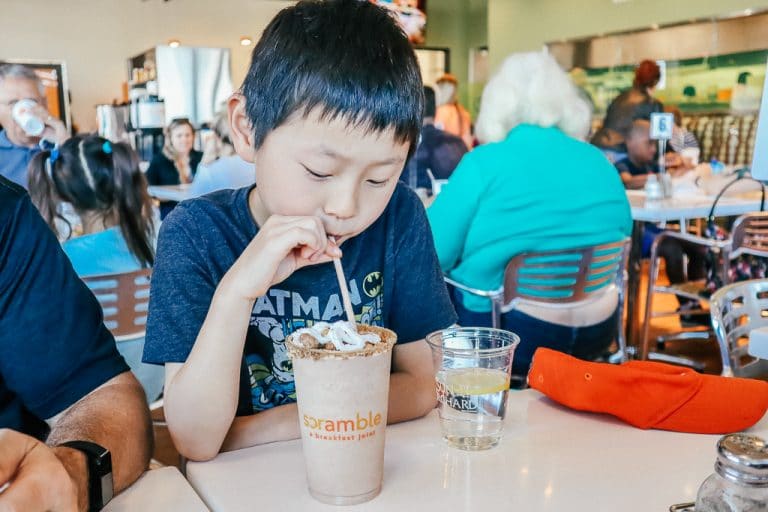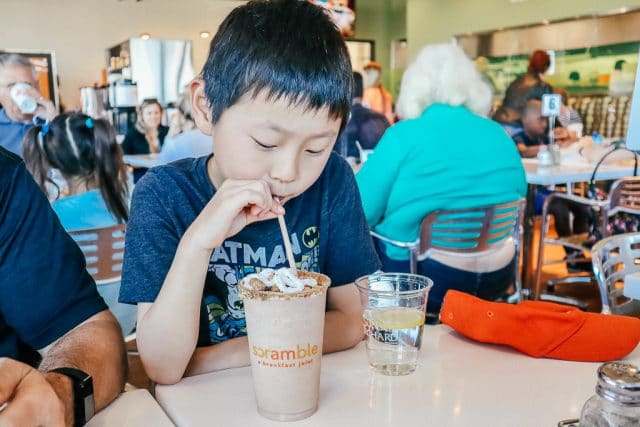 We recommend the cinnamon rolls, the Southwest burrito and the blueberry stuffed french toast. I'm not usually a "sweet" breakfast eater but I might have had more than one taste-tester bite from my husband's french toast and my son's cinnamon roll. The loaded "scramble browns" are also a must try if you're like me and like more savory breakfast options. The only disappointment we had was the sweet potato hash. I really love anything with sweet potatoes and I was excited they had a more clean-eating side option. This sweet potato hash is made using the skins, which made the hash taste very bitter.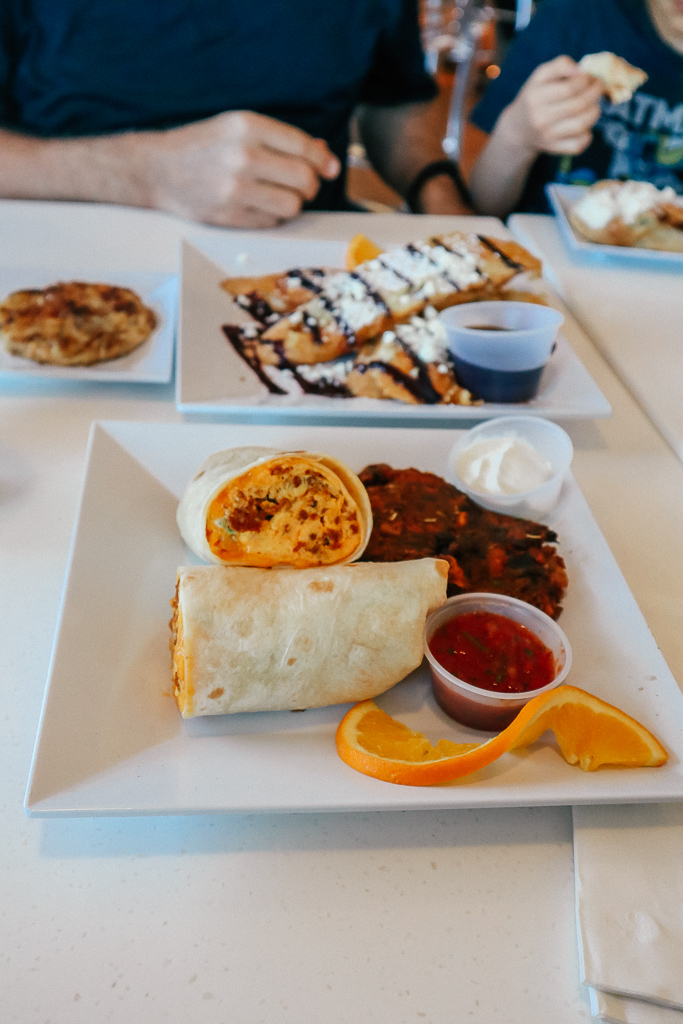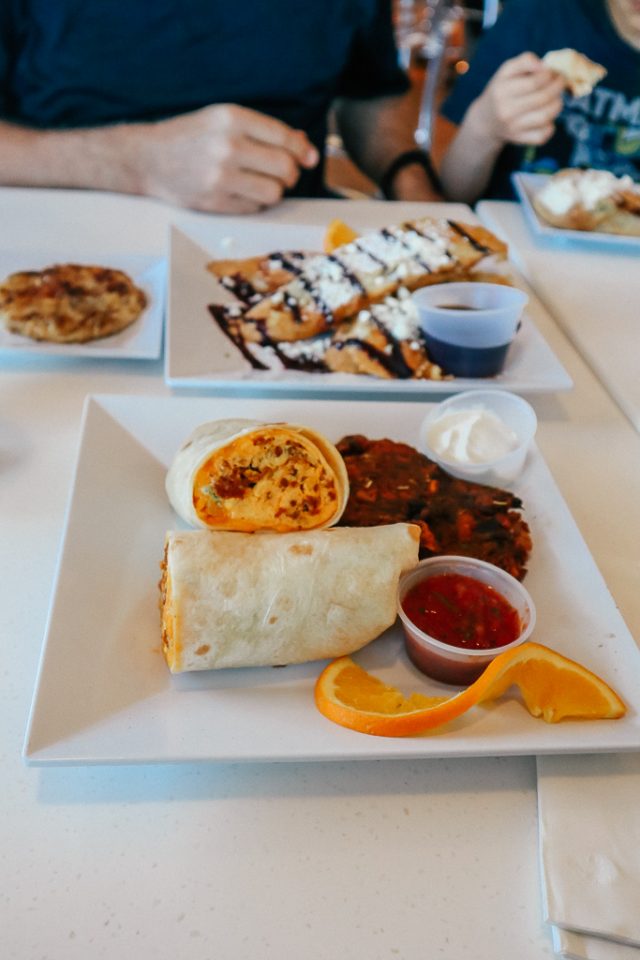 When we visited, there was a 15-minute wait just to get in the door but the wait was 100 percent worth it. The staff is so friendly and they were serving free coffee and water to the people waiting in line. They also have a pet-friendly patio seating area. Scramble is open every day from 6:00 a.m. to 2:00 p.m. More info here.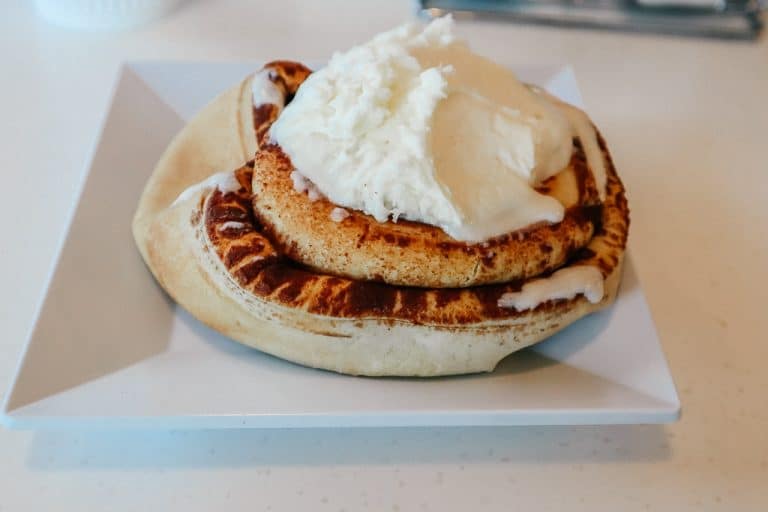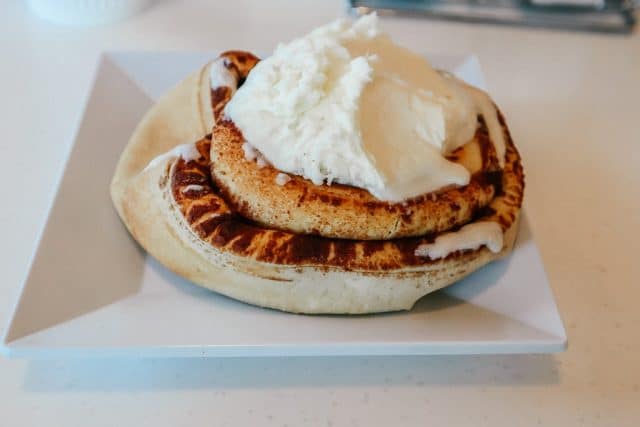 Snooze
This is one we didn't get to try – the wait on the day we chose to go was 45 minutes and we weren't willing to wait that long. It's a popular place near the university so keep the wait time in line if you plan to visit. Also, Snooze is not exclusive to Tempe, so there may be one in your neck of the woods. They have a location in the San Antonio area (where I live) and we've got that on our radar for a brunch date. I technically should have put this on the list of places we didn't try but we were inside for about five minutes before deciding we couldn't handle the long wait. I smelled the food. I looked at the menu and picked out what I wanted (Ooh la la frittata, I'm looking at you) so it counts.
More info on the Tempe location here.
Matt's Big Breakfast
This was our "second runner up" after the long wait at Snooze and I'm really glad we came here…although I was bummed not to have checked out Snooze. See? One more reason to plan a return trip to Tempe.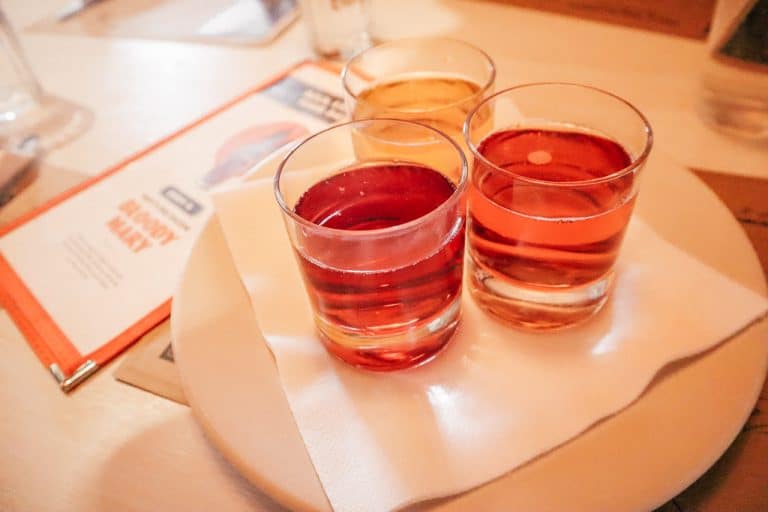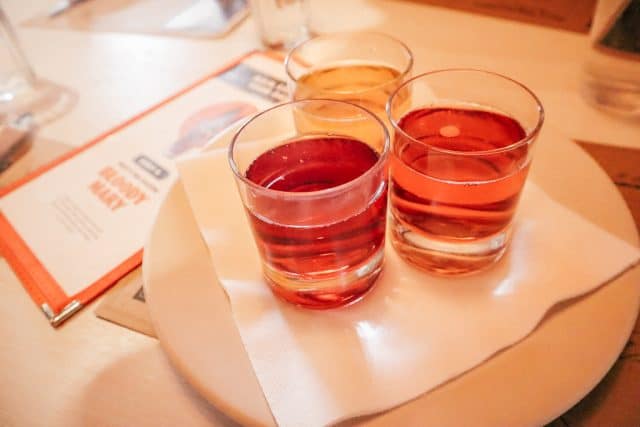 This place has a really inventive menu that manages to be both light and hearty. I recommend the cheese omelet – I know that sounds boring but it was done to perfection with hash browns and sourdough toast – and the mimosa flight. The mimosa flight was delicious but it's very boozy – my husband helped me out on these, otherwise I'd have needed a post-breakfast nap.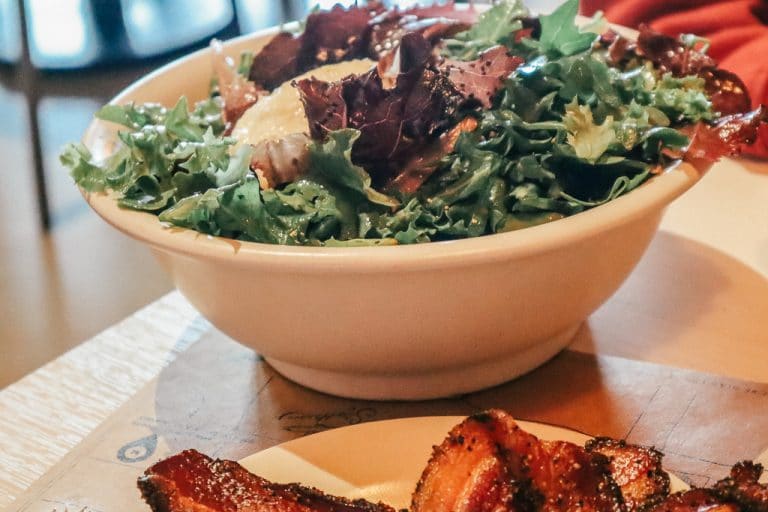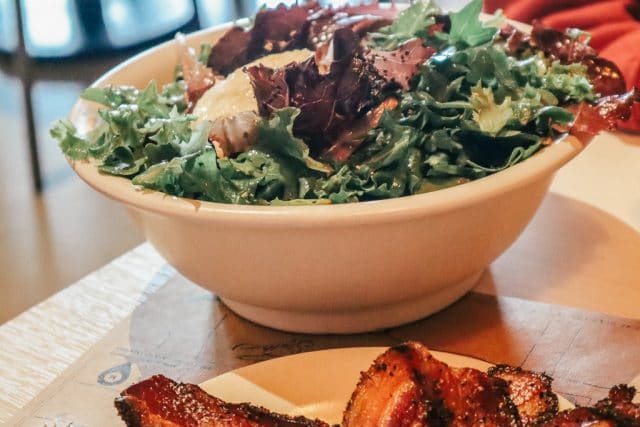 Matt's has complete table service – no walk-up ordering. Our waitress was really awesome and took the time to talk to my kids and make recommendations. Our son ended up having a salad with a poached egg on the side, which isn't something that we'd have thought of ordering for him, but it was a big hit.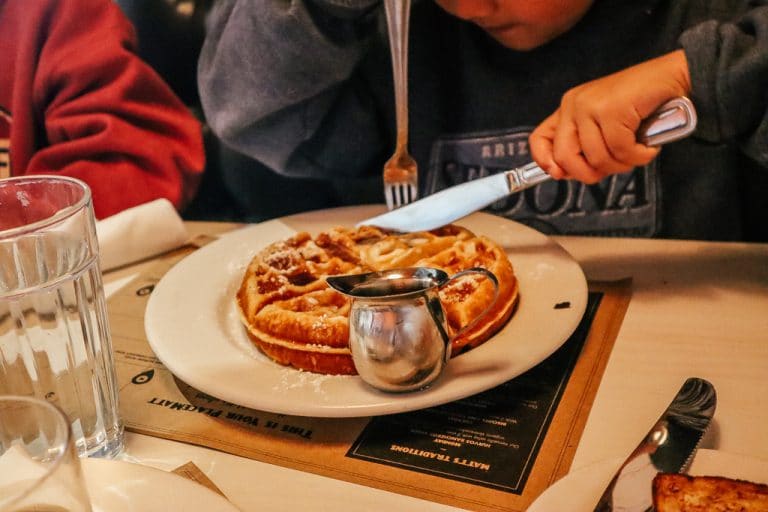 They're open every day from 6:30 -2:30. More info on their website.
The Daily Jam – Probably our second favorite place to eat breakfast in Tempe…
…although it's a tough choice. The Daily Jam is located in the heart of Tempe, on Mill Avenue right across from A Mountain (also known as Hayden Butte.) We did brunch and then a hike but you could easily do it the other way around. If you're looking for critically acclaimed waffles, The Daily Jam is your place. However, I freely admit that none of us tried the waffles. Although we talked about squeezing in a second visit to The Daily Jam to try them, and it never happened.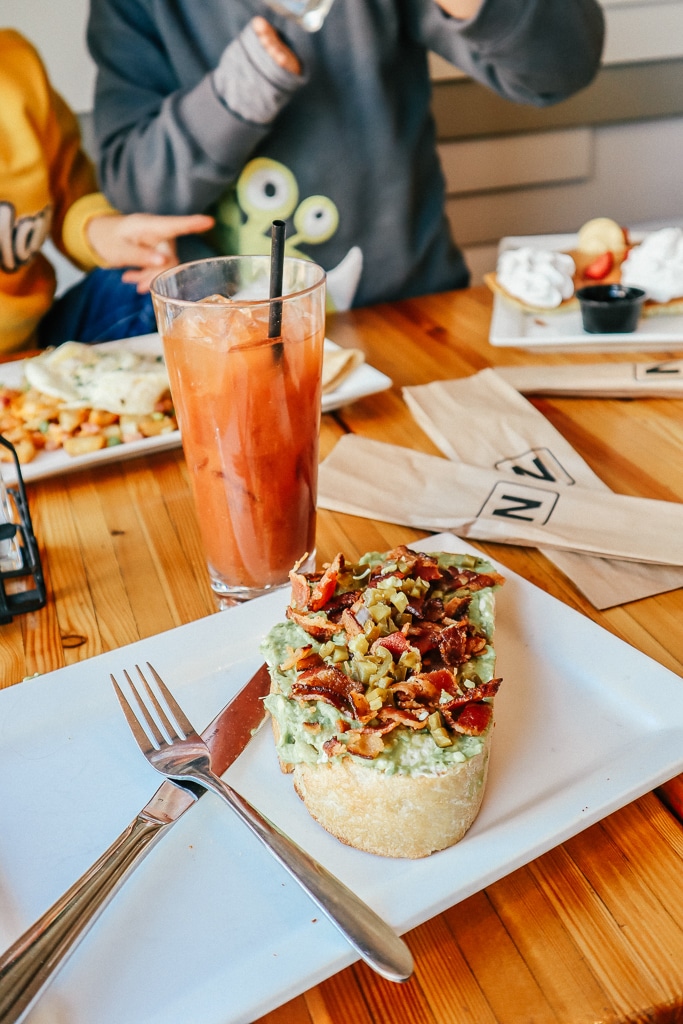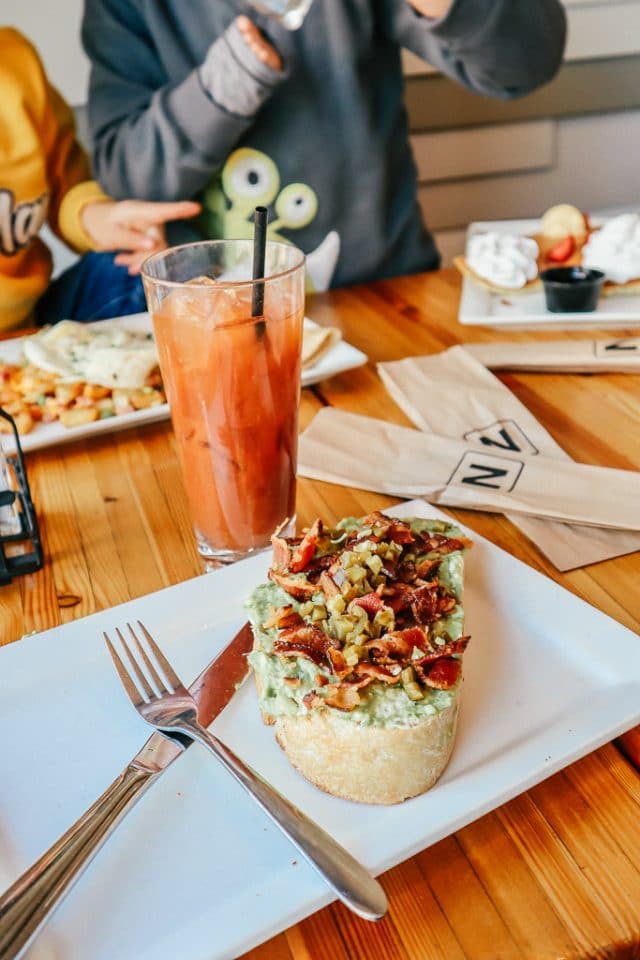 If you're an avocado toast person, I recommend the jalepeno popper avocado toast. We also recommend eggs benedict and the Denver saute…all of these were lick the plate delicious. The Daily Jam has walk up ordering and your food and drinks are brought to your table. If you fancy a little day drinking, you're in luck. There's lots of grown up drinks on their menu but you can't go wrong with the spicy basil Bloody Mary and the mimosa.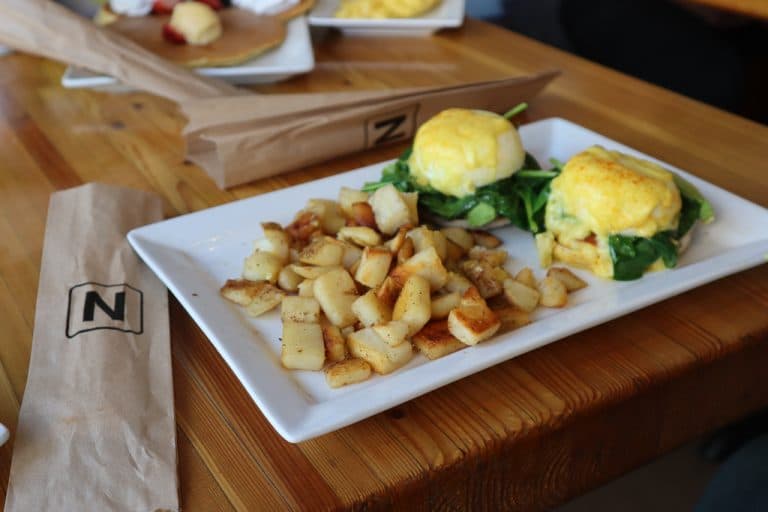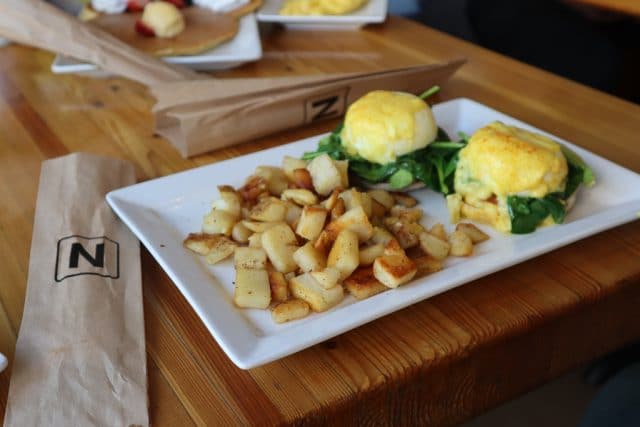 More info here.
Snakes and Lattes
You can't come to Tempe and not check this place out – you just can't. Snakes and Lattes is a place like absolutely no other. I hesitated to include it in a list of breakfast and brunch places, because you won't find pancakes or omelettes on their menu. They do offer an extensive coffee menu as well as a selection of bar drinks and delicious food. Their poutine is my favorite thing ever. I don't understand why there's not more poutine in Texas. If Arizona has poutine, why don't we have it?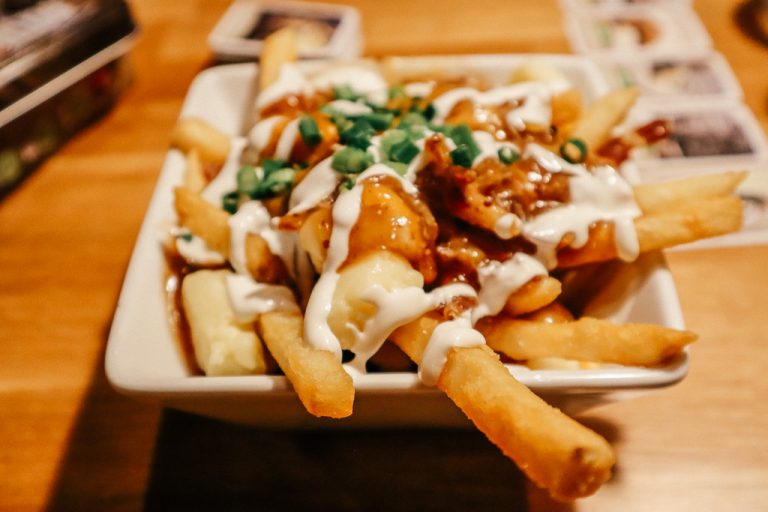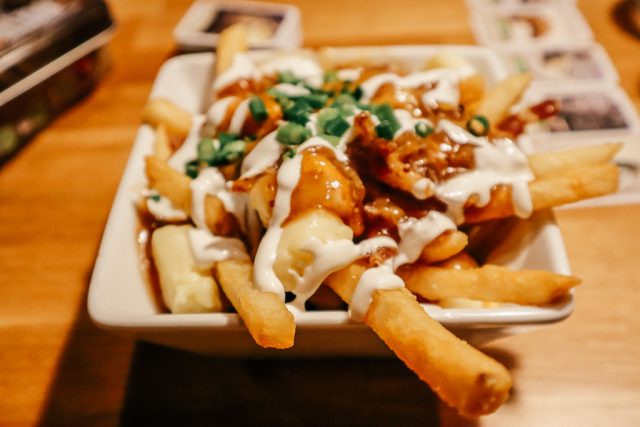 There is a brunch special listed on their menu – Rose on tap, so that was a sign to include it. If you're looking to get coffee or drinks in a truly unique environment, Snakes and Lattes is a don't miss in my book.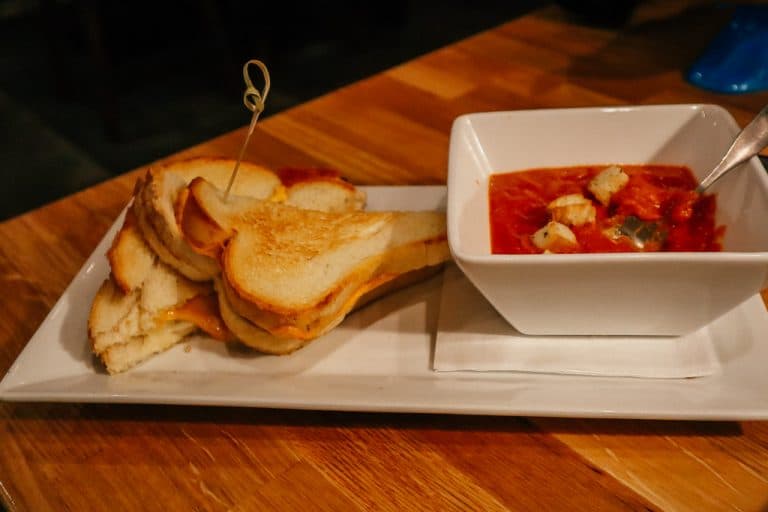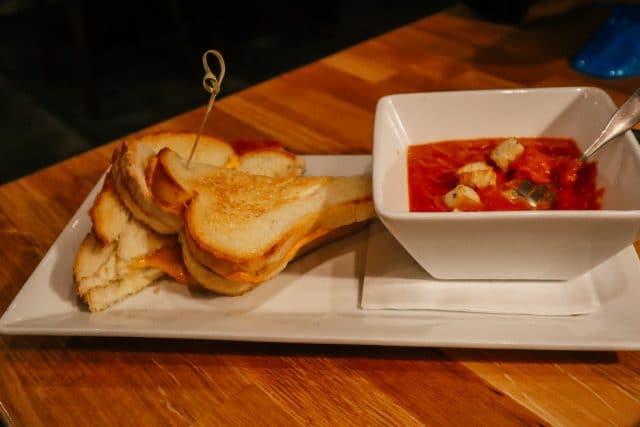 Where else to eat breakfast and brunch in Tempe – Places we didn't try
So much brunch. So little time. We were hosted by Tempe Tourism, who provided a wonderful itinerary for us complete with lots of dining suggestions. I'm going to give a nod to the places they recommended that we didn't get to try.
Culinary Dropout
Savory nosh, crafted cocktails and the next big names in local music have found a new home in this glamorous gastro-pub located at First Street and Farmer Avenue in Downtown Tempe.
Although this is listed as a brunch place, the menu is mostly "unch." It looks like a fun place for anyone who appreciates whimsy and a sense of humor with their food and drink. I mean…a menu offering "Yesterday's Soup" has my vote. Soup is always better the second day.
More info here.
Want all my Tempe content in one place? Check out my "Things to do in Tempe" Landing Page
Tempe Public Market Cafe
Located is south Tempe, Tempe Public Market is one of the newest additions to the dining scene. The casual walk-up counter is welcoming and showcases the menu displayed up high for everyone to see. They have a good kids' menu, fresh pastries and entrees ranging from pizza to fried chicken.
More info here.
We always love revisiting places we've been to and loved and with our crazy family schedule, it's hard to balance that with exploring all the new places on our radar. But man…I am thinking I need to plan a 7-day brunch tour of Tempe. Who's in?
For more info own planning your own trip, check out the Tempe Tourism Office's website. You might also like:
Don't see what you're looking for?
If you don't see what you're looking for here, check out the list of things to do at destinations across the globe with Viator.
Want the latest in travel guides and travel gifts? Check out what's available on Lonely Planet.