Get your grub on – The top kid-friendly restaurants in Tempe
(This post may contain affiliate links. Read my full disclosure.)
Do you scope out the food scene in a new place before you travel or do you just wing it? While winging it can be fun sometimes, I've found it generally doesn't work so well when you're traveling with kids. If a visit to Tempe Arizona is on your travel radar (and if it isn't, it should be) and you're wondering where to eat, you're in luck. I have done all your research for you. I'm excited to share my picks for kid-friendly restaurants in Tempe! Although our visit was relatively short – just four days – I think we made a good dent in sampling the different Tempe restaurants and getting a great read on family dining in Tempe. If I've missed your favorite, get in touch and I'll see about adding it to this list.
Looking for family dining in Tempe? Check out these top kid-friendly restaurants in Tempe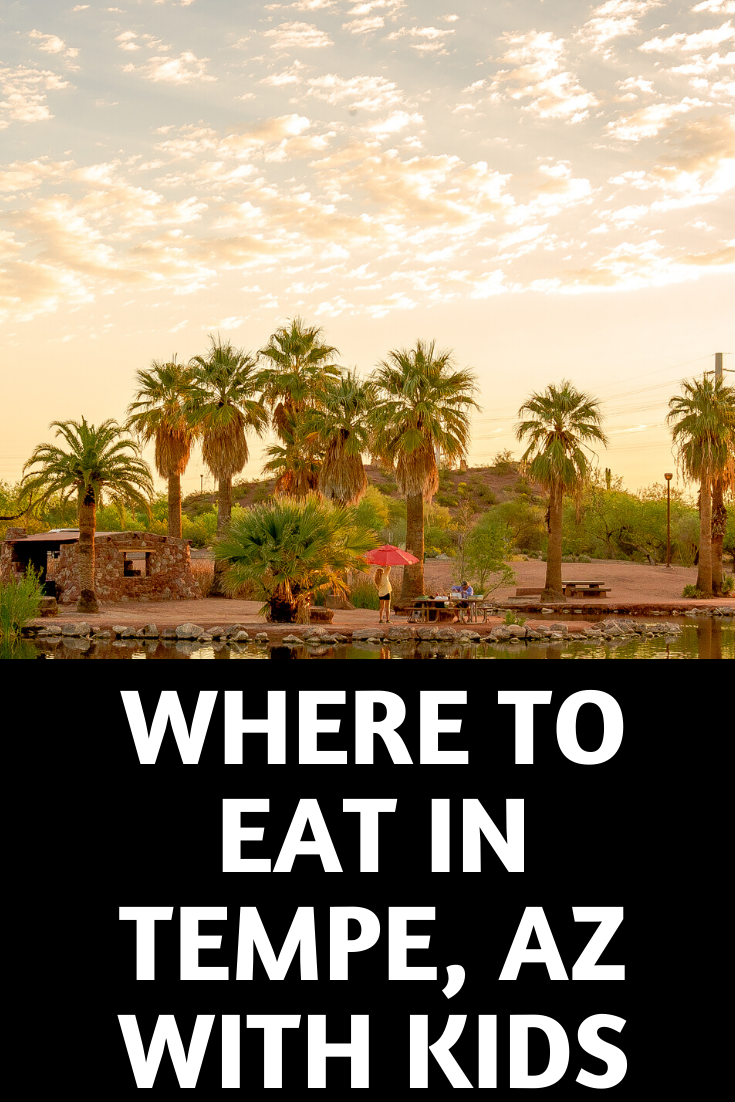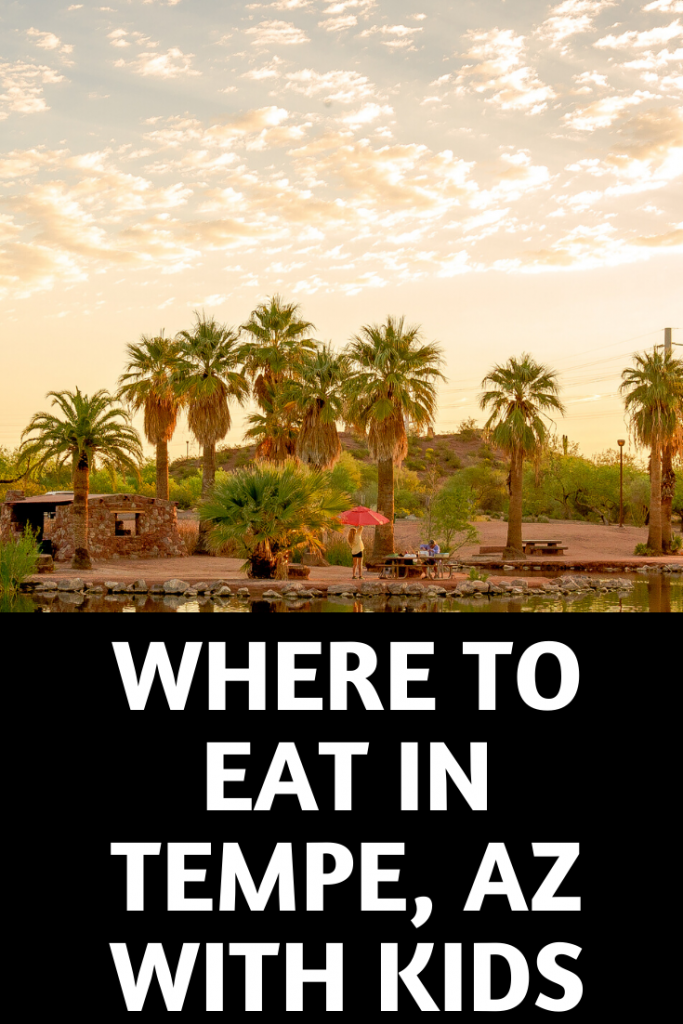 My family and I were hosted by Tempe Tourism. All opinions are mine.
1. Snakes and Lattes – One of the best kid-friendly restaurants in Tempe…
…and when I say kid-friendly, I mean anyone who is a kid at heart. You can't come to Tempe and not check this place out – you just can't. Snakes and Lattes is a place like absolutely no other. First, they have a great and inventive food and bar menu. I recommend the poutine…it's hard to find in Texas and I was excited when I saw it on the menu. And, as their name suggests, there's also an extensive coffee menu.
Snakes and Lattes is a play on the name of the children's board game Chutes and Ladders. If you're thinking "that makes no sense" then look to the North. Our Canadian friends call Chutes and Ladders Snakes and Ladders. Makes a little more sense now, doesn't it?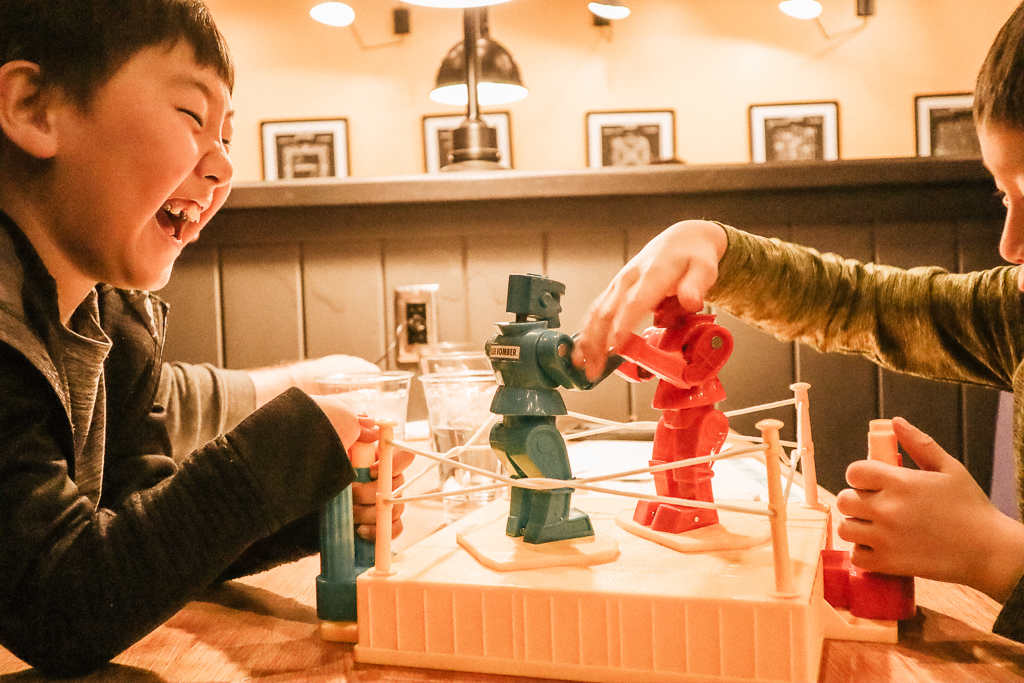 Also, why isn't there more poutine in Texas? I tried it in Rochester New York, which is close to the Canadian border. If it's in Arizona, why don't we have it? Come on, Texas. Get it together.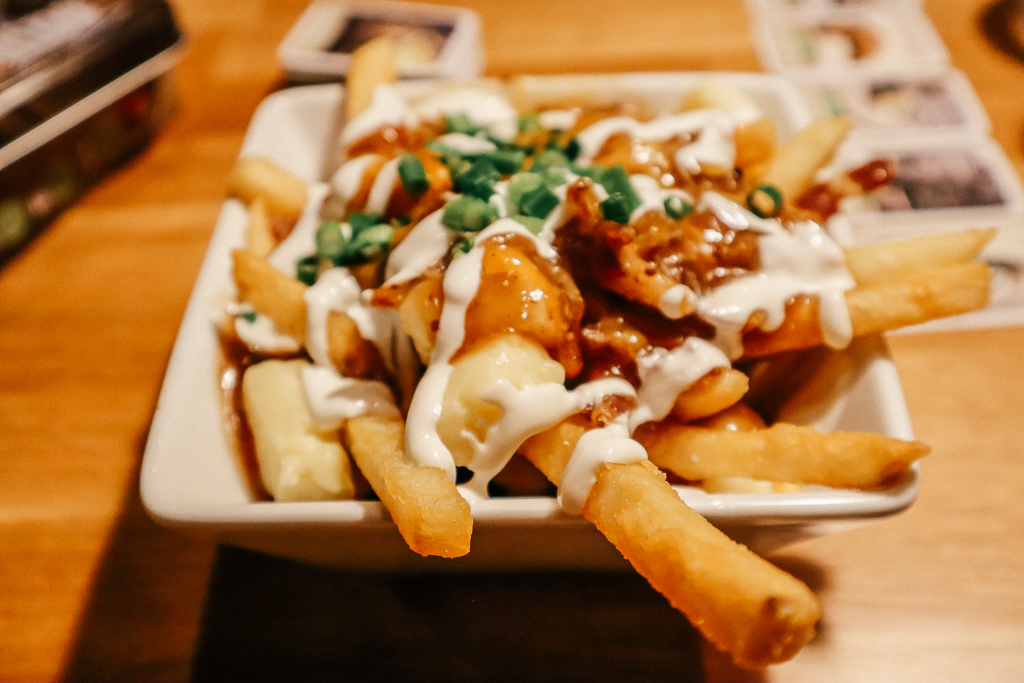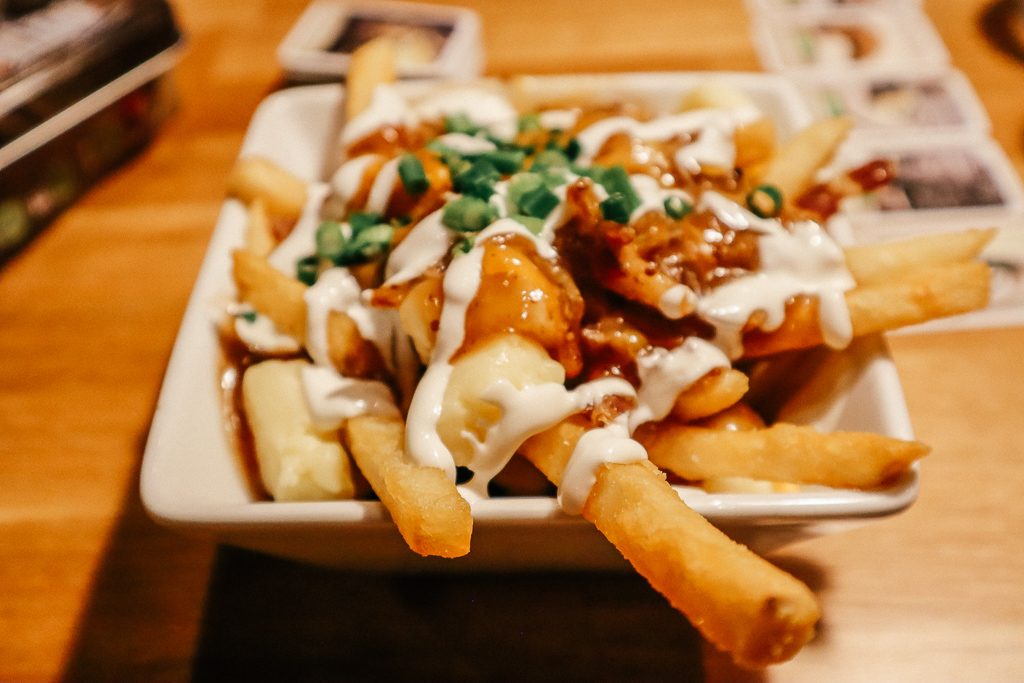 As great as the food and service is, what really makes Snakes and Lattes pop is the selection of board games. There are hundreds of board games, puzzles, card games, dice available for you to play at the flat fee of $5 per person and you can switch games as often as you'd like.
They are sure to have your favorite there but what's fun about Snakes and Lattes is that they will have games you've probably never heard of and they have a dedicated games person that can make suggestions or help you if you get stuck on something.
We told our games guy that we wanted something our kids could play by themselves and that we (my husband and I) liked trivia games. We had never heard of the games he suggested but they were a hit.
Snakes and Lattes is a great place to go for great food and drinks but it's also a great place to go and unplug. On our way out, we saw a group of people in their early twenties playing the kids game of Headbanz…and having an absolute blast doing it. It made me smile. It's just that kind of place.
Want all my Tempe content in one place? Check out my "Things to do in Tempe" Landing Page
2. Rustler's Rooste is your go-to for special occasion family dining in Tempe
Rustler's Rooste has a lot going on. There's a bull outside you can visit, there's multi-level seating, gorgeous views, live entertainment and a slide that goes from the check-in floor to the main seating area. Yep, your kids can go down the slide on the way to their table. Adults can, too…ask me how I know. You're never too old for a slide, right? At least I'm not.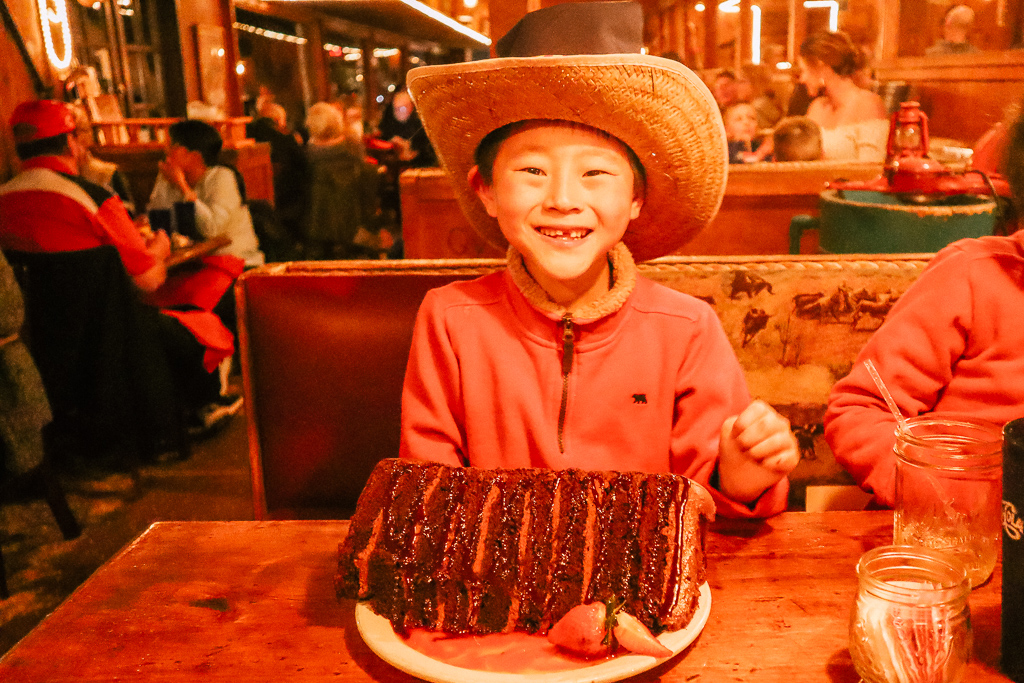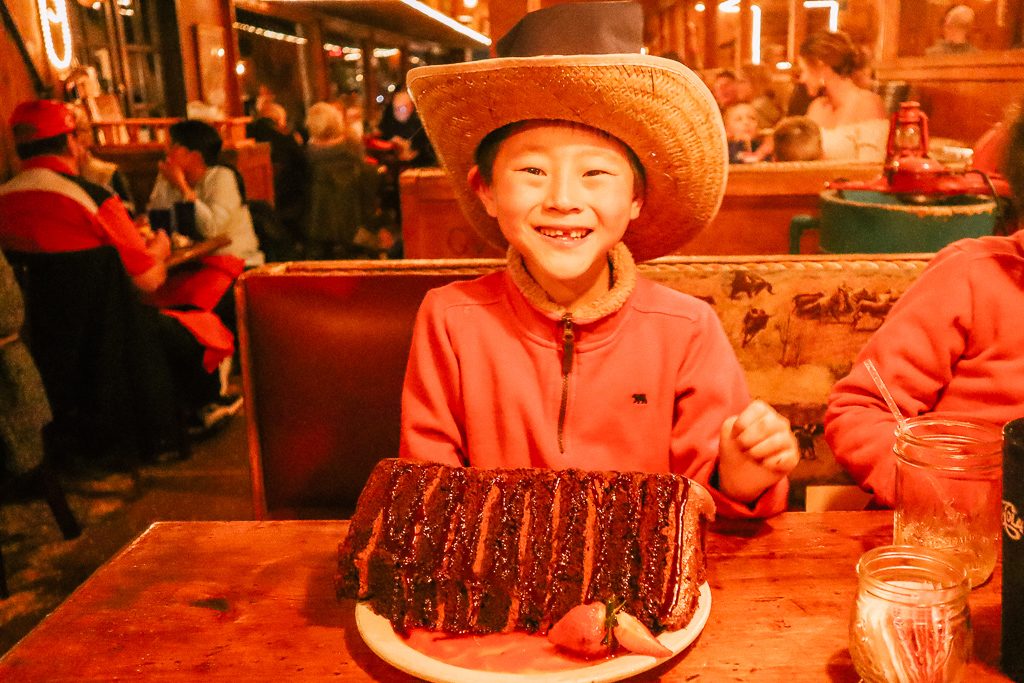 The food and service are great – definitely come hungry. My husband and I tried "Cowboy Stuff" which is a sampler platter available for two to four people that has a little bit of everything: salad, steak fries, beans, ribs, chicken and more.
We celebrated our son's birthday at Rustler's Rooste – they do a birthday package that you can add on for $17 that includes a picture, a hat and bandana, and a piece of chocolate cake. And when they say piece of cake, they mean a giant piece of cake. There was more cake on that plate than the four of us could eat. We gave it our very best effort, though.
This one was a no brainer for this list of kid-friendly restaurants in Tempe.
3. The Daily Jam
The Daily Jam is a breakfast, brunch and lunch place in downtown Tempe. Although their claim to fame is Arizona's best waffles, none of us had the waffles. I kept hoping we'd squeeze in a second trip before we left town but we just couldn't make it happen.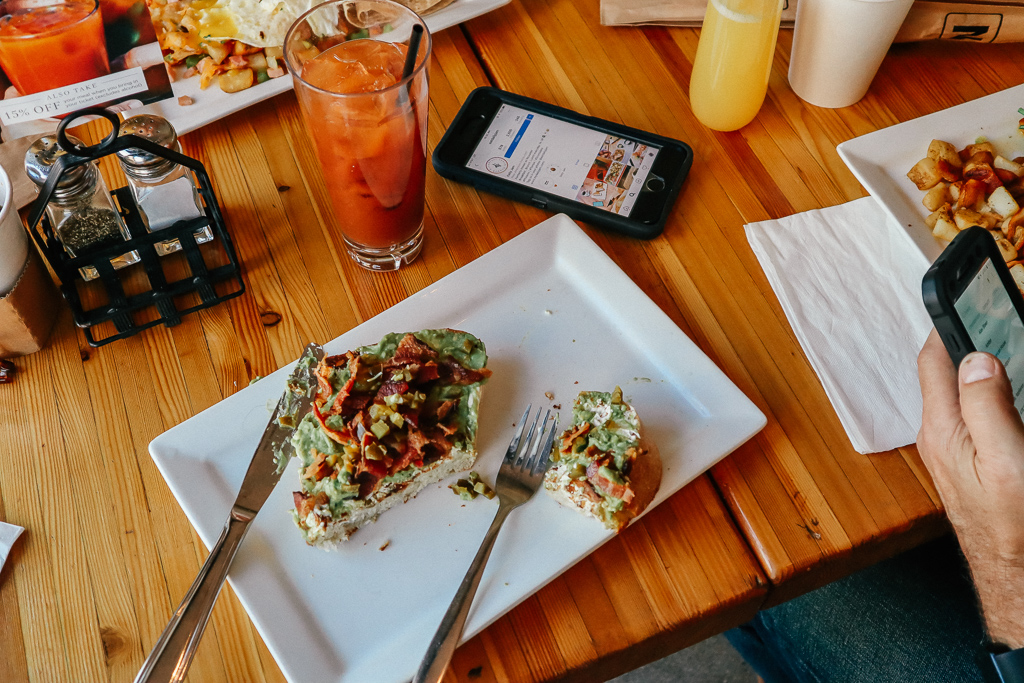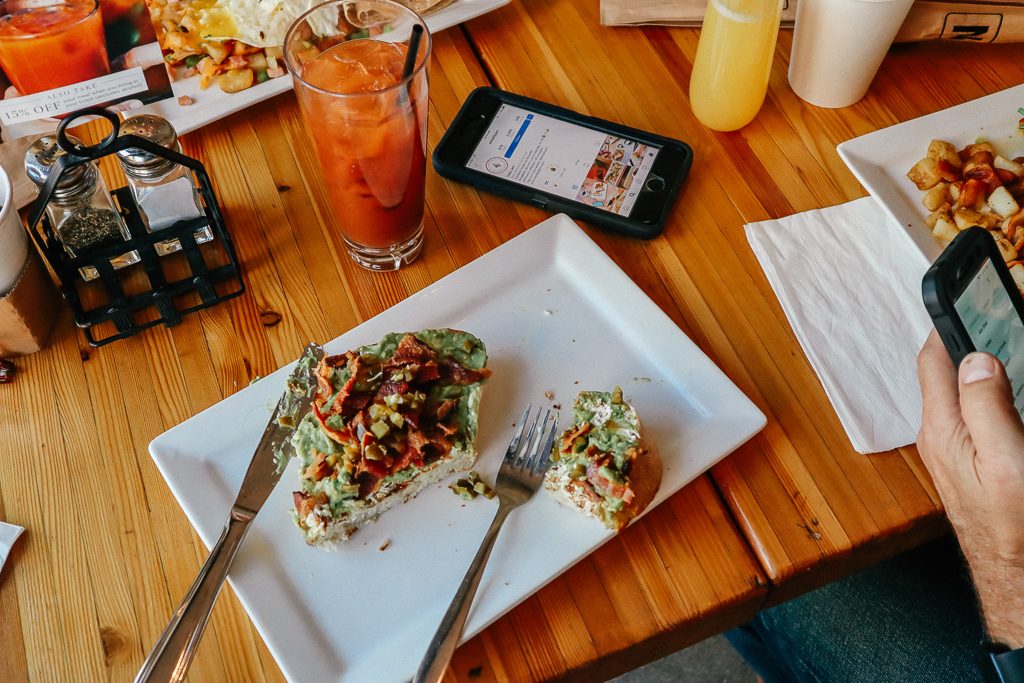 We can recommend the jalapeno popper avocado toast, Eggs Benedict and the Denver saute…all of these were lick the plate delicious.
The Daily Jam has walk up ordering and your food and drinks are brought to your table. They also serve alcohol. We recommend the spicy basil Bloody Mary and the mimosa. They have lots of different and inventive varieties of the standard brunch cocktails – the Daily Jam is definitely a fun place to experiment.
And, this is most definitely one of the Tempe restaurants you can visit with kids. I'd call the menu "trendy" but they do offer a kids menu and several hearty meals from the regular menu for older kids. My son Kyle got the Denver Saute and loved it.
More info here.
4. TRES Tempe
TRES Tempe is a high volume, trendy dining concept offering a fresh and vibrant casual dining experience. This restaurant offers a modern interpretation of the Mediterranean and the Southwest, blending flavors and traditions in a space that expresses the freshness, simplicity and sincerity found in the cuisine of the region. More info here.
5. Scramble – A kid-friendly restaurant in Tempe but be prepared for a wait
Scramble is a self-proclaimed "breakfast and brunch joint." Like The Daily Jam, it has walk-up ordering with food and drinks brought to your table. They're open every day from 6:00 a.m. to 2:00 p.m. More info here. I don't know about you, but any restaurant that refers to themselves as a "joint" has my vote. You know it's going to be unpretentious and, when you're dining with kids, hoity toity probably isn't what you're looking for. This is definitely one of the great family restaurants in Tempe.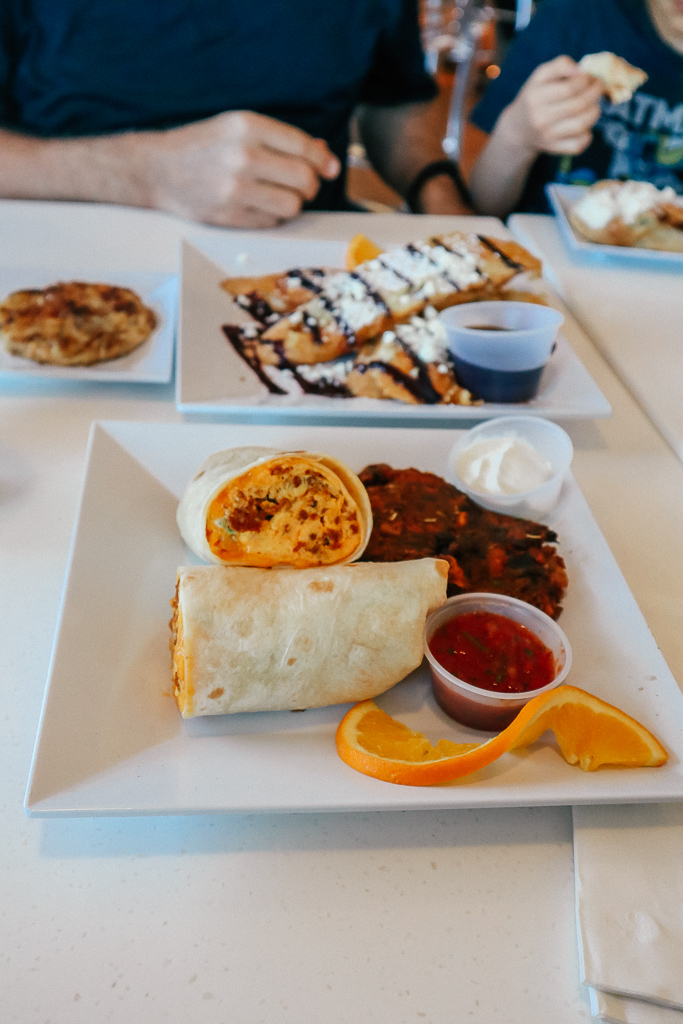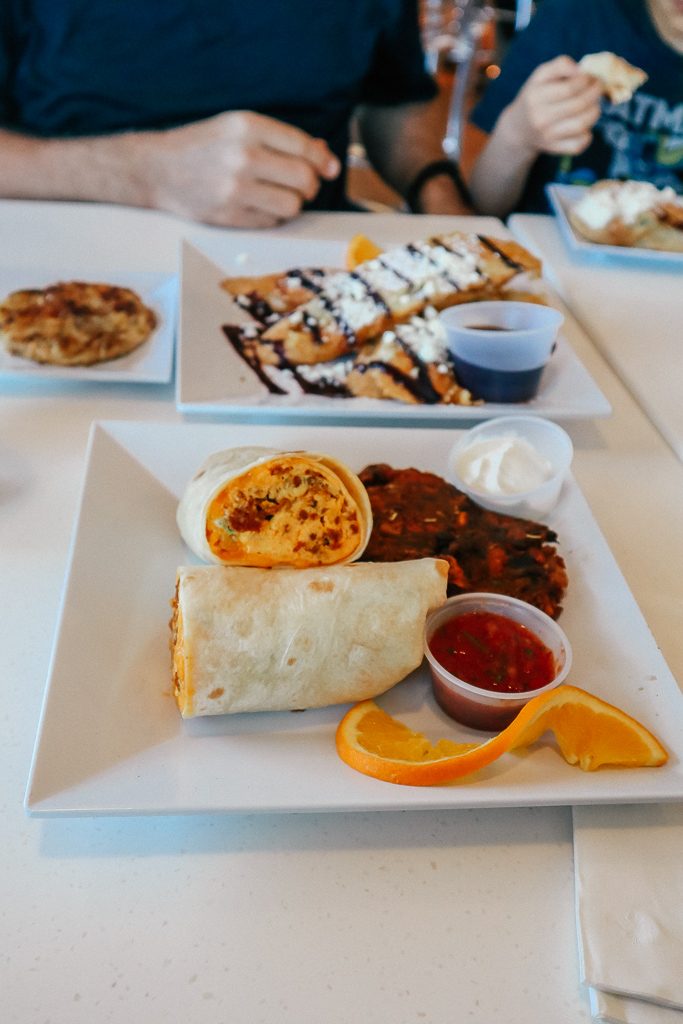 When we went, there was a 15-minute wait just to get in the door, but the food was worth the wait in line. Once we were in the door, the line moved pretty quickly…I estimate we probably waited about 20 minutes total to order and about another 15-minutes for our food. If you want a great breakfast or brunch, don't let the line deter you. This one is worth the wait.
We ate here on my son Kyle's ninth birthday. The server brought him a complimentary cinnamon roll (you do have to let them know you're having a birthday when you order) which he washed down with a chocolate and peanut butter smoothie topped with crushed cereal. If you're looking for kid-friendly restaurants in Tempe it doesn't get much better than that.
There's also pet-friendly patio dining available.
6. Snooze
This is one we didn't get to try – the wait on the day we chose to go was 45 minutes and we weren't willing to wait that long. It's a popular place near the university so keep the wait time in line if you plan to visit. More info here.
7. Matt's Big Breakfast
This was our "second runner up" after the long wait at Snooze and I'm really glad we came here…although I was bummed not to have checked out Snooze.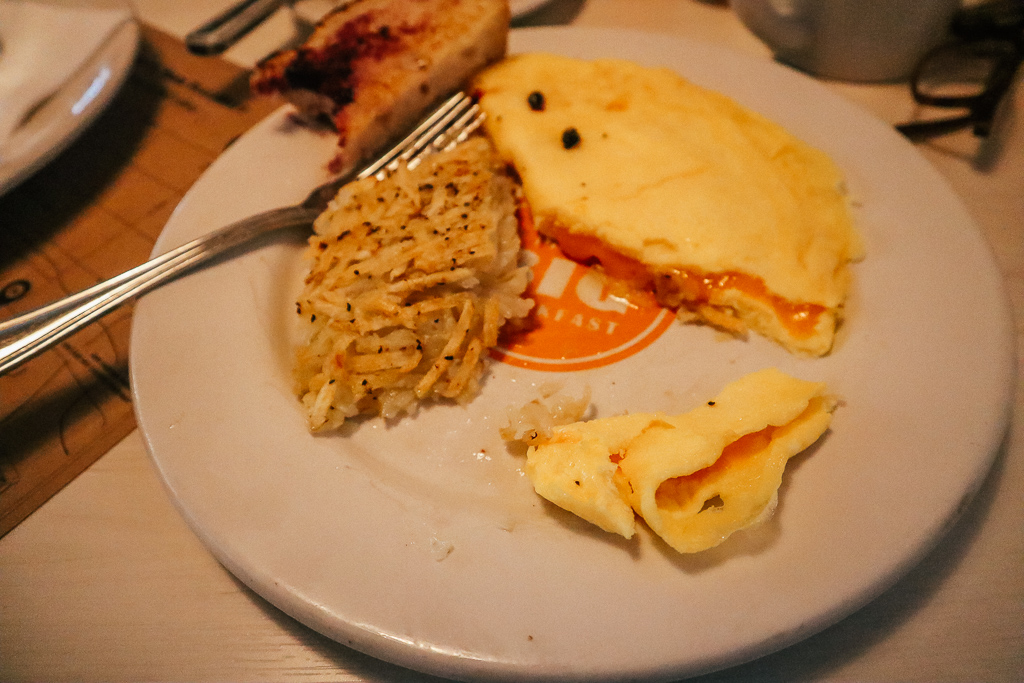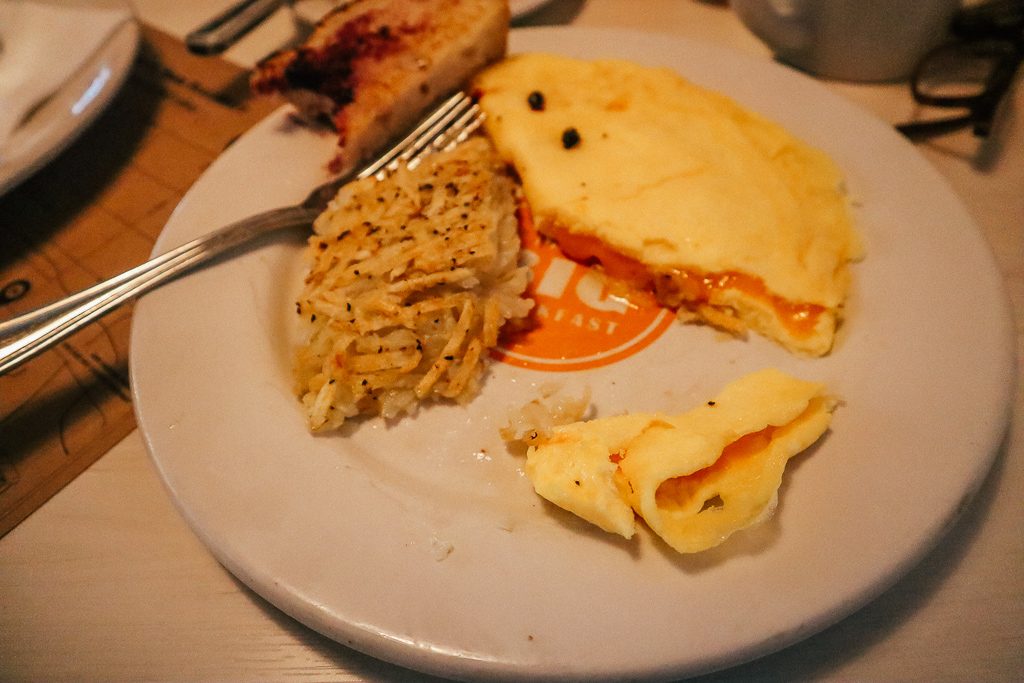 This place has a really inventive and light menu. I recommend the cheese omelet – I know that sounds boring but it was done to perfection with hash browns and sourdough toast – and the mimosa flight. The mimosa flight was delicious but it's very boozy – my husband helped me out on these, otherwise I'd have needed a post-breakfast nap. The menu is simple and hearty.
The atmosphere at Matt's big breakfast is very "diner like" and very relaxed and kid-friendly.
They're open every day from 6:30 -2:30. More info on their website.
8. Rula Bula Irish Pub
We made a really quick stop here after we got finished hiking A Mountain. Who can resist an Irish pub? That reminds me, we need to plan another trip to Ireland. We didn't eat but they do serve food. Check out their website for more info.
Don't worry about this place not being one of the Tempe restaurants appropriate for kids. We found the atmosphere to be very family friendly.
9. Pedal Haus Brewery
We stopped here for a beer before catching a movie downtown. Their menu looks amazing and I'm really sorry we didn't eat here. More info on their website.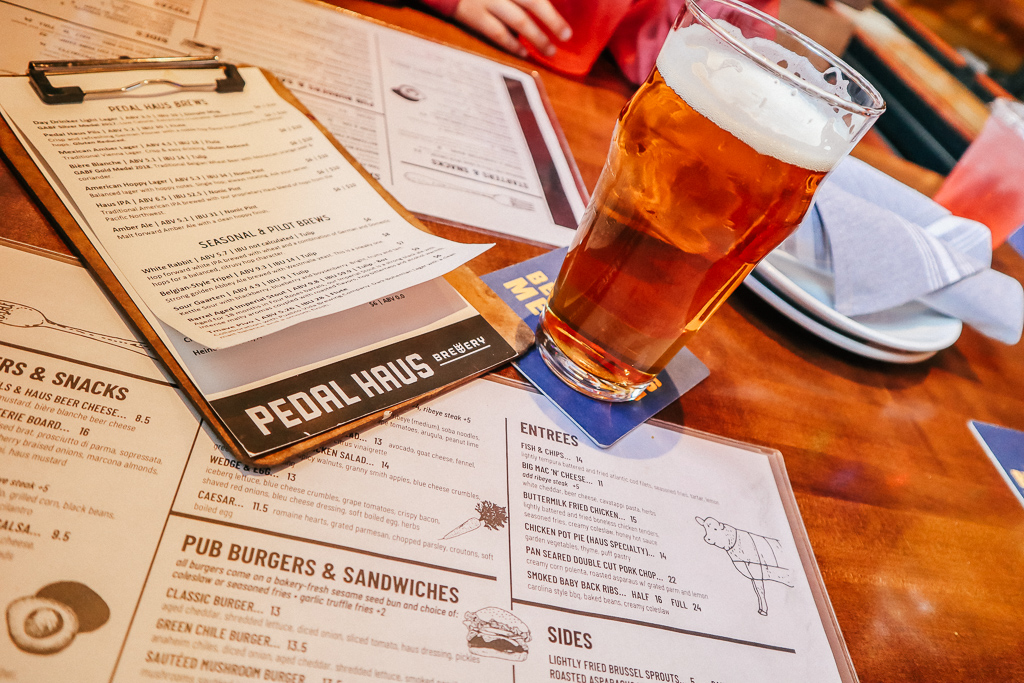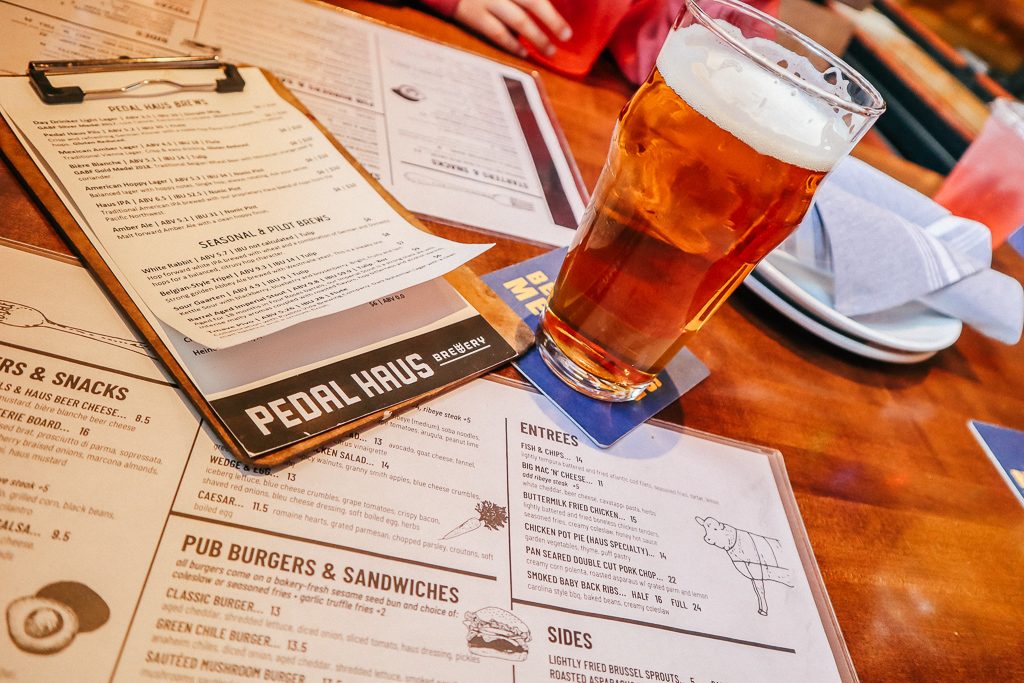 10. Family dining in Tempe for vegetarians and vegans
I am not a vegan but I frequently enjoy meatless or low meat meals (although you probably can't tell from this post – ha!) If you're a vegetarian or vegan, Tempe has some places for you. I recently traveled with a vegan travel blogger and watching her navigate menu choices (in beef country North Dakota at that!) was pretty interesting. In chatting with her I learned she'd also visited Tempe and wrote a post about vegan restaurant options in Tempe. You can read her picks here, which as you can imagine, are a lot different from mine.
This is a very short-list of kid-friendly restaurants in Tempe that represents what we experienced or researched. There are a ton of great places all around Tempe, so although this list of Tempe restaurants can definitely get you started, there are so many fun places to discover.
Planning a visit to Tempe? Bookmark this list of kid-friendly restaurants in Tempe
And don't forget to check out these posts:
A complete guide to Tempe – Things to do with your kids
The best places to eat breakfast in Tempe AZ
Don't see what you're looking for?
If you don't see what you're looking for here, check out the list of things to do at destinations across the globe with Viator.
Want the latest in travel guides and travel gifts? Check out what's available on Lonely Planet.