Have a Downton Abbey Movie Night In with the Downton Abbey DVD
(This post may contain affiliate links. Read my full disclosure.)
"This post is part of a social shopper marketing insight campaign with Pollinate Media Group® and Universal Pictures Home Entertainment , but all my opinions are my own. #pmedia #DowntonAbbeyAtWalmart http://my-disclosur.es/OBsstV"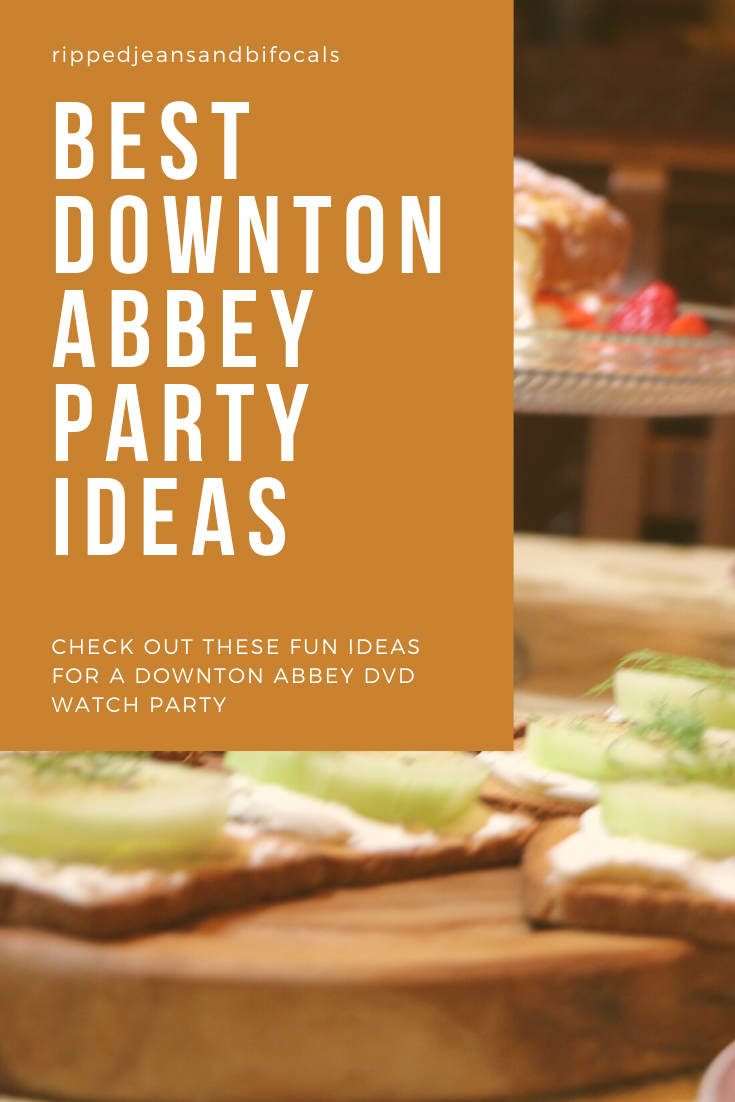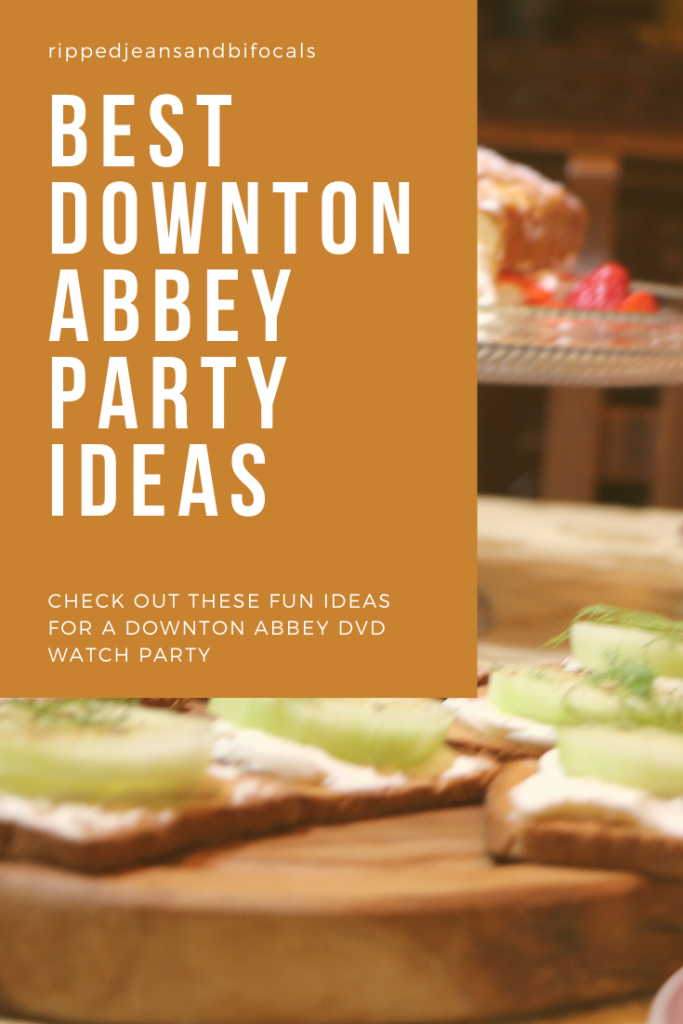 When I first heard the buzz about Downton Abbey, I instinctively knew it was a show I would love. I was equally sure it would be a show my husband would not love. I was wrong about one of those things. At first, I thought my husband was pretending to be interested in Downton Abbey to gain spousal credits but as the series continued, I realized his interest was genuine. We both love a historical series and the show has some fantastic acting – we both agree Maggie Smith as the dowager countess steals the show. Oh, and did I mention we lived in England during the majority of the time Downton Abbey aired?
Fast forward to the release of the Downtown Abbey DVD. I've loved Downton Abbey for a long time and I've got some new ways to celebrate my love for all the Downton Abbey things.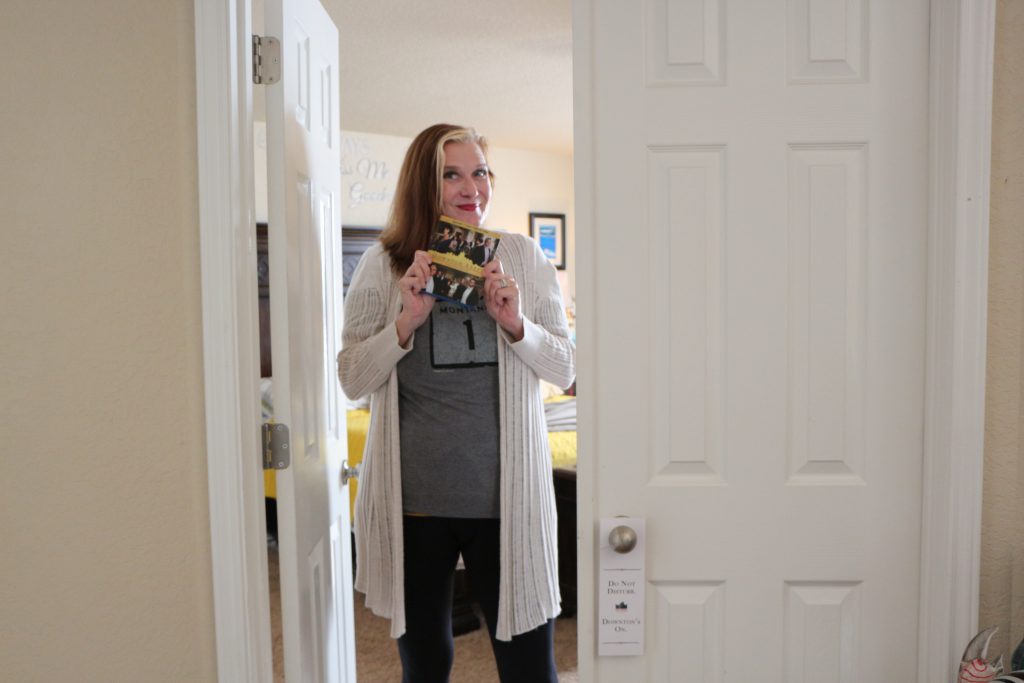 How to have a Downton Abbey Movie Night In
I was heartbroken when the television series ended. I know it's fiction but I was really attached to those characters. Obviously, I was really excited when the Downton Abbey Movie came out this year and I thought I was going to be one of the first ones in line at the theater to see it.
Hectic life happened and I didn't get to watch it until the Downton Abbey DVD was released. Whether you've seen the movie yet or not, if you're a true Downton Abbey fan, you're excited to grab the Downton Abbey DVD and hold your very own movie night in. No matter who you watch it with, I've got some tips on how to have the perfect Downton Abbey Movie night in with the Downton Abbey DVD.
The characters we all love are back together – this is no ordinary movie night in!
Set the stage for watching the Downton Abbey Movie
The Downton Abbey DVD is rated PG and I don't personally find it suitable for young children. There's no explicit sexual content or what I consider offensive language. There's a little bit of mild violence that doesn't rise to the level of what you see in most video games or superhero movies. That said, Downton Abbey is probably not really interesting to young children and let's face it: I don't want to be interrupted when I'm watching.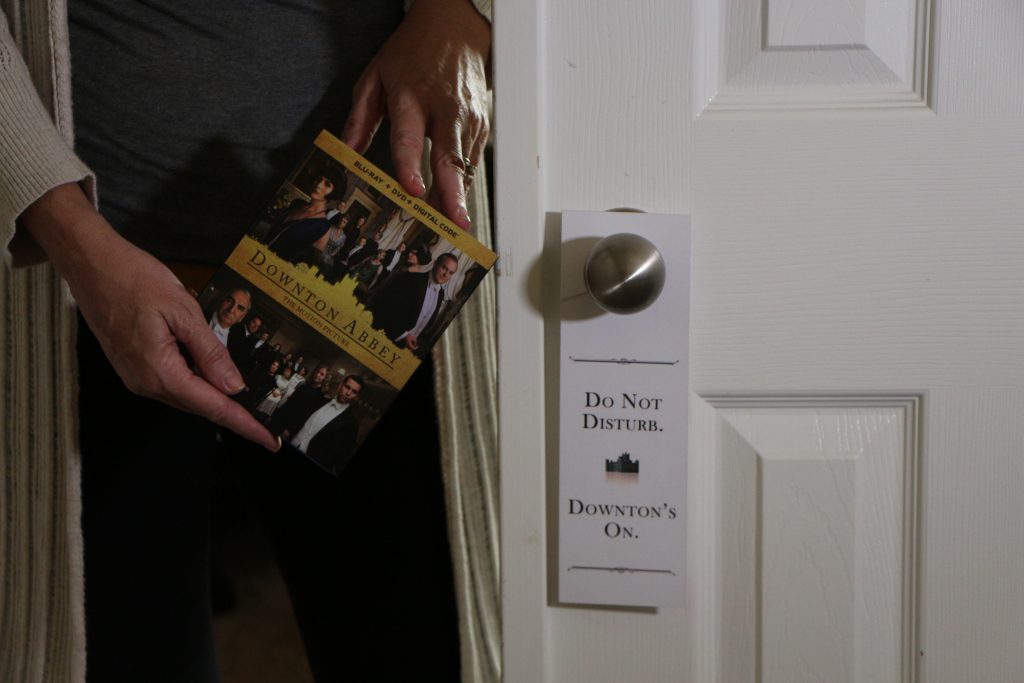 We resurrected our old "Do Not Disturb – I'm Watching Downton" door sign. My husband and I actually watched the Downton Abbey DVD after our kids were in bed but the sign is fun and it brings back fond memories for us. You'll definitely want to eliminate distractions…this isn't the kind of movie you want to watch while you're making dinner or otherwise multitasking. It needs your full attention.
Dress the part – Downton Abbey Party Ideas
I absolutely love Downton Abbey era ladies fashion. While I don't have any dresses that would pass muster with Lady Crawley, I did get out my hat box and every single strand of pearls I own. I never realized I had so may pearls!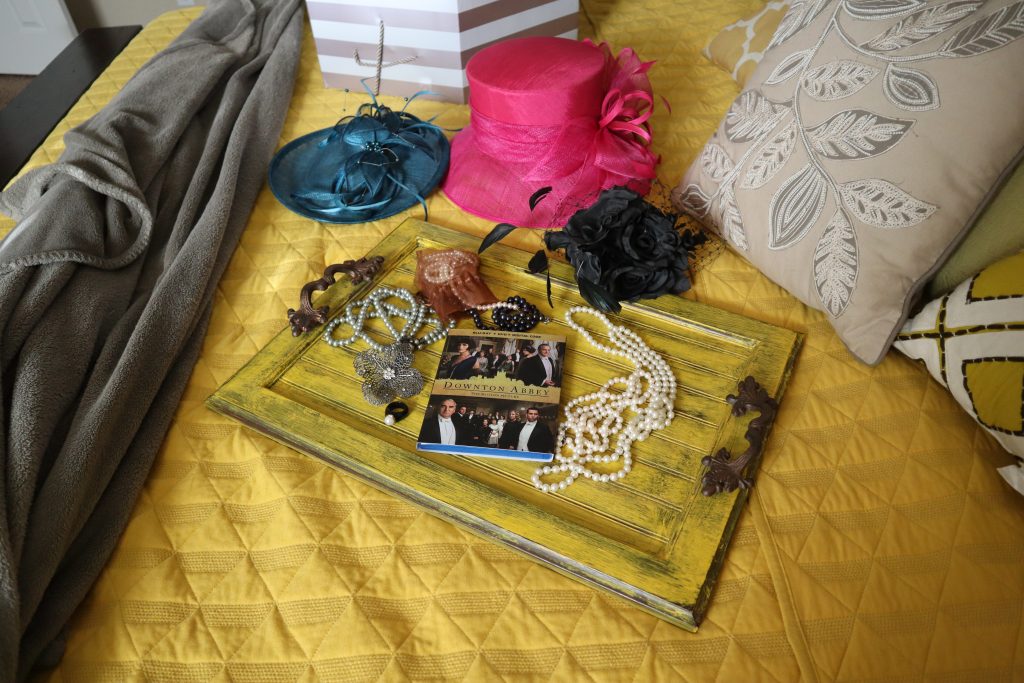 If you need an occasion to go shopping, a Downton Abbey Movie night in might just be it! I made do with accessorizing but I know I'll watch the Downton Abbey DVD over and over again, so I'm definitely on the hunt for something Lady Mary inspired.
I was really tempted to be extra and wear aaaallll the pearls but I knew the Dowager Countess would disapprove so I held back.
The right table setting – That's important when you're watching the Downton Abbey DVD
The Downton Abbey DVD deserves more than microwave popcorn. Getting our treats ready was my favorite part of getting ready for our Downton Abbey Movie night in. This was our excuse to break out the fine china and get a little bit fancy.
Fun story: My husband and I went to an auction when we still lived in England which is where I initially spotted this antique Wedgewood china. We went to this particular auction "cash only" and I only had a certain amount to bid and I didn't win.
I lamented for days afterwards and my husband said he felt bad because he didn't know how badly I wanted it. I said it was fine, and it really was. I didn't realize how badly I wanted it until I didn't get it. Two years later, I came down our stairs on Valentine's Day and the entire set was on our dining room table. My husband had bought it piece by piece on an auction site. I'll pause while you go "awww."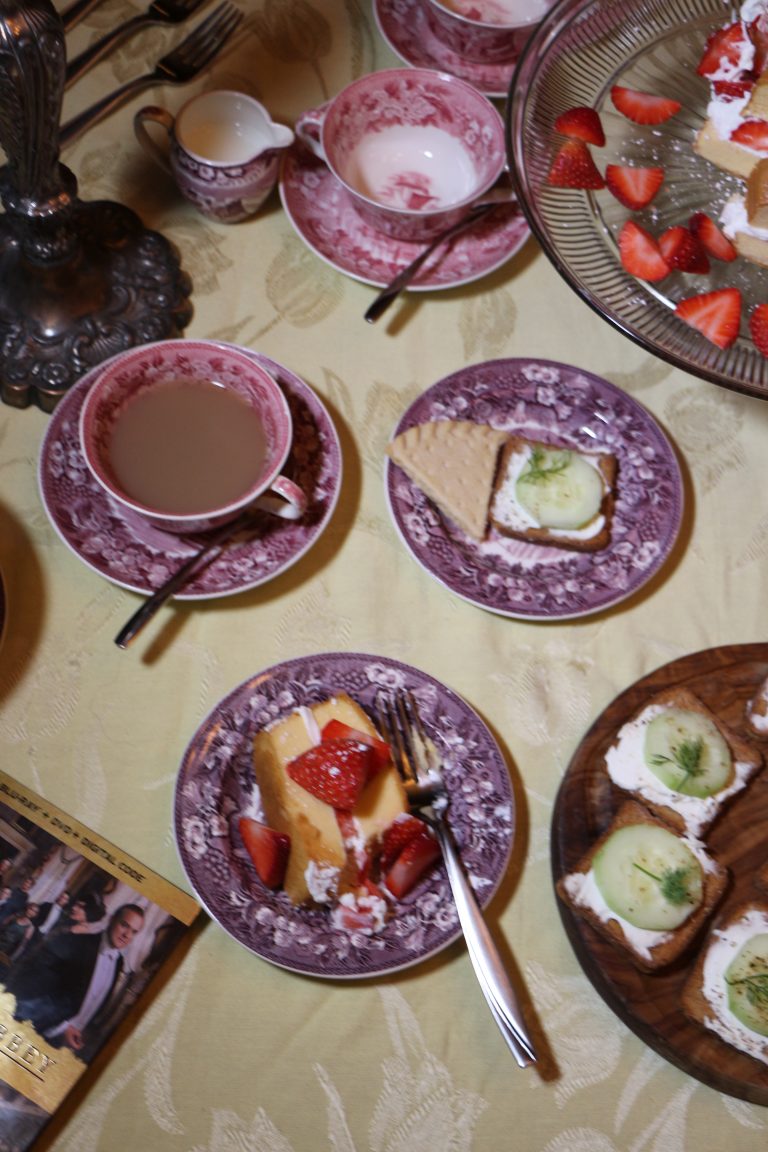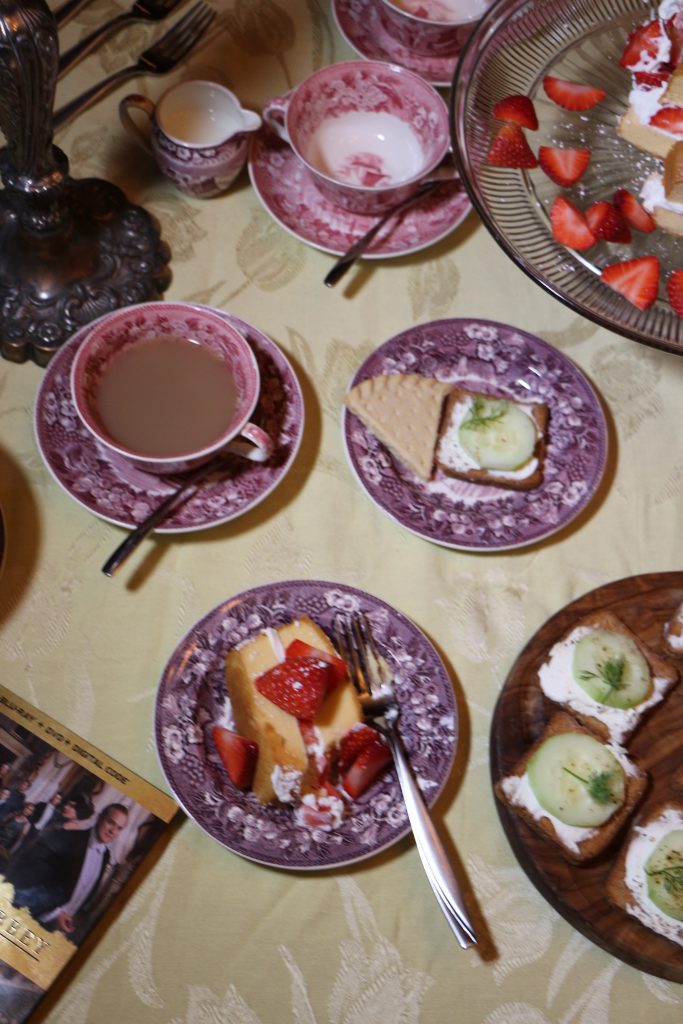 Both our dishes and Downton Abbey are a wonderful reminder of our time living in England and we couldn't not use them for our Downton Abbey Movie night in.
Easy Downton Abbey inspired eats
I made a knock-off version of Victoria Sponge, which is a popular British dessert. Real Victoria Sponge consists of a light cake layered with clotted cream and strawberries. I cut a frozen pound cake in half and used whipped cream. It wasn't the same but it was close!
We also had cucumber sandwiches, which we've never had before, can you believe that? I toasted mini sandwich bread I got in the party food section of my local grocery store. I spread each slice with softened cream cheese and a thin slice of cucumber. I topped things off with a bit of ground pepper and a spring of dill – because I'm fancy like that.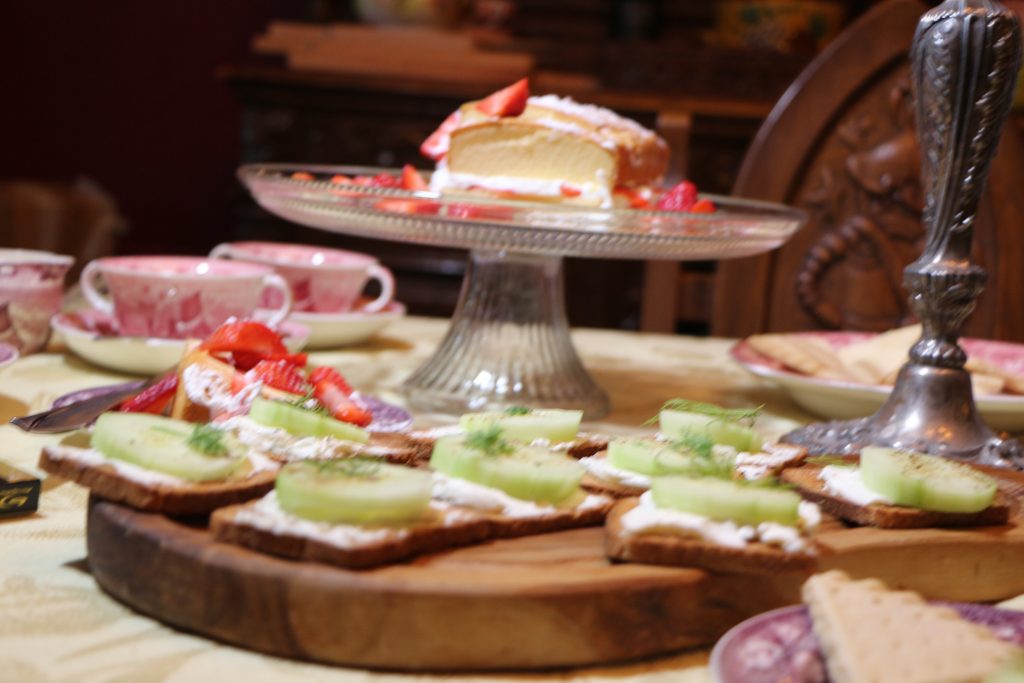 These were surprisingly delicious. I always thought of these as "fancy lady tea party food" but they were really filling and I can foresee making them for lunch in the future.
We rounded out our table with berries and cream, tea, and biscuits. You can't call them cookies when you're watching the Downton Abbey DVD – that's a rule, I'm sure.
More about the Downton Abbey Movie
No spoilers – just in case you haven't seen it. All of the characters are pretty much the same, even though the movie is set in 1927. The Downton Abbey DVD is an expansion of the series. You are also introduced to some new characters but the focal point of the plot is definitely the familiar faces you already love.
During the opening scene, you realize immediately that some time has passed but there's not a drastic difference in the characters. It's easy to connect the dots and figure out what's been going on with the characters. The story line adds to what we already know and compliments the series very well.
While the Downton Abbey Movie does address some serious issues, I thought it was a little bit lighter than the series. Since it's a two-hour movie, the plot is a tiny bit predictable. When you watch a show that is on every week, there's a little more room for suspense as the series goes on.
As I said earlier, the Downton Abbey DVD did a great job of keeping to the story line but it did offer some closure. It left the door open for future projects, but if those don't happen, I think Downton Abbey fans will be satisfied.
If you haven't seen it, scoot on over to Walmart and grab your copy of the Downton Abbey DVD. And, even if you have seen it, true Downton fans need this one in their home library.