Disney's Christopher Robin inspired "Hunny" Snack Mix
(This post may contain affiliate links. Read my full disclosure.)
Disney's Christopher Robin hit theaters in August 2018 and remains one of the CUTEST movies of that year in my book. I got to attend the
red carpet premier in Los Angeles
and the behind-the-scenes awesomeness are such great memories for me. That's why I created this "Hunny" Snack Mix as a fun way to celebrate all of our friends from the Hundred Acre Wood.
Now that Disney+ is here, don't you need a fun snack to enjoy with your favorite movies and shows? The answer is YES. You do.
Disney's Christopher Robin inspired "Hunny" snack mix
[Tweet "Make this "Hunny" snack mix inspired by Disney's Christopher Robin]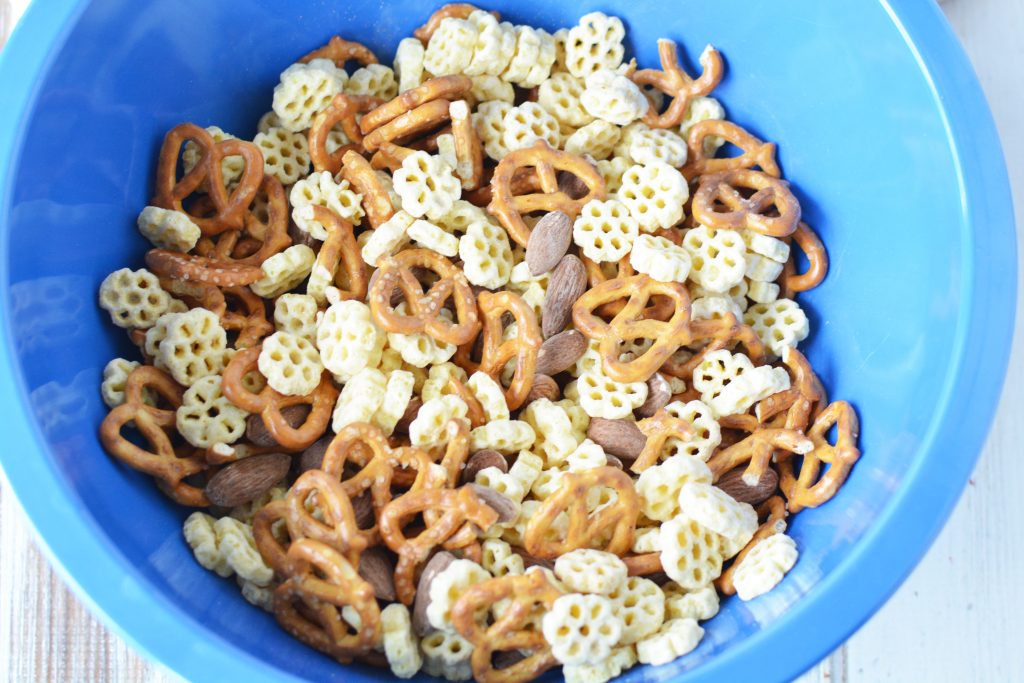 Ingredients:
4 cups honeycomb cereal
3 cups pretzels
3/4 cup whole almonds
1/2 cup brown sugar
1/2 cup dark corn syrup
2 tablespoons honey
Directions:
Preheat oven to 325 and line a baking sheet with foil. Spray with nonstick cooking spray and set aside.
In a large bowl, add cereal, pretzels and almonds and mix well. Set aside,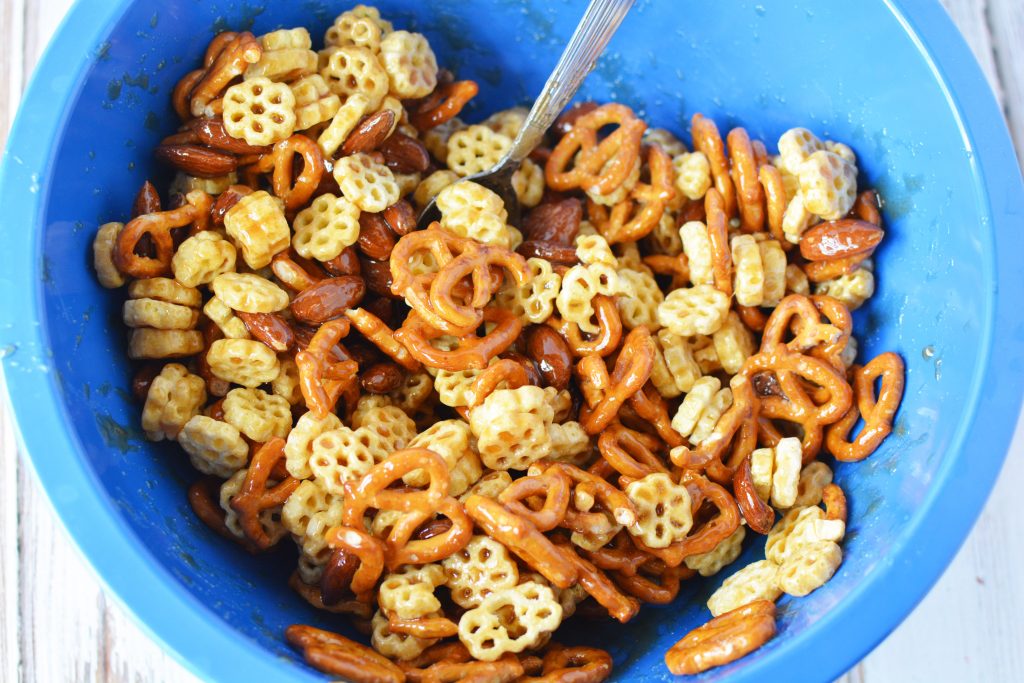 In a small saucepan, add brown sugar, corn syrup and honey. Mix well and heat over medium low heat, stirring constantly until sugar is melted. Watch this doesn't boil too much, if it does, turn down the heat and continue to stir. Once all sugar is dissolved, pour over cereal and pretzel mix. Mix well to evenly coat.
Pour into prepared baking sheet and spread as evenly as possible.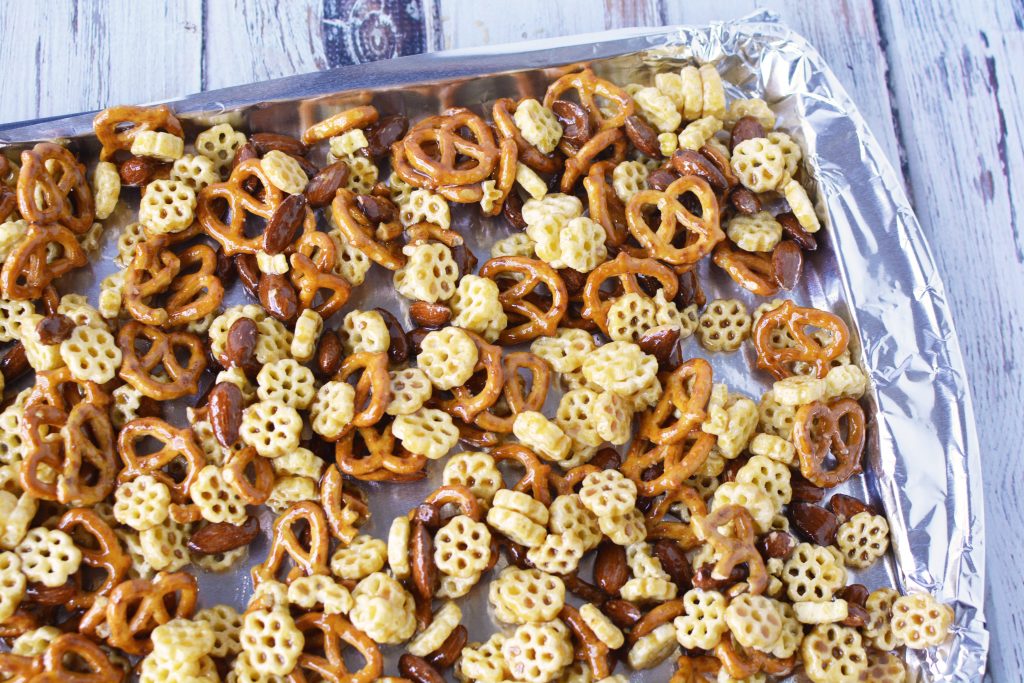 Bake for 15 minutes. Let cool completely before breaking apart and enjoying snack mix. Pooh would approve, don't you think?
Makes 8 cups
I think the almonds really make this awesome, plus, they add a bit of protein. If you're looking for a nut-free option, you could omit the almonds and add 3/4 cup of another ingredient…either extra pretzels or cereal or something else entirely, like raisins or sesame snack mix. My kids go to a nut free school so in order for us to make this a lunchbox option, we have to leave out the almonds.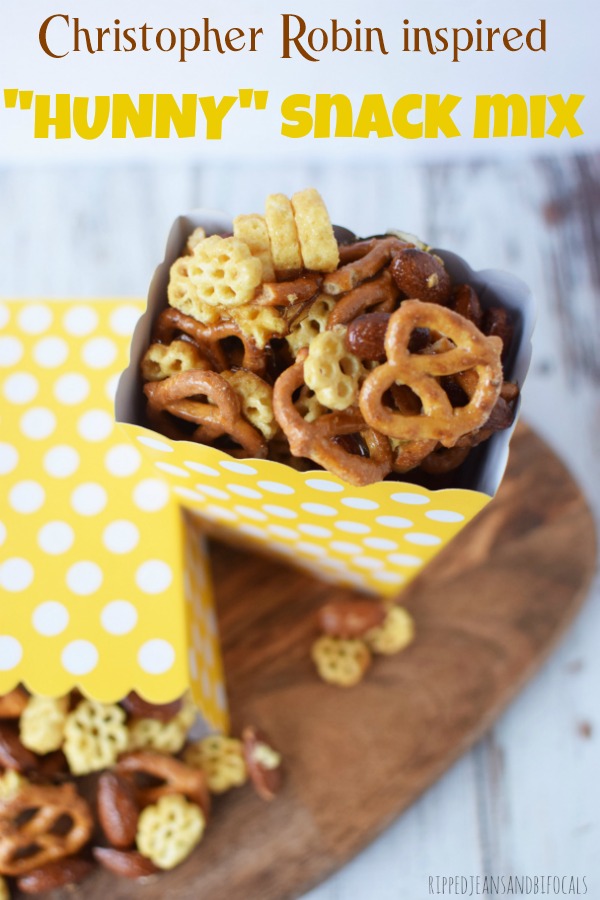 If you've found this helpful, please don't keep it to yourself ;-)! Please share on Facebook or Pin and save for later! Thank you!