Basic Mimosa Recipe – Perfect for Mother's Day
(This post may contain affiliate links. Read my full disclosure.)
Mimosas are one of my favorite brunch drinks…okay, Mimosas are a favorite anytime drink. They're boozy without being too strong and they're easy to put together. Check out my tips for setting up the perfect mimosa with this basic mimosa recipe.
Basic Mimosa Recipe – Perfect for Mother's Day
If there's anyone who deserves a little treat, it's moms. This basic mimosa recipe is perfect for Mother's Day. And mamas: don't wait for someone to remember you like mimosas. Hook yourself up. Or, drop some pretty bold hints on what your expectations are.
Disclaimer: We are a participant in the Amazon Services LLC Associates Program, an affiliate advertising program designed to provide a means for us to earn fees by linking to Amazon.com and affiliated sites. This post may also contain affiliate links to other sites where I will be paid a commission by the seller if you make a purchase.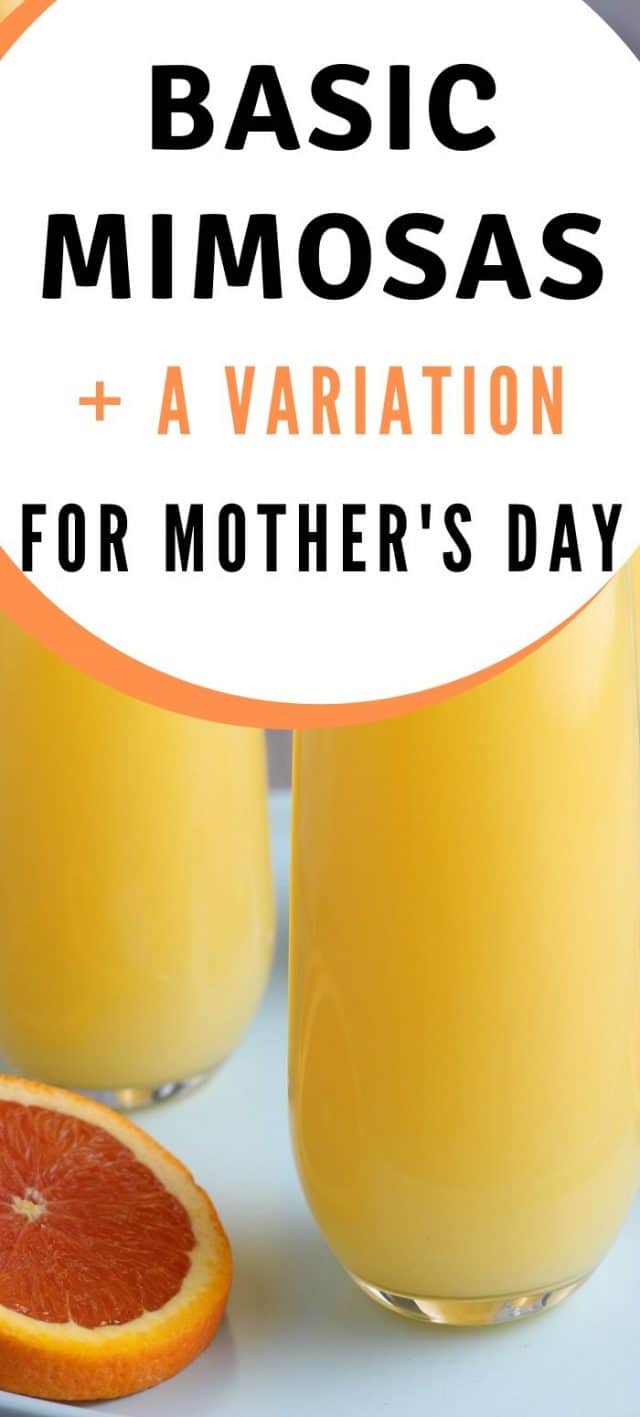 Mimosa tips
Start with the right bar ware. While I admit to drinking a mimosa out of my favorite coffee mug, do right by yourself and invest in some bar ware to make it special.
I love the modern look of stemless champagne flutes. They also come in unbreakable acrylic if you want to enjoy your mimosas by the pool…or if you have kids that break all your stuff.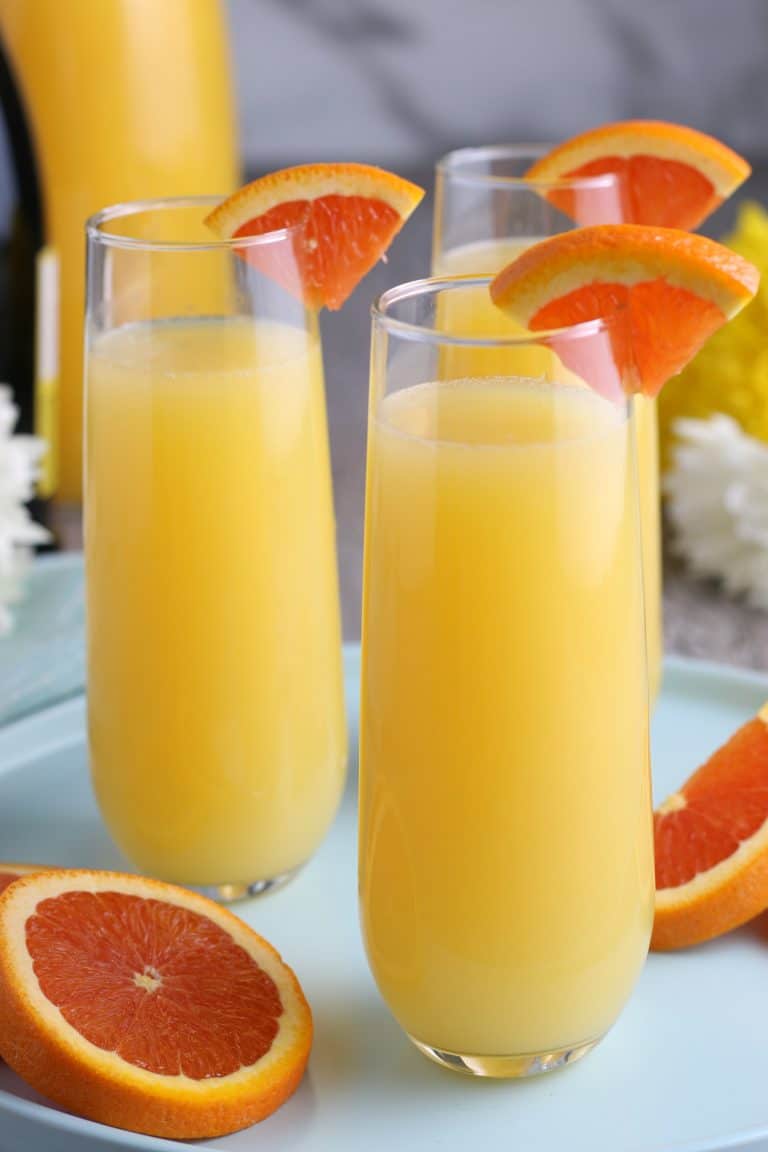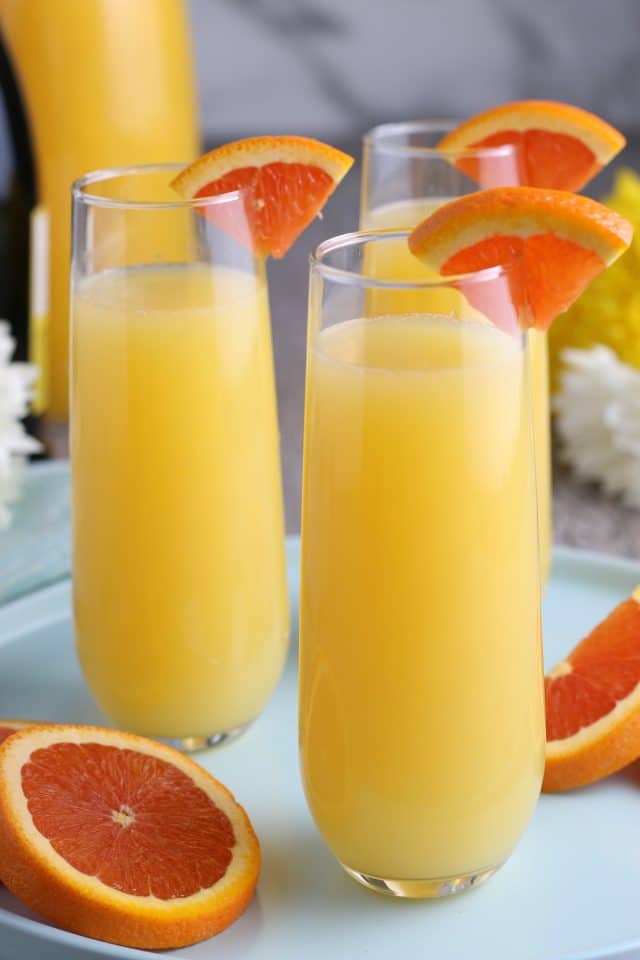 Make sure your Prosecco and your juice are chilled before you start out. Don't use ice. I love these carafes for storing juices in your fridge. They look great on your table and they have plastic lids to keep things fresh.
Want to make sure no one drinks out of your glass by mistake? Although you can't use traditional wine charms that hook around the stem when you're using stemless glasses, you can get these really cute magnetic charms.
Leaving your wine bottles out for people to mix their own? Use an ice bucket. You can turn almost anything into an ice bucket or fill your sink up with ice cubes but I like this acrylic wine bucket – it's inexpensive and neutral and goes with everything.
Use fresh squeezed juice if you can. Yes, it's more work and effort but it's SO worth it if you can make time. This is the citrus juicer we have. It's not very expensive because it is not something we use every day. It has a feature where you can adjust the amount of pulp in your juice.
You can also experiment with different juices. Mimosas are traditionally made with orange juice but it is fun to change things up with pineapple, grapefruit, or other juices.
Ingredients for basic mimosa recipe
1 (750 ml) bottle sparkling wine, like Prosecco, chilled

3-4 cups orange juice, chilled

Garnishes, optional

Grenadine, optional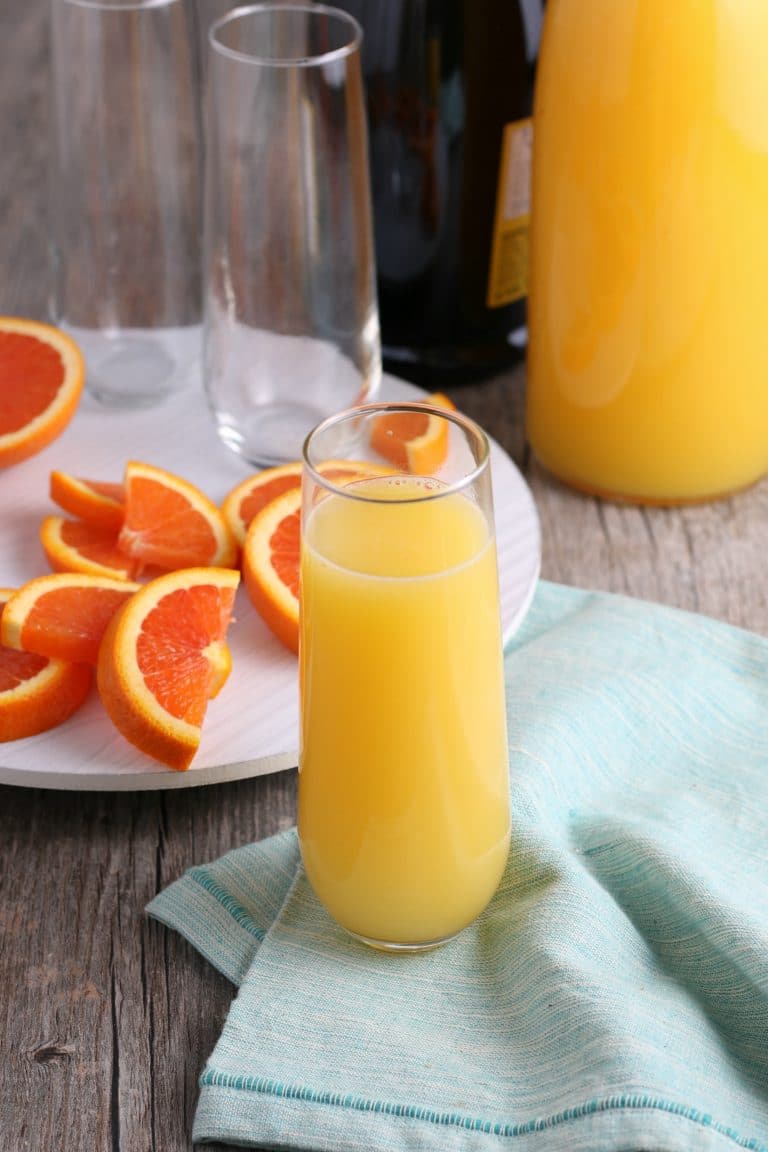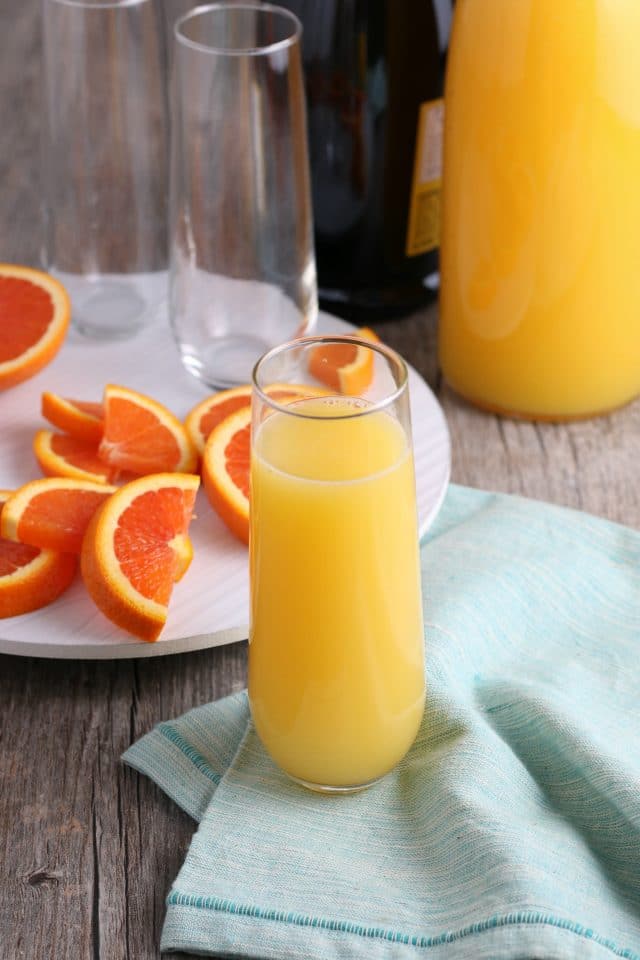 If you like a sweeter taste, you can use a sparkling Moscato or any other sweeter sparkling wine. I took a champagne tasting class on board the Disney Wonder and was told not to use champagne for mimosas. True champagne is from the Champagne region of France and I can't for the life of me remember why you shouldn't use it in your mimosa but I think it might be a "wine snob" thing. Also, champagne is more expensive than sparkling wine like Prosecco so if you're going to spring for a bottle of the expensive stuff, you probably want to savor it without anything mixed in.
Ideas for garnishes for mimosas
Orange wedges (I've used blood oranges here) or wedges of any citrus fruit
Strawberries
Skewered blueberries, raspberries or blackberries. Buy a box if cocktail picks or swords and stick a few berries on there. If you're doing a mimosa bar, you can also do little bowls of various berries for people to drop directly in their glasses.
Fresh herbs: mint is a great choice. You can also experiment with rosemary springs or basil.
Pomegranate seeds
Looking for a great, eco-friendly way to serve your garnishes? Try these cute bamboo cocktail picks.
Instructions for basic mimosa recipe:
Fill glass half way with Prosecco

Top with orange juice

Add garnishes if you like
Sunrise Mimosa variation
Fill glass half way with orange juice

Top with Prosecco

Add about ½ teaspoon grenadine down the edge of the glass

Add garnishes if you like
Serves 4-6, Prep Time: 5 min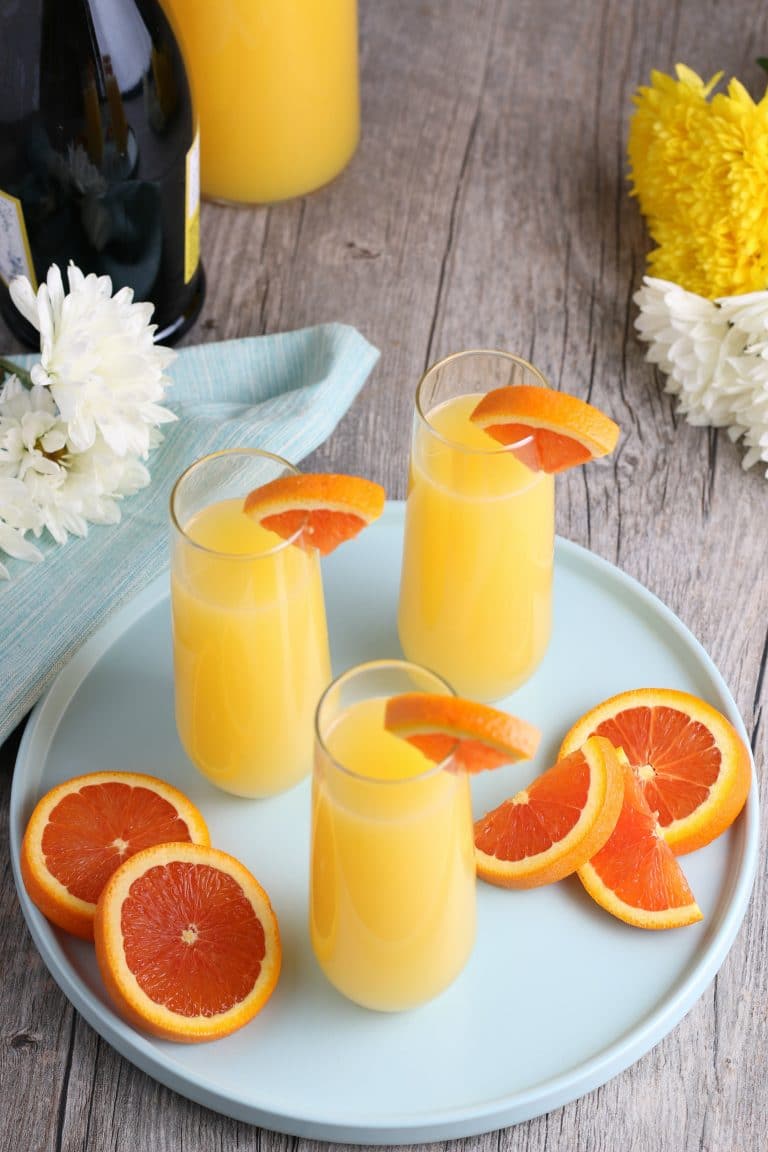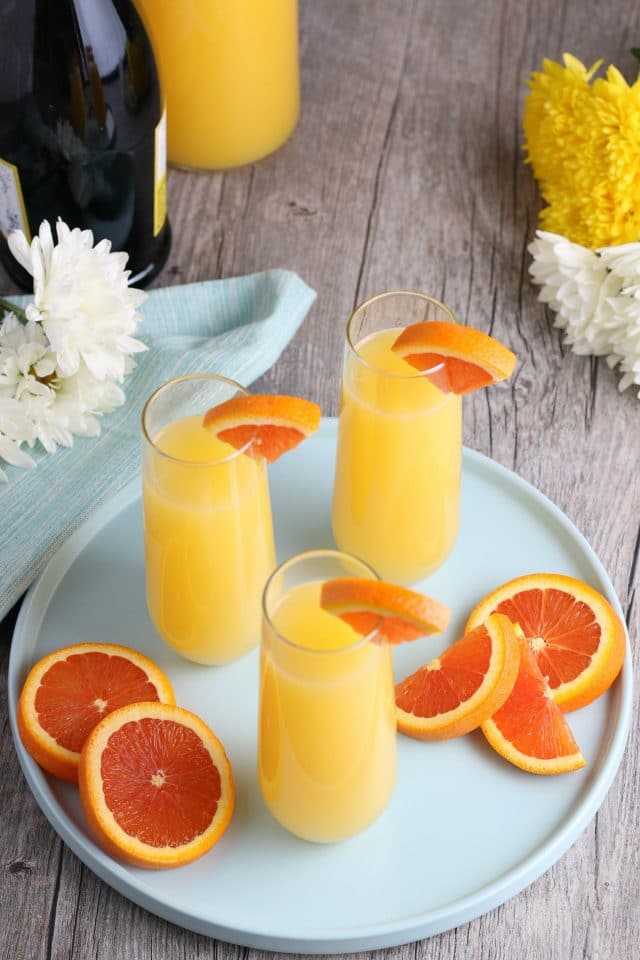 Tee Shirts to wear when you're drinking Mimosas
These shirts are perfect for brunch at home or out.
You might also like: