What to do in Medora North Dakota
(This post may contain affiliate links. Read my full disclosure.)
You might be asking yourself "Where in the world is Medora North Dakota?" Medora is located in the Badlands of North Dakota near the entrance to Theodore Roosevelt National Park, South Unit. Medora is full of wide open spaces, charming shops and eateries, and friendly people. Medora might be a little bit of a secret outside of North Dakota and it takes some effort to get there, but the effort is all worth it. If you're wondering what to do in Medora North Dakota, I'm about to tell you. There are lots of things to do in Medora North Dakota and you have lots of choices – depending on the seasons and what you like to do.
North Dakota Be Legendary funded a portion of my travel. All opinions are mine.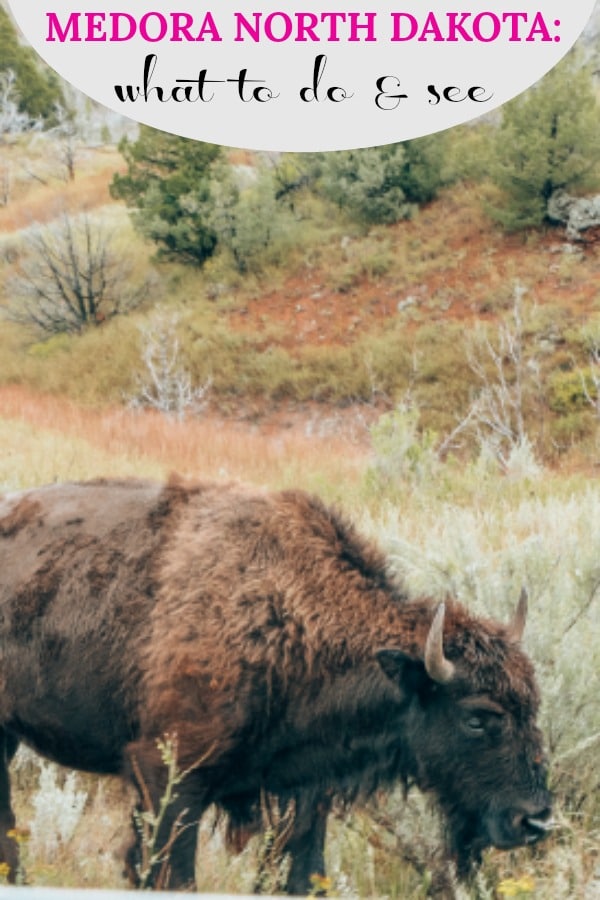 What to do in Medora North Dakota
So…where is Medora North Dakota? How do I get there?
Medora is 327 from Fargo (nearly all the way across the state via I-94)and 133 miles from Bismarck. Medora is just 31 miles from Wibaux, on the Montana-North Dakota Border.
If you're flying in to North Dakota and want to do a driving trip to explore more of the state (which I can't recommend enough) you can easily get a flight in to Bismarck or Fargo. If you want to travel from West to East, you can start in Billings Montana, which has a pretty good-sized airport. Billings is about 280 miles away and there's lots to see in Southeast/Eastern Montana on the way to Medora.
There is also a small airport in Dickinson North Dakota, which is about 36 miles from Medora. I found a round trip flight on United from San Antonio to Dickinson with one stop in Denver for around $400, so if you don't want to do a lot of driving and go directly to Medora, you probably can. However, I think driving through North Dakota and enjoying the beauty of the badlands is part of the charm.
I did visit North Dakota in September, just before the season's first big snow, so keep that in mind when following my recommendations. North Dakota travel in winter is a whole different thing and you'll want to research different blogs and modes of transportation if you're wondering what to do in Medora North Dakota in winter.
Check out some of my favorite things to do in Medora North Dakota.
Medora Musical
The Medora Musical is touted as "the greatest show in the west." I have no doubt that's true but unfortunately, I can't verify that. The weather didn't cooperate the night our group was supposed to see the show and it got rained out. Sad trombone, right?
Even though I didn't get to go, I still think you should put the Medora Musical at the top of your list when you're deciding what to do in Medora North Dakota. It's a high energy show featuring music, dancing, and horses on stage. Sounds pretty cool, doesn't it? For more information, including ticket prices and discounts, read here.
Even though I didn't get to see the show, the Medora Musical, I'd still put this at the top of my list of things to do in Medora North Dakota.
Pitchfork Fondue
I'd never heard of pitchfork fondue and believe me, it is something to be experienced. If your idea of fondue is dipping cubes of bread into cheese, I'm going to need you to get your head in a different place.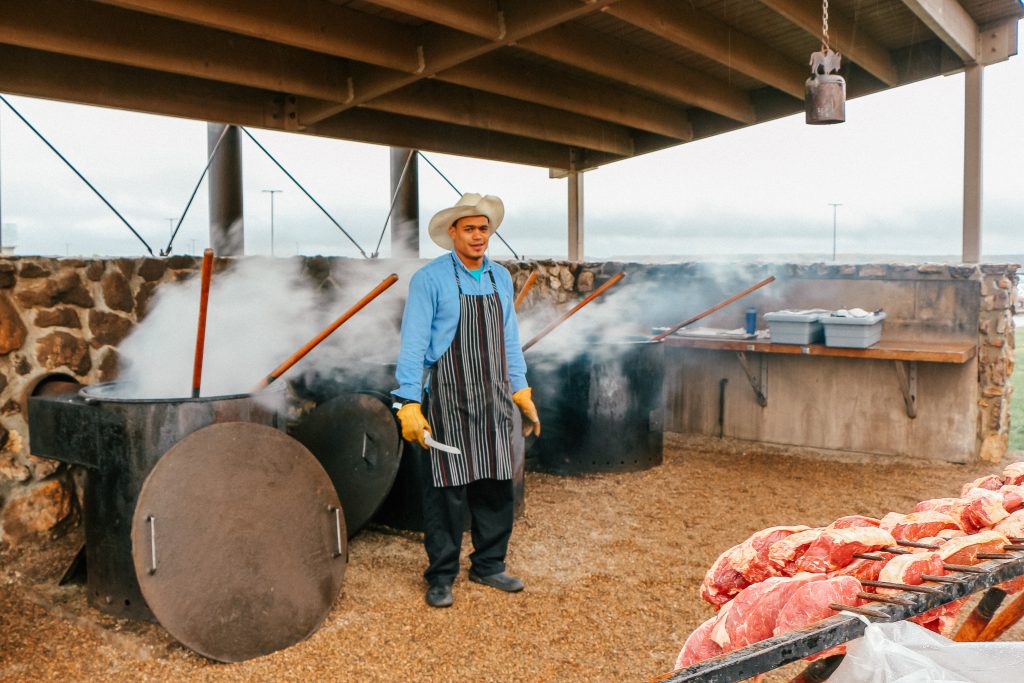 A pitchfork fondue is where steak is skewered on a pitchfork – yes, a real pitchfork – and cooked in hot oil. After you grab your steak, you'll go through a buffet line where you can load up with baked potatoes, fruits, salad, veggies, garlic toast and desserts.
You'll enjoy your delicious dinner overlooking the beautiful badlands. You will not leave hungry.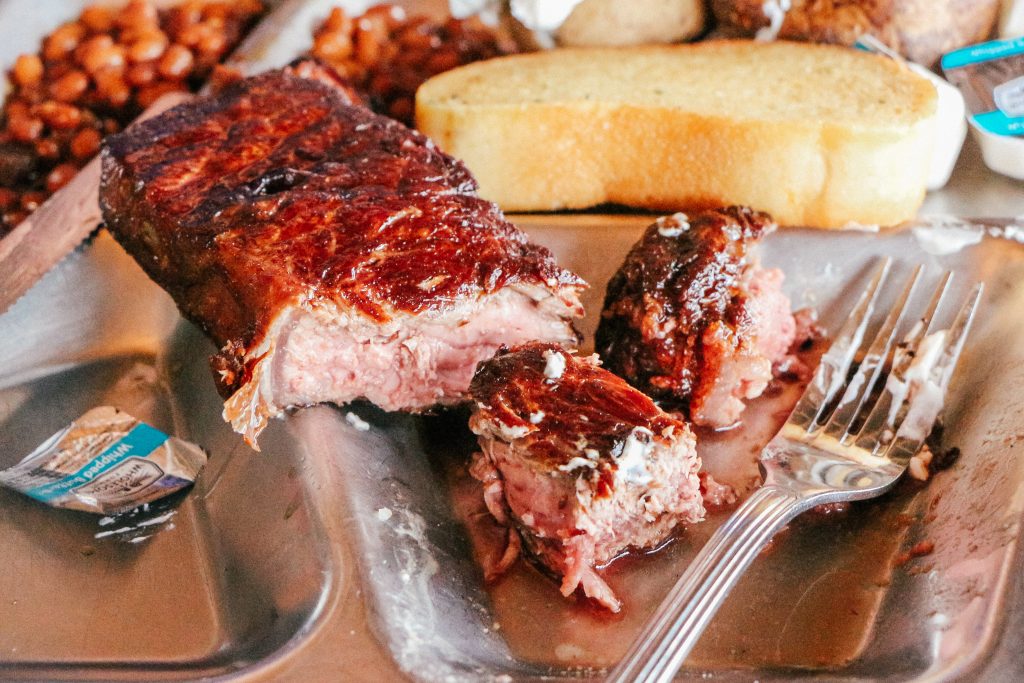 Tip: Buy the Medora Musical and the Pitchfork Fondue as a package. Enjoy your hearty dinner and then take in the show after…provided it doesn't rain on you, which is what happened to our group. We still had a great time.
Want to see more pictures of beautiful North Dakota? Check out this post.
Definitely bookmark this website and see what special offers are running when you visit, such as free food for your kids. Who wouldn't like that?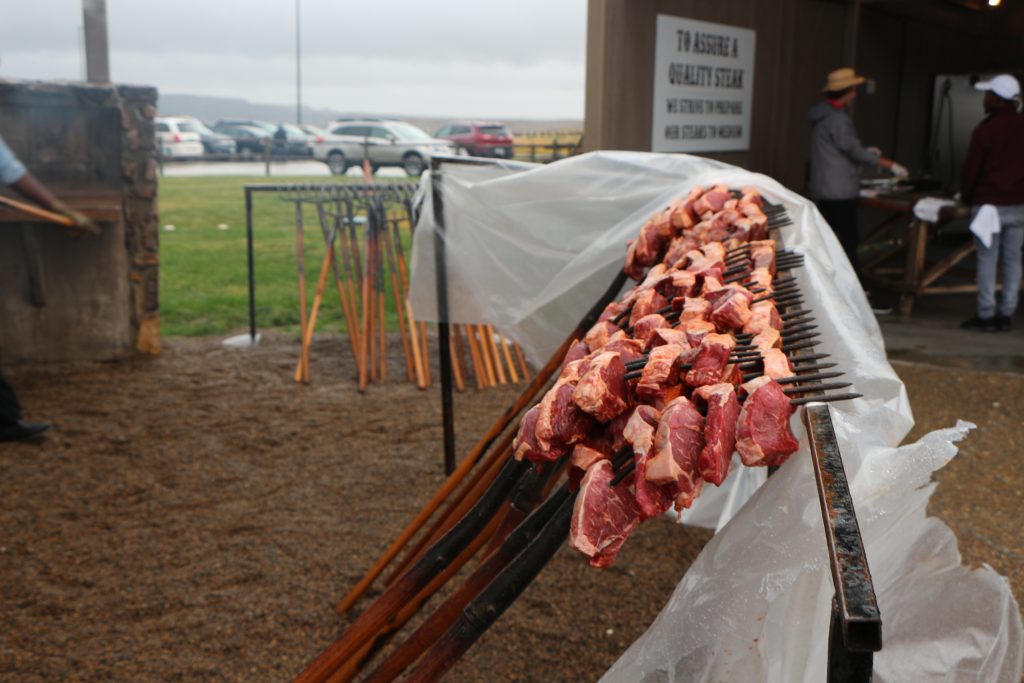 Chateau De Mores State Historic Site
Even if you don't consider yourself a history buff, Chateau De Mores is a don't skip. Understanding how Medora came to be isn't complete without a trip to Cheateau De More State Historic Site.
Antonie de Vallombrosa (AKA the Marquis de Mores) arrived in North Dakota in 1883 and named the town after his wife. The Marquis de Mores was an innovator in raising cattle, transporting meat, and more. You'll learn the family's history in the visitor center and then have an opportunity to tour the family's summer home, which overlooks Medora.
You can also check out History Alive! which are 20-minute living history monologues based on diaries, letters, and historical documents. History Alive! happens on Saturdays and Sundays June through August, so when you're planning your list of things to do in Medora North Dakota, try to hit it during a summer weekend.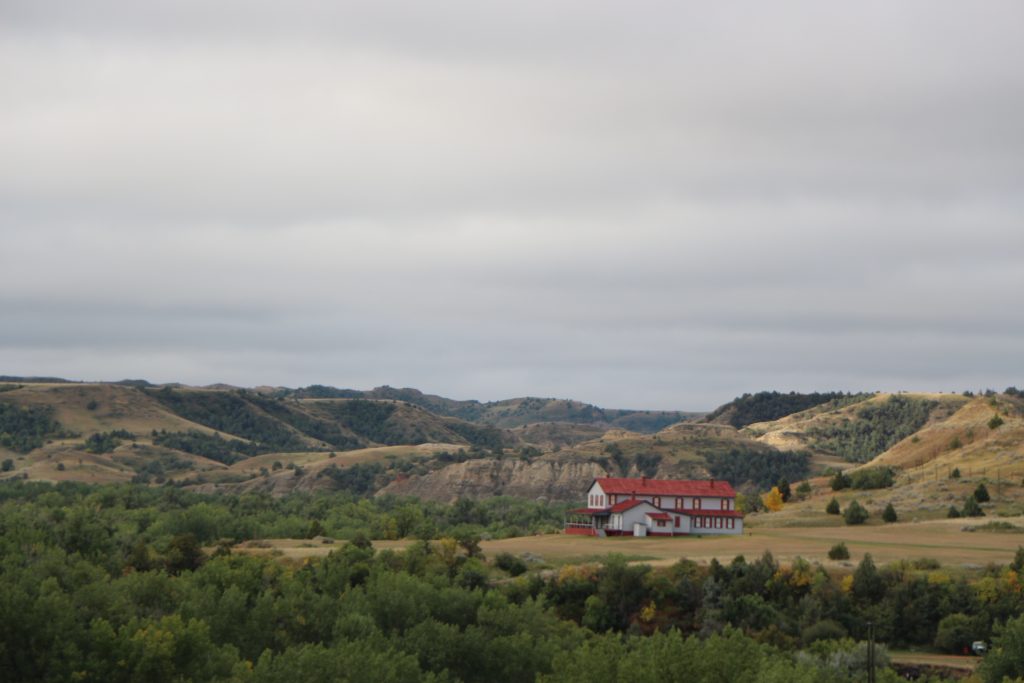 There is no electricity in the home so there are parts that are pretty dim. There are docents inside to answer questions and loan you a flashlight.
More info here.
Theodore Roosevelt National Park
Your list of what to do in Medora North Dakota isn't complete without a visit to Theodore Roosevelt National Park. Medora borders the Theodore Roosevelt National Park North Unit and you can drive right in.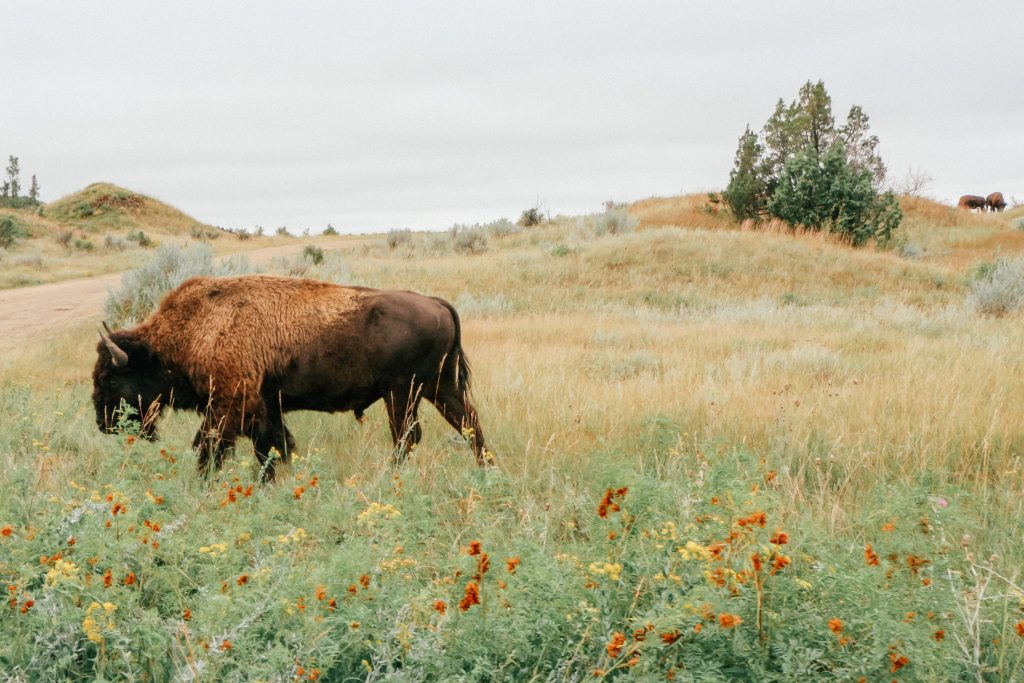 Hiking, wildlife watching, checking out local history? It's all there.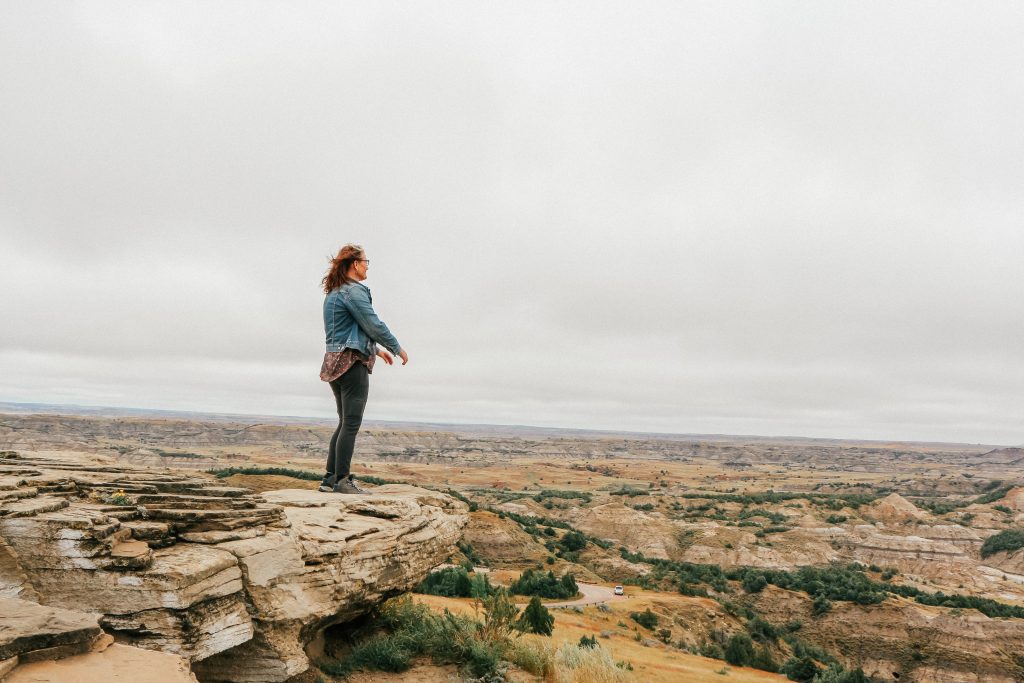 I know wildlife sightings are never guaranteed in any national park. Maybe we were especially lucky when we visited Theorodre Roosevelt National Park and I was absolutely awed by what I saw.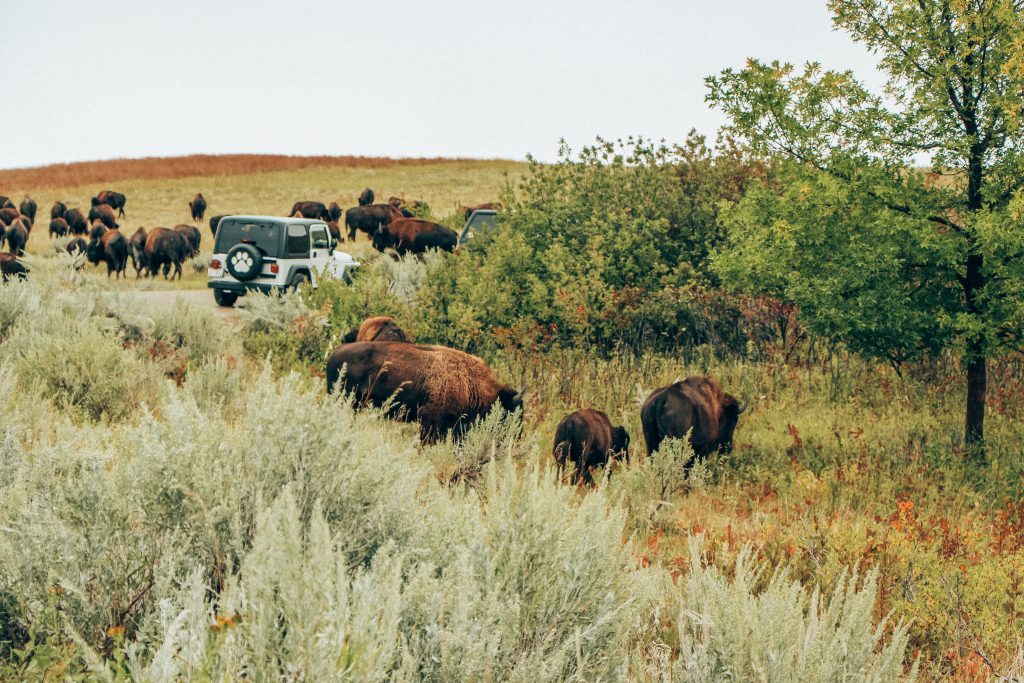 I seriously have an entire folder with hundreds of pictures of buffalo – it was so difficult trying to pick which ones to share!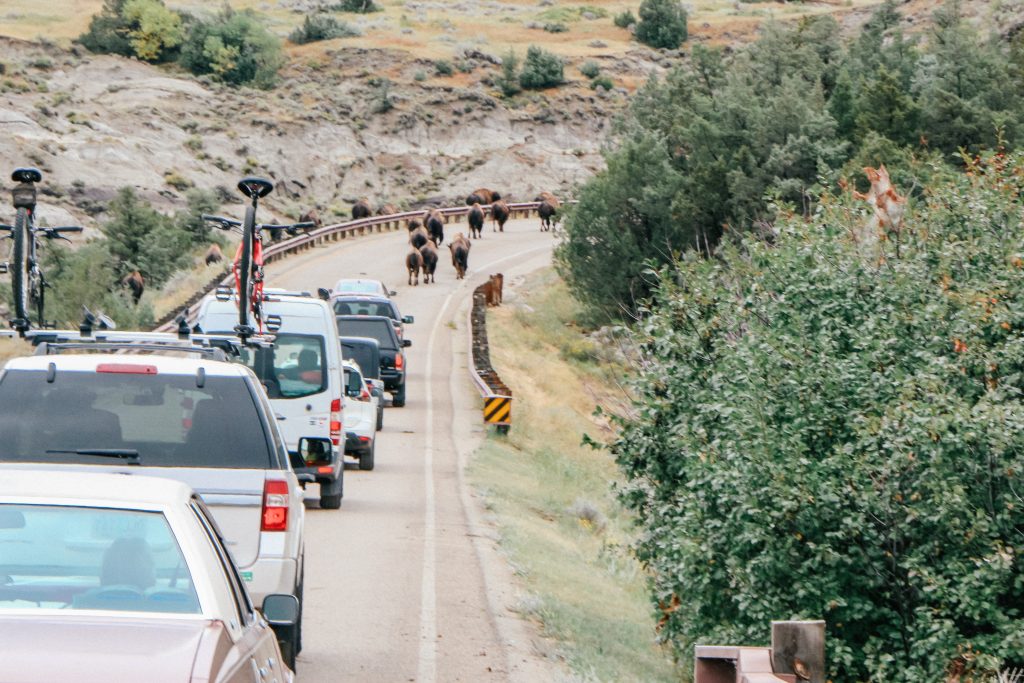 In addition to buffalo, you'll also spot feral horses and prairie dogs. If you're lucky, you might spot bighorn sheep or coyotes.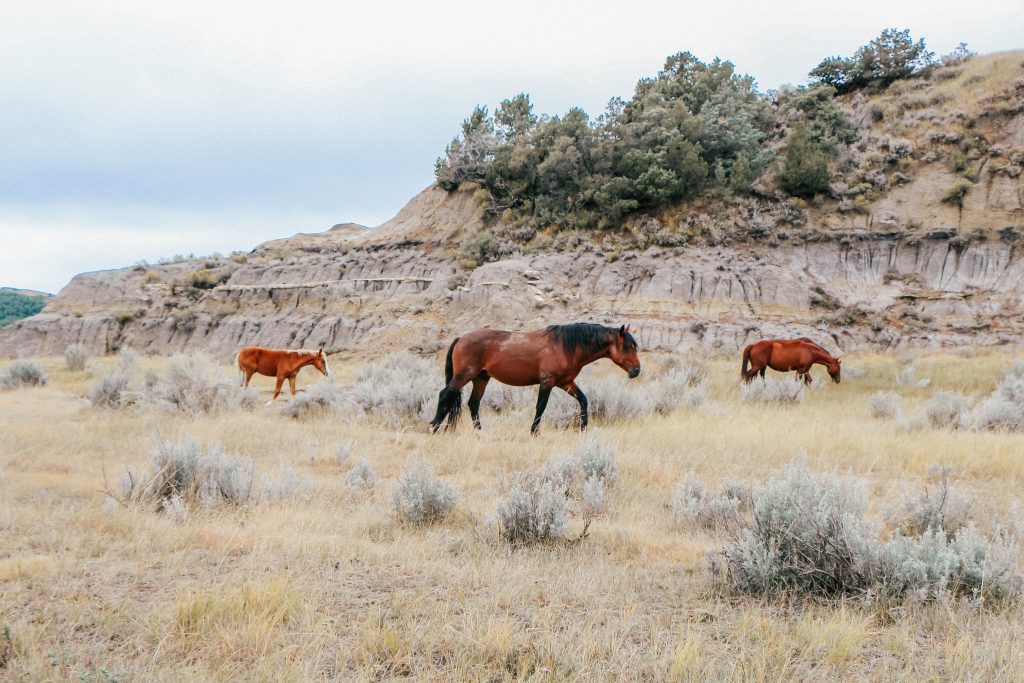 Enjoy the adorable downtown area
Downton Medora is small and easily walkable. You can find a bite to eat, coffee, ice cream, or just soak up the fun atmosphere. You'll also find a children's play area.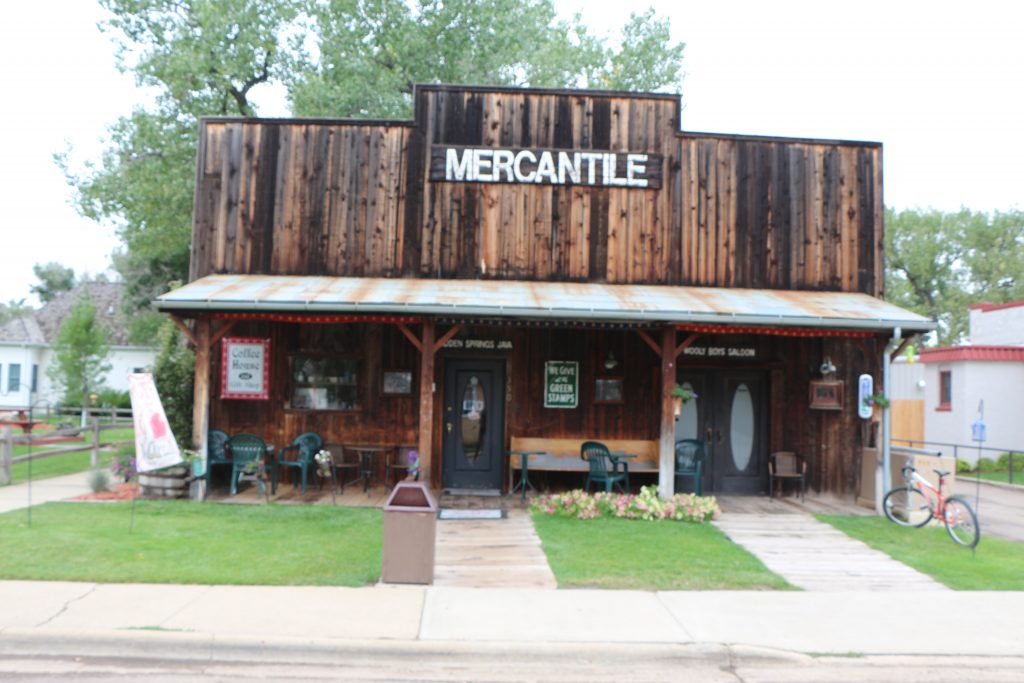 We arrived in Medora at lunch time and left after breakfast the following morning so my time to look around was fairly limited. I definitely want a Medora do-over.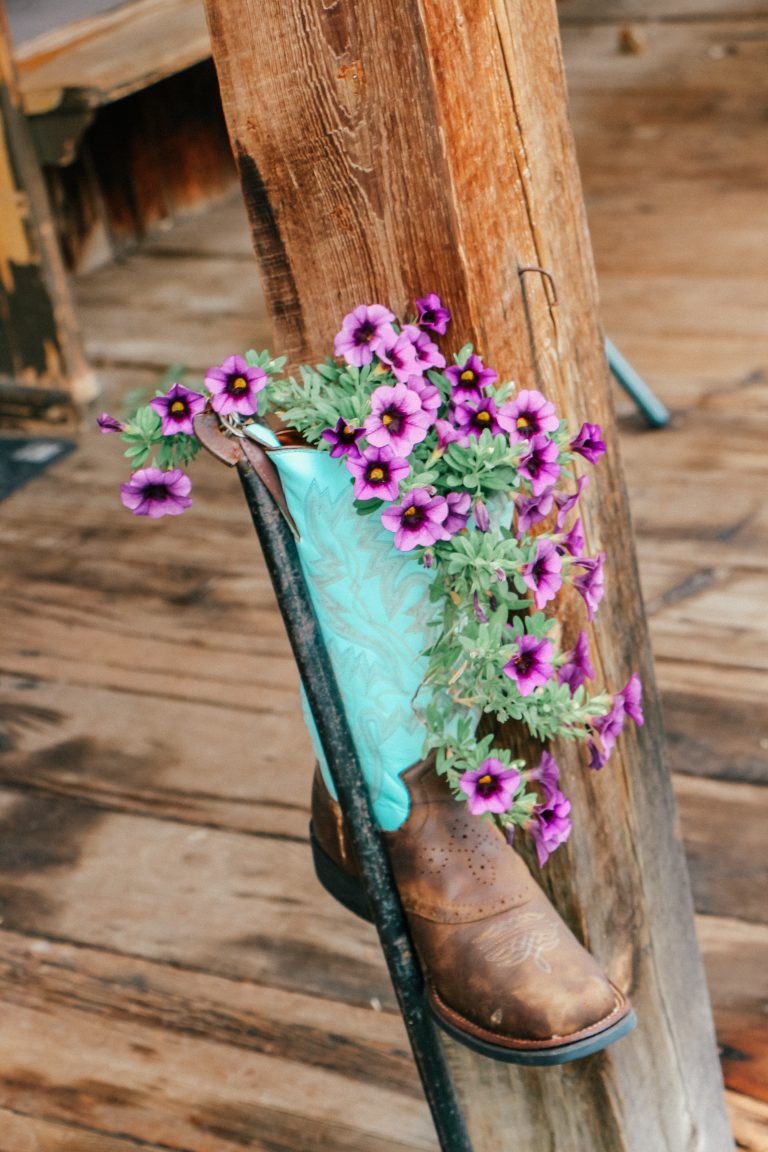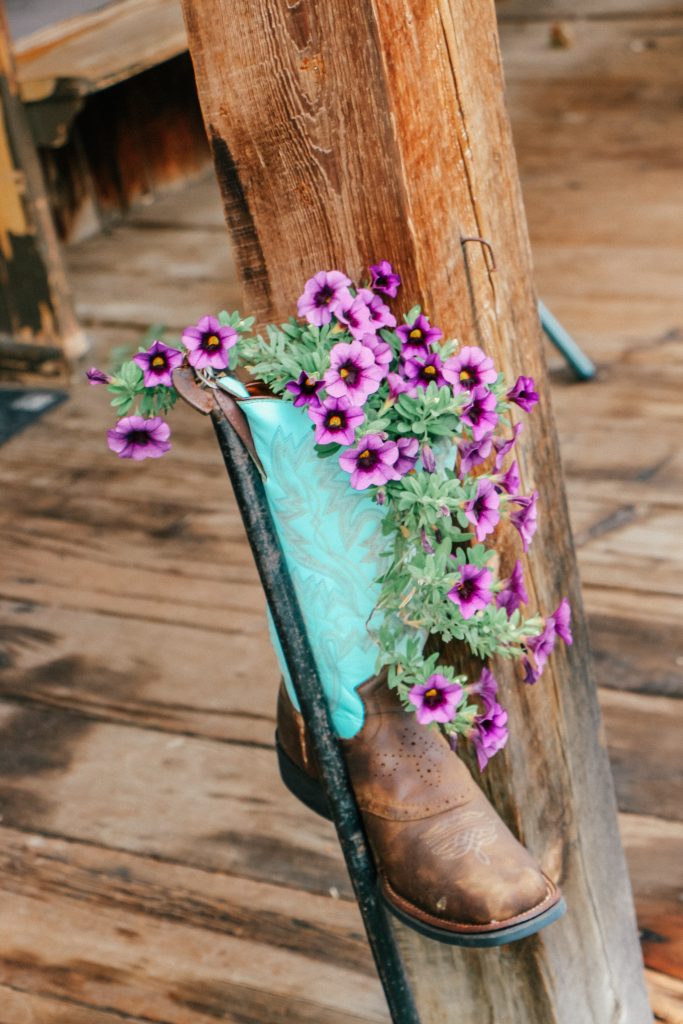 Related post: Four fun things to do in Bismarck North Dakota
Where to stay and eat in Medora North Dakota
If you're wondering where to stay in Medora North Dakota, I've got three different picks for you. Rough Riders Hotel is at the top of my list, even though I didn't actually stay here. I got to explore the lobby and eat in their restaurant, Theodore's, for breakfast. I loved the atmosphere and the general ambiance of the property – and Theodore's had a delicious and varied breakfast menu.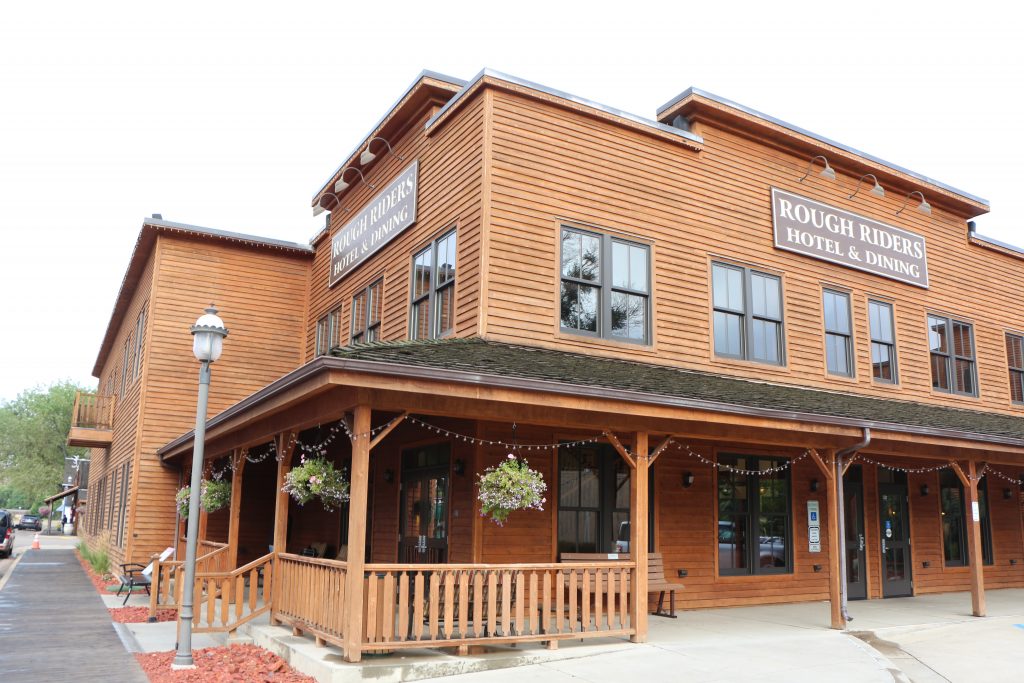 I stayed in the Badlands Motel, and I was fairly happy with it. I generally don't like outside corridor hotels, especially when I'm staying in a room by myself, but this one was really nice. Everything inside the room was newly remodeled and I was very comfortable. The biggest negative was that the walls are super thin and I could hear everything going on in the next room.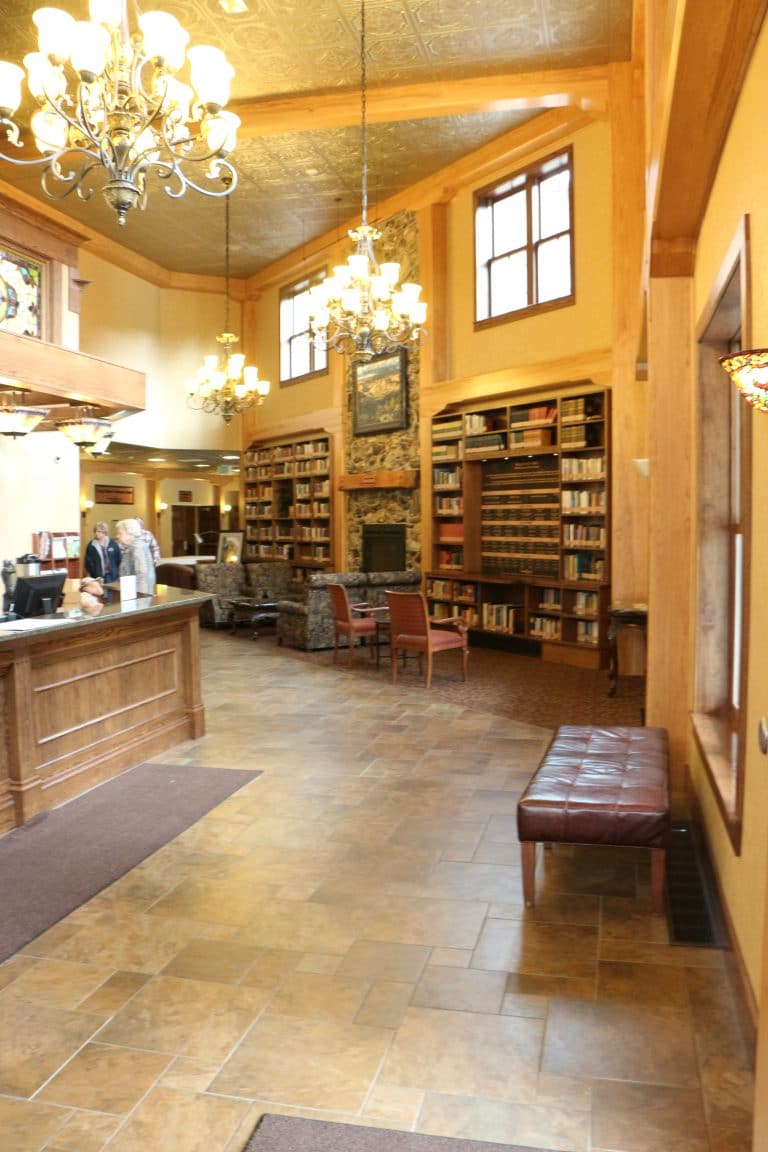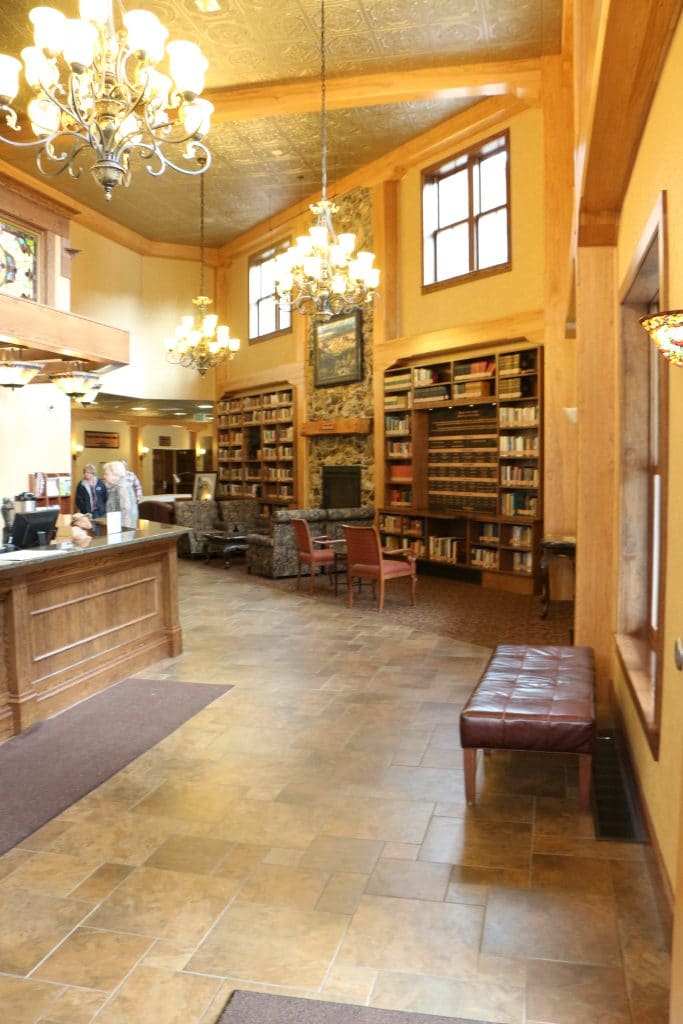 If you're on a budget, you can check out the Elkhorn Quarters. They offer a couple of different room options, to include family rooms with bunk beds – I know my kids would love that. We didn't get to see inside but the description in their website tells us that the rooms are pretty basic and designed more for the travelers who don't intend to spend a lot of time in their rooms.
The Rough Riders Hotel, The Badlands Motel, and Elkhorn Quarters are all owned by the Theodore Roosevelt Medora Foundation. If you're searching for info on where to stay in Medora North Dakota, I recommend checking out one of their properties, although there are other options in the area, to include camping.
I hope my ideas for what to do in Medora North Dakota get you started on planning your own adventure. I traveled to a lot of different places last year and this is definitely at the top of the list for places I would love to go back to.
I also recommend checking out the Cowboy Cafe. They offer breakfast and lunch and have a pretty large menu. It's a small space and they tend to get busy, so keep that in mind when visiting.
For more info on things to do in Medora North Dakota, check out Medora.com or the North Dakota tourism website.