Why parasailing in Gulf Shores is a great family spring break activity
(This post may contain affiliate links. Read my full disclosure.)
Gulf Shores Alabama is one of our top spring break picks. Beautiful white sand beaches. A community geared toward families. Easy to get to. I mean…what's not to love? If you want to try something different or knock off a bucket list item during your spring break beach trip, I recommend parasailing. Here's why parasailing in Gulf Shores is a great family spring break activity and the information on how and where to do it.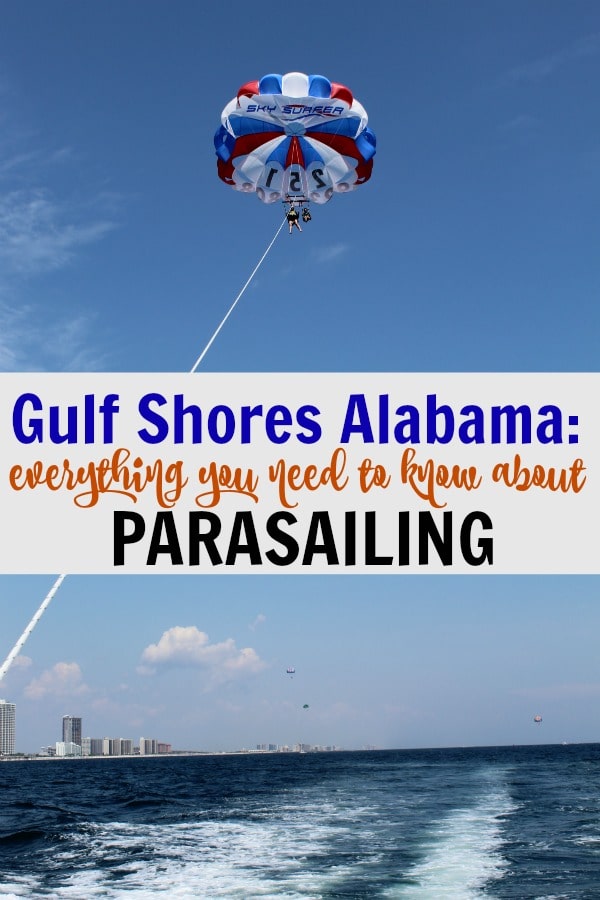 This post is sponsored by Gulf Shores/Orange Beach Tourism. All opinions are mine.
Why parasailing in Gulf Shores is a great family spring break activity
My nine-year-old son and I went parasailing this past summer in Gulf Shores. We had a fantastic time and I'd absolutely recommend – and probably prefer – this activity during spring break. We visited in mid-August and it was hot and humid. The weather in March or April would be absolutely perfect, making parasailing in Gulf Shores a great choice for spring break.
Related: Unlock your inner child with Sand Castle University
June 2020 Update: Alabama beaches are open. If you're comfortable traveling, here are some things you need to know about summer travel to Gulf Shores.
1. Want to go parasailing in Gulf Shores or Orange Beach? Awesome. You have lots of options
We booked with Sky Surfers and we had an absolutely A+ experience and no reason to want to go anywhere else. However, spring break is a popular time in Gulf Shores and your location or other personal preference may drive you toward a different choice. The Gulf Shores/Orange Beach tourism website – a great trip planning resource, by the way – has an entire section on parasailing companies they recommend. They're all in one place so it's easy to check them out and do any comparison you want to do or reach out and ask questions before booking.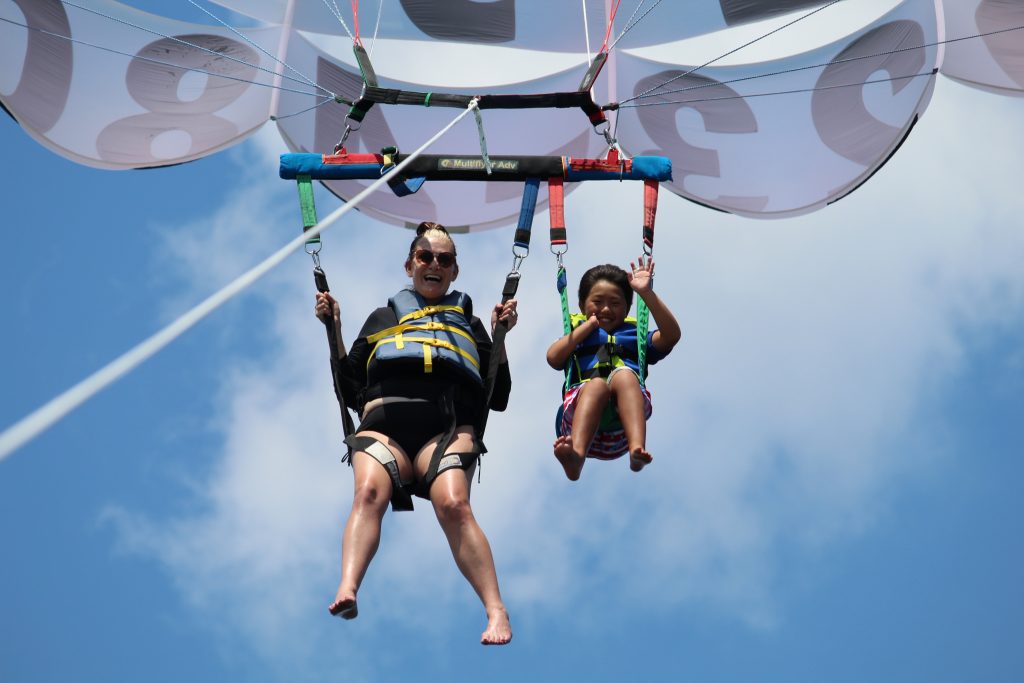 We enjoyed Sky Surfers a lot. The experience was booked for us as part of our media visit this summer so I can't speak to the ease of booking but I can vouch for the friendliness and helpfulness of their employees. I got lost trying to find the place (it is a little hard to spot) so I had to call and basically have someone guide me in.
I like Sky Surfers because it gave us the option to take a rider on the boat at a reduced rate. One of my kids didn't want to go up parasailing but we did need to keep him with us (I was traveling solo with my two sons) so we were able to have him be a part of the experience without forcing him to do an activity he wasn't ready to do.
Related Post: 5 Day Spring Break Itinerary for Gulf Shores Alabama
2. Anyone can go parasailing
Kids as young as three can go parasailing. Most boats can take up doubles or triples, so you'll have to divide your group accordingly. Weight limits will apply. Use 90 pounds minimum and 450 pounds maximum weight as a guide, although this may vary slightly from company to company. I went up with my son and I'm sure the eyeball/common sense test told our tour operator we were well within that limit. No one weighed us or asked us how much we weighed, although I'm sure that could happen.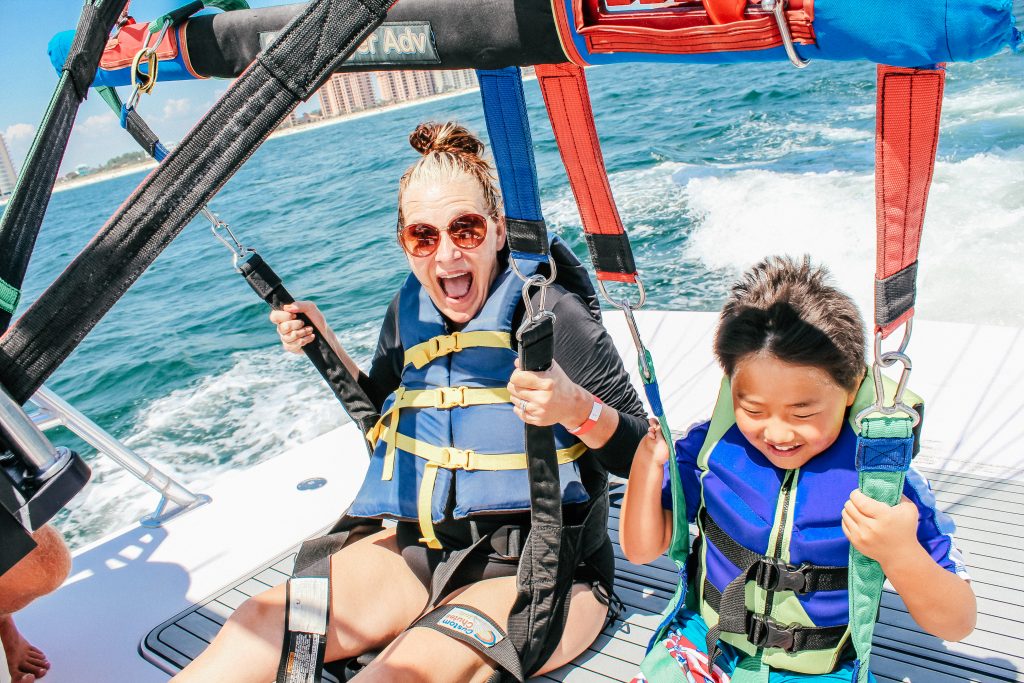 If you can get into a boat and sit down, you can go parasailing. You don't need any specific skills, training or athletic ability to go parasailing. You'll be provided with basic safety instructions and a trained crew member will get you into the harness. You don't have to do anything except hold on, follow instructions, and enjoy the ride. It's very easy and safe.
3. What else do I need to know about parasailing in Gulf Shores?
The parasailing in Gulf Shores and Orange Beach will start from the boat, not from the beach. The boat ride is a fun adventure in of itself so if you have non-parasailers in your group, it will still be fun for everyone.
If you have a small family or group, you'll most likely be on an excursion with other families or groups. Our group of three shared the boat with two couples from North Dakota and a family of five from…well, it's just occurred to me that I didn't ask where they were from but it was a couple with a small child and one set of grandparents. Note to self: be more social on tours.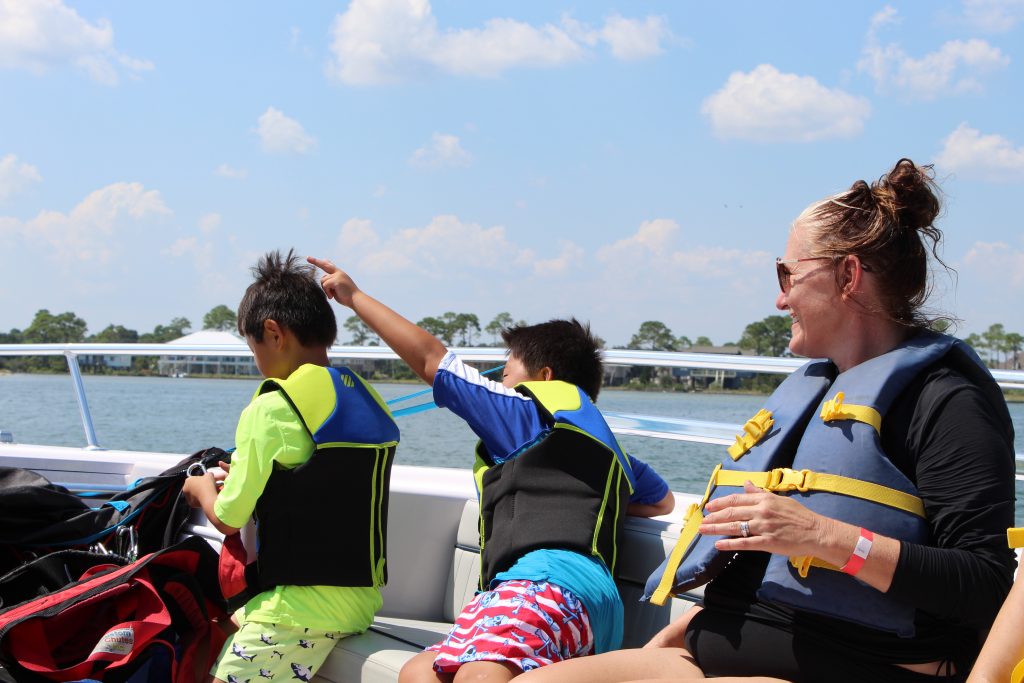 Your total time in the air will be 8-10 minutes. It took us 20 minutes to get to the point where the first group got into the harness. We were out and back in about two hours but the time seemed to pass really quickly – it was a lot of fun!
Related: 5 Reasons to check out Alabama Beaches
Parasailing isn't scary…not really. It's very peaceful and the going up and going down part seem very gradual and gentle, although from the spectators point of view, it happens quickly. The only thing that made me slightly uneasy was how high up we were…but it was extremely cool to be flying above the seagulls and have that kind of view of the water. My only regret is forgetting the wrist harness and chest strap for our GoPro cameras.
Wear your bathing suit but don't expect to get really wet. You may or may not get splashed on the boat ride out and back. Your driver may dip you a little bit into the water but for us, it was really just getting our legs below the knees wet. If you want to get more or less wet, let your crew know before you go up.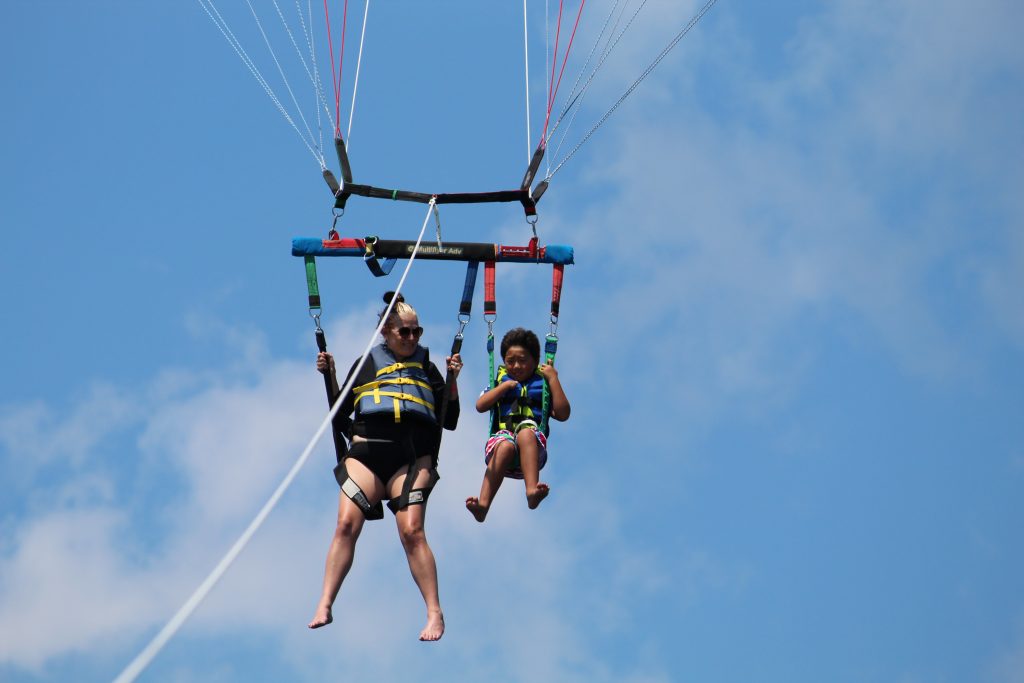 4. How much does parasailing in Gulf Shores cost?
Your mileage will vary depending on what company you choose, but on average, you will spend about $70 per parasailer and about $30 per observer. Photo packages (more on that below) are between $30 and $40 extra. This is definitely a splurge activity if you have a larger family and everyone wants to go up but it's pretty easy to be budget conscious in Gulf Shores, so make this your one big activity and spend the rest of the time enjoying the beaches or your resort.
Since parasailing in Gulf Shores is a popular activity, you'll need to make advance reservations. I recommend scheduling your parasailing adventures early on in your trip so you have some wiggle room in case of a weather cancellations.
5. Have fun and buy the photo package
Pictures or it didn't happen, right? You can take cameras or your phones on the boat but we were super happy with our photo package and the cost was very minimal – around $35 for about 20 pictures. We got the shots we wanted and we didn't have to worry about our equipment getting wet or damaged, although if you have a GoPro, definitely take that…just don't forget your harness like we did. We did not want to risk dropping it in the ocean, even thought the handle floats, so we left it on the boat.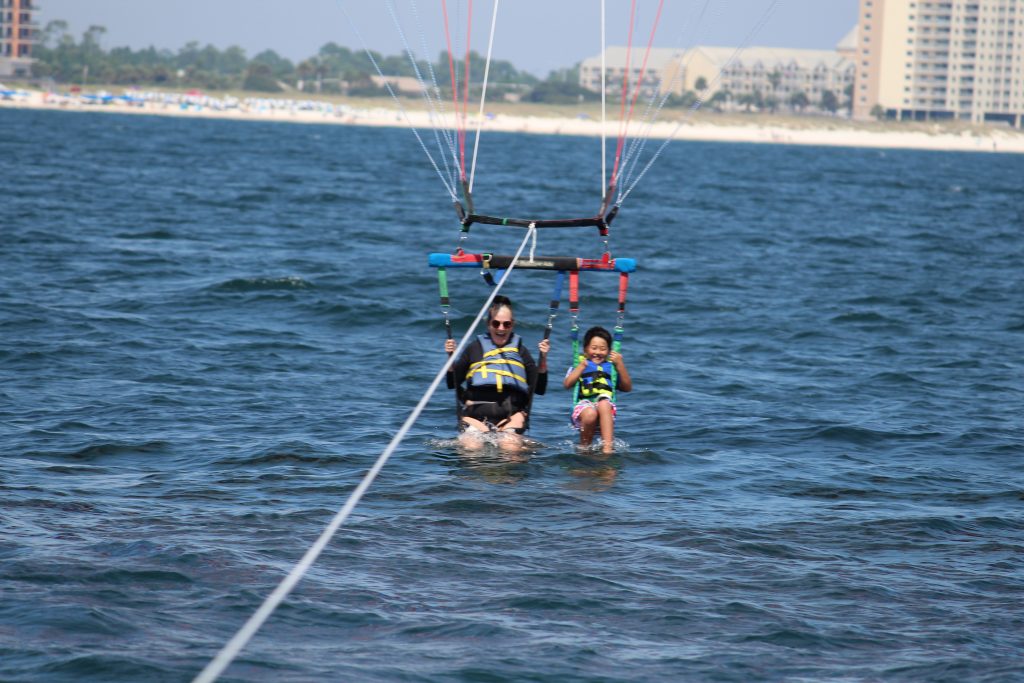 Bottom line, parasailing in Gulf Shores is an activity your family can do together and it's (for most people) something new and adventurous.
Want to do more in Gulf Shores?
Check out Amazing things to do in Gulf Shores
Visit Gulf Shores/Orange Beach Tourism website for more fun things