Solo Parent Travel – The 7 Important things you need to know
(This post may contain affiliate links. Read my full disclosure.)
I define solo parent travel as travel with only one parent present. While single parents who travel and explore with their kids are included in this category, a solo parent traveler doesn't necessarily have to be a single parent. Today, I'm sharing my thoughts on why solo parent travel is awesome and some important things you need to know.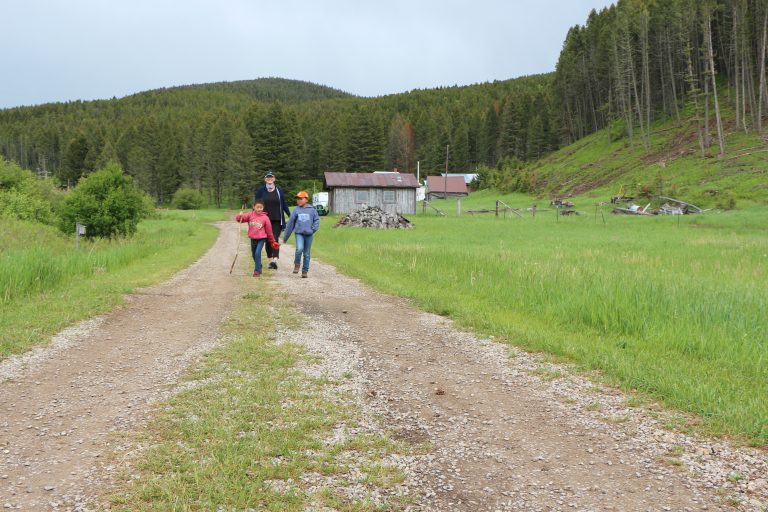 Solo Parent Travel: Important stuff you need to know before taking a solo parent trip
My journey to solo parent travel.
I am happily married to a man who loves to travel almost as much as I do. Unfortunately, his schedule isn't as unstructured as mine is. Being a travel blogger, I have lots of opportunities to…well, travel. Since I have more travel opportunities than my husband has vacation days, we made the decision that I would travel solo or travel with our kids (solo parent travel) when the opportunities came up.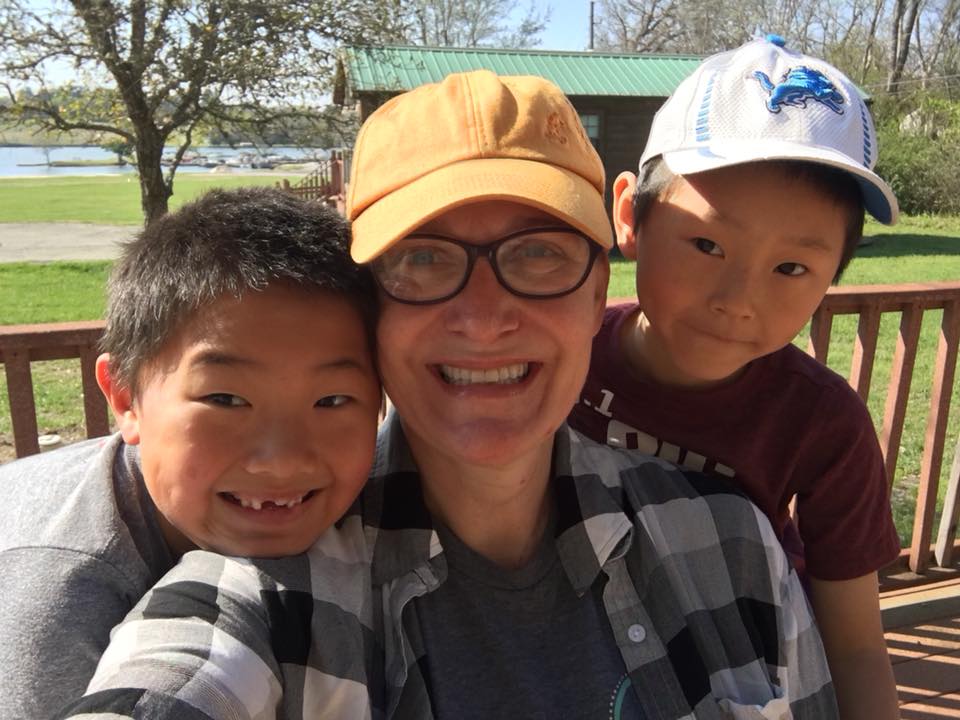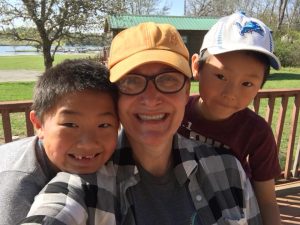 The first trip I took with just the boys and I, (they were seven at the time and they are nine now) was during spring break when they were in second grade. We were invited by a camping resort about three hours from our home to come and experience one of their cabins. I had absolutely nothing planned for my kids over spring break. I was trying to decide between signing them up a day camp that didn't really interest them (because the camps that did interest them were already full…hello procrastination), or vegging out at home for a week to come up with fun things for them to do that involved minimal time zoning on electronics.
I decided to go ahead and take them to the camping resort on my own and it was a wonderful experience for all of us. We learned a lot about traveling as a trio and about each other.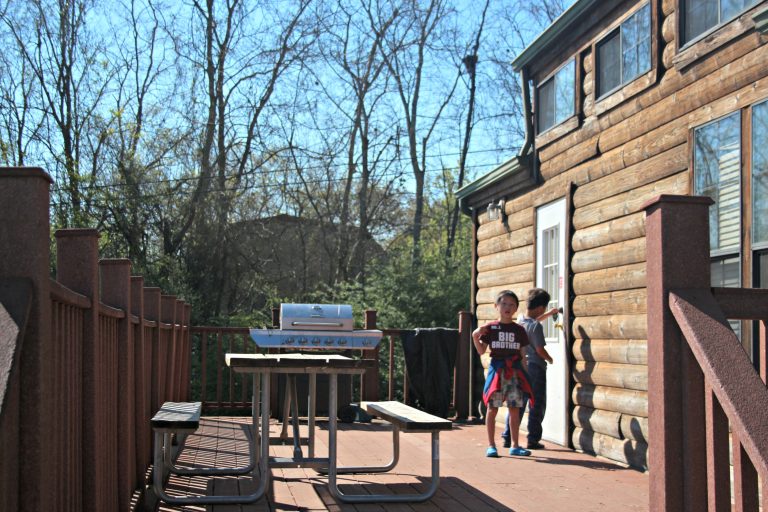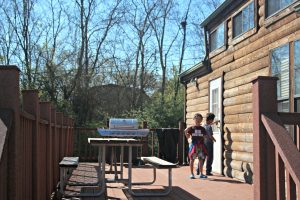 One of the things my kids learned on our first trip as a trio is that moms CAN do things dad can do, like light the gas grill…although they don't know I had to text my husband a picture of the grill to figure it out.
Fast forward nearly two years, and I've taken multiple trips with just my kids, with two more on the horizon. If I had the choice between solo parent travel and traveling with my kids and my husband, I'd choose the four of us every time…but for the immediate future, we can't do it that way, and traveling is kind of what I do. That being said, I've become pretty good at solo parent travel.
If, for whatever reason, you can't travel as a complete family, consider taking your kids on a trip, just you and them. You'll learn from each other and have a great time.
Here are 7 things you need to know about solo parent travel
1. Pick a kid-friendly destination – the holy grail of solo parent travel.
This is probably a no-brainer when you're planning any travel with kids, but it's extremely important when you don't have the other adult as a buffer. You know your kids…and you know if they're going to break away from you and do cartwheels down the hotel corridor or be wild and crazy in a restaurant when you don't have that extra person saying "shush" or "we don't stand on our chairs, honey."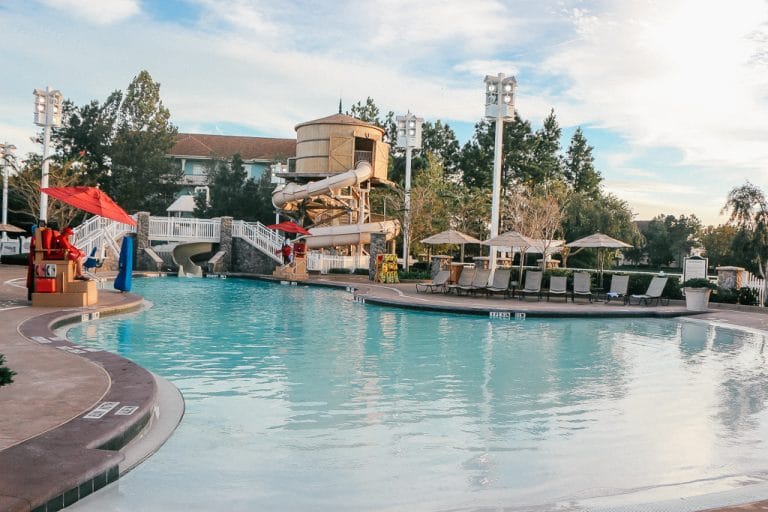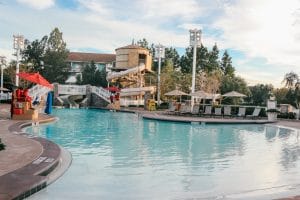 A destination that's popular with families is where you want to be. It doesn't mean your accommodations can't be nice or even luxurious, depending on your budget, but definitely choose places to stay, eat, and play, geared toward children the same age as yours. Read reviews from other parents. Ask people you know for recommendations. To plan a solo parent trip (especially with younger kids) without doing your homework is not a good idea.
2. You need a solid transportation plan.
I almost always rent a car from Alamo Rent A Car when we're going on a trip. If we're flying into a destination, I love getting a rental car at the airport and having freedom to come and go as we want during the trip. Unless you're going to a major city like New York or Dublin where you can stay entirely within the city and walk/take public transportation everywhere easily, it's nice to be able to have your own ride to check out restaurants or other activities that might not be within walking distance of your hotel. Renting a car also gives us the option to get a cheaper hotel room by not staying in the city center where rooms are often more expensive.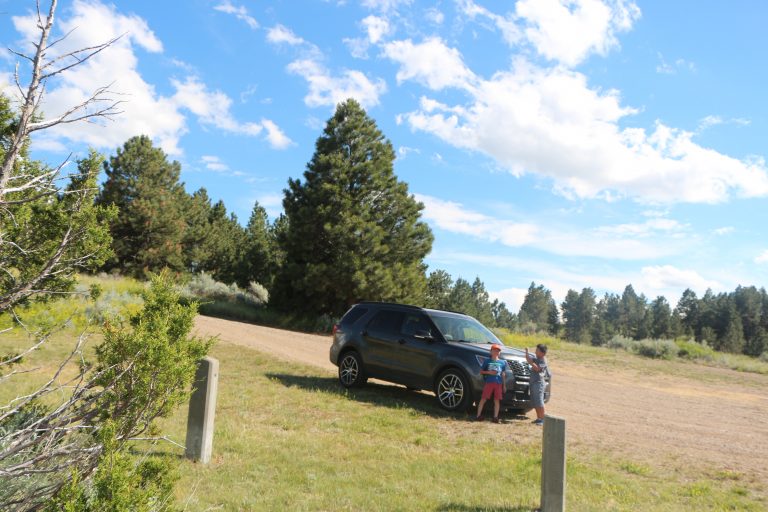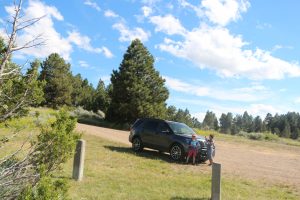 Even if we're road tripping, I usually rent a car. I like having a newer car that's been checked over by the pros before we head out on our adventure. I also like not putting the miles on my own car. And, Alamo has 24/7 Roadside Assistance within the U.S. They can help you out if you have a flat tire, if you run out of gas, or even if you do something silly like lose your key fob. I like having that peace of mind when I don't have another adult to rely on and…let's be honest: another adult who knows more about car trouble than I do.
Check out How to Rent a Car for your Family Vacation
3. Solo parent travel calls for different rules and different family dynamics.
A missing family member really shakes up the dynamic of your family. It's not a bad thing but you'll notice a shift in how you interact together. There is no "go ask your dad" or "have daddy do that for you, I'm busy" when you're traveling as a single parent or solo parent. I also find myself talking to my kids more. When we're doing something as a foursome, I tend to chit chat with my husband and talk to my kids mostly when I'm answering questions or telling them to do something. Solo parent travel has made me more aware of their need for connection. I've found myself making more of an effort to have meaningful conversations with my kids or just be silly with them.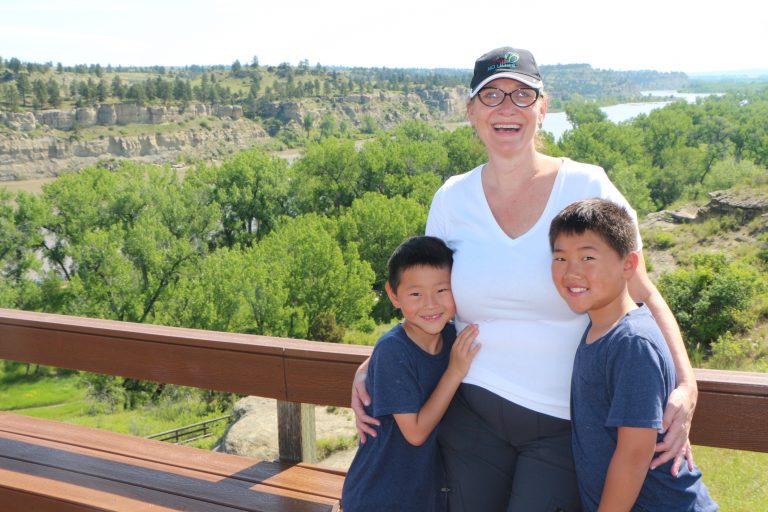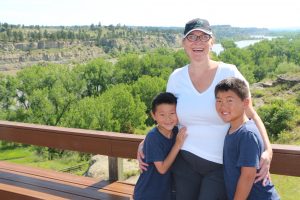 Your family dynamic will change when you're on a solo parent trip. It's not a bad thing.
We also have different rules when we're doing solo parent trips. When there are two adults, I know there's another adult keeping an eye on the kids. It's way different when it's you and only you watching out for your kids. Your vigilance is elevated and so is your stress level sometimes.
My kids are nine now and they're able to understand basic instructions like "don't answer the door when mom's in the shower" and things like that. We also come up with a plan for what will happen if we get separated based on the location we're in. I'm not lax with my kids when my husband and I are both present, but I'm extra careful about keeping tabs on them when it's just me.
This is something I didn't really consider ahead of time, so if you're reading this and planning your own solo parent travel adventure, be mindful that the dynamic will be different and that you probably need to adjust some safety rules.
4. When traveling with kids as a solo parent, consider the options of flying vs. driving.
Our first few trips as a trio were car trips. When my kids and I are together, we develop a system from getting the bags out of the car, up to the hotel room and back in again. They're so used to doing it, it's almost second nature and we're really good at it. Yes, I'm bragging.
However, flying is a different ballgame, as I recently learned.
My husband and I disagree on checking bags. I will do anything to avoid checking my bag and he will do anything not to carry his bag into the cabin. To avoid listening to him complain, I usually just give in and check my bag when we're flying together. When I'm traveling solo – just me – I take my carry-on and my backpack and zip through the airport. Baggage claim? Potential lost luggage? Nope.
I did a solo parent trip with my kids just a couple of months ago. We flew from San Antonio, Texas, to Billings, Montana, with a layover in Salt Lake City, Utah. Since my husband wasn't going with us, I packed us each a small carryon with wheels and three backpacks. I was sure my kids could handle that.
And…they could. Kind of. They moved slower than I was used to moving. I had to direct them every step of the way as far as taking their backpacks off and stowing them under their seat. And, I had to put all three rolling bags into the overhead compartment. It wasn't a big deal but it felt different and they felt my stress level. See also I felt like I'd worked out after we all got seated. I didn't stop to consider that this was the first time I'd flown with them without my husband but it made a difference. We adjusted quickly but I wish I would have thought about this beforehand. And yes, we checked our bags on the return trip!
You'll also want to do whatever you need to do to sit with your kids on a flight. So many airlines nowadays charge a premium for selecting your seats ahead of time. If you buy a ticket that says "seat assigned at gate" then expect to get three middle seats at different parts of the plane. You might luck out and find a sympathetic flight attendant or some nice passengers who will help you get seats with your kids but those people probably paid for the privilege of picking their seat and they probably won't want to give it to you just because you're unprepared.
If you take a flight with open seating, checking in at the 24-hour mark or paying for upgraded boarding will usually get you seats together. When traveling with my two kids, I sit in the aisle seat in a row of three so there's no one between my kids and me. If you have more than two kids or your aircraft has a different number of seats in a row, you won't be able to do this. It's what makes me most comfortable.
If you're traveling overseas or if your kids have different last names than you (or each other) consider carrying written permission or a consent document from the parent who isn't present.
5. Don't over plan.
My idea of a great day with two eight-year-old kids was to hit the museum district after breakfast, followed by an afternoon at a water park and then an elaborate dinner at a ranch 30 miles outside of town.
Spoiler alert: this was not my kids' idea of a great day. They tolerated the museums – and by tolerated, I mean asked when we were going to the waterpark about every two minutes. They wore themselves out at the waterpark, which was the best part of the day for them. They fell asleep in the car on the way back to the hotel and I mustered a bit of common sense and cancelled the dinner reservations in favor of pizza delivery.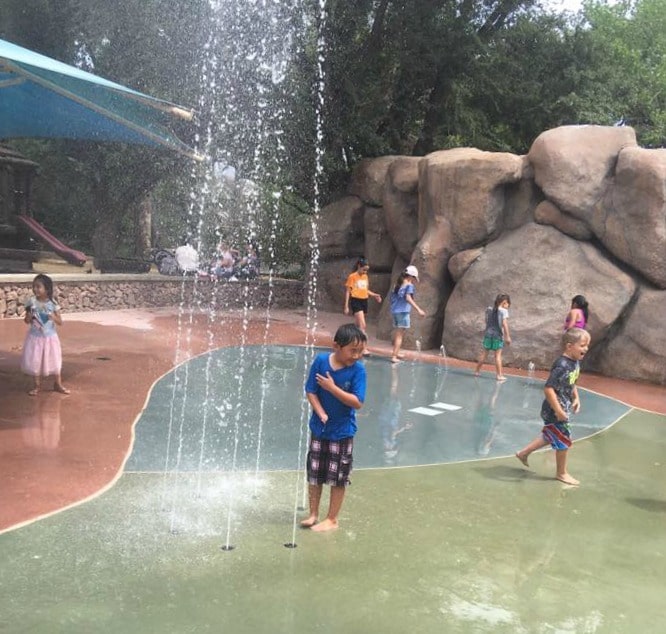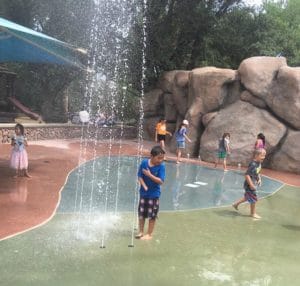 Kids need downtime and since you aren't really going to get much down time on a solo parent trip, this becomes more important. Also, things like waterparks and trampoline parks and arcades that are probably present in your home town shouldn't necessarily be off the table when you are traveling…and it took me a minute to catch on to that. Kids are going to appreciate that scenic drive or that beautiful vista a lot more when their overall feeling about the trip is positive.
6. But, don't forget to plan!
There's a sweet spot between over planning and not having a plan at all. While you might not want every single second of your day accounted for, as in "hey kids, you have 11 seconds to finish breakfast or we're going to be off schedule" you do need some idea of where you're going to stay and what you're going to do. While the idea of hitting the road until you find someplace cool to stop might be appealing, you don't want to be in the position of having a car full of tired hungry people and no room at the inn.
Check out Alamo's Family Vacation Planning Toolkit for ideas.
Before you set out, have a plan for where you're going to stay, when you're going to stop along the way (important!) and what activities you're going to do. Alamo Rent A Car's Scenic Route has great ideas for various activities! While there's nothing wrong with having a resort day or hanging out at the hotel pool, you'll want some options in your back pocket to get your kids out and exploring. I don't know why the hotel pool has such an appeal to kids…it just does. To have your best vacation, you'll balance downtime (also important!) with exploring something new.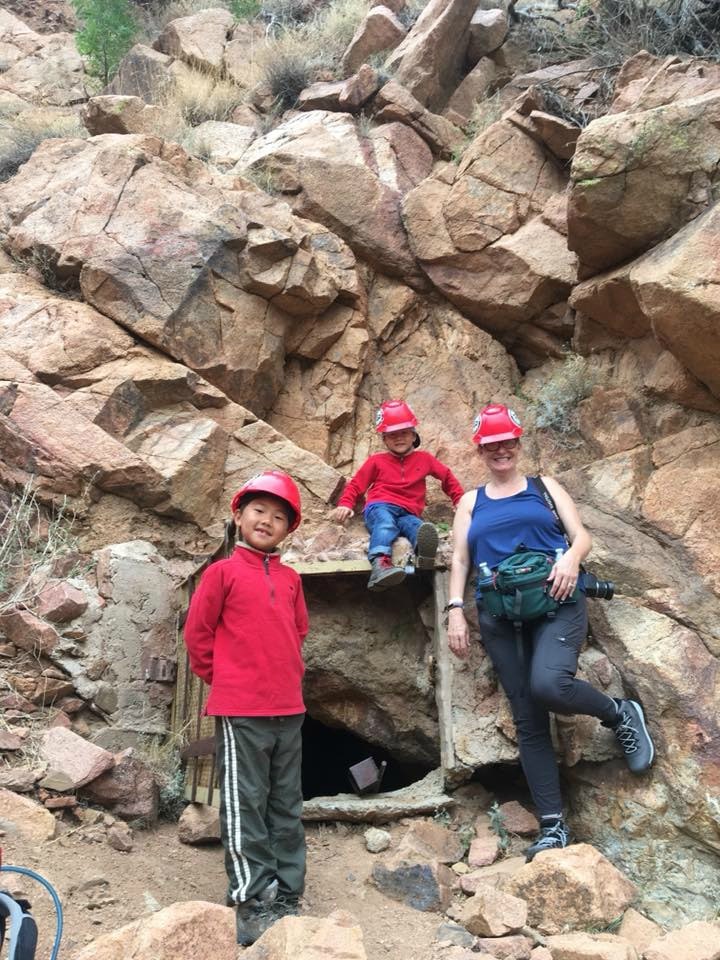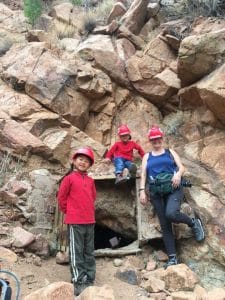 7. Forget nerves…just go!
If you feel nervous about solo parent travel, that's normal. But some of the best moments in life happen when we push ourselves outside of our comfort zone. You can probably find a dozen excuses not to go. Your kids are too young. Too old. Not potty-trained or well-behaved enough. Just go.
Solo parent trips have been some of my family's best trips. We miss my husband and he probably feels a little left out at times, but that's our life for now. When we can travel versus seeing the same old scenery in our familiar neighborhood, we're going to jump on it.
Trips with your kids don't have to be expensive or complicated. They also won't be perfect. Things will go wrong. You might get lost. The hotel might lose your reservation. Your kids might act like feral animals in a restaurant. They might cry…so might you. Yes, all those things have happened to me on trips with my kids. But when you're on the other end of the trip, you will be so glad you made the effort.
And so will your kids.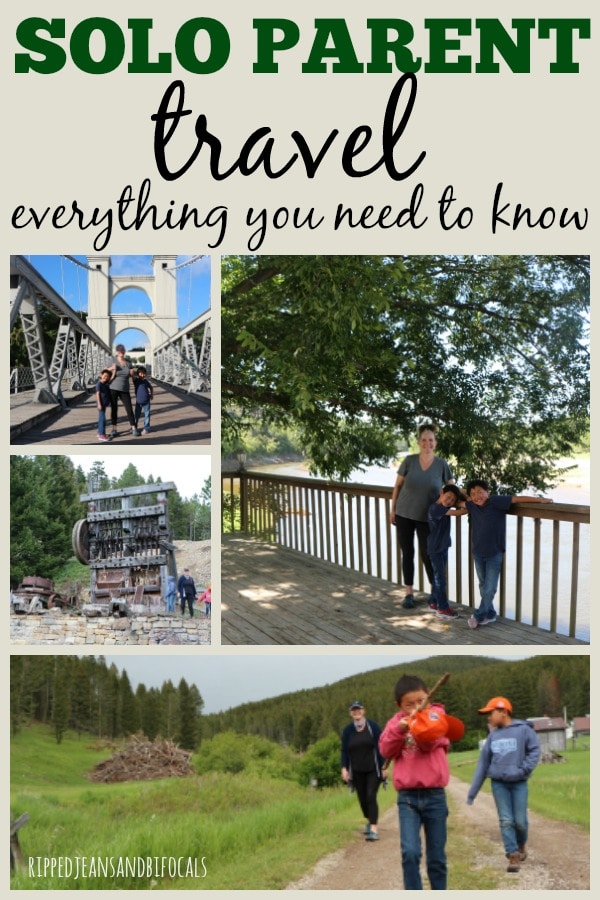 Need more vacation inspiration? Check out these great trip suggestions.
You might also like: