How to have an epic couple's trip – Fredericksburg Texas
(This post may contain affiliate links. Read my full disclosure.)
If you're in Texas (or traveling to or through Texas) and you're looking for a great couple's trips in Texas, I have you covered. Fredericksburg, Texas is nestled in the Texas Hill Country and is an easy drive (an hour and change) from both San Antonio and Austin. If you're elsewhere in Texas, it's still an easy and scenic drive to get to Fredericksburg and the surrounding area. I've got all kinds of tips on how to have an epic couple's trip Fredericksburg Texas style that will get you started on planning your own adventure. If you haven't heard of the 290 Wine Trail, I'm really excited to share my wine tasting in Texas experiences with you…and if you have heard of it, you probably already know how awesome it is.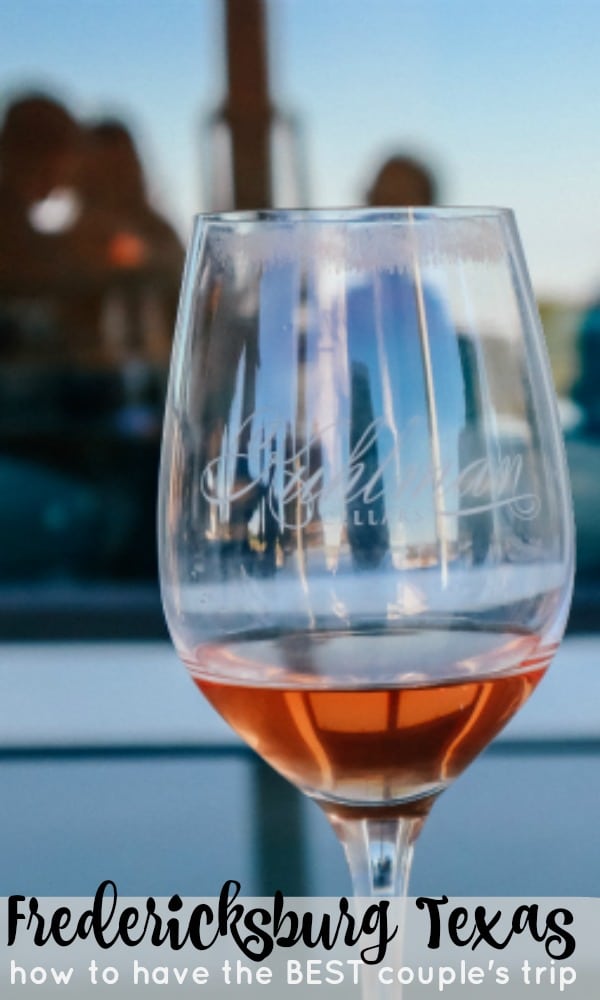 How to have an epic couple's trip – Fredericksburg Texas Style
I was hosted by The Stonewall Motor Lodge, Visit Fredericksburg and their partners. All opinions are my own. This post may also contain affiliate links, which means I may earn commission from purchases or bookings made from this page – thank you for your support.
Looking for fall fun in San Antonio? Check out this list of San Antonio (+ the surrounding area) pumpkin patches open in 2020
Plan your visit to the Texas Hill Country during spring or fall – If you can
For optimal weather, late fall (October or November) or spring (think March and April) are going to bring you the best "sit outside and drink wine" weather. If you're planning a visit during summer, you'll still have a great time but be prepared for the Texas heat and humidity. Winter is hit or miss. Sometimes December and January will bring freezing temps or even ice. Other times, we're wearing shorts and flip flops at Christmastime. You just never know.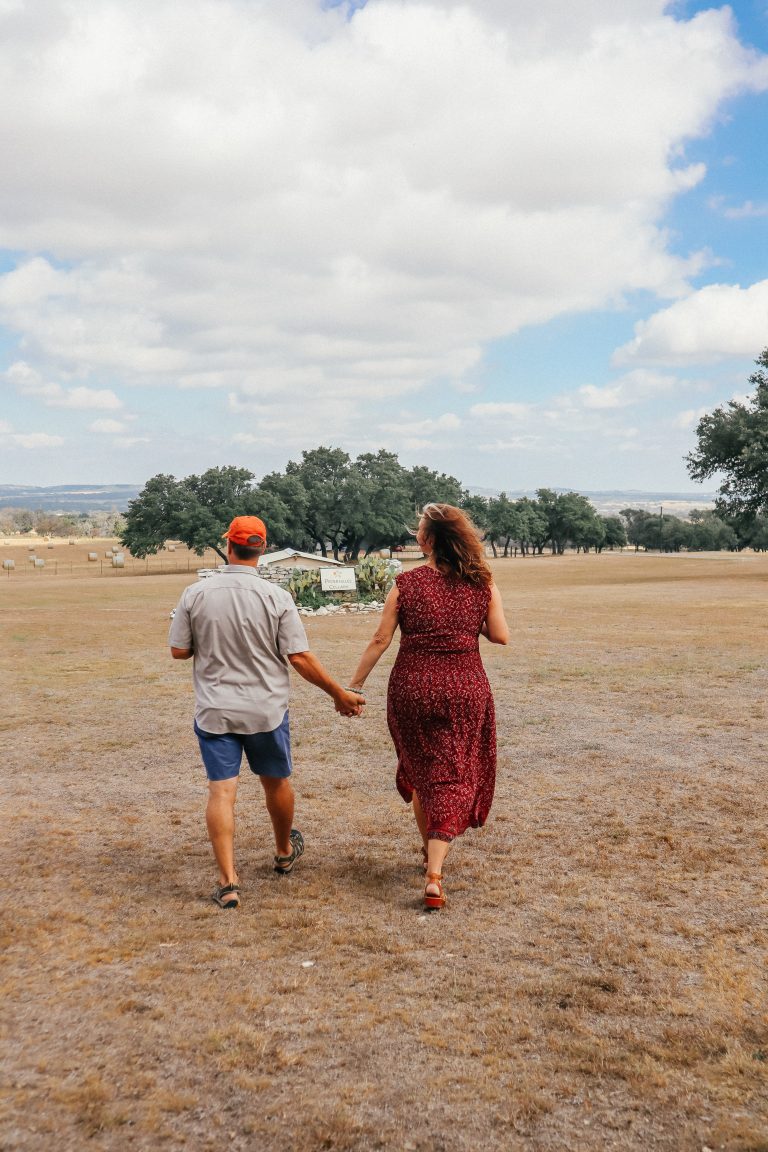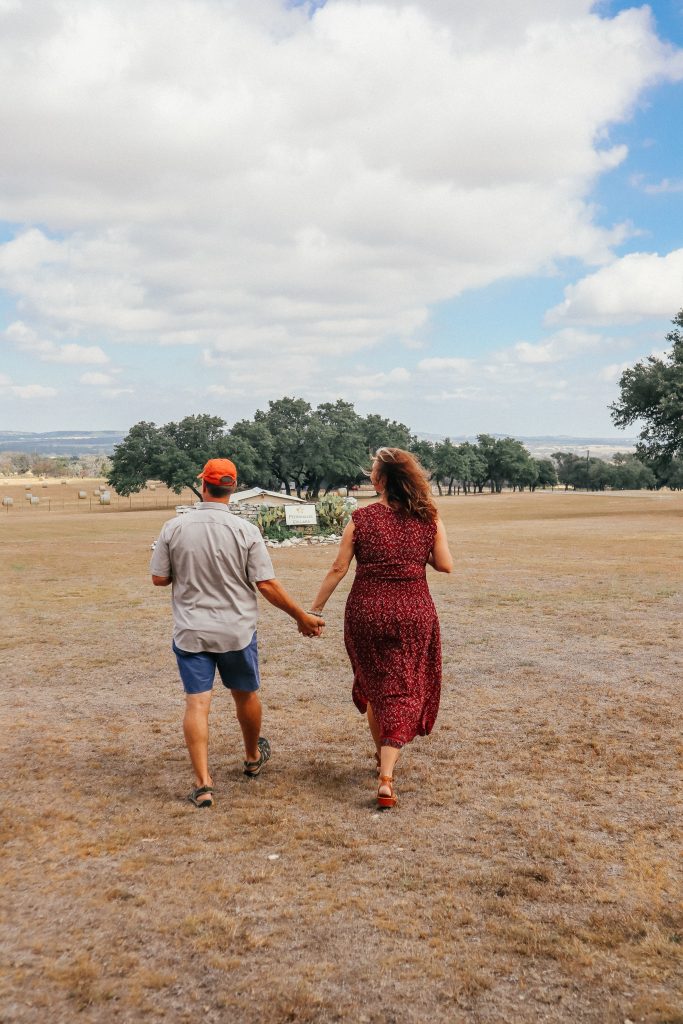 As a San Antonian, I've traveled to Fredericksburg and the Texas Hill Country during all seasons and, while there's never a bad time to go, I recommend avoiding the summer if you can. If you go during the summer, pack light, loose clothing, hats, and umbrellas.
Try to go on a weekday – An epic couple's trip Fredericksburg Texas style is just better during the week
Fredericksburg (and the Texas Hill Country in general) is a popular spot, both for day trippers, weekend travelers of all types, and bachelorettes. If at all possible – avoid Saturdays. That's prime pre-wedding hootenanny time for the soon-to-be-married ladies. Sunday is a little more of a chill day but still busy. Many of the wineries are closed on certain weekend days for their wine club events (a good reason to scope out the online calendars of the wineries you want to visit before you go.)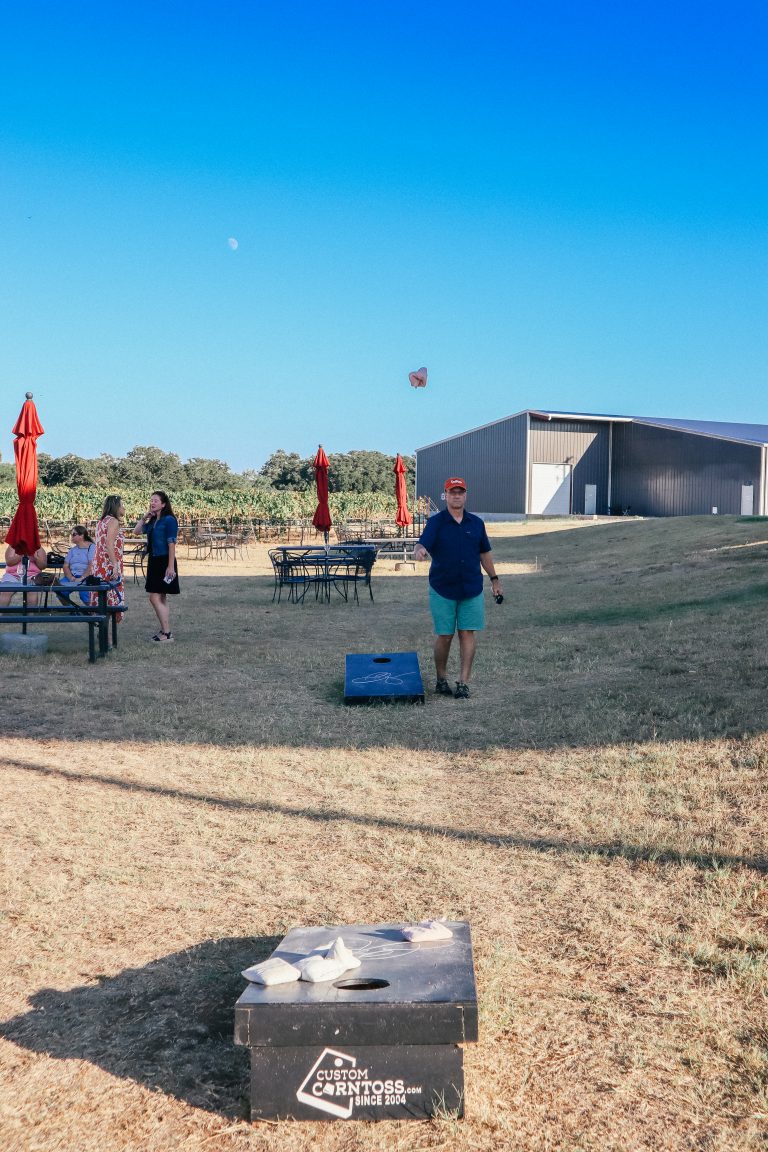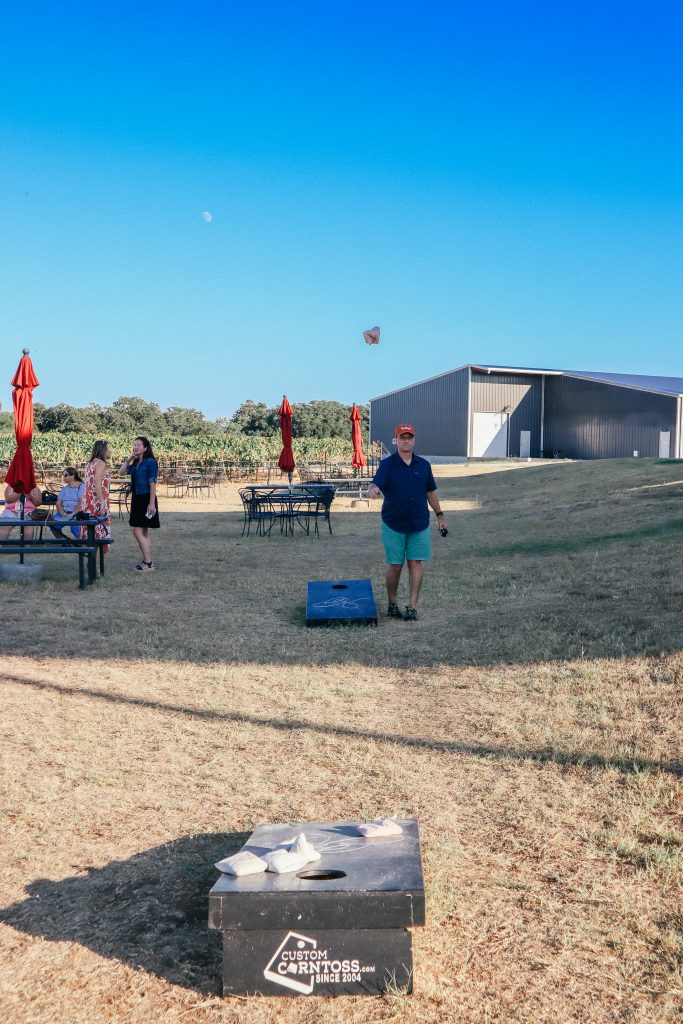 Weekdays are much less crowded although there are still plenty of people out and about enjoying the Texas Hill Country and tasting wine. You won't encounter the crowds, lines, or tipsy bachelorettes if you go on a weekday. I know getting the time off midweek isn't always easy to maneuver but if you can swing it, it will really take your visit up several notches.
Want more ideas? Check out this post from Carful of Kids for ideas on family-friendly things to do in Fredericksburg
Find the right place to stay in Fredericksburg Texas or the surrounding area
Although you can certainly do a day trip to the Fredericksburg area from San Antonio or Austin, I think it's more fun to spend the night. You have lots of options in the town of Fredericksburg and the surrounding area, from B&Bs to vacation rentals to hotels.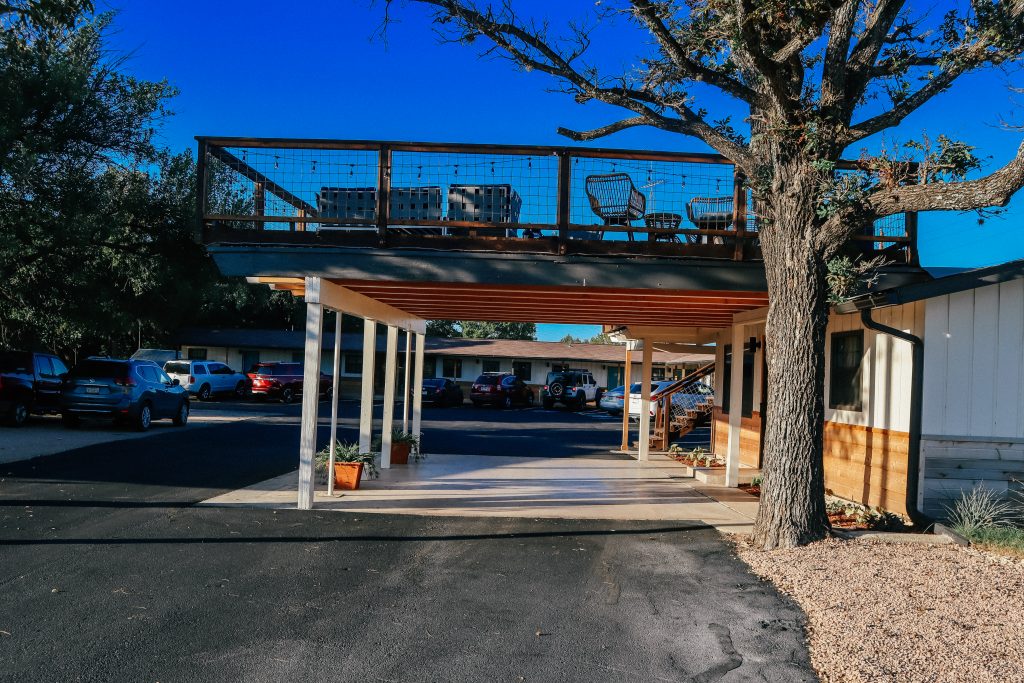 On our recent stay, we enjoyed the newly remodeled Stonewall Motor Lodge, which is actually just outside Fredericskburg in Stonewall. And…I know what you're probably thinking. Motor Lodge? You have to trust me on this one. The Stonewall Motor Lodge is the perfect blend of quirky retro and modern luxury. While it is an outside corridor motel and you can't get around that fact, there are a lot of thoughtful touches throughout the property that bump it up several notches from "roadside motel."
If you're a history buff, the Stonewall Motor Lodge is a must. Originally built in 1964, the Stonewall Motor Lodge was the Texas home away from home to the press corps during Johnson's presidency. The Stonewall Motor Lodge looks like a typical 60's roadside motel – because it is – but it's under new management and has been completely revamped and updated.
One reason to choose the Stonewall Motor Lodge is that it's very close to the wine.In fact, it's the only lodging on the 290 Wine Trail. Read my full review here.
Bookings can be made directly through the property or via Booking.com.
Get around responsibly when you're wine tasting in Texas
If you're going to Fredericksburg with the sole purpose of drinking wine (there is other stuff to besides the 290 Wine Trail do but wine is a big draw for visitors) then you need to have a plan to get around safely. If you've got a buddy or family member that doesn't drink or is willing to not drink and cart you around from winery to winery, then you're golden. If not, you'll need to figure out your transportation situation before you start drinking. You can't have an epic couple's trip Fredericksburg Texas style if someone goes home with a DUI.
If you're coming from San Antonio, there's a company that will pick you up and drop you off in San Antonio. While I really like spending at least one night and really soaking up the fun atmosphere, Cottonwood Wine Tours is a great option if you want to return to San Antonio at the end of your wine tasting day.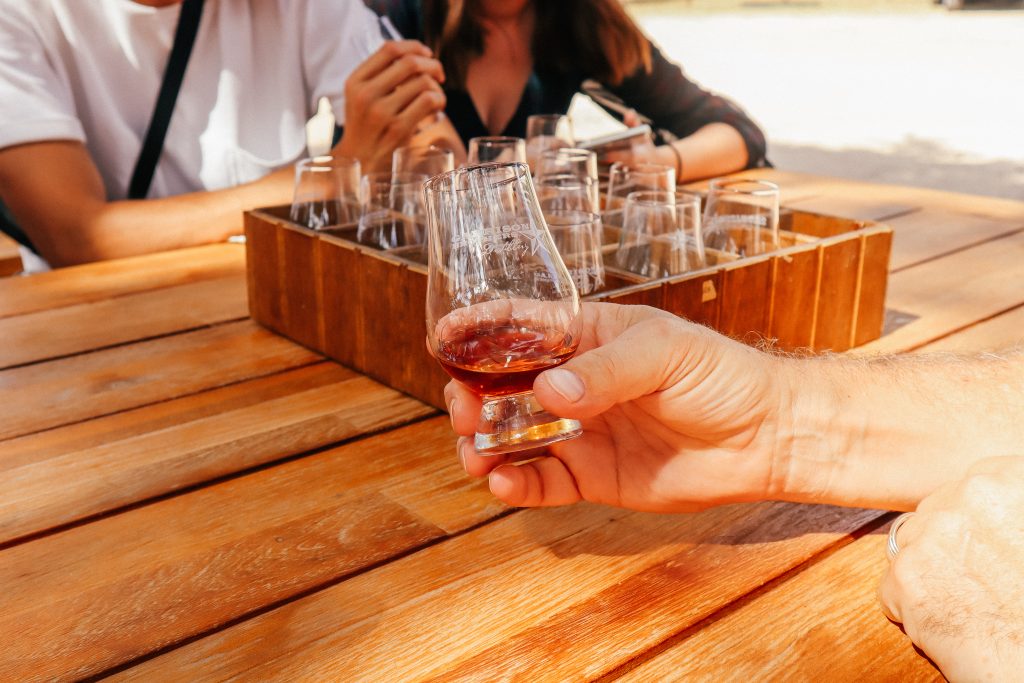 I've had recent experience with Cottonwood Wine Tours and had a very positive experience. We've also used 290 Wine Shuttle and Stagecoach Shuttle and Taxi Service in the past but it's been about three years since we've used either of them, so check recent reviews. You can also contact the visitor's center in Fredericksburg – they have recommendations and info on pretty much everything in the area.
Checking out the 290 Wine Trail? Awesome. Make a plan.
If you use one of the wine shuttles, you'll probably be going on a pre-determined route to whatever wineries the shuttle or tour company has selected. Don't worry…there are so many great spots in Fredericksburg and the surrounding area and the shuttle drivers are very knowledgeable…it's hard to make a bad decision here. If you hire a private driver or shuttle, you'll have more control over where you stop and how long you stay.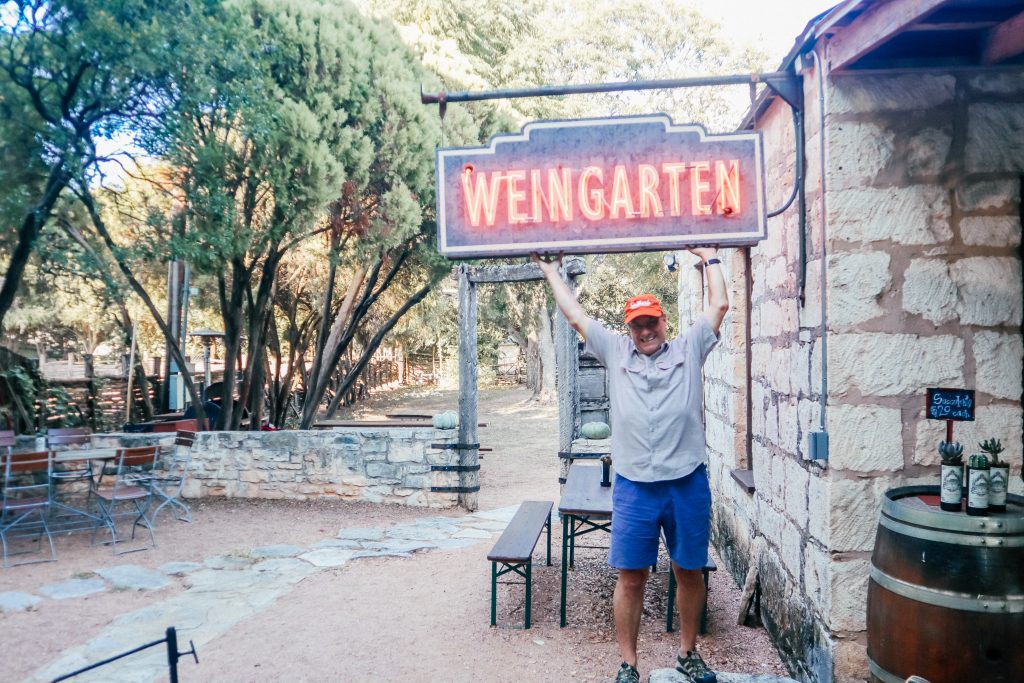 However you approach it, have an idea of which wineries or how many wineries you'll visit. I recommend no more than four in a single day. I know that doesn't sound like very much but anything above four tastings starts to get a little sloppy, especially if you enjoy a glass of this or that after you've done your tasting.
Trust me, you're not really savoring the wine or the experience after four tastings and everything starts to run together. Ask me how I know about this one. I'm sharing some of my favorite wine spots in and around Fredericksburg that I hope will inspire you to plan your own couples trip to Fredericksburg Texas.
You gotta eat
Obviously, it's not a great idea to start a day of boozing on an empty stomach. Y'all know my family loves to eat so it shouldn't come as any surprise to know we've got a couple of great recommendations.
Hye Market offers lunch options as well as beer and wine tastings from locally sourced ingredients. Their menu offers mostly sandwiches…some old favorites plus some creative twists on old favorites. They also offer salads and pizza. Hye Market is housed in the historic Hye Post Office, which is still a working post office. They're open for lunch Wednesday through Sunday. My favorite sandwich was the Jason Special but they've got so much deliciousness, I don't think you can go wrong in your choices.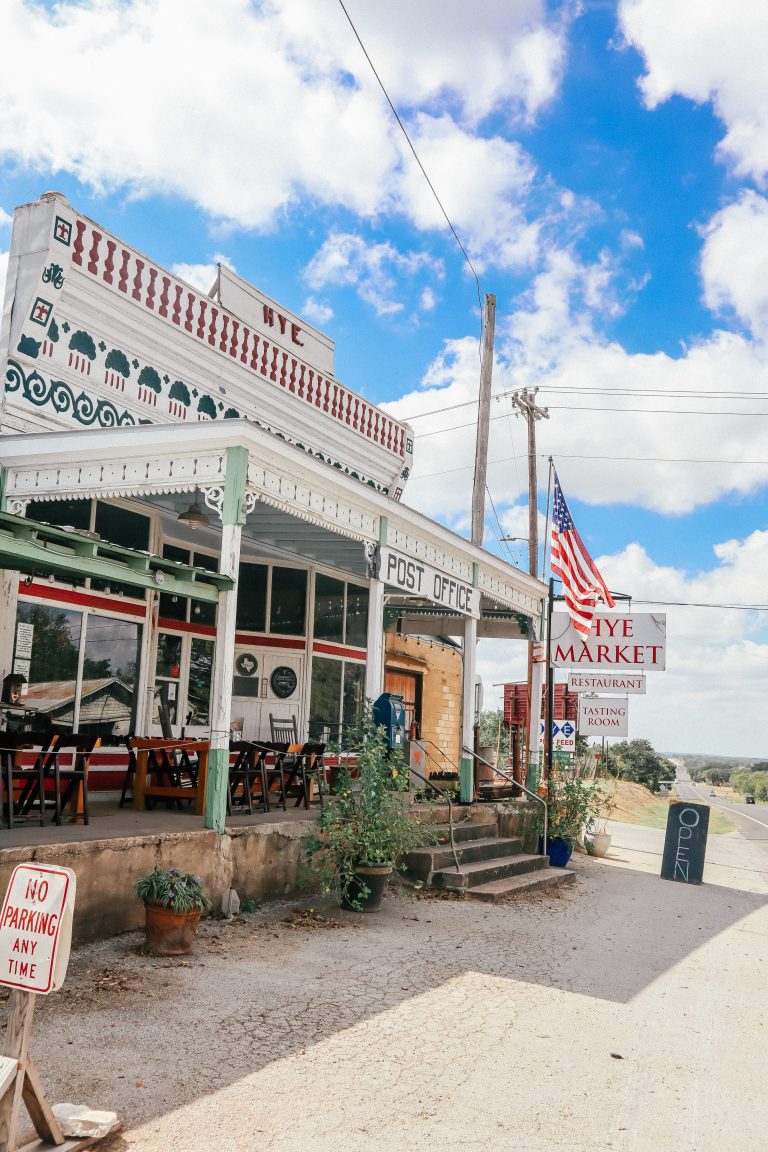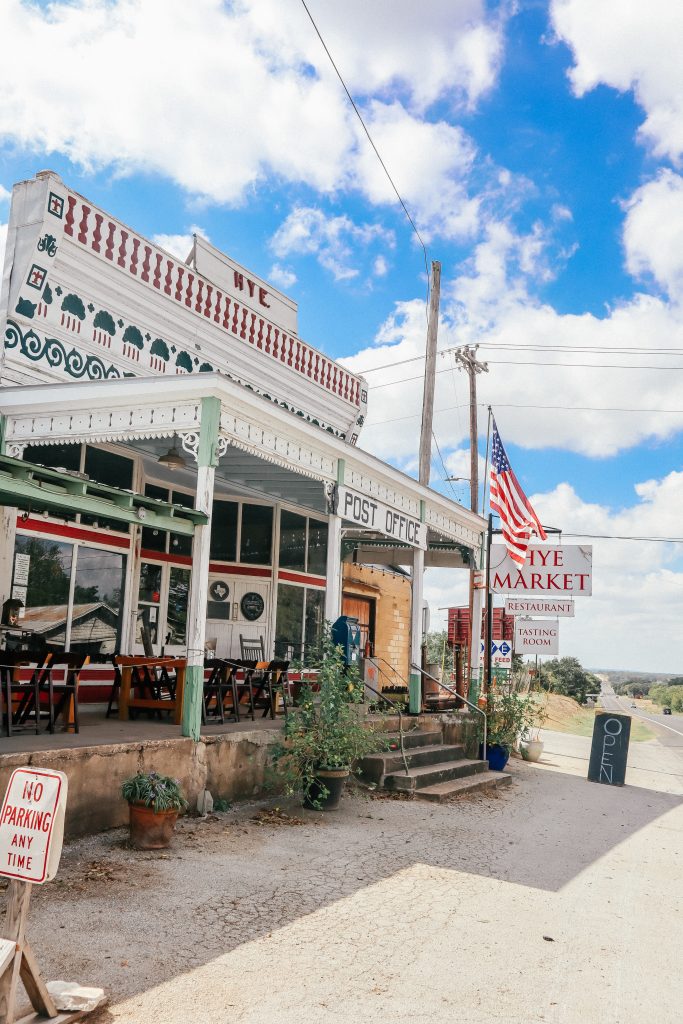 We've passed by Hye Market a bazillion times and not stopped in until this most recent visit. I loved the combination of old-fashioned deli and fresh, inventive food. We'll be back.
Alstadt Brewery offers locally made beer (including tours and tastings) but what really stood out to me was their fantastic, extensive menu. I recommend the Bavarian Pretzel appetizer, the chicken schnitzel, and the ribeye. My husband got to sample the dessert menu (I was stuffed to the gills by this point) and his bottom line is "Tough choice. You can't go wrong." There you have it.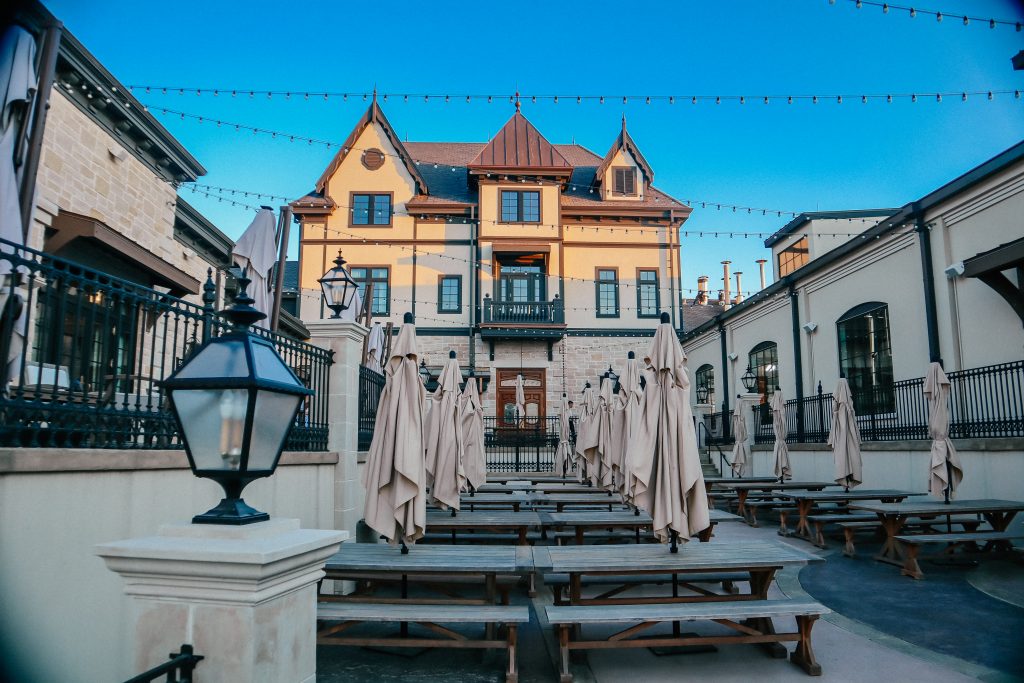 The building and grounds are really fun to explore. They offer both indoor and outdoor seating. Alstadt is a relative newcomer to Fredericksburg and I can't wait to go back. If you're looking for a real "stick to your ribs" meal in a great setting, this is your place.
Our 290 Wine Trail winery picks for an epic couple's trip Fredericksburg Texas style:
I'm going to list the wineries we visited on our most recent trip to Fredericksburg and what I liked about each of them. We didn't visit all of these in one day so I recommend picking three or four.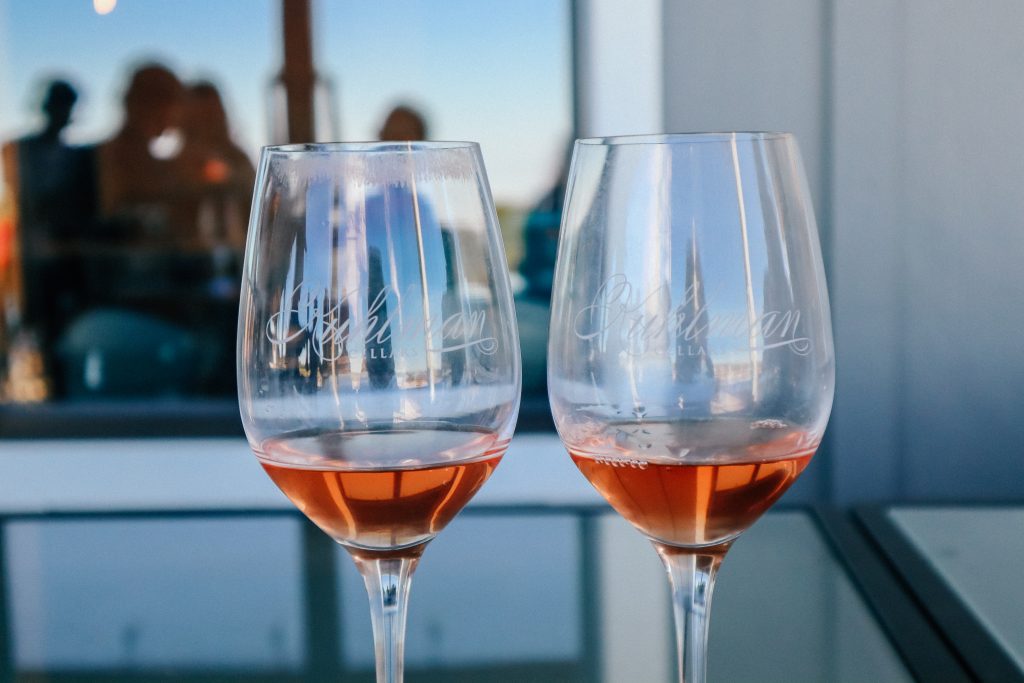 Even though this article is intended to help you plan an epic couple's trip to Fredericksburg Texas, I am a parent who frequently travels with my kids. Because I know a lot of my readers are parents, too, I've given my opinion on the kid-friendly factor of each winery. I didn't research pet-friendly options but I know many area wineries welcome well-behaved pets on leashes. If you're interested in taking a pet to any of these establishments, contact them directly.
If you're not a drinker, don't write Fredericksburg off. Check out my post for things to do with kids in Fredericksburg. Many of these are fun for adults, too. There's also great shopping on the main street in Fredericksburg and there's always something going on in town. Check out the local tourism office for more info.
Kuhlman Cellars
Kuhlman Cellars is as focused on wine education as it is on wine making and drinking Texas wines. They offer several different tasting/education opportunities starting at $22.50. I loved the atmosphere at Kuhlman. It's very rustic and welcoming (AKA not hoity toity) but it's also very obvious they take great pride in what they're doing.
You have some options as far as what level of tasting you choose…check out their tasting page to see what might be a fit for you.
The grounds at Kuhlman are kid-friendly although I wouldn't recommend bringing kids into the tasting room. My favorite was – surprisingly – the Estate Rose. I don't usually gravitate to rose wine and other than a cursory tasting, I'm content to leave them to the "Rose All Day" crowd. This one was the exception.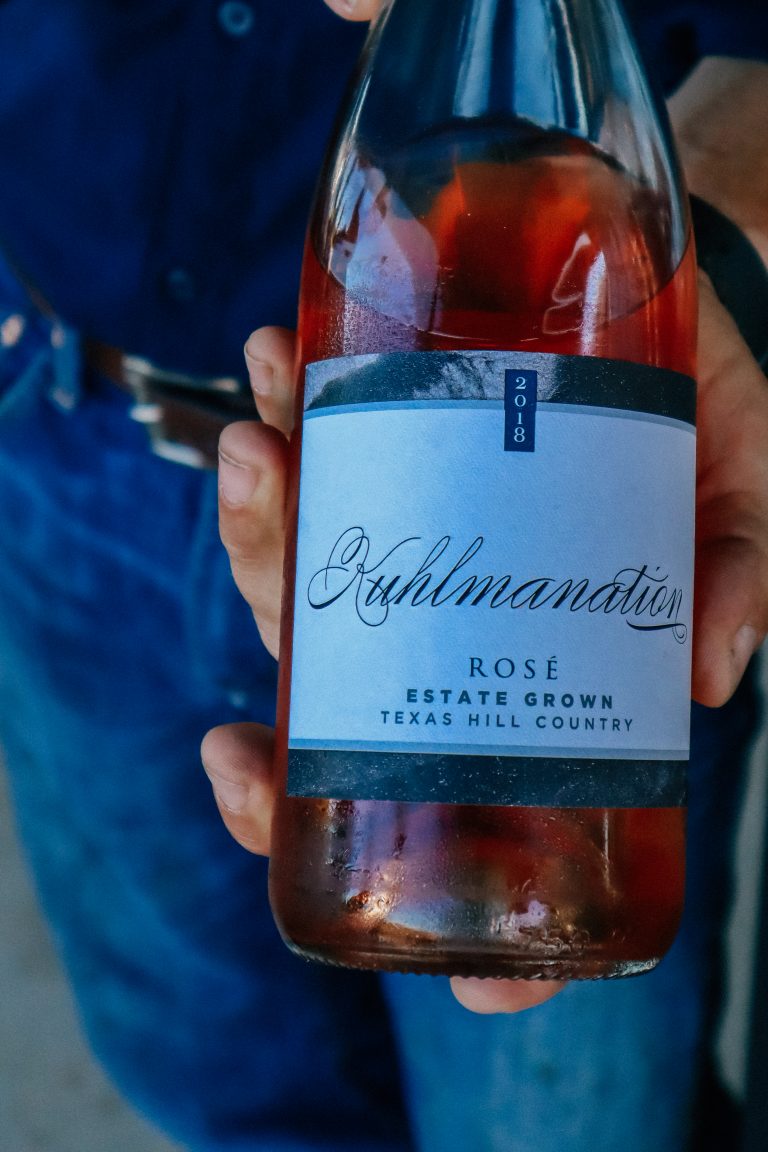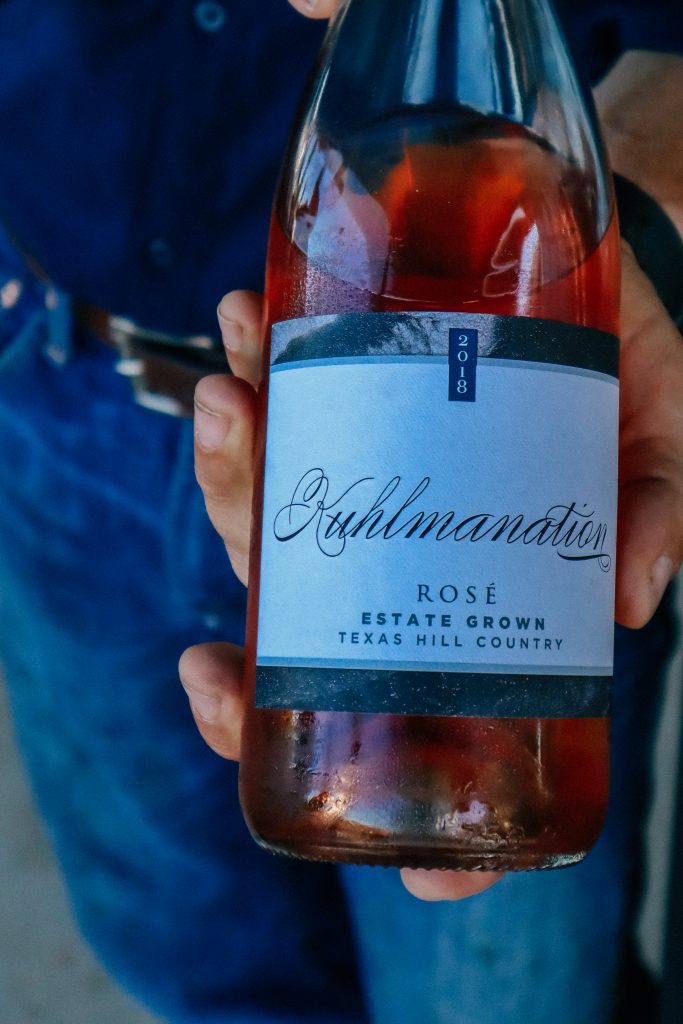 Pedernales Cellars
Pedernales Cellars' tag line is "Savor the wines, drink in the view" and that's a great way to describe this place. Their wines are terrific and the atmosphere in their tasting room is very welcoming but the view from the patio? That's the money and that is why we'll go back because our visit was way too short.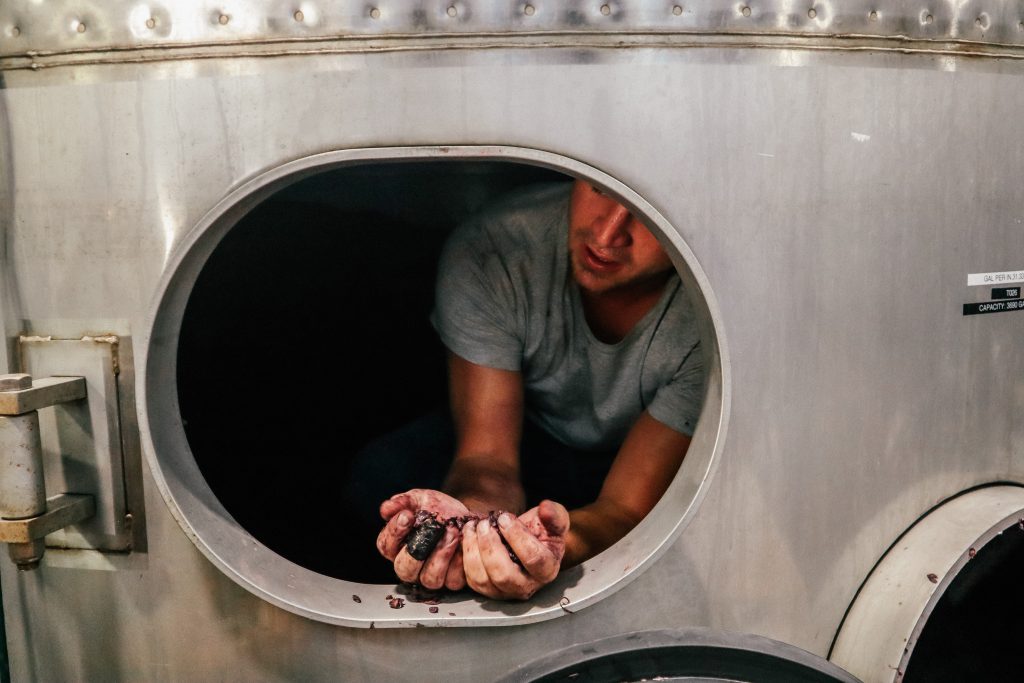 Pedernales has a good variety of wine but they're heavy on the reds. My favorite was the 2017 Diva…and I'm sure the name had something to do with it. The wine was named after a cat who hangs out in the vineyards. I do have to respect a good Diva, you know.
There are several options for tastings listed on the website but there's not a price listed…unless I'm completely missing it. Most of the area wineries price their tastings between $10 and $25 so I'm sure it's somewhere in that range. Read more here.
4.0 Cellars
4.0 Cellars all all about bringing Texas wines from other parts of Texas to Frederickburg. 4.0 is a partnership between three different wineries and a local cheesemaker, so there's a great variety of wines on site. No matter what kind of wine you like, you'll be able to find something that suits you here.
They offer several different options for tastings, including wine and cheese and wine and chocolate pairings. We did the wine and cheese tasting and it was so much fun I didn't want it to be over. See also: CHEESE. Their cheese is fantastic and if you come away from here without taking cheese home with you…I question your good judgement. Vegans might get a pass. Tastings start at $15 and what I like best about 4.0 is that there are so many options for tasting Texas wines.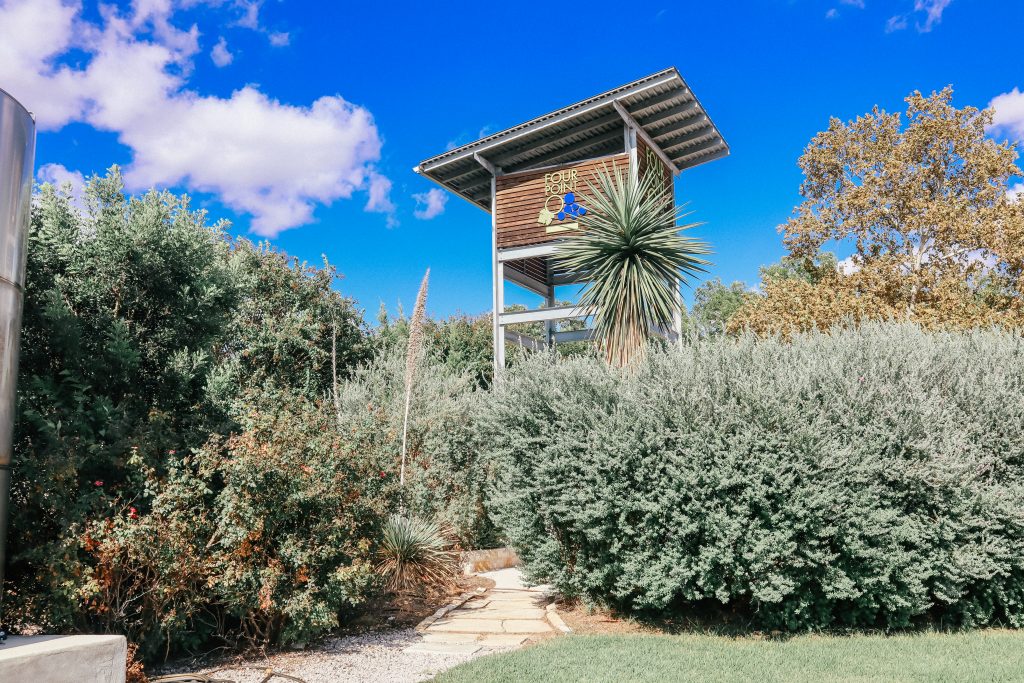 We liked 4.0 so much we decided to join their wine club, so I look forward to sharing more adventures in this neck of the woods. 4.0 is a family-friendly environment. I personally wouldn't take my kids in the tasting room but there's a great outdoor space. My favorite was the 2017 Albarino from McPherson Cellars but there is literally SO MUCH white wine that is right up my alley that I might have to change my mind.
And what impressed me the most about 4.0? They sell favorite North Dakota Snack, Dot's Prezels. I was so surprised to see them in the Texas Hill Country. If you've spent any time in North Dakota or out west in general, you might have sampled Dot's Pretzels and you probably get how that's pretty darn exciting.
Pontotoc Vineyards
Pontotoc Vineyards is a family-run winery housed in one of the oldest buildings in Fredericksburg. We had a chance to visit with the owner/winemaker and his wife and they're really interesting people with a great story – if you visit, I definitely recommend chatting with them and getting to know their story. They're one of the few wineries located in the town of Fredericksburg versus on the 290 Wine Trail which is further east (but not much.)
If you're looking for great wine in a great, family-friendly atmosphere, this is your place. The wine garden is a place to relax and enjoy the company you're in. It also offers a place for your kids to run around. We didn't have kids with us on this trip but it was absolutely someplace I'd have brought my kids. If you're looking for an epic couples trip to Fredericksburg Texas and being around small humans will harsh your mellow, this one might not be your best pick.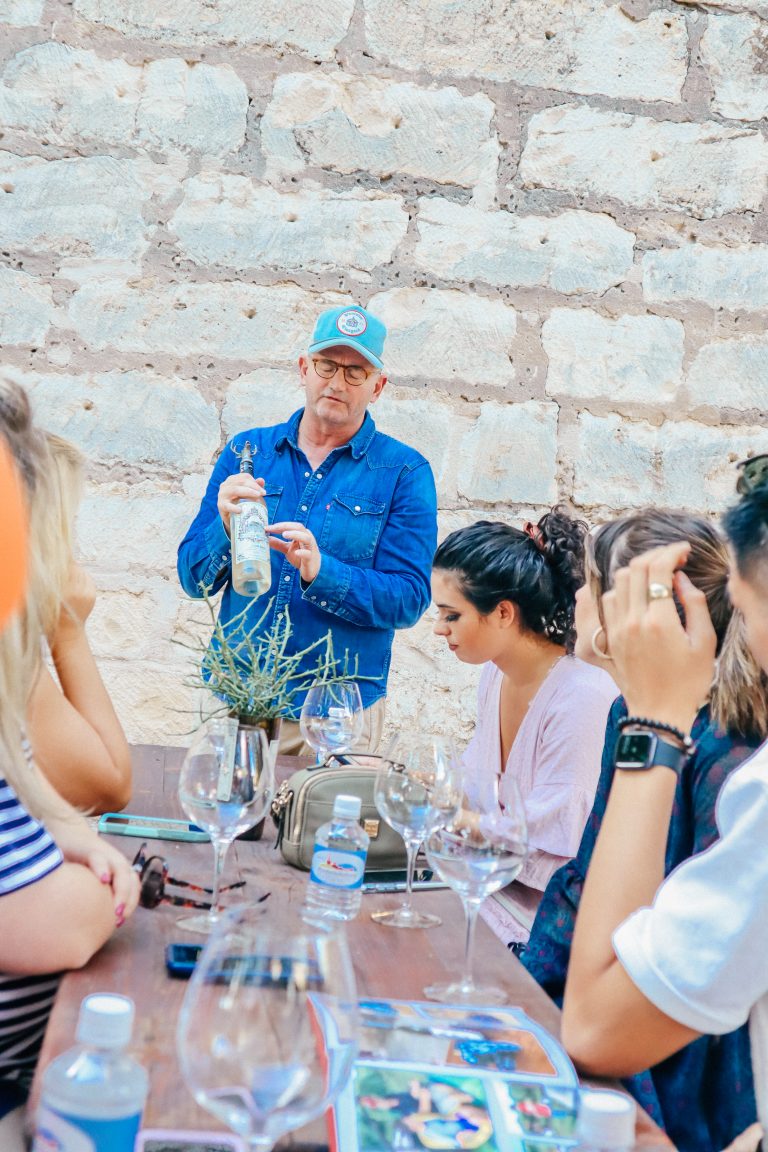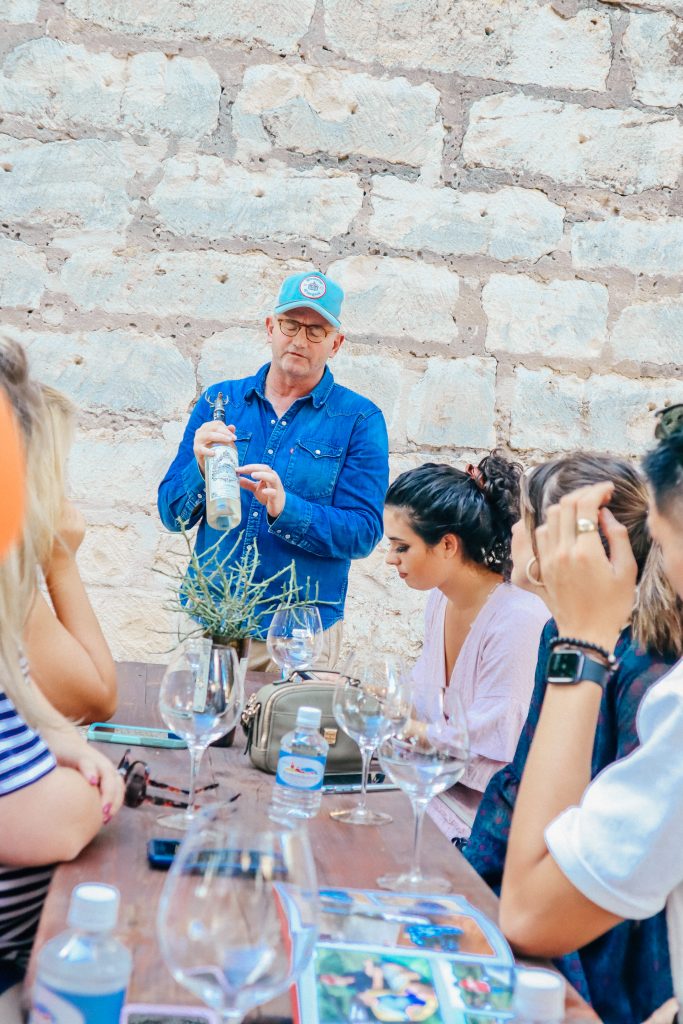 Pontotoc Vineyards are only open Friday through Sunday. Tastings are $10. You can see the list of wines here but my pick is the off menu sangria. Trust me on this one and ask for it. I'm not normally a sangria drinker but this one is a winner. Also not on their website (that I could locate) was the owner's custom picnic baskets. The wife is a professional chef and makes gourmet picnic baskets that pair with the wine. The description made me drool (granted, I was really hungry at this point) and they're definitely worth asking about in advance of your visit.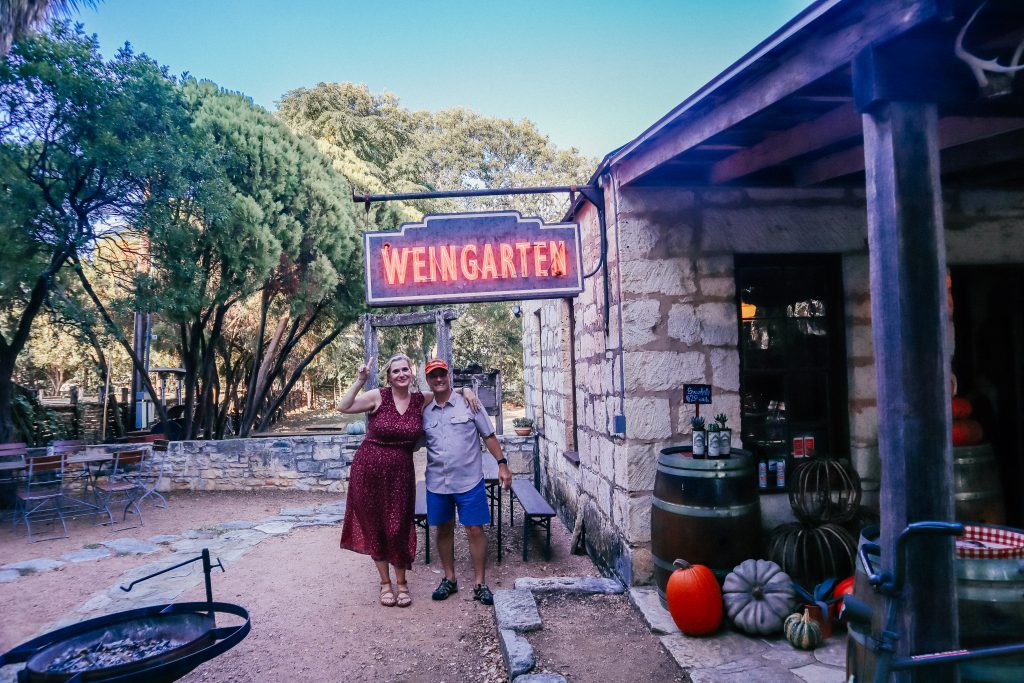 Grape Creek
Grape Creek was one of the first wineries my husband and I visited in the Fredericksburg area. We hadn't been in several years. A lot has changed, although not the wines. They're still great. Grape Creek offers several options for tours and tastings. Prices start at $20.
Reservations are suggested and if you plan to visit on a Saturday, there are some specific rules you need to check out beforehand because there are different rules for Saturdays.
The Grape Creek property is also home to Heath Sparkling Wines, which offers a completely separate tasting experience. My husband and I did a tasting and we'd describe it as "upscale." The tasting room is very sleek and modern and it definitely felt like a luxury experience. We enjoyed all the sparkling wines and what was especially fun about it was the food pairings that were included – don't get excited – they're snack-sized portions but it adds a nice touch.
Reservations are suggested. We went on a Thursday morning and there were only a couple of other parties there. Word of warning: it is one of the pricier tastings in the area at $25 per person.
I wouldn't consider Grape Creek or Heath Sparkling Wines to be kid friendly. Grape Creek's website specifically addresses the presence of minors on Saturdays. My top pick from Grape Creek was the Cuvee Blanc. My top pick from Heath Sparkling was Euphoria.
While I love Grape Creek and would go back again any time, it does have a different vibe than the other wineries I've listed. It's got a welcoming and rustic atmosphere but there's an upscale feeling that some might interpret as pretentious or stuffy. I don't personally find that to be true but I did feel a difference between this one and the others I've mentioned.
Garrison Brothers Distillery – Yep, the 290 Wine Trail has more than wine
Garrison Brothers is the first legal bourbon distillery in the state of Texas.The people in this area are very proud of this – rightfully so.
Full disclosure: I am not a whiskey drinker and my visit to Garrison Brothers did not turn me in to one. If you've got someone in your party that (gasp) doesn't like wine, this is a great option to add to your list. And my dislike of whiskey aside, it's beautifully landscaped and peaceful and there are other beverages available.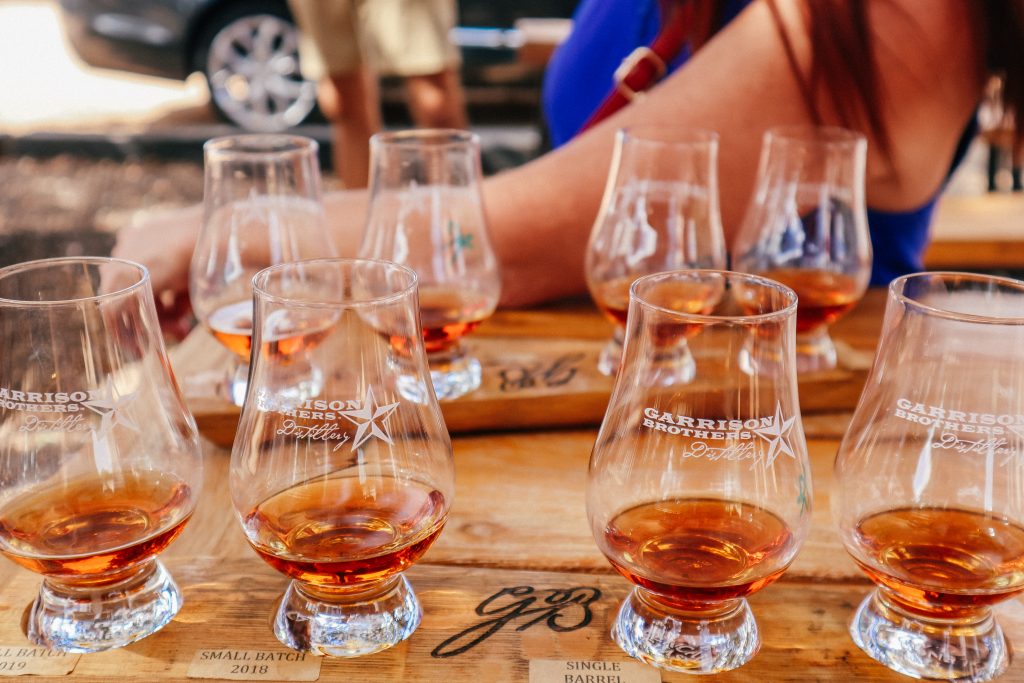 It was quite an educational experience. I learned how to properly taste whiskey and that there's more to it than just knocking it back and slamming your glass on the table. Smell and rolling your tasting around on your tongue are a big part of your tasting experience and I did learn a lot.
Garrison Brothers is family-friendly. Their website reminds us this is a working farm and that you need to keep an eye on your kids so don't be boozing it up and letting your kids jump the fences, okay?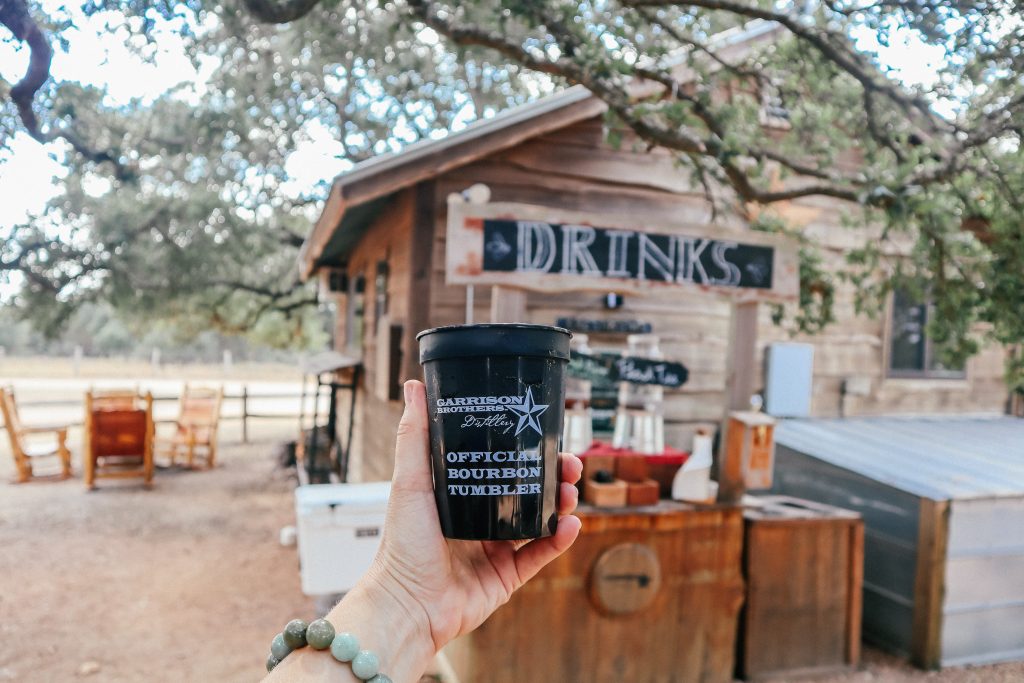 The Garrison Brothers website lists costs for tours but says tastings are free. My take on that was that whiskey tasting was a part of the tour but you may want to call for clarification before you visit. Also? If you show up on a horse, your tour is free. How cool is that?
If you want more information on tours, tastings, or hours, check out their website here.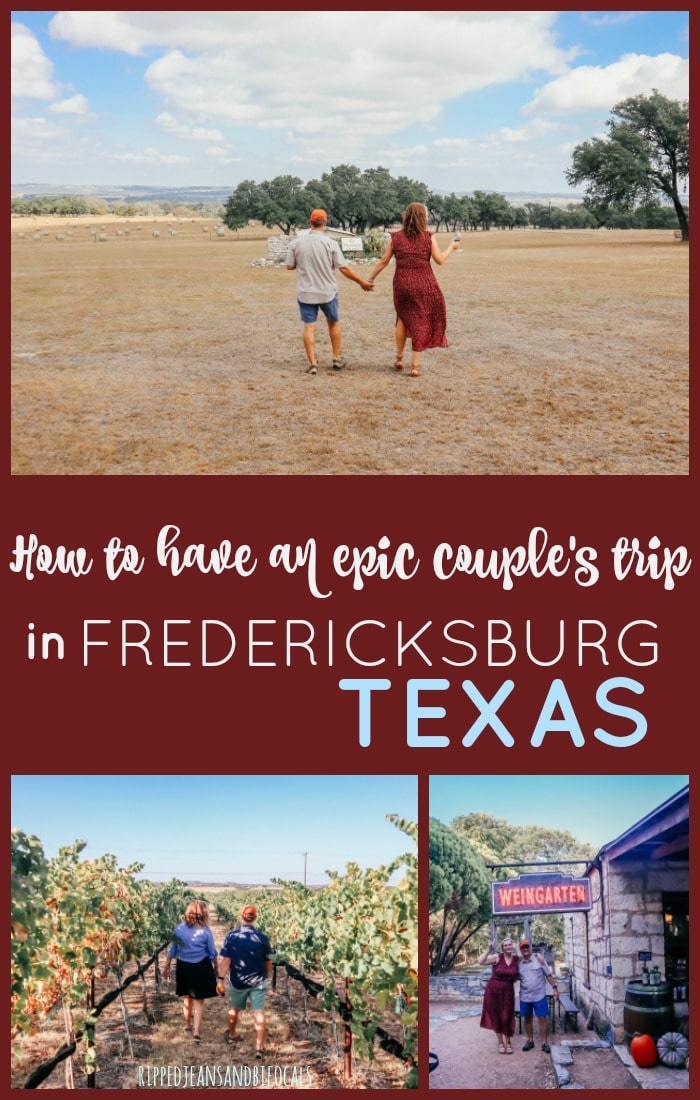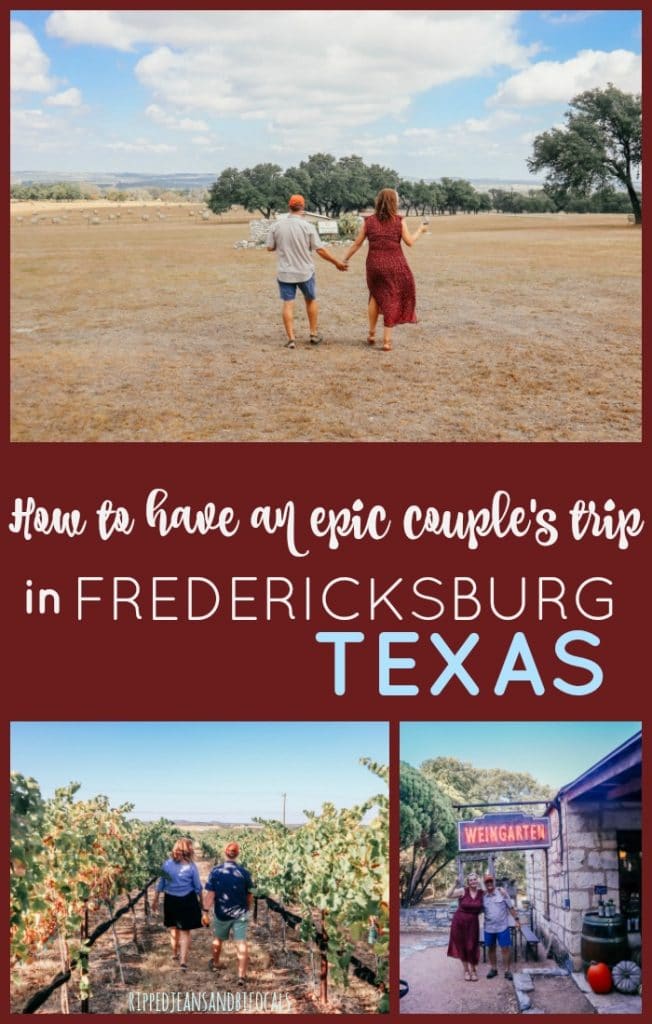 You might also like…
Exploring Fredericksburg with Kids
Review of the Stonewall Motor Lodge
See more on Facebook: