Visiting Fredericksburg Texas with Kids – What you need to know
(This post may contain affiliate links. Read my full disclosure.)
One of the best things about living in San Antonio is living near the Texas Hill Country Drive for an hour or so and you're in completely different surroundings. Rolling hills, quaint German buildings (along with delicious German food and beer), and great places to eat, drink, and hike…who doesn't like the sound of that? With all the surrounding wineries, you might think that Fredericksburg, Texas is sort of an adulty place…and you wouldn't be wrong about that. Fredericksburg is definitely my top choice for a close-by couple's get-a-way but there's also a ton of kids activities in Fredericksburg Texas. I've put together this guide to visiting Frederiscksburg Texas with kids that tells you everything you need to know about all the cool places. If you're looking for family friendly in Fredericksburg, you've come to the right place.
Visiting Fredericksburg Texas with kids – What you need to know
And don't get me wrong…just because I love living near the Texas Hill Country doesn't mean I don't appreciate all the goodness here in San Antonio. After all, tacos.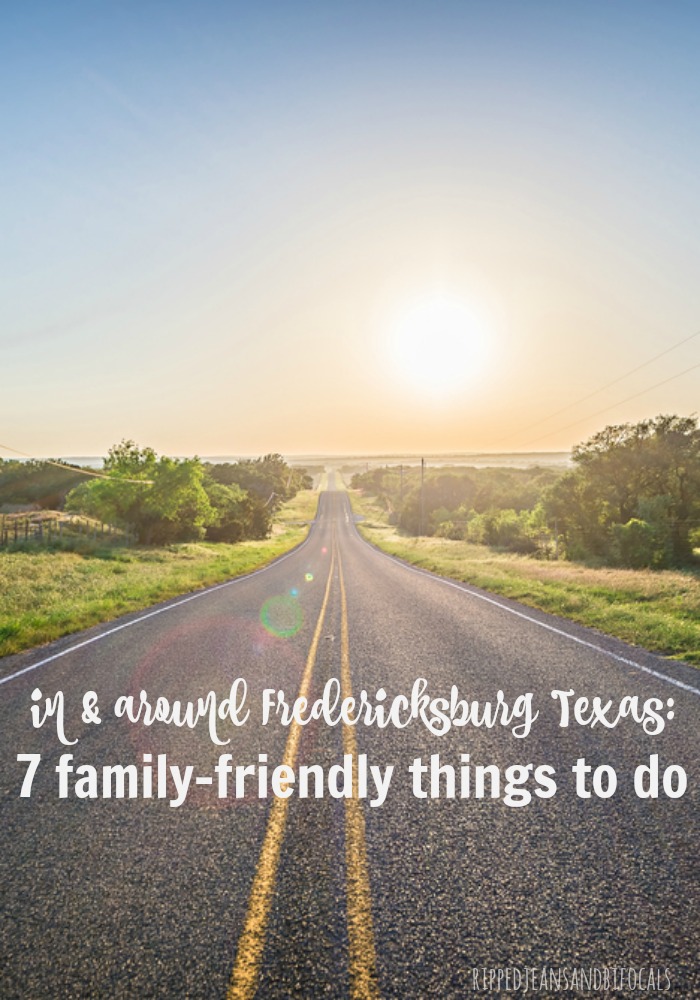 Visiting Fredericksburg Texas with Kids – What you need to know
[Tweet "Things to do with kids in Fredericksburg Texas"]
1. Sauer-Beckmann Farmstead – Don't miss this one when visiting Fredericksburg Texas with kids
The Sauer-Beckmann Farmstead is a living history museum within the LBJ State Park and Historic Site. It gives an authentic look at rural life in Texas circa 1900-1918. Living history interpreters wear period clothing and perform household and farm chores as they were done during that time.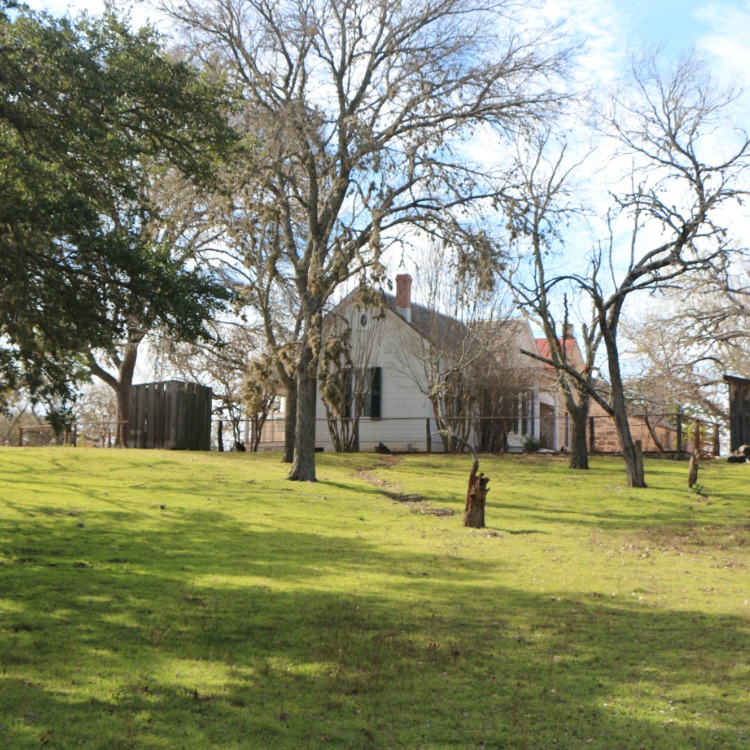 We saw a family scrubbing floors with lye soap and making lunch on a wood-burning stove. It gave my kids a new appreciation for the microwave! It's one thing to read about "the olden days" in a book, but seeing it carried out in real life and being able to ask questions takes a history lesson to the next level. It also (hopefully) gives today's kids a new appreciation for all the technology and comfort they have at their fingertips. At least we can hope.
Read more: How to have an epic couple's trip to Fredericksburg Texas
2. The LBJ Historic Site
The LBJ Historic Site offers a look at the 36th president's boyhood home, the settlement of his grandparents, and the house where he lived during his presidential years, known as the Texas White House, which has been restored to look as it did when LBJ was in office. We took a 30-minute guided tour of the ground floor, which cost $3.00 per adult (kids under 17 are free). Tours are limited to 12 people, so if you're interested, sign up for your time early. Entrance to the park itself is free, but you need to stop at the visitors' center and snag a parking permit.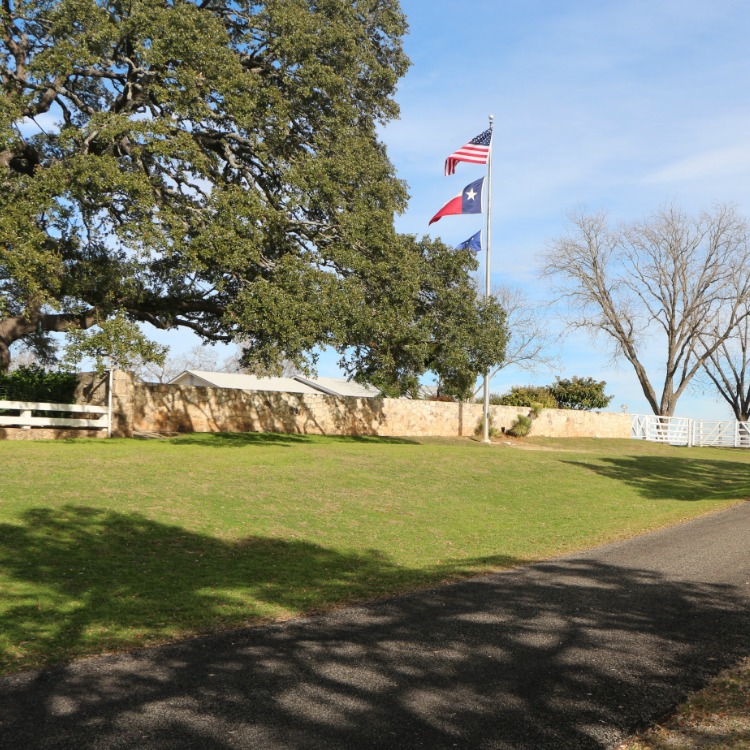 Admittedly, touring the Texas White House is not super-duper exciting for younger kids and maybe not even for older kids. I remember my mom dragging me here when I was about 11 years-old and hating every minute of it…but here I am all grown up and taking my own kids to the very same place, so go figure. I pounce at any opportunity to add a little education to our vacations. It was full of facts that I found fascinating, which probably sounded like the adults in the Charlie Brown cartoons to my kids. The actual tour doesn't take very long and you'll need to stay on top of younger kids with reminders not to touch stuff or try to crawl behind areas that are roped off.
Touring the Sauer-Beckman Living History Farm and seeing all the LBJ sites took up the better part of a day. We did the living history farm in the morning, followed by a picnic lunch in the state park. There are plenty of places to sit and eat. After lunch, we explored the outbuildings on the LBJ property and ended with the Texas White House tour, just in time for dinner in downtown Fredericksburg.
3. Wildseed Farms
Visit Wildseed Farms in the spring to see the most beautiful Texas Wildflowers in bloom. Wedding Oak Winery is also on site as well as a charming shopping area where you can purchase yummy eats, garden supplies and home decor items.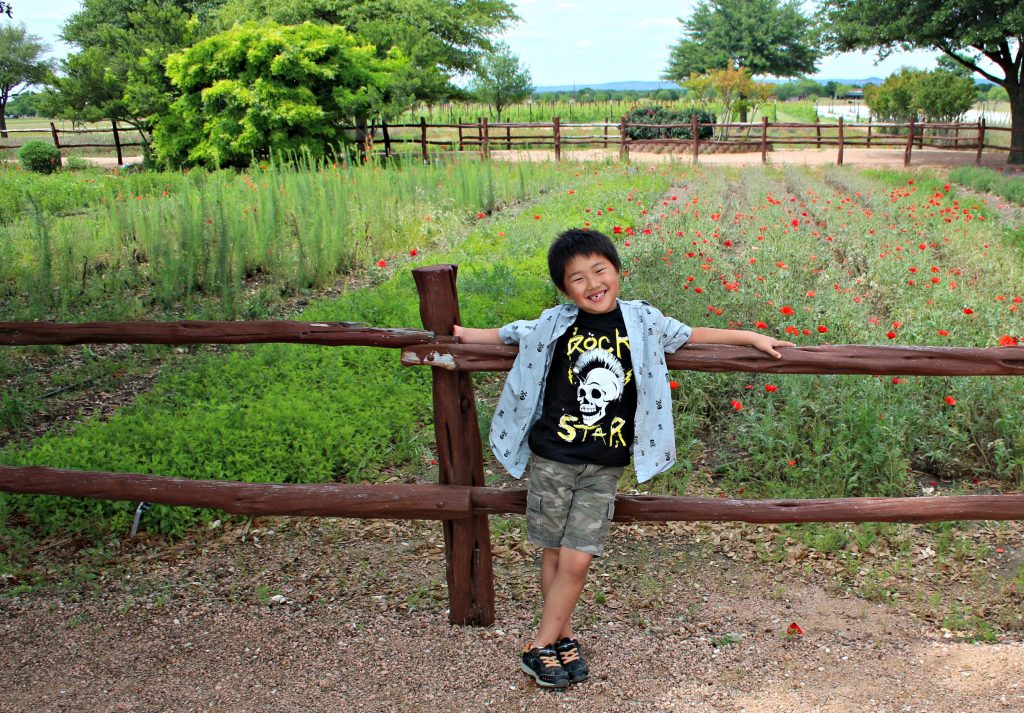 There is no charge to enter the grounds at Wildseed Farms and parking is free. There are lots of walking trails and amazingly beautiful spots to take photos. You can check the Wildseed Farms website for a bloom update. If you're visiting Fredericksburg Texas with kids in the spring, this is a don't miss spot.
4. Enchanted Rock State Natural Area – Probably our favorite thing to do when visiting Fredericksburg Texas with kids
This massive formation of pink granite is located 18 miles from Fredericksburg and is easily one of the most beautiful and picturesque places in Texas. Yes, I might be a little biased, but y'all need to trust me on this one.
There are 11 miles of trails for hiking and exploring. Camping is also an option, if you're into that whole rustic, no-frills camping experience, which doesn't appeal to me in the least. We picked up a trail map at the ranger station to get the lay of the land and plan our trek according to difficulty level and ability. Entrance fees are $7 per person for ages 13 and up. Kids under 12 are free. Enchanted Rock only takes cash.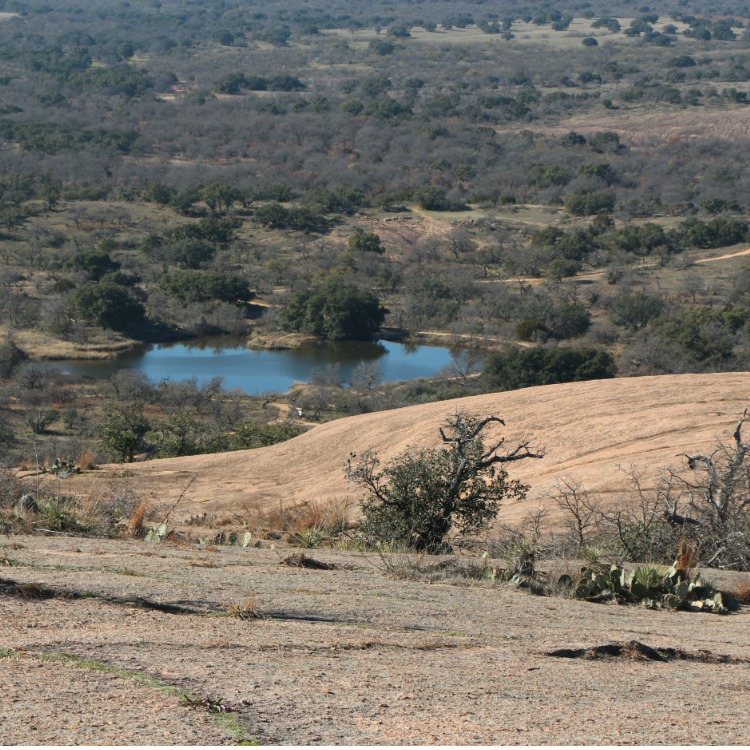 We took our boys for the first time when they just were five and six. We expected to toodle around near the base of the rock and snap some pictures. The kids took the lead and they surprised us by climbing all the way to the top of the rock via the Loop Trail. Major high-fiving followed.
We are due for another trip. Late fall, winter, and early spring are the best times to visit. If you go during the late spring summer or early fall, you'll need to go very early in the day because of the heat.
5. National Museum of the Pacific War
The National Museum of the Pacific War is in downtown Fredericksburg. Look for the larger-than-life statue of Admiral Nimitz. You cannot miss it. Seriously, if you miss it, you have probably been to one too many wine tastings. He's like second-story tall.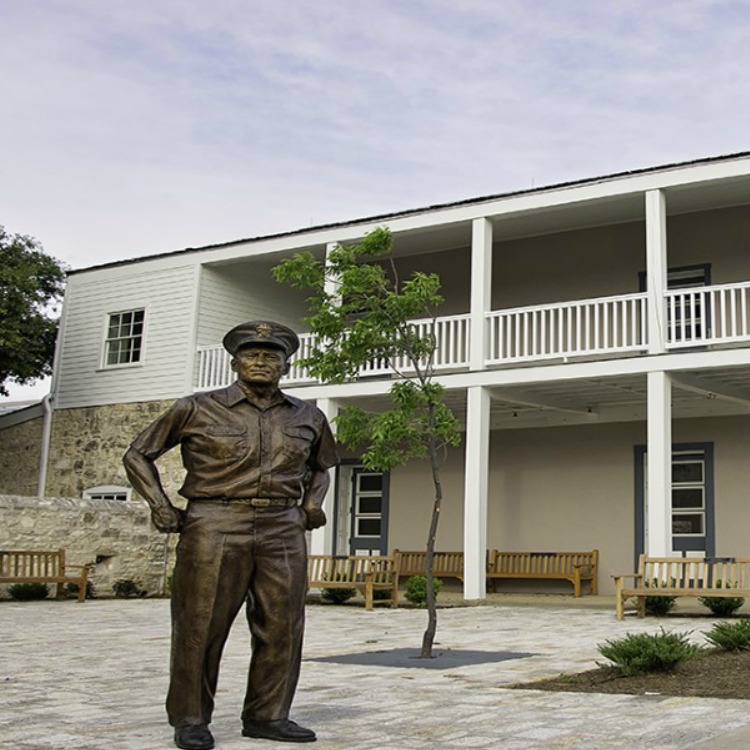 If you're a World War II history buff, checking out this six-acre museum complex is a no-brainer. That said, my kids aren't World War II history buffs and yours probably aren't, either. Don't let that stop you. Not only is the National Museum of the Pacific War an educational experience, it contains lots of interactive exhibits with cool sound effects…seeing things that go boom utterly delighted my two boys.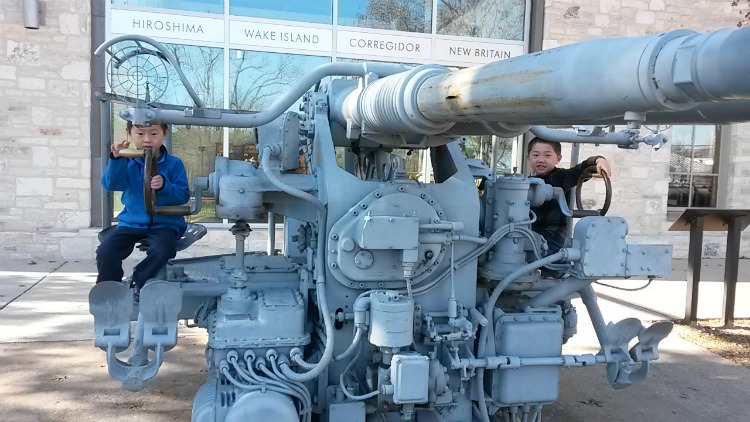 We spent about two hours checking things out and barely skimmed the surface. Admission is $15 for adults and $7 for children six and up.
6. Science Mill in Johnson City
The Science Mill is in Johnson City, which is 30-ish miles from downtown Fredericksburg. I've included this on my list of things to do when visiting Fredericksburg Texas with kids, even though it isn't technically in Fredericksburg. That might sound like a big drive but it's a really pretty and scenic one. Once a steam grist mill and cotton gin, it's a present-day forum for science exploration. All exhibits are hands-on and most are indoors, making this one of our family favorites during the summer (think broiling Texas heat). But don't miss the backyard exhibits.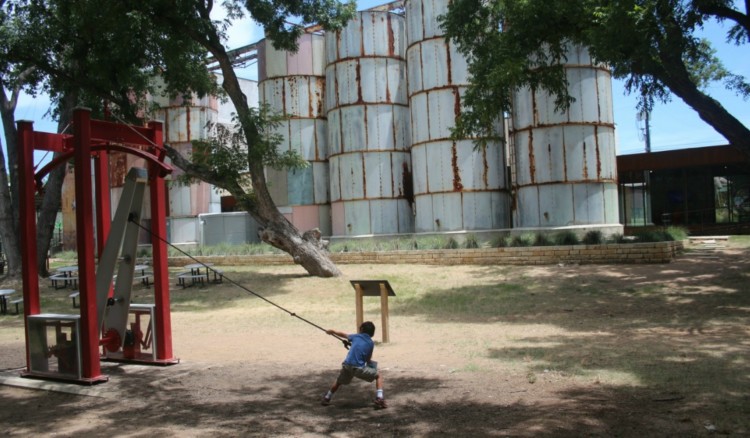 It took us about four hours to thoroughly explore and make a pit stop for some eats at Lady Bird Lane Café, which has delicious, fresh organic food. Science Mill admission is $10 for adults, and $8.50 for kids 3-18. The Science Mill also offers half-price discounts to active duty and retired military members (must have proper ID, includes up to three family members.)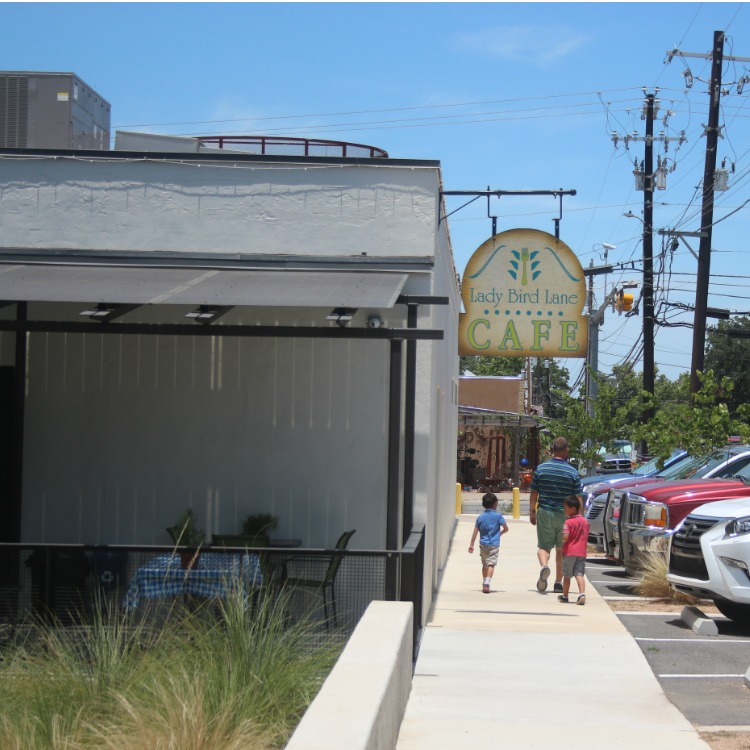 7. Luckenbach
This tiny town – seriously, so tiny that you'll miss it if you blink – was established as a trading post in 1849. Luckenbach has a general store and post office, a bar and an old dance hall. My husband and I love relaxing under the 500-year-old oak trees, listening to live music, and enjoying a cold drink while our kids run around and burn off energy, which there's plenty of room for them to do. Luckenbach is close enough to Fredericksburg that I'm including it on my list of things to do in Fredericksburg Texas with kids.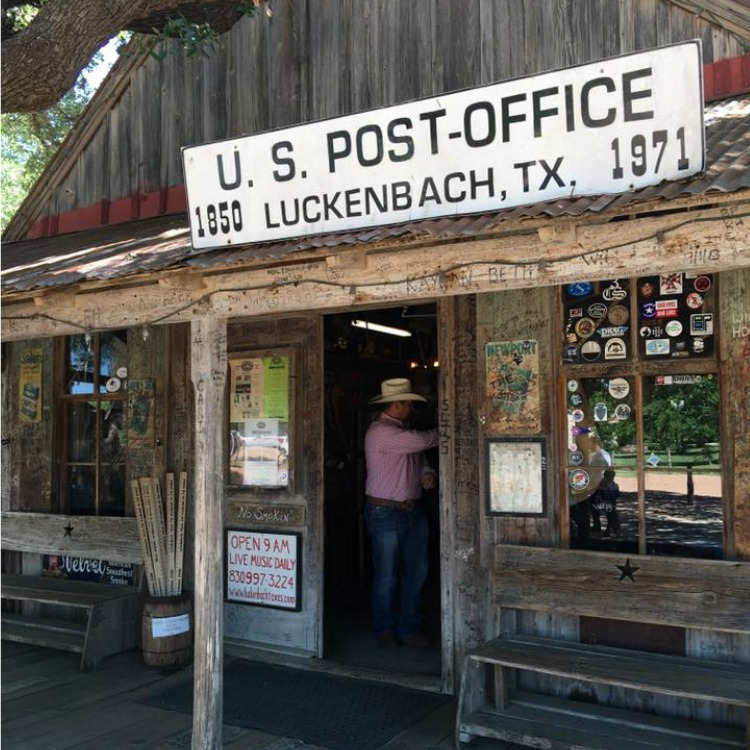 Aside from enjoying the music and browsing in the general store (we love the quirky and unique Texas souvenirs), there's not a ton to do in Luckenbach, but the photo opportunities in this gem of a town make it list-worthy for favorite things in Fredericksburg, Texas with kids. This is our favorite pit stop on the way to Fredericksburg from San Antonio. The saying goes that "everybody's somebody in Luckenbach" which is reason enough to check it out, don't you think?
If you're looking for more adult-centered activities near Fredericksburg, check out this post about wineries in nearby Hye, Texas or my recent post on how to have an epic couples trip to the Texas Hill Country.