Day out at the Hill Country Science Mill
(This post may contain affiliate links. Read my full disclosure.)
My two boys are a couple of tenacious little beasts. Their curiosity and the way they approach exploration…scratch that – attack exploration – is a pretty cool thing to watch. As they get older, they're starting to ask more questions about the world around them and trying to figure out how stuff works.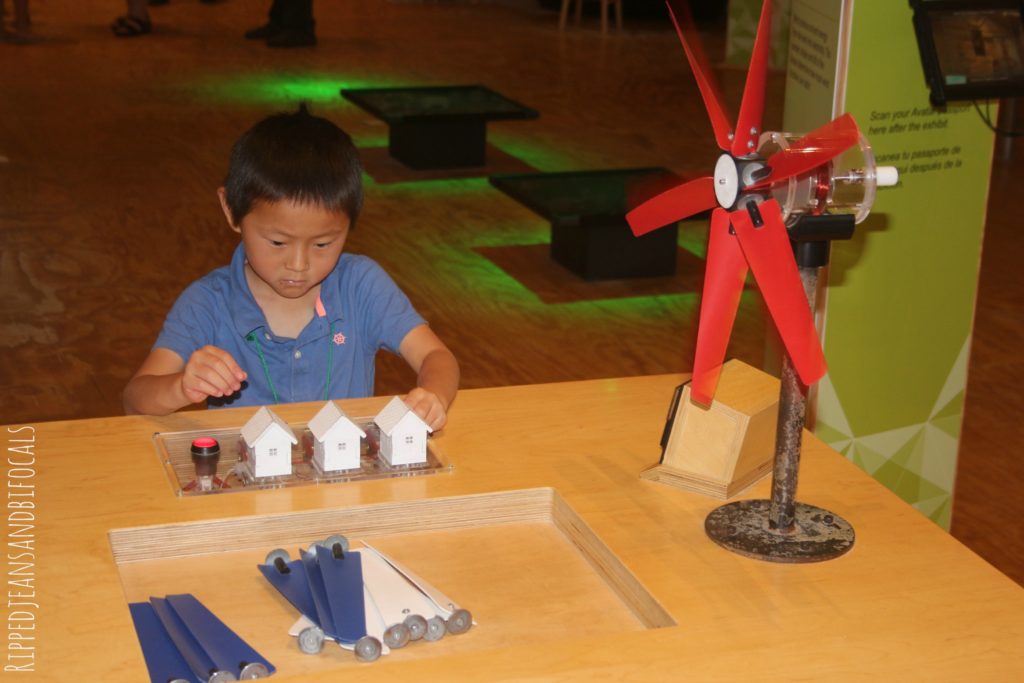 See also take a bunch of stuff apart and ask me questions I can't answer, like why don't fish have eyelashes. If you know the answer to that question, let me know because I have a feeling it's going to come up in conversation again.
As they get a little older (they're six now) we're constantly looking for family activities we can all enjoy that have some sort of educational purpose. Sometimes fun for fun's sake is…well, fun, but we like to find as many opportunities as we can to combine fun with learning. Both of my boys show an interest in all things STEM so I'll jump at any chance I get to nurture that curiosity.
I like planning family activities that are just a little bit off the beaten path and I love it when I discover something new and cool that I can pass on to others to enjoy.
One of those places is the Hill Country Science Mill in Johnson City, Texas.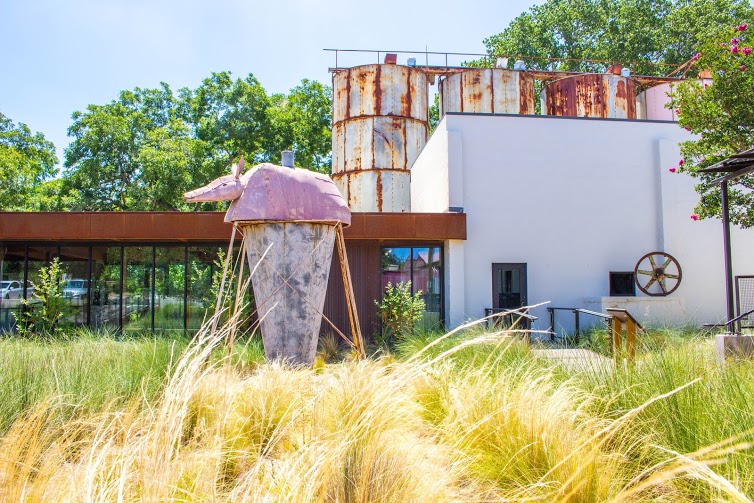 Johnson City is an easy drive from San Antonio or Austin and is the perfect length for a day trip from either city, although there is a ton of stuff to do in Johnson City and nearby Fredricksburg if you're interested in planning a longer stay. It's fun to get out of town once in a while and enjoy the beautiful scenery of the Texas Hill Country. For us, the trip is about 90 minutes from door to door but I find I really enjoy the scenery along the route, mostly because our van has a built-in DVD player and I bribe my kids with snacks on any car ride lasting more than 15 minutes.
But seriously, you can easily plan a great day out in Johnson City that includes a visit to the very awesome Hill Country Science Mill.
The science mill used to be a functional mill steam mill. It was built in 1880 and functioned as a steam grist mill and cotton gin. It was later converted to electrical power and became a feed mill in the 1930's. Today it is a community center and forum for science exploration. I think it has the best of past and present: a very distinct iconic presence with a rustic feel combined with interactive exhibits that pique the curiosity of young minds. And not so young minds, too.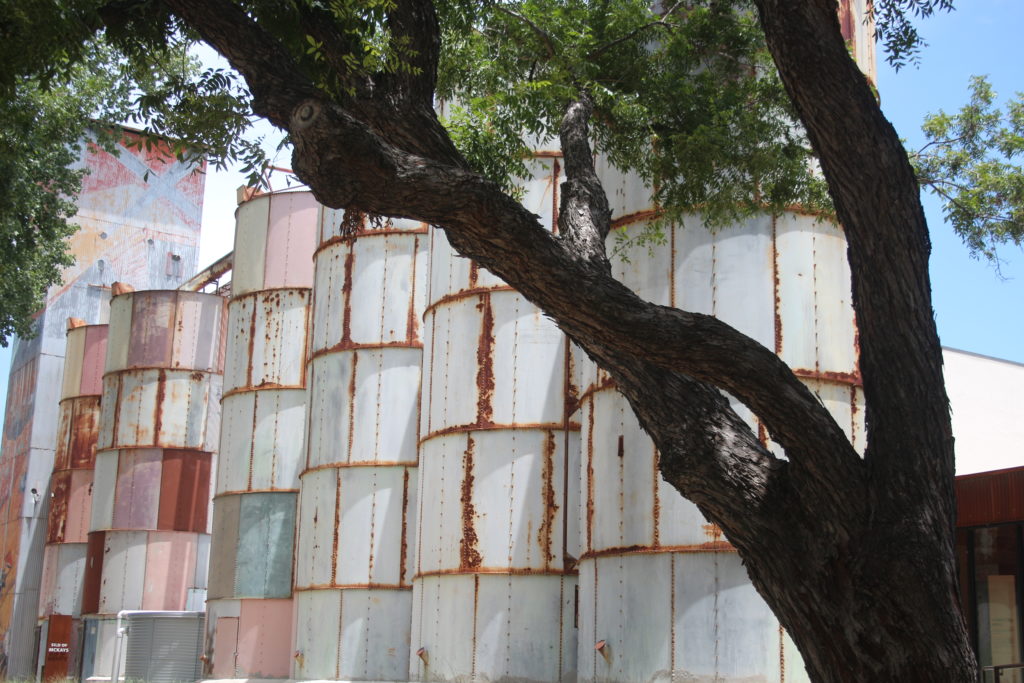 It took us just under four hours to see everything and that included a stop for a bite in the Lady Bird Café and spending quite a bit of time outside in the backyard. My boys enjoyed all the exhibits but the outside exhibits (which were very cool working scientific art) were what seemed to fascinate them the most.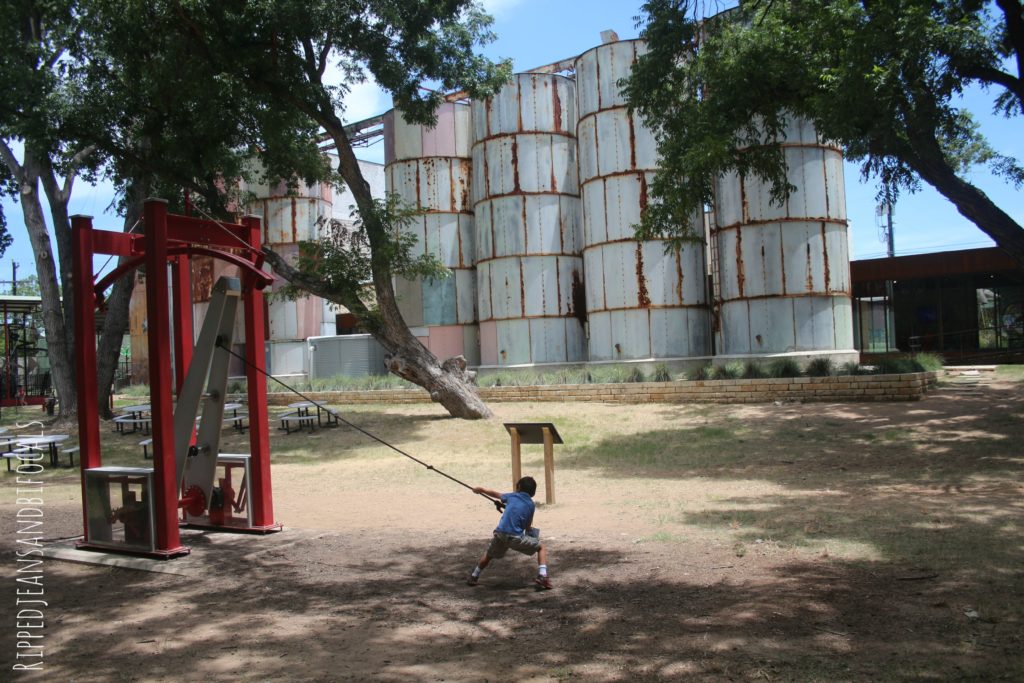 This is my favorite picture of the day: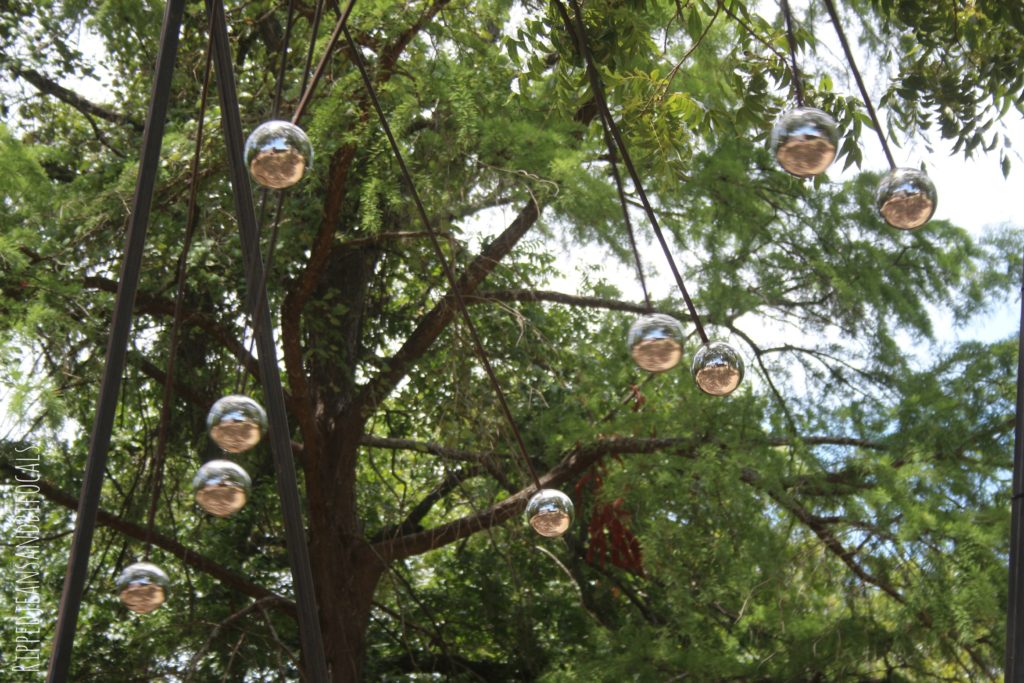 It's a closeup of the giant 4o-foot wave pendulum. It teaches a great lesson in physics but there was just something soothing about watching it.
The science mill is a great (mostly) indoor activity if you're looking to escape the Texas sun or if you encounter a rainy day.
Your kids will start off their visit by getting their Avatar Passport which is included in the price of admission. Then, you'll stop by a kiosk near the entrance create an account. It's really fast and easy and it's also free. You enter a few details about your child (first name, birth date, hair and eye color) and that helps create the child's own personal avatar that helps customize their experience as they explore. There are places to scan the Avatar Passport near the exhibits. The child's personal avatar pops up and gives them additional info about the exhibit. It's a really fun, interactive way to get the kids learning.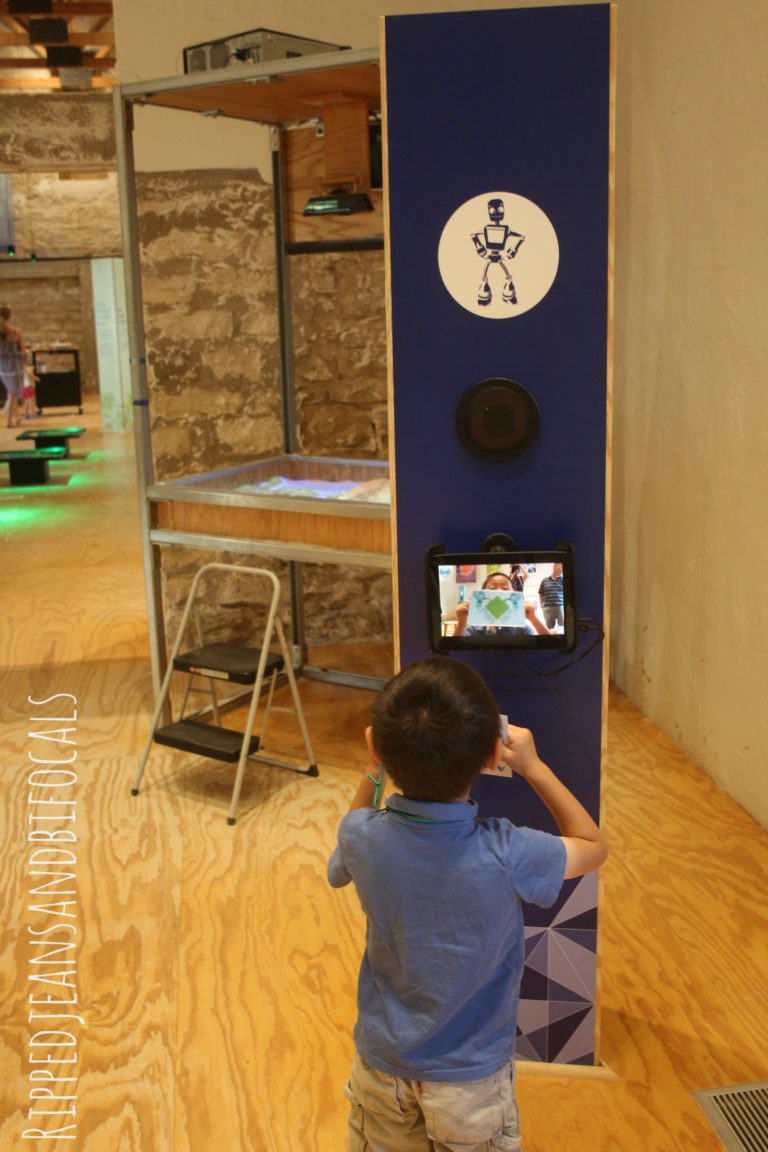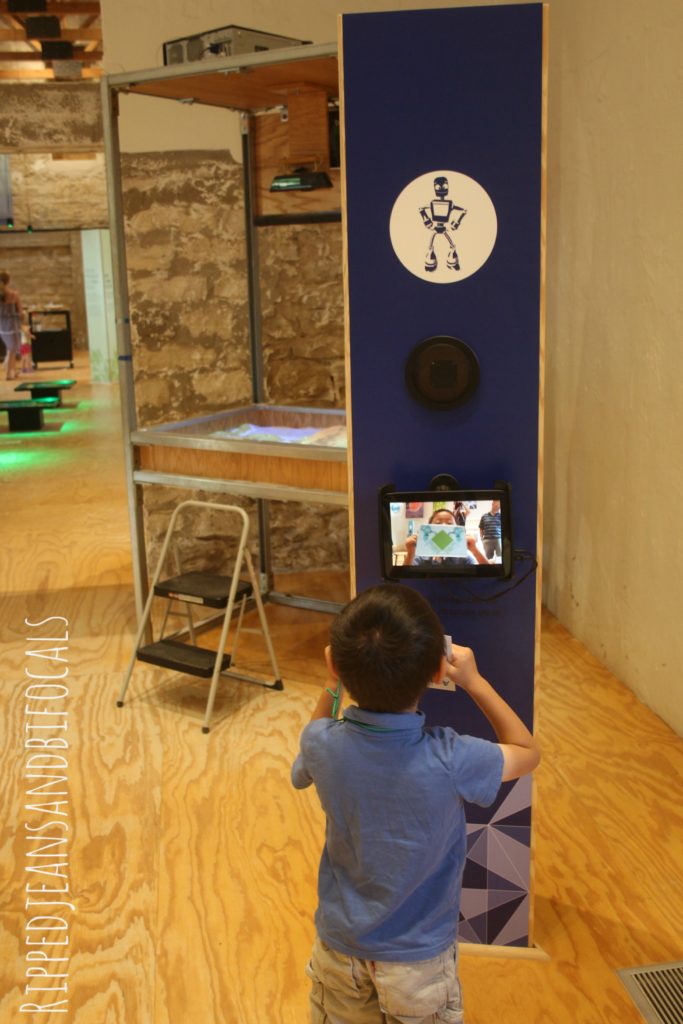 Adults can get an Avatar, too. I didn't on my visit but I think I will next time. My kids had a blast with their passports.
The Hill Country Science Mill has over 35 interactive exhibits and a 3-D theater. You can check the website to see what's playing. We saw a really fun movie about the life of bugs and my kids loved it…and I learned a thing or two about insects that I did not know.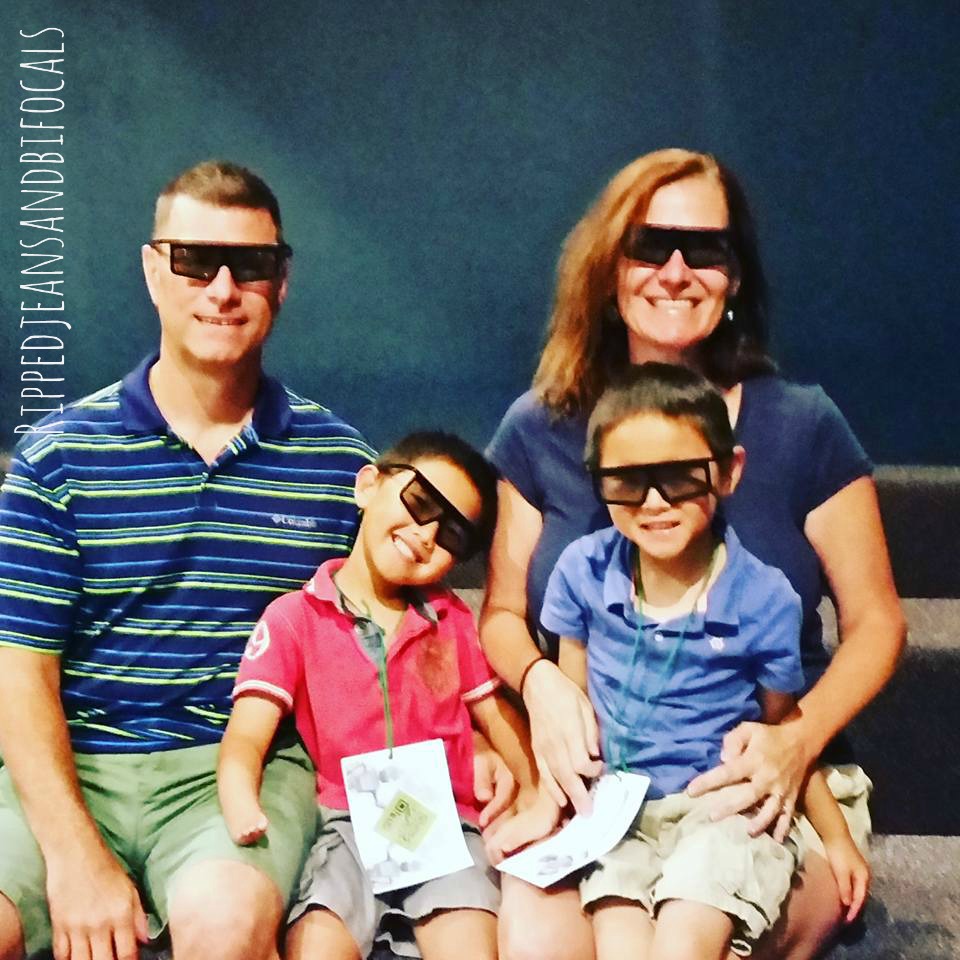 Let me show you a few of our favorite things.
Now, here's the really cool thing about the Hill Country Science Mill: Some of the exhibits are housed in old silos. The round spaces make a really cool setting for the two exhibits that were probably my favorite things of the day – the Cell Phone Disco and the Fractalarium.
My husband actually discovered the Cell Phone Disco before I did. I got a text from him that simply said "hello" while I was in the restroom, which I thought was…well, weird. When I asked him why he'd done that, he pointed me toward the exhibit. I wont't totally give it away but if you make a call or send a text while you're standing in the silo/Cell Phone Disco, you'll see something really neat.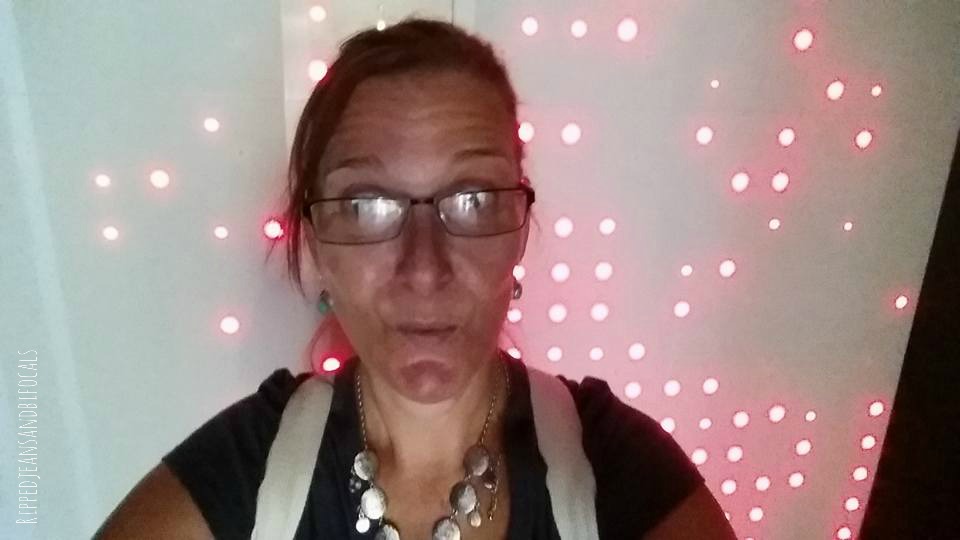 The Fractalarium is a giant piece of art based on Romanesco broccoli housed in a refurbished grain silo. This one was easy to explain to the kids because Elsa sings about "frozen fractals." It was fun to show them what a fractal really is…and honestly, I didn't know what a fractal was before I checked out this exhibit. I've heard Elsa sing about frozen fractals about 37,000 times over the past three years and now I know what she's talking about.
Go with the Flow
I completely heart this picture. He was so into what he was doing and probably could have spent half of our visit right here. This is the whole reason we come to things like this.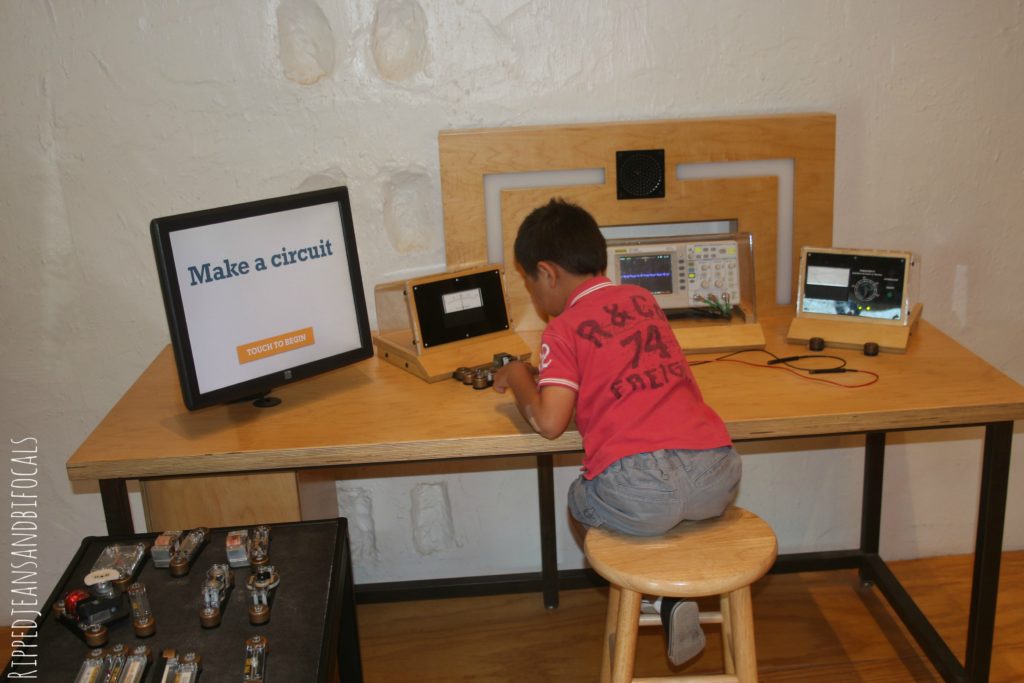 Hear Sounds, See Sounds
You can see and and feel sound waves and vibrations and watch straws jump and dance to rock, classical or hip hop – you choose.
Create an Explosion
Little boys creating something that goes "boom." Need I say more?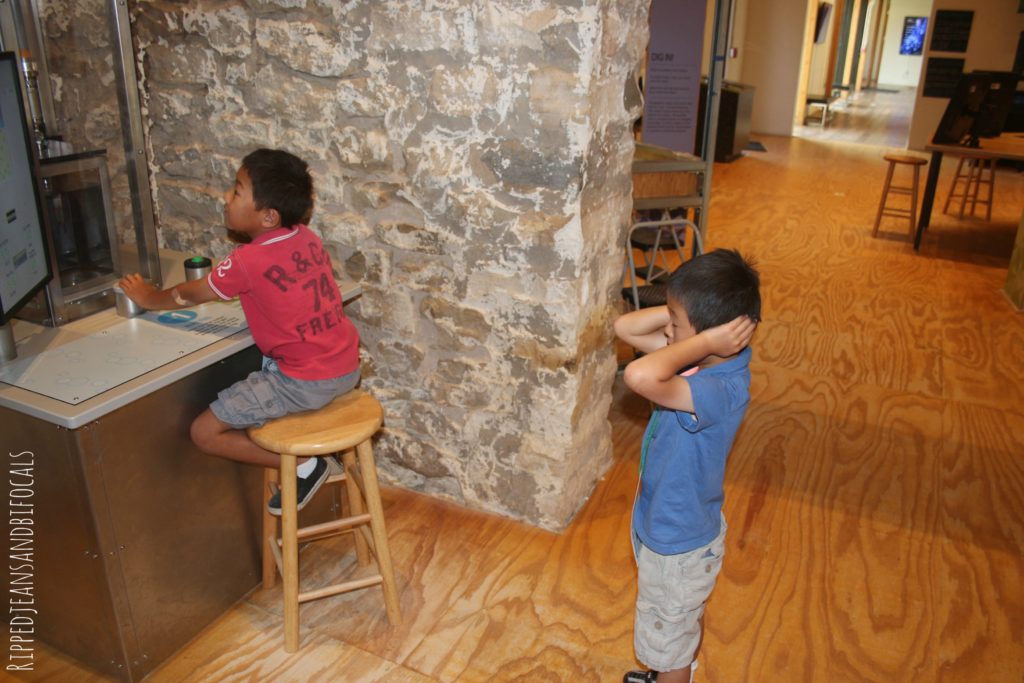 Dig In
This picture doesn't do this exhibit justice. It's a hands-on, sensory way to learn about geology and erosion. I think I want one just for me.
Banana Piano
I bet you didn't know bananas could double as piano keys. This was pretty amazing.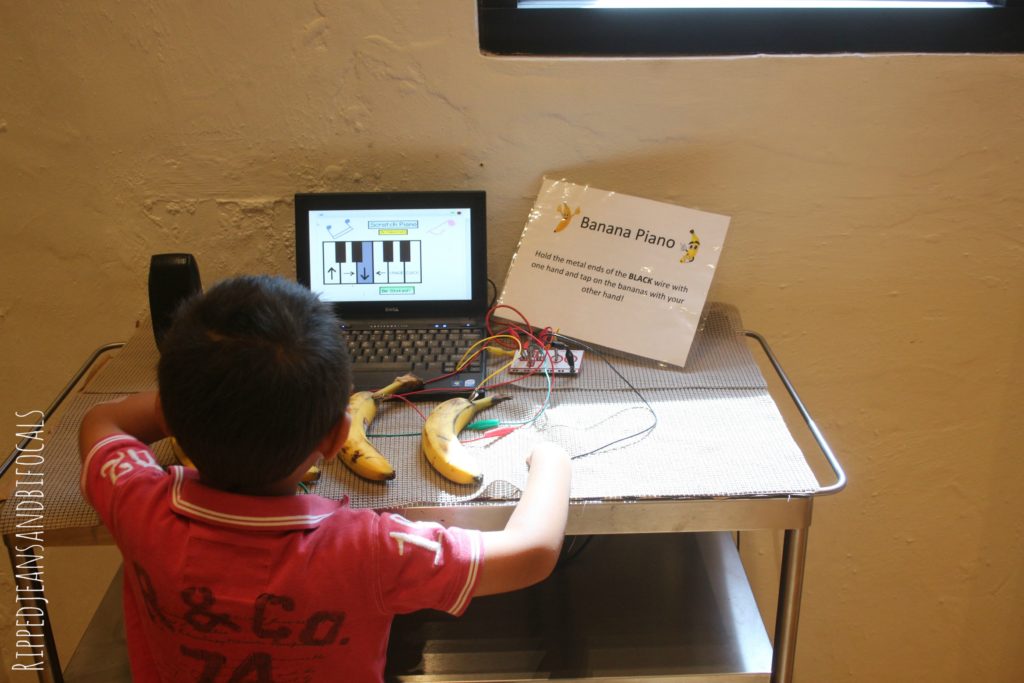 If you're hungry, the Lady Bird Lane Café has some seriously good grub. You can enter from the street without paying admission to the Hill Country Science Mill, or you can order from a walkup window inside the science mill and enjoy a private seating area that's adjacent to some really fun kid's activities. There's play area and activities suitable for younger explorers…although I have to tell you I thought the gear wall was pretty fun and I kind of want one.
The Lady Bird Lane Café offers sandwiches, soups and salads. They feature organic ingredients and are very allergy friendly with many vegetarian, vegan and gluten-free options. They also offer daily specials. We had the bacon avocado and Havarti cheese sandwich and the turkey and white cheddar stack sandwich. Our kids built cars at the race track while my husband and I ate sandwiches and enjoyed a little bit of conversation.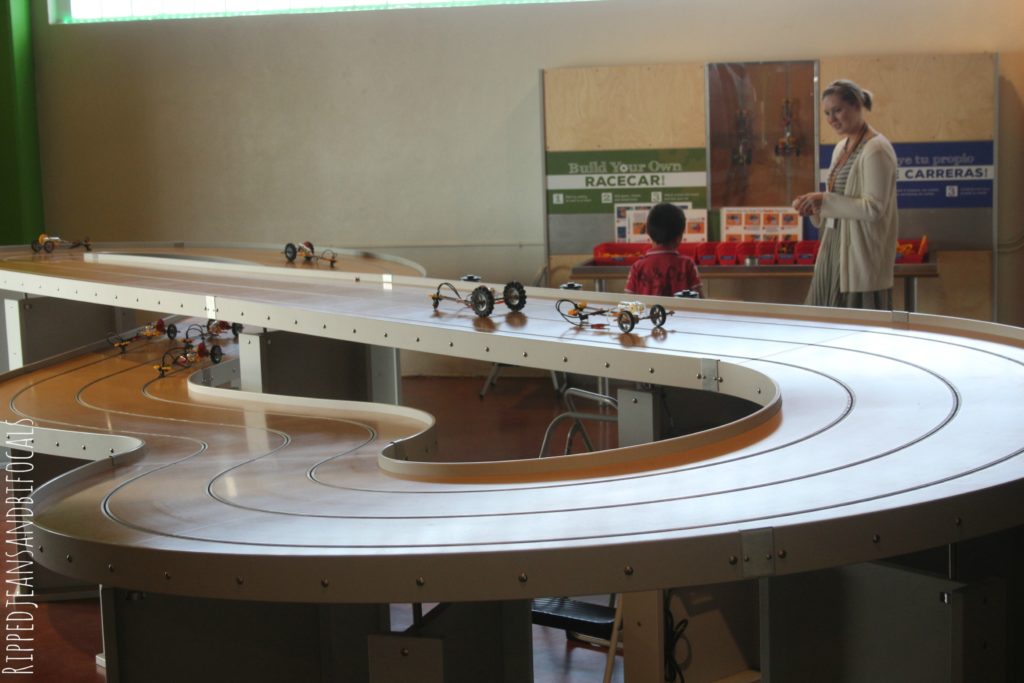 The museum workers were amazing and really took the time to explain the basics of building a simple machine and the science behind the race cars to our kids. And yes…we do feed our kids, I promise. They had breakfast before we left San Antonio and snacks in the car. I didn't eat before we left and I might have been a little bit hangry when we arrived at the science mill. The folks at the Lady Bird Lane Café fixed me up and tamed the beast. If the science mill is not your thing and you find yourself in Johnson City, go have lunch at this place.
But seriously, if you find yourself in Johnson City, consider putting the science mill on your agenda.
You can also visit the Silo of McKays as part of a guided tour. As at the desk on your way in for tour times. It's free and lasts about 15 minutes. I'm not going to give it all away but one of the silos contains a multi dimensional art experience. It's well worth the time to visit and people of every age will get something out of it. McKay Otto is an artist from nearby Wimberly, Texas and this exhibit made me really curious about what the rest of his work is like.
One more thing: When you leave the science center, your kids scan their passport and take a photo at the kiosk by the door. You can log in to the website's "Explorer Zone" using the info you entered about your child and you can review what you saw with your child.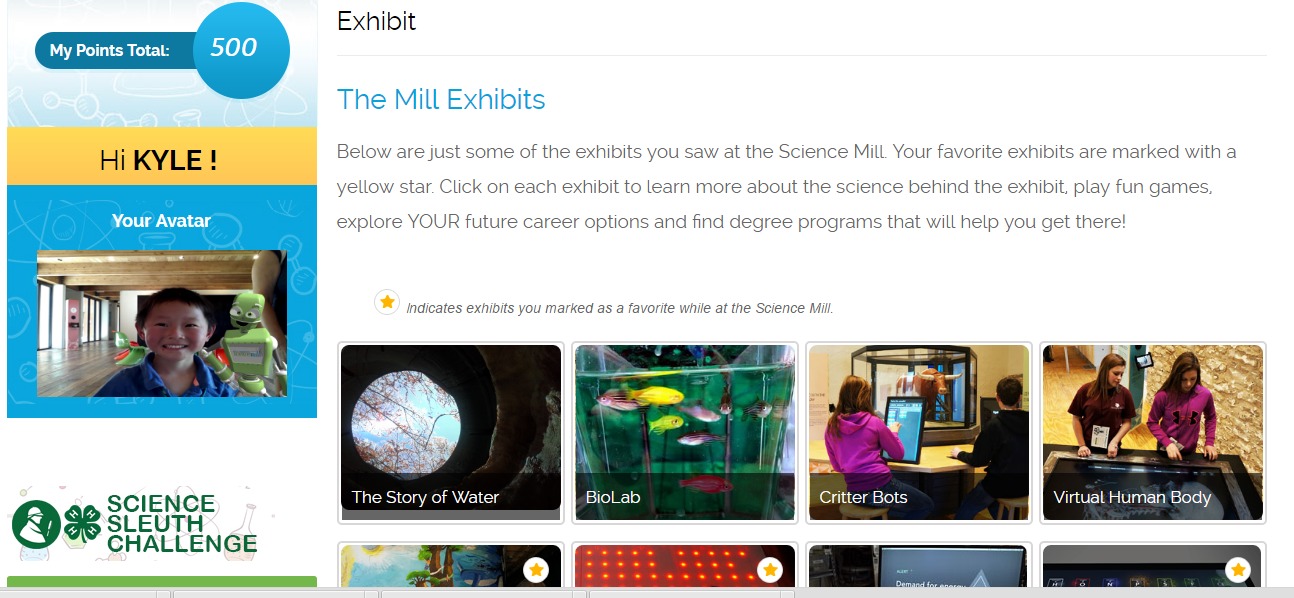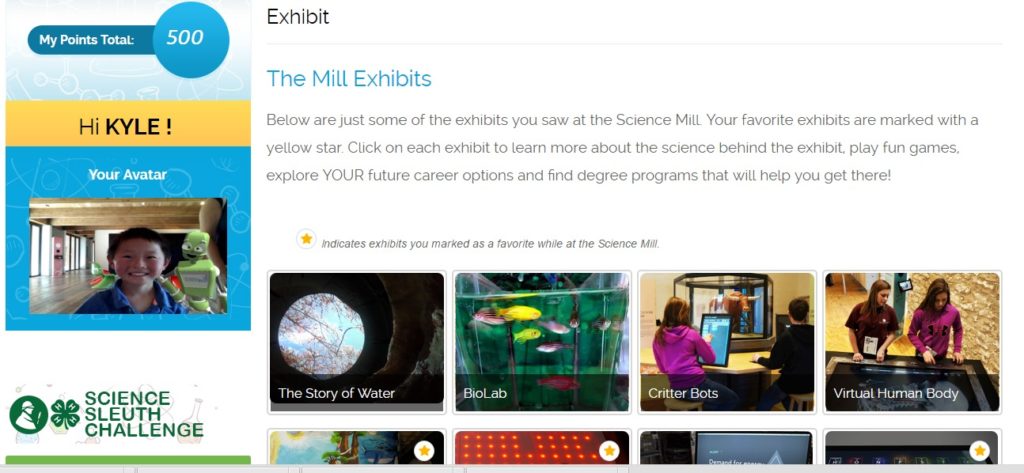 If you'd like to visit Hill Country Science Mill, I've got four tickets up for grabs. To enter, you can comment on this blog post or comment on THIS Facebook post. I'm keeping the entries open until Saturday, July 30th 2016. If you have friends that live in (or that will be visiting) South or Central Texas, please share this with them. It was a really good time, and while it is an outing geared toward kids, my husband and I thoroughly enjoyed ourselves.
Thanks to the Hill Country Science Mill for hosting my family and for sponsoring this post. I received complimentary admission and other compensation but the opinions are my own.
If you're interested in learning more, visit their website or check them out on Facebook, Instagram, Pinterest and Twitter.
If you have a "fun in Texas" or "kids activities" Pinterest board, click the image below to add: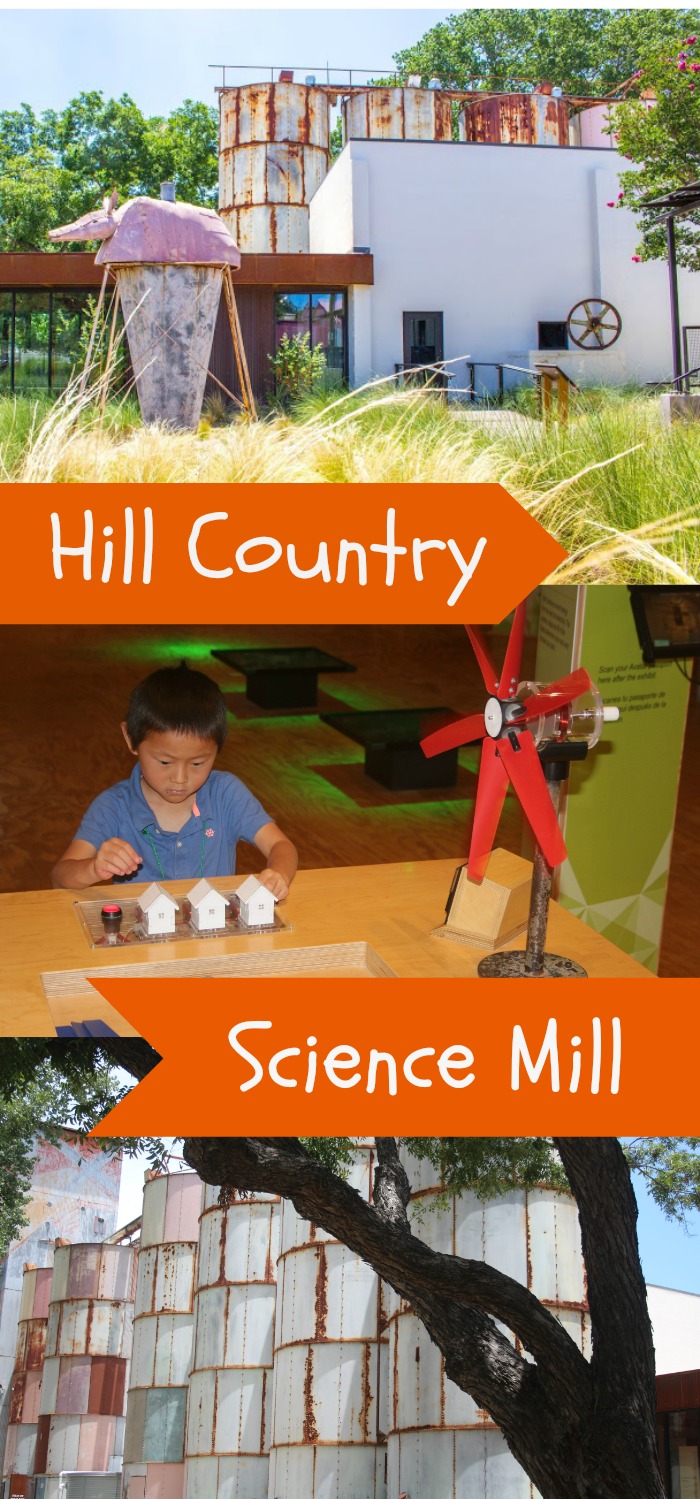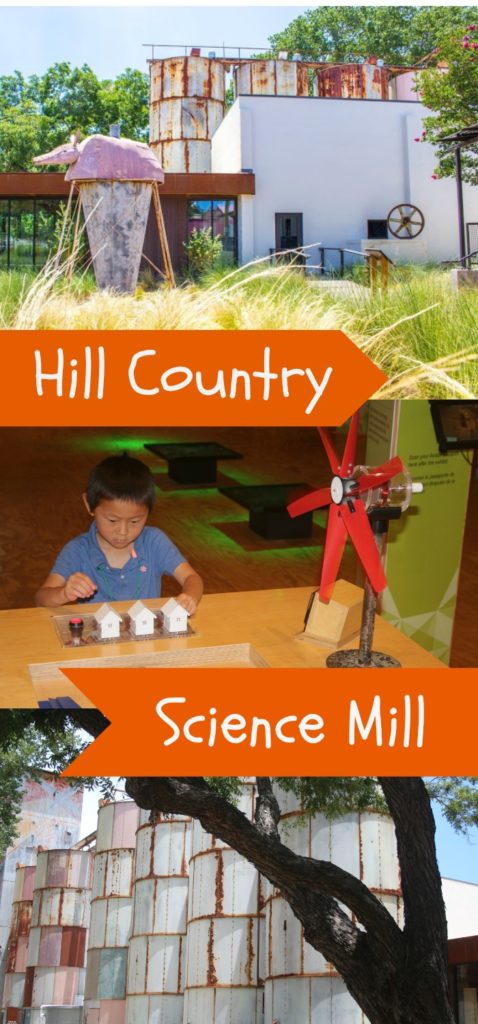 Thank you for reading!