I'm sort of a "luxury travel girl." I make no excuses for that. I like to enjoy the great outdoors and if that means climbing rocks and getting my butt dirty, so be it. But, no matter how rugged things get or how dirty I get, I like to end my day at a comfortable hotel with great amenities. Where to stay is always a big part of our trip planning. I'm excited to tell you about our recent couple's trip to Fredericksburg Texas and our stay at the Stonewall Motor Lodge in nearby Stonewall. The only lodging on the 290 wine trail, the Stonewall Motor Lodge is a little bit different from the places we usually stay. Heck…it's a little bit different all the way around but in a really good way. Read on.
I was hosted by Stonewall Motor Lodge. My husband and I received complimentary lodging and experiences, however, this is an honest review. All opinions are mine. This post may also contain affiliate links, which means I may earn commission from purchases or bookings made from this page – thank you for your support.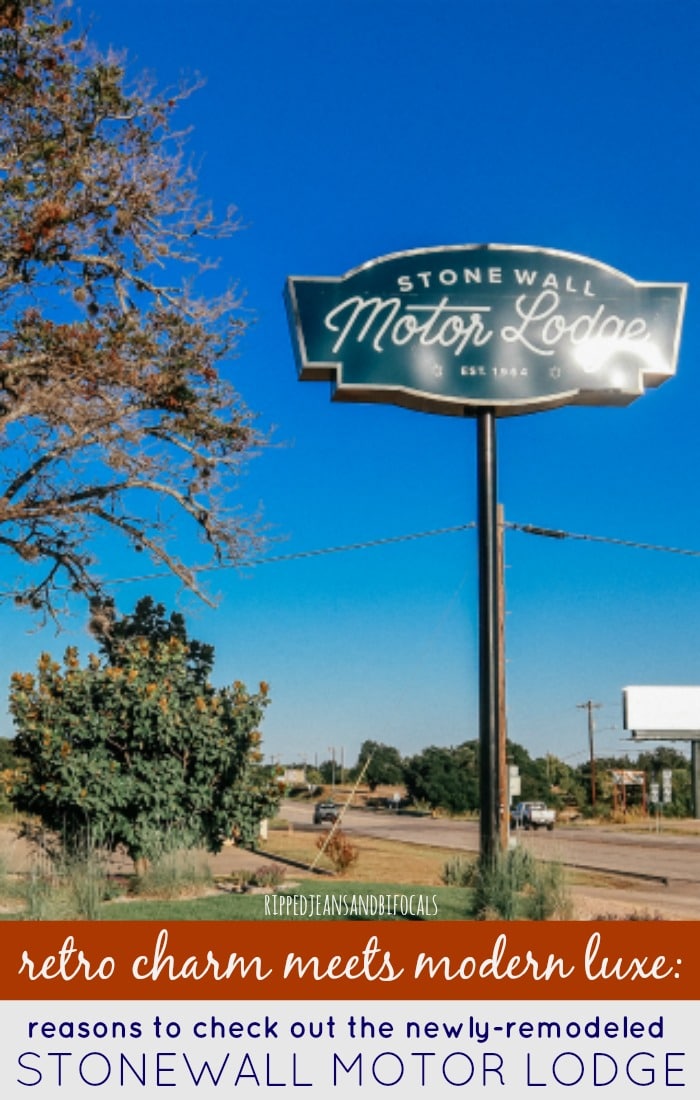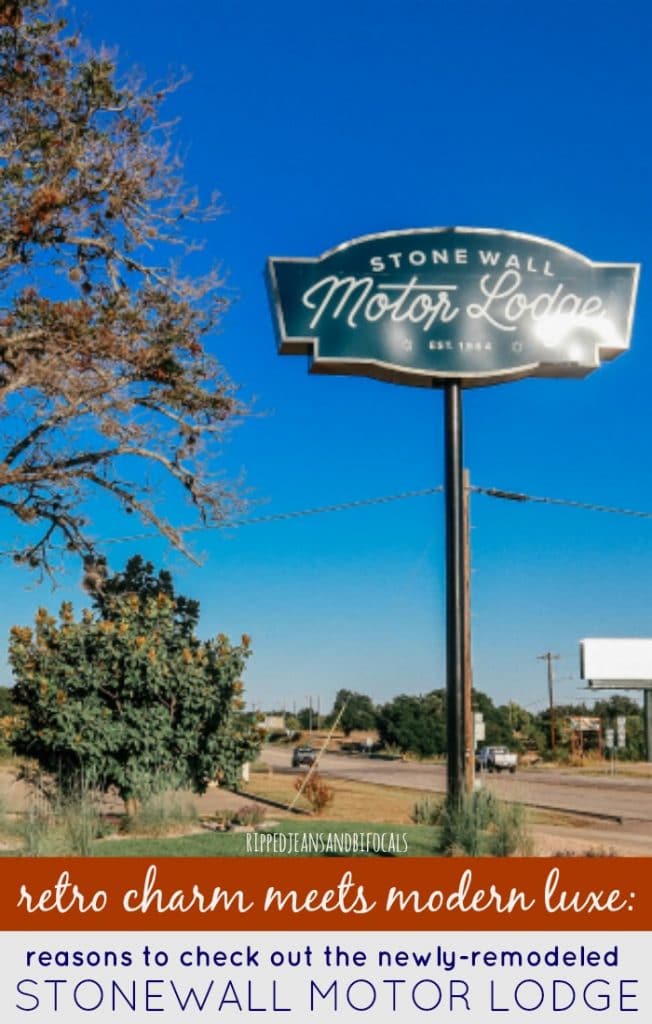 Retro Meets Modern Luxury – The Stonewall Motor Lodge in Stonewall Texas
Where is the Stonewall Motor Lodge?
In Stonewall Texas, of course. Stonewall is situated between Fredericksburg and Johnson City, conveniently located along the 290 wine trail. And, when I say conveniently, I mean convenient for me because I EL-OH-VEE love me some wine.
If that frame of reference doesn't make sense, halfway between San Antonio and Austin. About an hour and change drive (one way) from either city. If you're still head scratching, Google knows where it is. Ask Google.
So…um…a Motor Lodge?
You have to trust me on this one. The Stonewall Motor Lodge is the perfect blend of quirky retro and modern luxury. While it is an outside corridor motel and you can't get around that fact, there are a lot of thoughtful touches throughout the property that bump it up several notches from "roadside motel."
I typically avoid outside corridor hotels when I travel but my stay at the Stonewall Motor Lodge has caused me to rethink that a little bit. I've happily stayed in cabins, casitas, and vacation homes so…really, why the fixation on an exterior door? Safety is a concern in some locations but I'm not really sure if that applies here in the hill country.
You decide – but I felt very safe and comfortable in our cozy motel room in the beautiful Texas Hill Country.
So…um…really a Motor Lodge?
Yes, Karen. It's a fun, upscale retro experience and you'll have a good time. There's wine nearby. You'll be fine.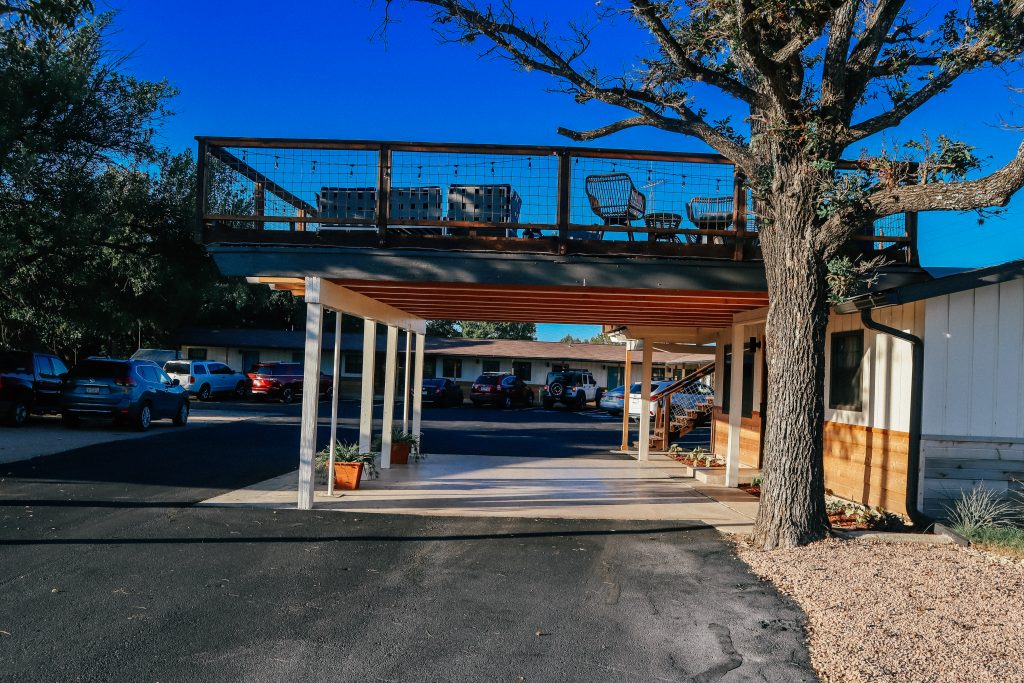 But, to truly appreciate the vibe of this place, you have to be a little bit of a history buff, like me. If you're not a history buff, brush up a little bit on your history before you visit and your stay will be more meaningful. Here's the Cliff Notes:
When Texas-born LBJ was elected president, he established his off duty residence in the Texas Hill Country. You know…the Kennedeys have Hyannisport and the Bush fam has Kennebunkport. Just think of Johnson City (cousin to Stonewall) as the Kennebunkport of the early sixties.
So…1964. Johnson was spending much of his leisure time in the Texas Hill Country and who followed him there? Well…the press corps and pretty much everyone. Friends of LBJ's family saw a need for lodging for the press corps and other visitors to the area when Johnson was at his nearby ranch. That's how Stonewall Motor Lodge came to be. A small motel with trailers erected to handle the flux of visitors to what was a sleepy area of Texas…this was many years before the wineries came.
Oh yeah. If you didn't know there are some righteous wineries in the Texas Hill Country well…now you do. I think Texas wine, in particular the 290 Wine Trail, is fairly well-known within the state but when I travel out of state and mention how great our wines are, I get blank looks more often than not. Growing conditions in the Texas Hill Country is very similar to Spain and we produce some great Tempernillo grapes, plus a bunch of other varieties. When you visit the many area wineries you'll see lots of award-winning wines. Believe it.
Read my full review of the wineries (+ one brewery and one distillery) we visited on our most recent trip here.
After Johnson's presidency ended, the motel endured but it gradually fell into a state of neglect. A group of real estate investors with a vision bought it in 2018 and flipped it. It re-opened in January 2019. More about the history here.
The Stonewall Motor Lodge Today
The rooms have been substantially upgraded with new flooring, completely remodeled bathrooms, and all the tech the modern traveler demands. Each room is equipped with a 32" flat screen smart TV, fast wifi and keyless entry. You'll be given an access code as part of your reservation, which makes check-in super easy.
Note: there's no cable TV or regular phone service, nor is there a traditional front desk. There's onsite management and you'll be given instructions on how to contact them when you finalize your reservation.
If you need a little more room, request the press room. There's an attached kitchenette. Want more room than that? Check out one of the on site cabins or use the RV hookups.
Related post: Waco Tours: The thing you need to do BEFORE Magnolia
Bookings can be made directly through the property or via Booking.com.
I think this is a great property for an adults-only getaway. While families are welcome, I'm not sure that this would be my top pick for families with babies or very young children.
Do I recommend Stonewall Motor Lodge for Families?
I'm not sure. I definitely recommend it for a couple's retreat of a girlfriend getaway but a trip with small humans? I dunno.
We stayed in a King room, although there are double queen rooms available if you need two beds. The accommodations are comfortable and modern and they're not not kid friendly but there's not a ton for younger kids here. There's not an onsite pool – although the property will arrange for you to have a pool pass to a nearby camping resort that does offer a pool upon request. There's not a playground but there is a ton of open space to run and play. The lightning fast wifi and the smart TV will definitely be a plus for tweens and teens.
The rooms are smaller than your average hotel room, so there's no room for your kids to run around inside, although there's plenty of outdoor space. I do think the walls are on the thin side and I probably wouldn't appreciate having kids next door unless they were absolutely silent, which younger kids never, ever are unless they're sleeping or into something. The rooms are very nice, modern, and comfortable but the building was built in the early sixties and probably not equipped for modern family travelers.
You'll have to decide. I would bring my kids here but they're two pretty chill nine-year-olds who play games on their tablets using headphones who are super used to traveling.
What I loved about the Stonewall Motor Lodge (the only lodging ON the 290 Wine Trail)
The quirky, retro vibe. I loved the whole capture of the sixties roadside motel. I loved the color of the doors, the retro fans and mini fridges in the room. I loved the artwork on the wall. A great deal of thought has been given to the decor and it's very immersive.
The upstairs patio. There's a really sweet upstairs patio you can visit to enjoy your morning coffee or to relax at the end of the day with some wine and friends. Fredericksburg rolls up the sidewalks pretty early and there's not a lot to do in the evening. This was peaceful. There's also an outdoor space called "the barn" in the rear of the property where you can hang out.
The modern luxury touches. I loved the high end bath products, towels and sheets. Nothing says "budget hotel" like a scratchy towel. I also ADORED the fact that our room had a Keurig and that the hotel lobby had a super Keurig and a supply of coffee. You can always trust me to scope out the coffee situation for you. You can pretty much tell where my loyalties lie, right? COFFEEEEEE.
Note: although coffee and tea are provided, there's no on-site restaurant or commissary. There's a store nearby and places to eat in the area but I recommend you make plans for snacks and drinks before you come. A fridge is provided.
I also love the nod to tech forward. You get your keycode to your room electronically so there's no need to worry about whether or not you're too early for check in. I love the smart TV and the USB ports installed in the wiring. The wifi on property was also super fast.
That this was a smoke free property. No smoking or vaping on the property, inside or out.
The general "away from it all" vibe while being really, really close to the wineries. This is the only place to stay that's actually on the 290 Wine Trail. There are other hotels in Fredericksburg but that's a longer distance to the wineries.
Related Post: The 10 best water parks in Texas
What I didn't love
Small TVs. The rooms had 32" wall-mounted flat screen televisions. While I appreciated that Stonewall Motor Lodge provided wall mounted flat screens, I thought the screens were too small. You probably don't come to Fredericksburg to lay in your room and watch television, so…probably not a huge deal for most travelers. Still, a 42″ screen would have been more comfortable to watch from the bed.
Unsecure wifi. We live our lives online nowadays. While I'll log on to Facebook and Netflix from an unsecure connection, I won't do much else. The wifi was super fast and reliable throughout our visit but I'd have loved it to have been password protected.
As someone who runs a digital business, I'm not comfortable using unsecure wifi for very much. Your mileage may vary – AKA I know other people might actually unplug when they travel so this might not be a big deal to the average traveler.
The bazillion dollar question – Would I stay at the Stonewall Motor Lodge Texas again?
Short answer: Yes.
The Stonewall Motor Lodge Stonewall Texas property is comfortable, clean and luxurious, although because it is a motor lodge, you princesses out there might have to adjust your definition of luxury. I did, a little and I was okay where I landed with this one. Little touches like the luxury linens, top-quality king mattress and thoughtful decor made a great impression on me.
I met the owners and the managers and they're truly good Texas people who love the area. I believe in the business they're trying to build and I'd happily give them my return business. See also: it's close to the wine.
Long answer: Despite the fact that the Stonewall Texas Motor Lodge offers RV hookups and cabins, I really feel it caters to couples or groups of adults…although if you took over the property with your family reunion, you make your stay whatever you wanted it to be.
The Bottom Line – Stonewall Texas Motor Lodge
If you're looking to stay close to the wine and seclusion is your jam, the Stonewall Motor Lodge is a big yes. If you have questions, leave me a comment or reach out on social media. You can also check out the Stonewall Motor Lodge Website. Follow them on Facebook and Instagram.
Read more:
Things to do in Fredericksburg with kids
See more on Facebook:
If you want more information on Stonewall Motor Lodge Fredericksburg Texas, check out the Visit Fredericksburg website for more info and ideas.