The Stonewall Motor Lodge – Retro Meets Modern Luxury
(This post may contain affiliate links. Read my full disclosure.)
I'm sort of a "luxury travel girl." I make no excuses for that. I like to enjoy the great outdoors and if that means climbing rocks and getting my butt dirty, so be it. But, no matter how rugged things get or how dirty I get, I like to end my day at a comfortable hotel with great amenities. Where to stay is always a big part of our trip planning. We stayed at the Stonewall Motor Lodge on our last couple's trip to Fredericksburg Texas. Here's everything you need to know about staying here.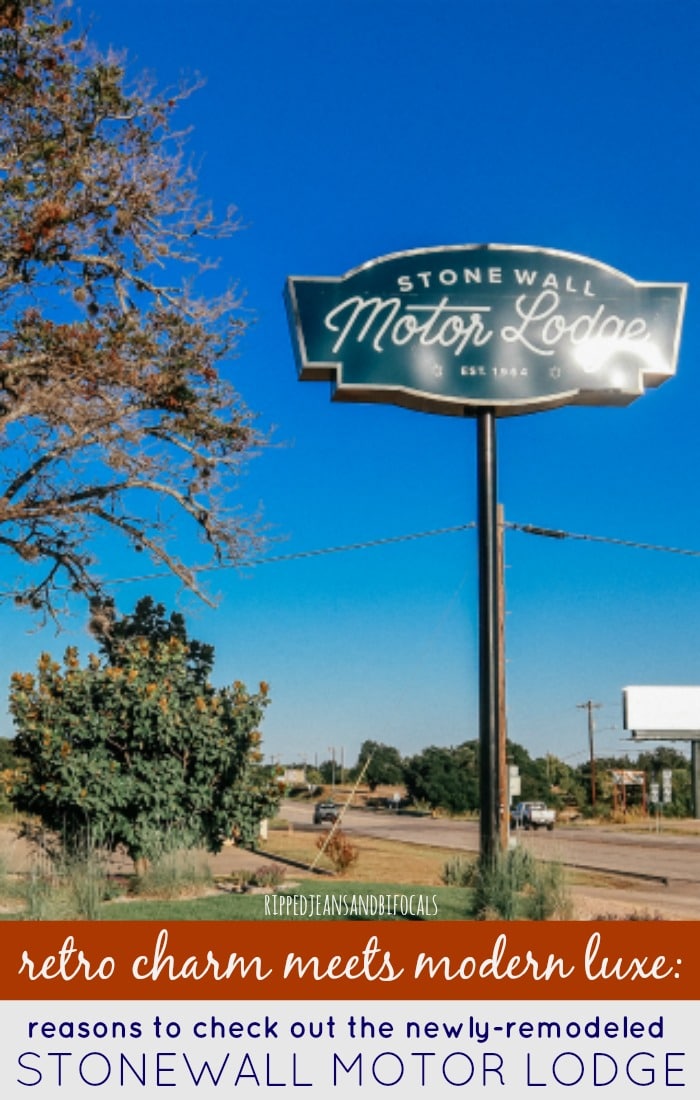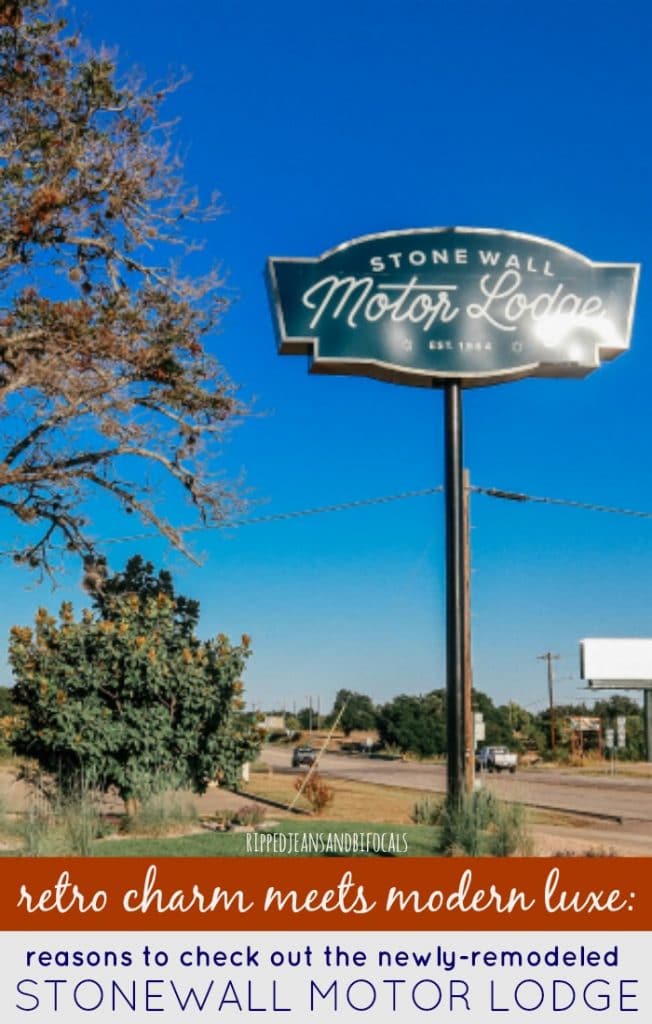 Retro Meets Modern Luxury – The Stonewall Motor Lodge in Stonewall Texas
The Stonewall Motor Lodge is an interesting blend of retro and comfort and it is conveniently located near wineries, which might be the reason you're traveling to this area.
Where is the Stonewall Motor Lodge?
In Stonewall Texas, of course. Stonewall is situated between Fredericksburg and Johnson City, conveniently located along the 290 wine trail.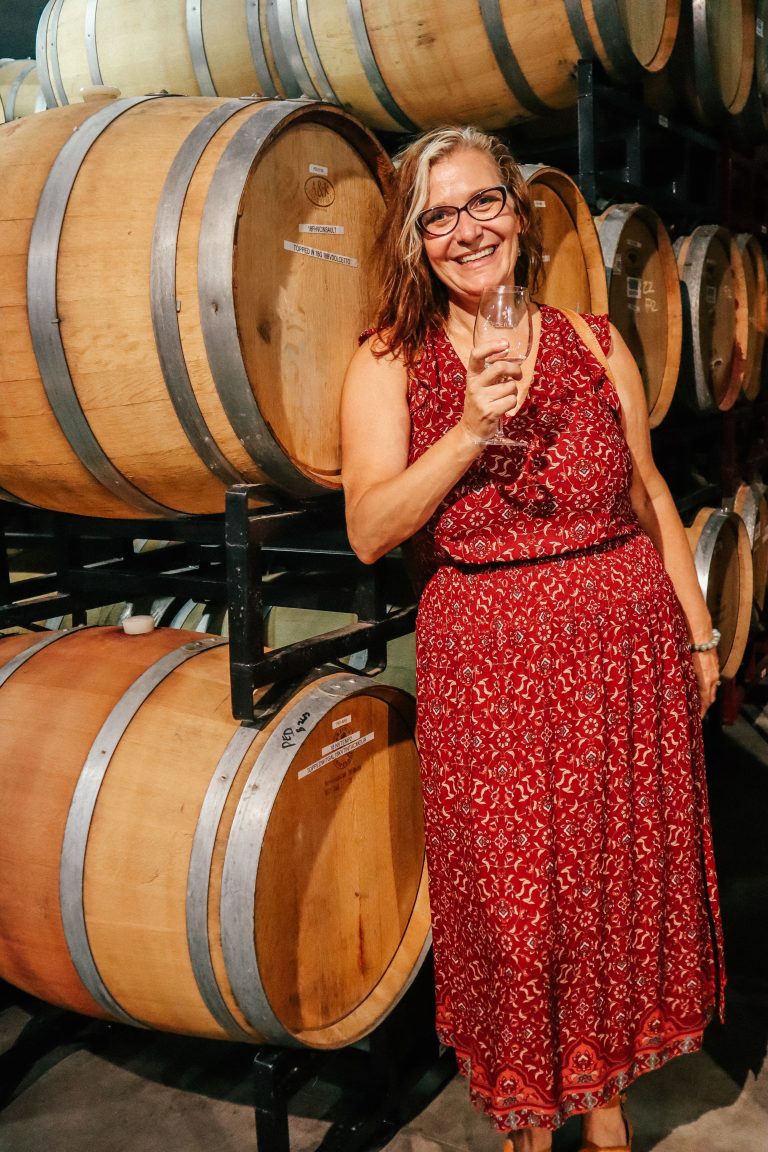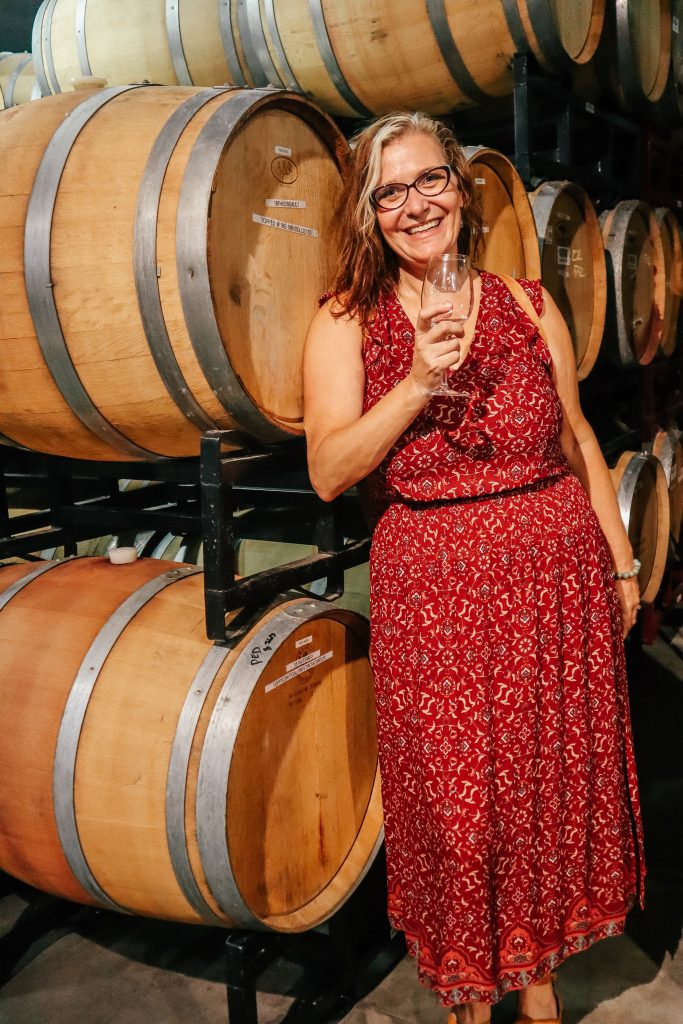 What's it like to stay at a Motor Lodge?
The Stonewall Motor Lodge is the perfect blend of quirky retro and modern luxury. While it is an outside corridor motel and you can't get around that fact, there are a lot of thoughtful touches throughout the property that bump it up several notches from "roadside motel."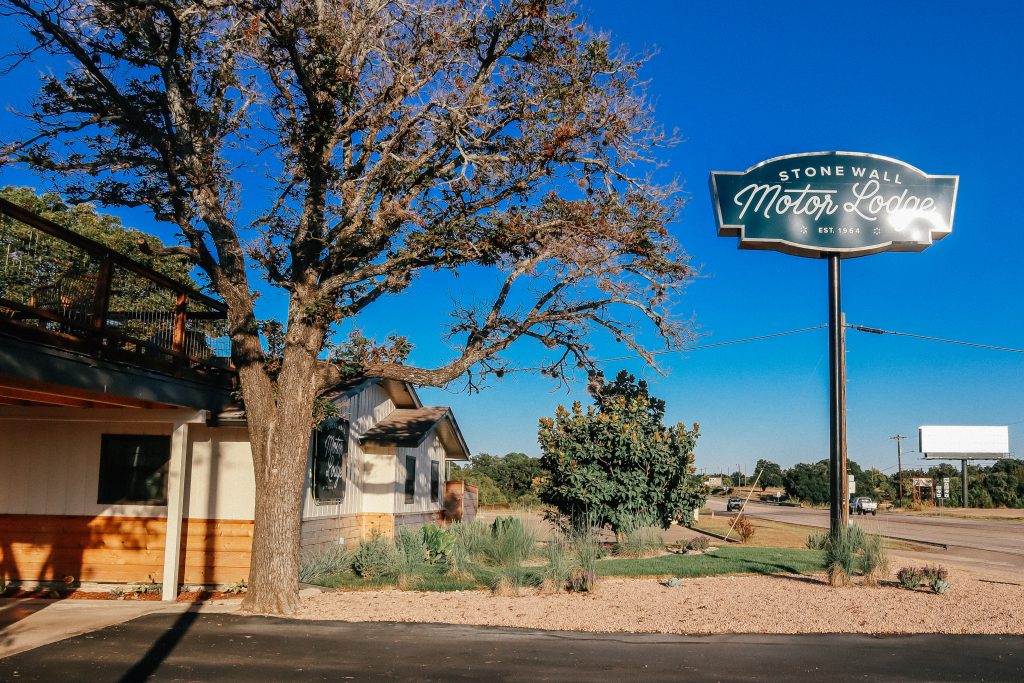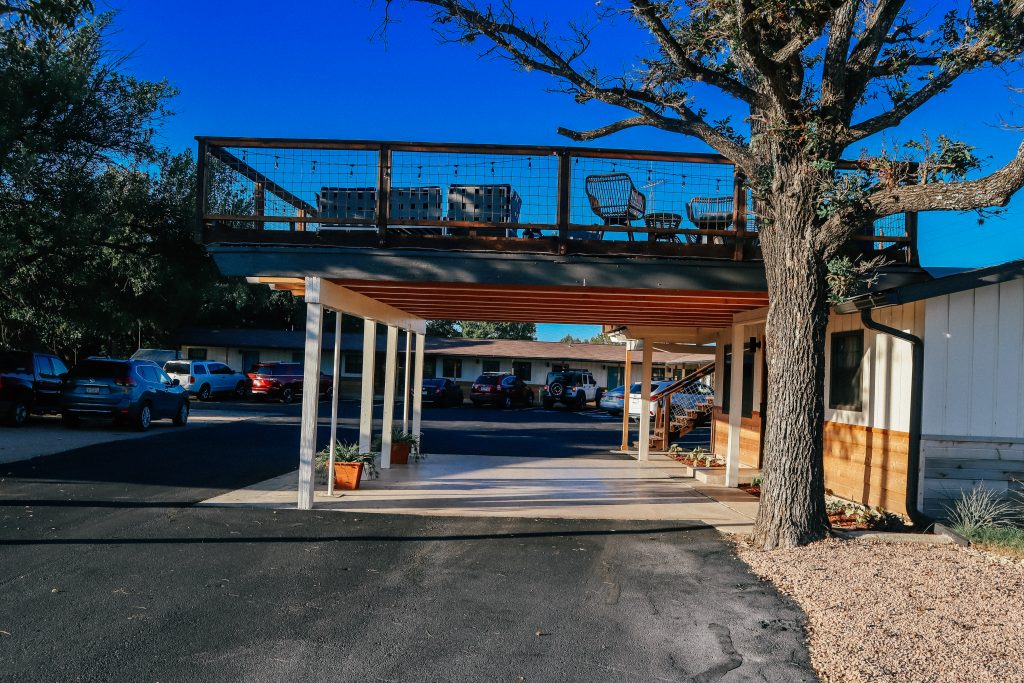 The history behind the Stonewall Motor Lodge
Even if you are not a history buff, I recommend you brush up on your history a bit before visiting. Your stay will be more meaningful. Here's the basics:
When Texas-born LBJ was elected president, he established his off duty residence in the Texas Hill Country. Think of Johnson City (Stonewall's next door neighbor) as the Kennebunkport of the early sixties.
In 1964 Johnson was spending much of his leisure time in the Texas Hill Country so the press corps followed him there. Friends of Johnson's family saw a need for lodging for the press corps and other visitors to the area when Johnson was at his nearby ranch. That's how Stonewall Motor Lodge came to be. A small motel with trailers erected to handle the flux of visitors to what was a sleepy area of Texas…this was many years before the wineries came.
Read my full review of the wineries (+ one brewery and one distillery) we visited on our most recent trip here.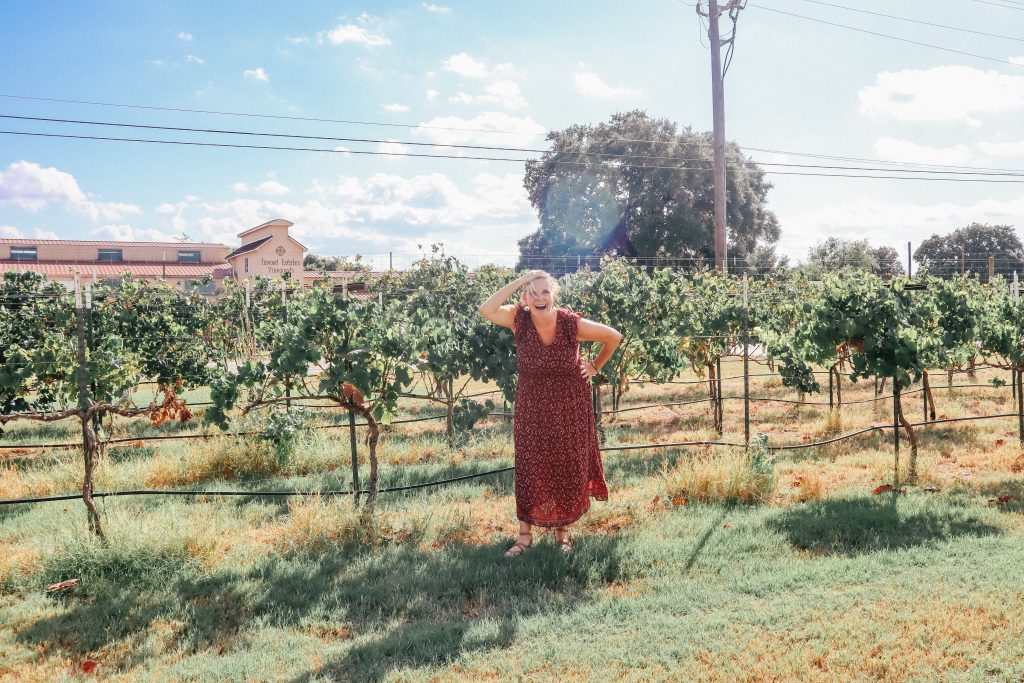 After Johnson's presidency ended, the motel endured but it gradually fell into a state of neglect. A group of real estate investors with a vision bought it in 2018 and flipped it. It re-opened in January 2019. More about the history here.
The Stonewall Motor Lodge Today
The rooms have been substantially upgraded with new flooring, completely remodeled bathrooms, and all the tech the modern traveler demands. Each room is equipped with a 32" flat screen smart TV, fast WiFi and keyless entry. You'll be given an access code as part of your reservation, which makes for easy check in.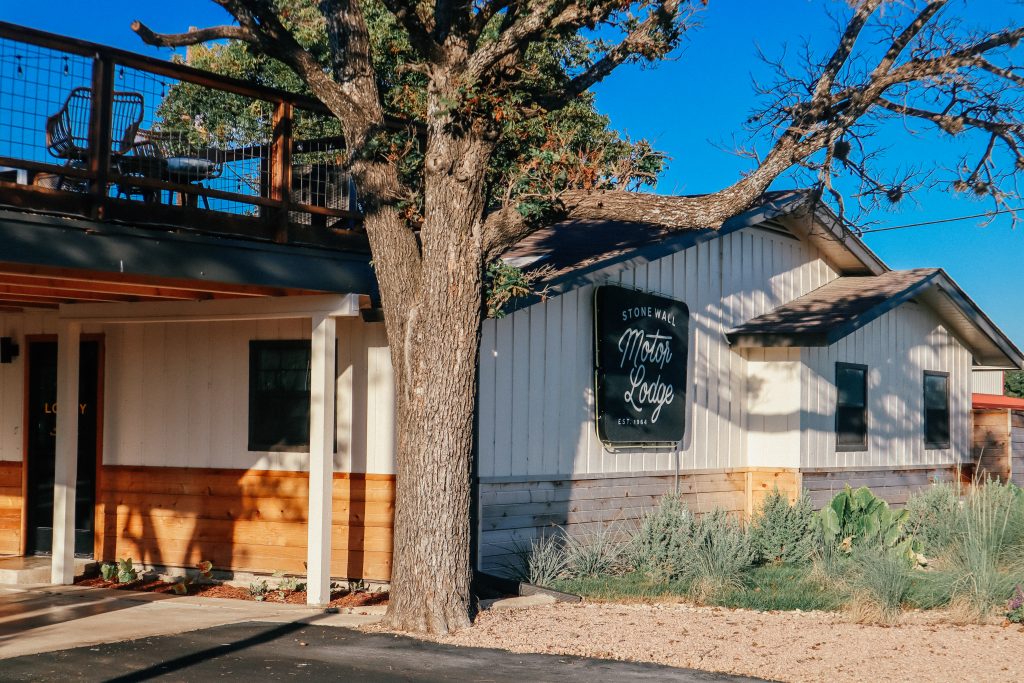 Note: there's no cable TV or regular phone service, nor is there a traditional front desk. There's onsite management and you'll be given instructions on how to contact them when you finalize your reservation.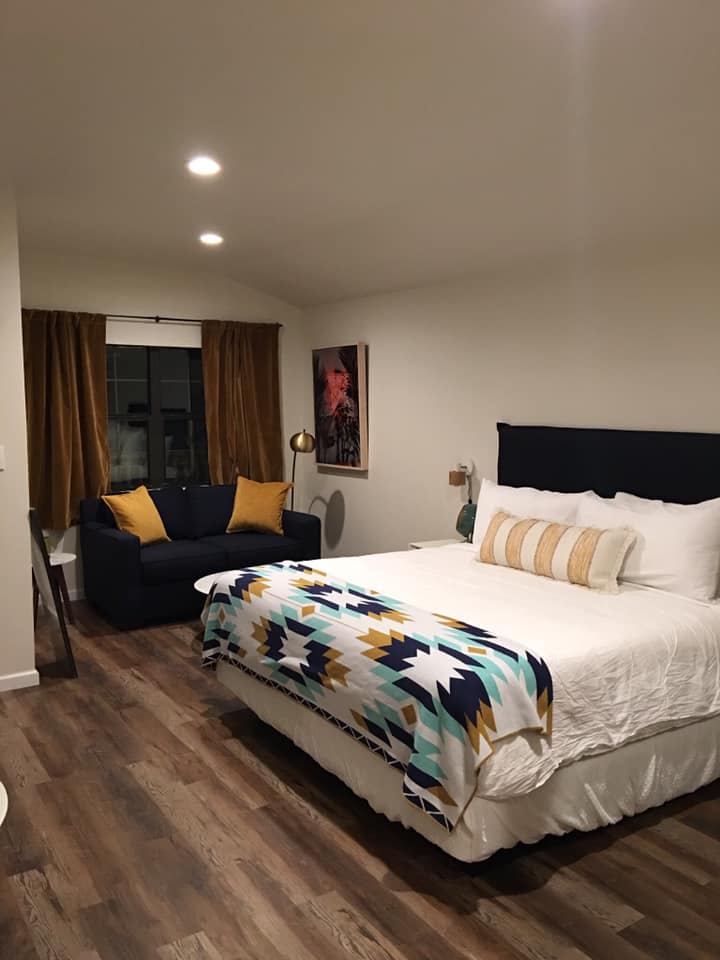 If you need a little more room, request the press room, which has a kitchenette and some phenomenal historic photographs.
Want more room than that? Check out one of the on site cabins or use the RV hookups.
Bookings can be made via Booking.com.
Related post: Waco Tours: The thing you need to do BEFORE Magnolia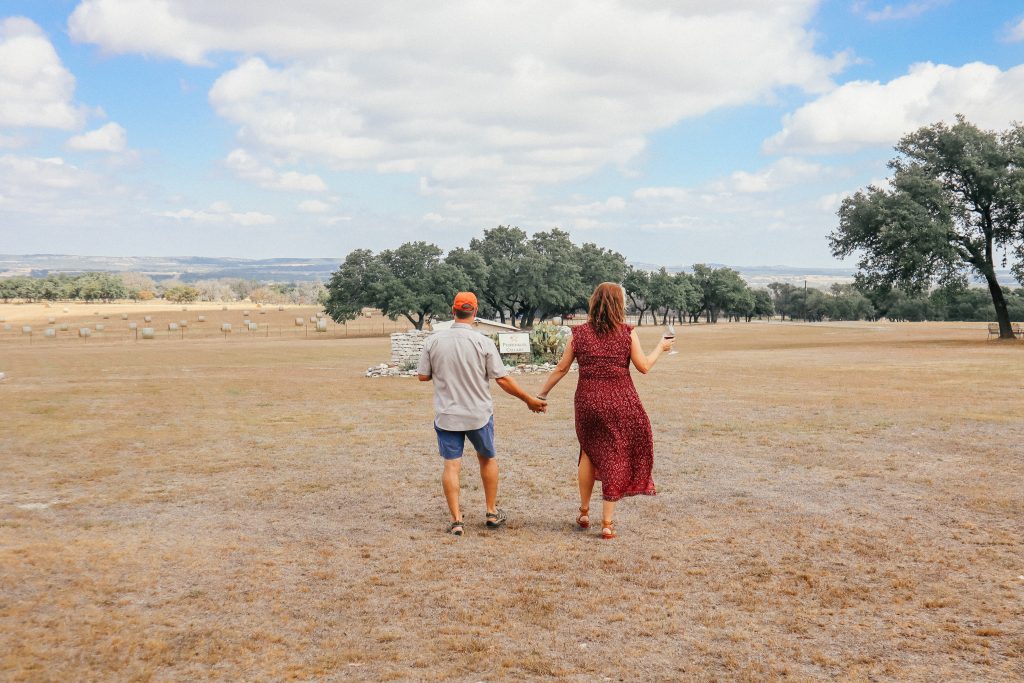 Is the Stonewall Motor Lodge ideal for family travel?
While I can recommend this property for a couple's retreat of a girlfriend getaway, this would not be my top pick for families with babies or very young children.
My husband and I stayed in a king room. There are double queen rooms available if you need two beds. The accommodations are comfortable and modern but there's not much for kids here. There's no pool, although the property will arrange for you to have a pool pass to a nearby camping resort upon request. There's not a playground but there's a lot of open space to run and play. The fast WiFi and smart TV will definitely be a plus for tweens and teens.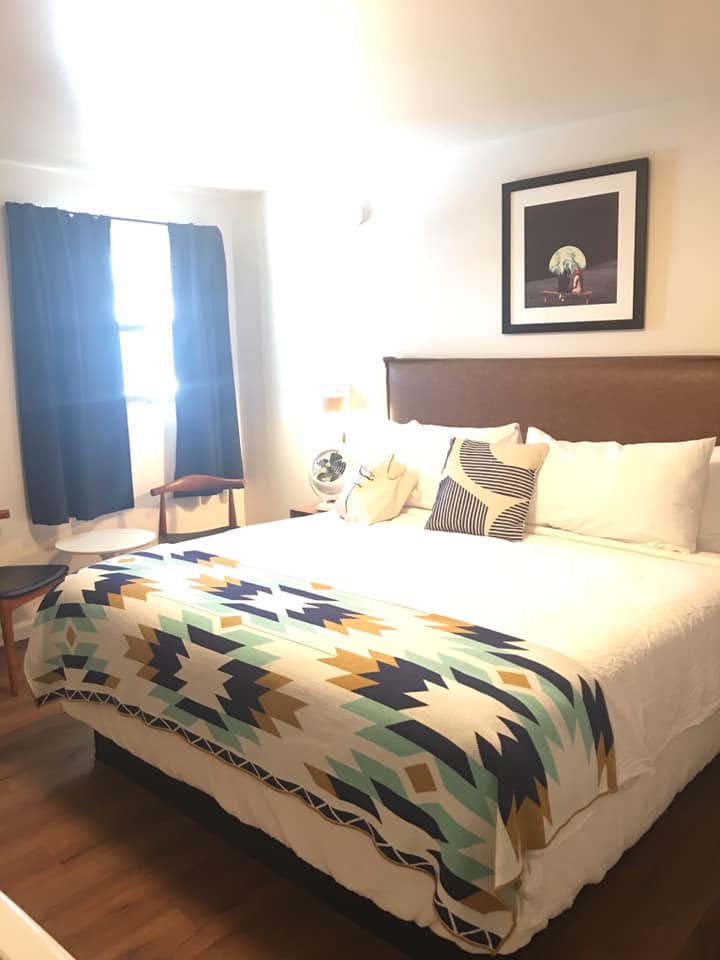 The rooms are smaller than your average hotel room, so families may feel cramped. The walls are on the thin side, which means your next door neighbors will probably be able to hear crying and other kid noises. I would stay here with my kids but they're seasoned travelers who play games on their tablet with headphones during hotel downtime.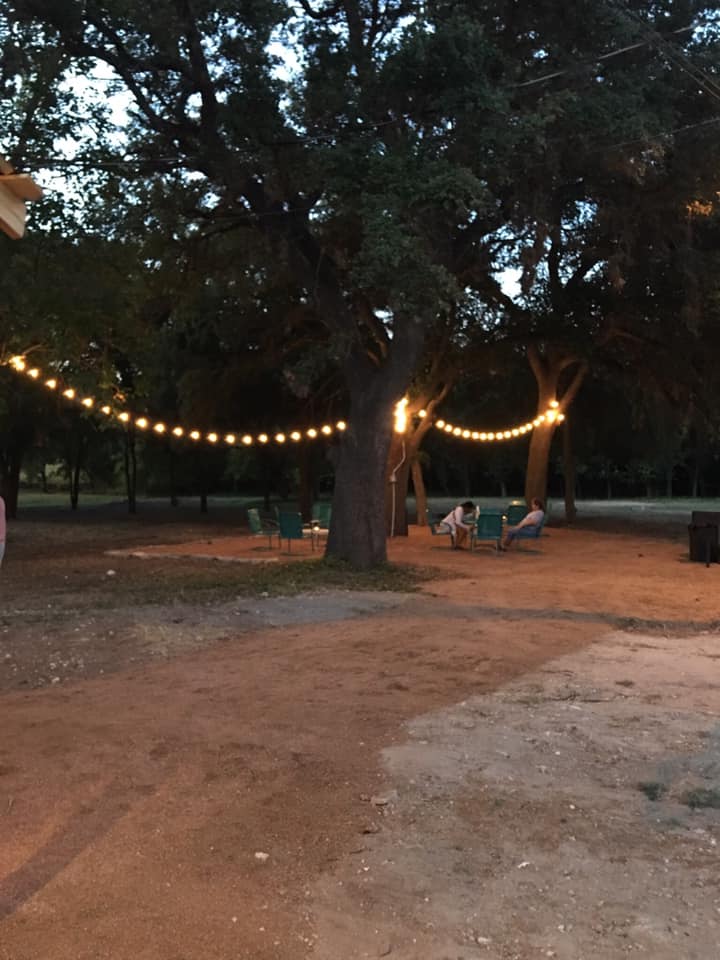 What I loved about the Stonewall Motor Lodge (the only lodging ON the 290 Wine Trail)
The quirky, retro vibe. I loved the whole capture of the sixties roadside motel, the colors and the wall art. It is very evident a great deal of thought has been put into planning the room decor and the result is a very immersive experience.
The upstairs patio is a great outdoor space to relax in. Fredericksburg rolls up the sidewalks pretty early and there's not a lot to do in the evening. This was peaceful. There's also an outdoor space called "the barn" in the rear of the property where you can hang out.
I also loved the fact that there each room had a Keurig with plenty of coffee/tea pods. This is such a simple upgrade a property can make but it goes a long way for me in how comfortable I am.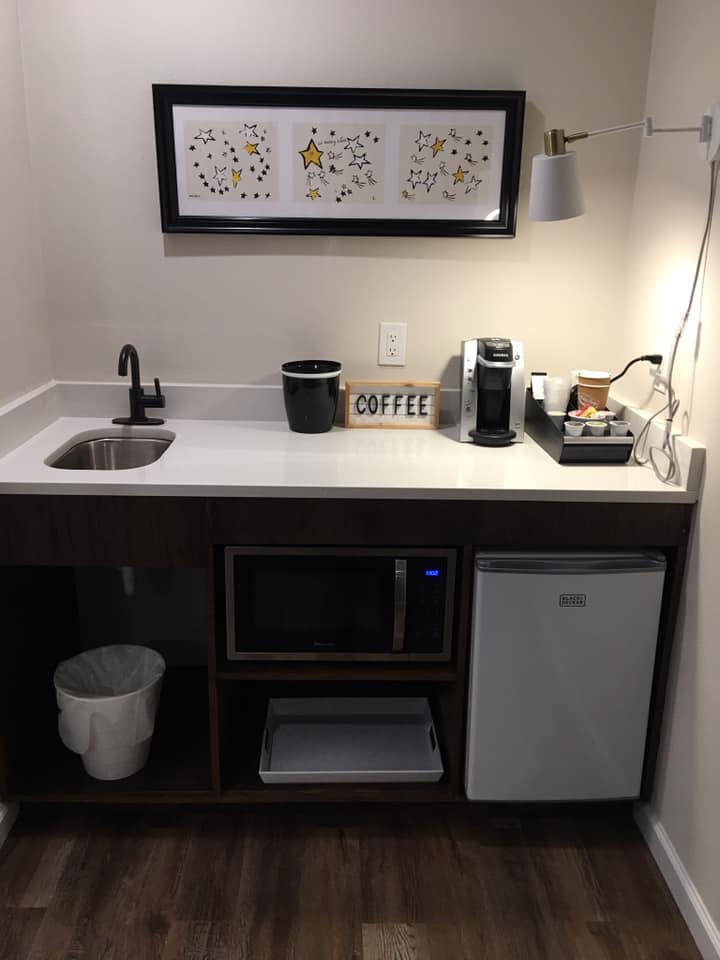 I also love the nod to tech forward. You get your keycode to your room electronically so there's no need to worry about whether or not you're too early for check in. I love the smart TV and the USB ports installed in the wiring. The WiFi was also very fast.
Although the Stonewall Motor Lodge probably holds great charm for the older generation, it's necessary to know your way around basic tech to stay here. Guests must be comfortable checking in electronically and understand how to log into Netflix on a new smart TV.
The price points are very attractive. A standard king room is $139 per night, while a comparable room at the Hampton Inn in downtown Fredericksburg runs about $264 per night. The Hampton Inn does include breakfast and venues in downtown Fredericksburg are walkable but you'll have to decide whether those things are worth the price jump.
Related Post: The 10 best water parks in Texas
What I didn't love about the Stonewall motor lodge
The TV in our room was very small. Although I appreciate that the property provided wall mounted flat screens, I thought the 32″ screen was a little small. Guests probably don't come to Fredericksburg to watch TV – we didn't – so this was a minor negative – but we do enjoy watching a show after a day of exploring and would have appreciated a larger screen.
I also didn't like the fact that the WiFi was completely open and would have liked it to be password protected. I feel like this would be a seamless fix for the property to make to ensure guests felt comfortable using the internet.
All in all, these are very minor negatives that probably wouldn't impact my decision to stay or not stay.
Would I stay at the Stonewall Motor Lodge Texas again?
I would. The Stonewall Motor Lodge is comfortable, clean, and priced for budget travelers. I've seen a few reviews that tout it as more of a luxury property than it is, which I think are misleading to those planning travel. While there are upgraded touches I appreciated, this is a motor lodge and not a luxury hotel.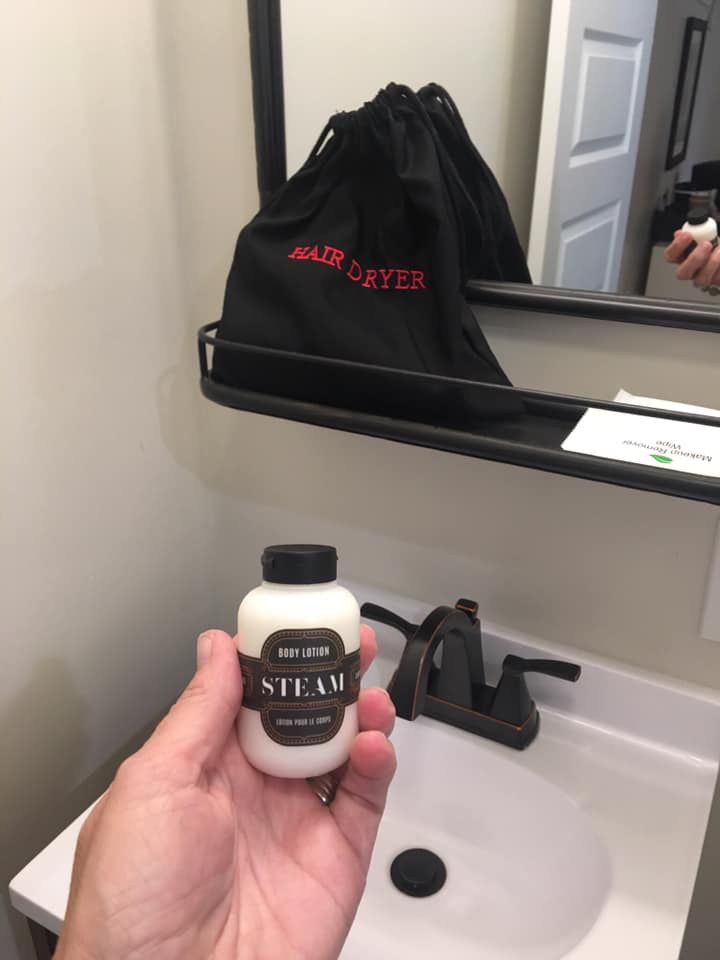 I met the owners and managers and they're truly good Texas people who love the area. I believe in the business they're trying to build and I'd happily give them my return business for a couple's weekend or girlfriend getaway.
The Bottom Line – Stonewall Texas Motor Lodge
If you're looking for a great price and a room close to the wineries, the Stonewall Motor Lodge is a property to check out.
Read more:
Things to do in Fredericksburg with kids
See more on Facebook:
If you want more information on Stonewall Motor Lodge Fredericksburg Texas, check out the Visit Fredericksburg website for more info and ideas.