Things to do in Tempe Arizona During Spring Training (Besides Baseball)
(This post may contain affiliate links. Read my full disclosure.)
If you're a baseball fan, going to Spring Training is probably on your bucket list. 15 MLB teams come to Spring Training in and around Tempe Arizona and let me tell you – February and March in Tempe bring PERFECT baseball watching weather. If you're headed to Tempe for Spring Training, you might be asking yourself "What is there to do in Tempe AZ?" You'll probably want something to occupy your time besides baseball, right? Check out these fun things to do in Tempe Arizona during Spring Training beyond baseball. I hope you find a chance to fit a couple of things in between games!
Things to do in Tempe Arizona During Spring Training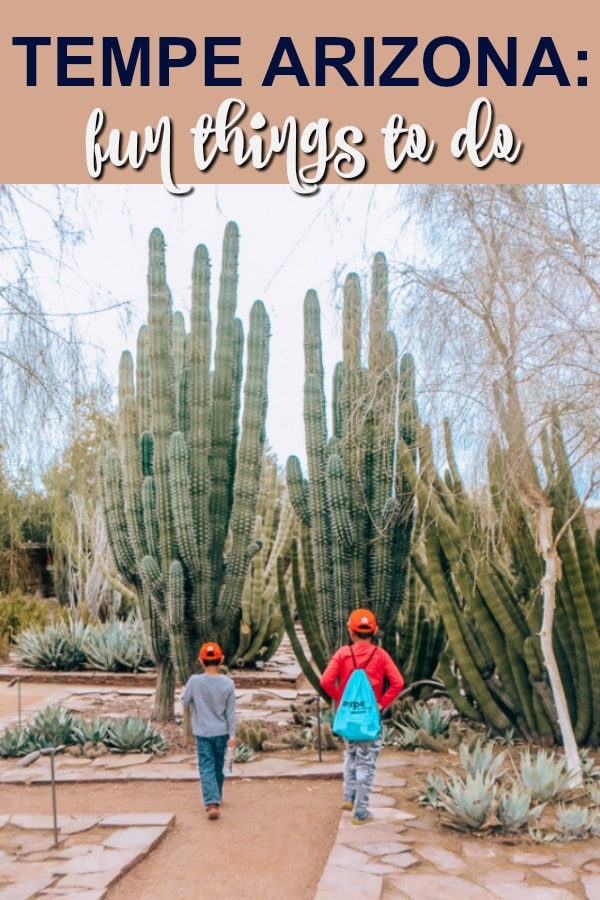 Related 2020 Angels Spring Training Schedule
What is there to do in Tempe AZ? TONS! Events in Tempe During Spring Training:
Aloha Festival – March 14-15
I can personally vouch for the awesomness of the Aloha Festival. When we were in Tempe last year during Spring Training we were lucky enough to come during the Aloha Festival and spent a really fun afternoon in Tempe Beach Park. The Aloha Festival celebrates Asian Pacific heritage with food, entertainment, culture and more. More here.
Innings Festival – Feb 29-Mar 1
The Innings Festival brings music and baseball together. This year's acts include the Dave Matthews Band and Weezer. In addition to music and baseball, Innings also has food and other activities. A variety of ticket options are available and yes, this event is kid-friendly. More here.
Arizona Dragon Boat Festival – March 28-29
This event celebrates Asian folk tradition and coincides with Lunar New Year – kind of. The Year of the Rat officially kicks off January 25th but this is still a great way to experience Chinese culture. More info here.
To learn more about what's happening in Tempe during your visit, check out the Tempe Tourism website for more up-to-date info.
Don't miss these things to do in Tempe Arizona you can do year 'round
There are lots of things to do near Tempe AZ that can keep you entertained during games. Here are a few:
LEGOLAND Discovery Center/Arizona Sea Life Aquarium at Arizona Mills Shopping Center
I was really surprised to find an activity dedicated to sea life in landlocked Arizona, but we did and my kids had a blast here. This is a mostly indoor attraction, with some water play available outdoors.
LEGOLAND Discovery Center is co-located with the Sea Life Discovery Center in the Arizona Mills shopping center. You can easily hit the aquarium and LEGOLAND on the same day.
Related post: The Complete Guide to Tempe with Kids
This is a small on space, big on fun attraction. We stayed for about three hours and honestly my kids would have stayed all day if we'd let them. There are two rides inside, a 4D theater, and multiple stations where you can build and create. There are also classes with a master builder you can sign up for and a food court with seating for the parents. Yay for seating for the parents, right? My kids put LEGOLAND Discovery Center at the top of their list of fun things to do in Tempe Arizona.
Arizona Mills Shopping Center also is home to a theater (including an IMAX screen), an arcade and a wide variety of retail stores and restaurants. There's Buckle, Aeropostale, Forever21, American Eagle and many other shops that appeal to teens.
If you have various age groups in your party, the activities in and around Arizona Mills offer something for everyone. You won't have any trouble finding fun things to do in Tempe Arizona here.
If you're wondering what there is to do in Tempe Arizona during the warmer months – the summer temps are no joke – this area provides lots of great indoor options.
Desert Botanical Garden – one of the great things to do near Tempe AZ
The Desert Botanical Garden is not technically inside Tempe but it's right on the edge of Downtown Tempe. It's easily accessible if you're staying in Tempe. The Desert Botanical Garden is a living history museum featuring 55,000 desert plants from around the world on 55 cultivated acres. They offer an on-site restaurant, Gertrudes, that features a seasonal, ingredient driven menu showcasing local artisans and farmers. They also have a snack bar with outdoor seating that serves amazing, fresh sandwiches. There's also a really cool gift shop that has all kinds of fun, local items like soaps and clothing…as well as local Arizona souvenirs.
Phoenix Zoo
With cafés, shops, lush gardens and exciting experiences like Stingray Bay, Giraffe Encounter, Monkey Village, Safari Cruiser and many more, your visit to the Zoo will be memorable for the entire family. There's also the opportunity to get a great look at animals indigenous to the desert in their natural habitat.
Fun things to do in Tempe Arizona – The best hikes, of course!
Hayden Butte (AKA A Mountain)
Not hike a mountain, hike A Mountain. It's called A Mountain because of the gold letter A embedded in the side of the mountain. This is a nod to Arizona State University. The proper name is Hayden Butte but almost no one calls it that.
This is a moderate level hike that's just off downtown. There's ample parking around the area and lots of hikers to visit with on your way up and down. The top offers a great view of downtown Tempe and also of the airport runway. Most of the path is paved or includes man-made steps but there are a few places that are pretty rough terrain, particularly near the top.
To read more about Hayden Butte, check out my "everything you need to know" blog post.
Hole in the Rock at Papago Park
This is one of the best things to do near Tempe AZ. Papago Park really captures the beauty of this area so perfectly.
Hole in the Rock at Papago Park is right outside the Desert Botanical Garden, so you can combine a short hike here with your visit. Hole in the Rock is a natural geological formation located in a municipal park shared by Tempe and Phoenix. The name "hole in the rock" refers to a series of opening called tafoni that eroded in a small sandstone hill, presumably caused by water flow. Early inhabitants of the area may have used the opening in the rock to mark the seasons. If you can swing it, try to watch the sunset from up here.
This isn't really a difficult hike, either. I'd call it moderate and my younger kids did fine but they've been out on trails since they were four. Your mileage may vary.
Also? My kids call the one the "poop mountains." See it? Once you do, it kind of stays with you!
Want more hiking suggestions? Check out Tempe Tourism's website
Tempe Tourism has an entire section dedicated to hiking. You can also check out what All Trails recommends. They're a great resource for hikers in Tempe and beyond. Whether you're looking for things to do inside Tempe or things to do near Tempe AZ (there's lots to do in the surrounding areas) this website is a fantastic resource.
If you love baseball, Tempe is a great place to be in the spring. I hope you check out something from my list of things to do in Tempe Arizona and learn a little more about this area.
Related posts:
Best Breakfasts and Brunch in Tempe
Best Kid-Friendly Eats in Tempe
Want all my Tempe content in one place? Check out my "Things to do in Tempe" Landing Page