The best things to eat and drink in the Yakima Valley
(This post may contain affiliate links. Read my full disclosure.)
If you think eating and drinking in Washington state is limited to salmon and Starbucks, have I got news for you. Washington's Yakima Valley is a bread basket full of delicious produce and farm-to-table eateries. The Yakima Valley also enjoys 300+ days of sunshine annually, which smashes the gloomy, rainy Washington state stereotype. If you're going to travel to Washington, you've gotta eat. Here are the best things to eat and drink in the Yakima Valley.
The best things to eat and drink in the Yakima Valley
I've divided this article into two sections: drinking and eating. The two aren't mutually exclusive. You can drink where you eat and eat where you drink in most places in the Yakima Valley.
Looking for more ideas for fun in the Yakima Valley? Check out these things to do.
Drinking in the Yakima Valley
Since this area is a major producer of hops and wine grapes, you'd be correct if you guessed that wine and beer tasting are big things to do. Here's an overview of breweries and wineries I visited in the Yakima Valley.
This is only a small sampling of what's available in the Yakima Valley but these are businesses I've visited and can personally recommend. Cheers!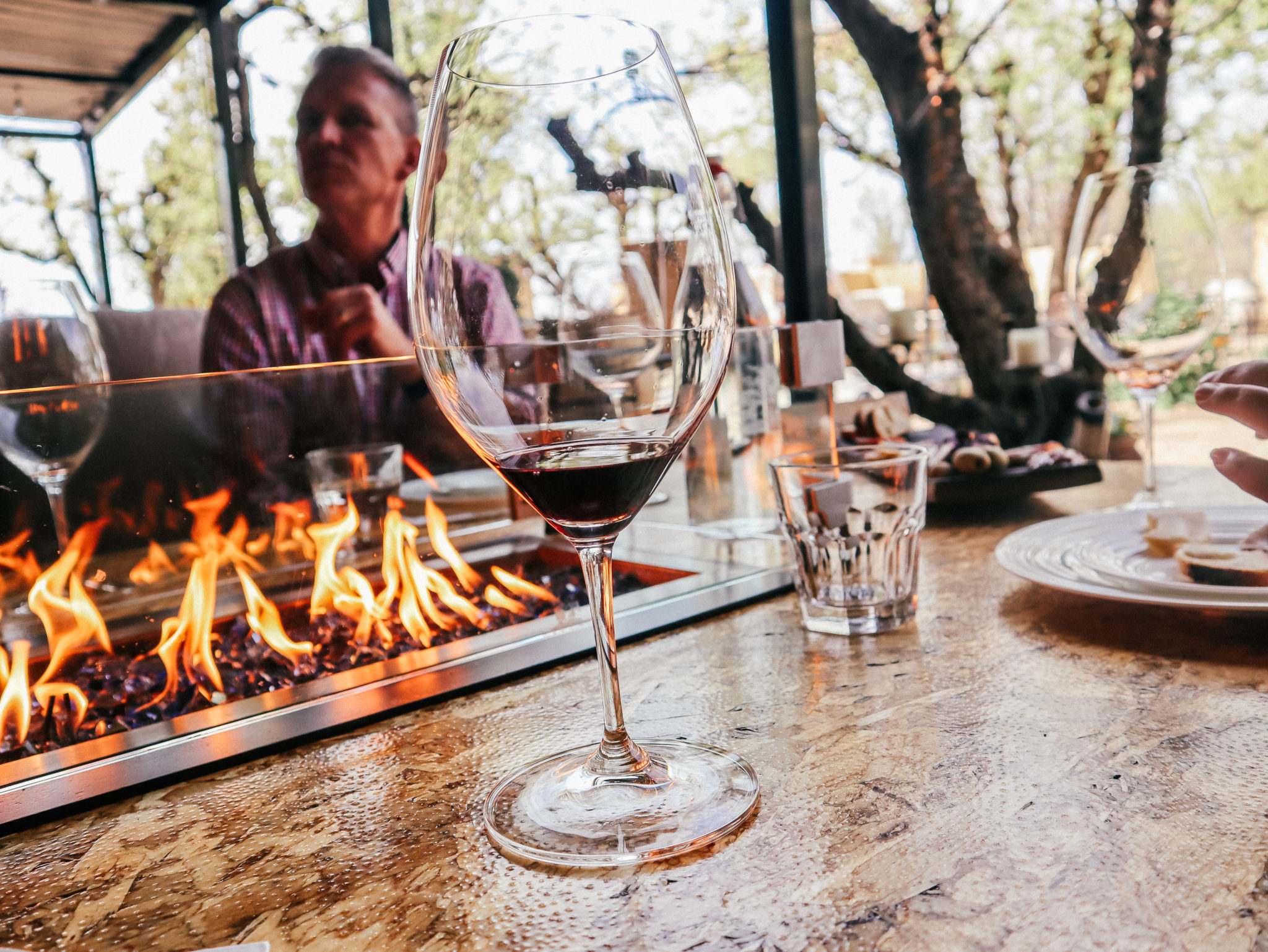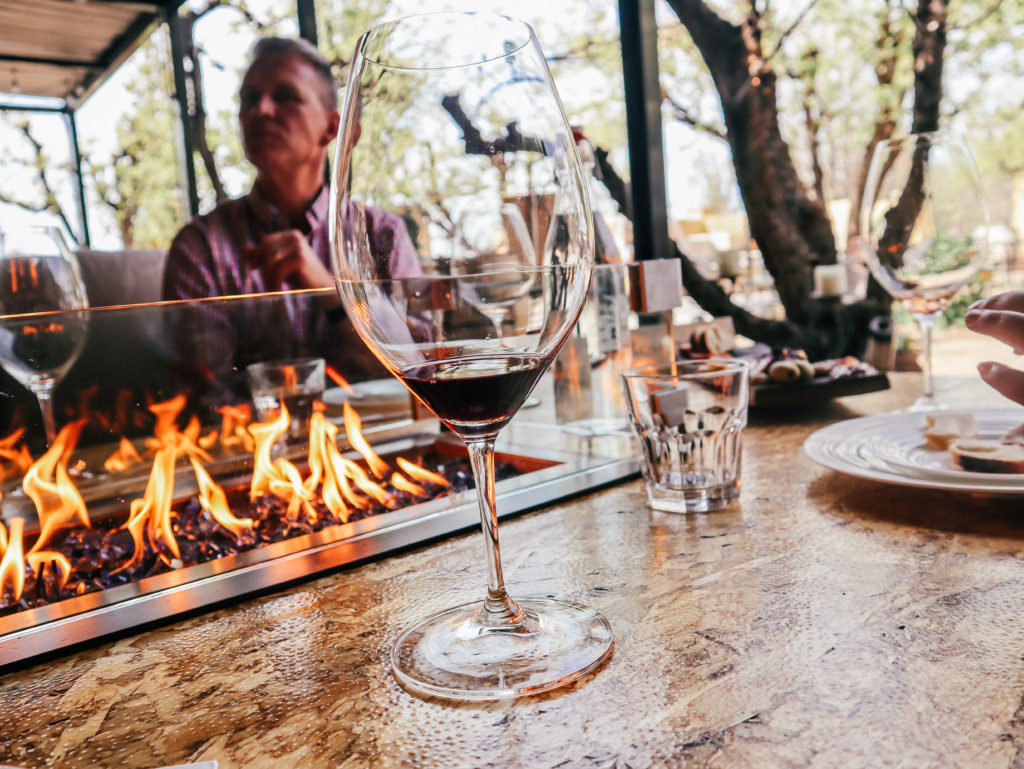 Breweries
The place where most of the world's hops are grown is going to have great breweries, don't you know?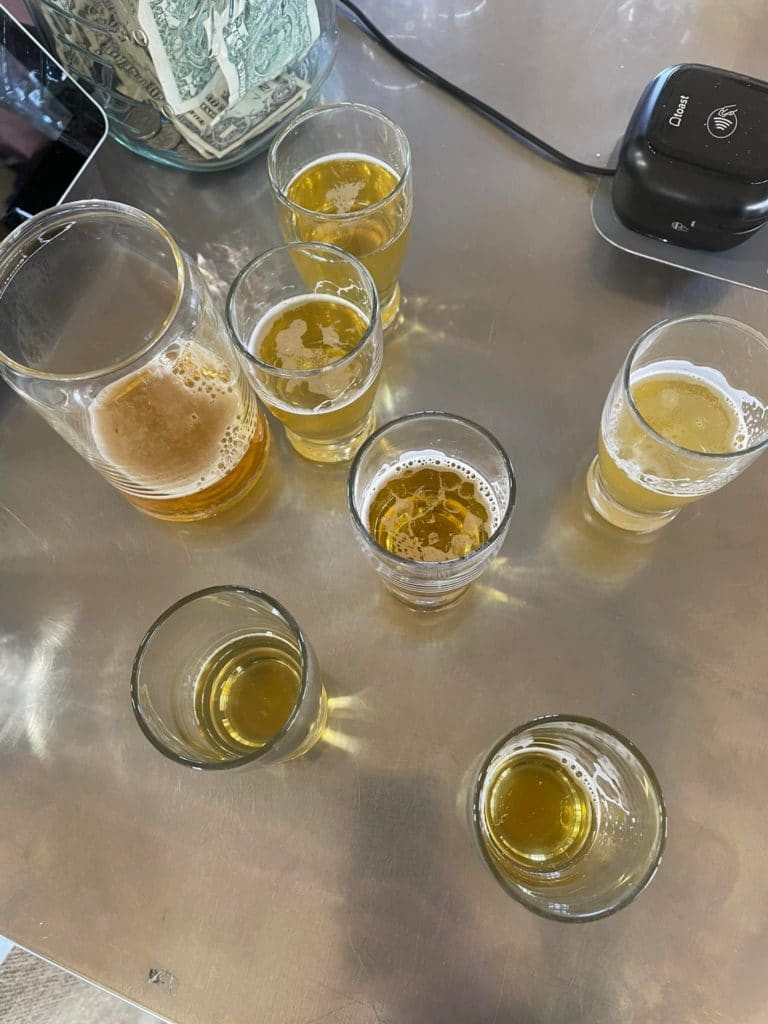 Wandering Hop
508 N 20th Ave, Yakima, WA 98902
Wandering Hop has outdoor seating and a cute taproom. They brew onsite in their Yakima location (there's a second location in Zillah) and also offer growlers and kegs to go. There's a small food menu if you want to grab something to eat.
My fave: Wander Down Under.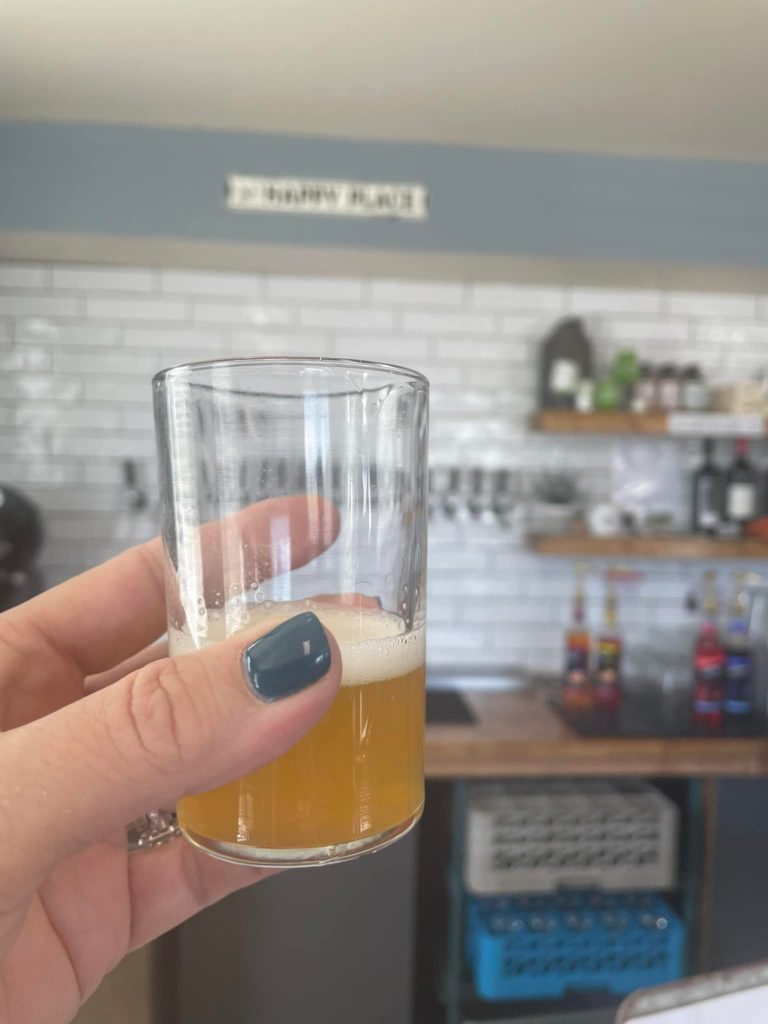 Cowiche Creek Brewing
514 Thompson Road BLDG #2, Cowiche, WA 98923
Cowiche Creek Brewing offers indoor and outdoor service in a fun,family-friendly setting. They have a robust food menu, too. You can't go wrong with a burger or the charcuterie board, which is surprisingly elegant for a brewery. Check their website for special events/live music.
My fave: East Livengood IPA
If you haven't figured out that I'm an IPA gal, let me remove that doubt. Cowiche Creek has lots of IPAs on tap and I enjoyed them all but East Livengood tops my list.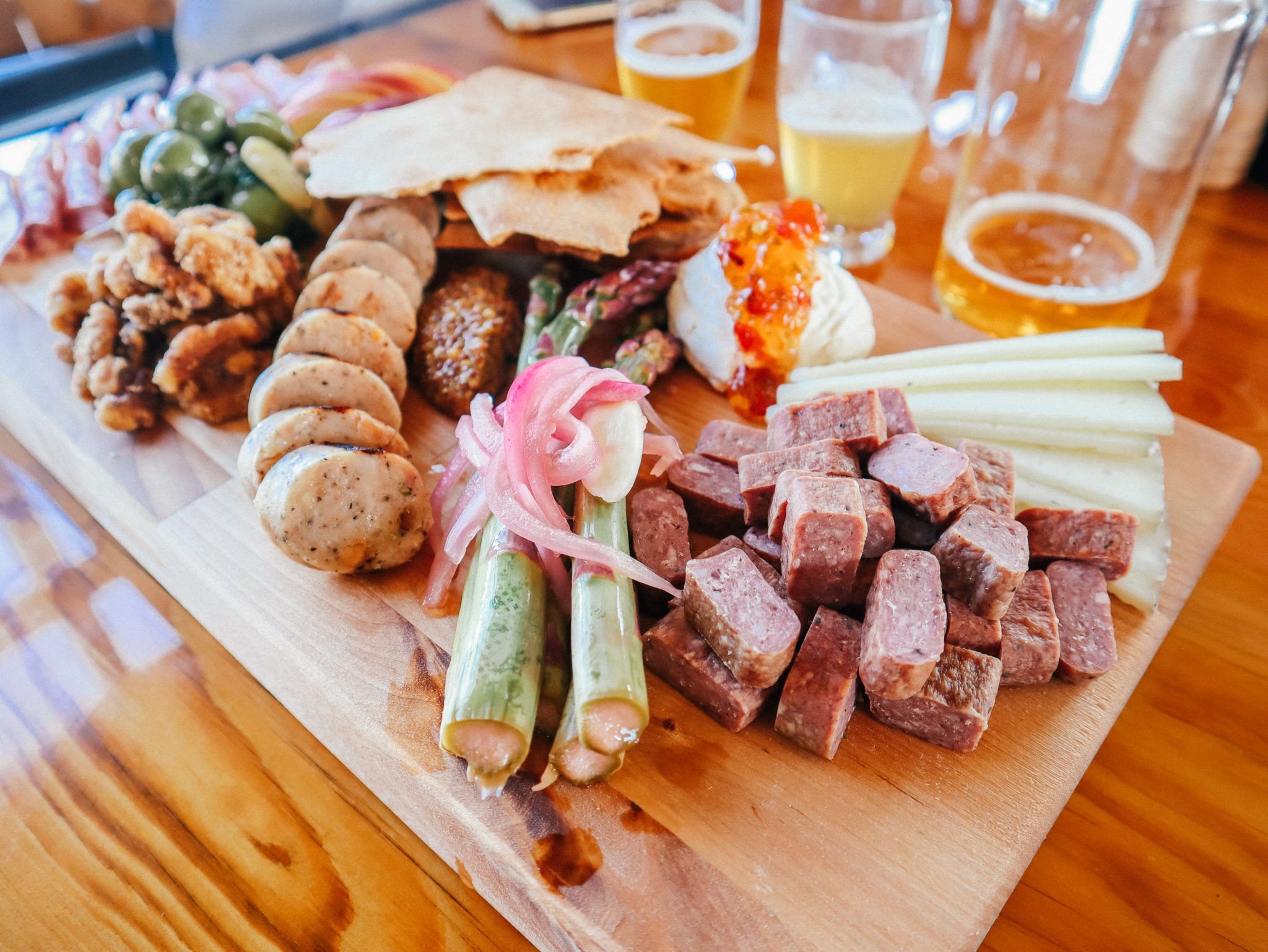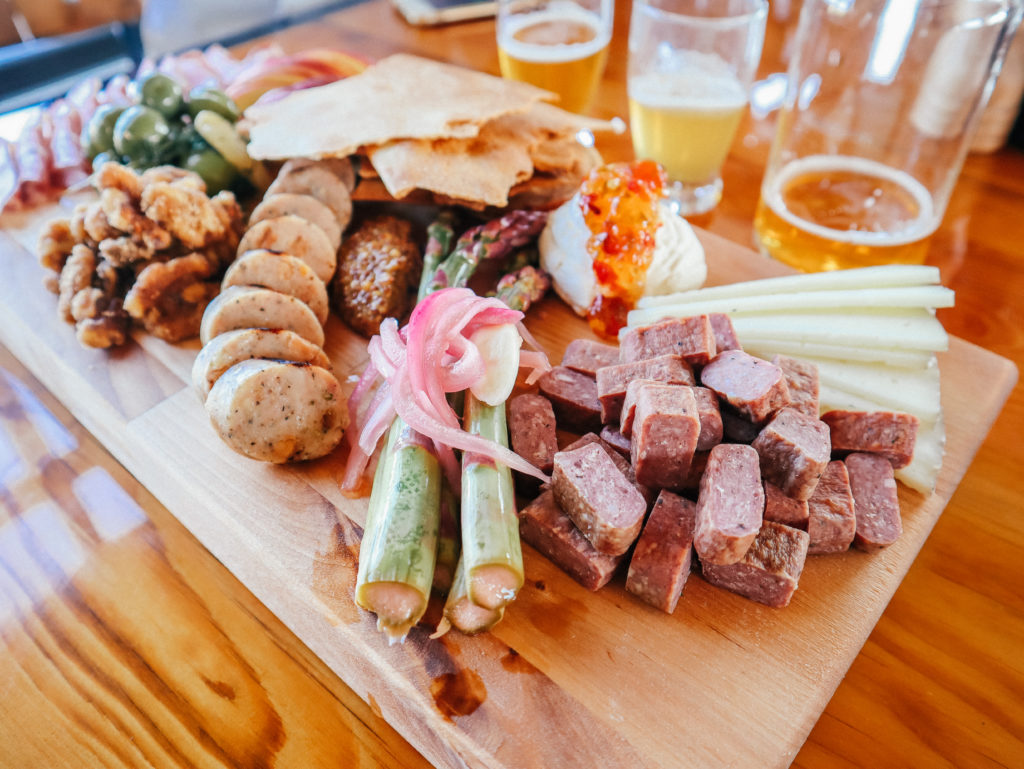 Bron Yr Aur Brewing Co.
12160 US-12, Naches, WA 98937
Bron Yr Aur (diehard Led Zepplin fans might recognize the title) offers indoor and outdoor seating. We ate inside but the outdoor space is really lovely and is kid and pet friendly.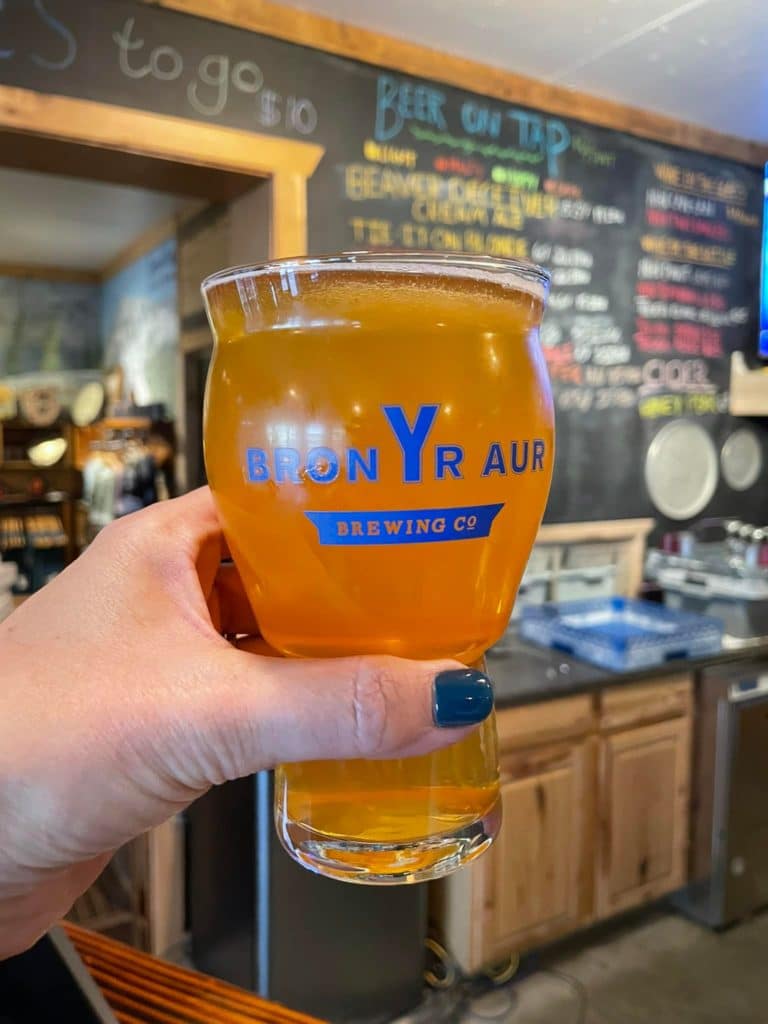 Go hungry and enjoy a selection of creative pizzas and appetizers. I sampled several things and enjoyed everything. If you love garlic, I recommend the Date Ender. If you know your date really well, things might work out okay but I don't recommend it on a first date, especially if you're shy.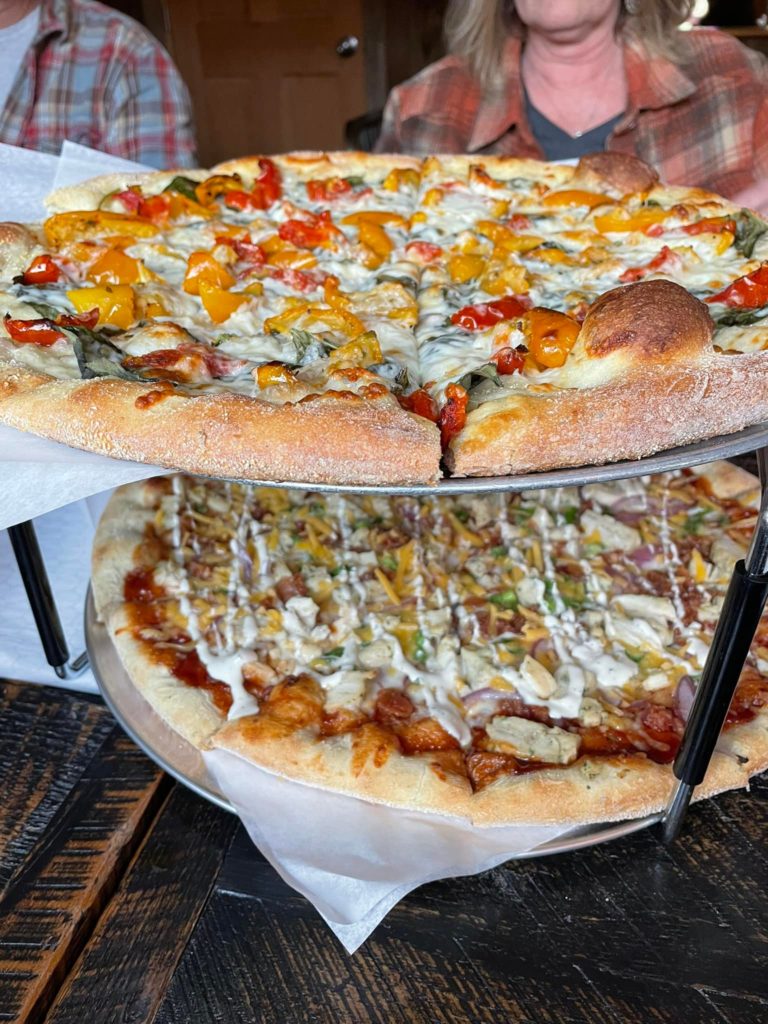 My fave: Rattlesnake IPA. I don't much like rattlesnakes or any snakes, but this brew was OK with me.
Bale Breaker
1801 Birchfield Rd, Yakima, WA 98901
Bale Breaker is laid-back, family-run brewery with great beer and onsite food trucks. They have a large selection of classics and limited-releasee beers. The brewpub staff can make a recommendation or you can try a flight and sample several different things. I know what I like and I was the only one in my group that didn't order a tasting flight.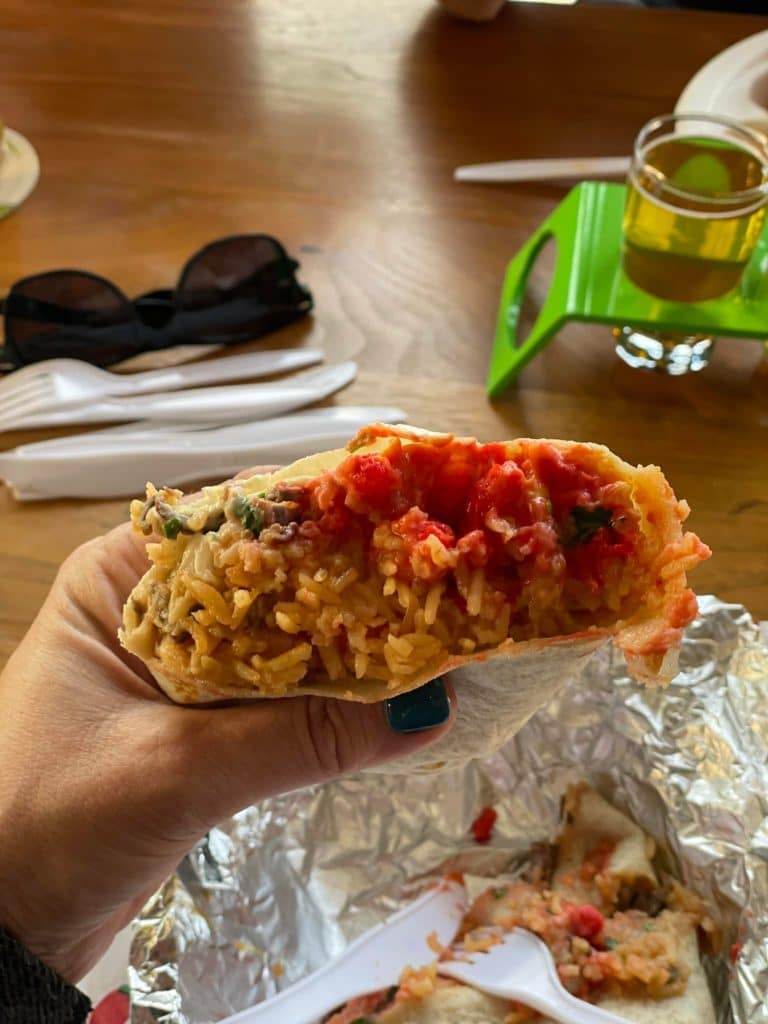 My fave: Bottom Cutter, with Top Cutter being a close second. I think I learned more about hops production here than I did anywhere else in the Yakima Valley.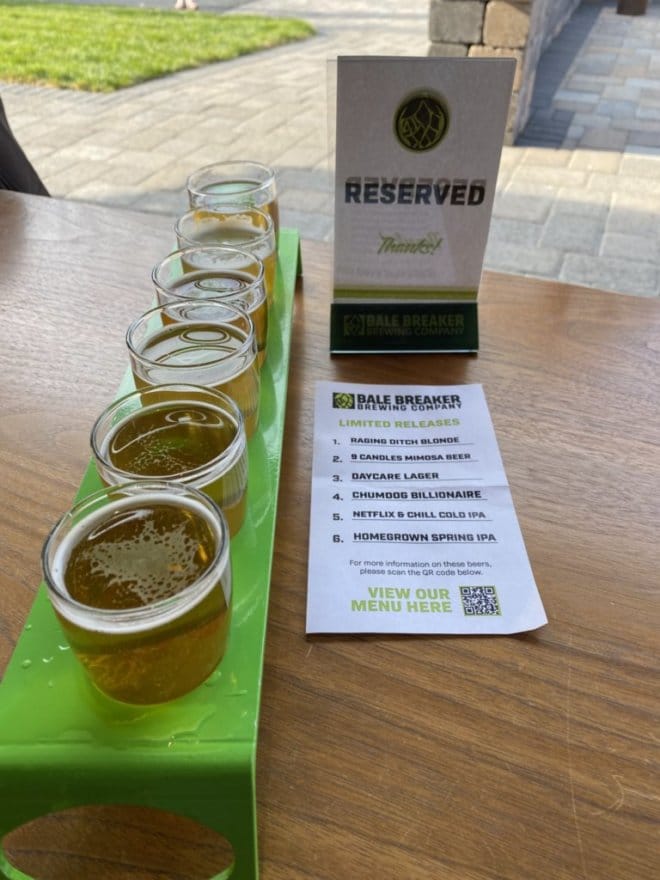 Wineries
Washington Wines are fun to experience. I am a dry white kind of gal but I enjoyed sampling a variety of reds, whites, and sparkling wines while in the Yakima Valley. I visited during spring barrel tasting – which is kind of a thing in the Yakima Valley – and got to sample some young wines still in process, which was a cool thing to do.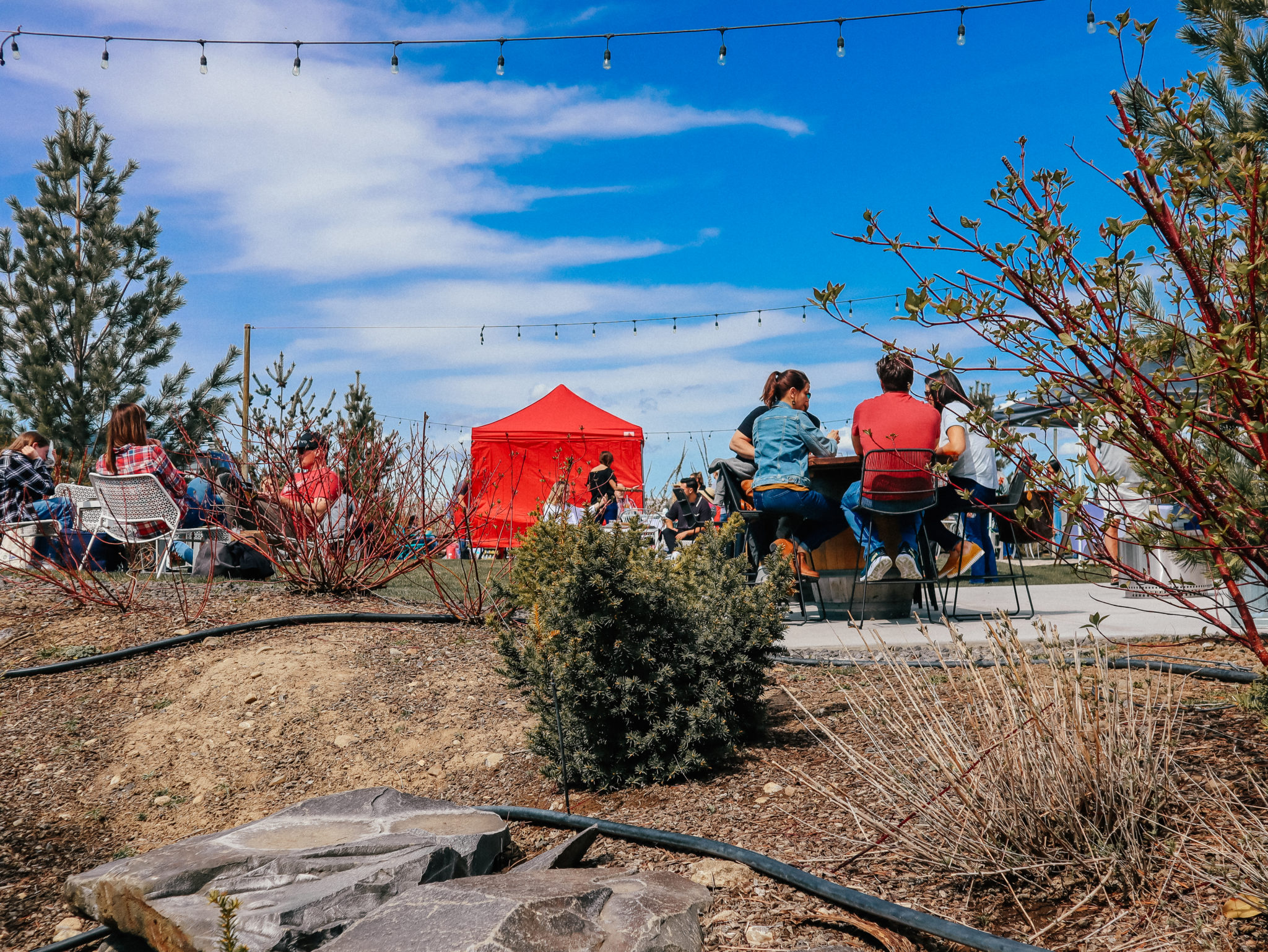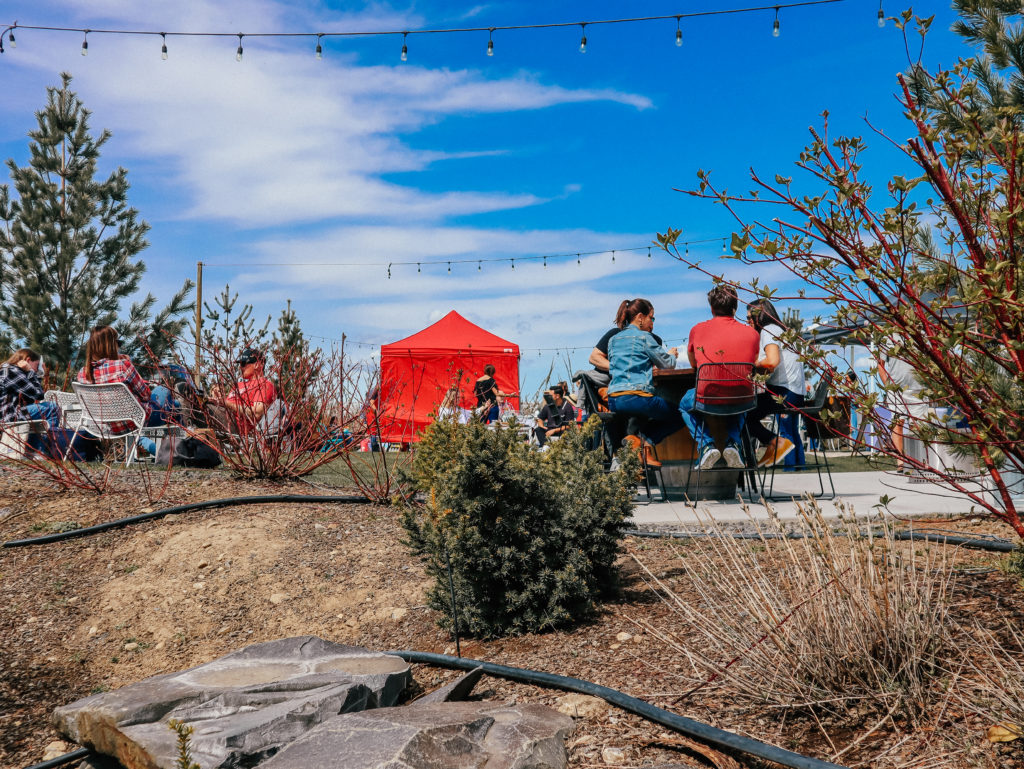 Sheridan Vineyard
2231 Roza Dr, Zillah, WA 98953
This family and pet-friendly winery is located in a beautiful garden setting. Reservations are recommended but not required. The selections are always rotating but are heavy on the reds. We enjoyed a lovely charcuterie board with our tasting but I've heard a rumor that there's pizza on the weekends. Call in advance of your visit for food options.
My fave: A tie between Boss Block and the Chardonnay, the latter of which isn't listed on the online menu.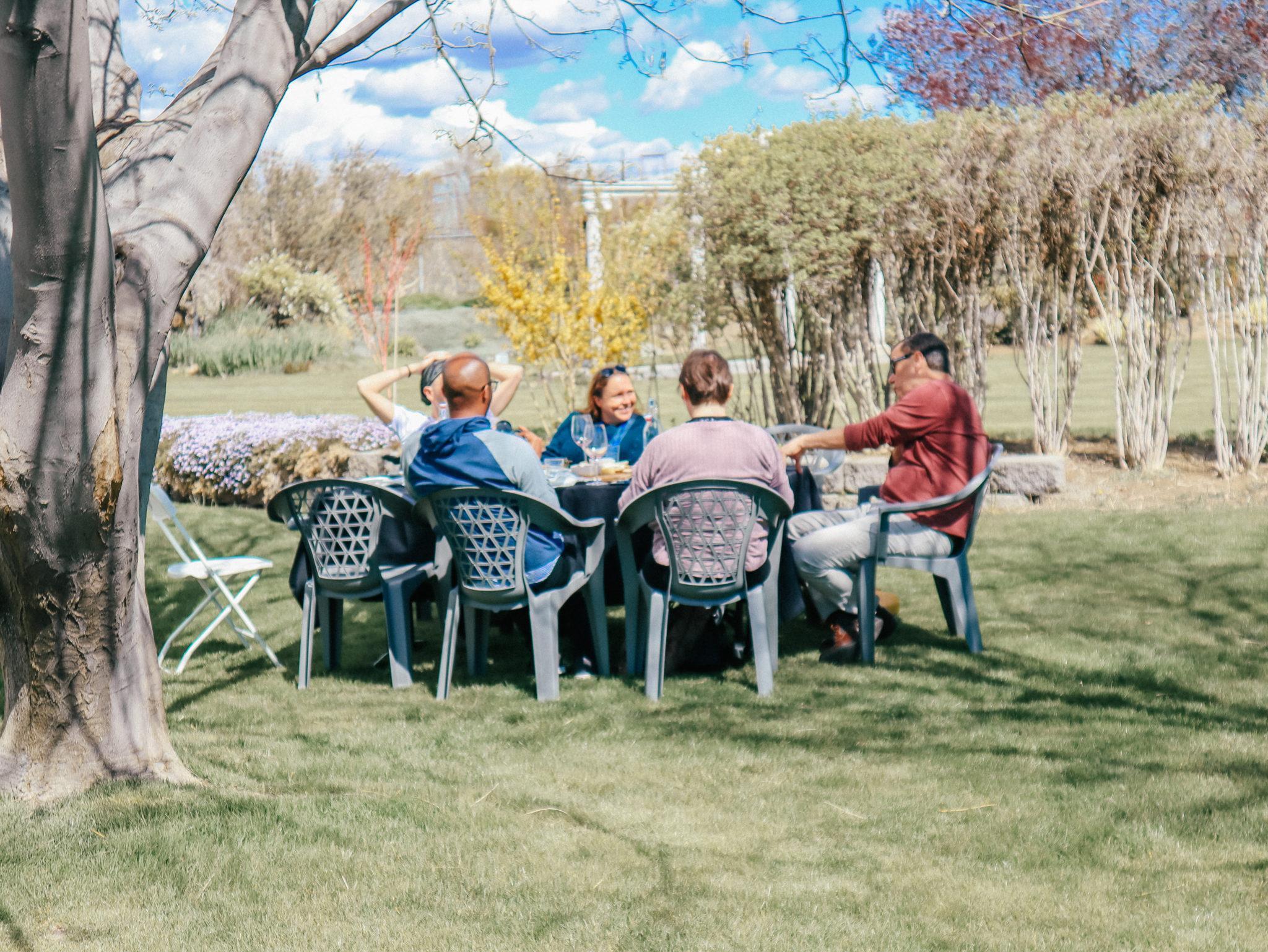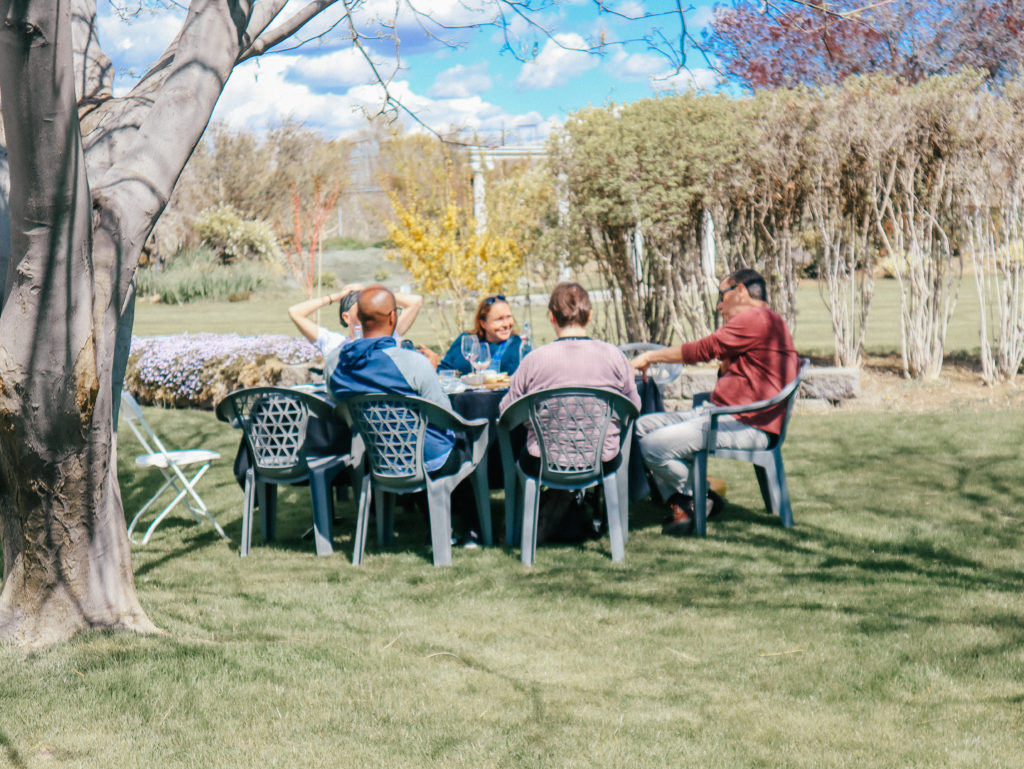 Wilridge Winery, Brewery, and Distillery
250 Ehler Rd, Yakima, WA 98908
This winery experience was probably my favorite. Wilridge has a stunningly beautiful grounds with some hiking opportunities (wear sturdy shoes) and you can even camp on the property.
Fave: 2018 Estate Nebbiolo. Full disclosure – I didn't sample everything available on this visit. We went very early in the morning and I wasn't quite in full drinking mode yet. Wilridge had a nice variety of whites and fruit brandies I'd love to sample. I look forward to a return visit.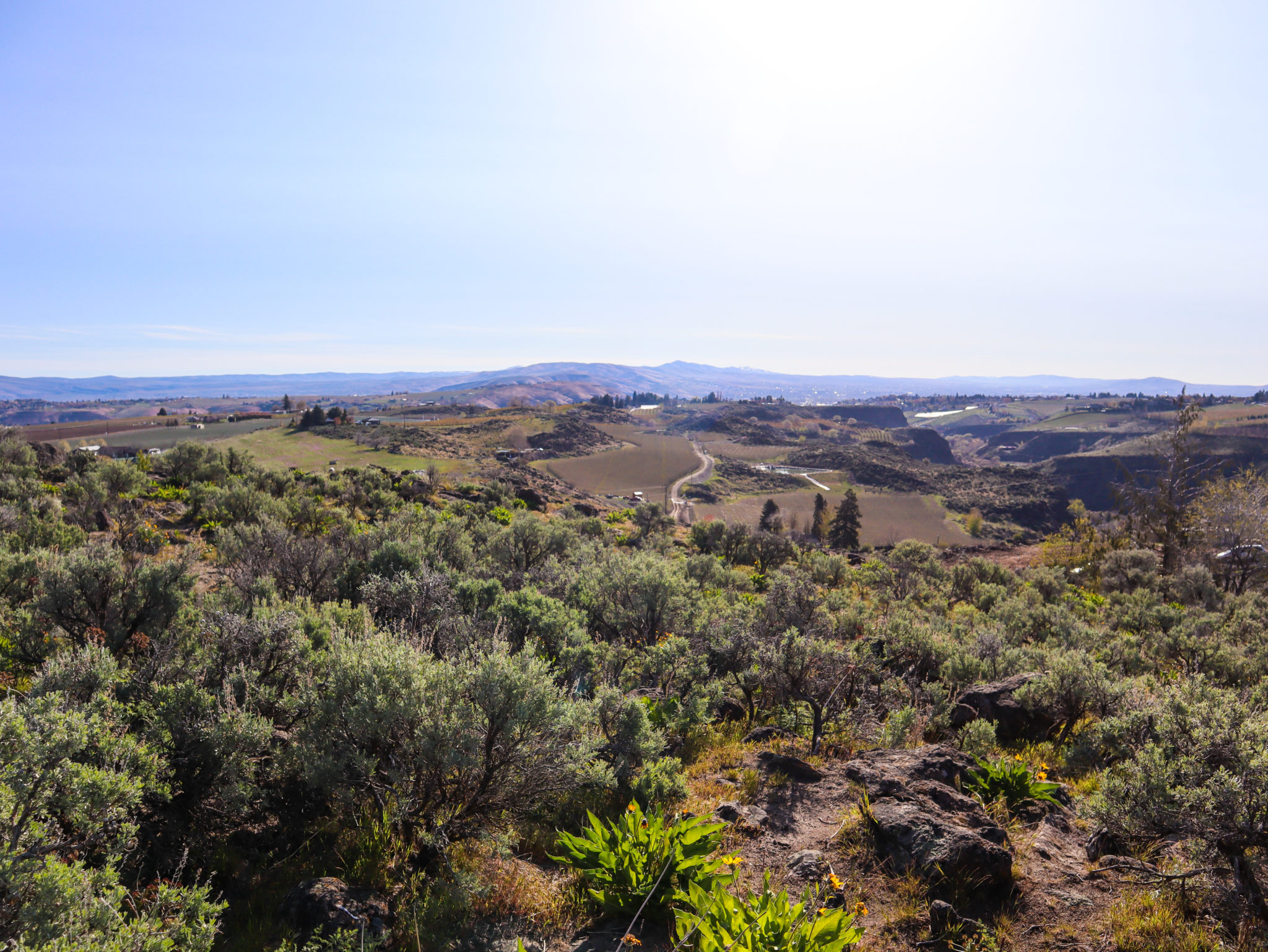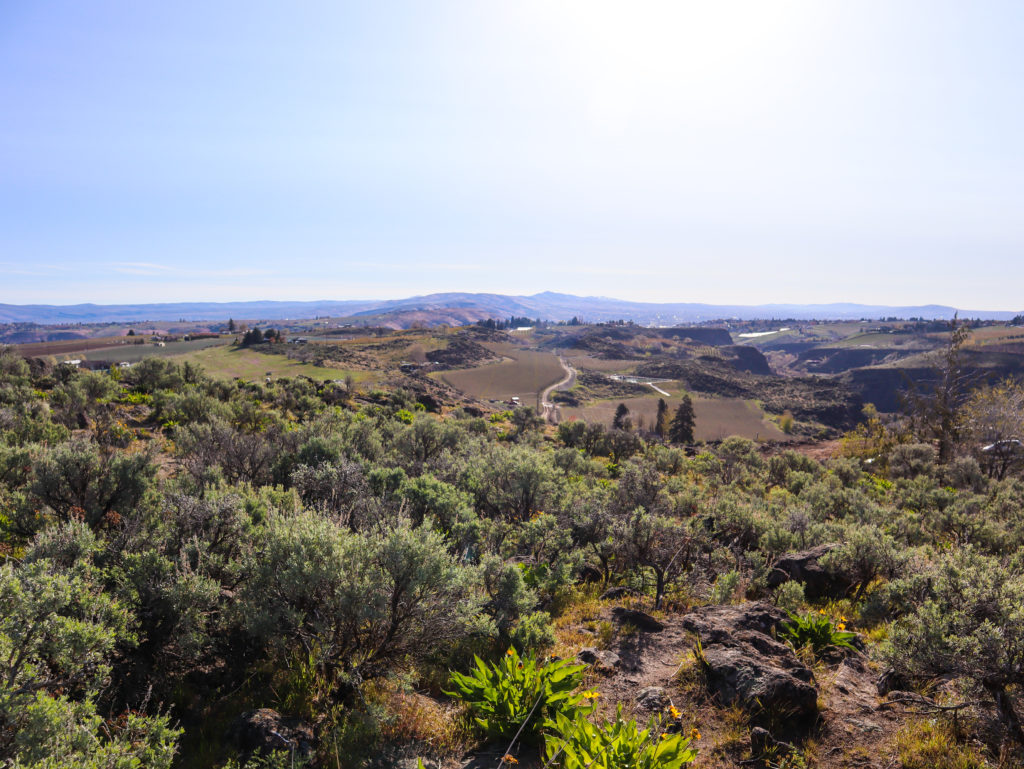 Gilbert Cellars
2620 Draper Rd, Yakima, WA 98903
Gilbert Cellars is a scenic winery with lots of summer entertainment options. Check out their calendar of events in advance of your visit – this is a popular wedding venue so make sure you won't be wedding crashers when you visit.
Fave: I did five tastings of young reds straight out of the barrel and I didn't record the names and vintages. I really enjoyed my chats with the winemakers and the gorgeous scenery so I'd love to go back and do a tutored tasting to get more familiar with the wines offered.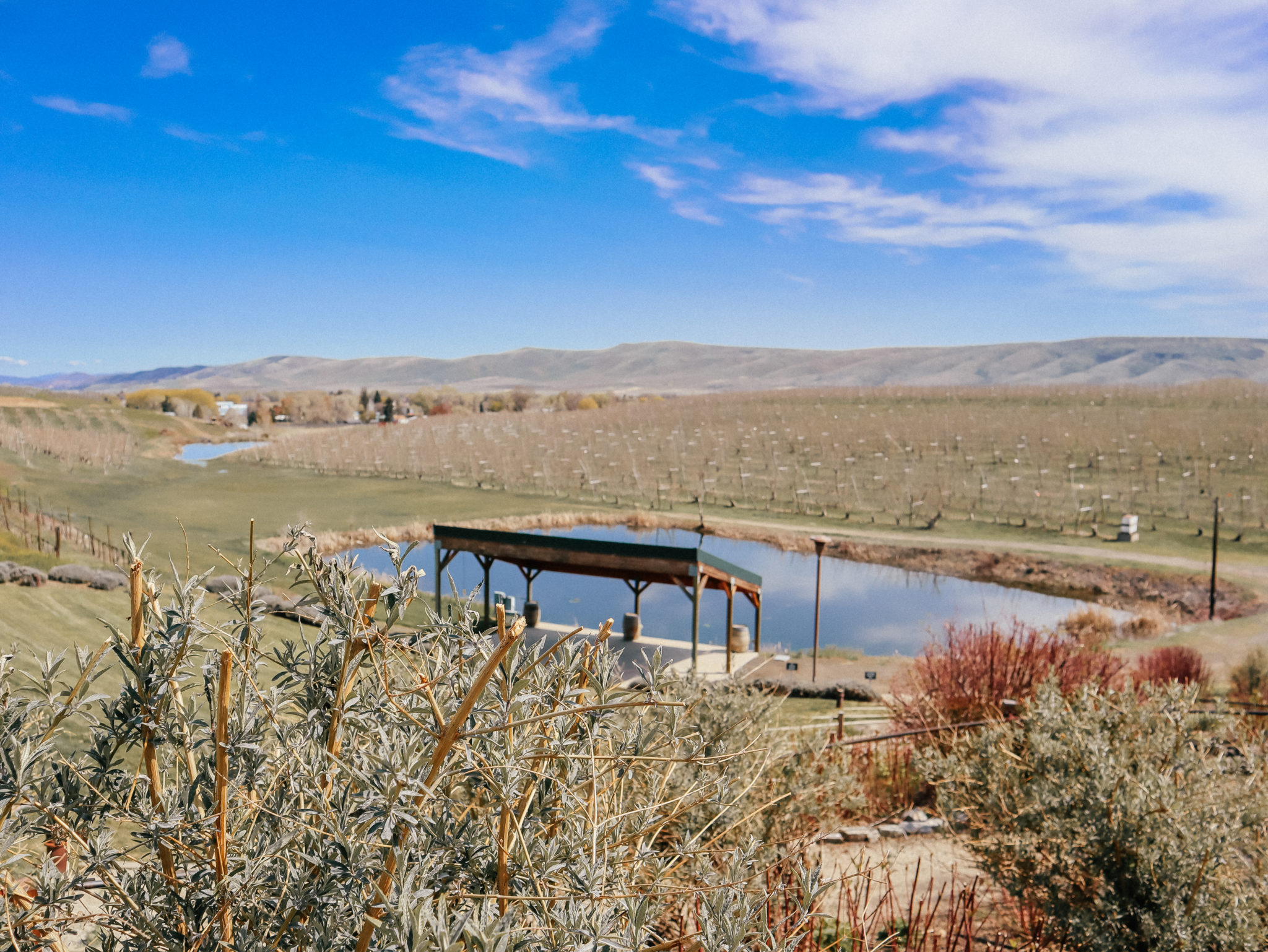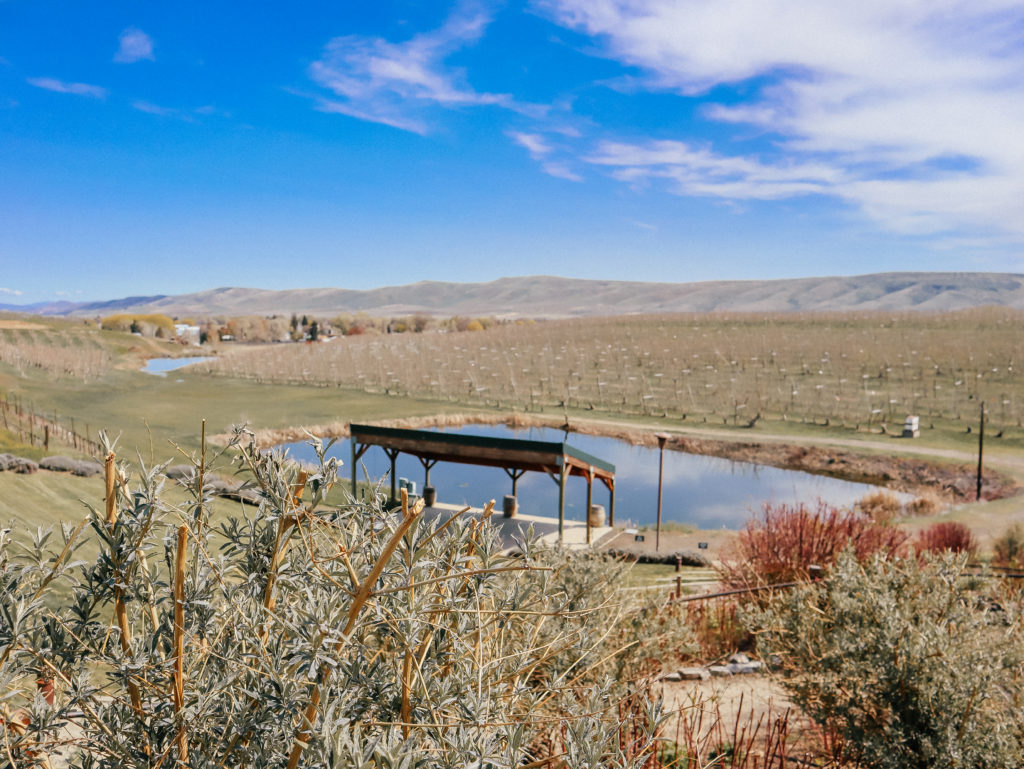 Treveri Cellars
71 Gangl Rd, Wapato, WA 98951
If you love bubbly, Trevari Cellars is your place. I love bubbly so this is my place. These luxurious sparkling wines were probably my favorite Yakima Valley wines.
There's something for everyone here from the very dry to the very sweet. The Sparkling Syrah Brut is very unique – I don't think I've ever had a sparkling dry red before and it is gorgeous in the glass.
My fave: Blancs de Brut Zero. I love the dry stuff, but if you like sweeter bubbles, you won't be disappointed.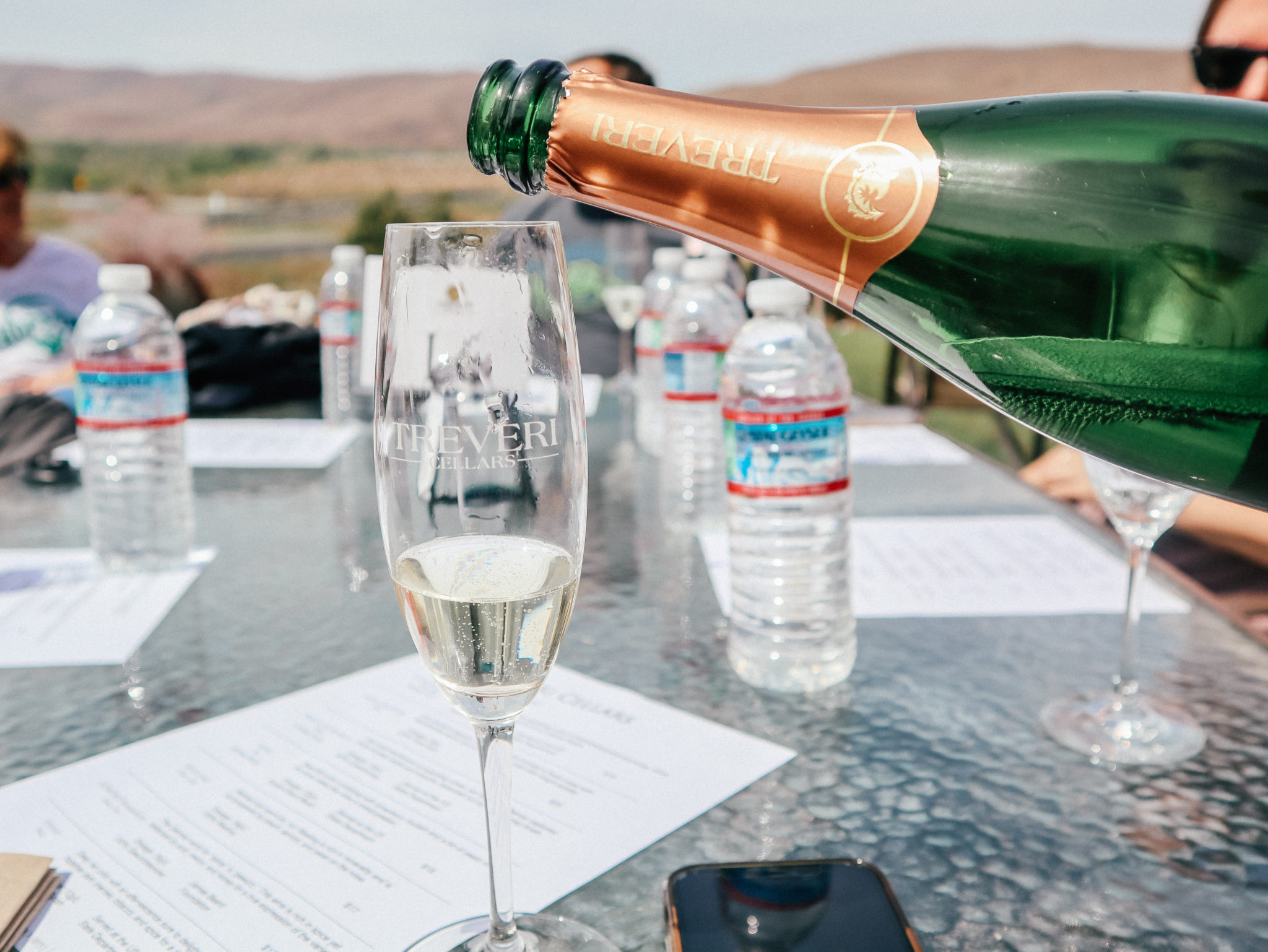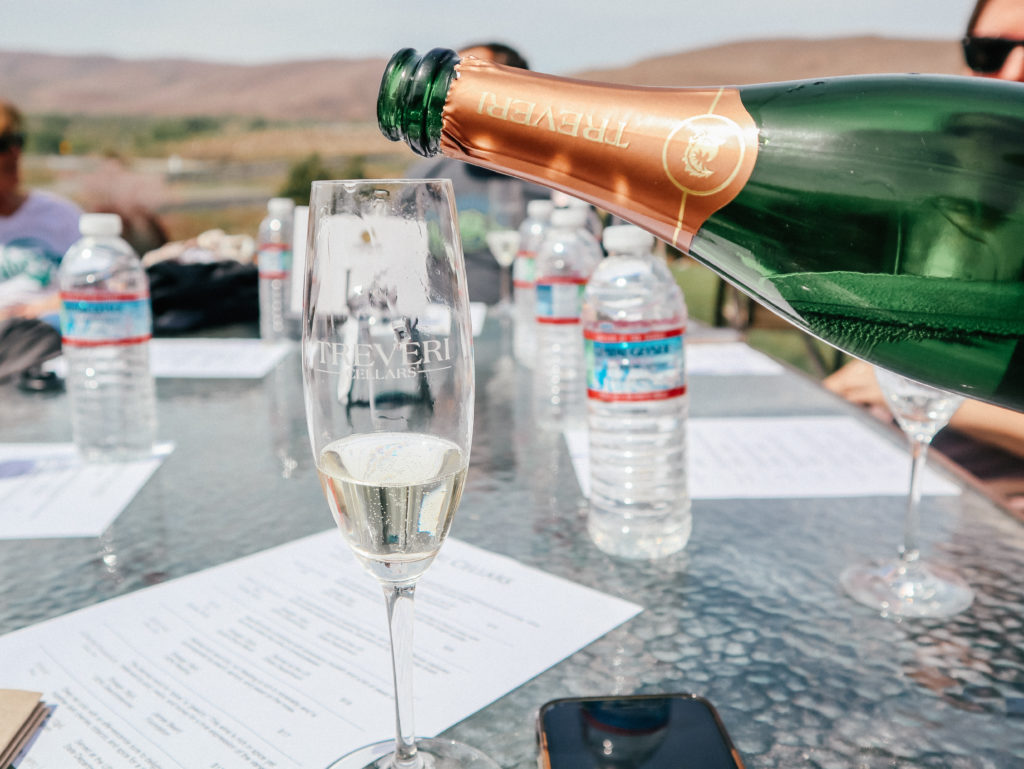 J. Bell Cellars
124 Purple Lane, Zillah, WA 98953
This beautiful winery and lavender farm has a high-end yet unpretentious vibe. Lovely reds in French and American barrels beg for spring tasting. J. Bell also has a delicious small plates menu so I recommend you go hungry and sample something.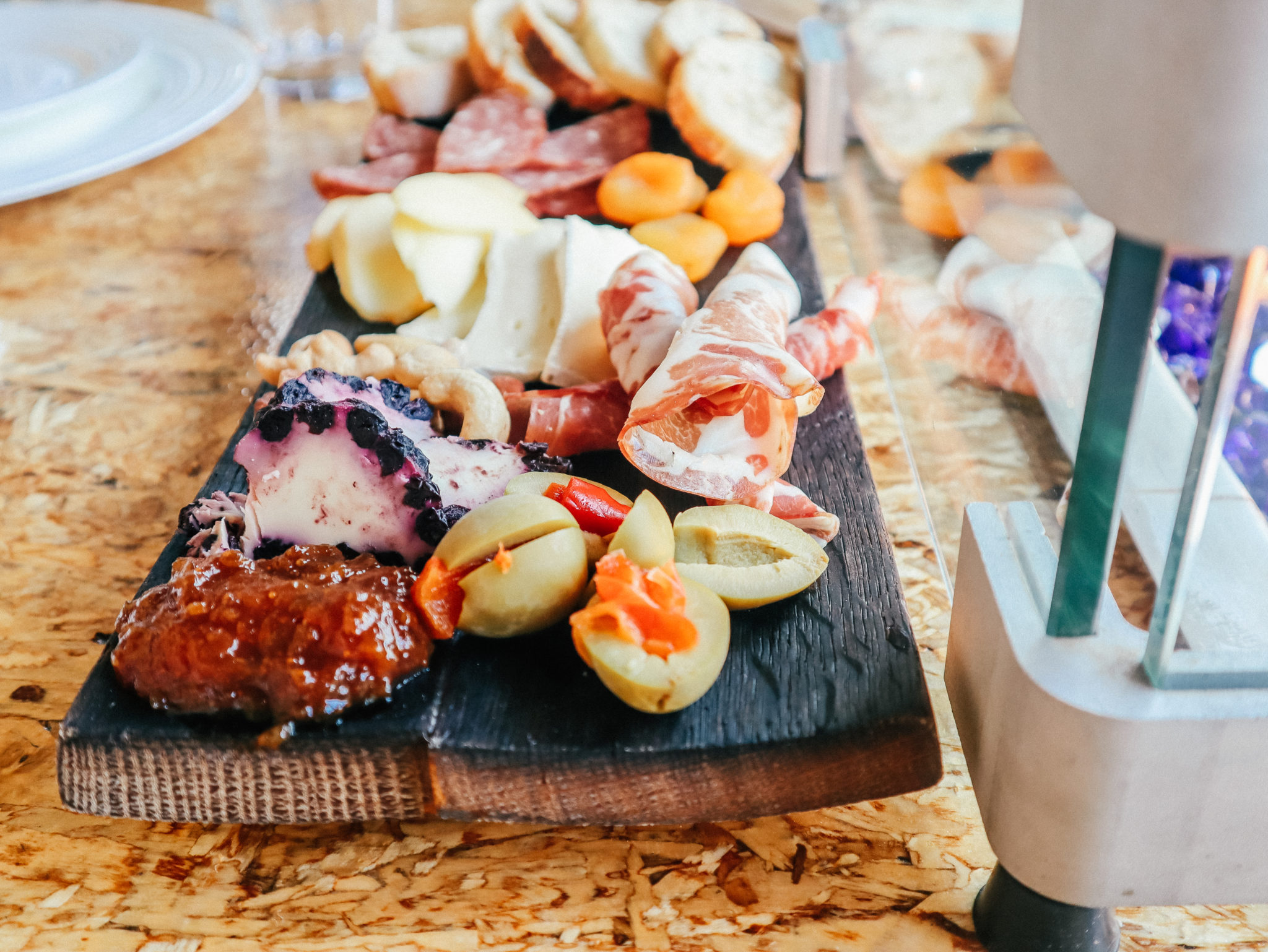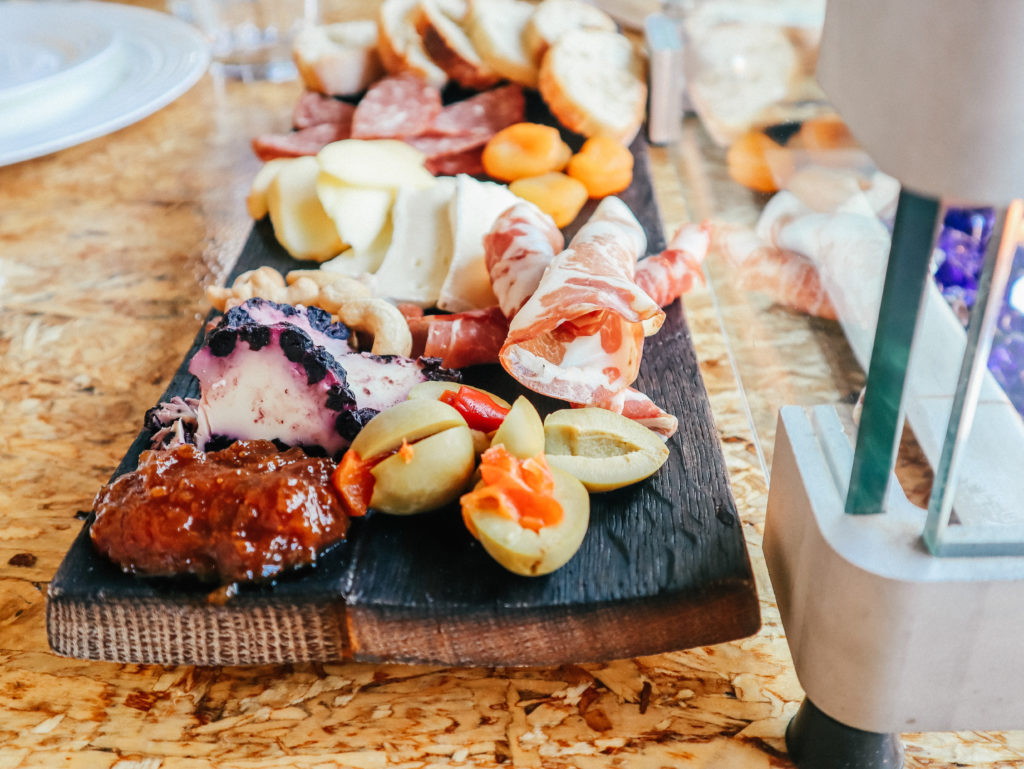 Sip Safely with the little hopper bus
I recommend The Little Hopper as the ultimate party bus. Take a wine tour, a beer tour, or use the Little Hopper as ahop-onn, hop off bus. Little Hopper partners with several area wineries and breweries and can get you from spot to spot in a fun and safe way.
P.S. If you get Wendy as your guide, color yourself double, double lucky. She's amazing.
Check out Little Hopper's FAQs here and decide what type of tour is right for your group.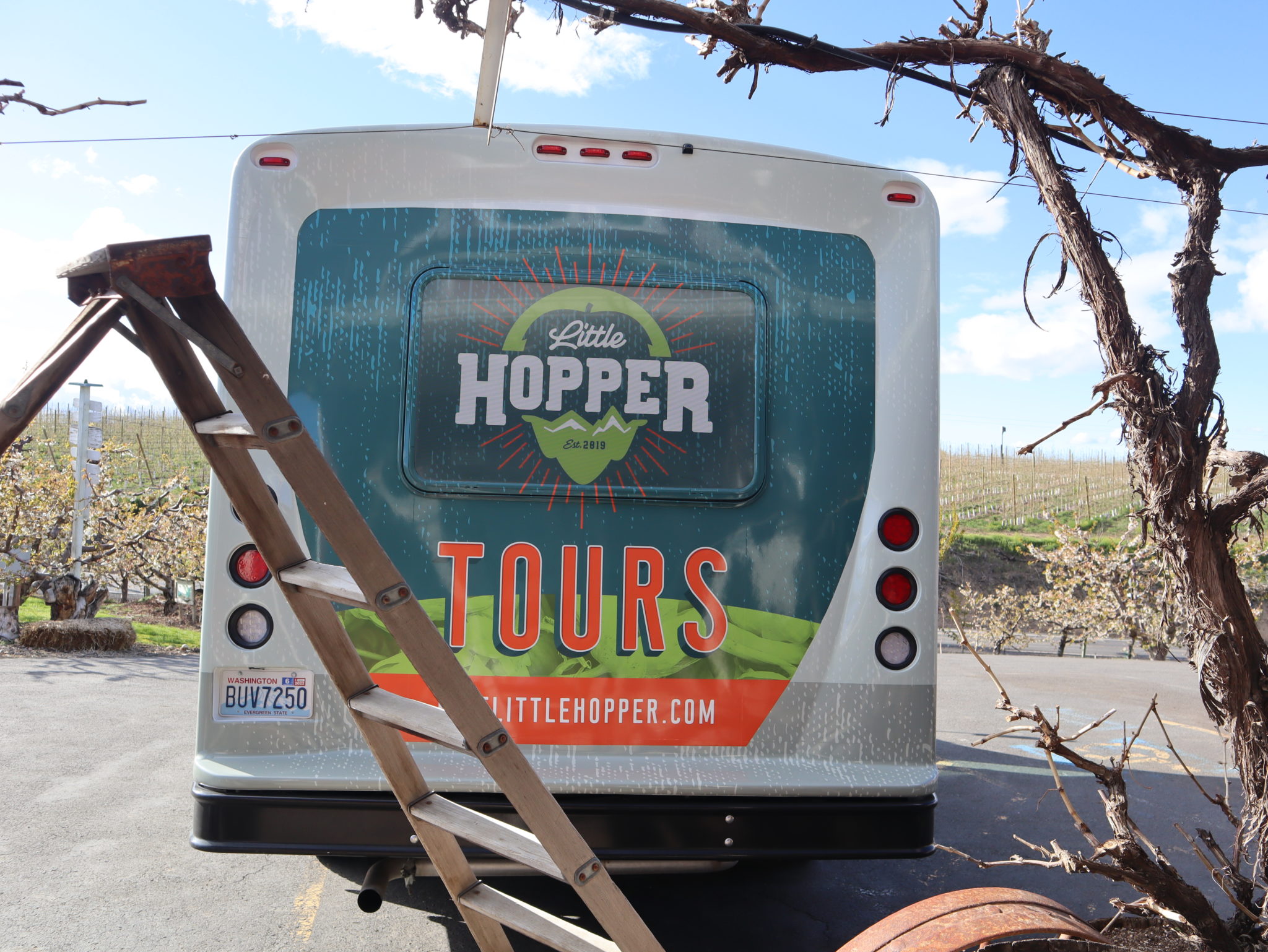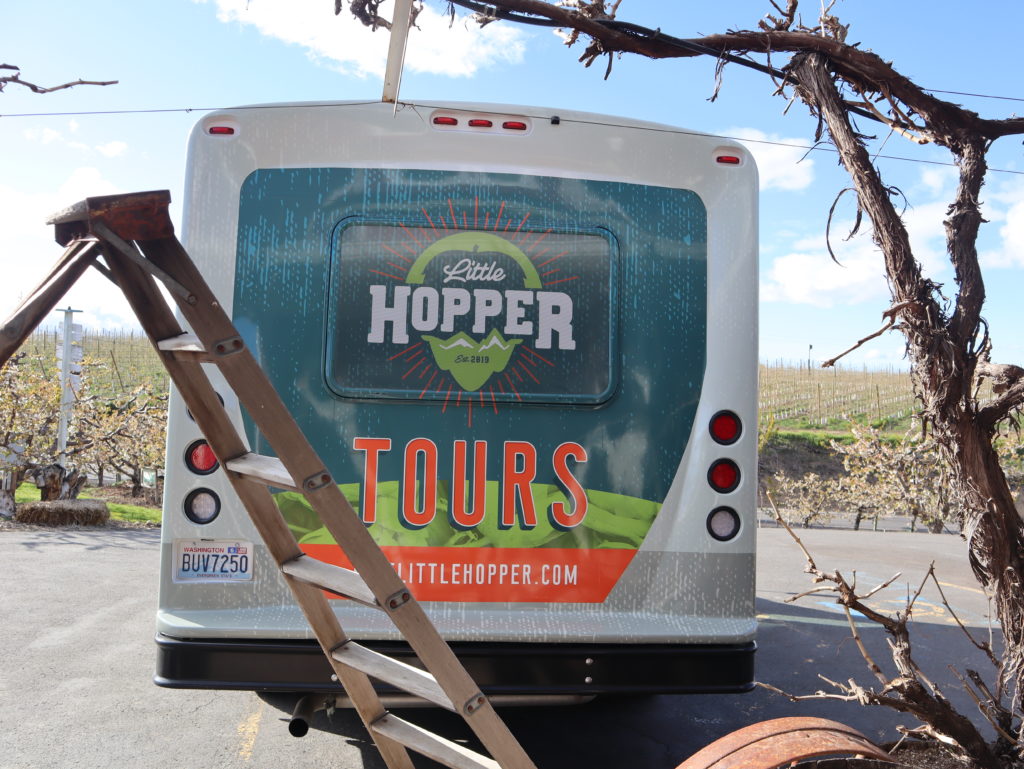 Eating in the Yakima Valley
All of the beer and wine establishments I described above offer food but here are some additional foodie experiences I think you shouldn't miss in the Yakima Valley.
I don't call myself a vegetarian or pescatarian but I don't eat a lot of meat. At home, I enjoy no meat or low meat meals and on the road, I usually eat all plant-based or fish. I eat dairy and eggs but I usually just do bites of meat and poultry.
Hoptown Wood Fired Pizza
2560 Donald Wapato Rd, Wapato, WA 98951
Hoptown Wood Fired Pizza is excellent pizza. The owners are delightful and they serve a variety of creative pies and good beer. Their inside space is fun (and you can watch the pizzas being prepared) but if you visit on a warm, sunny day, the outdoor space is primo.
If you're a fan of creative pizza toppings, you'll love Hoptown. Their website lists their classic pizzas but things rotate seasonally. As you can see below, Hoptown makes use of local produce in its pizzas.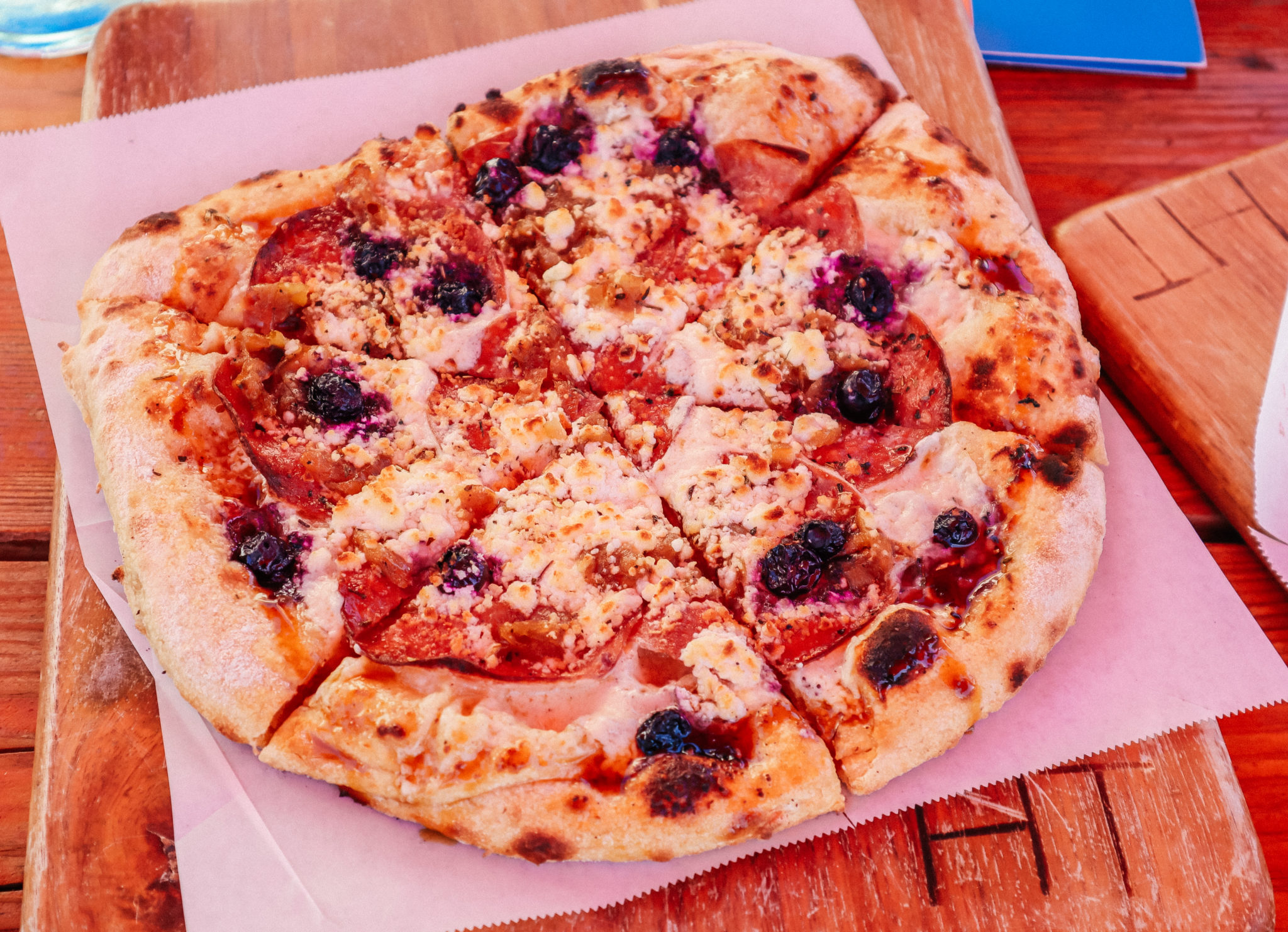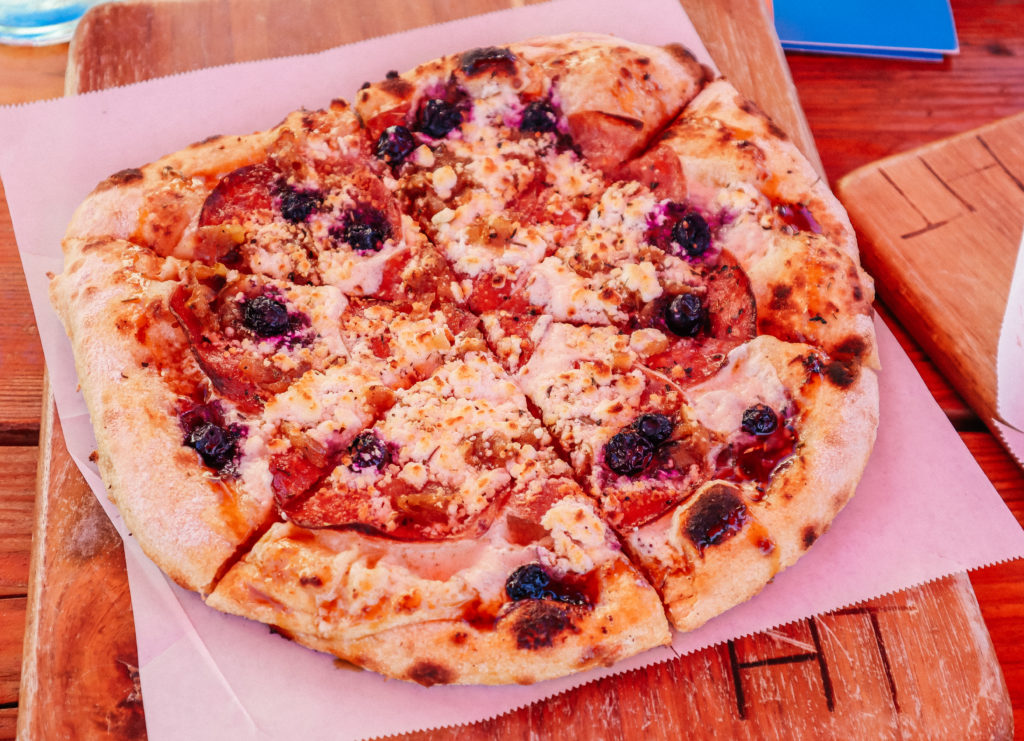 Crafted
22 N 1st St, Yakima, WA 98901
If you find yourself in Yakima and want an upscale and elegant food experience, book a table at Crafted. Reservations aren't required (unless you've got 8+ people) but Crafted is very popular, especially on weekends. It's a fresh, clean space with a rotational menu. The service is a bit unique in that all dishes are designed for sharing and they'll be brought to your table as they're ready.
Our group sampled and shared several dishes and everything was beautifully plated and delicious. My favorite was the steak and asparagus, which is surprising since I'm not a huge meat eater.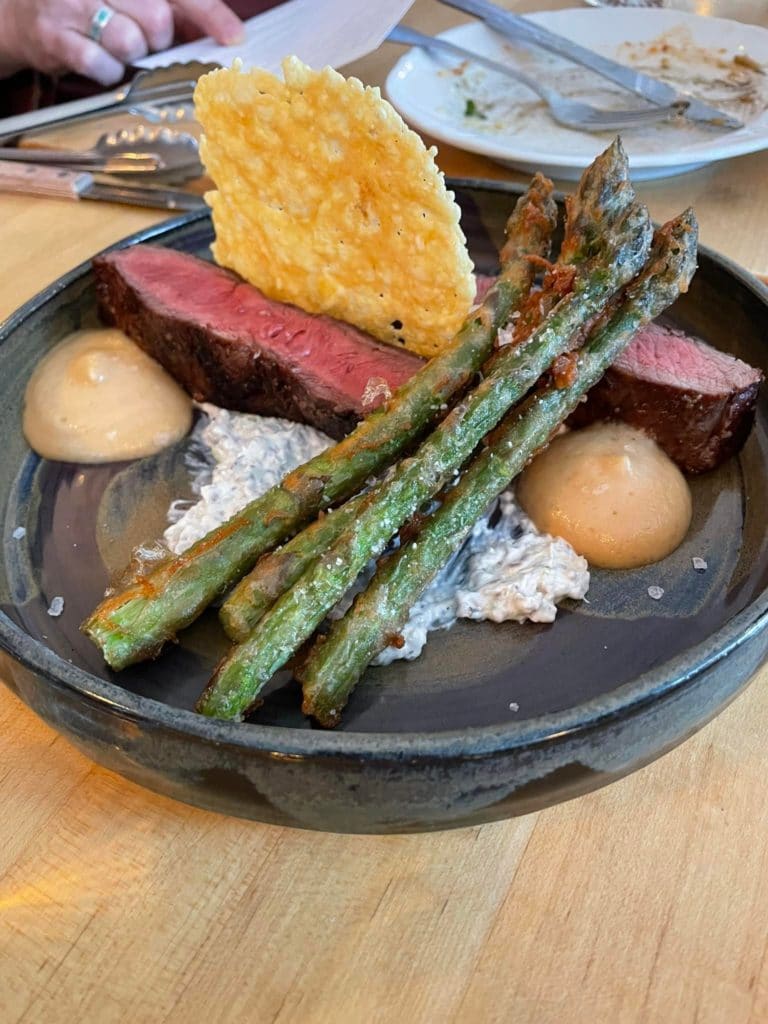 Crafted also offers a chef's tasting menu for $75 per person but everyone at the table must participate if you're going to order that.
The award for best cocktail name ever goes to Shrub is a Guy Who Thinks He's Fly.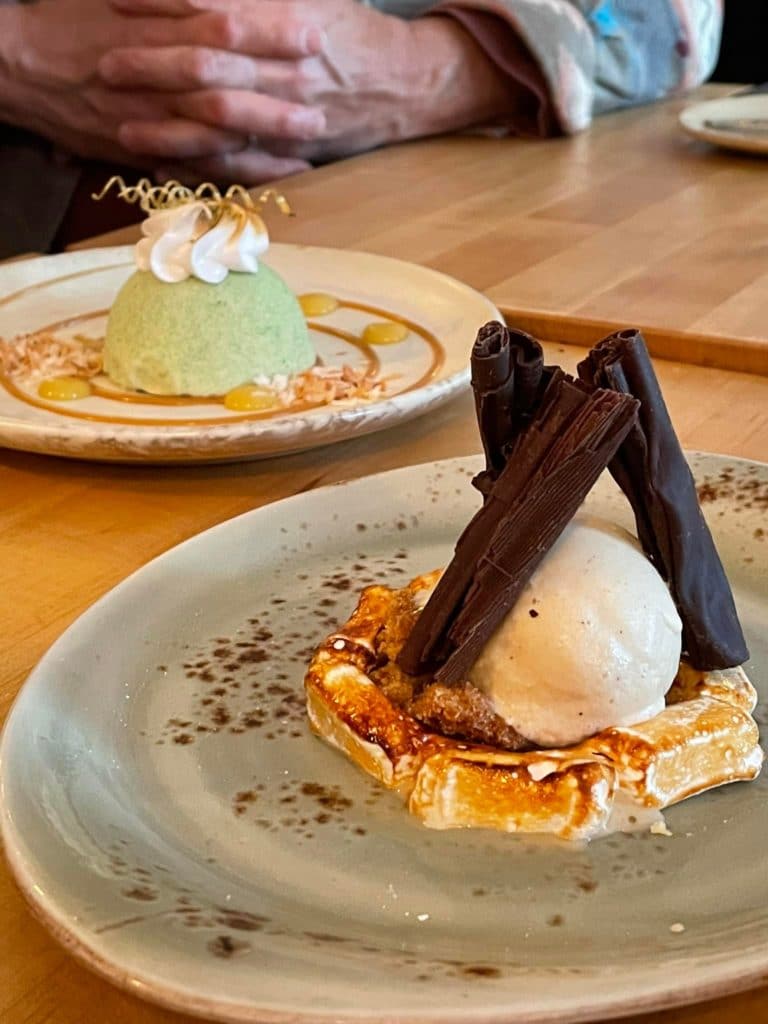 Essencia Artisan Bakery
4 N 3rd St, Yakima, WA 98901
Essencia Artisan Bakery is a great spot to enjoy breakfast and your morning coffee. They have a rotating variety of pastries and other baked goods, as well as other breakfast items such as fruit and yogurt bowls and oatmeal.
I ordered a triple berry scone and fresh fruit and had a bite of my friend's giant cinnamon roll. Both were delicious. I love a good bakery and wanted all the things so I'll go back next time I visit Yakima.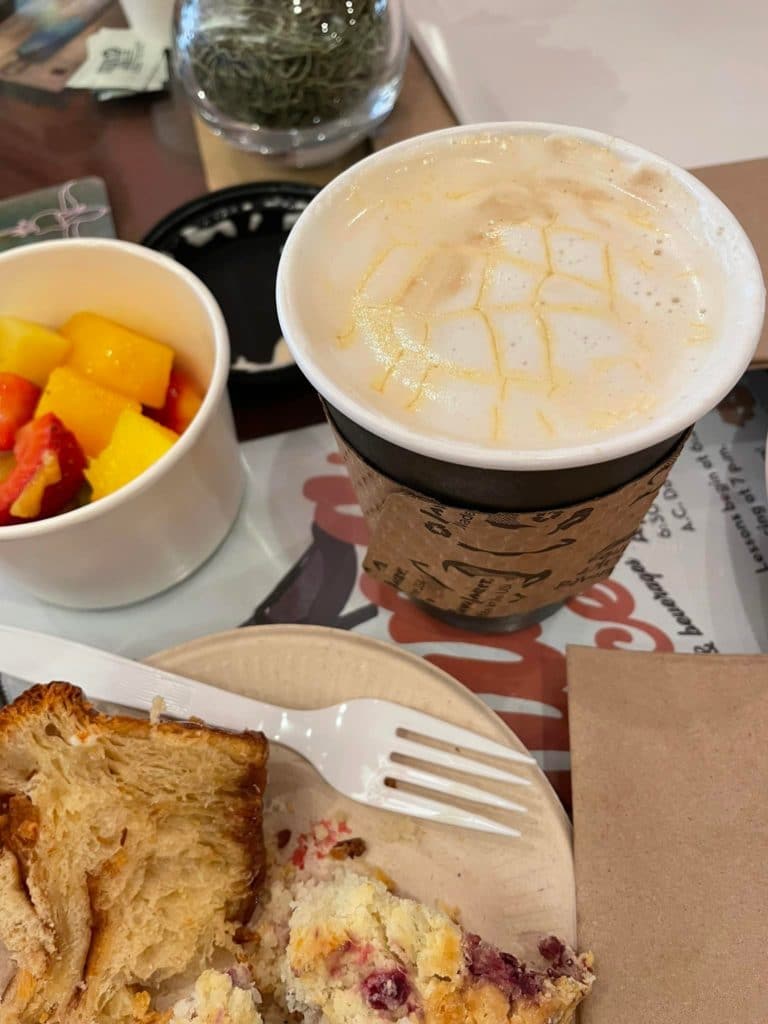 Canyon River Grill
Canyon Road, 14706 WA-821, Ellensburg, WA 98926
This eatery is located inside Red's Fly Shop and is mere steps from the Yakima River.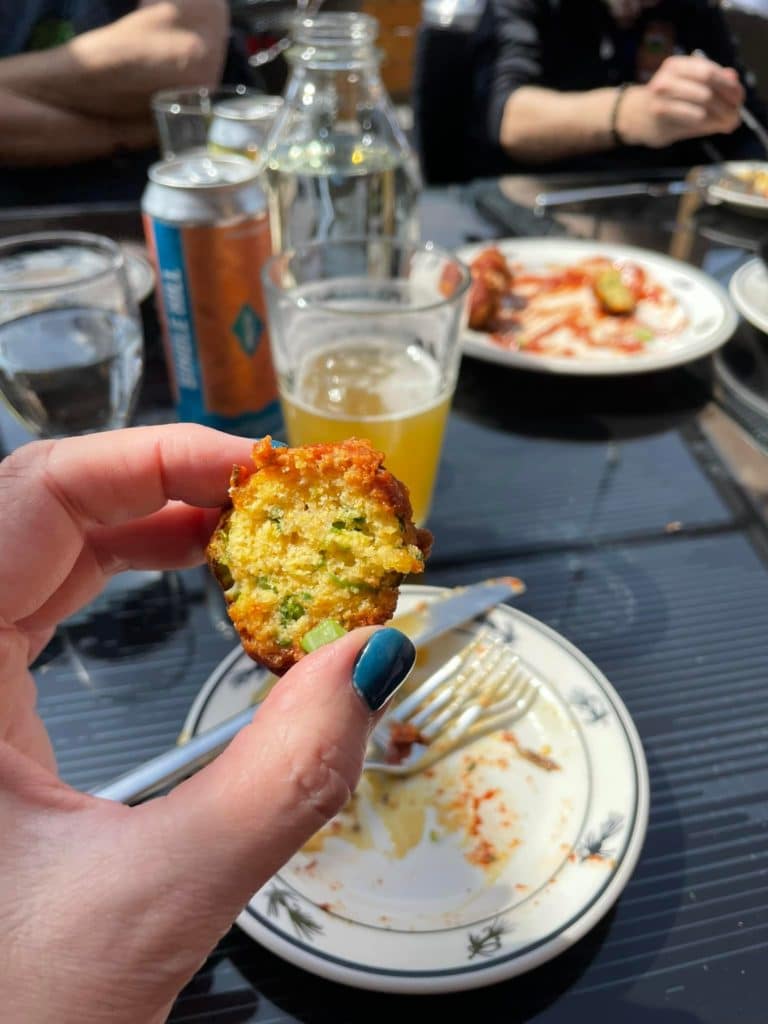 Los Hernandez Tamales
3706 Main St, Union Gap, WA 98903
When I was preparing for my trip to the Yakima Valley, one of my hosts mentioned that the best tamales in the world were to be found in Union Gap. I did a little eye roll and thought to myself "Well, aren't you cute, thinking Washington has the best tamales." This is probably the typical reaction of any diehard Tex-Mex fan from South Texas who hasn't tried a Los Hernandez tamale from Union Gap Washington.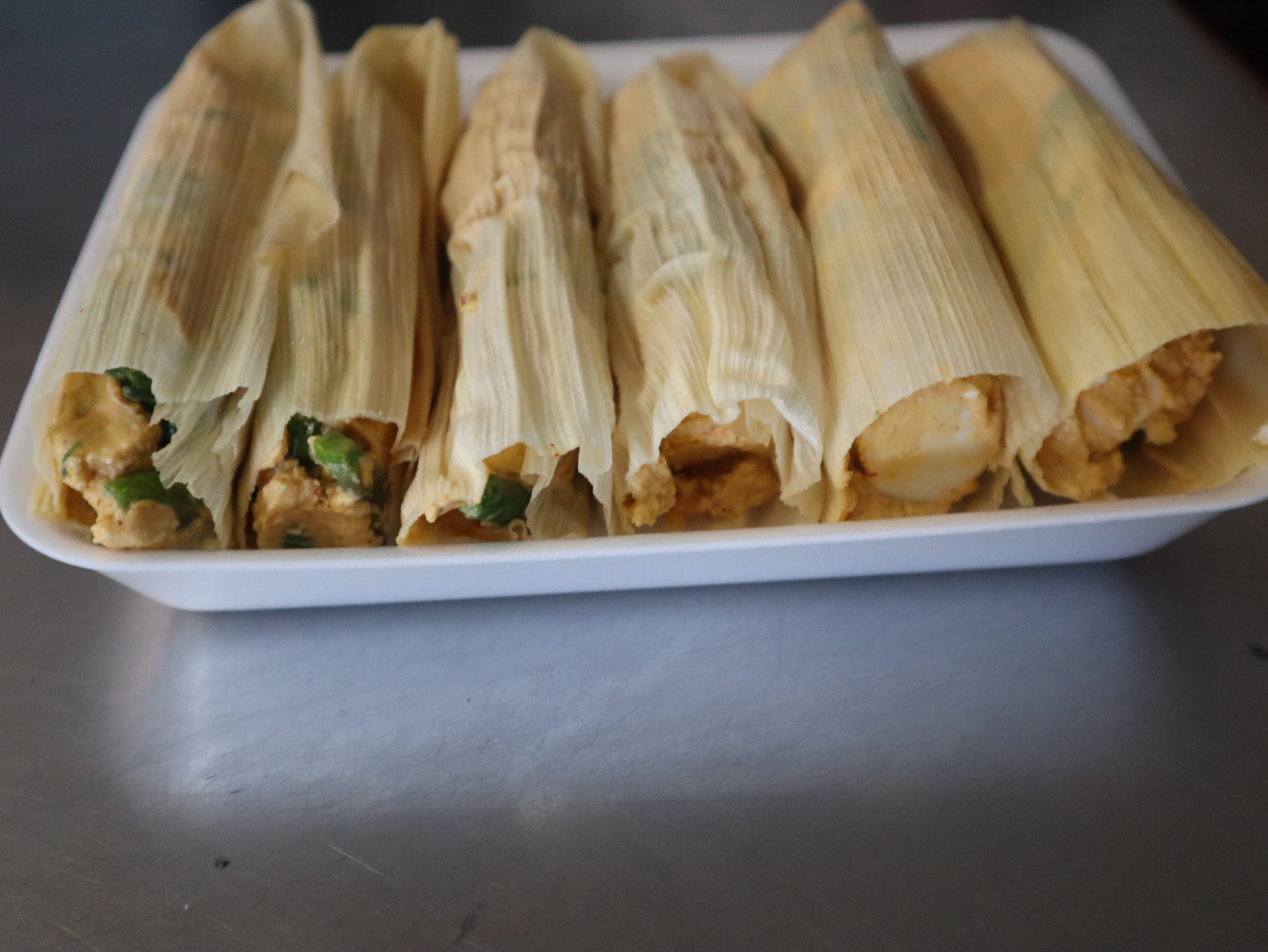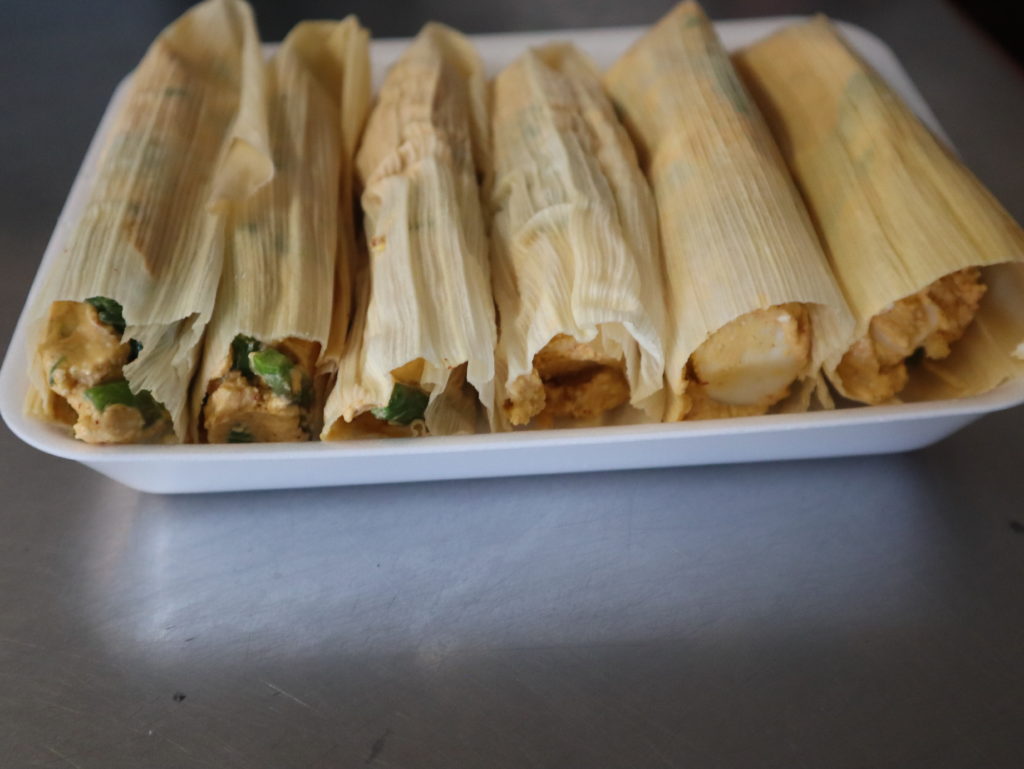 Panderia Aguilla Bakery3206 Main St, Union Gap, WA 98903
If you're craving something sweet after your tamales, head over to this traditional Mexican bakery and grab dessert.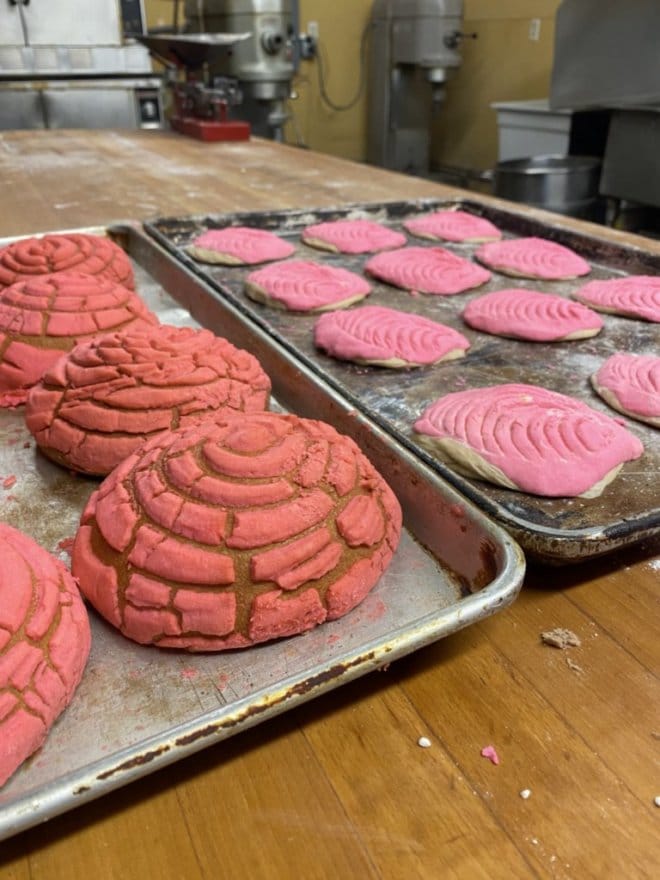 Miners
2415 S 1st St, Yakima, WA 98903
A burger and a shake at Miner's in Yakima* is a rite of passage for the region's young athletes. This is a popular stop for sports teams traveling for tournaments. On our Monday night visit, I think we saw four different sports teams present.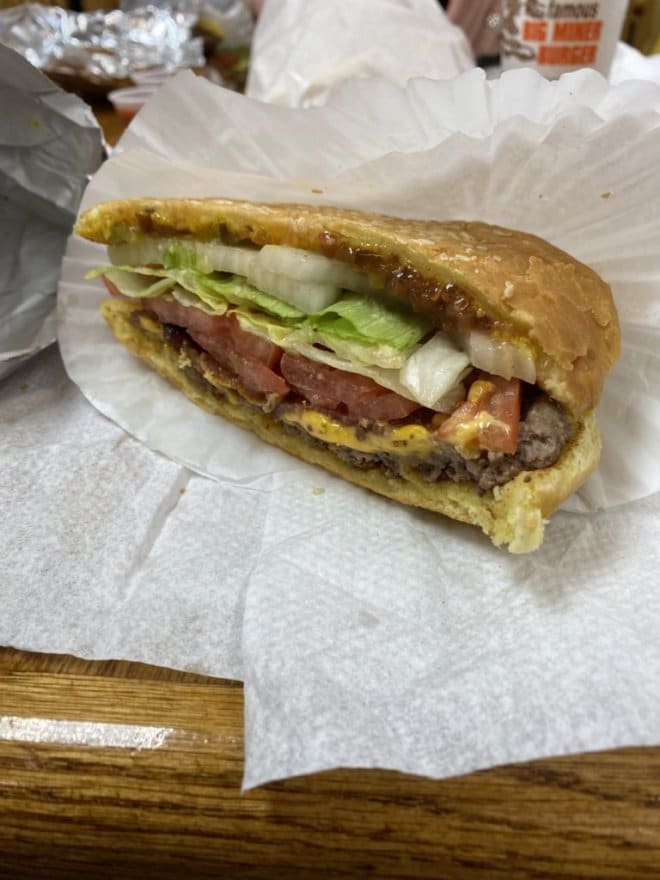 Although waiting in line behind 25 chattering tweens might not be your preferred way to start a meal, there is plenty of seating,g and Miner's is very efficient. The burgers, fries, and shakes are worth a little bit of a wait.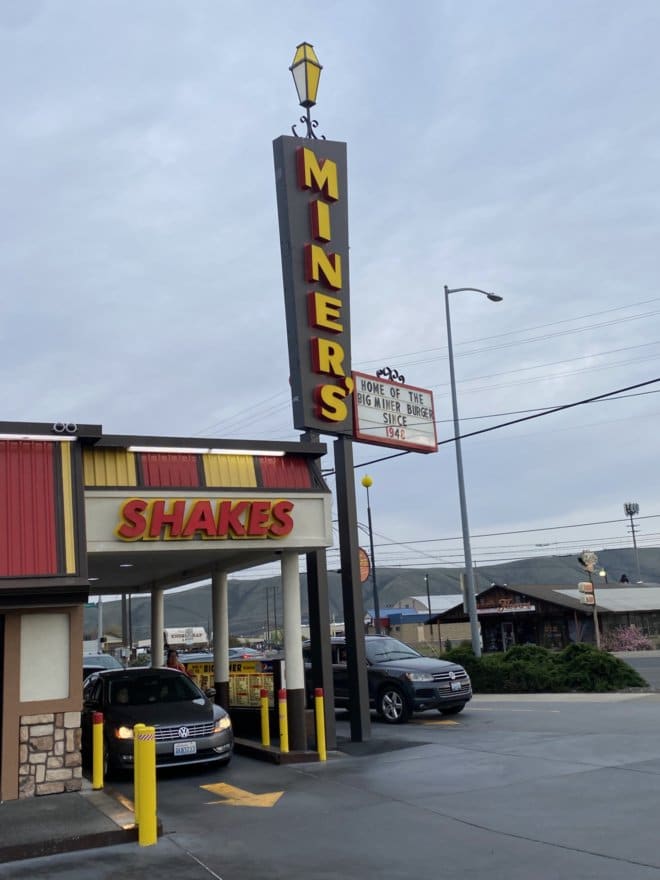 *Miner's is officially in Yakima but part of the building is in Union Gap. I'm not sure which part, so I might have had dinner in Yakima and I might have had dinner in Union Gap. I'm OK with a little ambiguity.
Jean's Cottage Inn
3211 Main St, Union Gap, WA 98903
If you want really good home cooking in a fun, throwback retro atmosphere, Jean's Cottage Inn is your place. I ate breakfast here – they have a full menu of traditional breakfast favorites, including some really great French toast. They also serve lunch and dinner and produce Deccio's Seasonings, which you can buy on-site or order online. They gave me a seasoning back to take home and I use it on my fish and vegetables.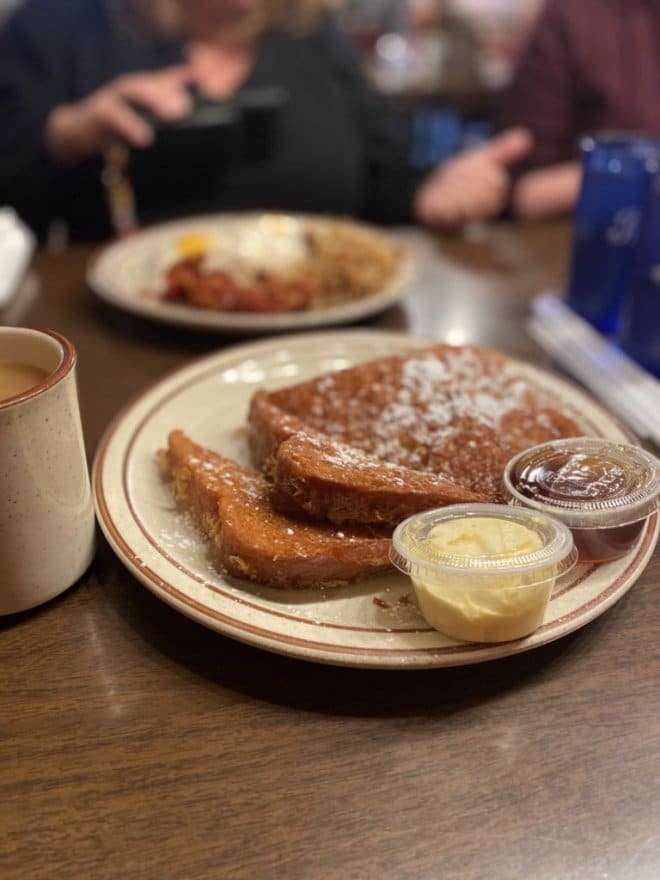 Javi's Chicken and Churros
632 E Edison Ave, Sunnyside
I recommend Javi's with the caveat that I have tried neither their chicken nor their churros. They have both of those on the menu but I switched it up last-minute and ordered fish and shrimp tacos, which I immensely enjoyed. The veggies were fresh and I loved the spicy sauce. The atmosphere is eclectic and funky, with almost a nightclub vibe. Check out their Facebook page for entertainment schedules. I would return to any of the restaurants I've listed but I think I return trip to Javi's probably tops my list.