The Complete Guide to Tempe with Kids
(This post may contain affiliate links. Read my full disclosure.)
Tempe Arizona things to do, you say? I've got lots of ideas for you. We're sharing the coolest kids activities in Tempe in this Complete Guide to Tempe with Kids…although there are things on this list that will appeal to anyone and everyone. We hope it will be a fun travel resource for you that gives you some great ideas for kid-friendly things in Tempe. Don't worry moms and dads – grownups will have a blast, too, with this list of things to do in Tempe.
Tempe Arizona is located just outside of Phoenix and it's an amazingly kid-friendly city. We visited Tempe in spring of 2019 and it remains one of our most talked-about trips of the year. See also March is the PERFECT time to visit Tempe…the weather is gorgeous. We've been to the area twice before, once in February and once smack in the middle of the summer and March is the hands-down winner…although you should jump at any chance you have to explore Tempe with this handy guide of Tempe Arizona things to do.
Originally published 3/26/19. This post has been updated.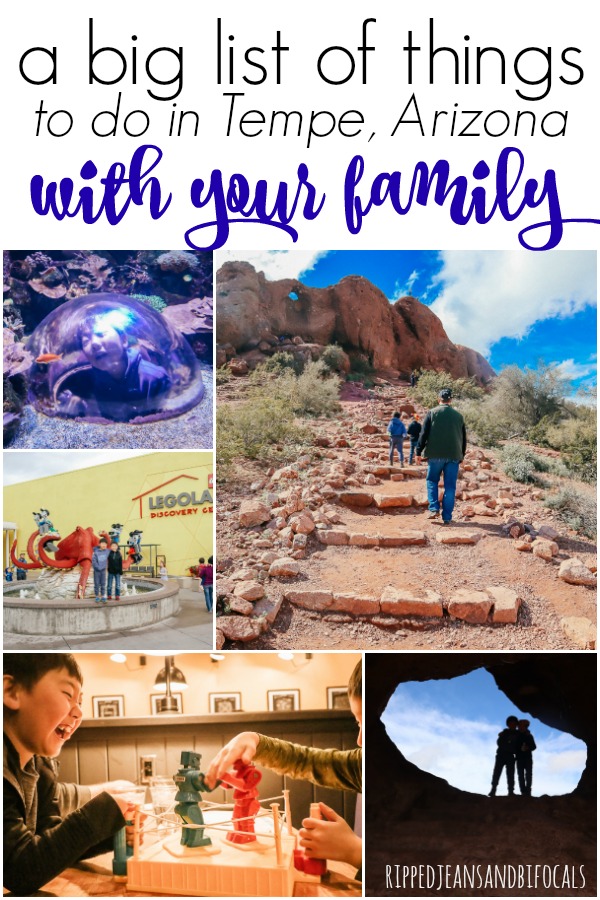 The complete guide to Tempe with Kids – The coolest kids activities
My family was hosted by Tempe Tourism. All opinions are mine.
The complete list of Things to do in Tempe with kids isn't complete without instructions on how to get there!
If you're going to travel to Tempe with kids, you have to…well, travel. If you're flying, you'll arrive at Phoenix's Sky Harbor Airport, which is a quick jump to Tempe. Tempe is much closer to the airport than most of the in-city Phoenix attractions you might want to check out while you are in the area.
If you are driving, you're going to catch 1-10 at some point. The Tempe area is very easy to navigate, although some of the Phoenix traffic spills over, making drive times a little longer than you might imagine.
If you are flying, I recommend renting a car. Although downtown Tempe is very walkable, there are some kid-friendly things to do in Tempe that I'm going to tell you about that you'll need to drive to.
Where to Stay in Tempe with Kids
We stayed at the Hilton Garden Inn on South Price near the ASU Research Park, which is a dual property Hotel with Hilton Home 2 being in right there also, sharing some of the facilities.
The Hilton Garden Inn has a comfortable lobby, a mini-mart area for snacks and sundries, a bar, and a meeting area. There's also a really nice-looking outdoor area with a fully heated pool and spa and propane heaters, so you can enjoy the outdoor space year 'round.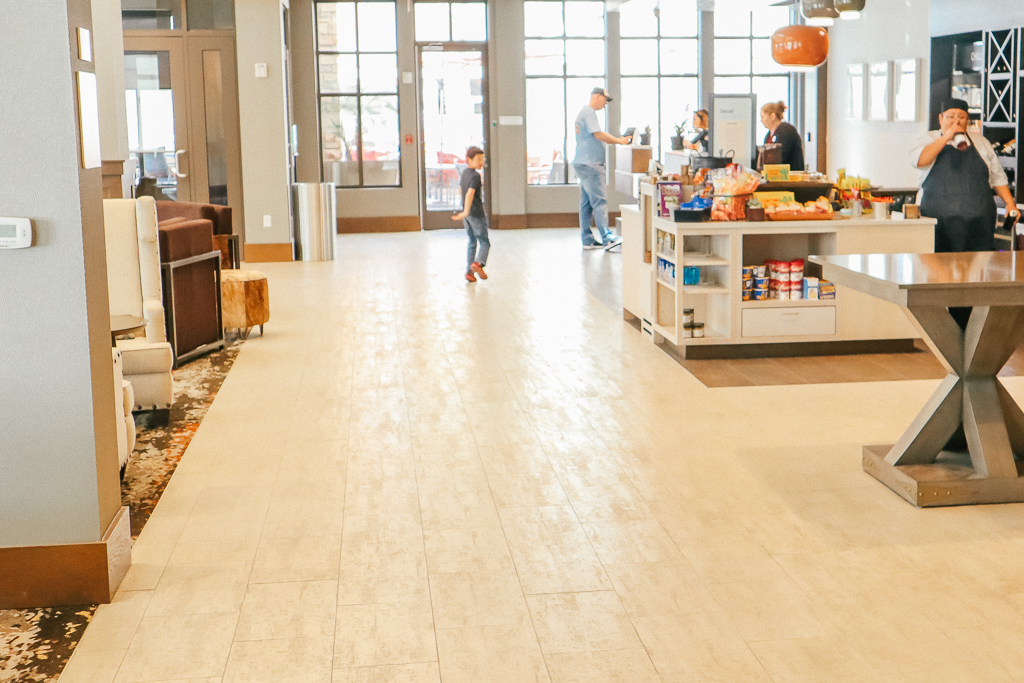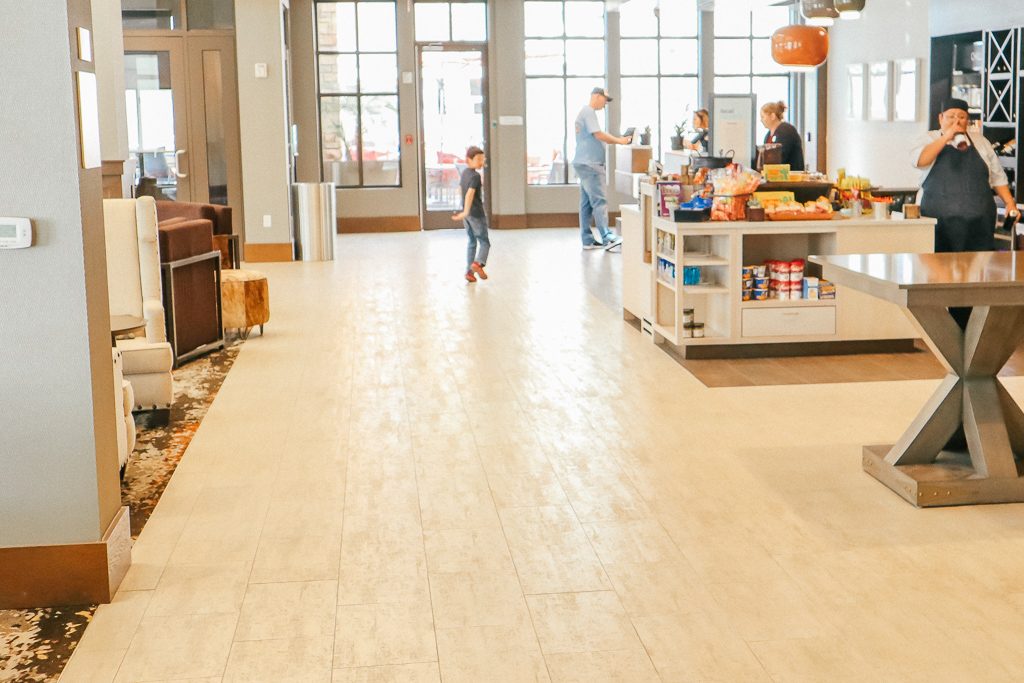 The Hilton Garden Inn offers breakfast but it is not included in the price of your room. There's an onsite restaurant, Tres, that serves lunch and dinner.
We had zero complaints about the service or the comfort at The Hilton Garden Inn but we didn't avail ourselves to any of the amenities. This was a very go-go-go trip for us and we pretty much just used our room for sleeping. It was very comfy.
We had about a 5-10 minute drive to get to the downtown Tempe area, which we didn't mind. There are places to stay in the heart of downtown, if you want to be able to walk to things, or closer to the airport. If you're traveling with kids, you might appreciate being away from the hustle and bustle of downtown.
My only negative on this property was that the parking was very sparse. We had to troll for parking every night when we returned to our room. I believe the hotel was at full capacity due to spring training and although it didn't feel crowded, it was hard to find a parking space.
Want to explore a little more? Check out this list of things to do in Phoenix from Kids Are A Trip.
Things to do in Tempe – The coolest kids activities in Tempe
1. Hike A Mountain
Not a mountain, A as in the letter A Mountain. You'll see why once you get there but my family and I had fun with the word play on this one. This is also known as Hayden Butte.
"Want to hike a mountain?"
"Sure, what mountain?"
"A Mountain."
It's really funny if you're an eight or nine year old boy. Or, someone who is conditioned to laugh at eight or nine year old boy humor. If you're looking for things to do in Tempe, you can't skip this one. Fortunately, it's an easy hike to squeeze in to even the busiest schedules.
Want all my Tempe content in one place? Check out my "Things to do in Tempe" Landing Page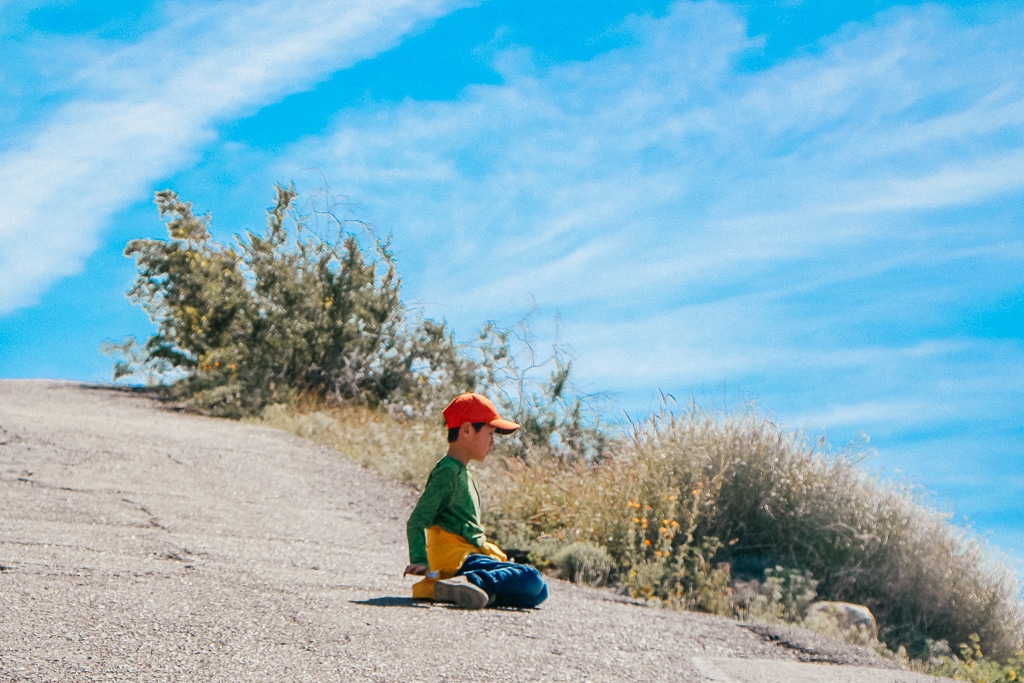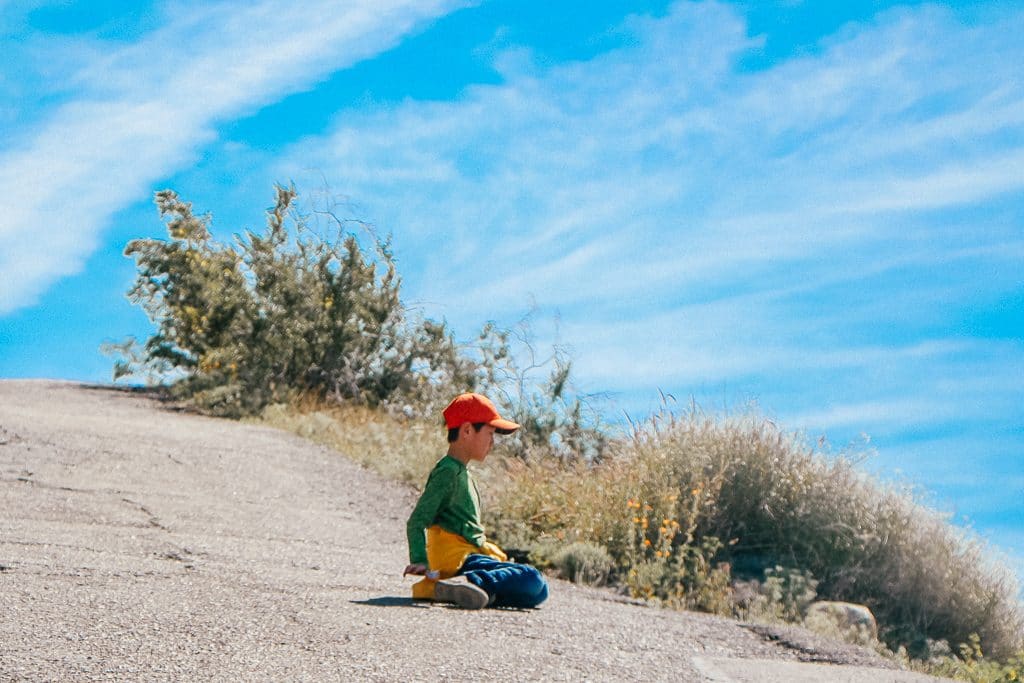 This is a moderate level hike that's just off downtown. There's ample parking around the area and lots of hikers to visit with on your way up and down. The top offers a great view of downtown Tempe and also of the airport runway.
Most of the path is paved or includes man-made steps but there are a few places that are pretty rough terrain, particularly near the top. Although this is on my list of recommendations of kid-friendly things in Tempe, it is a steep climb. If your kids can't walk on their own or if anyone in your group has any sort of physical limitations, you might want to do a little more research before you commit to this one.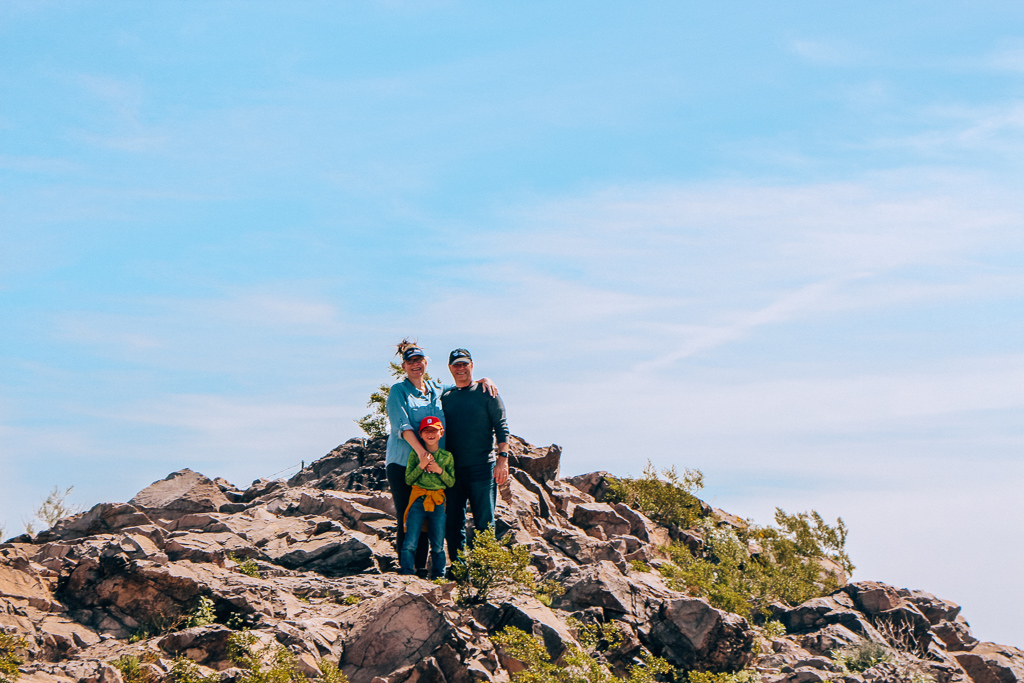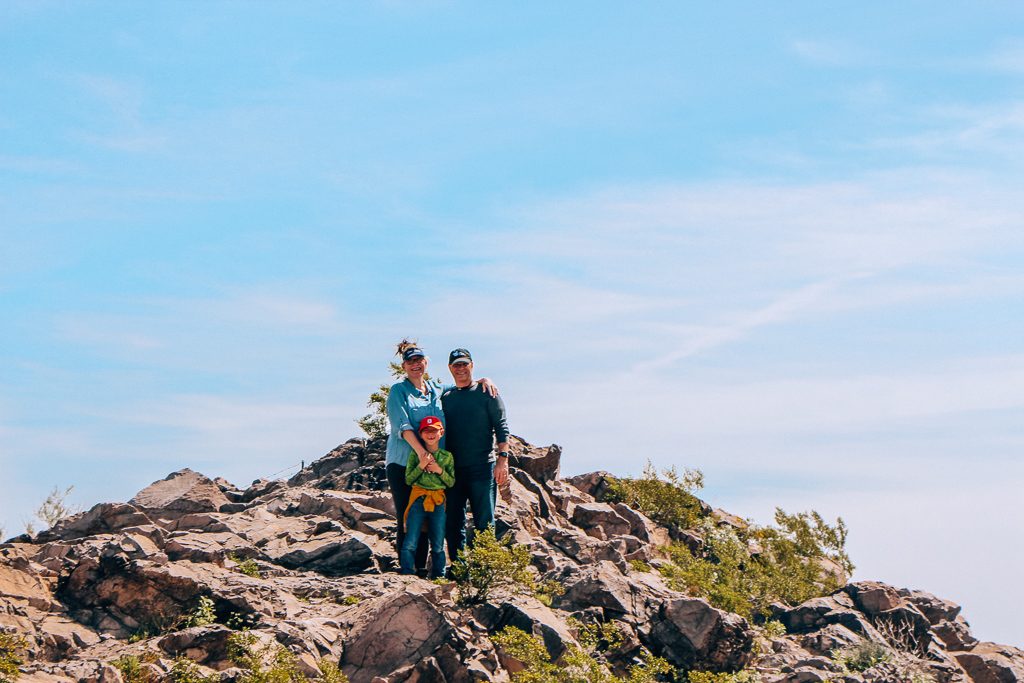 A Mountain is also known as Hayden Butte. You will find the trail head just over the light rail tracks east of Mill Avenue at Third Street. For more check out their website.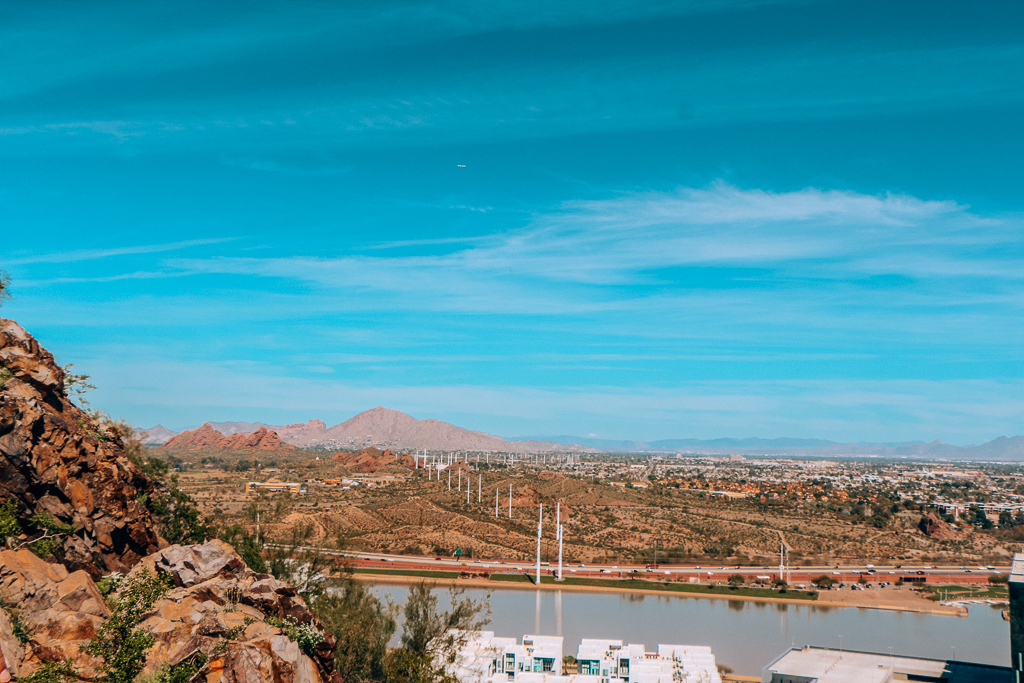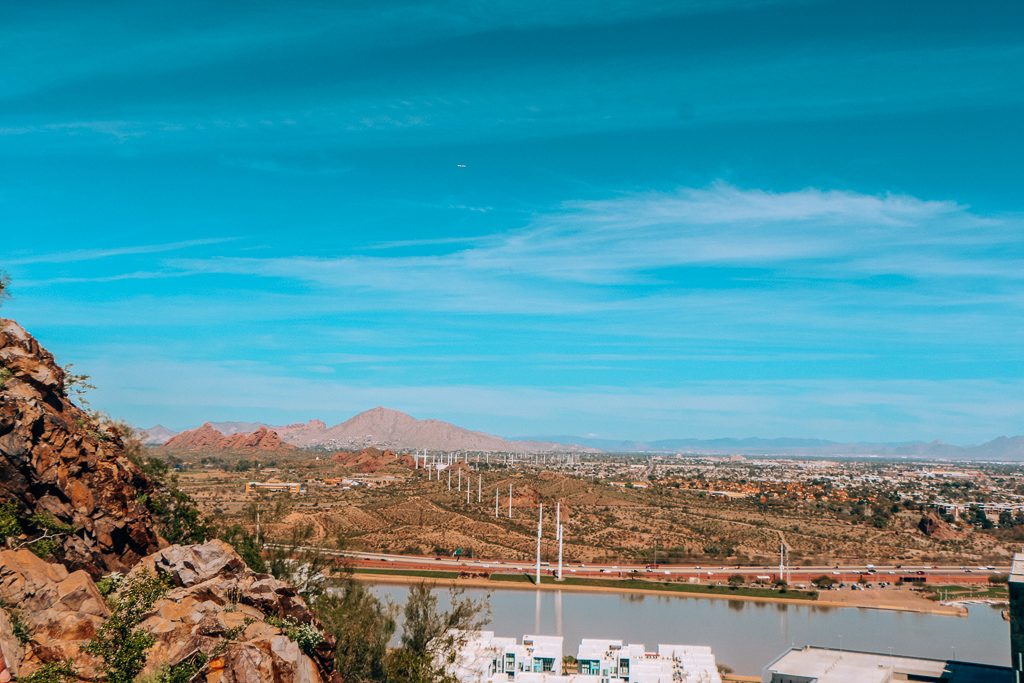 If you have any aviation lovers in your family, the top of A Mountain offers a great view of the runway at Sky Harbor Airport. When you're planning your list of Tempe Arizona things to do or your first visit to Tempe with kids, don't forget the seemingly simple things, like watching planes take off.
2. Desert Botanical Garden – One of the best things to do in Tempe Arizona
The Desert Botanical Garden is not technically inside Tempe but it's right on the edge of Downtown Tempe and easily accessible if you're staying or exploring this area of town. This is definitely a don't miss and, if you can swing two visits, plan to go during the daytime and again at night to see the Electric Desert.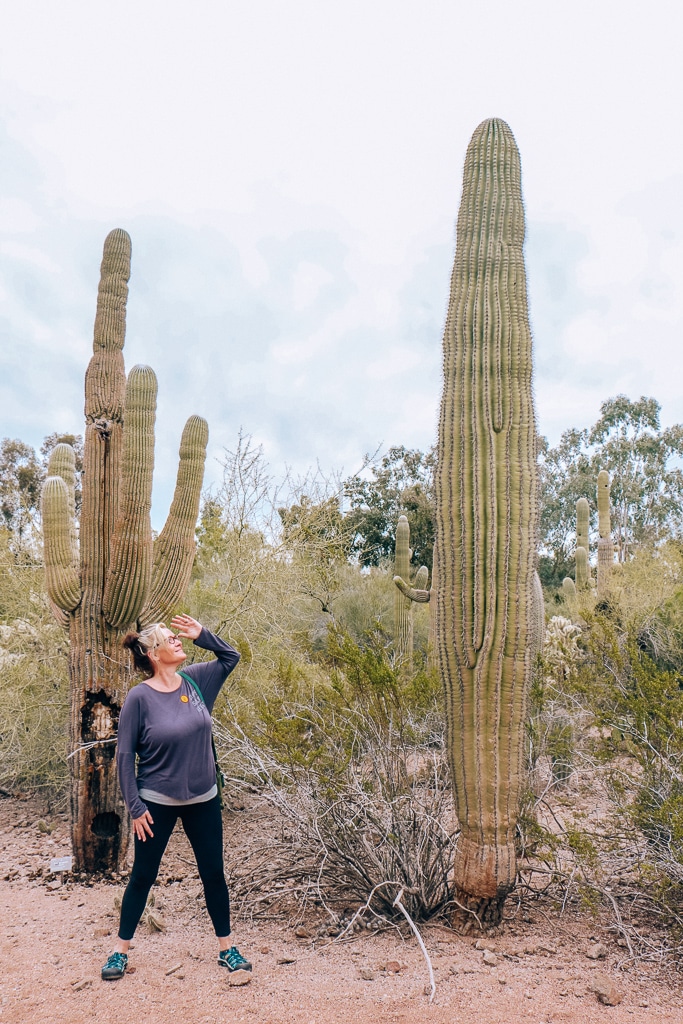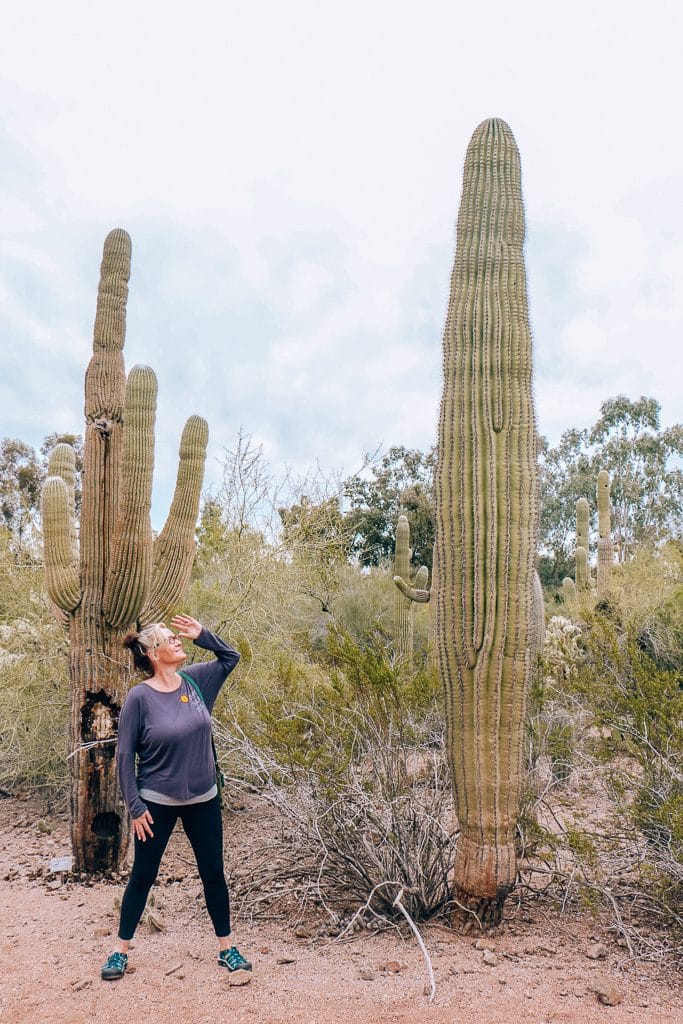 The Desert Botanical Garden is a living history museum featuring 55,000 desert plants from around the world on 55 cultivated acres. They offer an on-site restaurant, Gertrudes, that offers a seasonal, ingredient driven menu that showcases local artisans and farmers. They also have a snack bar with outdoor seating that has amazing, fresh sandwiches. There's also a really cool gift shop that has all kinds of fun, local items like soaps and clothing…as well as local Arizona souvenirs.
When you're scoping out Tempe Arizona things to do, you want to make sure you include at least half a day to explore the Desert Botanical Garden.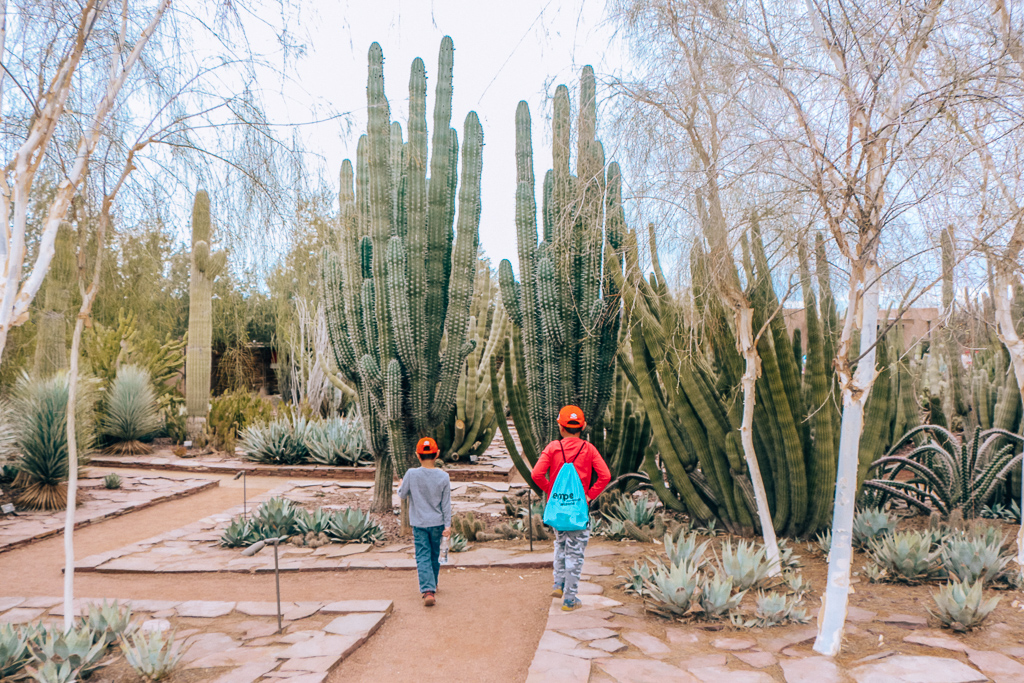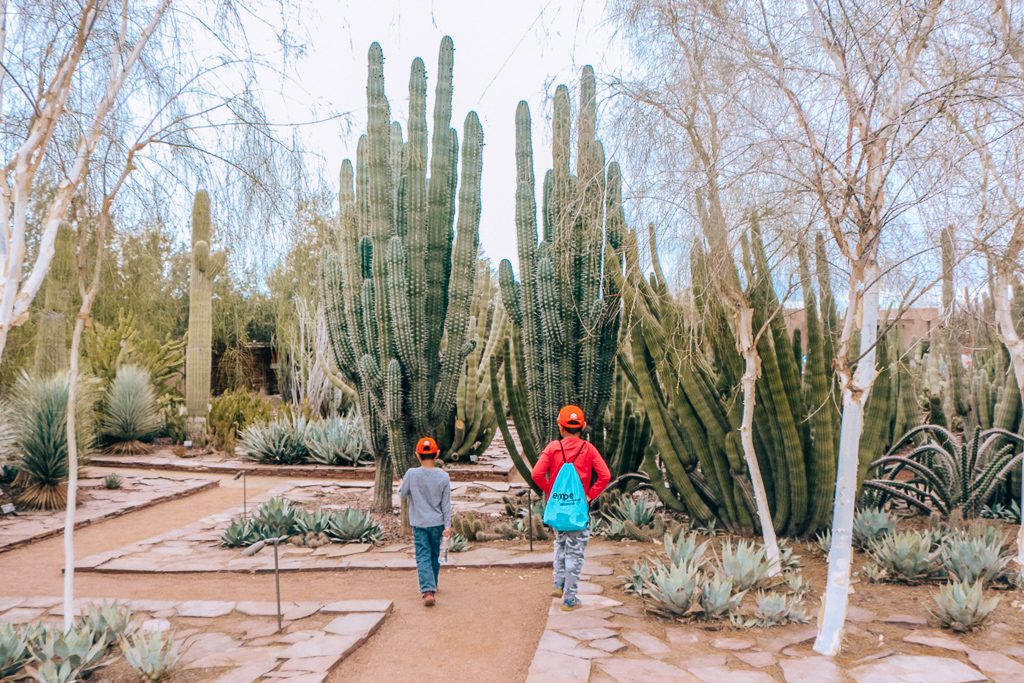 Electric Desert is a light and sound experience by Klip Collective. Cactus and desert become a living canvas in this nighttime experience, taking visitors on an immersive journey through the garden using light and original music. Electric Desert features seven site-specific locations, each one inspired by and related to the Garden. It will continue nightly through May 12, 2019*. It is really, really, cool and you should go see it if you get the chance.
*Editor's Note: Electric Desert is no longer being offered but I'm leaving the info in just in case they bring it back…if they do, it's a for sure don't miss when you're visiting Tempe with kids.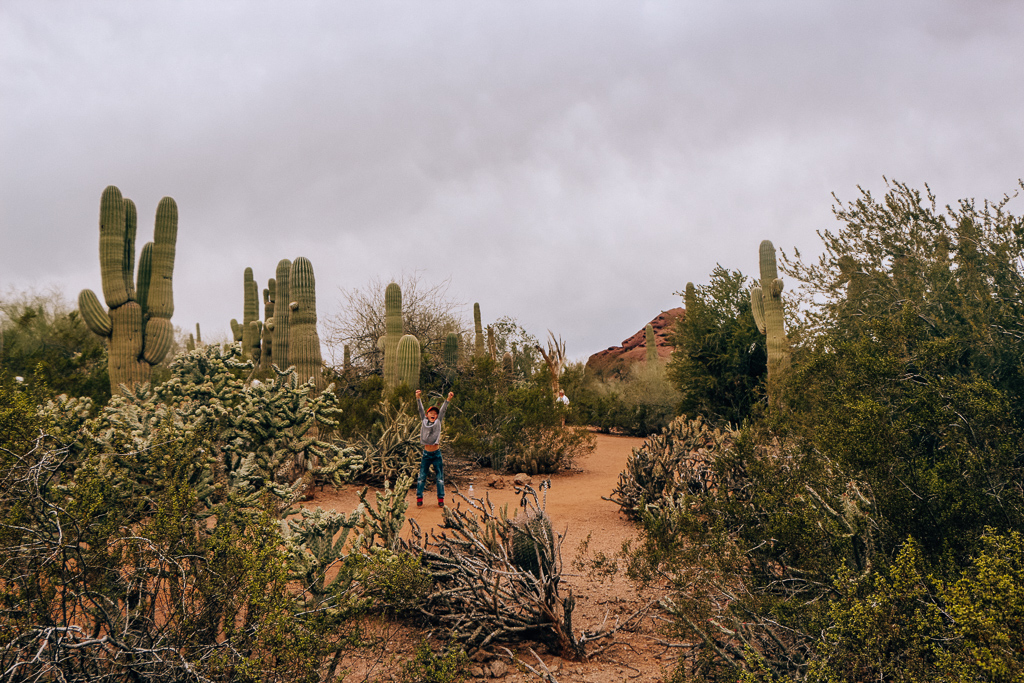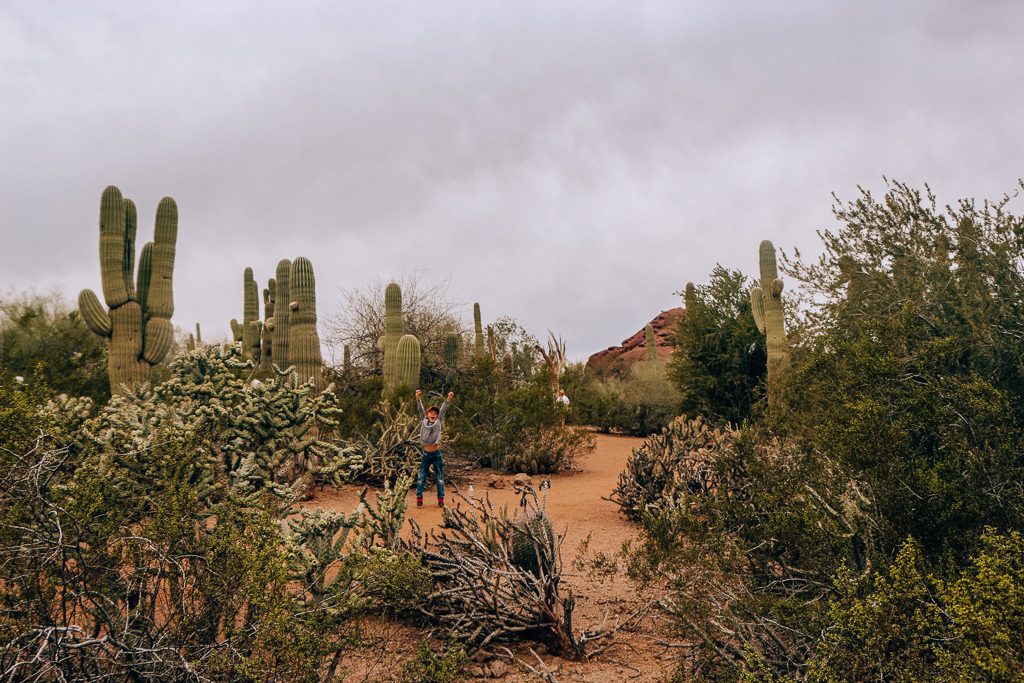 The Desert Botanical Garden is open Sunday through Wednesday from 8:00 a.m. to 10:00 p.m and Thursday through Saturday 8 a.m. to 11 p.m. For more information, check out their website.
3. Is hiking high on your list of Tempe Arizona things to do? Check out "Hole in the Rock" at Papago Park
My friend told me her kids call these "the poop mountains" and you can kind of see why…they do sort of resemble the poop emoji, don't they? I know…once you see it, you can't unsee it.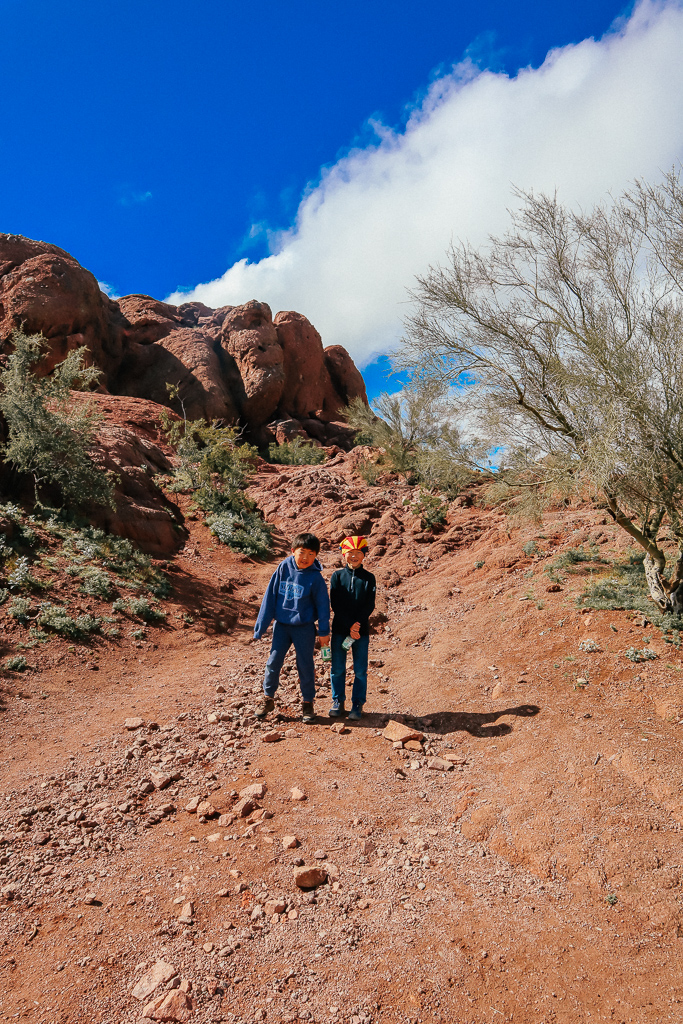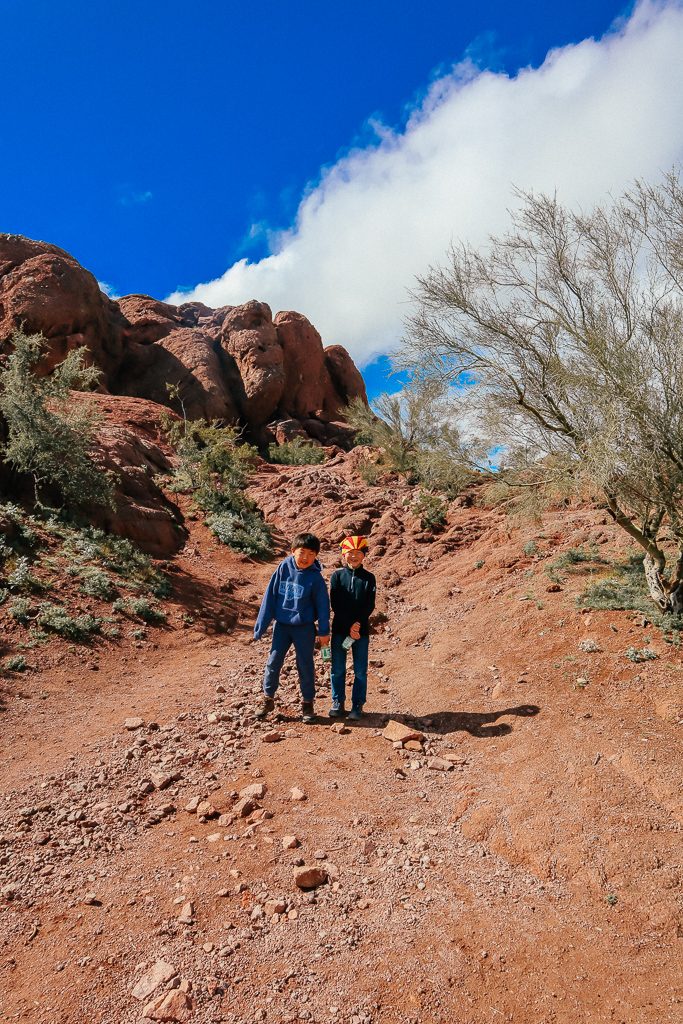 Papago Park is right outside the Desert Botanical Garden, so you can combine a short hike here with your visit. It's also located very near The Phoenix Zoo, which we didn't get to see on this trip.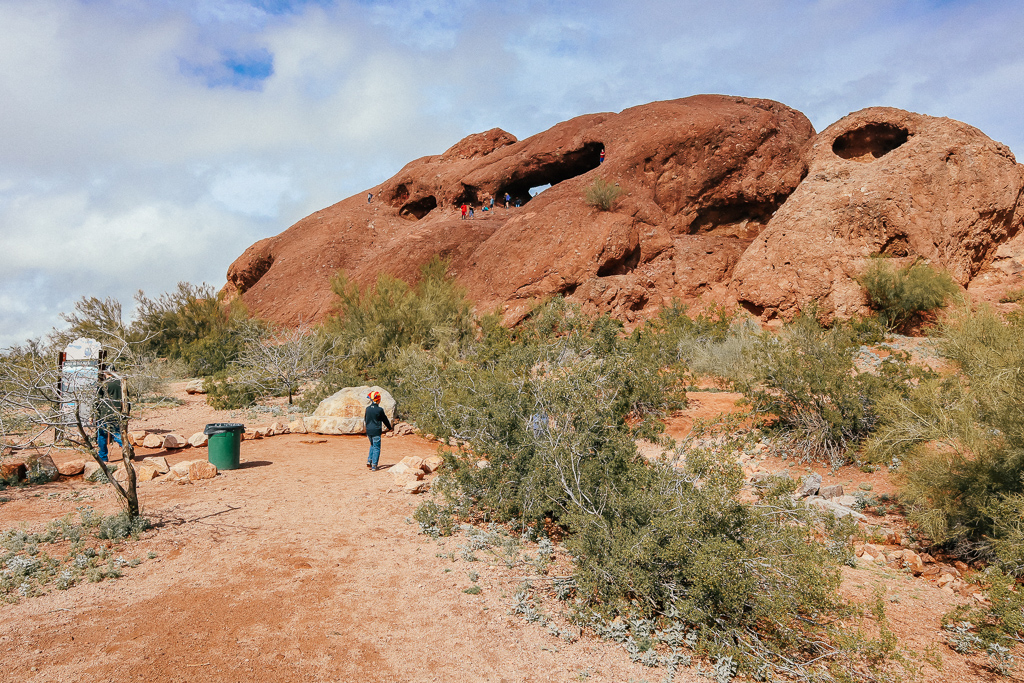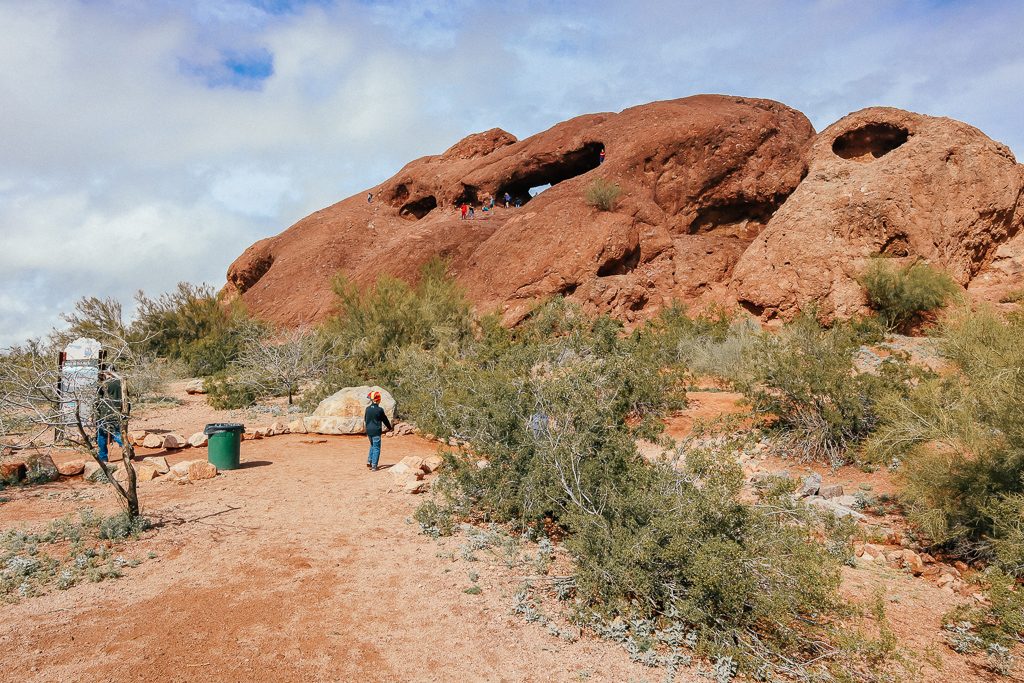 You can actually get to this trail through the parking lot of the Phoenix Zoo. Turn left once you enter the zoo and continue until you see an additional parking lot near the butte, next to the lagoon.
We went here mid-afternoon, although this is a very popular spot to watch the sun set. Due to weather and other activities while we were in Tempe, we weren't able to get up here for a sunset but I'm so happy we got to see it and do a little bit of exploring.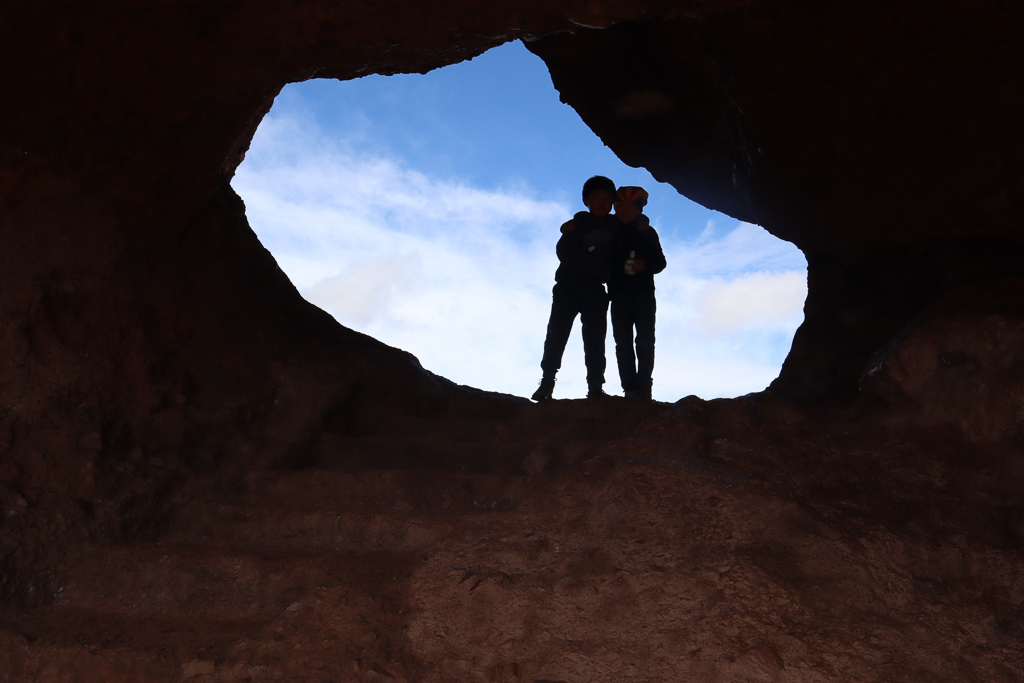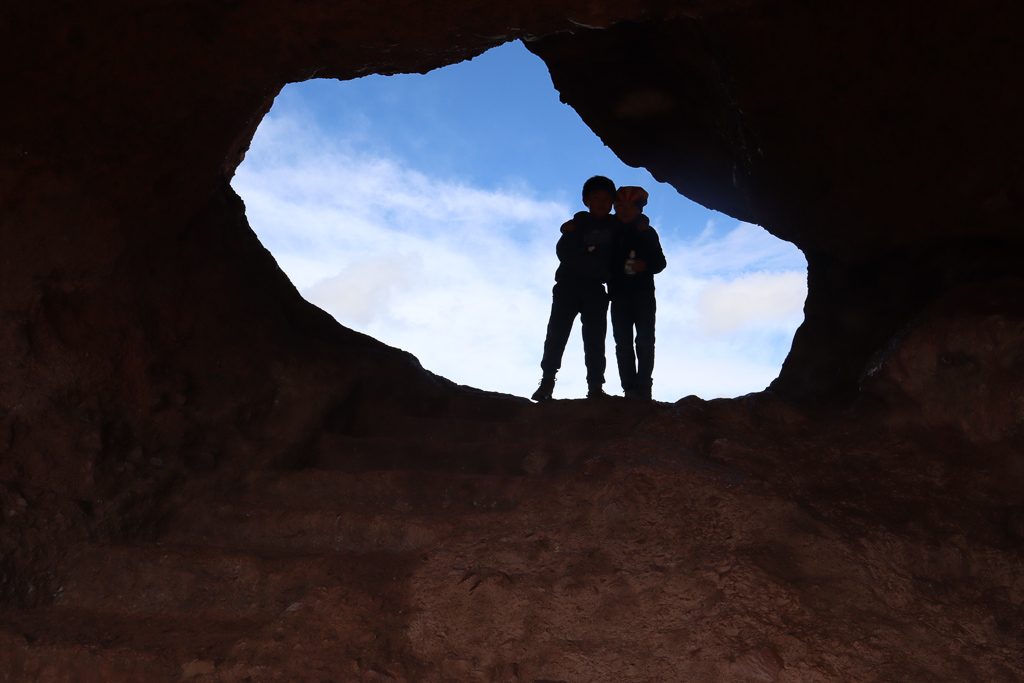 Hole in the Rock is a natural geological formation located in a municipal park shared by Tempe and Phoenix. The name "hole in the rock" refers to a series of opening called tafoni that eroded in a small sandstone hill, presumably caused by water flow. Early inhabitants of the area may have used the opening in the rock to mark the seasons.
See? You learned something, didn't you. I love it when my kids learn something during traveling and don't realize they're learning. When you're planning your trip to Tempe with kids, you can stock up on all these little educational tidbits – like tafoni – beforehand. They'll never suspect a thing!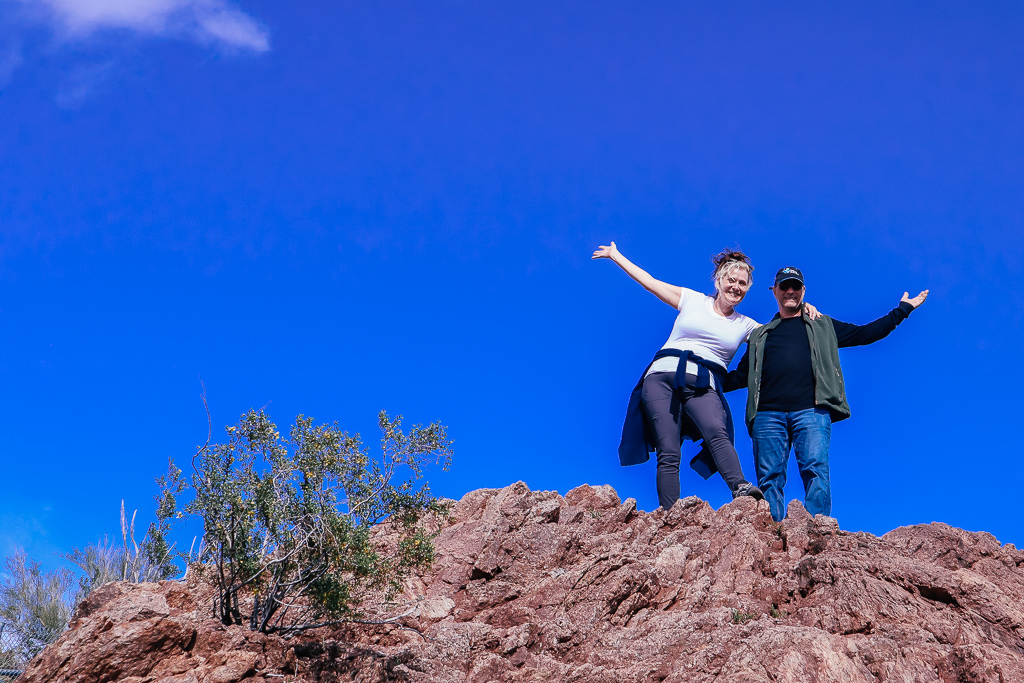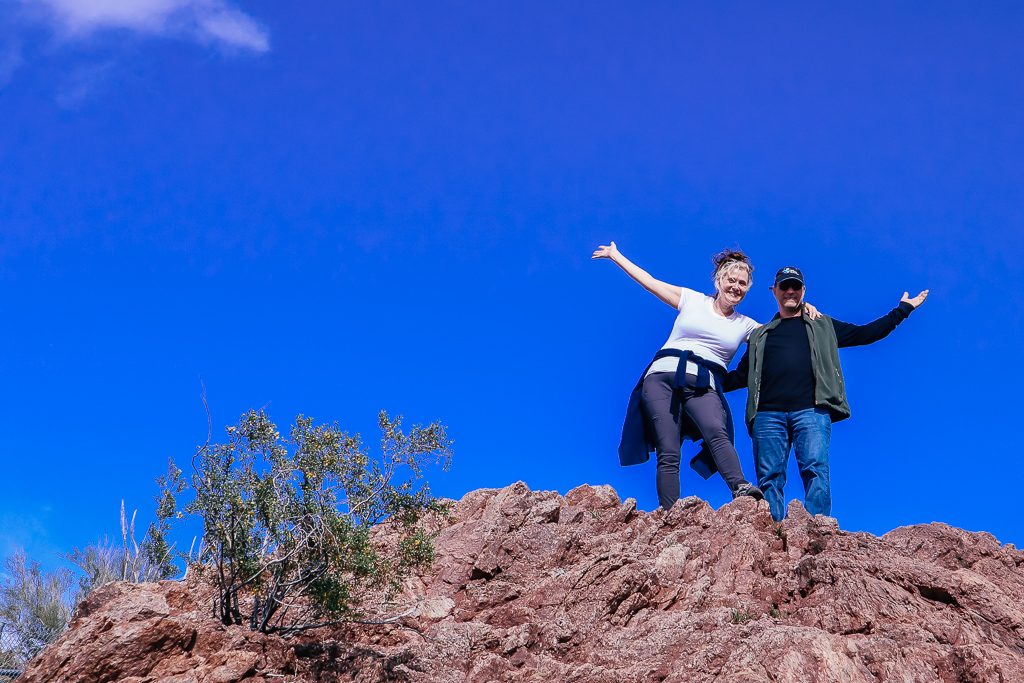 Hole in the Rock is easily accessible via a short pathway behind the hill. It takes about 10 minutes to get to the top, so if you're planning to watch the sunset, take that into account and make sure you know the time the sun will be setting on the day you plan to hike.
I'd call this a moderate to advanced level hike, depending on how much climbing you really want to do. This was one of our favorite things we did in Tempe and I'm so glad we got to go. We had some uncommon weather – windy and rainy – when we were there and I was afraid it was going to prevent us from going up. I would not recommend this one in the rain or slick conditions.
Hole in the Mountain should be at the top of your list of things to do in Tempe. Fortunately, it's in a great location and easy to get to.
4. Hall of Flame Fire Museum
The Hall of Flame includes more than 90 pieces of firefighting equipment and trucks dating from 1725 to 1960. Even if you're not interested in the history of firefighting (not super high on my list of exciting things) and you have kids, considering going. There's something about kids and firetrucks – especially boys and firetrucks – and there is quite a bit of hands-on activities, such as a station where your kids can dress up like firefighters and sit in a real firetruck.
There's also an area in the back that is mocked up like a firehouse, complete with a pole. My kids would have been happy to play here for hours, although I'd consider this one of the kids activities in Tempe geared toward younger kids.
If your schedule is compressed, you can skip this when deciding what things to do in Tempe are going to be on your list of must-dos. If you're looking for an indoor kids activity or you're a firefighter, you might give Hall of Flame higher priority.
The Hall of Flame is open Monday through Saturday from 9:00 a.m. to 5:00 p.m. and on Sunday from 12:00 p.m. to 4:00 p.m. For more information, check out their website.
5. SEA LIFE Arizona Aquarium
I was really surprised to an activity dedicated to sea life in landlocked Arizona, but we did and my kids had a blast here. This is a mostly indoor attraction, with some water play available outdoors.
SEA LIFE Arizona Aquarium also offers special events, such as animal encounters and mermaid viewing. Check online before you visit or ask a staff member what's available that day. Our favorite part was walking through the 360-degree ocean tunnel. SEA LIFE does an awesome job at giving our kids a unique view of the ocean.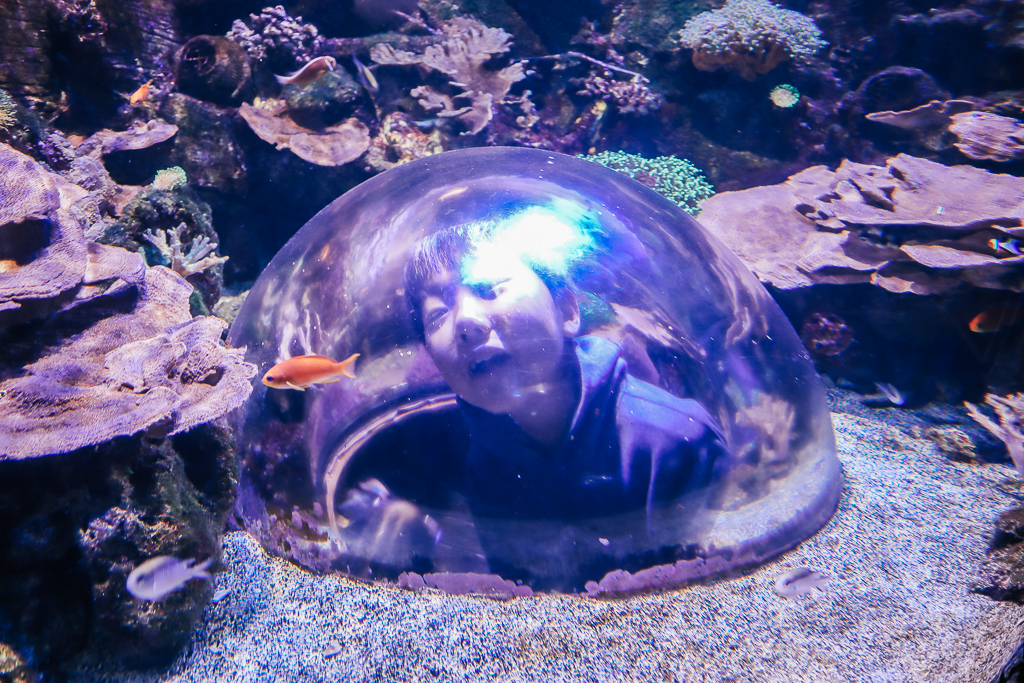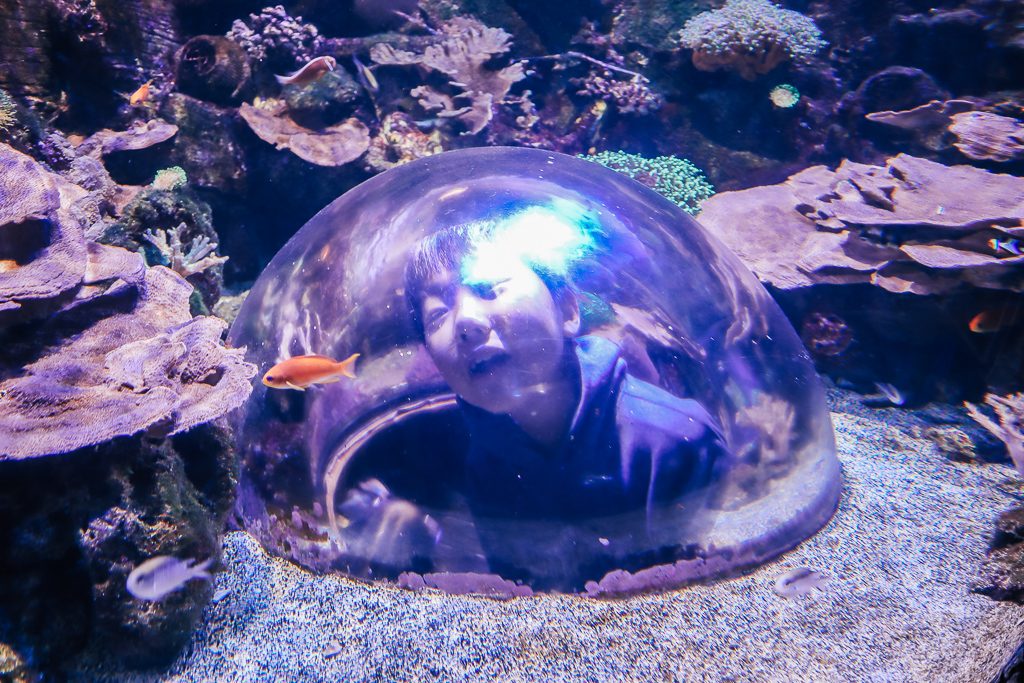 SEA LIFE Arizona Aquarium is located at 5000 S. Arizona Mills Cir, Tempe AZ 85282. Hours are Monday through Saturday 10:00 a.m. to 6:00 p.m. and Sunday form 11:00 a.m. to 5 p.m. You can get more info on their website.

Admission is 24.95 for adults and 19.95 for kids, although you can save money if you buy online. If you buy a ticket to LEGOLAND Discovery Center (see below) you can get a pass for $5. I don't think the experience is worth the money as a stand-alone experience but as an add-on for LEGOLAND, it's a great value.
6. LEGOLAND Discovery Center
LEGOLAND Discovery Center is co-located with the Sea Life Discovery Center in the Arizona Mills shopping center…see above for directions. This is a small on space, big on fun attraction. We stayed for about three hours and honestly my kids could have stayed all day if we'd let them.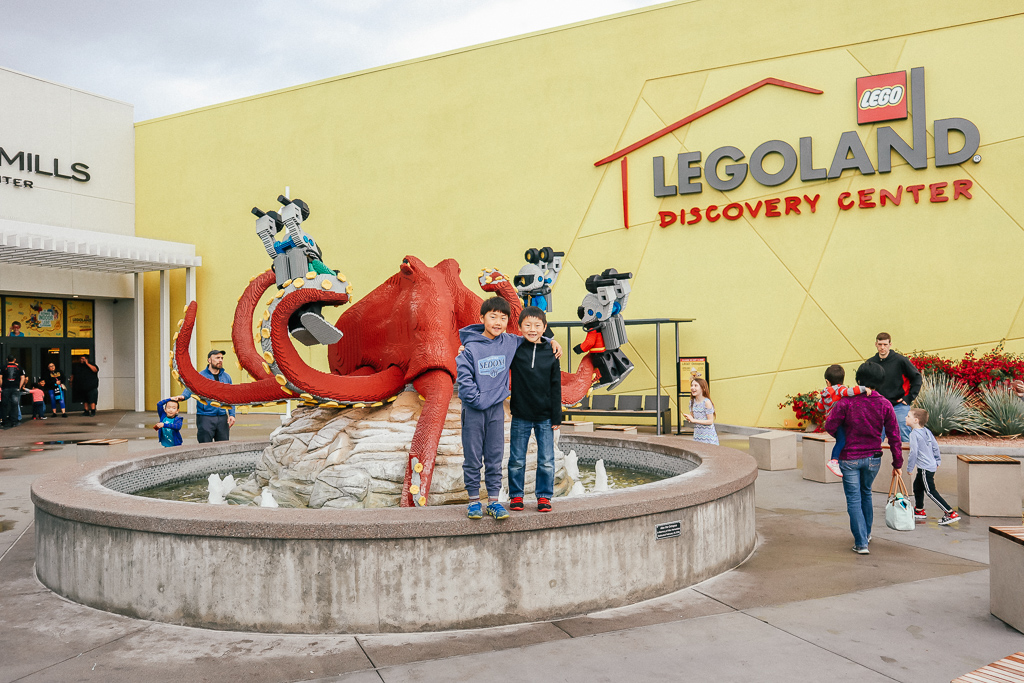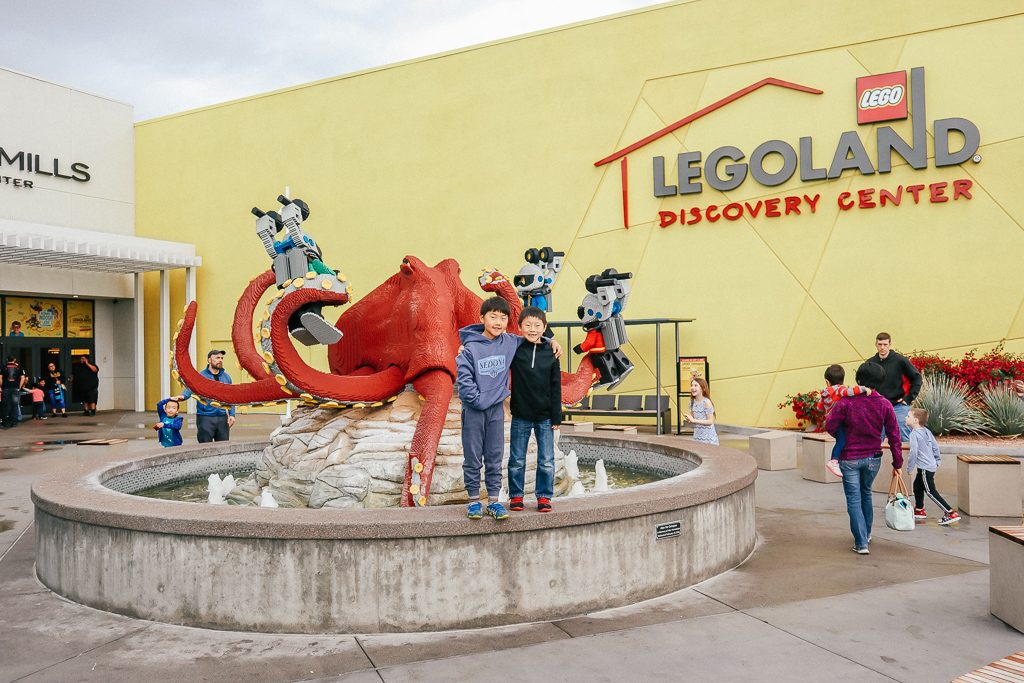 There are two rides inside, a 4D theater, and multiple stations where you can build and create. There are also classes with a master builder you can sign up for and a food court with seating for the parents.
I liked that the seating was central…unless your kids are really small, you can park yourself and let your kids run from activity to activity and have pretty much a 360 view of what they're doing. Keep a sharp eye on your kids – the exit isn't controlled. The food court had decent food and hot coffee and we loved that our kids could pick and choose what they wanted to do and move from activity to activity.
Admission is $29.95 (walk up price) but buy your tickets online to save money. As I mentioned before, you can buy a combo pass for both LEGOLAND and SEA LIFE Arizona Aquarium at a savings.
The only negative I have about LEGOLAND and SEA LIFE is that the entries are disorganized. We had passes in hand in advance of our visit and we had to stand in line with everyone else who was buying tickets. If there had been a line for people who already had their tickets like there is at most theme parks, it would have been great. We found the line process at LEGOLAND to be very confusing. There was one line for admissions and one line to buy tickets and a third line that we weren't able to figure out…we asked two different employees and got two different answers.
But, the kids' enjoyment of both places outweighed the chaotic entry process…just bring an extra dose of patience. For more info, visit their website.
If your visit to Tempe with kids includes older kids, LEGOLAND and SEA LIFE might not pique their interest. Fortunately, both are located in a very nice shopping center that offers things to do in Tempe that appeal more to older kids. Check out this article on Traveling Mom for a list of kids activities in Tempe that is more inclusive for kids of different ages. This one is more geared toward what my eight and nine year old liked.
7. Spring Training (Cactus League) – One of the best, seasonal things to do in Tempe
If you are a baseball fan, Tempe is a great place to be. Even though our Detroit Tigers play in Lakeland, Florida, it was still really exciting for us to see a spring training baseball game. We showed up to cheer for the Angels when they played the Mariners and had a great time.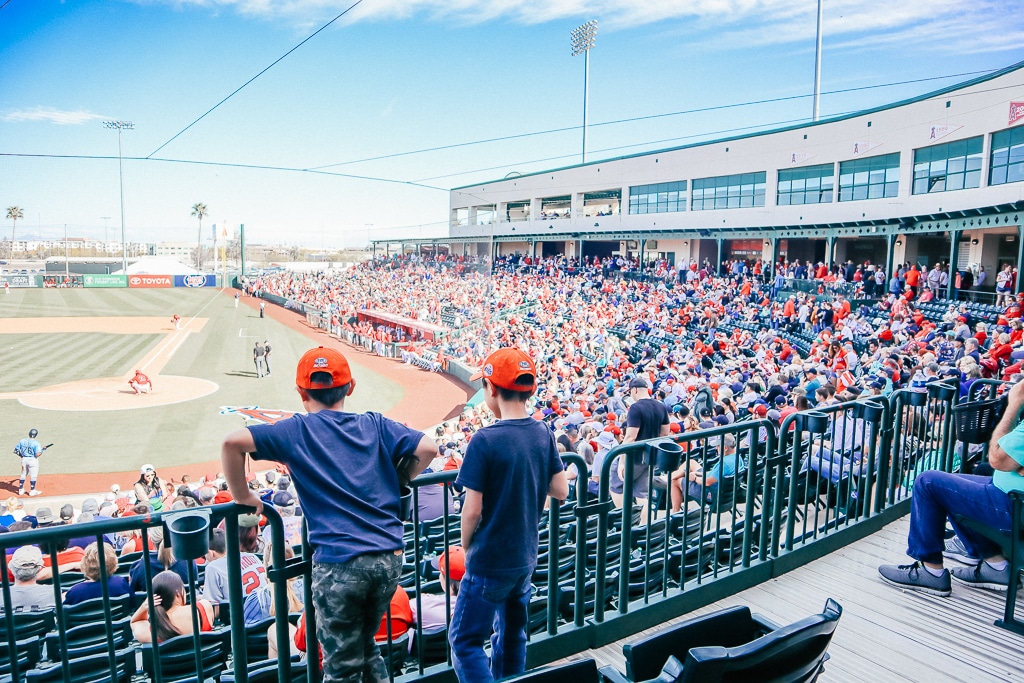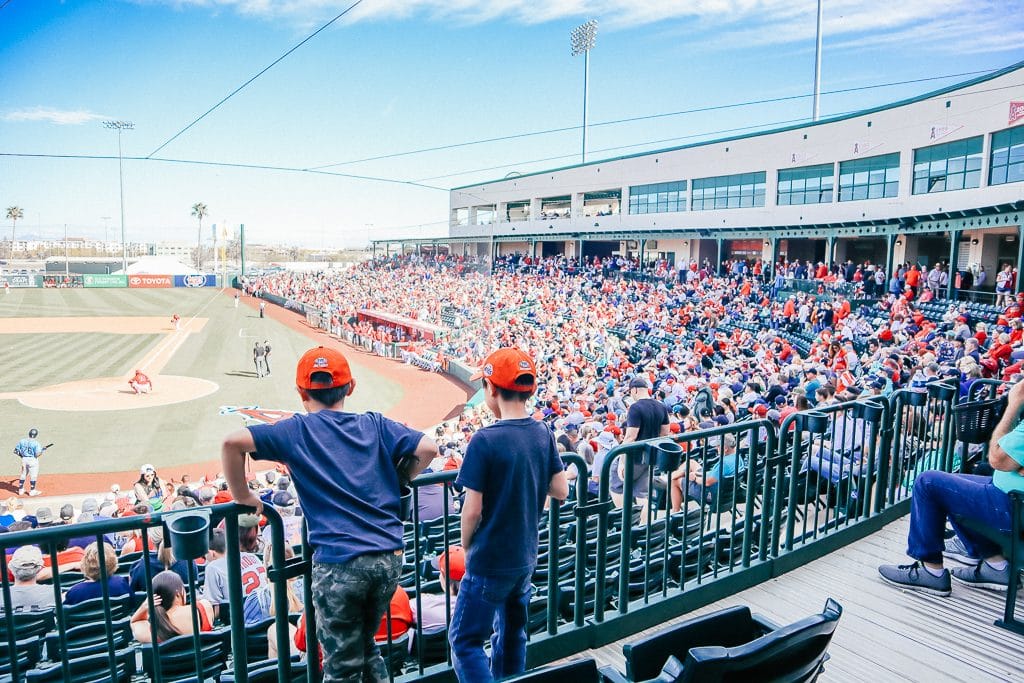 And let me tell you…spring training is NO JOKE. We were anticipating rolling in about ten minutes before first pitch and enjoying some great baseball without the major league crowds. WRONG. The people in Tempe love their baseball and love their Angels. There is ample parking in the general area of Diablo Stadium, but unless you get there an hour (or more) early, you'll be walking a long way to get to the entrance because the stadium parking will be full.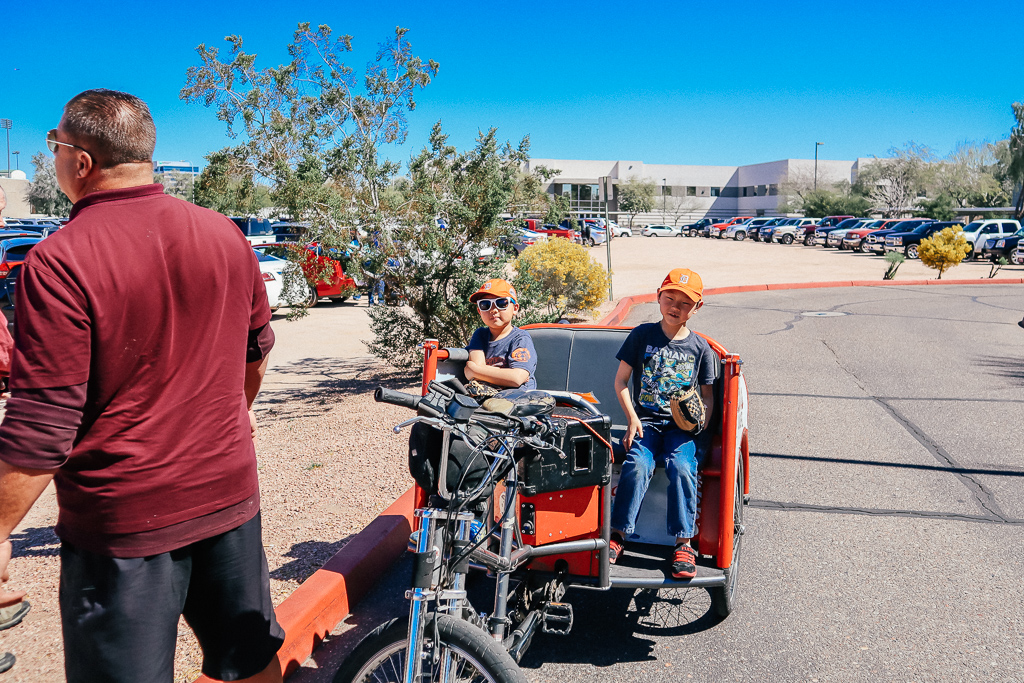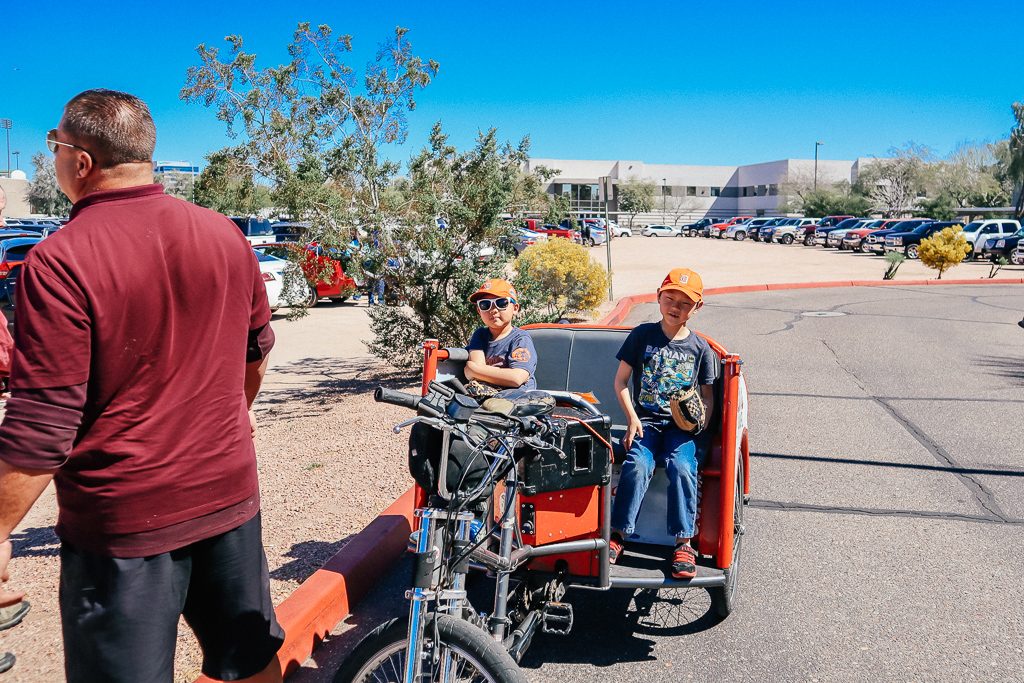 We decided to treat ourselves to a ride in one of these pedicabs to get us to the front a little bit faster and my kids thought it was super fun. For more info check out Tempe Baseball.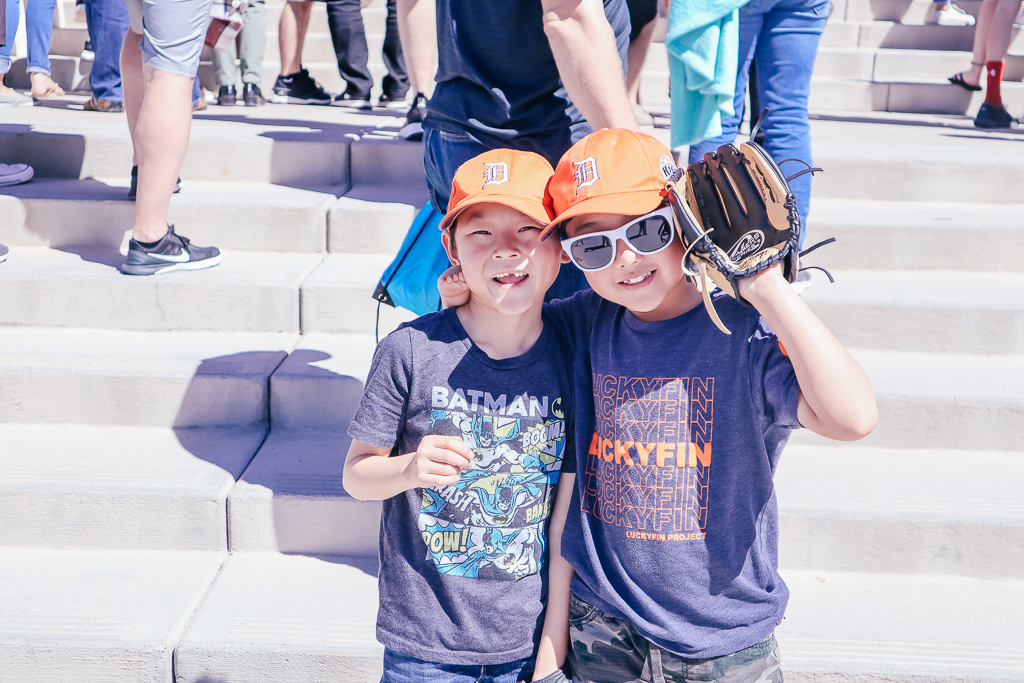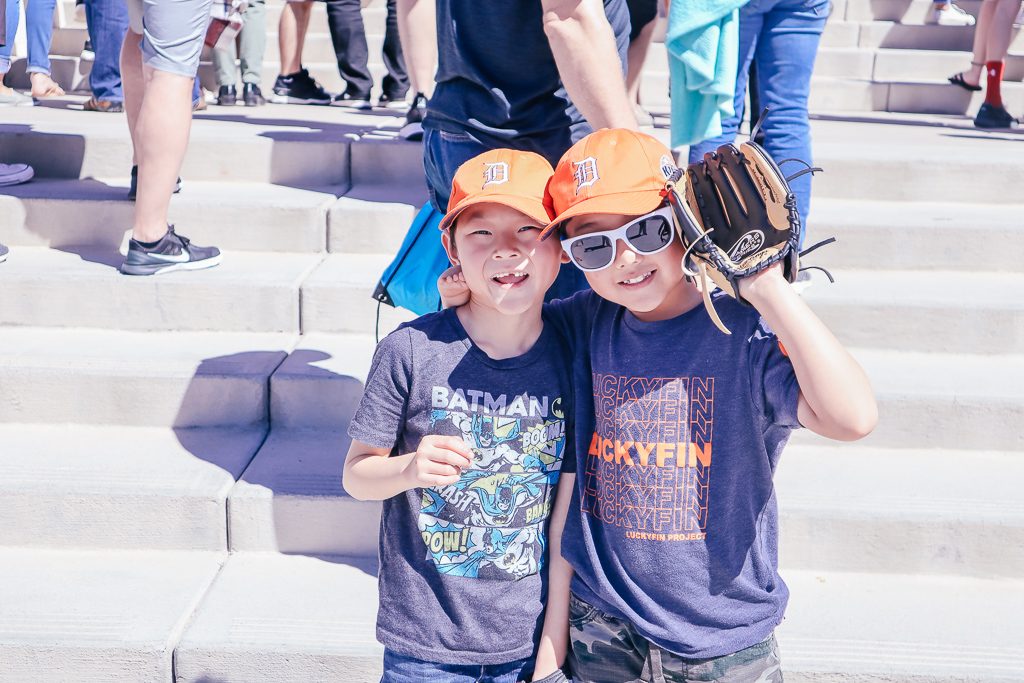 8. Tempe Beach Park
I bet you didn't know Tempe had a beach, did you? The Aloha Fest was in full swing when we arrived in Tempe, so it was really fun to check out that. When you're planning your visit to Tempe with kids (or anywhere else for that matter) check to see what local festivals you might catch. It's really a fun way to meet people.
Tempe Beach park also offers a boat rental kiosk here where you can rent an electric pontoon boat, a kayak or a paddle boat. They also offer bike rentals by the hour. More info here.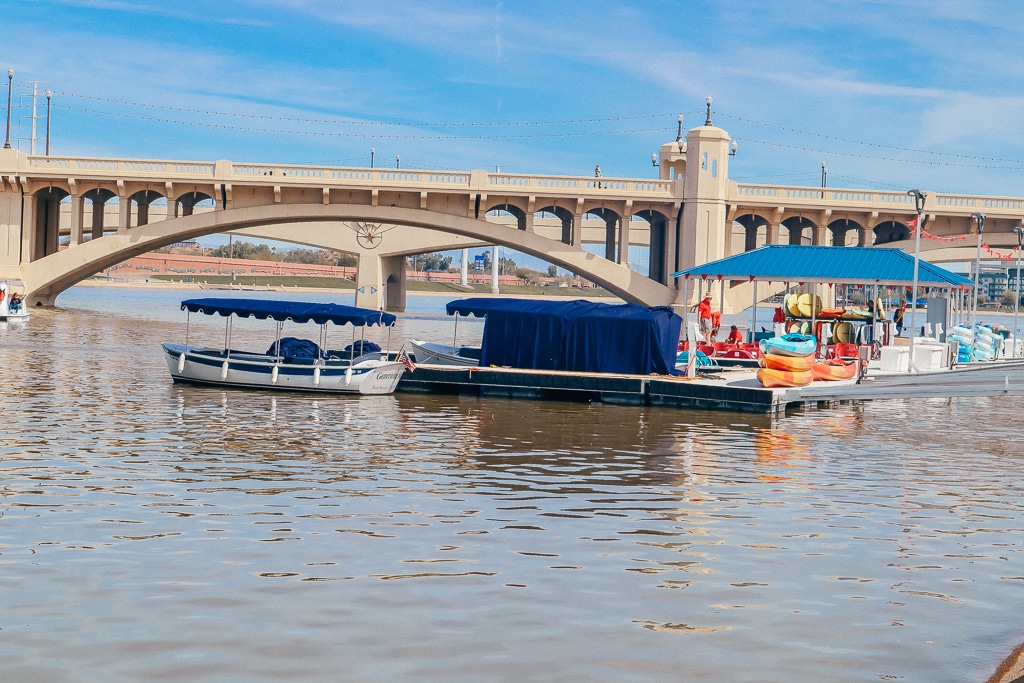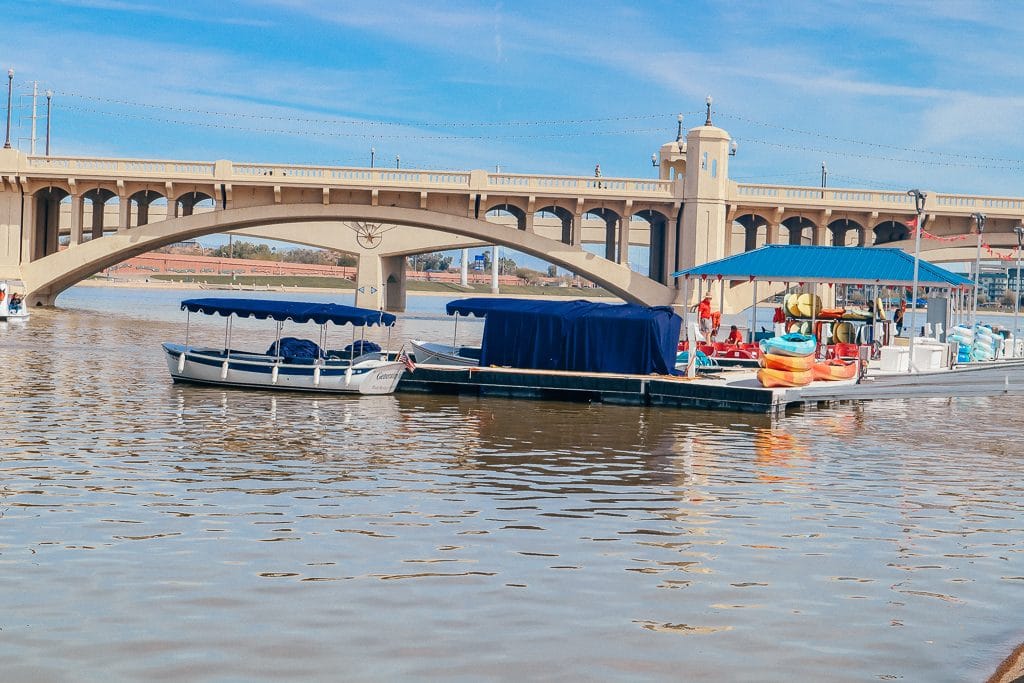 We were scheduled to take one of the pontoon boats out and we weren't able to do it due to high winds. There was definitely some very un-Tempe like weather during our visit. My kids are looking forward to going out on the boats on our next visit.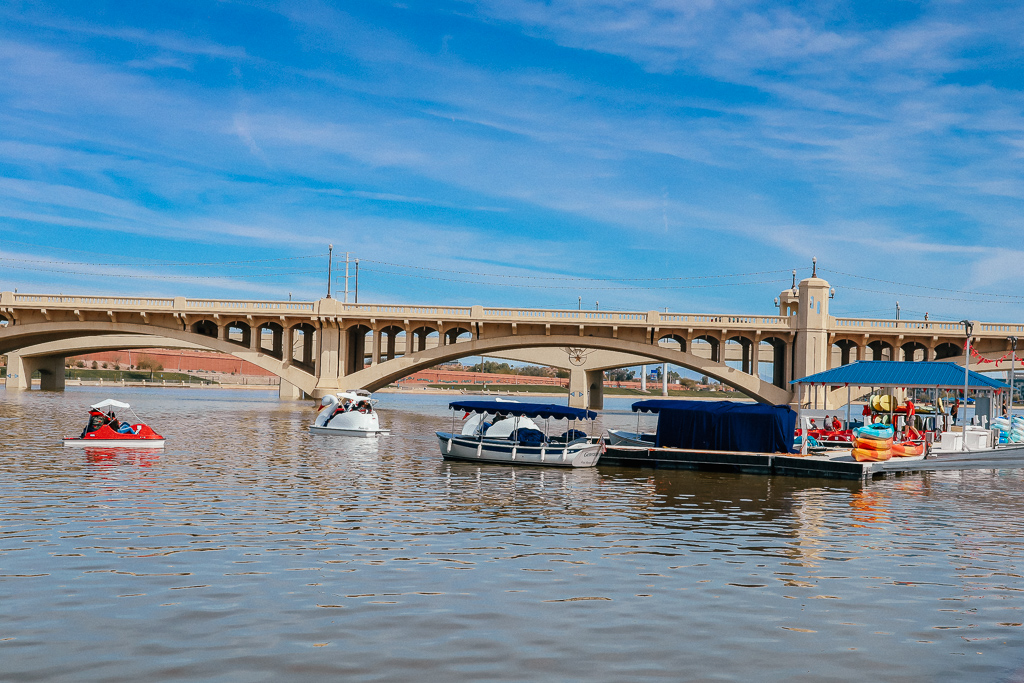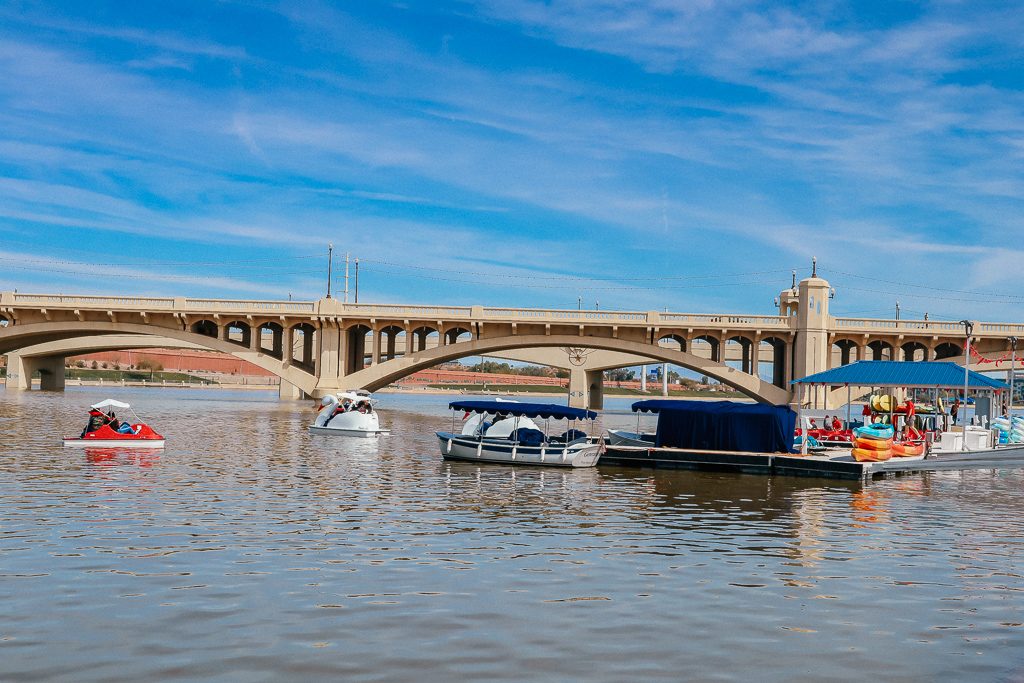 For more information on what's happening in Tempe Beach Park during YOUR visit or to check out other events in town, check out the link at the bottom of the page. Tempe Beach Park is located at Mill Avenue and Rio Salado Parkway.
9. Explore Tempe with kids – Go downtown and walk around
There are a lot of fun restaurants, shops, bars you can walk to in the downtown area. There's also an AMC Movie Theater that is pretty much the BEST. THEATER. EVER. We were supposed to hike South Mountain Park and Preserve our last day in Tempe and the winds were so strong that my kids were having a hard time walking down the street…so we saw Captain Marvel in comfort.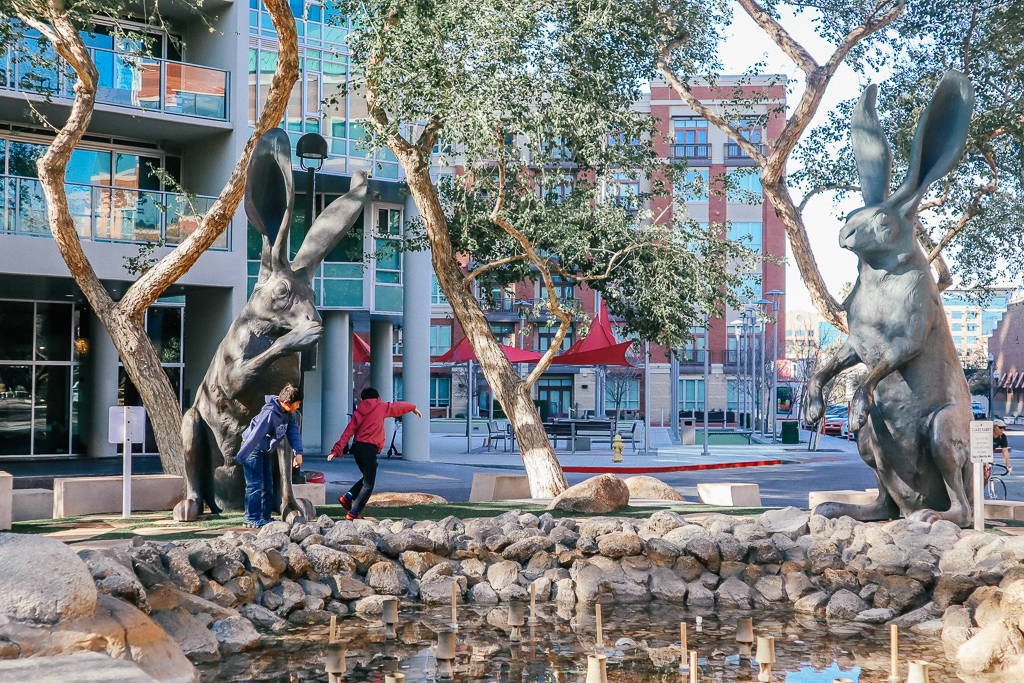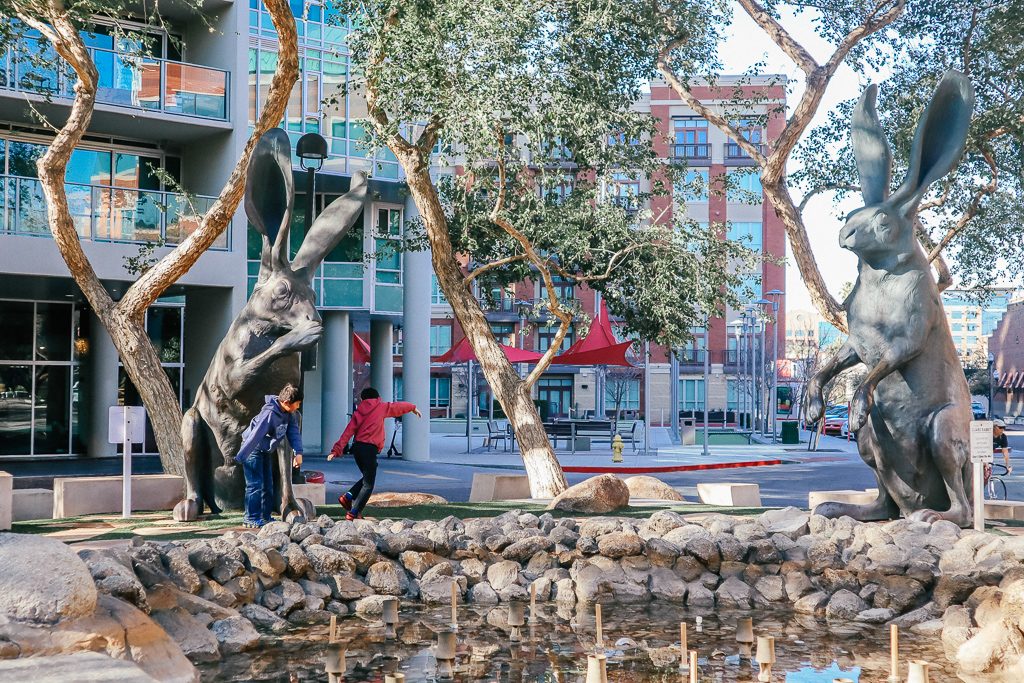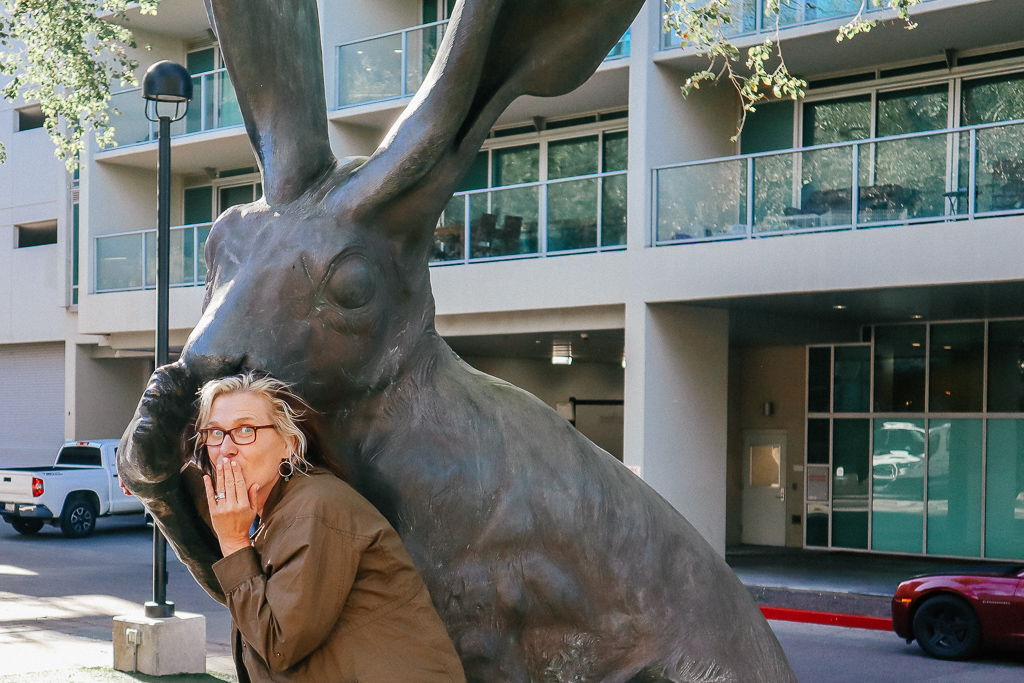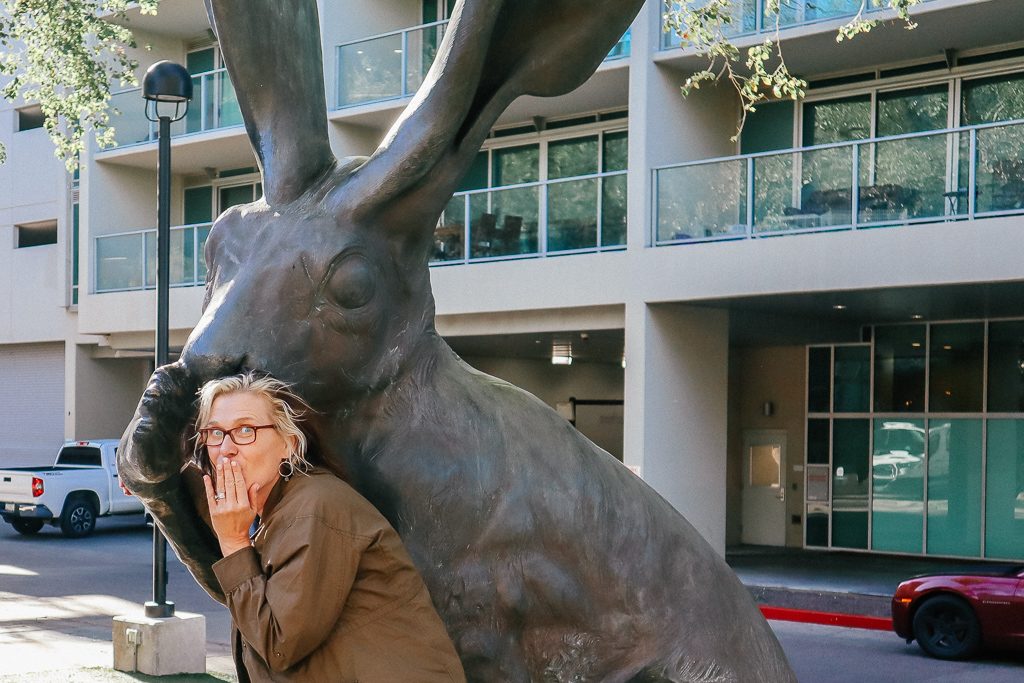 I do love me some good gossip…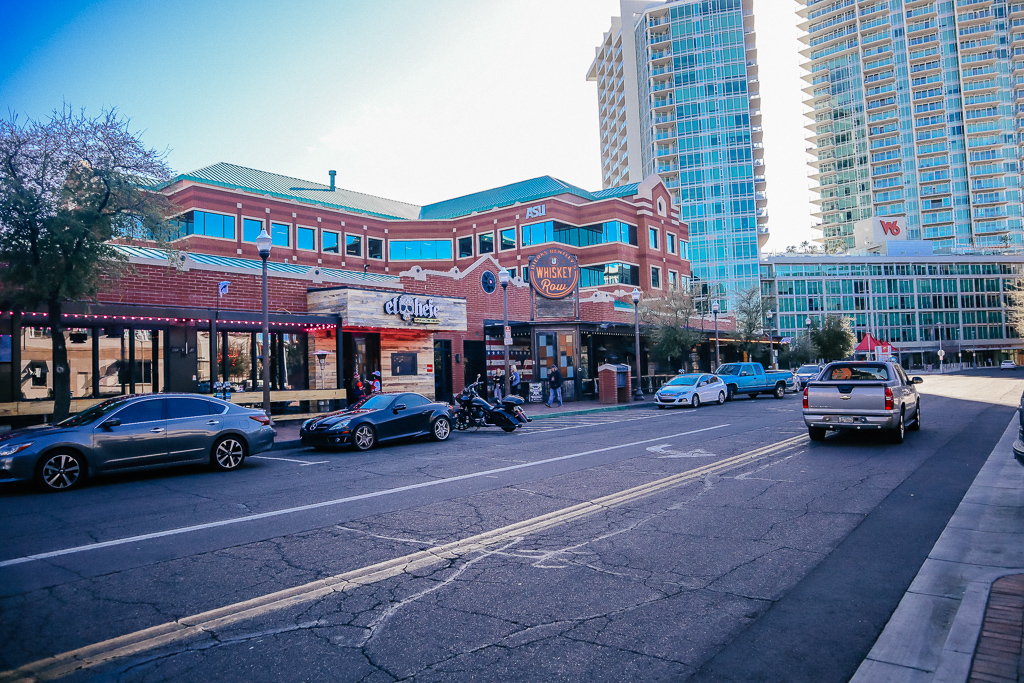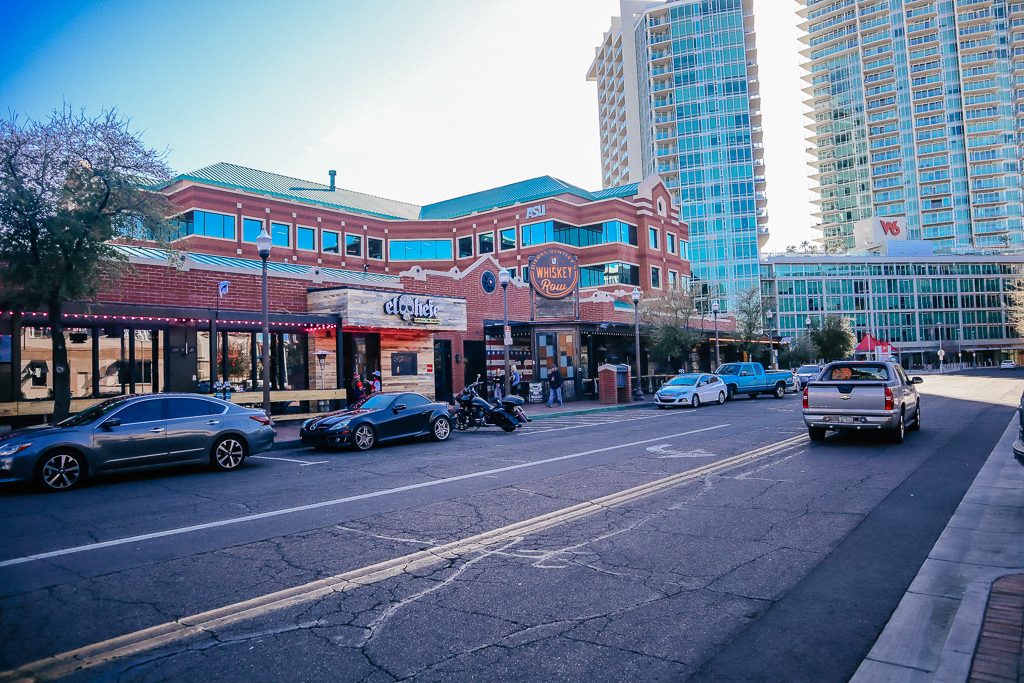 You will pay for parking just about everywhere in downtown Tempe. The meters are easy to use but I didn't see any free parking.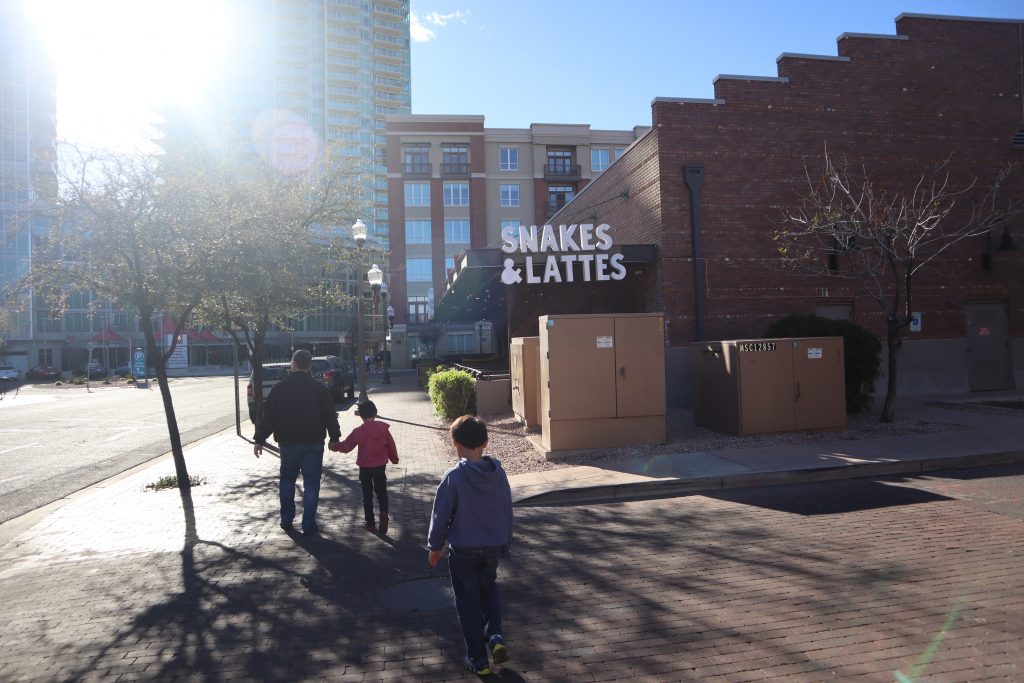 10. The Main Event Entertainment
Main Event Entertainment operates high volume family entertainment centers throughout Texas and Arizona. We have one in San Antonio but it's clear across town and my boys consider it a big deal to go. This 58,000 square foot center is home to 26 high quality recreational bowling lanes, laser tag, a gravity high ropes course, billiards and shuffleboard tables, more than 125 interactive games and a tempting array of food and beverage.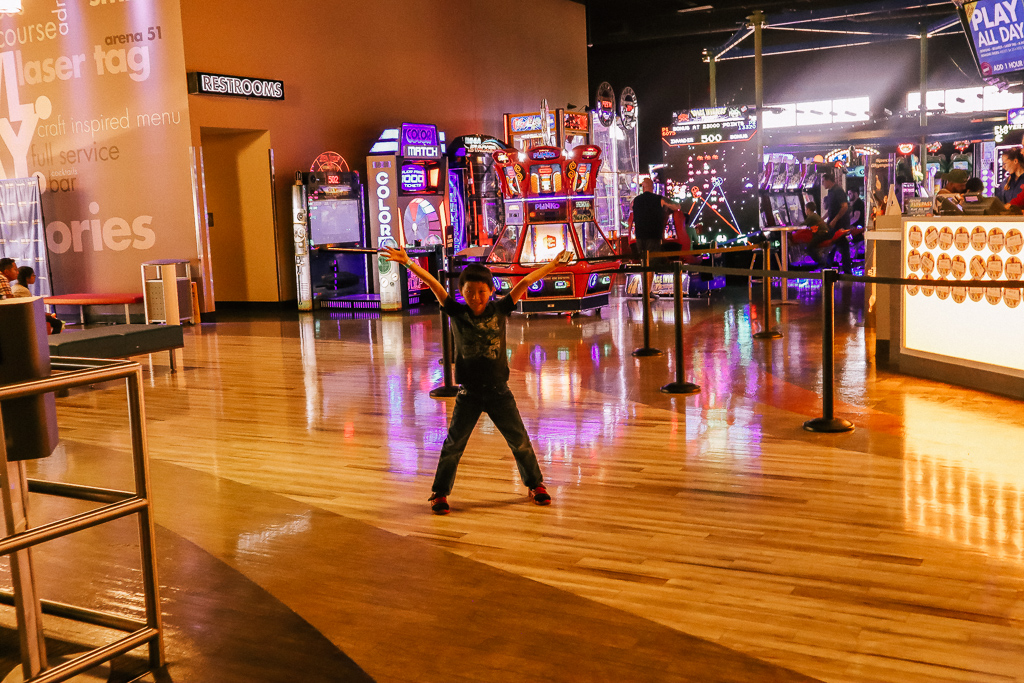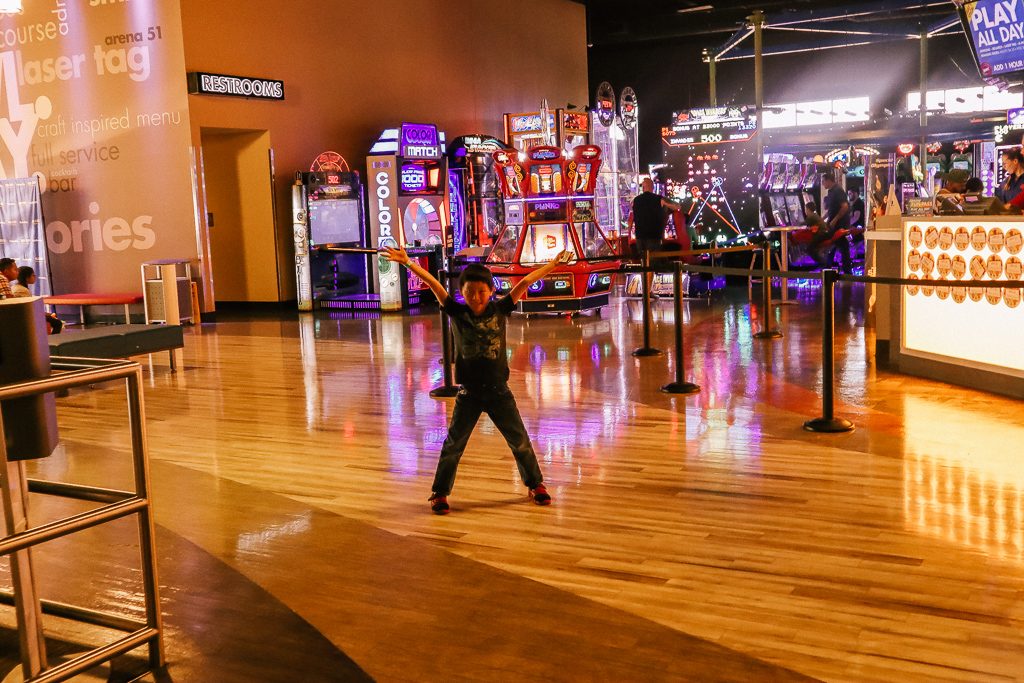 My husband and I were able to sit and relax over a beer (our friends from Surprise joined us for a little bit) while the boys indulged in allllll the video games and got their fill of laser tag (although let's be real, they're probably never going to agree that there is enough laser tag in their lives.) The food is very good – it's definitely not arcade or snack bar food. It's a great place for the kids to go crazy but there's also lots for adults to do, too. We saw a lot of younger adults without kids and one couple who was on a date so this isn't exclusively a place for kids activities in Tempe by any means.
To learn more about the Main Event, visit their website.
11. Gallery of Scientific Exploration at Arizona State University – Something unique on your list of things to do in Tempe
The Gallery of Scientific Exploration is outfitted with kiosk-style interactive exhibits and large-format, high-definition monitors that display video from Earth-observing satellites and robotic probes of other worlds. This first-floor gallery invites visitors to explore earth and space sciences through digital media, public lectures, visible laboratories, and interactive displays. The university's meteorite collection is on level 2. If you're looking for another great indoor activity in Tempe, this could be it. For more info, visit their website.
Want to plan your own trip to Tempe? Of course you do (duh.) I hope you'll bookmark this page or save it to Pinterest to refer back to later. Or, if you're like me, you have an email in your drafts folder full of random links to websites you want to revisit. And, as always, if you have any questions about visiting Tempe with kids (or family travel in general) you're welcome to email me or contact me through social media.
Want to read more about exploring Tempe with kids?
You've gotta eat – check out my picks for kid-friendly restaurants in Tempe
Just interested in brunch? I feel ya. Don't miss my list of where to eat breakfast and brunch in Tempe. The brunch alone makes the trip totally worth it.
Want to explore Tempe but looking for a couple's trip or a girlfriend getaway? Tempe offers lots of options…I've only talked about a few. Check out the Tempe Tourism website for more info.
Don't see what you're looking for?
If you don't see what you're looking for here, check out the list of things to do at destinations across the globe with Viator.
Want the latest in travel guides and travel gifts? Check out what's available on Lonely Planet.