Wanna climb A Mountain? Tips for hiking Hayden Butte
(This post may contain affiliate links. Read my full disclosure.)
If you're looking for a great, easy, hike in Tempe or Phoenix, you need to check out A Mountain. No, not a mountain…A Mountain. A Mountain – AKA Hayden Butte – is a great hike for hikers of all levels and it's one of the most family-friendly hikes you'll find in the Phoenix/Tempe area. Located in the heart of downtown Tempe (trust me…it's hard to miss), you'll enjoy nearby parking and lots of things to do and places to get refreshments post-hike. My family and I say A Mountain (AKA Hayden Butte) is a don't miss when you come to Tempe.Check out my tips for hiking Hayden Butte:
Tips for hiking Hayden Butte/A Mountain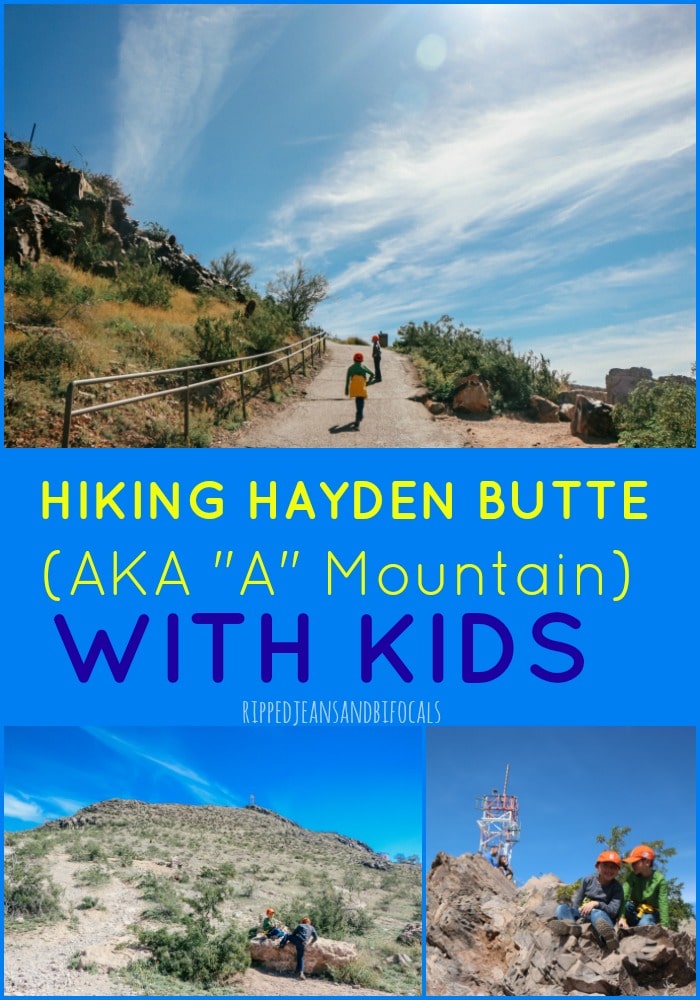 Where is A Mountain/Hayden Butte?
You can put "Hayden Butte" or "Hayden Butte Preserve" into the GPS on your phone – easy peasy. The trailhead is at the corner of East Rio Salado Parkway and South Mill Avenue. It's right across the street from one of my favorite places to eat in Tempe: The Daily Jam. We fueled up before our hike. You could also treat yourself for a job well done afterwards…either works. Or, maybe both if you really wanna indulge. No judgement from me.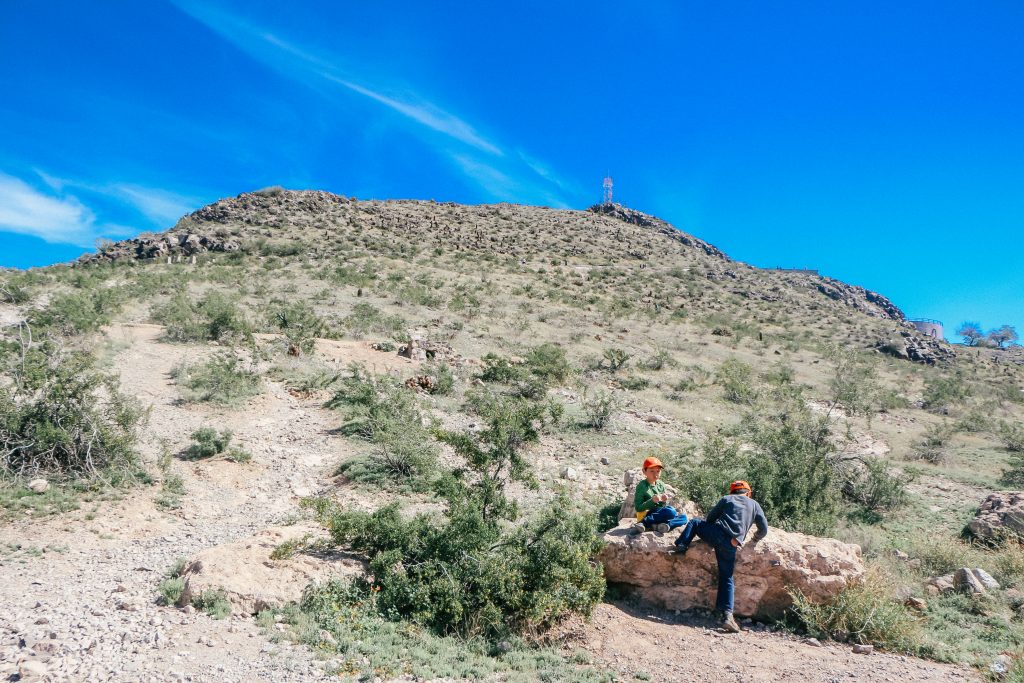 More on my favorite places to eat brunch in Tempe here.
You won't find much free parking in Tempe but paid parking is plentiful. There's a parking lot conveniently located at the base of Hayden Butte. If you're up for a little bit of a walk, there is some limited free parking across the street at Tempe Beach Park, which is also a fun place to explore if your kids still need to burn off some energy. If you're visiting on a weekend where the weather is nice (which is almost always in Tempe) the odds are probably not great at finding an open spot at Tempe Beach Park. The good news is that the paid parking is relatively inexpensive and you can use a credit card.
Want all my Tempe content in one place? Check out my "Things to do in Tempe" Landing Page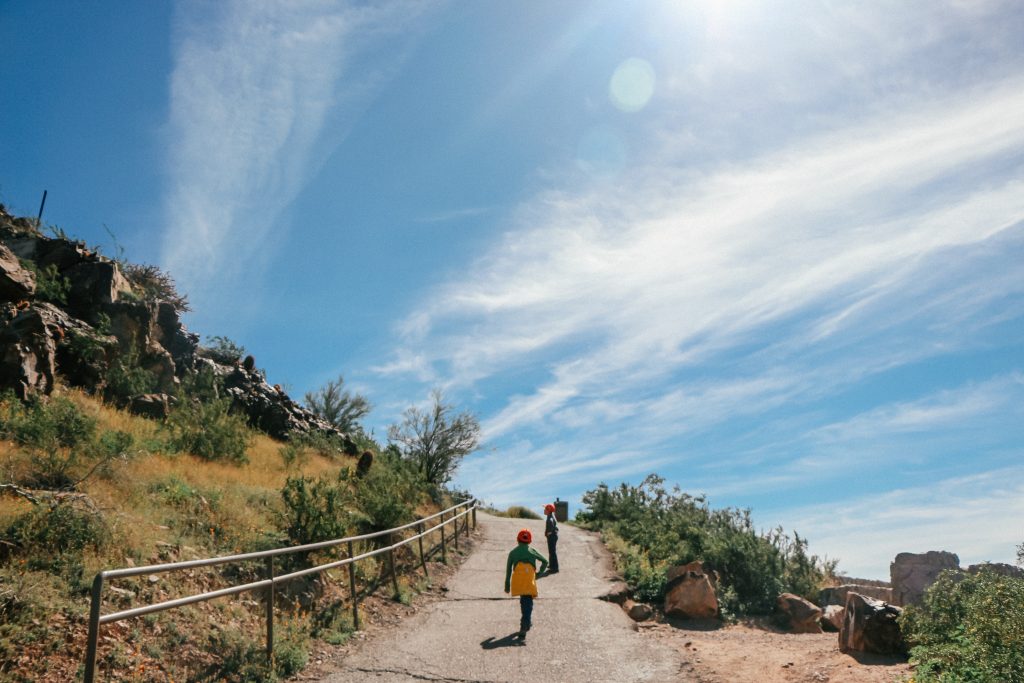 What Kind of Hike is A Mountain/Hayden Butte?
I consider this to be a fairly easy hike. There are two ways to the top: a paved path or a dirt path with switchbacks.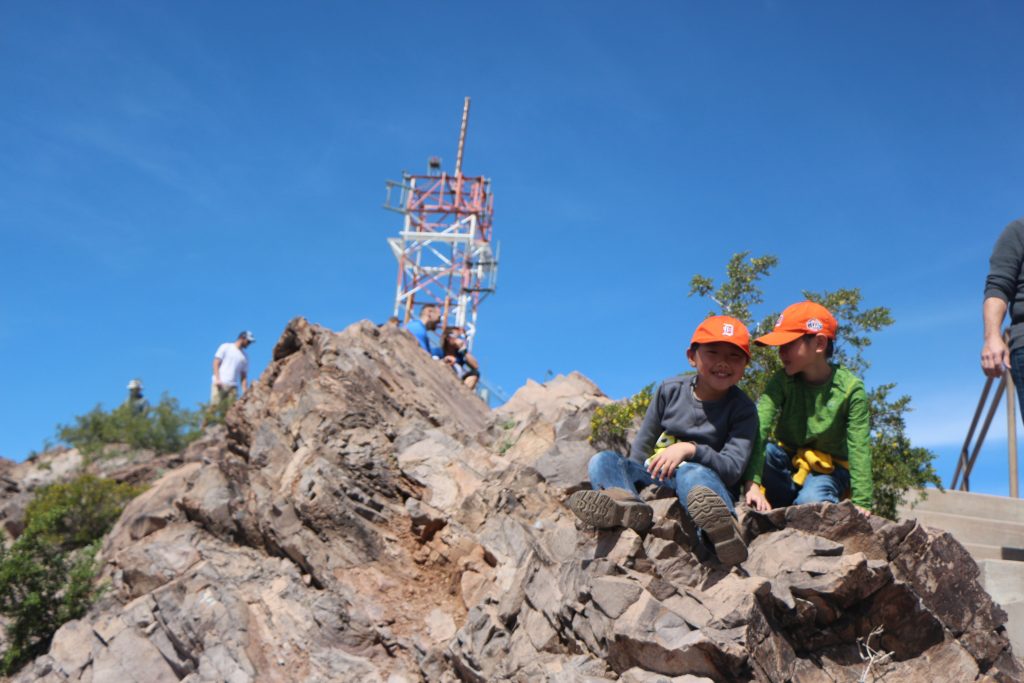 We chose to do the paved path, which is a combination of asphalt and man-made steps. While it is a very steep climb in spots, there's really no rough terrain to handle until you get to the rocky top area and even that is pretty minimal.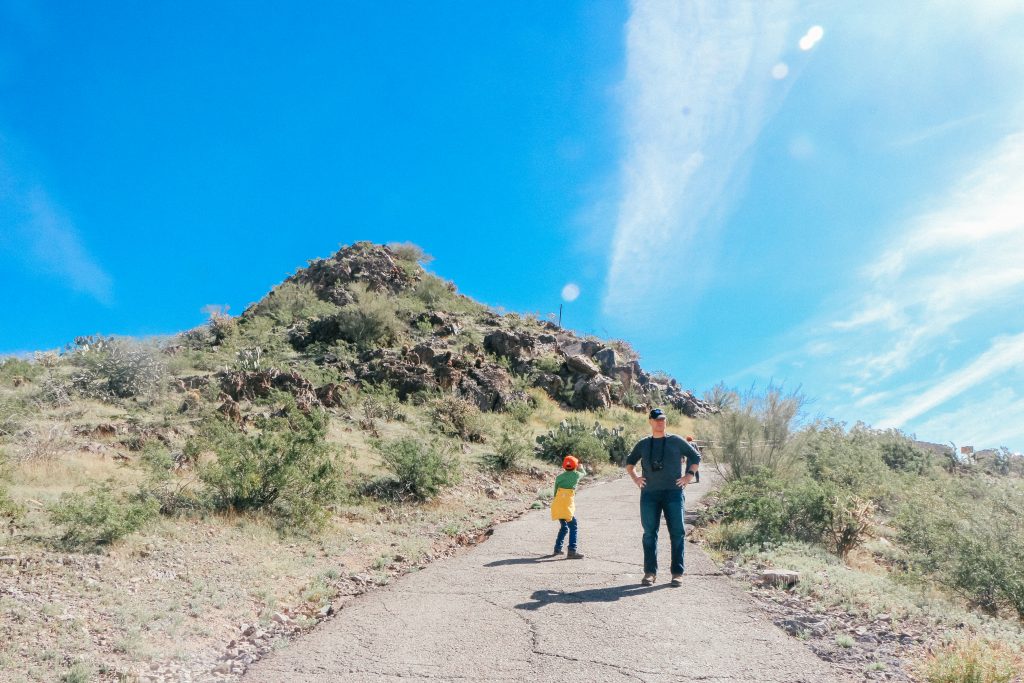 While I do consider this to be a family and kid-friendly hike, your kids need to be able to walk by themselves. Unless you've got young ones that can be transported in a carrier, this isn't the kind of trek where you're going to want to haul your kids up the steps. The path looks stroller friendly enough but you'd have a tough time with a stroller on the steps and I don't recommend taking a stroller.
It is not a long climb to the top..the total distance is less than a mile. We were up and back down in less than an hour and that's spending about 15-20 minutes checking out the views and taking pictures at the top. The views of the city and of nearby Sky Harbor Airport are really stunning.
Tips for Hiking Hayden Butte
Take water and wear a hat – Even if you hike during the cooler months (we did our trek in mid-March) the exercise will get you a little warm. Also that "dry heat" everyone talks about might fool you into thinking it isn't really hot because you're not getting as sweaty, so be careful.
While this is an easy hike, it's also a hike in the full sun. Take breaks if you need to.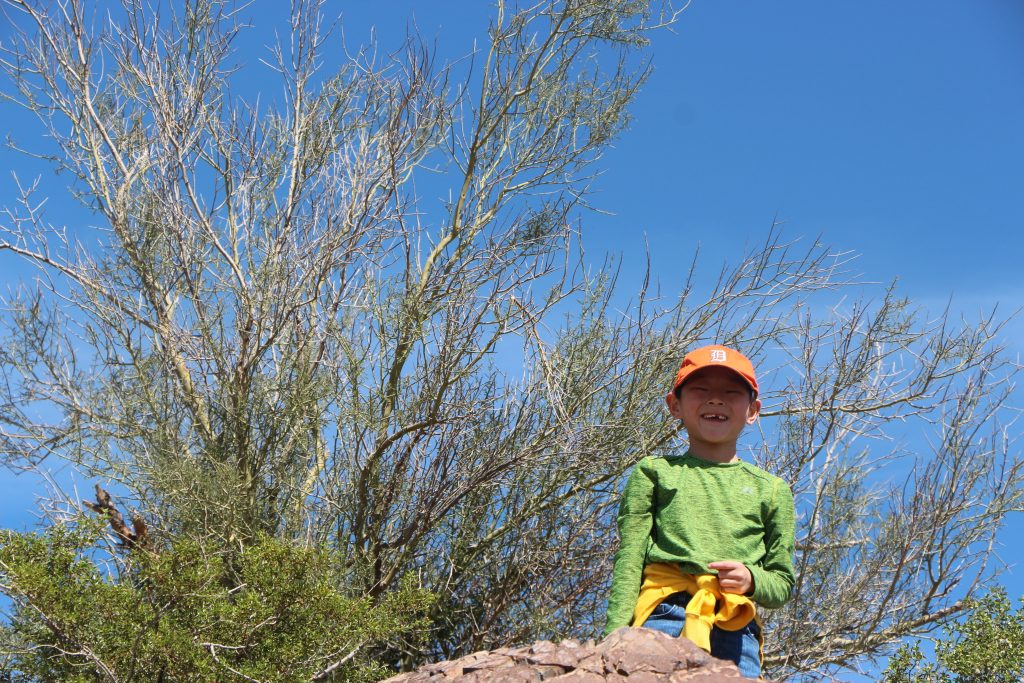 Wear good shoes – You don't necessarily need hiking boots but wear sturdy shoes with good traction. Tennis shoes are fine. I saw a few hikers in flip flops which is not a good idea.
Don't litter or disturb any features of the preserve – There are some petroglyphs on Hayden Butte, which we did not see because we only hiked the one path. Read the posted rules/prohibited items and activities before you begin.
Take the dirt path in addition to the paved path – We missed out on seeing the petroglyphs because we decided to do only one path. If I could have any do-over, we'd have done both paths or hiked up one way and down another way. Next time!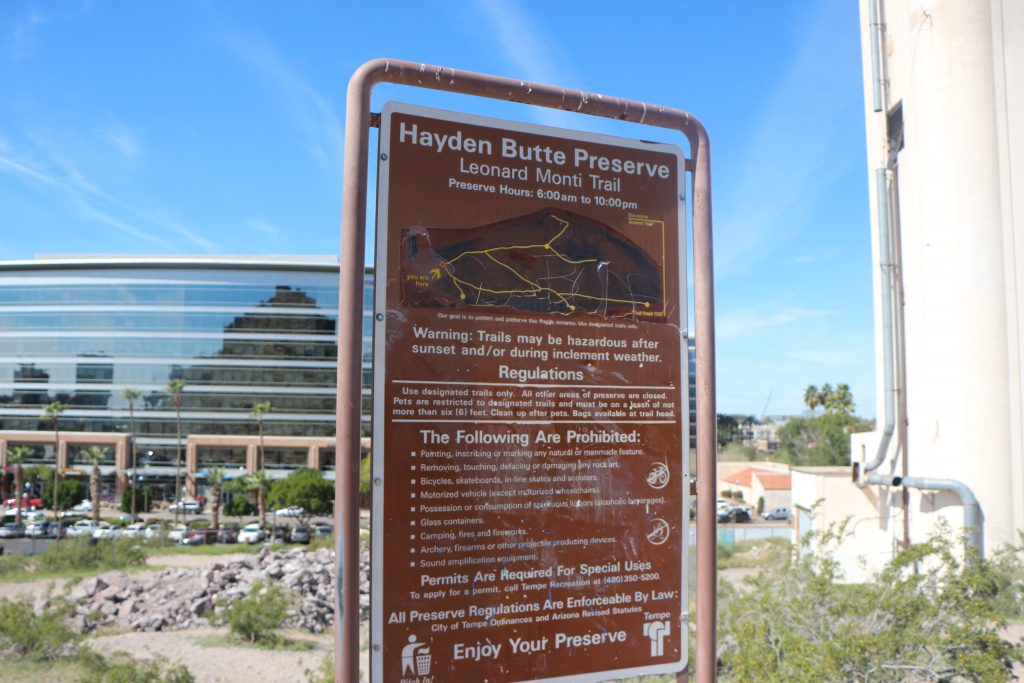 Be considerate of others on the trail – there are parts of the stairway that are pretty narrow where hikers must go single file. If you're slower or hiking with a group of smaller kids, let people go around you.
Also, talk to the other hikers! It's a very popular spot for both tourists and locals and since it is such an easy hike, you'll meet all kinds of people.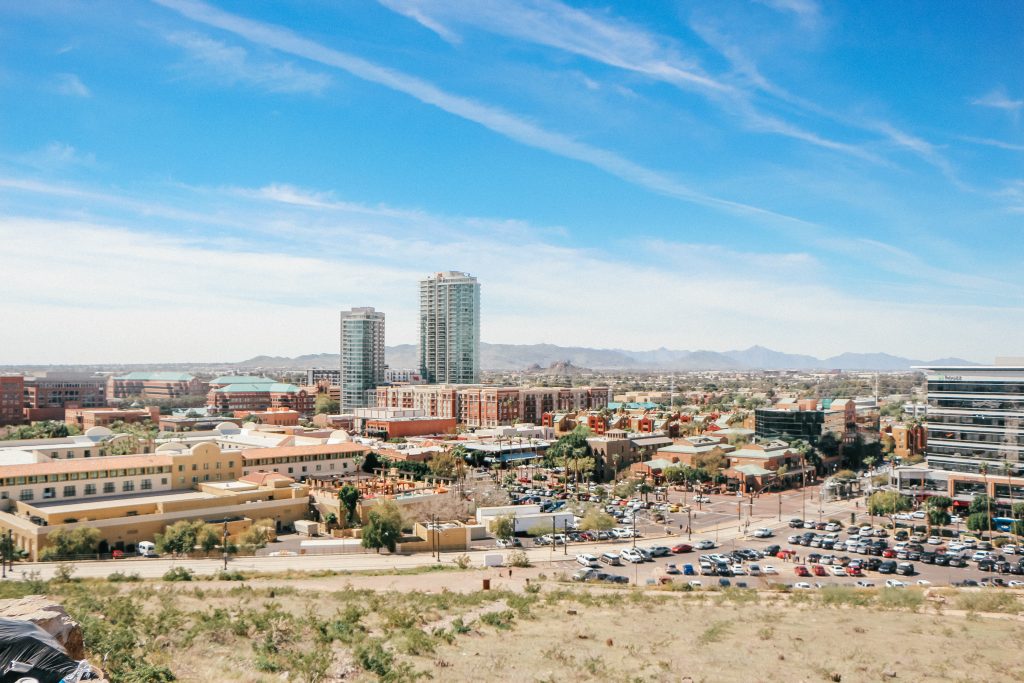 Have fun! My family and I enjoyed everything about our visit to Tempe but our trek up Hayden Butte stands out as one of our favorite memories.
Want more family-friendly activities in Tempe?
Check out the Complete Guide to Tempe with Kids & Get Your Grub On – The Top Places to Eat in Tempe with Kids