Hancock Hill Trailhead – What you need to know for a great hike
(This post may contain affiliate links. Read my full disclosure.)
One of the best and most iconic things to do in Texas – I hate the word iconic but it fits here – is to hike Hancock Hill trailhead in Alpine Texas. Hancock Hill is a hill behind Sul Ross State University. Atop this hill sits the desk on Hancock Hill and the reason this hike is sought after. If you're looking for the Hancock Hill desk map, I can help you get there.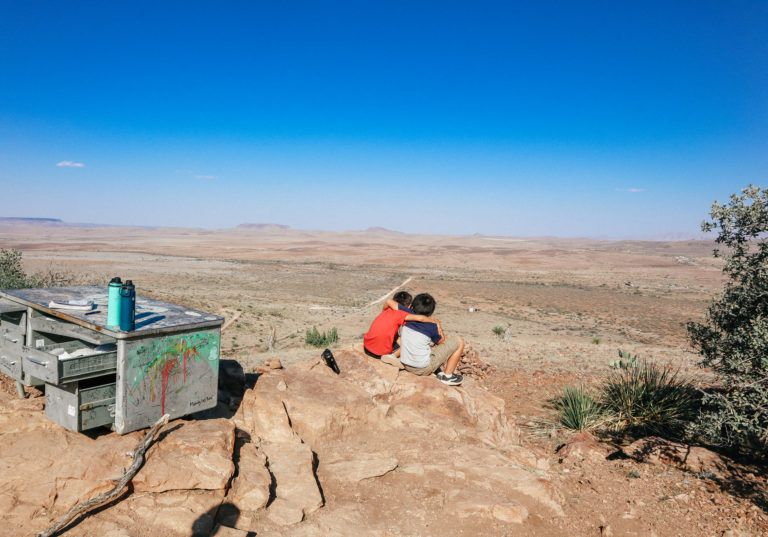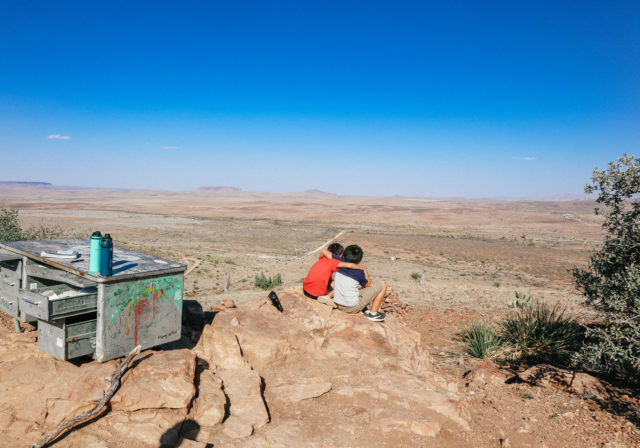 Hancock Hill Trailhead – What you need to know for a great hike
Hiking up Hancock Hill trailhead to see "the desk" is a popular hike in Texas. On the way to the desk you'll also pass the bicycle tree, which is equally as quirky but the story behind it isn't as cool. Actually…I don't know the story behind the bicycle tree but it's fun to think about what might have been in someone's mind or their motivation to create this.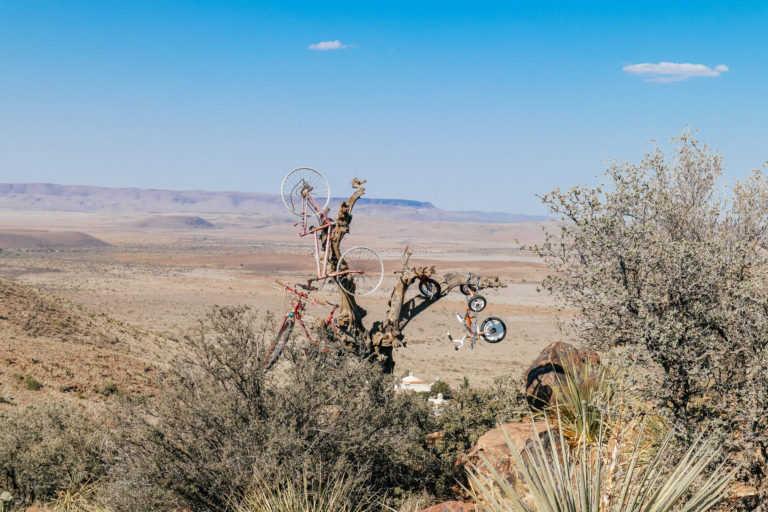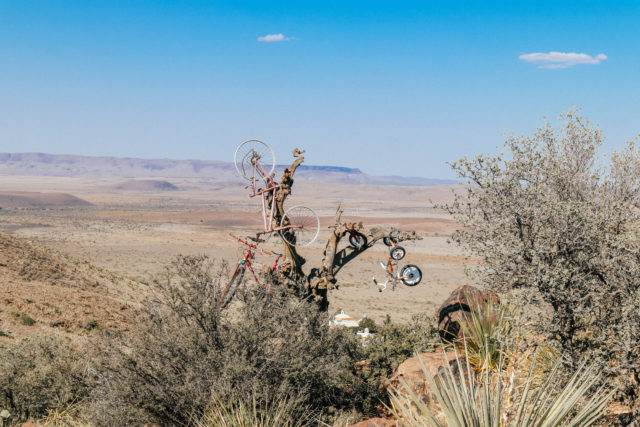 How long does it take to get to the desk on Hancock Hill Trailhead?
The hike is a 1.8 mile loop. The elevation from bottom to top is about 350 feet so it's a nice little climb. The initial portion of the trail is pretty steep and rocky but it levels out after that.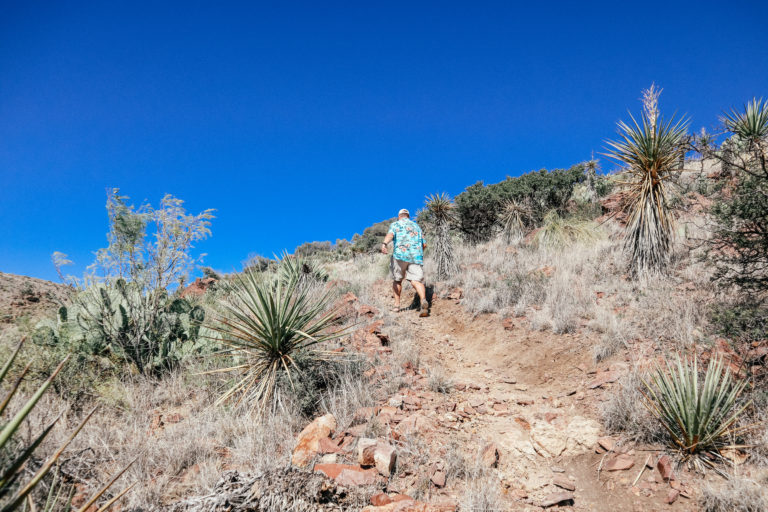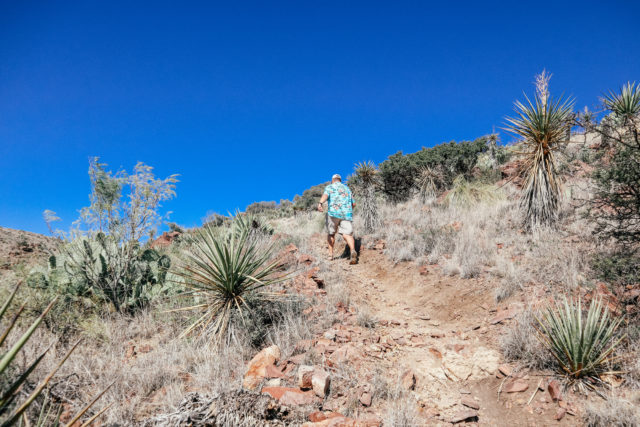 We got a paper map of the Hancock Hill trailhead (there are others to explore besides The Desk) at the Alpine Visitor's Center and we also used the All Trails App.
The hike took us about 2 hours, total. We were not closely watching the time AND we were on the wrong trail for a bit, so that is my best guess. We spent about 2o minutes at the top relaxing, taking pictures and writing in the notebook.
Using the map or All Trails app to hike Hancock Hill
We looked at the map for reference and used the All Trails app while we were out hiking. It is very easy to veer off the trail. The trails are not marked – although they are very established trails – and we happened on a more rugged trail than we'd meant to.
If you are using an app and your marker isn't right on your trail, don't assume it's "close enough" or just how the app appears. We hiked adjacent to the trail we were supposed to be on and ended up on a rougher trail. Once we figured out where we'd gone wrong, we cut across and got back to where we were supposed to be.
If you find yourself wishing for trekking poles or if you're climbing versus walking, you are probably not where you're supposed to be.
There are posted private property signs on Hancock Hill – some allow hikers to pass through and some do not, so make sure you are paying attention. Whether you're staying on public land or cutting through someone's property, don't leave anything behind.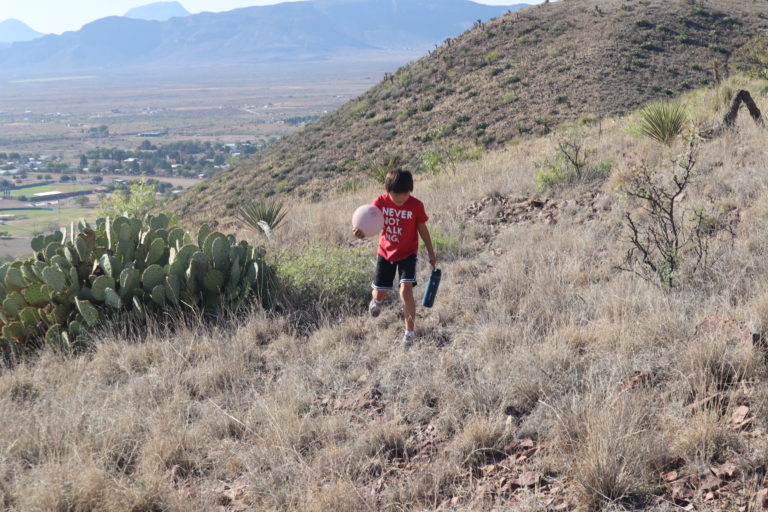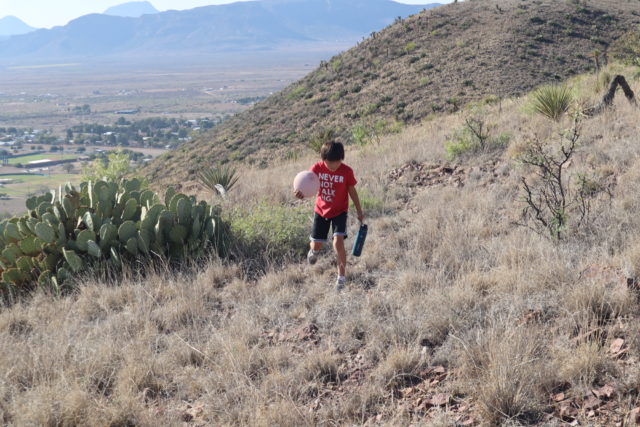 I recommend having a paper trail map or downloading a map before you start out up Hancock Hill trailhead. We had crystal clear phone reception all the way to the top but your mileage may vary.
Is The Desk at Hancock Hill Kid Friendly and Pet Friendly?
I would call this a moderately easy hike, although the trails we wandered on to accidentally were more challenging. My kids were 10 at the time of our visit and they scrambled up the hill with no issues at all. Most kids five and up should have no problems at all.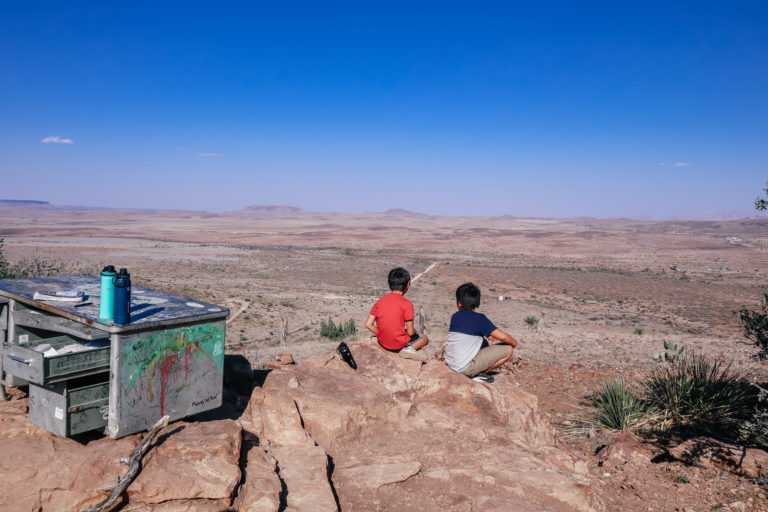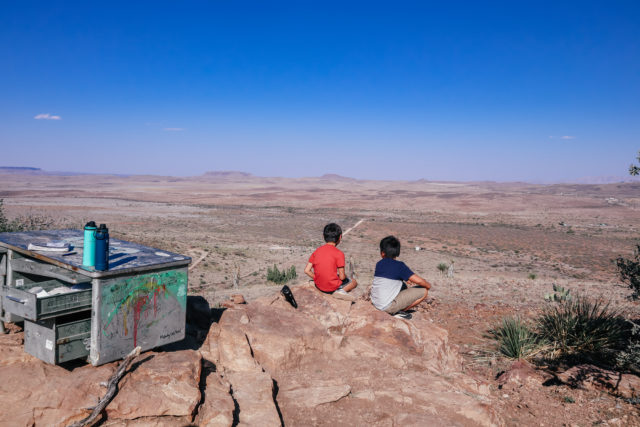 No special equipment is needed, other than sturdy shoes. There are a lot of loose rocks so you do have to watch where you step.
Pets on a leash are allowed on Hancock Hill trailhead.
I would personally not want to carry a child or pet on this hike, or be giving anyone a piggy back ride, so make sure whoever you hit the trail with is capable of walking a couple of miles under their own steam.
What Else Do I Need to Know About Hiking Hancock Hill?
The total elevation is 4,849 feet above sea level. The desk sits 350 feet above the parking lot. We live near San Antonio where the weather is consistently humid but the West Texas air is dry and you'll need to make sure you're carrying plenty of water.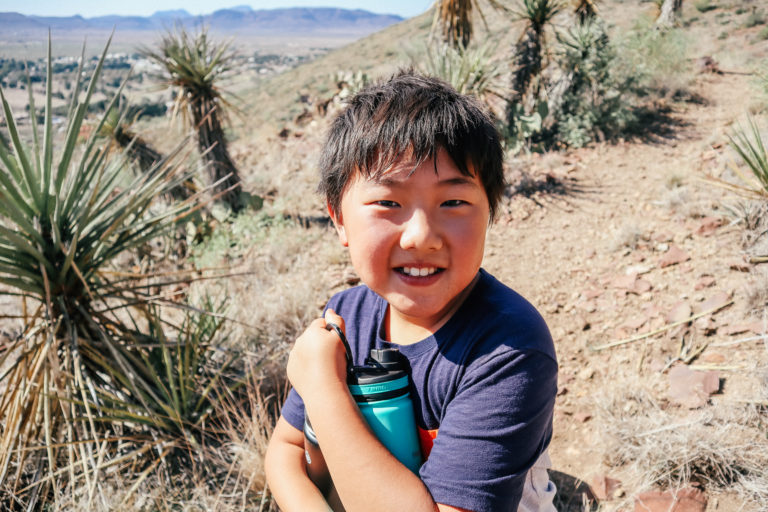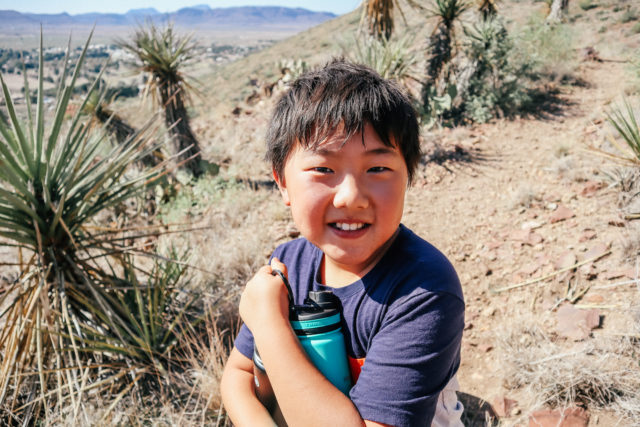 There is zero shade so make sure you have a hat, appropriate clothing, and sunscreen. If you're hiking in the summer months, I recommend going early or later in the day because it is so hot.
We went on an October in the afternoon and it was very warm. If I had a do-over, I'd have done this hike first thing in the morning.
I also recommend having a writing utensil in your pack or pocket. Although the desk drawer was full of pens when I visited, you just never know. It would be awful if you climbed this hill with an idea of the perfect thing to write in that notebook and not be able to execute. A pen is a pretty easy thing to take along, so I would pop one in along with your water and sunscreen.
The parking lot for Hancock Hill Trailhead is right behind the dorms on the Sul Ross State University campus.
The Story Behind The Desk on Hancock Hill
A college student at Sul Ross State University in the late 1970's brought this old, metal desk up to the top of Hancock Hill, with the help of two other students. As a runner on the track team, he used to run up the hill and decided it would be a great idea to have a desk up here. He and his buddies moved the desk up at night.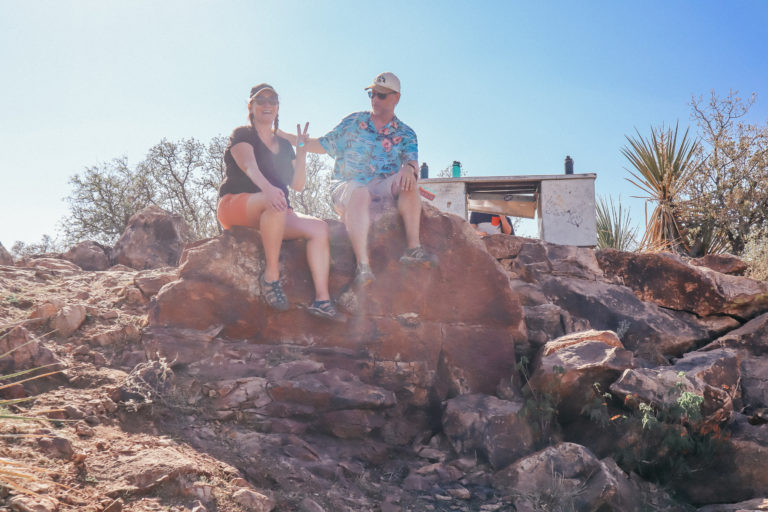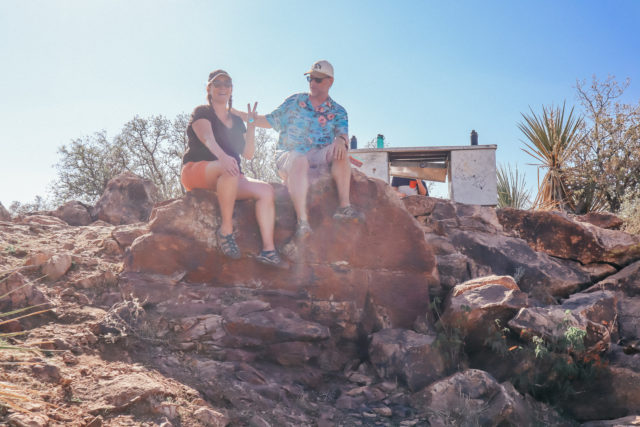 The young man started keeping a notebook and pen in the desk to record his run times. After a time, he noticed other people were writing in the notebook, too. Random thoughts, drawings, and so on.
The desk is still there. It's decorated with graffiti and spray paint. There is still a notebook and a pen inside the desk and you can write your thoughts and read what other hikers wrote. The university takes care of replenishing the pens and paper and keeps the notebooks in its archive. Pretty cool story, right?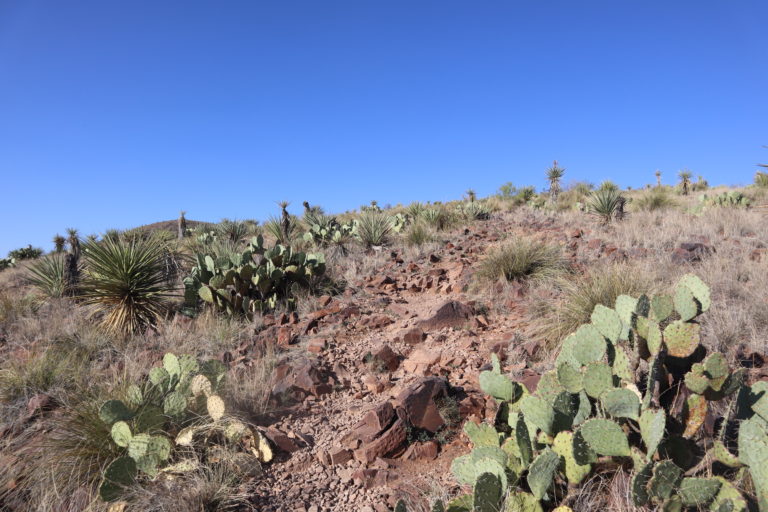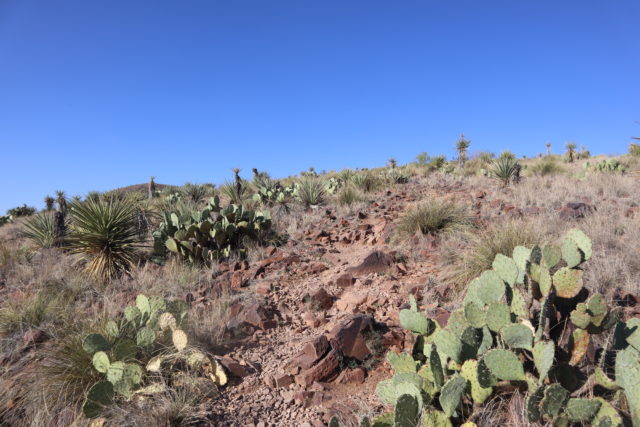 Read more:
Fun activities in Alpine and Marfa
Hang with the Donkeys at Wassermann Wranch in Alpine