If you're looking for lunchbox printables that show your kids you love them, I've got you covered. And, what better time than Valentine's Day to show your kids a little bit of extra love?
Disclaimer: We are a participant in the Amazon Services LLC Associates Program, an affiliate advertising program designed to provide a means for us to earn fees by linking to Amazon.com and affiliated sites. This post may also contain affiliate links to other sites where I will be paid a commission by the seller if you make a purchase.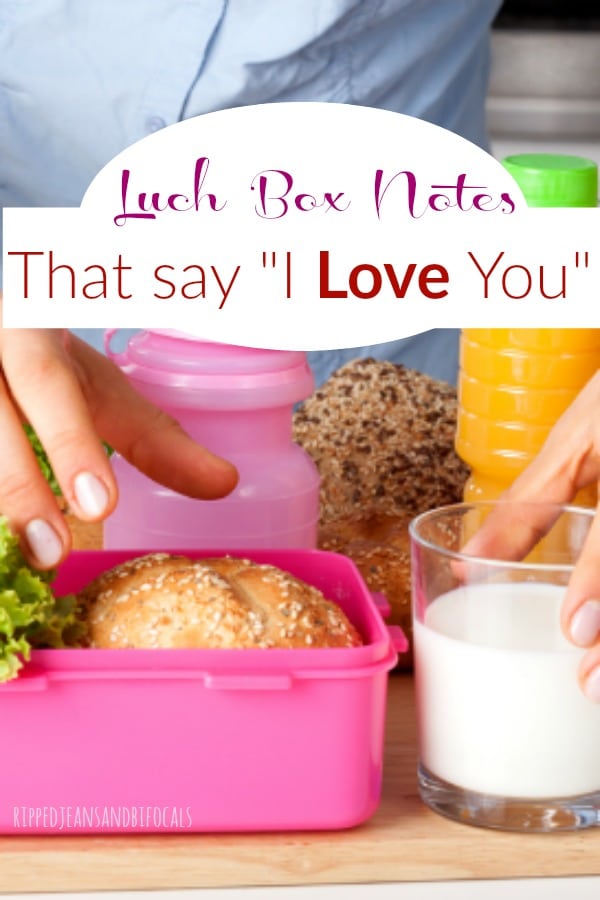 Lunchbox Printables that show your kids you love them
So. I'm not one of those uber Pinterest moms who makes every minor holiday into a major event. I call it a win when my kids get out the door on time with matching shoes…forget matching socks. Mornings and organization are definitely not my strong suit, although I do try.
I'm sharing two sets of fun lunchbox printables that you can slip into your kids' lunches to brighten their day a little bit. You might feel like patting yourself on the back for your level of mom coolness – totally okay if you do that.
These are easy to print, cut, and place into a kitchen drawer. You can also keep them handy wherever you have your lunch supplies stored – if you are in fact organized to have such a place in your kitchen. Spoiler alert: I am not.
Related post: Kids craft ideas for Lunar New Year
Punny food-themed lunchbox printables
These food-themed lunchbox printables are especially fun if you can pair them with the type of food they mention – although that's totally not necessary. I'm pretty sure I've never put miso soup or waffles in my kids' lunchbox, but I know everyone has different levels of lunch box creativity.
These also have a little bit of white space on them so you can personalize your note to your kids.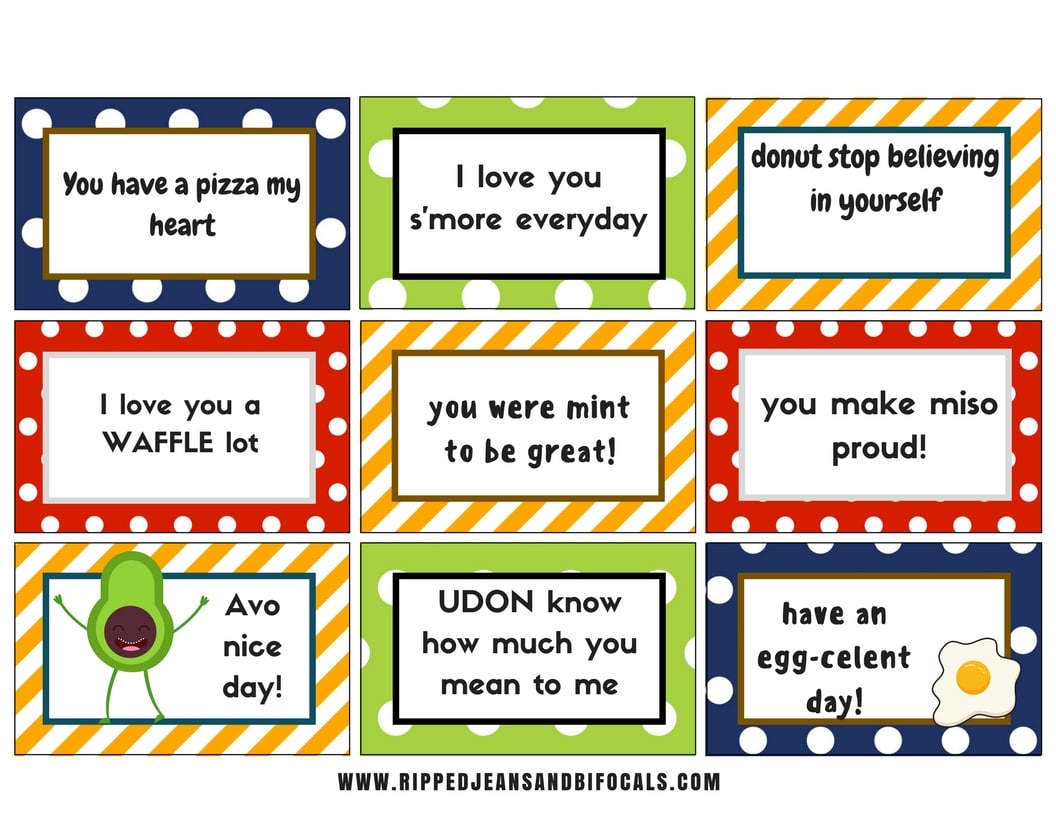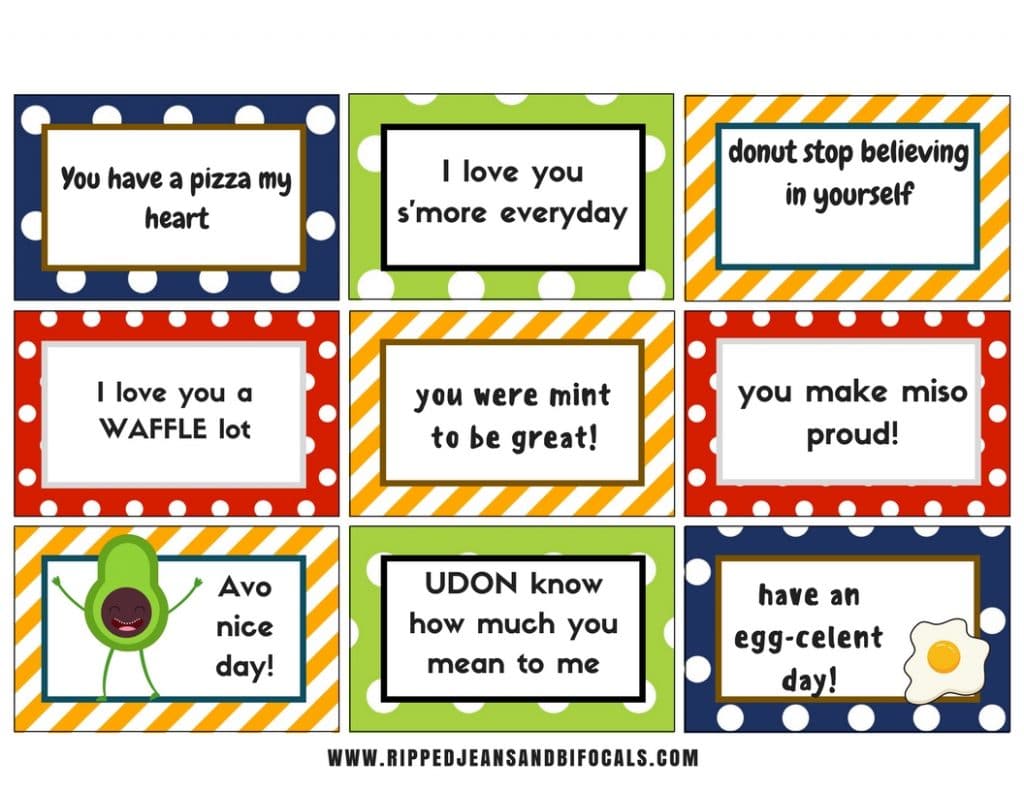 Trolls lunchbox printables
Who doesn't love Poppy and Branch? With Trolls 2 coming out in April, the hype and interest in all things Troll is going to increase. These Trolls lunchbox printables are definitely a way to increase your parent cool factor. The only possible way to kick up your level of parental coolness is to grab one of these Trolls lunchboxes or some of these Trolls reusable sandwich bags. The lunchbox and sandwich bags are all Poppy (AKA pretty girly) so boys might not want to use them. I wish they made more Branch merchandise, like this stinkin' adorable hat.
Related Post: The best Valentine's Day Activities for Families
I love how these lunchbox printables are so affirming. Everyone needs that extra bit of encouragement and love sometimes. I love how these remind kids that they're unique, valued and loved.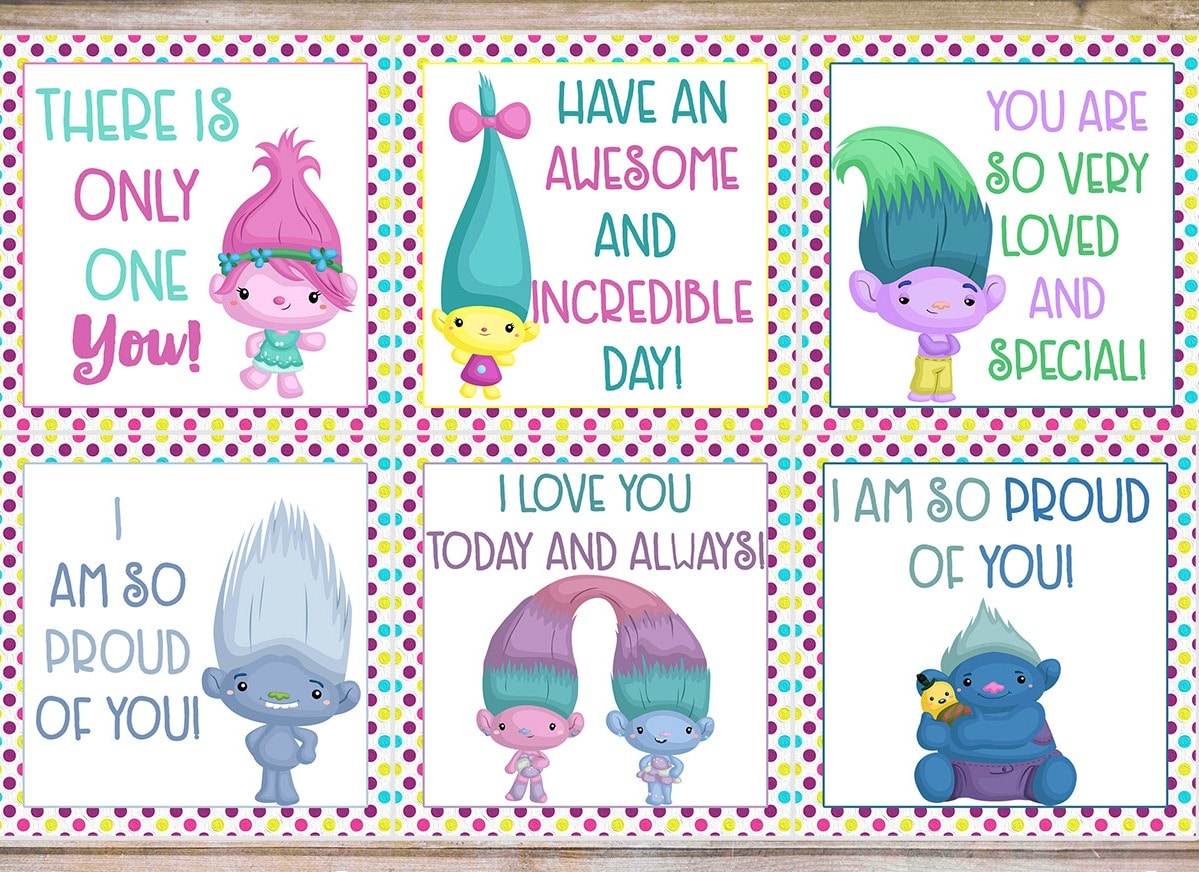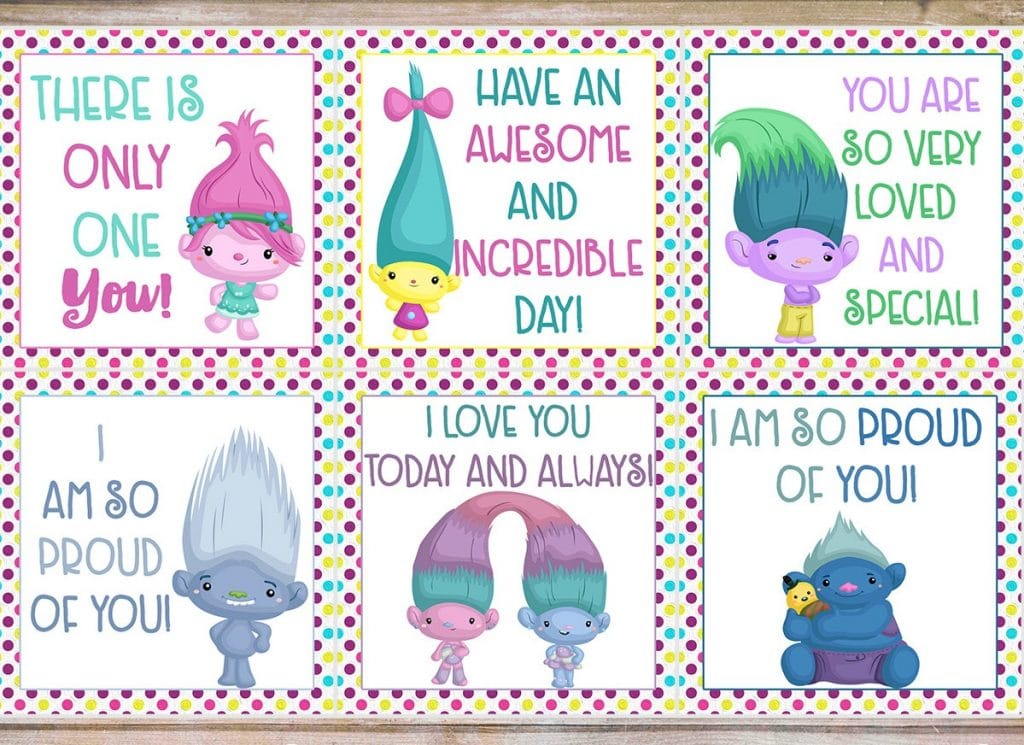 I hope you enjoy these two sets of printables! I know January is sometimes a little bit blah and hard to adjust to with going back to school after the long winter break. It's almost like a second back to school in terms of getting used to a routine. These little bits of color can help brighten your child's day just a little bit and in doing something kind, it will brighten your day, too. Try it!
Check out my favorite lunch box/lunch supply picks here:
Widlin Kids Dinosaur Insulated Lunchbox (also comes in lots of other fun prints)
Bentgo Kids Lunchboxes (this is a Bento style lunchbox that's pricey but they're very sturdy)
Pack-It Freezable Classic Lunchbox – Space Man (also comes in lots of other prints)
Insulated lunch bag cooler with strap (will easily hold a Bento Box)
The Chillout Life water bottle
Hydro Cell stainless steel water bottles
Allyooly collapsible water bottles for kids
Silicone Baking Cups (these make great snack separators if you're doing the Bento thing)
Reusable Sandwich Bags (if you need more ideas for eco-friendly kitchen gear, read this post)