Stitch Fix Review – The box with the pencil skirts
(This post may contain affiliate links. Read my full disclosure.)
I totally forgot to go into my style profile last month and let my stylist (Camilla is baaaack!) know what types of clothes I was looking for in this month's box. You'll get more out of Stitch Fix if you let your stylist know what you're looking for or what you don't want to see. My fixes usually line up with a trip I am taking, so I typically tell my stylist where I'm going and what I'd like to see in my fix. So…I was expecting a big ole box of random. I got pencil skirts and some other things. Here's my Stitch Fix Review – The box with the pencil skirts.
If you've never read a Stitch Fix Review by me, here's my page where my previous reviews are linked. In a nutshell, I've been using this service since 2015 and I've been mostly happy with it, although there were a string of really crappy fixes that made me want to pull my hair out. But, I believe in the service and I love having the different style options Stitch Fix has provided to me. +
Stitch Fix Review – The box with the pencil skirts
[Tweet "Stitch Fix Review – The box with the pencil skirts @StitchFix #StitchFixStyle"]
I have been looking for a good, basic (not basic in a bad way) pencil skirt. One of my friends posted on Facebook how her summer uniform was a pencil skirt, a tee, and flip flops – and she looks totally cute, by the way. I've tried on a few and not found anything I liked.
When I saw my preview in my Stitch Fix app, I was irritated. My fix had been delayed (which I was OK with) so Camilla could style me, so when I got the notification that my fix had shipped, I peeked (because of course I did because I always do) and determined Stitch Fix had goofed and let someone else style me. The clothes looked icky and not at all like things I would wear – it was two shirts, two skirts and one pair of earrings. I thought the earrings looked promising but the rest of it looked like something someone else would wear.
This is why you shouldn't peek. I always do but the previews are never accurate. I either see the previews and think I'll love the clothes and then I hate them in person or I see the previews and think "ew" and then I love the clothes. This box was mostly the latter. And also, Camilla is THE BEST because she knew I wanted pencil skirts without my having to tell her.
Shirt One
I love the nod to quirky-ness in this shirt. The black patches look a little bit like Rorschach ink blots…you know, those ink patterns where you're supposed to see you're supposed to see kittens or spaceships or the face of Dumbledore. It's fun and it's me. The fabric is a heavy linen and an off white color.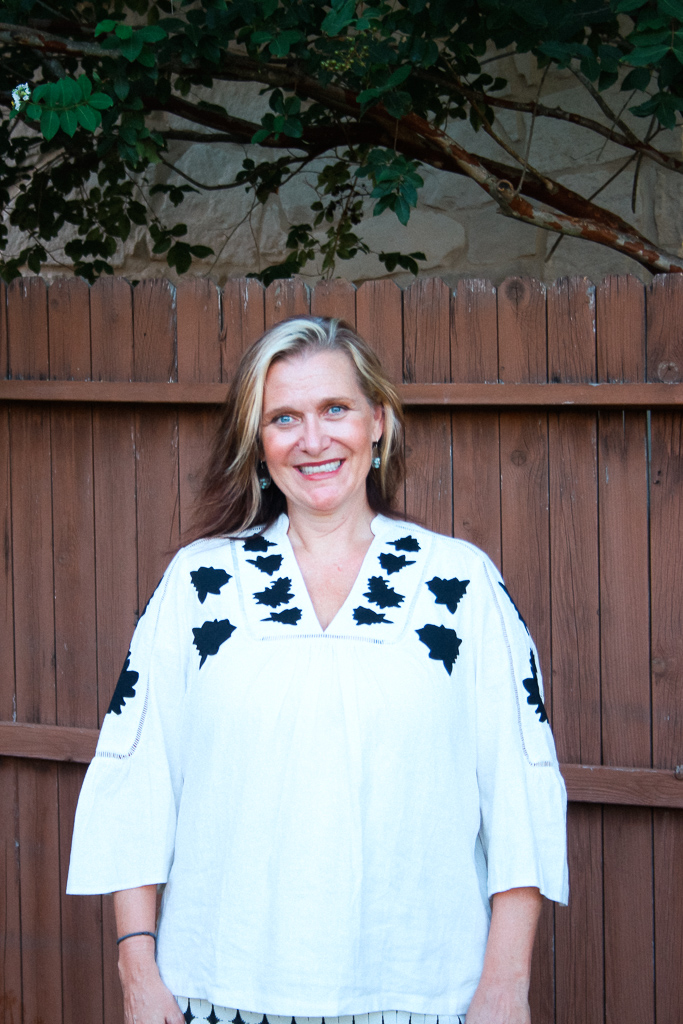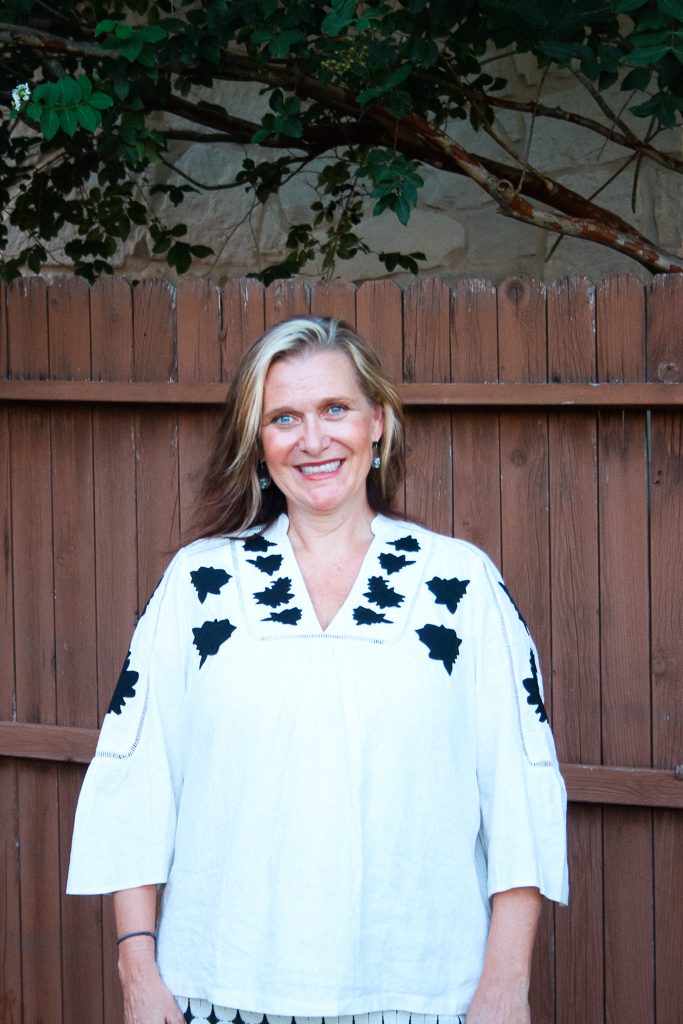 I just didn't love the fit of this shirt or the way the fabric felt…I guess coarse is the best way to describe it. It was also a little bit sheer and I had to wear a tank top to keep my bra from showing. It was a tiny bit short for my liking as well and I got the feeling this one wouldn't wash and wear well.
Skirt One
Camilla suggested this skirt could be paired with either of the shirts in this box, and, although not pictured, this skirt did look cute with the black top. This skirt just was not me. While I liked the fit and the length, I didn't love this pattern and I don't think a white skirt would be a great addition to my everyday wardrobe. I'd spill spaghetti sauce on it the first time I wore it, or something like that. There was also something about the texture of the fabric I didn't like…it was really nubby. Overall, this was a little too "work wear" for me. I like casual, Boho style clothes that make me feel put together but this looked like something someone would wear to work in a bank.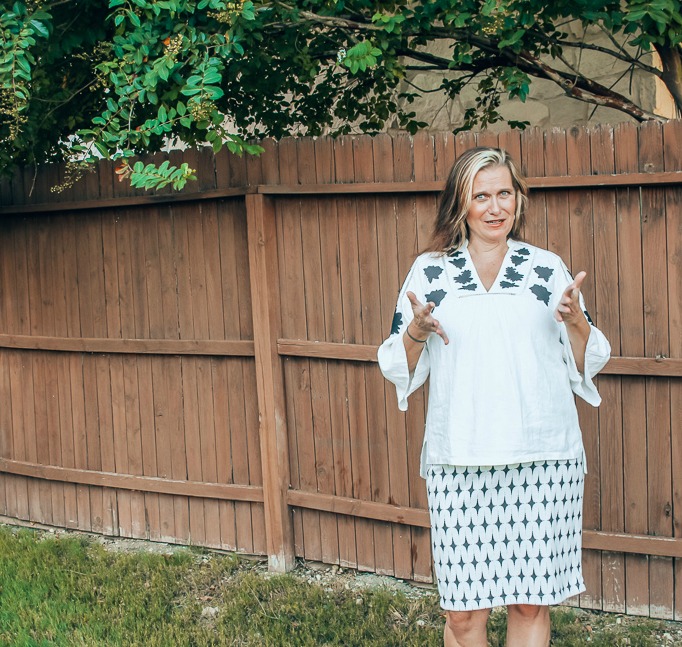 What I DID like about this skirt was the wasitband…it had a yoga style waistband that was very comfy.
Shirt Two
This shirt is going to be a wardrobe staple for me, although I don't love the idea of having to iron it. The fabric is thin so I can wear it with shorts in the summer and with jeans in the winter…as shown here: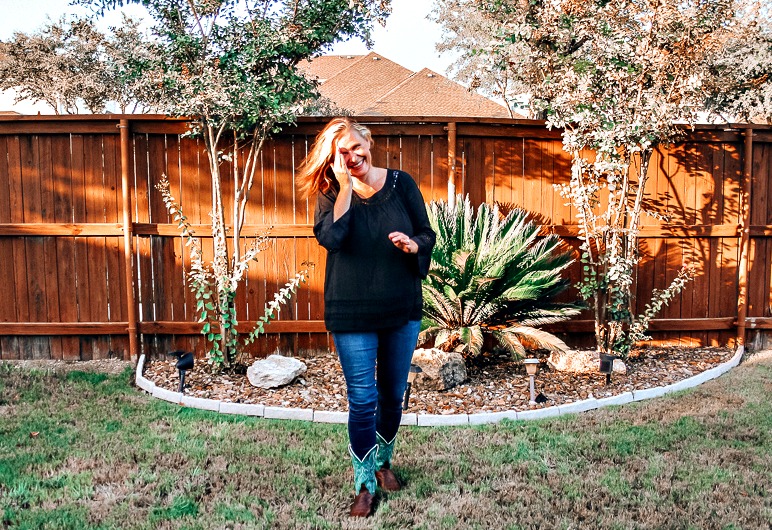 As an aside, I can't believe I've been back in Texas for over four year and I've just now bought cowboy boots.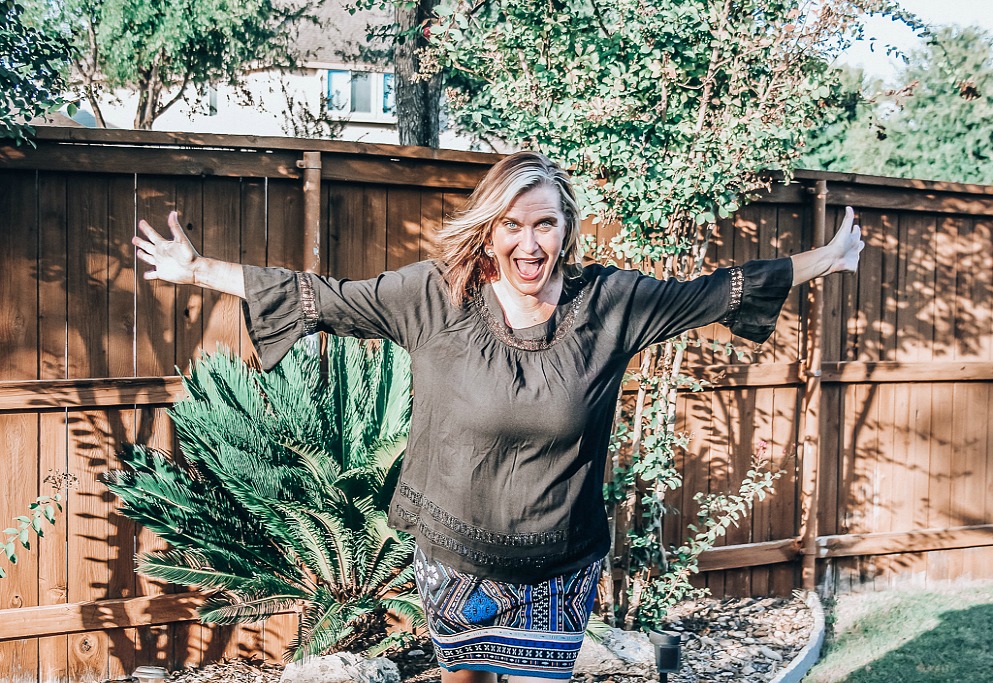 Skirt Two
I kind of went back and forth on this pattern. I am not super into patterned bottoms, period so this took some doing to get me to come around. The fact that this skirt looked so great with the shirt was my tipping point. This is a fun outfit to wear with flip flops and a messy bun or with wedges and some jewelry for a night out. What I don't like about this skirt is the waistband…it has an elastic waistband in the rear, which makes tucked in looks unflattering.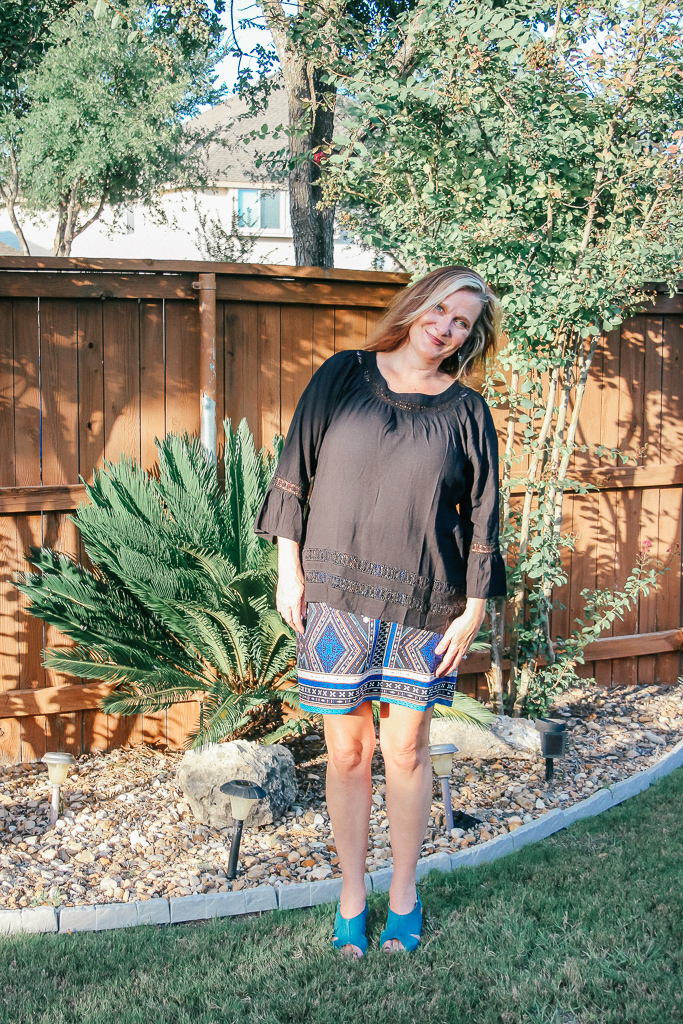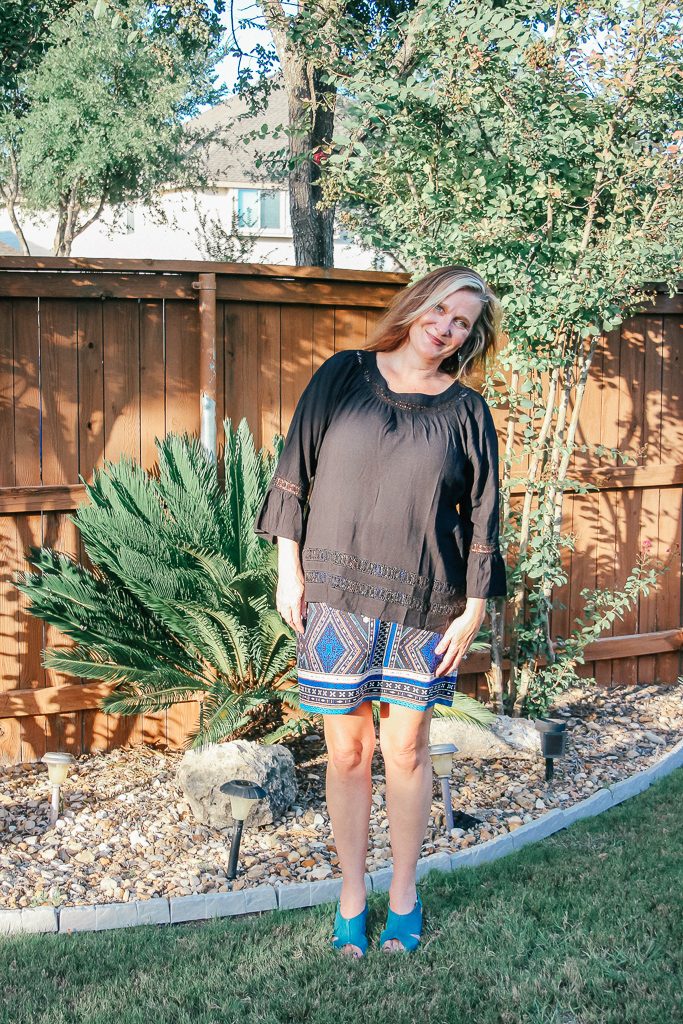 I don't have a picture of this look (yet!!) but I wore the skirt with my favorite long-sleeved black tee shirt and a pair of flip flops and I felt amazing. It was a "run all the errands" look that felt like sweats but looked put together. It was the kind of look that made people stare at me and say "Maybe it's Maybelline." Well, in my own mind, anyway.
The earrings
These are fun and quirky earrings and these are definitely my style.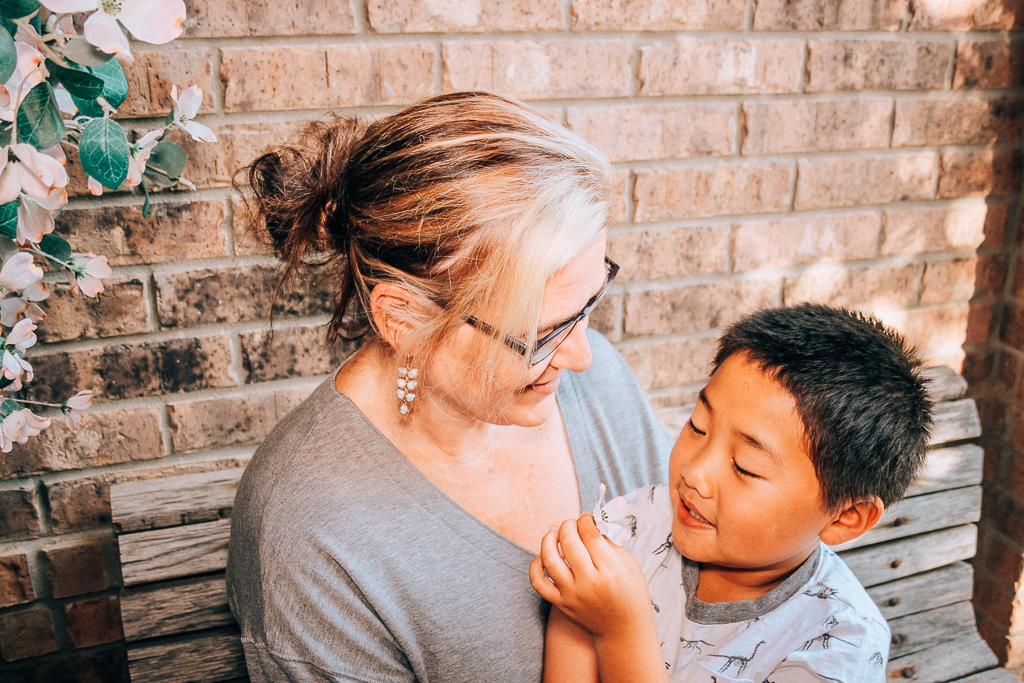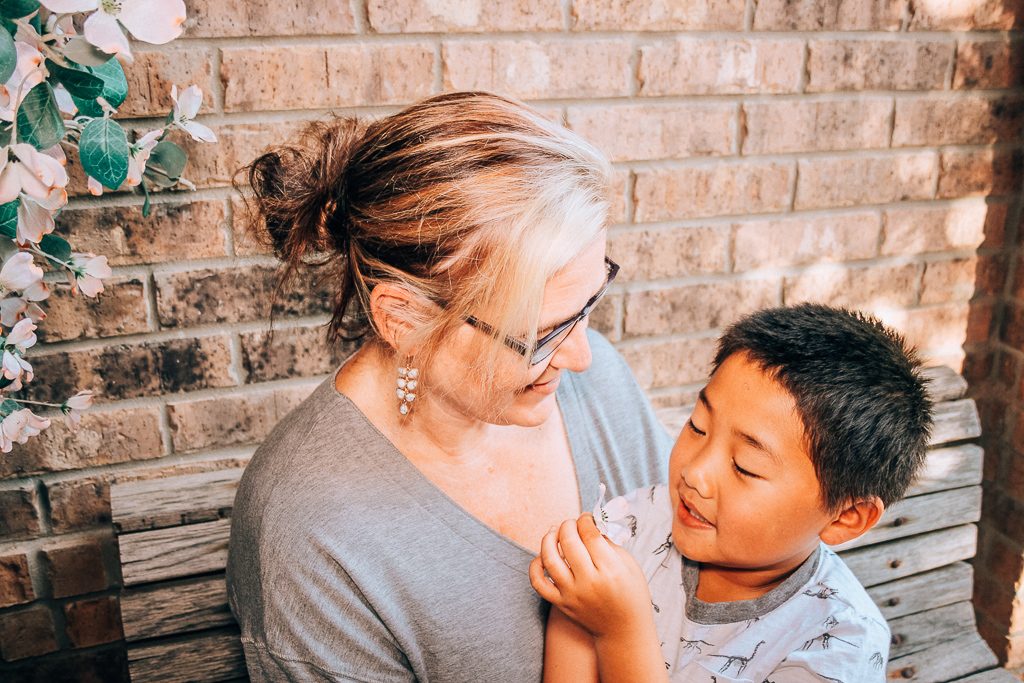 What I didn't like: the gold tone (I wear mostly silver) and the back of the earrings. These didn't have the fish hook style that I like. They have a hinge closure that makes me irrationally nervous that my earlobe is going to rip when I try to take them off. Full disclosure: in this picture, the back of the earring isn't fastened properly. But, they're cute and definitely my style.
I kept the black top and the printed skirt and sent everything else back. Although I lucked out with getting what I wanted without having to ask, I don't recommend not giving your stylist feedback during the window you have to do so. If you don't specify what you want, you can't be upset about what you get, right?
Although…I'm really looking forward to getting my next fix because I DID ask for something specific and my preview (because yes of course I peeked) is pretty much the exact opposite of what I asked for and what I have listed in my style profile (gold tone jewelry, things that are dry clean only, and a coat, all of which are on my "don't send me" list.) Stay tuned!