Visiting CARE Tiger Sanctuary in Bridgeport Texas
(This post may contain affiliate links. Read my full disclosure.)
When I was preparing for our trip to Decatur Texas last year and sorting through different options for family activities, I was surprised to learn there was a tiger sanctuary near Dallas, specifically in Bridgeport Texas. Decatur and Bridgeport are technically a part of the Dallas Fort Worth Metro area, although this is about an hour outside downtown Dallas. If you're going to be in the Decatur/Bridgeport area or if you're looking for a day trip from Dallas, check out CARE Tiger Sanctuary in Bridgeport Texas. CARE – or C.A.R.E. – stands for Center for Animal Research and Education. This Texas tiger sanctuary is home to approximately 50 animals, mostly big cats but there are a few other species mixed in as well, to include lemurs, llamas, and a tortoise.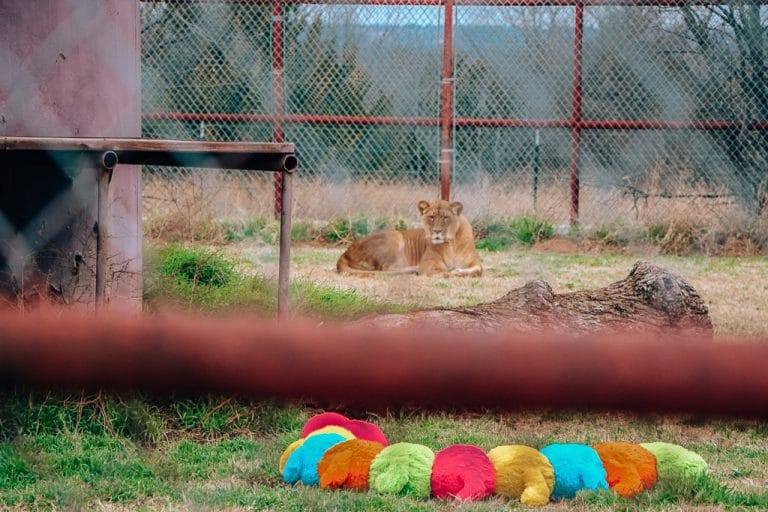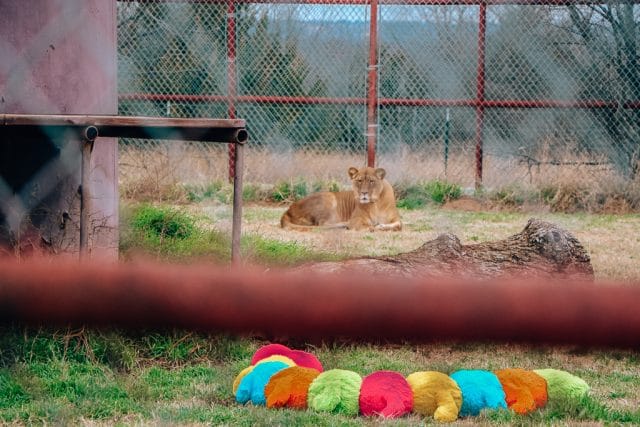 Visiting CARE Tiger Sanctuary in Bridgeport Texas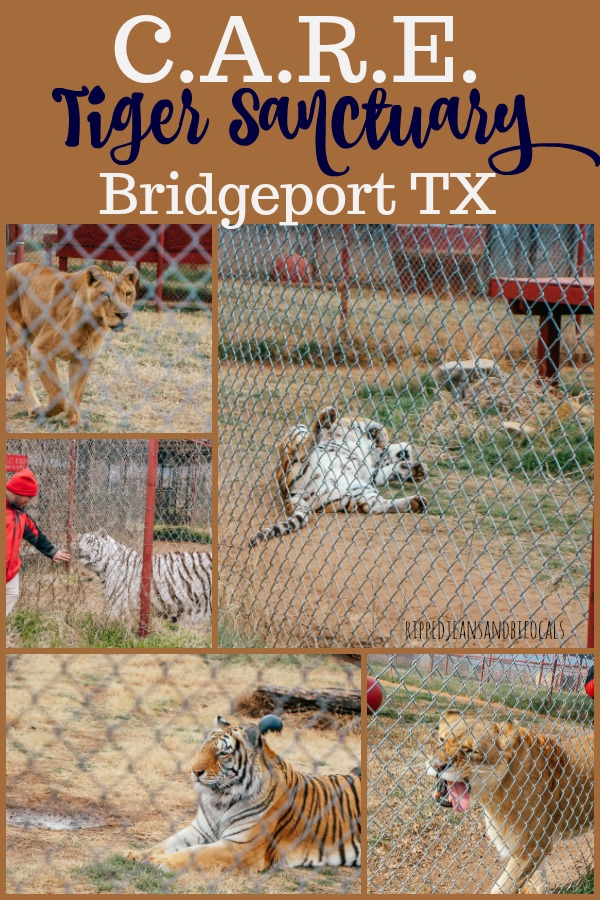 I didn't know places like this existed and I was pretty naive about the reasons they exist. I hadn't given a lot of thought to people who try to keep exotic animals like big cats as pets or the fact that there are private zoos out there that don't have to adhere to standards set out by the American Association of Zoos and Aquariums. To be very clear, CARE isn't a zoo but this Texas tiger sanctuary does provide an exceptional opportunity to get a unique perspective into the lives of these animals and to learn from them.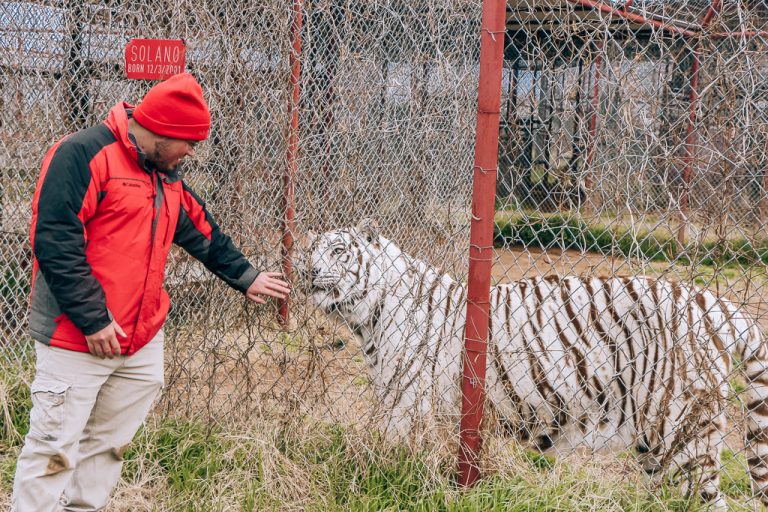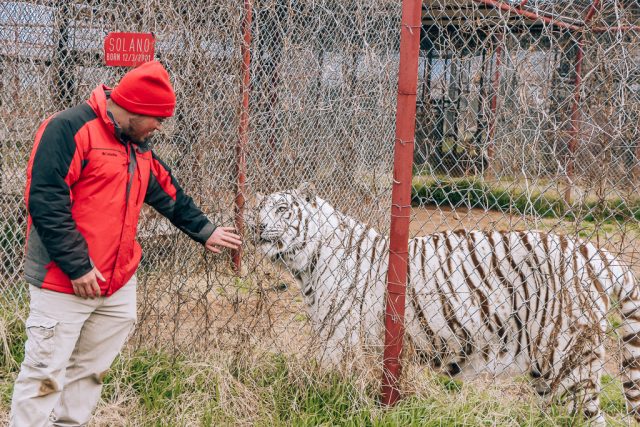 CARE's mission is to provide for a safe, permanent and loving home to exotic animals in need. CARE focuses on excellence in physical and emotional care, advocating animal welfare through education, and conducting minimally-invasive research that will improve living conditions for captive animal populations world-wide.
Many of the animals in residence at CARE are transfers from other facilities or private zoos and some were formerly kept as pets…and as awesome as having a pet baby leopard might sound, it is a bad, bad idea. A cute, fuzzy baby leopard has some appeal – I get that – but they are wild animals and grow up to be the kind of "pet" that knocks over your fridge and eats your dog.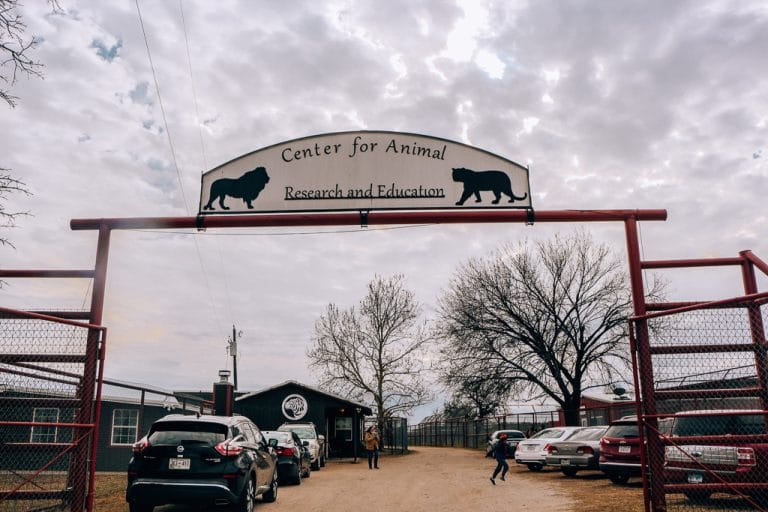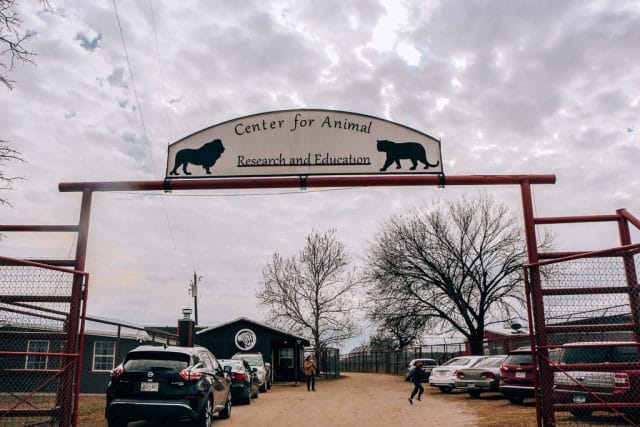 CARE: This Texas Tiger Sanctuary is not a zoo
While CARE Tiger Sanctuary is not a zoo, tours are available. Learning about these animals and seeing them up close is an experience I can only describe as breathtaking but it's also very educational and eye-opening. My boys were eight at the time of our visit. They're curious and interested in animals and this was an amazing opportunity for them to have this level of experience with lions and tigers…no bears, sorry, but there are cougars and bobcats that more than make up for that.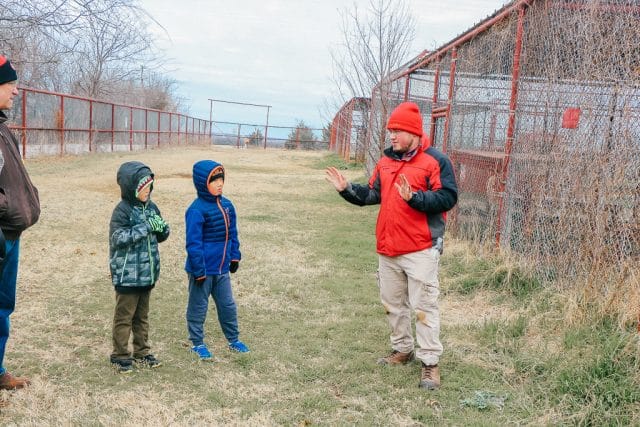 CARE is manned by paid staff and a number of volunteers and they're funded solely by donations. Their philosophy is very animal centered and the respect everyone I came in contact had for these beautiful beasts was evident from the time we stepped onto the property until we left. CARE is a 501©(3) non-profit organization which means they're solely funded by donations and private sponsorships.
You can take a tour of CARE every Saturday and Sunday at 9 a.m. and 11 a.m. Check their website or call before you go to make sure there hasn't been any adjustment in tour hours.
Related post: Fun things to do with kids in El Paso
Tours last approximately 90-minutes and there's a suggested donation of $20 per person. Yes, that's way more than what you'd spend on a day at the zoo but this is not a day at the zoo. You'll get to see these animals from an intimate perspective and learn way more than you would at any zoo. The tour is walking intensive and there aren't really any sitting spots, so be prepared to be on your feet the entire time…although it will go quickly.
There is a Tiger Sanctuary near Dallas – But is it suitable for children?
Adults and children over the age of seven are welcome. There's no need to reserve in advance, although the website asks that you contact them directly if you have a large group.
If you have kids under ten, really take a look at this activity and decide if it is right for your whole family. We went as part of a private tour – it was just our family and two other people who were hosting us in the area, plus our guide. That means we had five adults keeping an eye on our kids to make sure they didn't wander off or stick their fingers inside the animal habitats.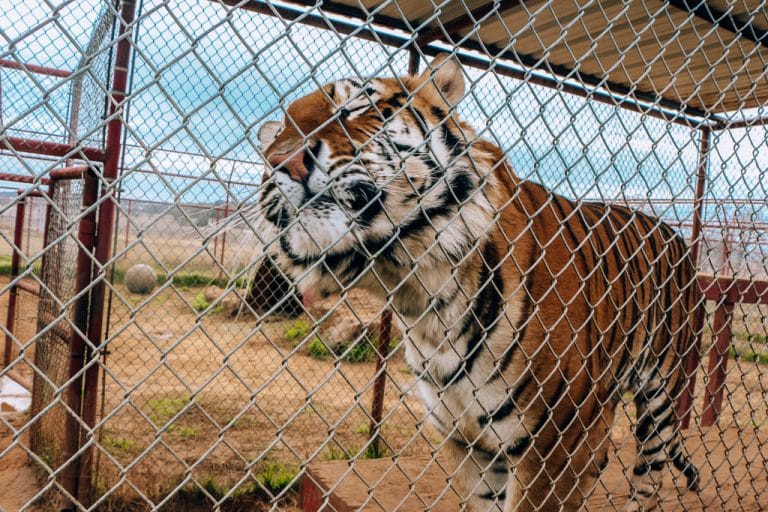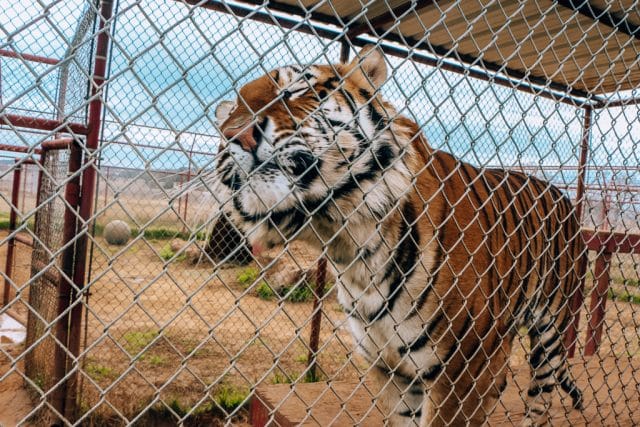 My kids are relatively well-behaved – I know all parents say that – but they're used to traveling and touring and they're not the type of kids who would run screaming around the animal habitats or tease and taunt the animals. That said, they're kids and they were barely old enough to be on the tour at the time we went. If you're not 100 percent sure your kids can remain with the group and listen quietly, this is probably an activity you want to enjoy without them or wait until they're older.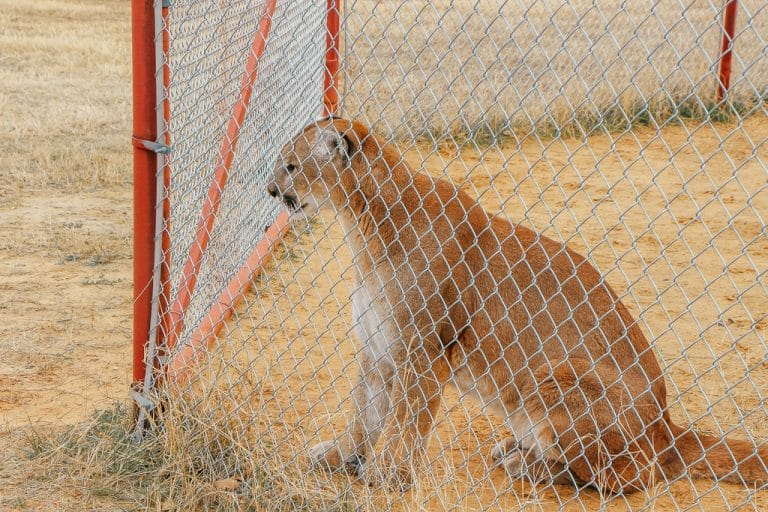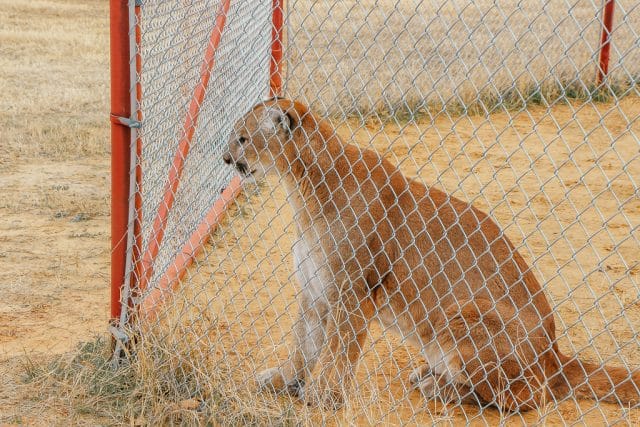 The big cats were very interested in my boys because they're close to the size of their prey. The mountain lions, Apollo and Lakai were totally scoping them out as appetizers…we were completely safe but we were very, very close to these beautiful cats.
My boys had an amazing experience but I'd definitely use your best judgement and caution on taking younger kids. They need to be able to pay attention and follow directions, and be on their feet for 90 minutes+. They also need to be relatively calm and chilled out kids…or at least have the ability to be calm and chilled out for the tour.
Related post: The best places to experience spring break in Texas
There's a lot of open space at CARE but your kids can't run around and make a bunch of noise that would disturb the animals. There's also not really any place to sit or rest and very little shade. It's you can handle walking around and standing for a while, so if you have special needs or need to sit, address that before your tour starts.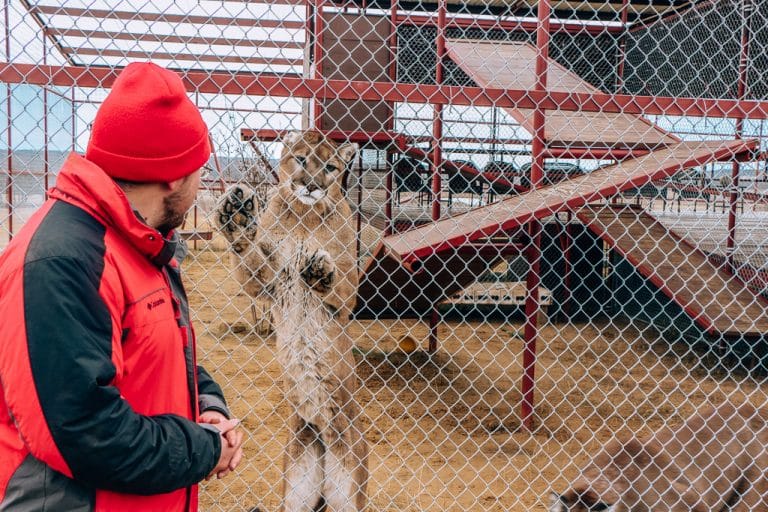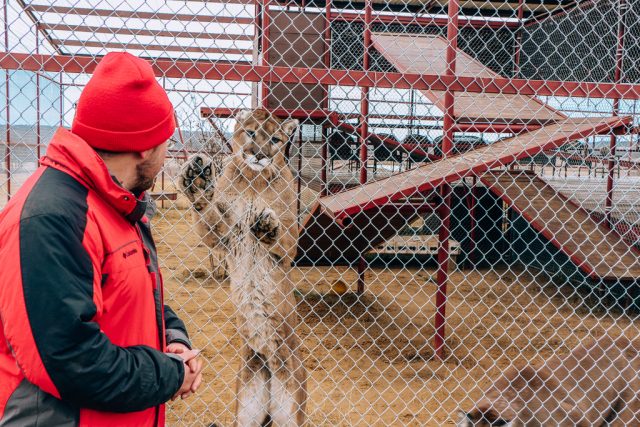 For more ideas for things to do in this area, check out the DIY Studio in Decatur.
Other things you need to know about CARE Tiger Sanctuary…
Wear sturdy shoes or boots. No open toed shoes are allowed. The terrain is rough and uneven..I mean, it isn't hiking but there's no paved walkways. If it's rained recently, rubber boots or rain boots are a good idea.
Umbrellas are not allowed.
This activity is not pet-friendly and you cannot leave your pets in the car.
Picture-taking is permitted.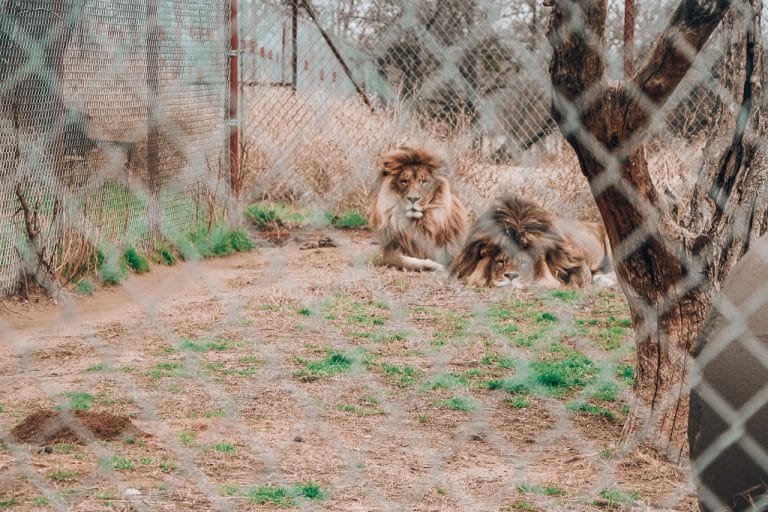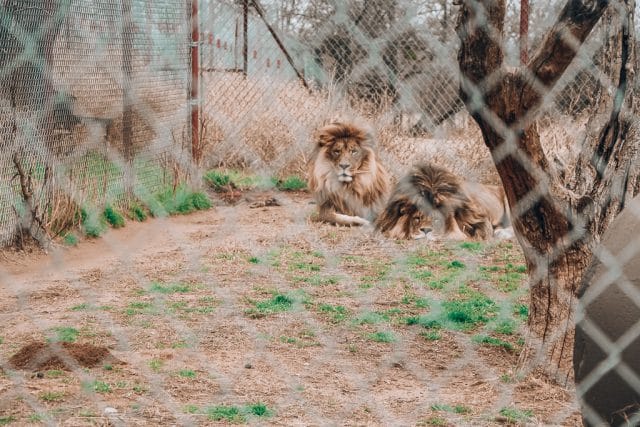 And just when you thought this tiger sanctuary near Dallas couldn't get any cooler…
You can spend the night at CARE Tiger Sanctuary (adults only.) Does a luxurious room towering 16 feet above tiger and lion enclosures sound good to you. The only acceptable answer is YASSSS.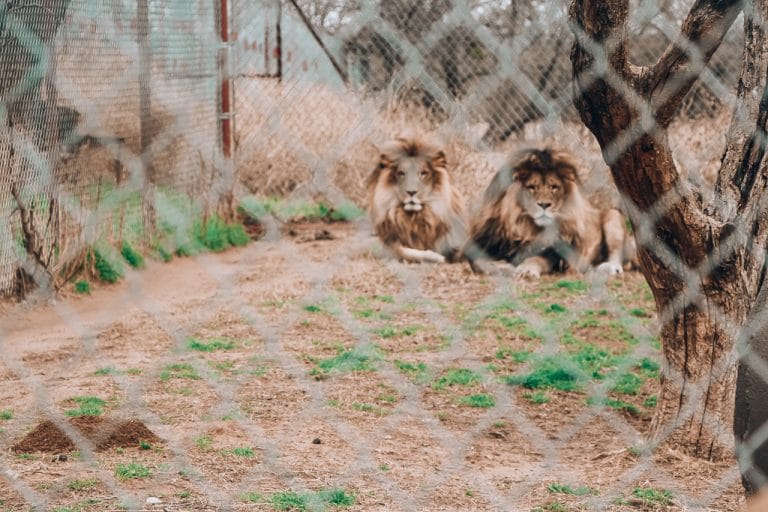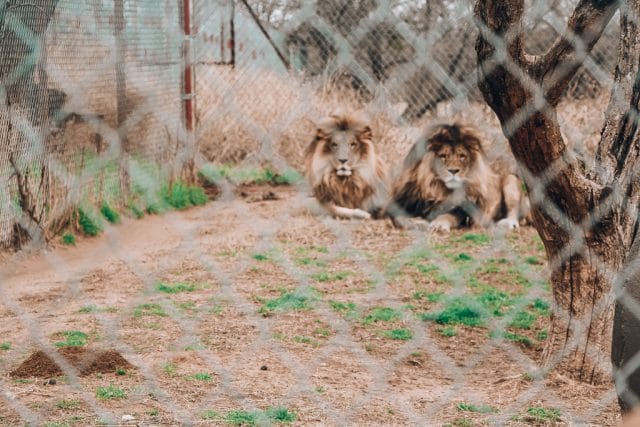 You'll be able to see lions from your bedroom window and tigers, cougars, and lemurs from your semi-private terrace…don't worry, you are perfectly safe. You'll also get the chance to see behind the scenes feedings and night time tours of the lions, tigers, leopards, cougars, lemurs and more. You'll also have personal, 24-hour concierge and guide service. Breakfast and dinner are included. Contact CARE directly if you're interested in setting this up. And yes, you ARE interested. You can learn more here.
Yep, you guessed it. My new bucket list item. Who wants to keep my kids for a couple of days? We have a milestone anniversary coming up.
If you want to get lunch in Bridgeport after your tour, I recommend Five Boys Ranch. They have great burgers, but I recommend the Brisket Pot Pie.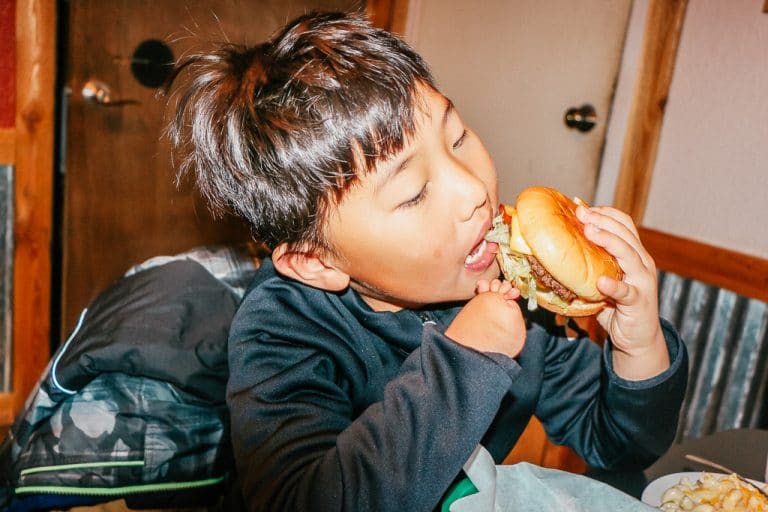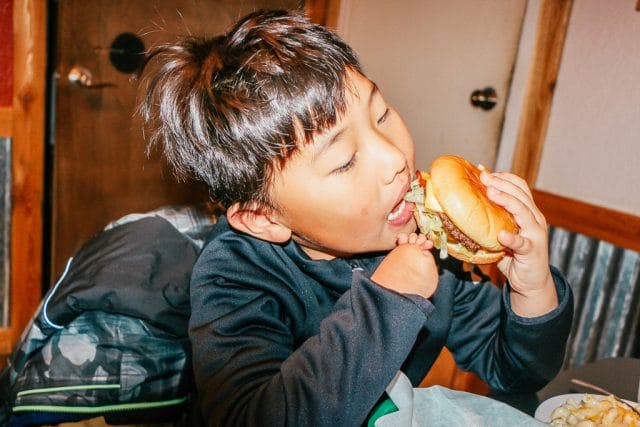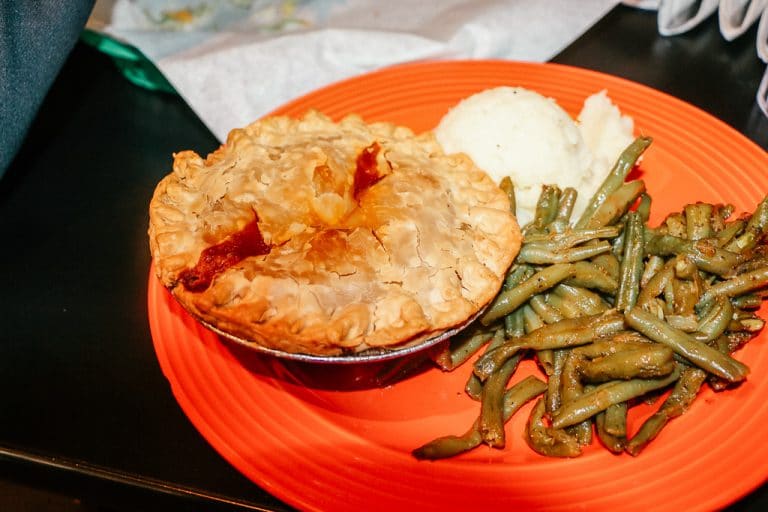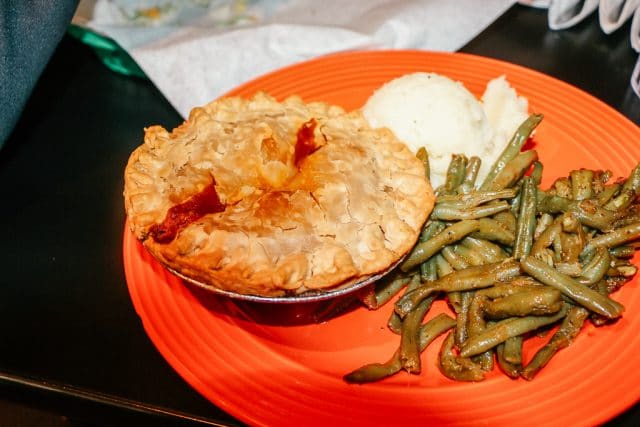 If you'd like to learn more about this tiger sanctuary near Dallas, check out the C.A.R.E website or follow them on Facebook and Instagram.
For more things to do in Decatur Texas, read here.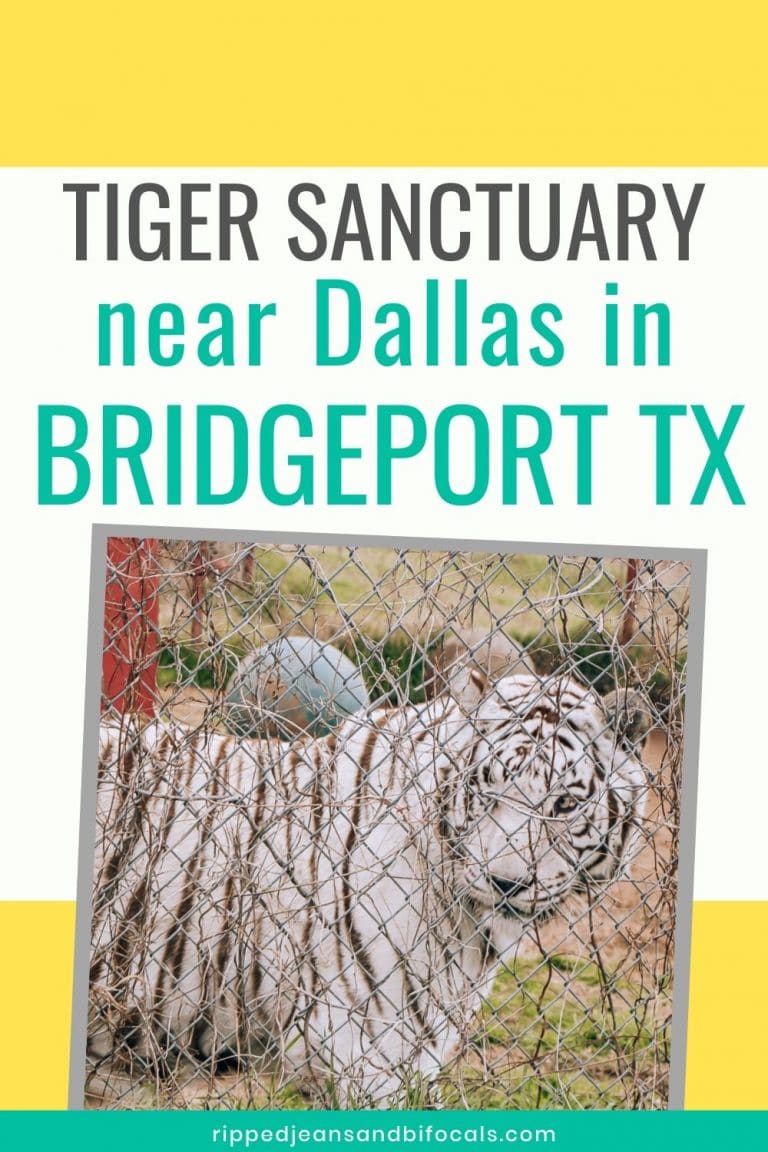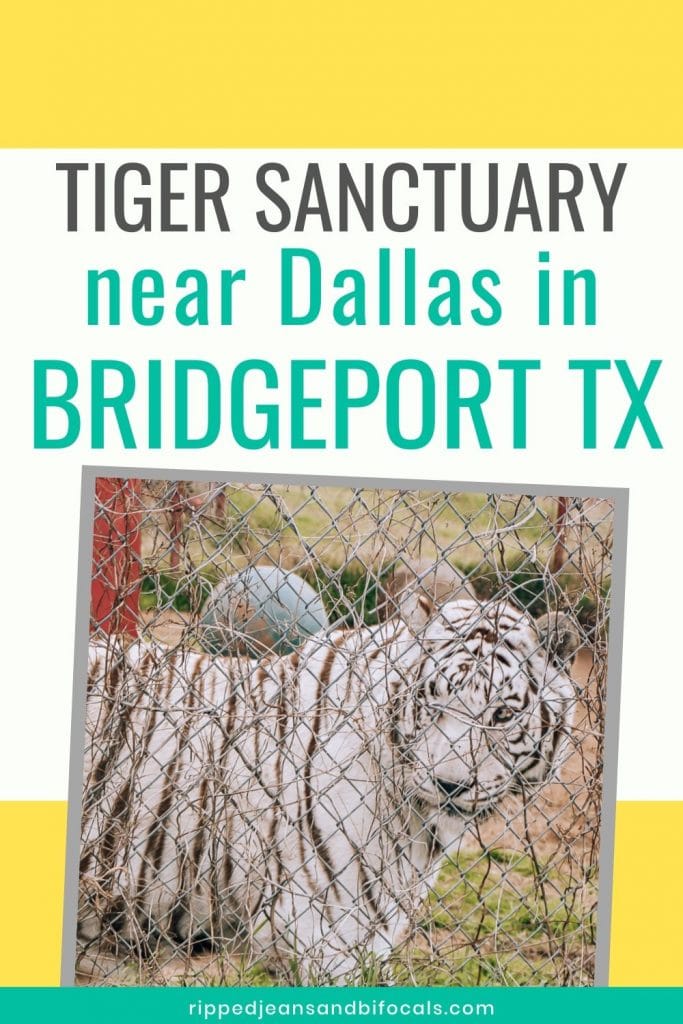 You might also like:
Why the DIY Studio Decatur needs to be the spot for your next couple's retreat or girlfriend getaway