I recently returned from my San Antonio to Santa Fe road trip with my kids (#SA2SF.) If you're new to my blog, I took my kids out of school a couple of days early to take them on a three-week long road trip through the Southwest United States. You can see all my #SA2SF posts here. As always, the best way to get real-time info on our family's travels is to follow my Instagram Feed & Stories. We visited 11 cities in three states in 23 days…that was a lot of traveling and a lot of driving. This post has some fun ideas on fun things to do in Alpine and Marfa Texas. I hope you enjoy following our travels…we sure enjoy sharing our adventures (and misadventures) with YOU!
Marfa and Alpine Texas are both smallish towns in the West Texas desert that are located near Big Bend National Park. Both towns boast Texas desert scenery and a distinctly artsy and quirky kind of vibe. Marfa and Alpine (although we stayed in Marfa) make great weekend destinations or road trip stops.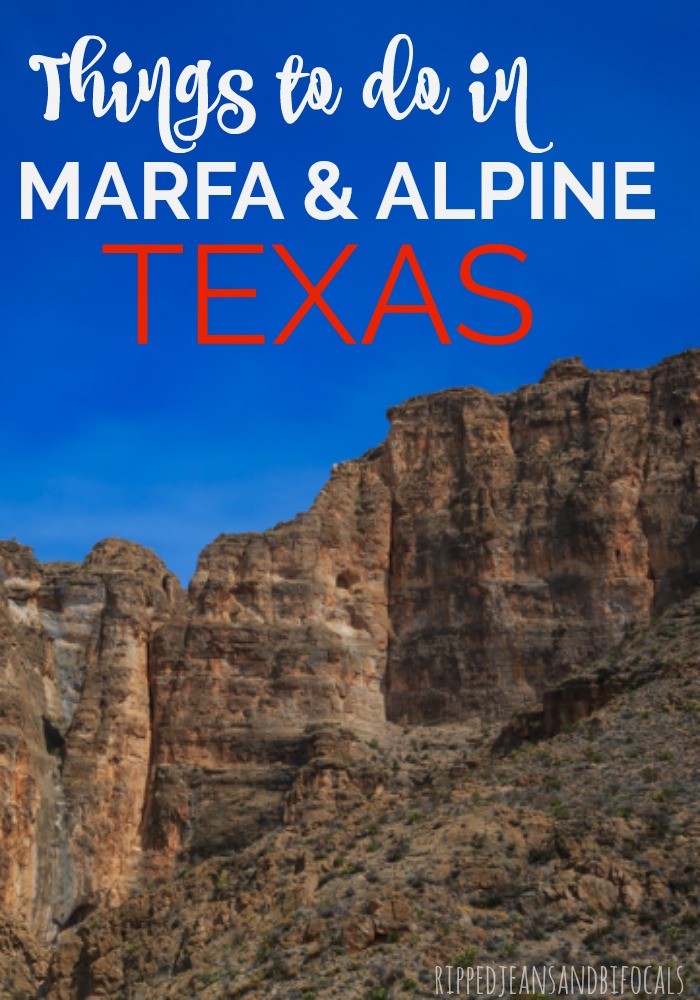 Fun things to do in Alpine and Marfa Texas
1. McDonald Observatory
The McDonald Observatory is operated by the Astronomy Department at the University of Texas. Located about 36 miles from Marfa, the McDonald Observatory is a fun, educational activity for families and astronomy buffs alike. Check out their calendar of events and plan your visit accordingly – they offer a few different opportunities.
We did the daytime tour and solar viewing, which consisted of a presentation about the sun and an up close look at one of the research telescopes used by the university. The McDonald Observatory is at one of the highest elevations on a Texas public road, so you've got quite the scenic (and to be honest, a little bit scary) drive to get up to the visitor's center. The tour takes you a bit higher and you can either drive on your own or snag a seat on the bus, leaving your car at the visitor's center. There are 14 seats available on the bus, so you have to be quick if you want one.
You can do a free self-guided tour of the Hobby-Eberly telescope and there are also free exhibits in the visitor's center you can check out. There's a fun gift shop and a small cafe on property. Be advised your cell phones probably won't work but it's nice and cool up there…the elevation brings the temperatures down a good 20 degrees from what you'll experience in Marfa.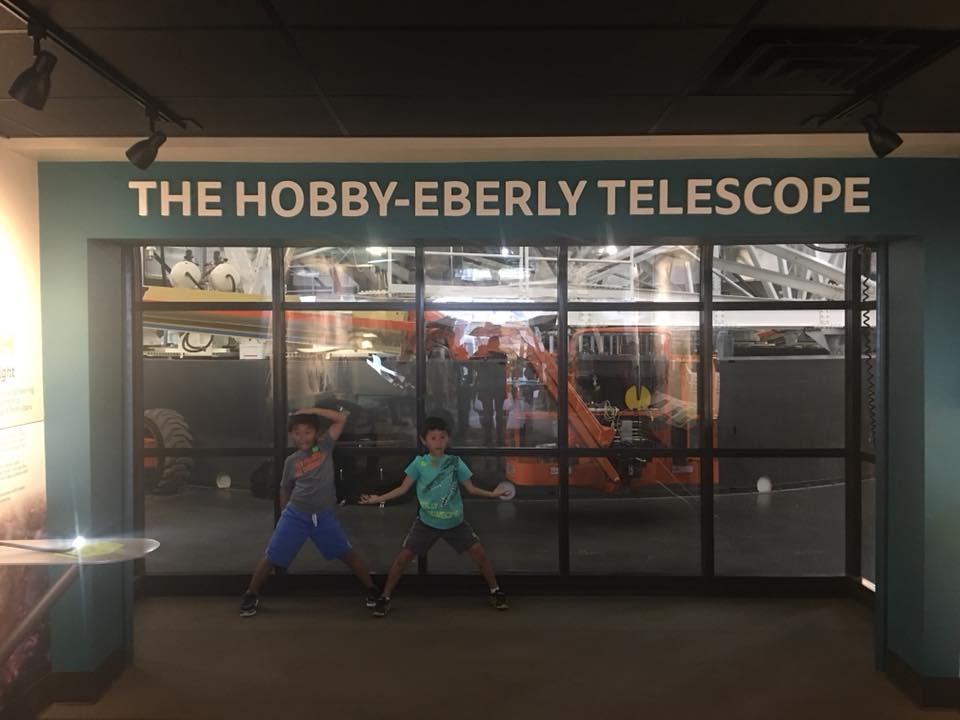 The daytime tour and solar viewing took about two and a half hours total. It was a fun way to spend an afternoon, and although my two boys were a little bit bored some of the time (they were seven and eight at the time we visited) I like to think some of the info gelled and that it sparked some STEM interest with them. See also it made me feel a little less guilty for pulling them out of school early. The scenery, the views, and the drive up are really pretty and worth a little whining from your small humans.
2. Prada Marfa
First, there is really no Prada store in the middle of the West Texas desert, nor has there ever been. Prada Marfa is an art activation in the middle of freaking nowhere designed to lure people who want THE perfect Instagram photo out into the middle of freaking nowhere to get said perfect Instagram photo.
Here's what you need to know:
Prada Marfa is not located in Marfa but rather in Valentine, Texas, which is about 25 miles Northwest of Marfa. This is important to know if you're visiting Marfa for the sole purpose of taking a picture in front of this iconic building. So…if one was driving around downtown Marfa looking for the Prada store..yeah, no. Ask me how I know this. Ahem.
Prada Marfa was never an actual Prada store. This region of Texas doesn't even have an Applebees or a Macy's, so the idea of a Prada just sitting there waiting for the odd road tripper to stop and purchase some trillion billion dollar shoes? Nah. Still, it's a fun, iconic place to stop for photos…but do your homework. You might do best to plan your photo stop at Prada Marfa on your way into or out of town, since this art activation is near exactly nothing on this planet.
I'm glad we stopped to take photos at Prada Marfa, although my children remain bewildered as to why I made them get out of the car at this particular location. I wanted to take photos here and I did and I can say I did, so there is that.
My advice to future travelers is to really look at where Prada Marfa is on the map and plan your Instagrammables accordingly. We drove an hour out of our way to see this hunk of brick in the dessert only to pass it again on our way out of town towards El Paso, when a quick photo stop would have made sense. Oh well.
3. Fort Davis National Historic Site
I am so thankful to the lady at the Alpine Visitor's Center for suggesting Fort Davis as a day activity for my family. Fort Davis National Historic Site is operated by the National Parks Service and is an awesome place to spend a day with kids. Fort Davis is a frontier military post that existed to protect emigrants, mail coaches, and freight wagons on the Trans-Pecos portion of the San Antonio-El Paso Road and on the Chihuahua Trail from 1854 to 1891.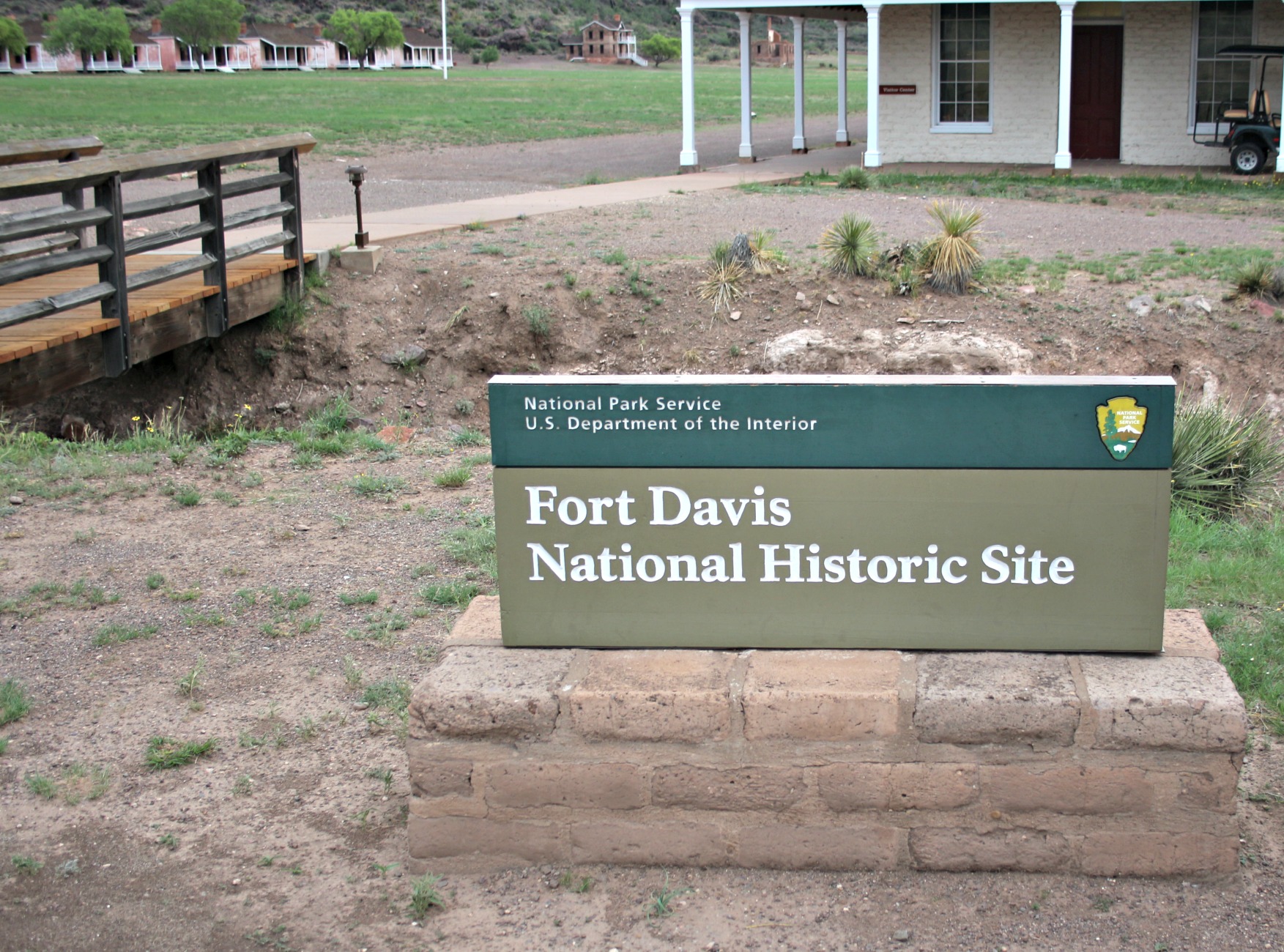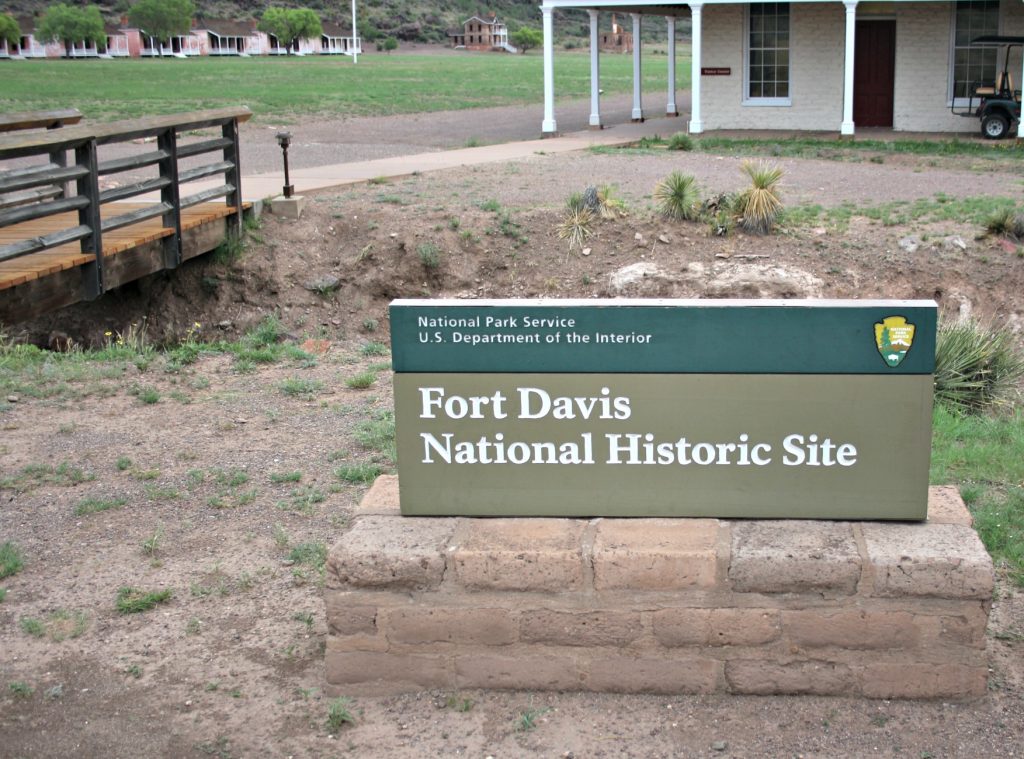 A surprising amount of the Fort is intact and we had a great time checking out the ruins. Portions of the fort have been reconstructed into museum-type areas where you can learn about what life on Fort Davis was like back in the day. A lot of the exhibits are interactive and give some insight into what it was like to be a child living on Fort Davis (some of the officers had their families living with them at this outpost.)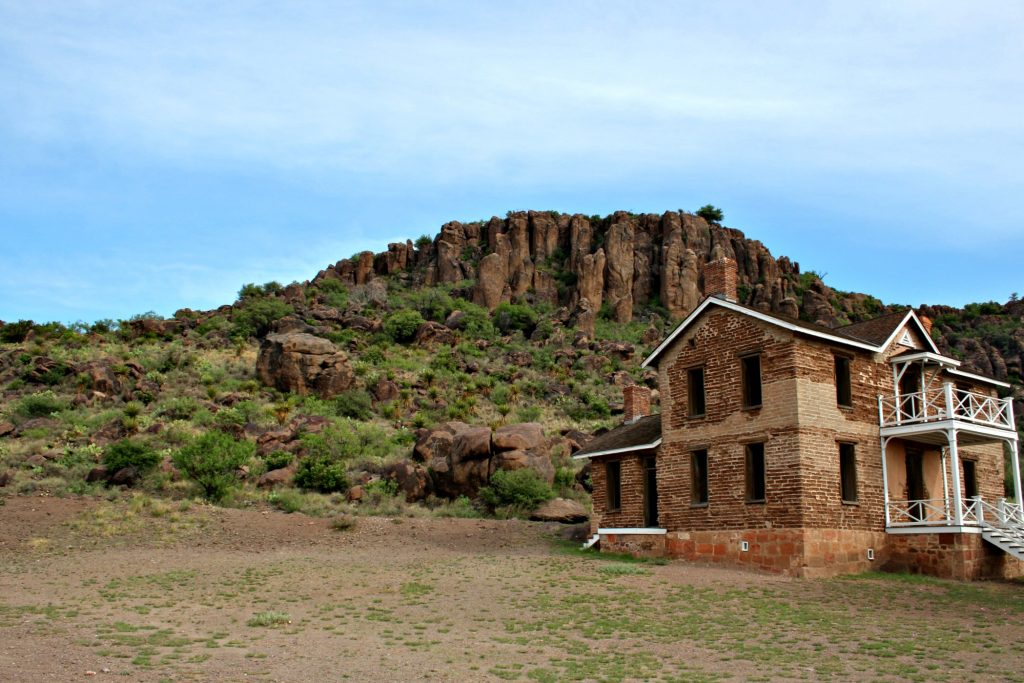 There is a Junior Ranger program, which is always fun for kids. If your kids haven't done the Junior Ranger programs at National Parks or National Historic Sites, they're missing out. I'll warn you now, the Junior Ranger program at Fort Davis is HARD. Kids need to be able to read well to complete it on their own and some of the answers are fairly obscure. Also, some of the hints on our activity sheet were not quite right. We looked high and low for an answer to a question that was reported to be in the Enlisted Men's barracks to find it was actually in the museum. The museum and gift shop are pretty cool, by the way.
There is no camping or overnight stays allowed at Fort Davis National Historic Site, although there is at the nearby Davis Mountains State Park, which we didn't get the opportunity to visit. There is some nice hiking at Fort Davis National Historic Site. The trails are pretty easy, although I'd recommend long pants if I had a do-over. While the climb wasn't that challenging, the trails are narrow and surrounded by a lot of brush and scrub. I did the hike with my boys and we had a great time. If you're visiting in the summer, I'd recommend doing the hike first thing in the morning and then exploring the rest of the fort. The views from up top are pretty sweet.
We spent about five hours at Fort Davis, and then had lunch in town at Fort Davis Drug Store and Hotel, which I recommend as an awesome place to eat. I can't give any recommendations on the hotel,  but their website shows some fun and unique themed rooms for a low price. The restaurant features and old-fashioned soda fountain and their milkshakes were ahhhhh-mazing. The person who made them made a little extra (and when I say a little extra, I mean we probably got a shake and a half each) and brought us the frosty mixer cup on the side to enjoy.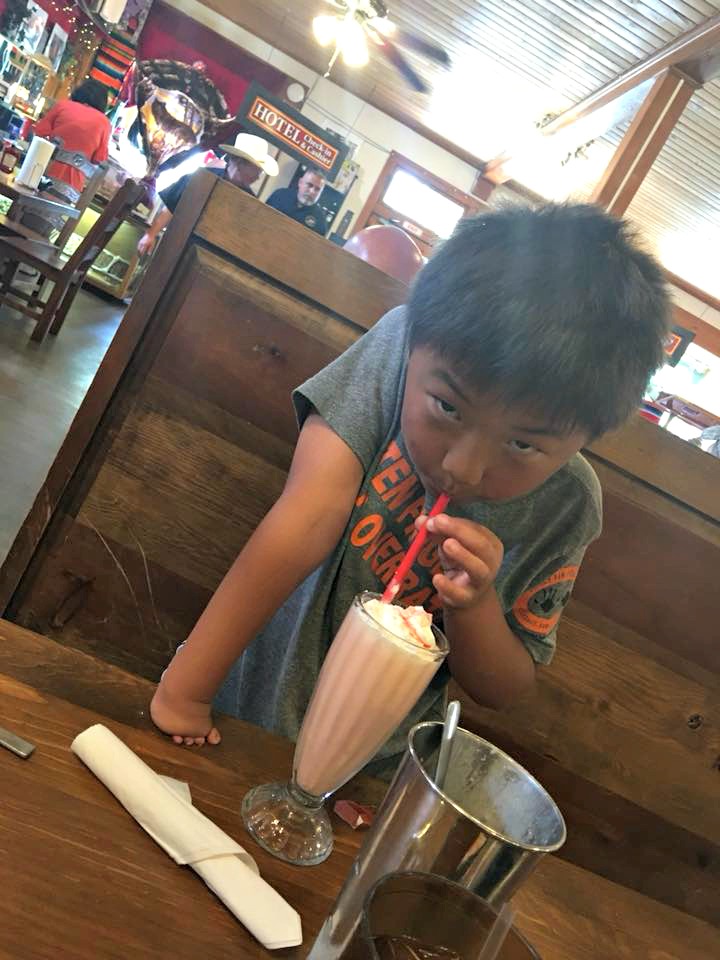 This is clearly a place where the locals eat, which is always a good sign. You order at the counter and your food is brought to your table. You can check out the menu online but it's a hop and a skip from Fort Davis National Historic Site which made it the obvious choice for lunch after a busy morning exploring. We found the Fort Davis Drug Store and Hotel by Googling "food near me" so I'm calling this one a Google success story. You can check out their menu online. Their lunch and dinner offerings is mostly burgers and sandwiches but they do have a nice soup and salad bar as well. They also serve breakfast.
5. Alpine Visitor Center
Admittedly, there is not a ton to see and do in Alpine, although the views of the mountains from the downtown area are really pretty. If you stop by, I definitely recommend checking out the visitor center.
The lady on duty was very knowledgeable about the area and gave me awesome suggestions on things to do with my kids. I am a big fan of visitors centers in general. They'll usually have clean restrooms and often they'll have some sort of souvineer for free or very low cost. You'll always find someone who knows all about the area and some brochures on attractions, so even if you think your plans are set in stone, the visitor center is worth at least a quick stop.
6. Cow Dog
Cow Dog is a food truck in Alpine that was parked outside of Plaine Coffee on the day we visited. Food trucks seem to be a thing in this tiny town, so that might be worth exploring on a future visit.
We loved Cow Dog…it was quirky and fun and the hot dogs were really delicious, and, as you might guess, they are made from 100 percent beef. If you're not a hot dog person, they also offer a veggie burger, pulled pork, Frito pie, and something called Tater Flops (trust me, you want this.) You can check out their full menu here.
7. Plaine Coffee
This is a coffee shop that used to be a filling station located next to a laundromat and, if you're looking for an "Instagrammable" place in West Texas, I think this beats Prada Marfa hands down. We found Plaine Coffee by searching for "ice cream near me." We'd planned a quick stop in Alpine to look around and made the decision to have ice cream for lunch. It was vacation is was hot outside, so…
Plaine Coffee (plaine being an anagram of Alpine) offers various coffees, cold drinks, smoothies, baked goods, and of course, ice cream. Their menu board is made of Scrabble tiles, which is really cute. There's plenty of inside and outside seating and is a great place to relax and people watch.
8. Big Bend National Park
If you love the outdoors and appreciate the rugged beauty of the Texas landscape, plan to visit Big Bend National Park. As a Texan, what I love most about my home state is how much the landscape and scenery vary from region to region, so the views in this part of Texas fascinate me. Check out the National Parks Service website for information on Big Bend National Park. They have info on park hours and things you can do. I love their suggested itineraries section that helps you plan your activities in the park based on how much time you have to spend there.
Note that Big Bend National Park is about 90 miles from Marfa. You can definitely use Marfa as a jumping off point for a day trip if you're wanting to stay in a hotel or vacation rental versus inside the park, but make sure you start out early, especially in the summer time.
9. Museum of the Big Bend
The Museum of the Big Bend is located on the Campus of Sul Ross State University. It's a very well put together museum that gives some history on the area and is great to prepare kids for a visit to Big Bend National Park.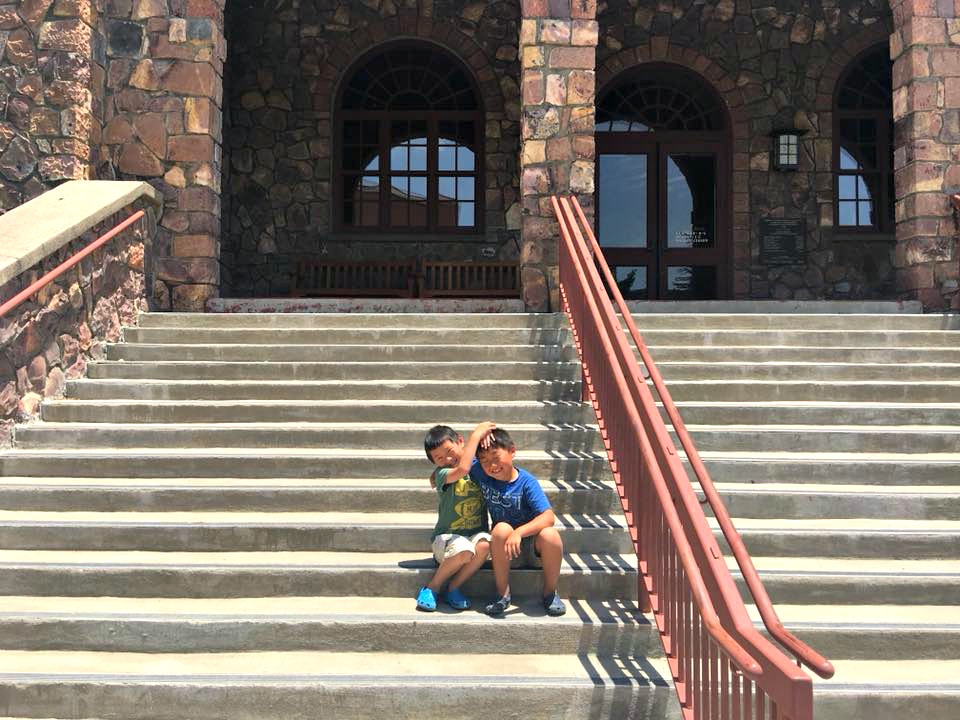 And the best thing? It's totally free, although you can leave a donation if you like. There's also a gift shop with some fun and unique art by local artists. You can find more information on their Facebook page.
Have you been to this part of Texas? What else should be on my list of fun things to do in Alpine and Marfa?
If you liked this post, check out these before you go:
How to use HomeAway to book your family's best vacation ever