Visiting Government Canyon State Natural Area
(This post may contain affiliate links. Read my full disclosure.)
Government Canyon State Natural Area is located on the far north side of San Antonio, near Helotes. It's operated by Texas Parks and Wildlife but it is a natural area and not a park. The focus is conservation and resource manager. That said, this is a popular spot for families, hikers and campers, mostly because of the 110 million year old dinosaur tracks on site. Here's what you need to know about visiting Government Canyon State Natural Area.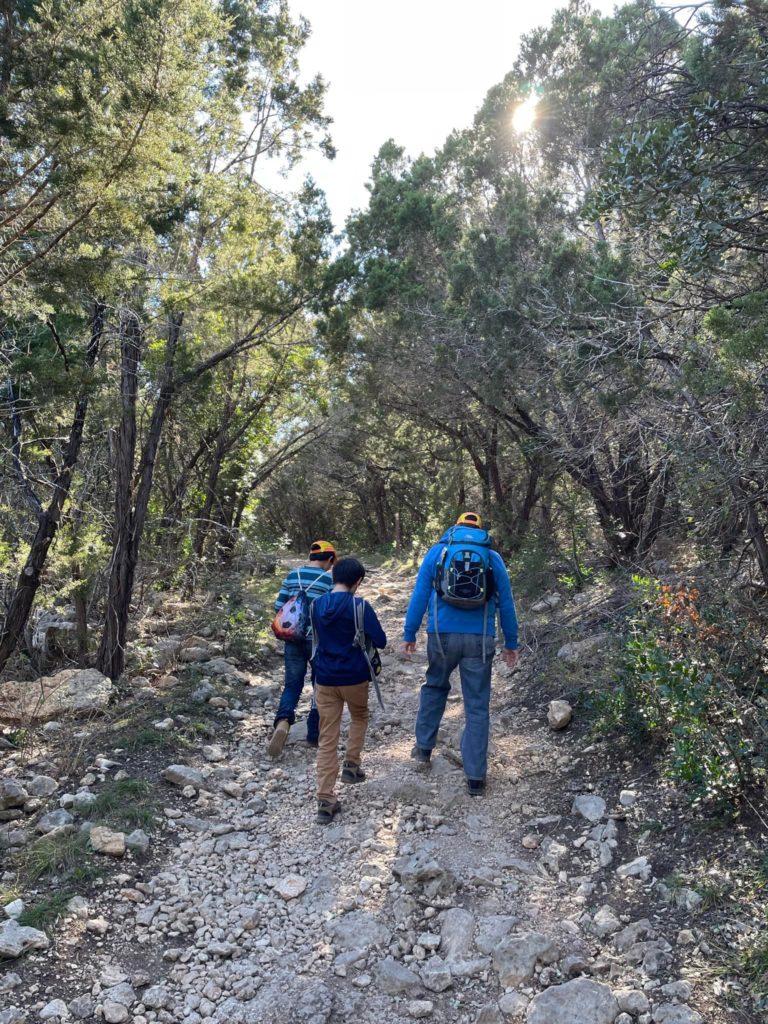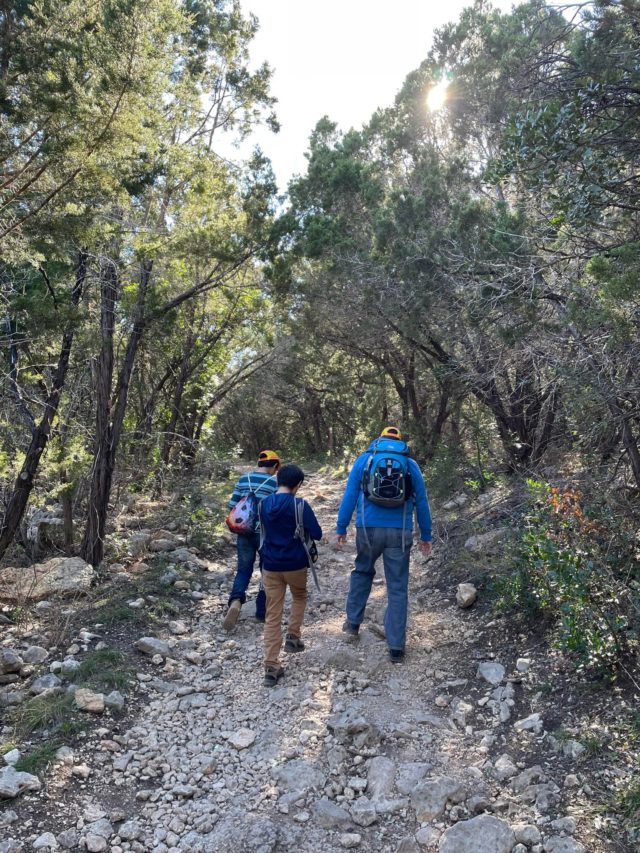 Where are the dinosaur tracks?
I'll answer this first because it's probably what you want to know. While there are other trails available, most people come to see the dinosaur tracks.
The dinosaur tracks are located on the Joe Johnston Route near marker 19. My husband, two 11-year-olds and I did the round trip in about three hours walking at a pretty determined pace with minimal stopping. We did about a 15 minute sit down break at the tracks before heading back.
Government Canyon State Natural Area recommends you not start this hike after midday but I think that advice mainly applies to the warmer months. We started at 1:15 which left us plenty of daylight to get to the tracks and back. We saw multiple families setting out very late in the day and I wouldn't recommend this. This isn't a trail I'd want to be on in the dark and cutting the hike short to be able to get back to the trailhead before dark seems a little pointless since most people's goals is to see the dinosaur tracks.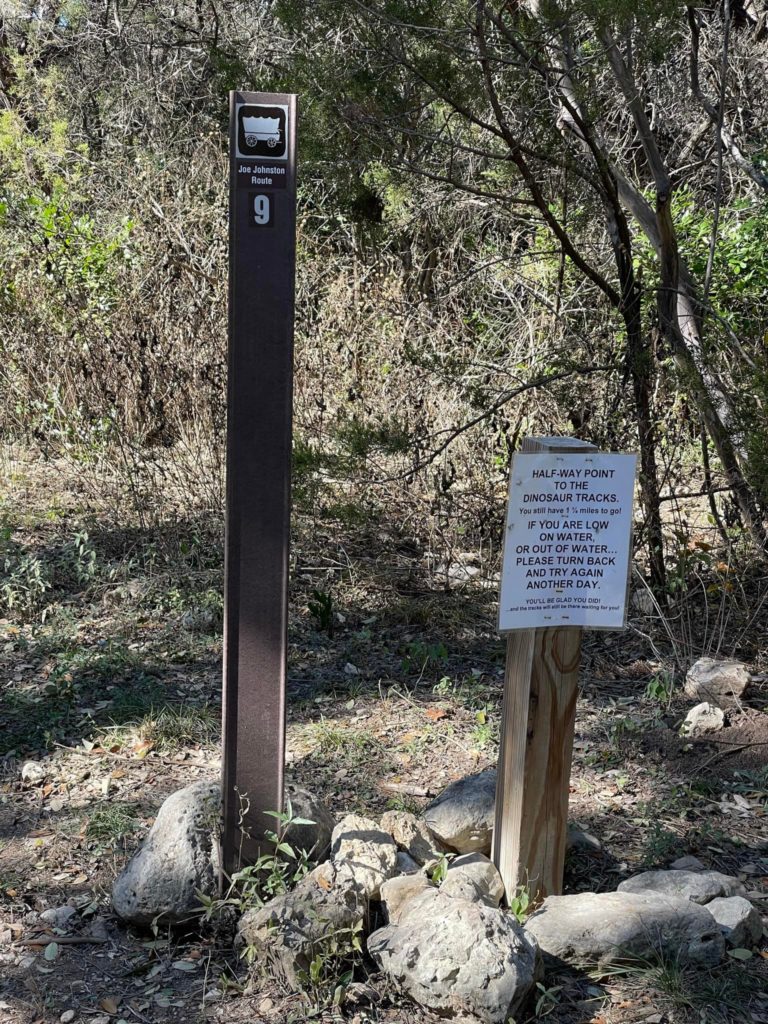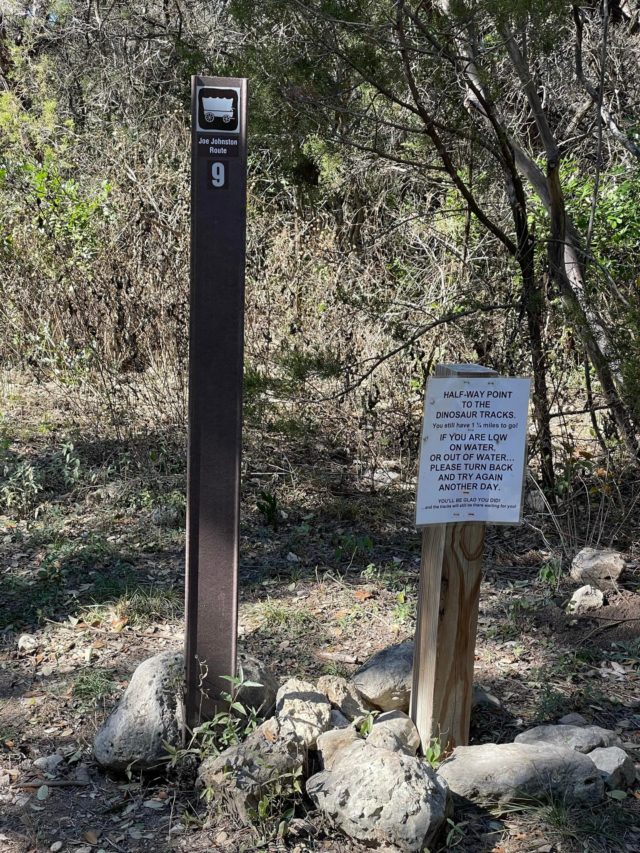 How difficult is the hike?
The trail is listed as moderate (which you'll typically find with any trail not paved) with some challenging areas. I thought the path was pretty easy to hike – the "challenging areas" are sections of the trail that are rockier.
The entire out and back trail is about nine miles but to get to the dinosaur tracks and back, it's 5.7 miles. There are a few ups and downs but nothing you'd need trekking poles or special equipment for.
You need sturdy shoes – hiking boots are great but a good pair of sneakers works just fine.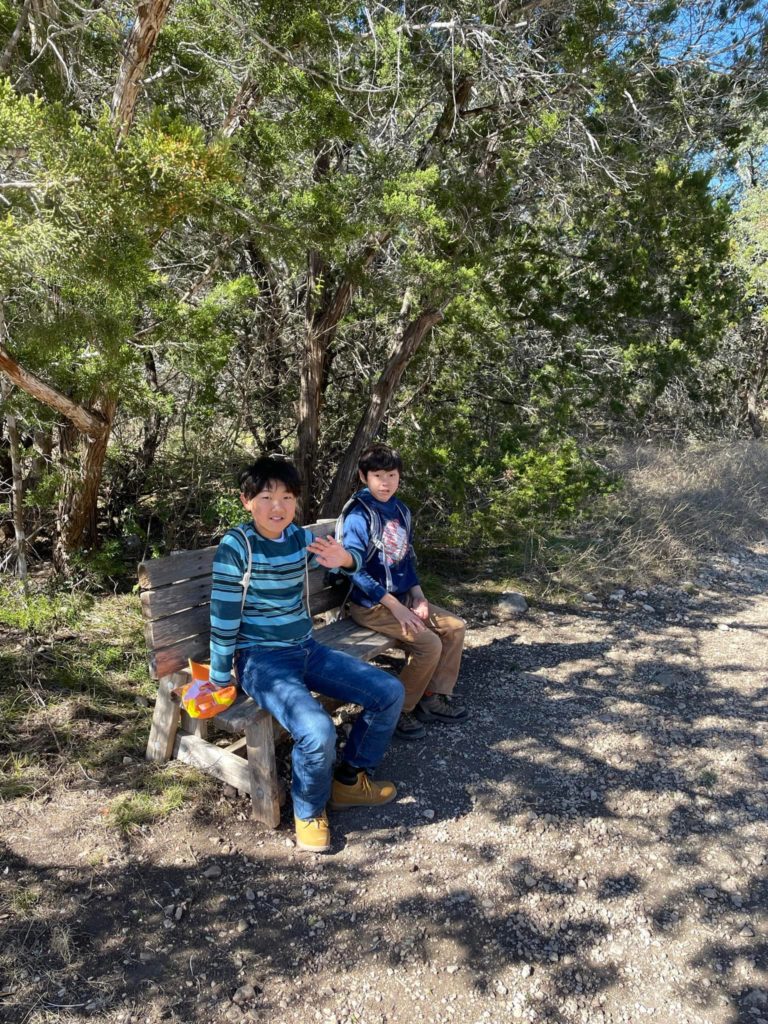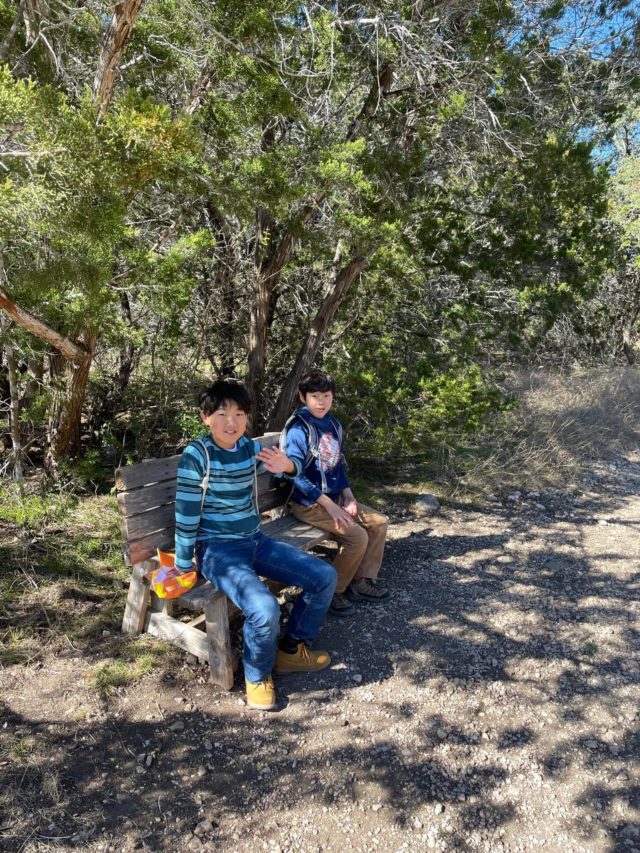 When is the best time to hike the Joe Johnston Route?
When it hasn't rained recently. We postponed two different trips because of rains, which will fill up the dinosaur tracks so you can't see them. If you're in doubt, check Government Canyon's website or give them a call.
I think late fall through early spring is the best time to hike this trail. Late fall to early spring is my standard answer for best time to hike anywhere in South or Central Texas because of the heat and humidity. We went on a sunny January day where the high was about 55°F and it was perfect.
The dinosaur tracks at Government Canyon State Natural area are underwhelming
I said what I said. It was a fantastic family friendly hike and we had a great day. However, the tracks themselves were a little bit of a letdown. They're roped off so you can't go in and stand inside the tracks or put your hands inside for a photo. Even if you could, the imprints in the weren't overly impressive.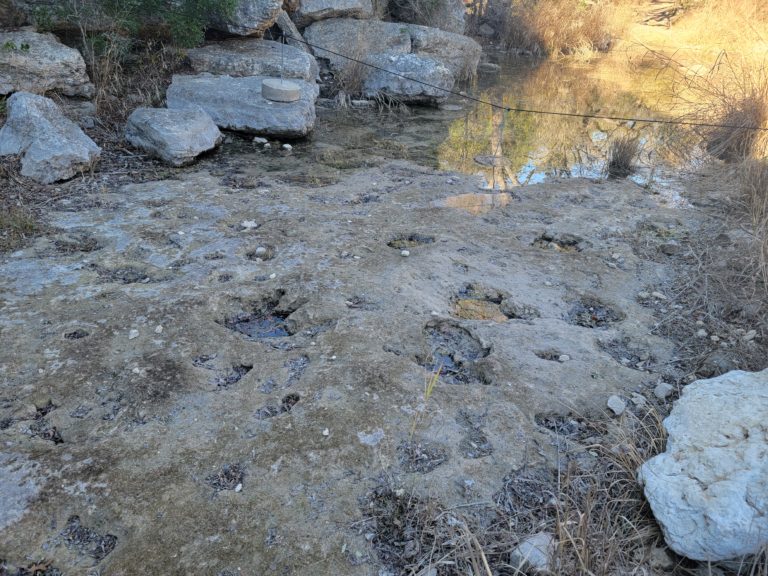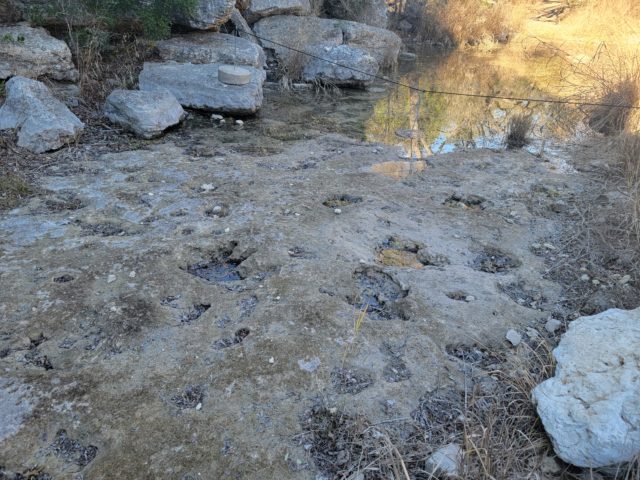 There was something cool about seeing an imprint that's been in the rock for 110 million years but the tracks didn't have the wow factor I expected them to have.
I don't regret visiting Government Canyon State Natural area. This is still a great hike and if anyone in your group is super into dinosaurs, fossils or paleontology, the actual dinosaur tracks might get a few more cool points.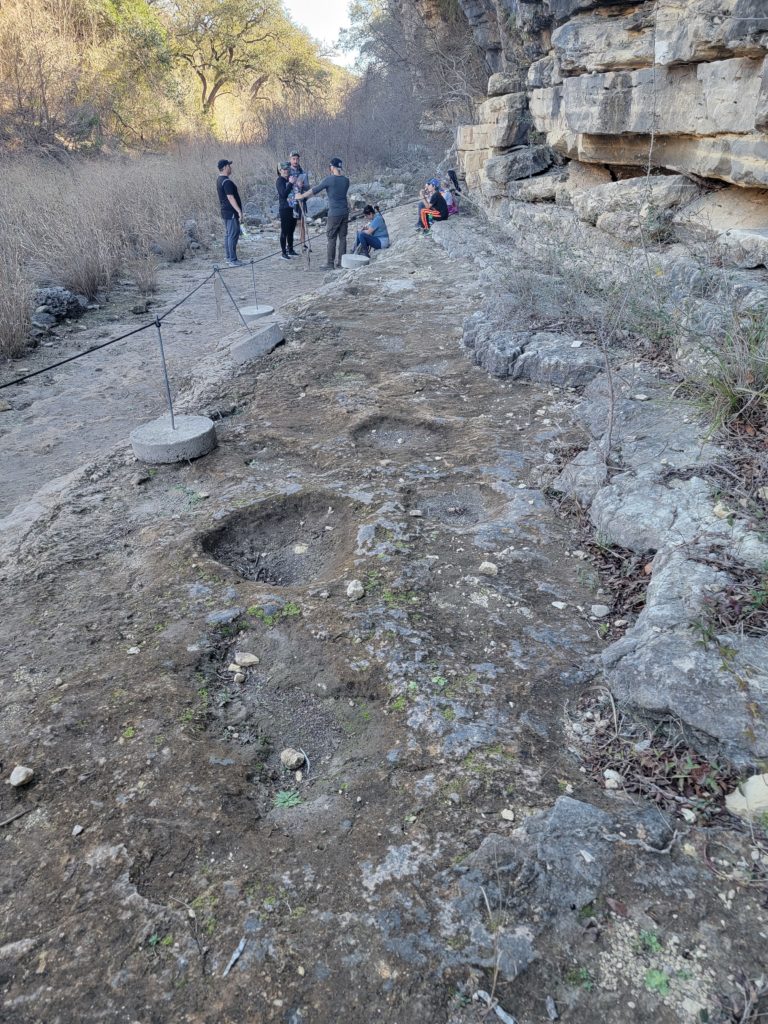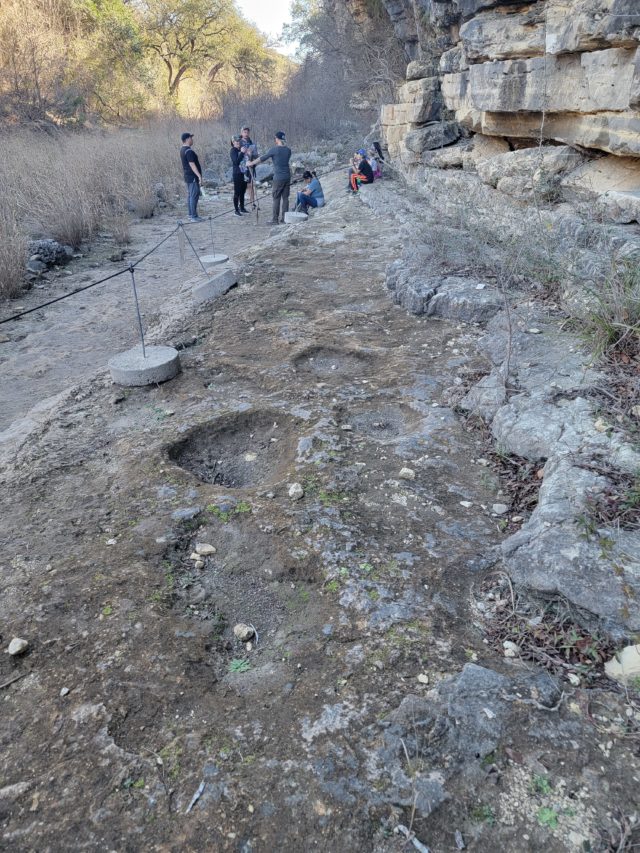 What to take with you when visiting Government Canyon State Natural Area
You don't need to take a lot with you when visiting Government Canyon State Natural Area if you're planning to hike the Joe Johnson Route.
Government Canyon State Natural Area recommends 16 ounces of water per person, per mile. There is no water source on the trail.
In addition to sturdy shoes, I recommend dressing in layers during cooler weather. You'll definitely want a hat and sunscreen most of the year and insect repellant during San Antonio's long summers.
We ate right before we got on the trail and took a small protein snack to have at the turnaround point. You can also pack a picnic if you don't mind sitting on the ground or rocks. There are a couple of benches along the trail where you can rest or birdwatch but no picnic tables or trash bins.
We took pictures with our phones but if you have a nice camera or GoPro, you can get some beautiful shots.
Hikers and bikers are welcome, dogs are prohibited in the backcountry, which the Joe Johnson Route is.
I don't recommend a stroller or wagon. We saw one family pulling kids in the wagon when we started out and that family didn't make it very far before turning back.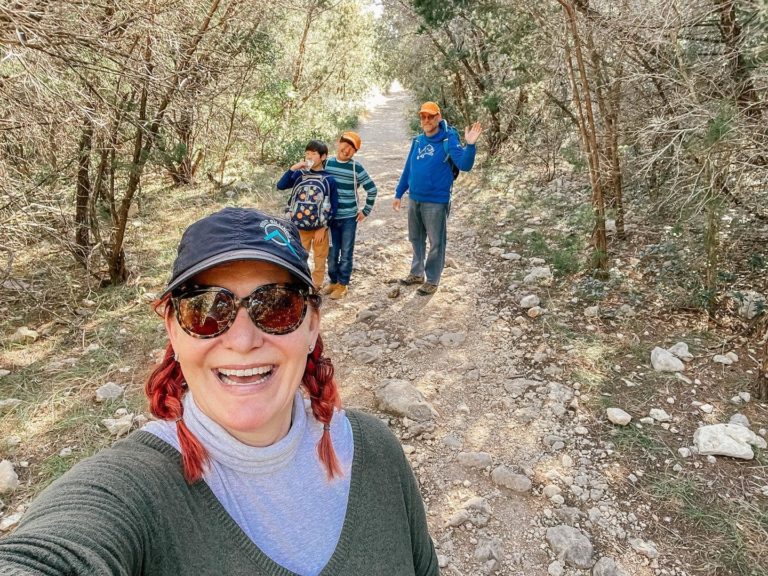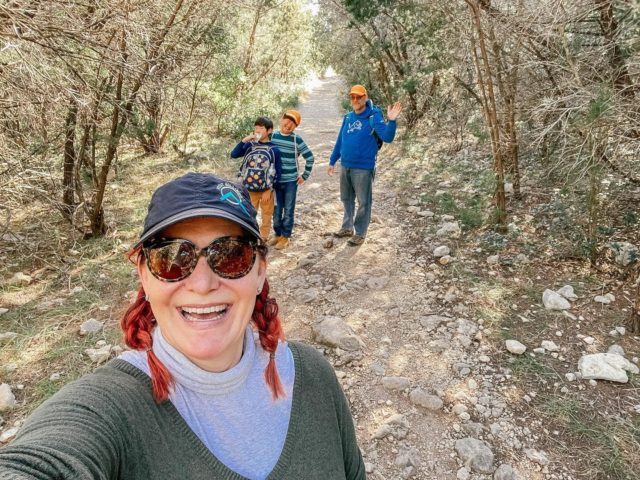 Operating hours, rules, other things to know
Government Canyon State Natural Area is open Friday through Monday from 7:00 a.m. – 10:00 p.m. Reservations encouraged but not required. Pets are not allowed on the back country trails, which includes the Joe Johnston Route.
Entrance is $6.00. Kids 12 and under are free.
All trails are leave no trace so you'll need to pack out your garbage.
There's a small gift shop that sells bottled drinks, books, and a few souvenirs.