The BEST travel gifts for kids this Christmas
(This post may contain affiliate links. Read my full disclosure.)
Are you looking for travel gifts for kids? Look no further. As a mom to kids who are frequent travelers, I know what kids who travel need and I know what they like – winning combination. I got you. This travel gift guide for kids has it all – from kids travel journals to electronics kids who travel need on the road. Here are the best travel gifts for kids this Christmas.
Disclaimer: We are a participant in the Amazon Services LLC Associates Program, an affiliate advertising program designed to provide a means for us to earn fees by linking to Amazon.com and affiliated sites. What that means in plain English is if you shop from links in this post, the seller pays me a commission. Thanks for supporting our site.
The best travel gifts for kids this Christmas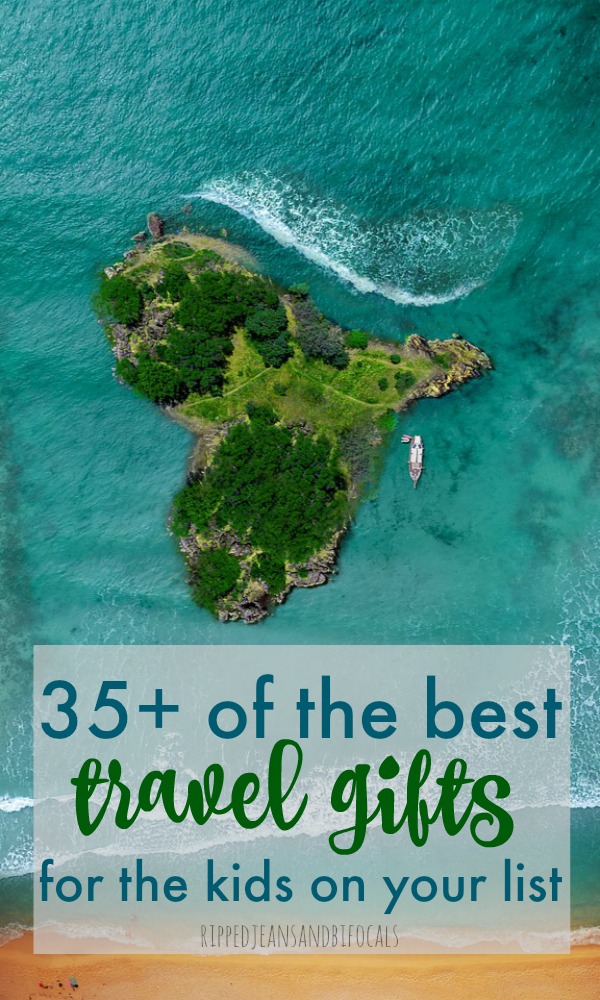 Electronic Travel Gifts for Kids
I know…we all think kids should unplug when they travel and actually…you know..talk to their families and soak up the scenery. And, I believe that, to an extent. But, it's almost 2020 and we're in the digital age and our kids are plugged in. I'm sharing some of my best picks for electronic travel gifts for kids who travel.
Nintendo Switch
Obviously, the Nintendo Switch is a super big ticket item, weighing in at $299 on Amazon. And, if you find a better price, TELL ME. I think with this one, it costs what it costs, but I'm happy to be wrong about that because this is what our kids are getting for Christmas and no…we haven't bought it yet. We're hoping to find a better deal and if we do, I will share it with you.
The attraction on this one (at least for us) is a gaming system that can be used at home and on the road.
Fire 7 Kids Edition Tablet
We SWEAR by these. At the time of posting, Amazon has a super deal on these at $59.99, which is 40 percent off. I can't guarantee that deal will stick around by the time you're reading this post but I hope it will.
CozyPhones Kid's Headphones
Is it a headband? Because if it is, I want one? Is it headphones? It's both! CozyPhones Kid's Headphones come in a wide variety of styles. Unicorn, monster, Paw Patrol? They've got the styles your kids will love.
SIMOLO Kids' Bluetooth Headphones
This deal includes two sets of headphones and two travel cases for $52.79. There are several color options. This is the perfect buy for twins, sibs who are close in age, or a kid who breaks or loses their stuff on the regular. Sigh.
NIAVA K8 Kids Headphones – Budget friendly option
These headphones are bargain priced and come in several color options. If you want a cheaper pair or if you want to buy in bulk, this is your buy. Think party favors, gifts for multiples or cousins, or – sigh – a stock up option for the mom whose kid breaks or loses their stuff on the regular.
Disney+
If you you're looking for a more experiential gift, why not gift Disney+ which, in case you haven't heard, is Disney's new streaming service. Think the Netflix of Disney…it's set up almost exactly like that. Disney+ is only $6.99 per month. You can get bundled Disney+, Netflix, and Hulu for $12.99. Although Disney+ might not be 100 percent a travel gift, I bought Disney+ for my kids with travel in mind. They do get plenty of watch time at home but our frequent traveler status is what prompted me to buy it.
Related Post: Travel with kids: The 5 things you need to know
Memory Making Travel Gifts for Kids
These gifts are intended to help your kids capture the moment, be in the moment, or maybe just give you a moment of peace. No judgement.
Fujifilm Instax Mini 9 Instant Camera
If you have a teen or a tween, odds are you've been asked for this one. I say if your child shows an interest in photography outside their phone or iPad, nuture it.
This Fujufilm Instax Mini 9 Instant Camera Bundle, available in several colors, includes two packs of film (remember film?), carrying, case, photo album, selfie lens (are you sold yet?) and more. This comes in several color options and I'm not gonna lie…I kind of want one for me.
Binoculars
Whether you're on a cruise, on a hike or touring a new city, put a pair of binoculars in the hands of your young one and watch the magic. Seriously. Our kids are used to having something to do and this is a lovely alternative to electronic devices that keeps them occupied and engaged with their environment.
Looking for a cheapie pair for younger kids who destroy everything they get their hands on? Try these. Want to level up a bit? Have a look at this pair.
Kid-friendly waterproof camera
Whether your kids are going to take their camera in the water or whether you just want something that won't stop functioning when your kids spill juice on it (ahem…been there) here are my picks:
Waterproof Digital Camera with Selfie Screen: This one is a little bit spendy, at $79.99 so I'd save this one for a special trip or buy it for a child who's in the water a lot. This is technically a kid's camera but it's got some pretty sweet features. I'd use this one.
This OurLife Kids Camera comes in at a low price point and seems to have a lot of features + two color options. If you're looking for a one trip and done camera…or if you're buying for multiple kids, this might interest you. I'm a big "you get what you pay for" person and I'd be wary of buying this one, unless you only needed it for a specific trip. That said, this camera has wonderful reviews, so you never know.
Just go for it and get the GoPro
If you really want to splurge, get a GoPro. We have two and we LOVE them. Admittedly, these are more of a "mom and dad gift" than a gift for kids but you can buy accessory kits that allow you to strap the camera to your kids' wrists, heads or chests and you can get some really amazing captures. This is a really fun family gift if you like to adventure. We've recorded a lot of really cool footage and now we have to get down to business and create some videos for y'all to see.
The GoPro is fully waterproof, so think water slide cam, snorkeling, and getting a unique view of that cannon ball. They're a lot of fun and I totally believe they're worth the splurge.
*Note: The latest version of the GoPro (at time of publishing, the GoPro HERO8) is $399 – that's the Amazon regular price. You can buy a new older model for less…usually around the $200 price point.
Related post: Kids activities in Billings Montana
Kid's Travel Journals
Kids travel journals make incredible travel gifts for kids. My son Zack has an old red notebook that he's dubbed "great family weekend." He draws in it and records snippets of our travel life. He's even pasted some travel memorabilia, like tickets and luggage tags within. Here are a few travel journals for kids that I think are worth checking out:
Ultimate Travel Journal for Kids
The Ultimate Travel Journal for Kids is a really fun journal – written by someone I know so I might be a little bit biased. It's good for four trips and allows your kids to personalize their travel experiences.
Leather Journal for Girls
This A5 refillable spiral bound travel notebook makes the perfect travel gift for kids (or for any adventurer)/ It took me a minute to realize why this travel journal for kids was listed as "for girls." It's very subtle and not girly girl sparkly. I kind of want it so if you're looking to get me a Christmas present, I'll take one of these, please and thank you.
Dusky Meadow Journal/Notebook
I love this one. It's reasonably priced and it's minimal. It allows the traveler complete freedom on what to record. I think the Dusky Meadow Journey/Notebook is a great gift for any traveler, not just kids.
Cruise Vacation Journal
This Cruise Vacation Journal is a fun, cruise specific way to get young travelers interested in recording their experiences. If you've got a young one going on a cruise anytime soon, snag one of these. The other travel journals for kids I've listed can work for any type of trip. This travel journal is specific to cruises which is kind of fun.
Travel Journals for Boys
I really try to stay away from gender specific recommendations but since I recommended a journal for girls, I'm sharing some stuff for the boys, although the branding on both of the journey below is pretty neutral. I do think any of these kids travel journals are good for children of either gender so I wouldn't get too wrapped around the "travel journal for girls" or "travel journal for boys."
This MALEDEN Classic Spiral Bound notebook comes in several colors and I think it's perfect for any traveler, honestly. I would use this one for me.
If you want something more structured, check out this travel journal for boys. It's got writing prompts and designated places to doodle, record the weather and more.
Kid-friendly luggage
Luggage is a great travel gift for kids. True, it might not be the most exciting gift for a kid to get but if a themed or character inspired suitcase is thrown in the mix, it's more appealing to kids. Here are a few of my favorite picks:
Trunki Original Ride On Carry On
I see a TON of these in airports. The Trunki Original Ride On will fit in the overhead compartment and it's great for kids who might have trouble keeping up with their parents or get "too tired" to walk on their own. It's also a great little stool if you're waiting at the crowded gate area. Plus, it's adorable and comes in several fun patterns. Tiger? Unicorn? Pirate ship? They've got some really cute, kid-pleasing styles.
Disney themed luggage by American Tourister
If your kids love Disney, you'll want to check out these fun Disney print suitcases by American Tourister. In addition to being cute – they offer Mickey, Minnie and several other Disney prints. I can personally vouch for the quality of these hard-sided suitcases. The spinner wheels make it extremely easy to maneuver through the airports. This meets carry-on requirements if you're looking to travel light.
Toy Story 4 Luggage
If you want the very latest thing, this cute Toy Story 4 Suitcase has all the characters from your old favorites Buzz and Woody to the new ones like Gabby and Duke Caboom. This hard-sided luggage is Disney Store Official merchandise.
Frozen 2 Kids Luggage
If you've got some Frozen fans on your gift list, why not get them some Frozen 2 luggage for Christmas? It's a hot movie right now and there's a lot of merchandise out there with Elsa and Anna's new looks/outfits.
This soft-sided Elsa and Anna bag is perfect for a school-age child and it's a great size to carry on. There's a TON of Frozen 2 bags on Amazon right now…I've created a little search widget and you can look and see everything that's available on all of Amazon:
GoPlus Two-Piece Set – Various Prints
If you want something your child will be excited to wheel through the airport (because we all want our kids to carry their own stuff, right?) but don't want to do the Disney or cartoon character route, the GoPlus sets are adorable. Each hard-sided set comes with two bags (both small enough for carry on) and spinner wheels. You can choose from owls, elephants, monsters, and dolls. I think the elephant print is my favorite.
Travel Tots Kids Trunk Ride On Luggage
Now. This Travel Tots Kids Trunk Ride On Luggage is PRICEY. If you're ultra frequent travelers or if you have a bigger budget, this is one that's worth a look. It has great reviews and if I were in the market for ride on luggage, I would take a seriously look at this one. Right now, Amazon is offering $100 off when you sign up for their credit card (not sure how long that deal is going to last) making this Travel Tots Kids Trunk luggage $89.99. It comes in some really cute patterns and I'll admit…I wish they came in adult sizes.
Looking for more ideas? Use the search widget below to see more ideas for kids' luggage on Amazon.
Water bottles make great, low-priced travel gifts for kids
Kids like having their own water bottles, or at least my kids do. I like cutting down on plastic. These are great for airports (all airports have places where you can fill your water bottle after you go through security) and hotels. Most hotels have a water cooler of some type in the lobby. We fill up our bottles every time we go to our room and have water through the night or to drink with our snacks.
Chillout Life Stainless Steel Water Bottle
The Chillout Life water bottle is my go-to. It comes in colors kids like, the 12 ounce size fits in most lunchboxes or back pack pockets. The best thing? They really work to keep your cold water cold. And, they're at such an attractive price point that they're perfect for families with multiple kids (you can buy one for everyone without it pinching your pocket book too much) gifts for friends or gift exchanges.
Contigo Autospout Gizmo Flip & Autospill Gizmo Sip Water Bottles
These Contigo water bottles are great, sturdy spill proof bottles. I like the convenient multi-pack. My kids are forever losing their stuff or what we're looking for is always in the other car, so I like the idea of having multiple bottles available. I also really like the prints on these. They're fun and whimsical without being overly commercial.
Hydro Cell Stainless Steel Water Bottle with Wide Mouth Lid
These Hydro Cell stainless steel water bottles come in a variety of colors and sizes. The 18 oz size is good for school age kids and you can get coordinating (or even matching) colors for everyone in your family. I like these because they're totally sweat proof.
If you want something more suited to younger kids, check out the Hydro Cell Kid's Water Bottle. It holds 12 ounces of liquid and is a little pricey but they're a good quality brand.
Allyooly Collapsible Water Bottle for Kids
The Allyooly collapsible water bottles for kids are great space savers if you're packing light. The collapsible feature is somehow interesting for kids…I'm not sure what the draw is. They're also very sturdy and come with a 10-year warranty.
Travel Games for Kids
I'm including some of our favorite, non electronic travel games. My kids are both nine going on 10 and they rely heavily on their electronic entertainment (and now Disney+) when we're traveling. They mostly use electronic entertainment in transit and during down time at our hotel or resort and I'm OK with that. It makes packing less cumbersome.
That said, we do have our favorites and I'm excited to share them.
Farkle
If you light Yahtzee, you will like Farkle, although Farkle is a lot more fun to say. This is compact and easy to put in your bag and my kids are always TOTALLY willing to put down whatever they're doing and play this as a family. It's also super affordable and compact. The game comes in box but you really just need to take the cup and dice with you.
Tip: When you're buying these small games or card games on Amazon, make sure you scroll down to see if there's any bundled or "buy it together" offer. Often, you'll be able to save money by adding a similar game to your cart at the same time. Yes, part of that is Amazon trying to get you to buy more stuff, but sometimes, it's a good fit and a good deal.
Take 'N Play Anywhere Games
The Take N' Play Anywhere games are beautifully simple. They come in a square, magnetic tin and include timeless favorites like tic tac toe, bingo and hangman. Since the pieces are magnetic, they can be played anywhere and the pieces don't get lost as easily as other games. We received two of these games as a gift on our trip to Decatur Texas and they've remained popular with my kids.
Himal Collapsible Portable Cornhole Boards
These collapsible portable cornhole boards have been a lifesaver for us. Not only do we take them on longer trips, we throw this in the car any time we go to the park or over to someone's house. It's super light and compact and it's an easy game everyone can play. No, it's not the same as the larger, wooden cornhole boards but it does in a pinch and it's SO EASY to pack.
You can play a game like this in many hotel rooms, depending on how much room you have to spread out. If you can keep it relatively quiet and not completely disturb other guests, this could be played in your hotel hallway. It would also be great for a road trip at a rest area…a lot of rest areas have green space/play areas for kids who need to get their wiggles out. This collapsible, portable cornhole board is easy to set up quickly.
Uno and Skipbo
I'm not sure why, but we don't play these two classic card games that much at home but these are go-to activities for us when we're on a cruise. We usually pick one to take with us – either Uno or Skipbo unless it's a particularly long trip, then we might take both. This version of Uno is especially great for travel since it comes in a tin that doesn't get crushed in your luggage. I'm still on the hunt for a Skipbo game in a tin, so if you find it, let me know!
You can also by kids versions of these games. Uno Junior and Skipbo Junior are more suitable for kids who might be playing on their own. We play the regular versions with our kids but they still need some help from time to time with Skipbo, which is a little more complicated than Uno. There's also a bundle available on Amazon, where you can order Uno (the regular version) and Skipbo Junior in one package.
Apparel for Kids Who Travel
If you're looking for comfortable, easy on/off shoes for kids (they also offer women's sizes) check out Critts. Critts are designed by an 11-year-old who is the CEO of his own company, which is pretty impressive. Critts come in lots of colors and offer the ease of a flip flop with added support and cushioning.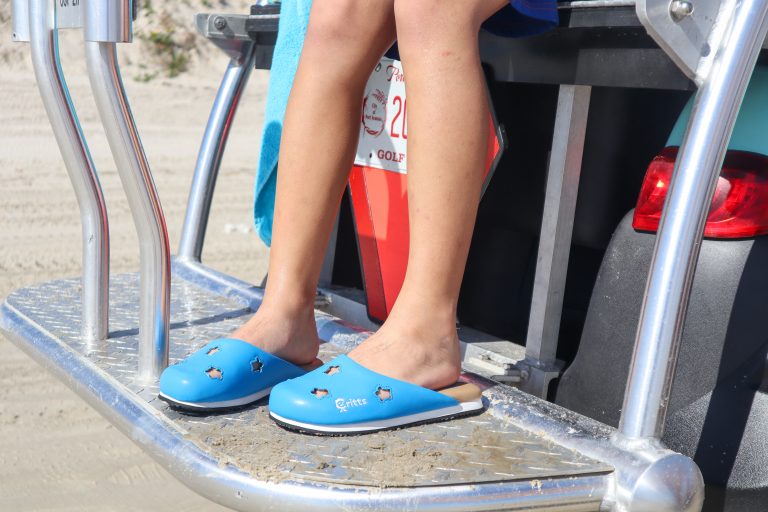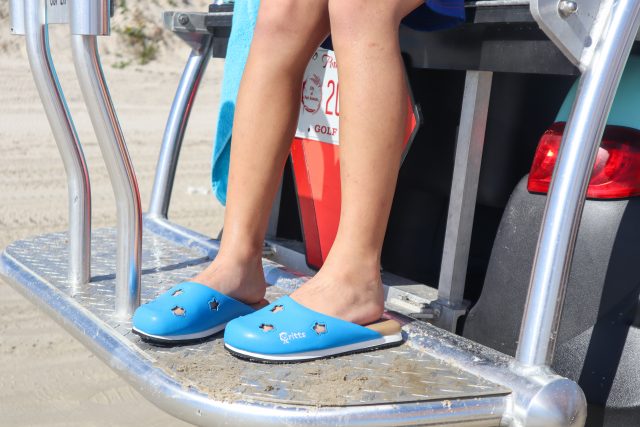 Further reading – More gift guide recommendations for you:
Gifts for Grandparents Who Have Everything