Savory sausage and sweet potato breakfast casserole
Want to know a secret? I've been planning my holiday menus since before Halloween. Yes, I'm that person. This sausage sweet potato casserole is going to be breakfast on turkey day and it's one of our favorites.
My holiday menus always include a mix of old standbys and newer flavors. Some things you don't mess with, such as green bean casserole or making sure we've got the jellied kind of cranberry sauce versus the whole berry variety. But holiday breakfasts are fair game for experimentation.
This post is written by me on behalf of Tyson Foods, Inc.. All opinions are entirely my own.
Although I do sneak a new side dish in or experiment with different methods in cooking the bird, holiday breakfast is where I really like to get creative and mix things up. Special breakfasts during the holidays are fun, company or no company. It just adds to the general air of festivity when we're not having cold cereal for breakfast.
You might also like: Make Turkey Day easy with this Thanksgiving Dinner Checklist
Over the years, I've experimented with different breakfast casseroles and sweet treats. Let's face it, fresh-baked cinnamon rolls disappoint no one. But this year, I think I've knocked it out of the park with this savory sausage and sweet potato breakfast casserole. My favorite recipe tester agrees.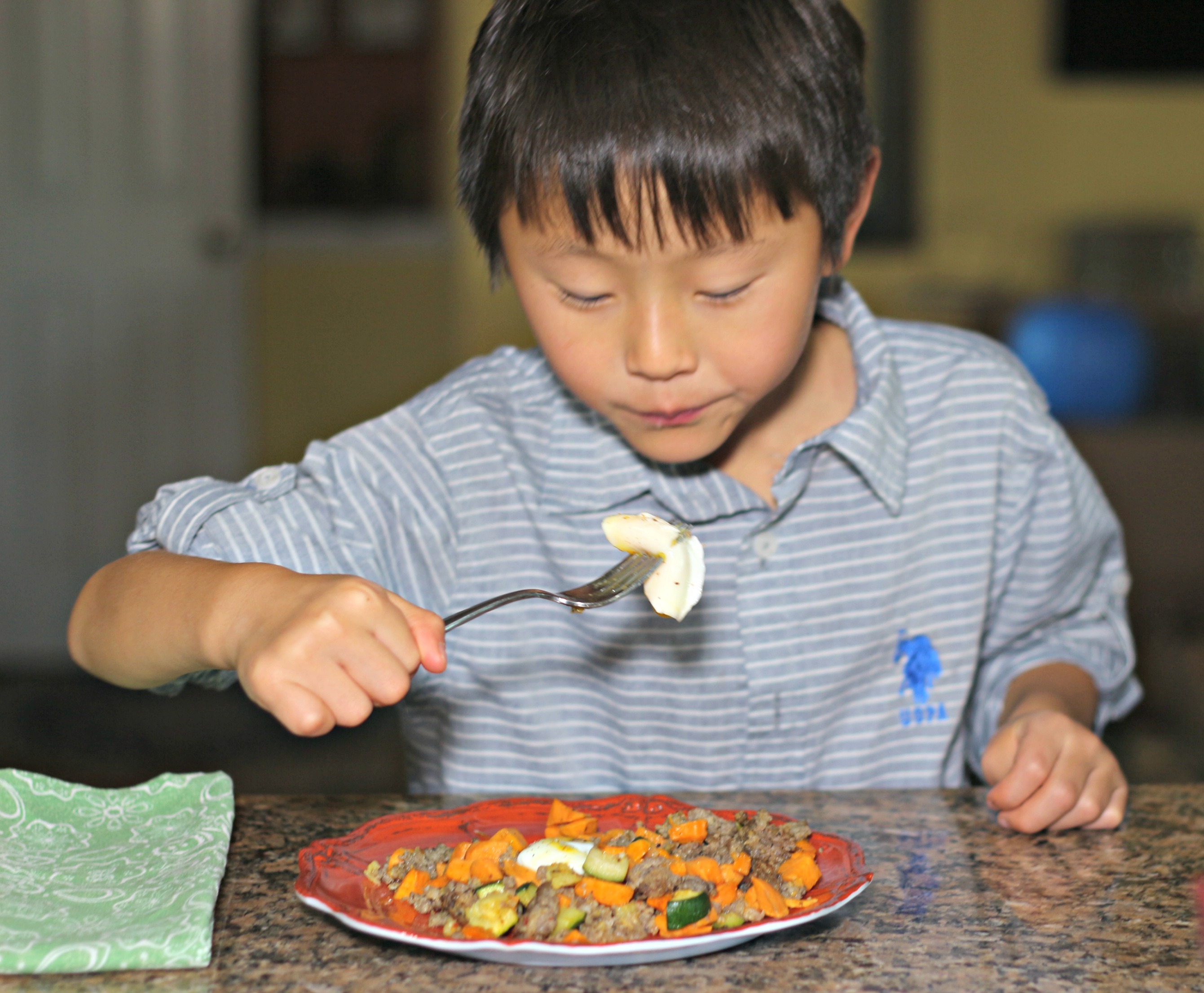 Kyle is the most fun person to cook for, ever. He eats absolutely everything with relish and he especially loves healthy foods. My daughter, who is grown up now, was medium picky growing up. My other son is frustratingly picky and tests my patience. Sigh.
Like me, Kyle is an adventurous eater and he's my go-to when I announce to my family that I'm creating a new recipe. We had a ton of fun in the kitchen together fine-tuning this savory sausage and sweet potato breakfast casserole and we think the rest of the family is going to love the result. Except maybe Zack. You can't please everyone.
This savory sausage and sweet potato breakfast casserole is easy to make. You don't need any special kitchen equipment. Best of all, you can assemble this dish ahead of time and bake it when you're ready. That is what makes this dish a winner for me. Although I do like to serve a special breakfast during the holidays, main meal prep gets underway early and I don't have a ton of time to spend on breakfast so fast or make-ahead are musts.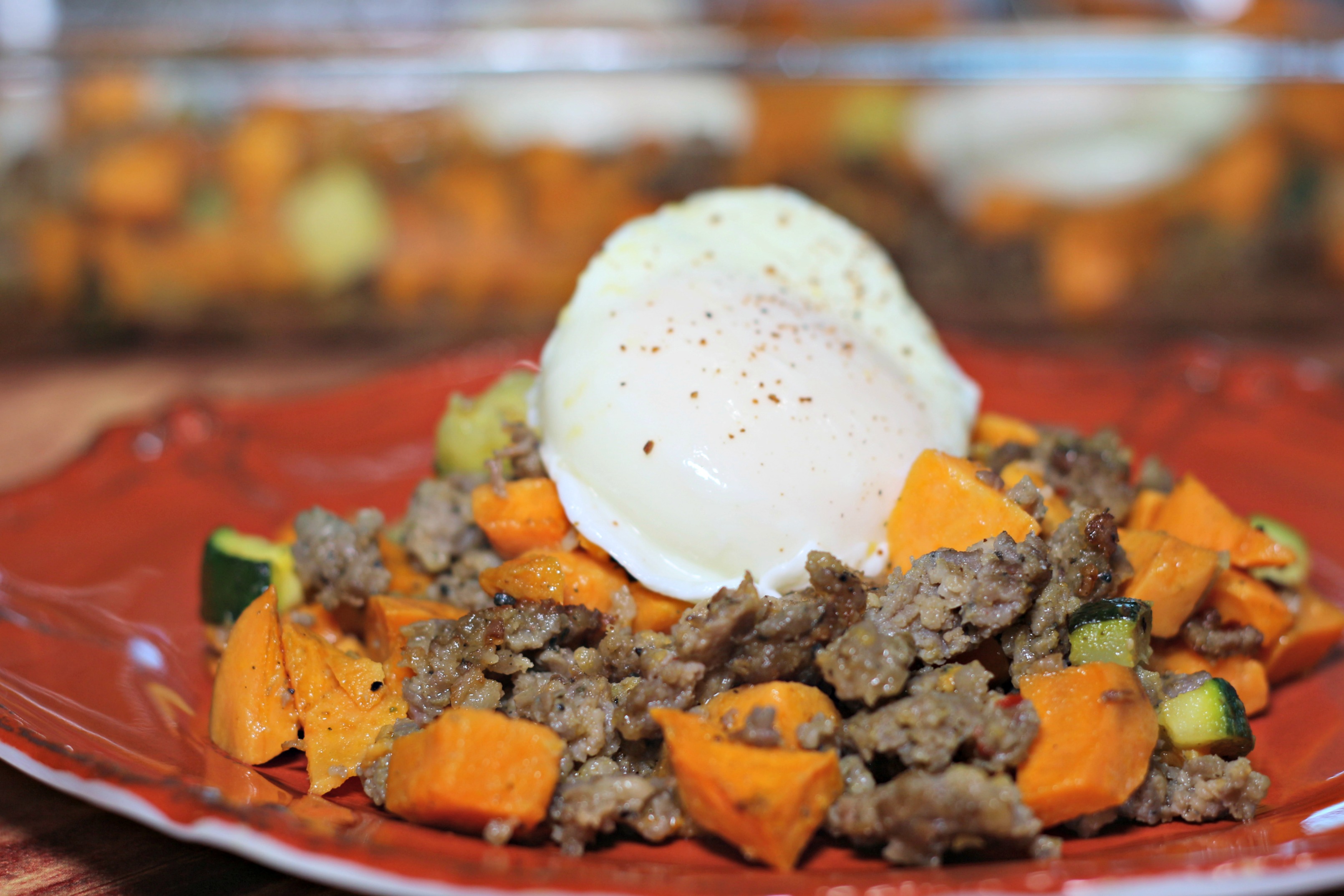 Because I can prep this early, I can actually spend a little time relaxing over breakfast until I have to go at ninja speed to get the rest of my meal done.
Holiday meals are something I usually do all on my own. I will let someone else bring a side if they offer, because I think it's rude to not let someone bring something if they ask. Desserts are not my favorite thing to make, although I do make a mean peach cobbler. My husband helps with the bird and if we smoke or fry our turkey, he does most of the work.
The sides, breads, and appetizers are all me, though, and although it is a lot of work, I love to do it. That's why I appreciate the simplicity and the yumminess of the savory sausage and sweet potato breakfast casserole.
The sweet potatoes are a great source of fiber, potassium, as well as Vitamins A and C. This is a fun (and healthier!) switch up from traditional hash browns.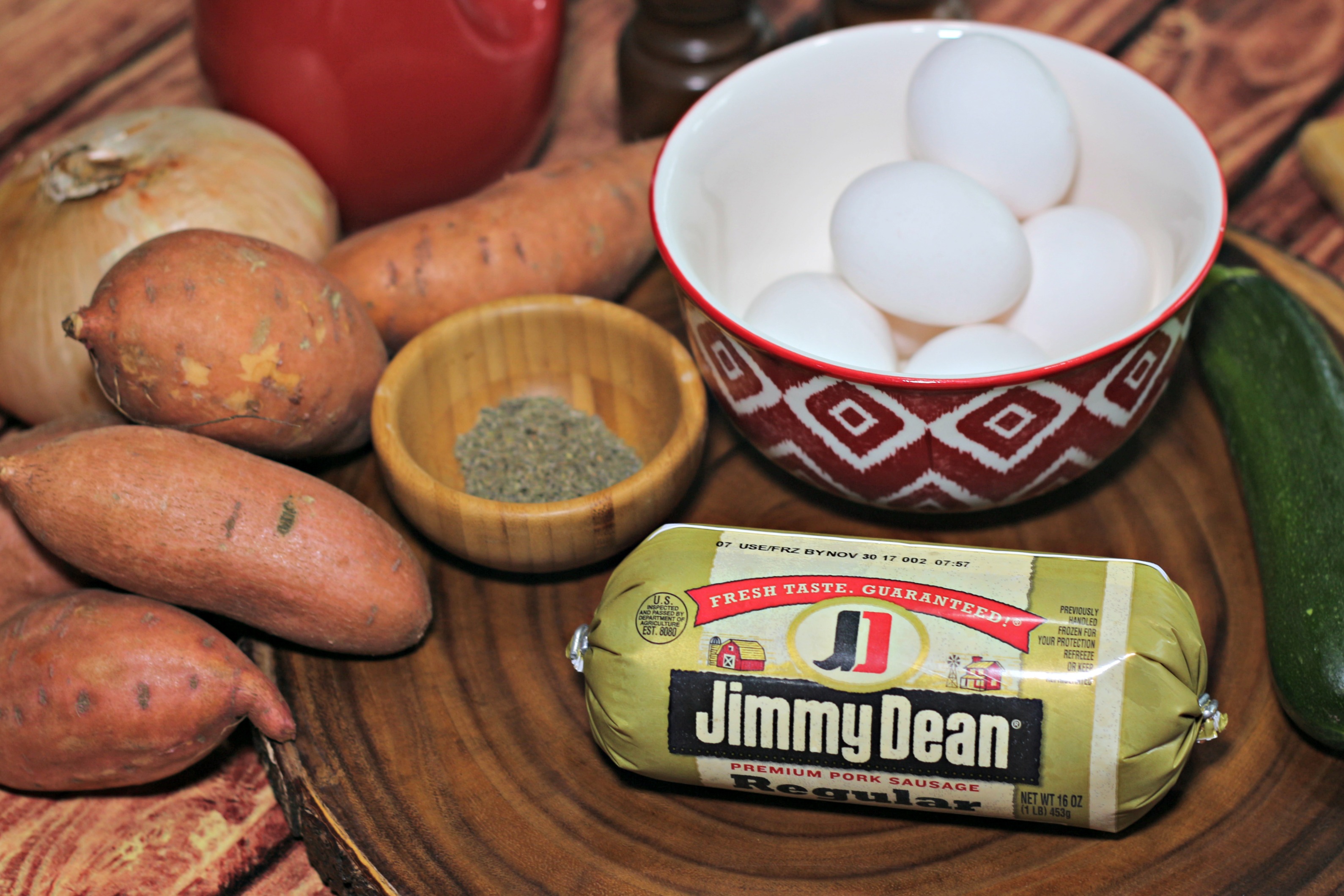 I love adding the zucchini for a splash of extra color and the onions and sage give this just the right amount of flavor.
Sometimes I can find precut fresh veggies at the grocery store and I always snag them. It's a little more expensive but it's a timesaver and the only negative I can say about this dish is that I hate cutting sweet potatoes. This is worth it, though!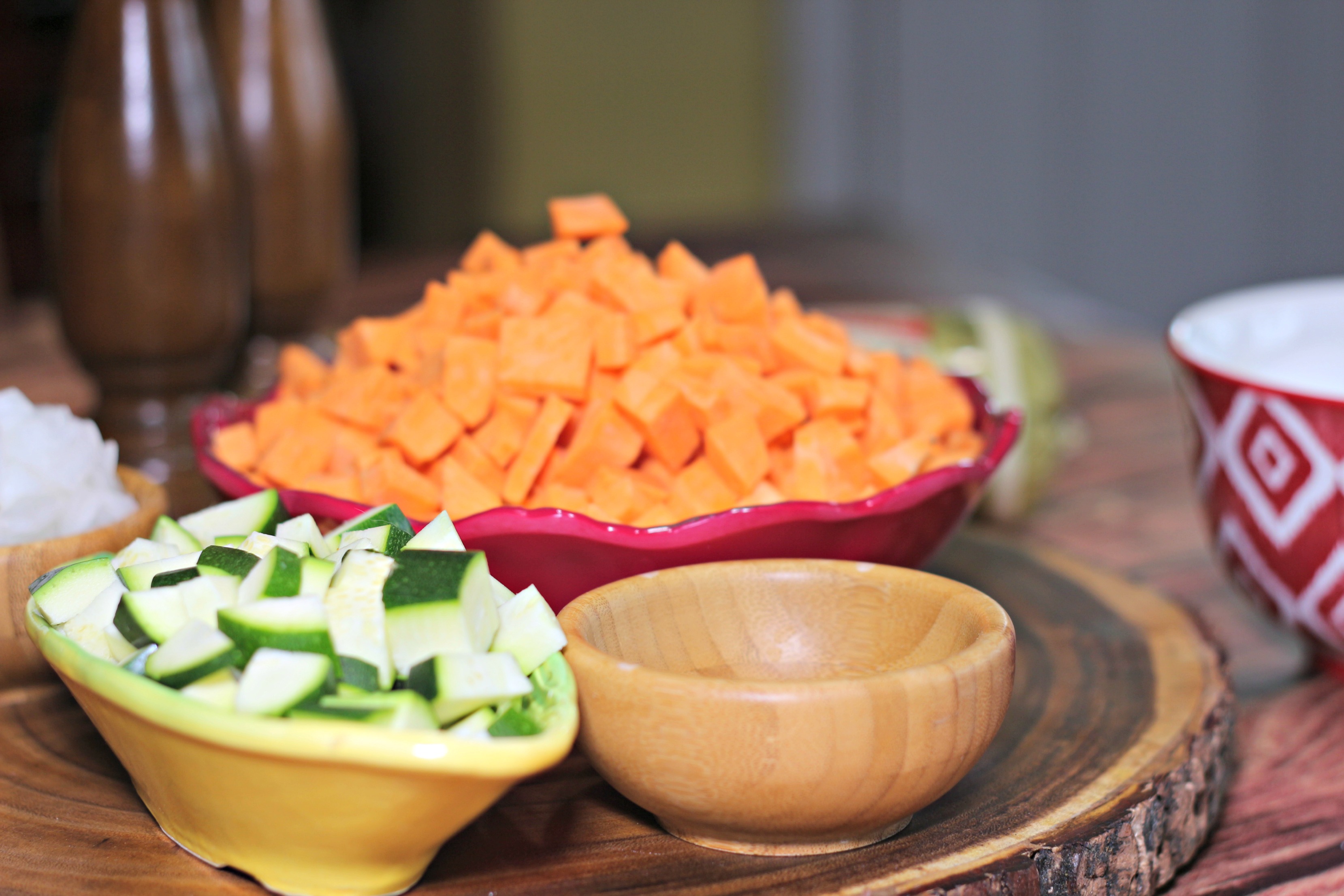 If you want to do this as a make-ahead dish, just cover the baking dish and refrigerate until you're ready to heat. Allow the dish to come to room temperature before putting it in a 350 degree oven.
I love topping this with poached eggs, although you can do fried eggs or no eggs at all.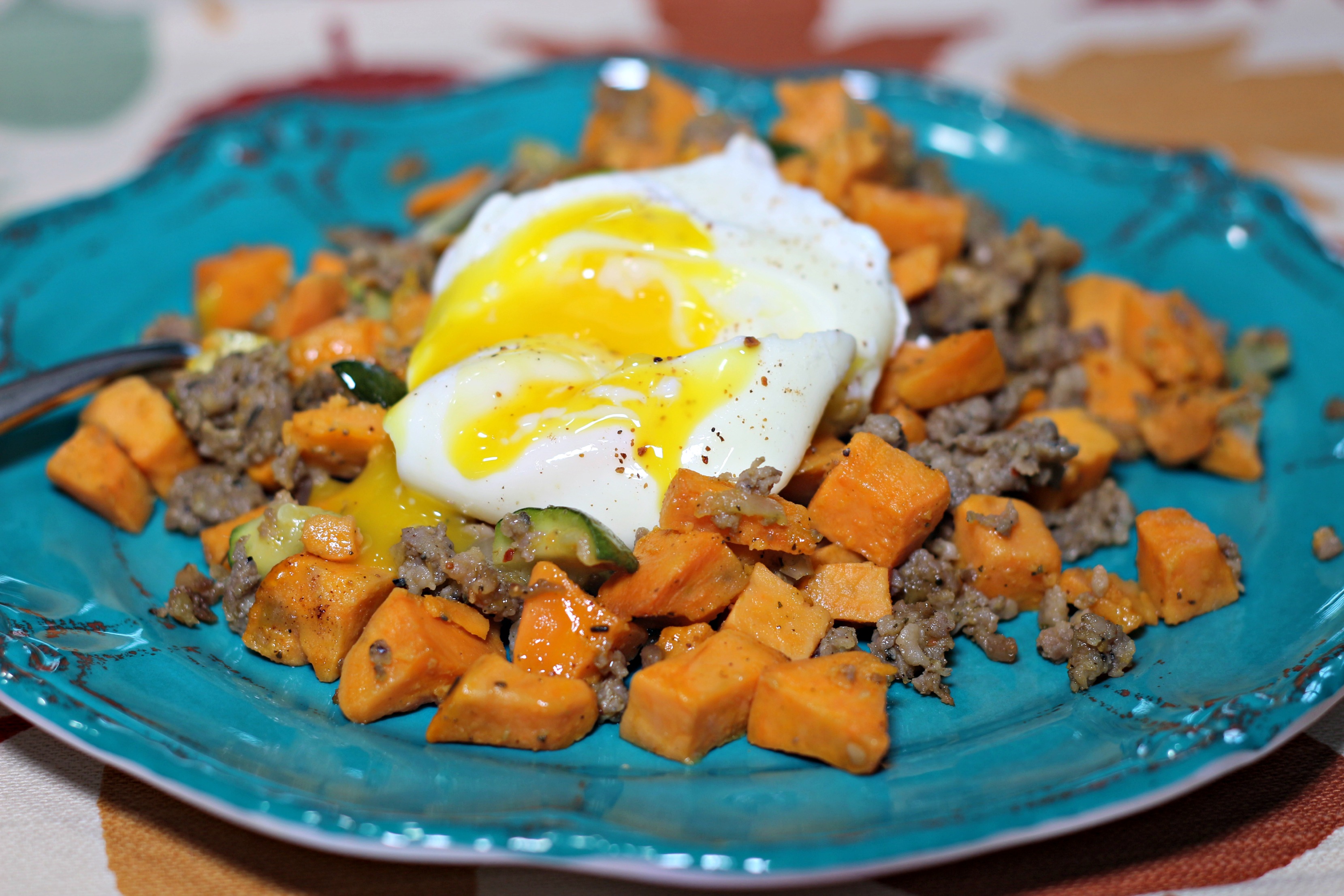 To make a perfect poached egg, bring your water to a boil and then reduce the heat. You should see tiny bubbles in the water but not a rolling boil.
Add a dash of white vinegar to the water – I'm talking just a smidgen. And no, it won't make your egg taste any different, but it will help hold it together while it cooks.
Add your egg to a measuring cup (versus just cracking it over the pan of boiling water) and slide it into the pan.
Cook for four minutes and remove with a slotted spoon. Voila.
This is a delicious, savory, and colorful breakfast dish to enjoy on a holiday or special occasion…or just because.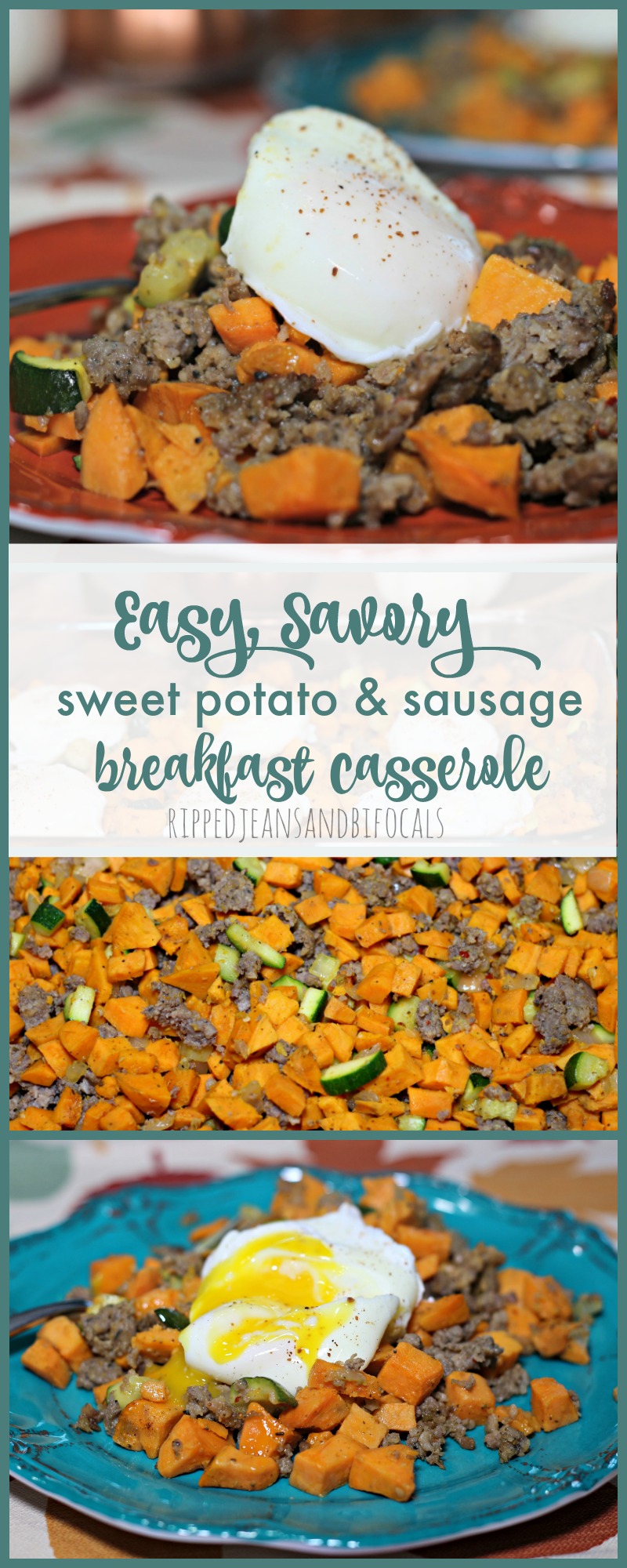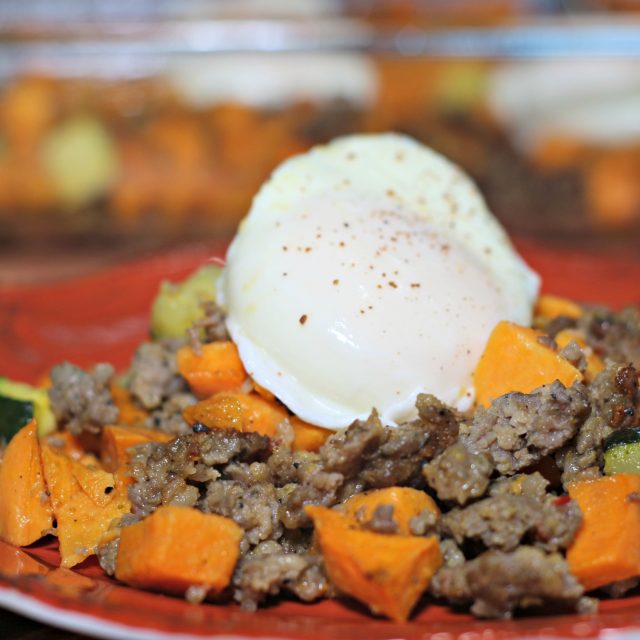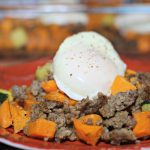 Ingredients
1

1 lb tube

Jimmy Dean® Premium Pork Sausage

5

cups

peeled and small-diced sweet potatoes.

(This is about 3 large or 5 small sweet potatoes.)

1

cup

chopped yellow onion

1

small

zucchini, small diced

1

tsp

dried sage

Sea salt and fresh ground pepper to taste

6

eggs

(poached or fried)

Olive oil

(optional)

Ground nutmeg

(optional)
Instructions
Wash and chop fresh vegetables

Cook Jimmy Dean® Premium Pork Sausage in a large skillet over medium heat until thoroughly cooked. Drain and set aside, leaving the drippings in the pan.

Add sweet potatoes, onion, and zucchini to the sausage dripping. I added a drizzle of olive oil to the sausage dripping, just to make sure my vegetables were evenly coated.

Cook over medium heat, frequently stirring until vegetables are soft and sweet potatoes are tender – about 20 minutes.

Transfer drained sausage and cooked vegetables to a 9x11 baking dish and mix all ingredients together.

Heat in a 350 degree oven for 25-30 minutes.

Top with poached or fried eggs.

Sprinkle with ground nutmeg, if desired.