I love lavender. It's pretty and it smells good but there are a lot of other good reasons to love it. It's been said to promote sleep and relaxation, relieve pain, strengthen hair, reduce cellulite (hello!), aid digestion, boost immunity, and more.
Here are 21 easy and fun projects you can make with lavender. Most of these are really easy and you can make them with ingredients you have on hand or can easily obtain. These are fun things to make as a treat for yourself or as gifts. If you're looking to save money on Christmas, birthday, shower or other special occasion gifts, try one of these – even if you don't consider yourself a DIY-er. For the record, I'm not really not one.
My husband and I had a lot of fun making the bath bombs together…don't make fun. We did. I have a slight addiction to expensive bath bombs and these are JUST as good. It matters not that I have to wait until after my kids are asleep to actually take a relaxing bath and that I have to clear my tub of the bazillion toys and Darth Vader bubble bath. Sigh.
If you want some inspiration to make some lavender magic of your own, here are some great, delicious smelling and soothing and easy ideas for you.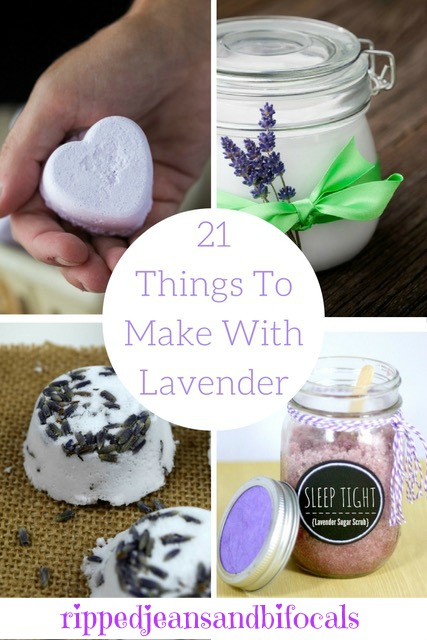 1. Calming Lavender Sugar Scrub with Essential Oils by Lemon Live Adventures
2. Bath Bombs by Simply Stacie
3. Homemade Epsom Salt Foot Bath by Living Well Mom
4. DIY Laundry Soap by Scratch Mommy
5. Homemade Bath Salts by The Classy Chapter
6. DIY Dryer Bags by Todays Creative Life
7. Soothing Playdough Recipe by B Inspired Mama
8. Homemade Shampoo by Premeditated Leftovers
9. Homemade Bath Bombs by The Classy Chapter
10. Lavender Coconut Aloe Vera Shave Gel by You Brew My Tea
11. How To Make A Compress To Relieve Aches And Pains by Untrained Housewife
12. DIY Lavender & Mint Hand Sanitizer Spray by Simply Southern Mom
13. Homemade Lavender Soap by Jamonkey
14. Lavender Sugar Scrub by Sparkles Of Sunshine
15. Get Better Sleep With A Proper Pillow & DIY Lavender Pillow Spray by Must Have Mom
16. DIY Shimmery Bath Salt Recipe by Must Have Mom
17. DIY Scented Microwaveable Neck Pillow & Hand Warmers by Domestic Mommyhood
18. DIY Bath Melts by Scratch Mommy
19. DIY Eczema Lotion by Nerdy Mamma
20. Relaxing Spa in a Box by Momerish
21. Homemade Face Wash by Premeditated Leftovers
If you enjoyed reading this post, please give me a vote on Top Mommy Blogs my clicking the button below. It's super easy and helps my site A TON.