Halloween at SeaWorld San Antonio
(This post may contain affiliate links. Read my full disclosure.)
Halloween at SeaWorld San Antonio is ON. Here's what you need to know to plan your visit.
Halloween at SeaWorld San Antonio
Whether you are looking for family-friendly fun or for things to get really, really scary, Halloween at SeaWorld has something for you. Treats by day, fright by night.
My family and I were provided complimentary admission ticket to SeaWorld San Antonio.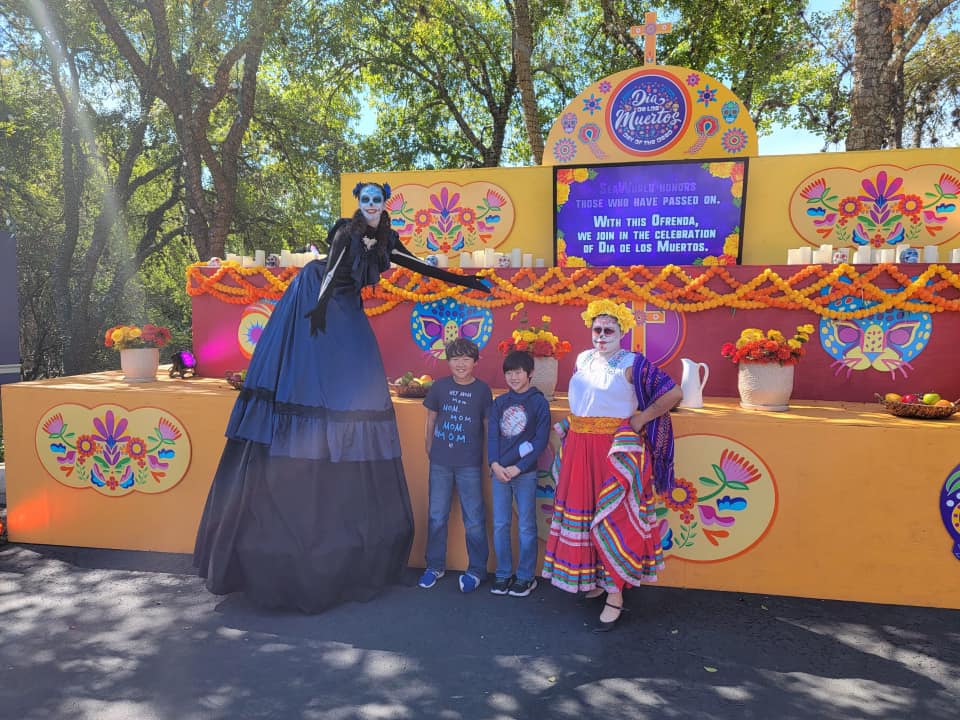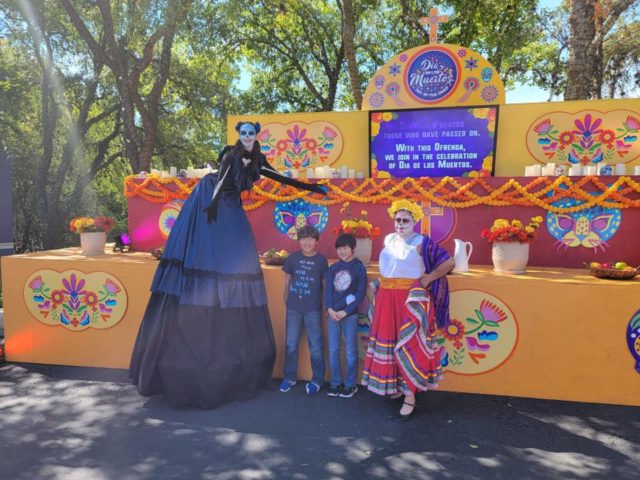 Halloween Spooktacular
Halloween Spooktacular is included with your regular admission and takes place on select days now through October 31st. Currently, Halloween Spooktacular is happening Thursday through Sunday up to and including Halloween.
In addition to the regular shows and attractions at SeaWorld San Antonio, guests will enjoy trick or treating, a maze, and a special Sesame Street Halloween Parade. There's also a Dia de los Muertos (AKA Day of the Dead) area, complete with an ofrenda and character interactions. You can even wear your Halloween costumes.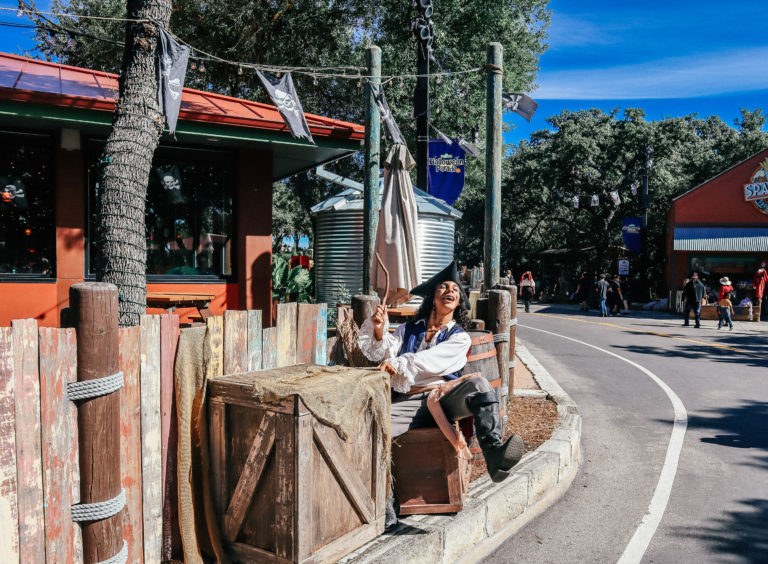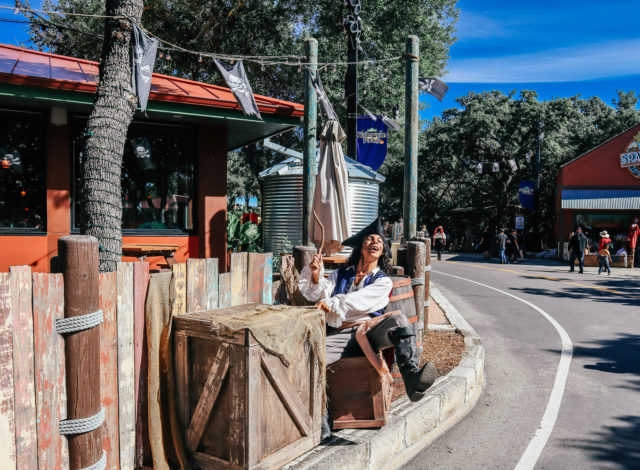 The trick or treating is free but the free bags are not included this year. You can bring your own bag in or purchase a bag or plastic bucket in one of the gift shops. Pay attention to the posted hours for trick or treating. On the day of our visit, trick or treating ended at 3:30 so if you're arriving a little later, make sure to hit those trick or treat stations first.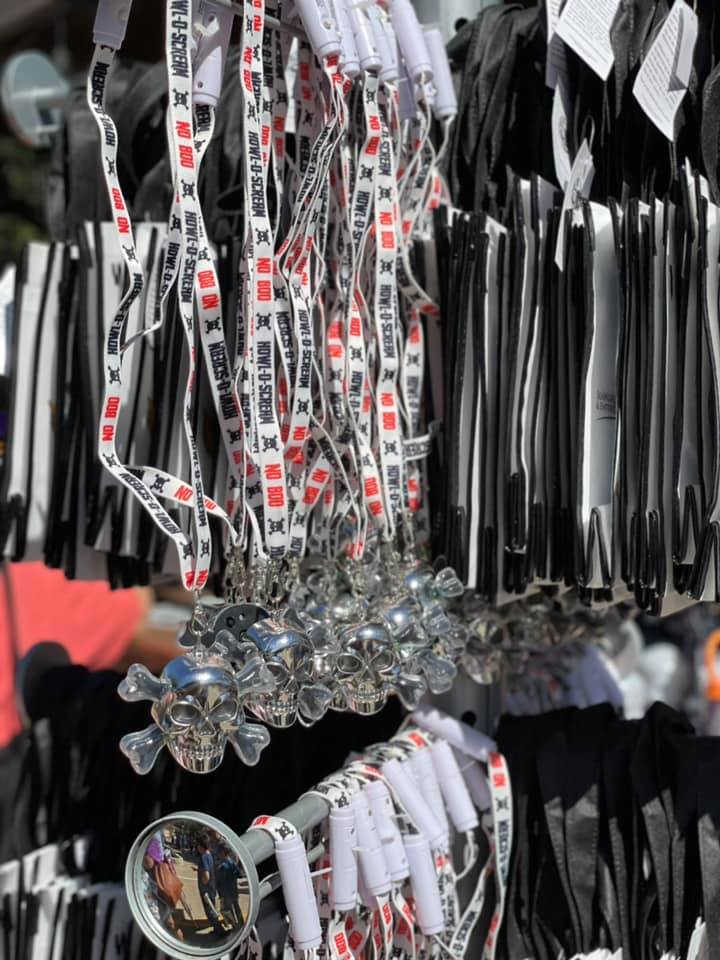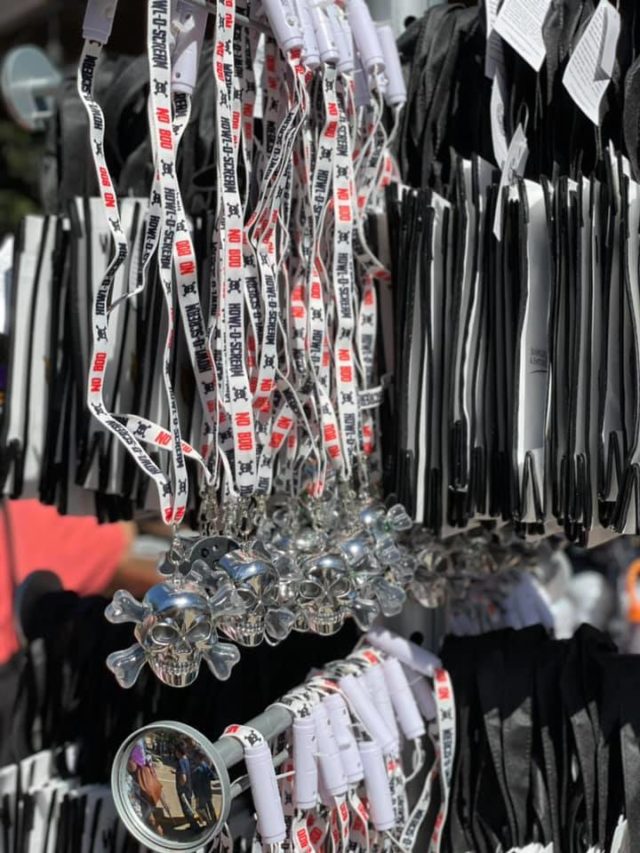 Howl-O-Scream
If your idea of Halloween fun is "The scarier the better" then Howl-O-Scream is what you want. Celebrating its 20th year, Howl-O-Scream is offered on select nights now through October 31st. Howl-O-Scream is happening Thursday through Sunday up to and including Halloween night. Howl-O-Scream is included with your regular admission.
There are lots of haunted houses and scare areas known as "terror-tories" you can go through. If you've been before, there are some changes and additions for 2021, so you'll experience some new frights. You'll also find Halloween themed bars and signature Halloween cocktails.
SeaWorld San Antonio does not recommend Howl-O-Scream for guests under 13. As mom to two 11-year-olds, I agree with this assessment. The park turns scary at 7:00 p.m. when the monsters start to come out. The lighting and music is eerier and there are lots of ghouls, monsters and creepy clowns out and about with the sole objective of scaring the guests.
We were in a line for a ride between 6:00 and 7:00 and had to walk through the scare area to get to the front of the park and one of my kids was really scared of the monsters. They won't touch you (and you shouldn't touch them) but they will jump at you and make scary noises. There's a light-up necklace you can buy to wear if you don't wish to be scared but personally…if you don't wish to be scared, you probably don't belong at SeaWorld after 7:00 p.m. so plan accordingly. There is the option to purchase the necklace, though, and it's widely available throughout the park.
If you want to visit all of the haunted houses, I recommend checking out the Fear Pass Upgrades. There are a few different options, but essentially, this add-on allows you to jump the lines. This will allow you time to see everything, plus enjoy the bars and riding the rides at night.
Pro Tip: If you're looking to buy upgrades or add-ons, to include places at Camp Spooktacular and No Boo necklaces, buy online in advance of your visit. You'll save money.
Camp Spooktacular
Camp Spooktacular is a place for kids 6-12 and is open from 7:00 p.m. until park closing. This is a non-scary place for kids to hang out and have fun while the grownups enjoy Howl-O-Scream.
Prices start at $49 per child and includes dinner and a snack. Kids will have fun playing games, doing crafts, learning about animals, and more – no scary stuff.
Monster Stomp
The Monster Stomp is a music and dance show held at the Nautilus Amphitheater. Set in Victorian London, this half hour show features rock music, dancing and some awesome percussionists. I do not think the show is scary at all but some of the dancers have on ghoulish makeup, which may frighten younger kids.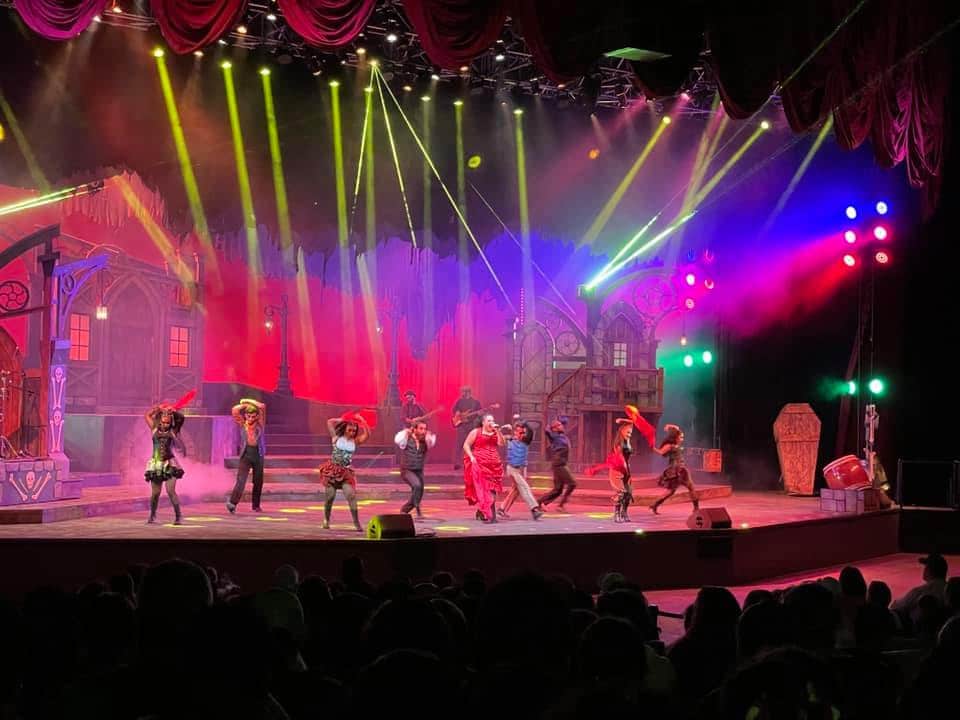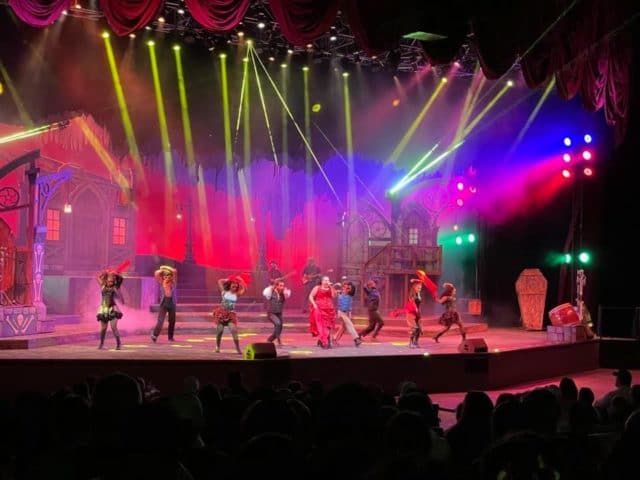 I saw this show in 2017 and this show is similar, although it seems shorter this year. The 2021 version of Monster Stomp is about 30 minutes long. On the day of our visit, the SeaWorld app listed showtimes as 7:30 and 10:30. Check the app or the venue on the day of your visit. There is preferred seating available in the app for $15 per person. You can also get preferred seating as an add-on on certain Fear Pass Upgrades.
The venue opens half an hour before the show starts. We were there exactly at 7:00 p.m. and while there were lots of people lined up along with us, we didn't have any trouble getting a good seat for the show.
The only drawback of attending Monster Stomp with younger kids is that you do have to go through a bit of scare areas to exit the park. The show is absolutely fantastic – I'd even call it Broadway quality – so if you can scurry through that area quickly and try to dodge the monsters that will jump out at you, I highly recommend.
Bier Fest
If you're a beer lover*, you can get your beer tasting on during Halloween at SeaWorld San Antonio – and beyond! Bier Fest runs through November 7th.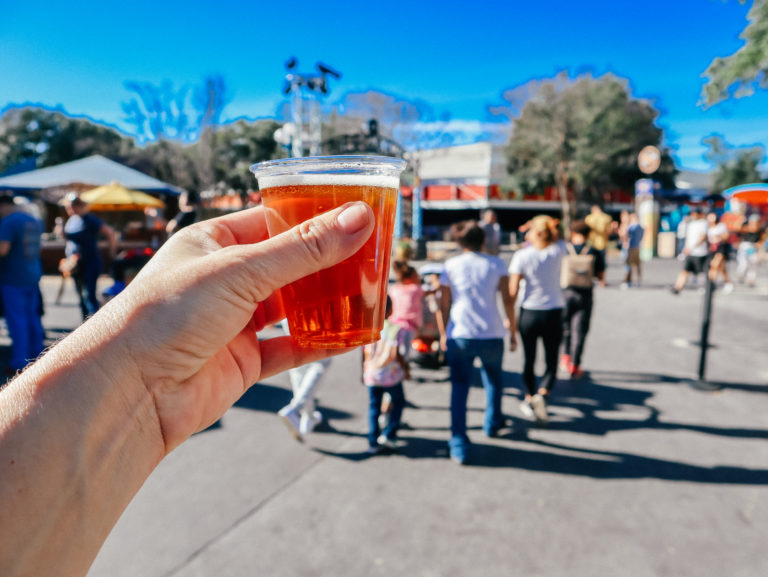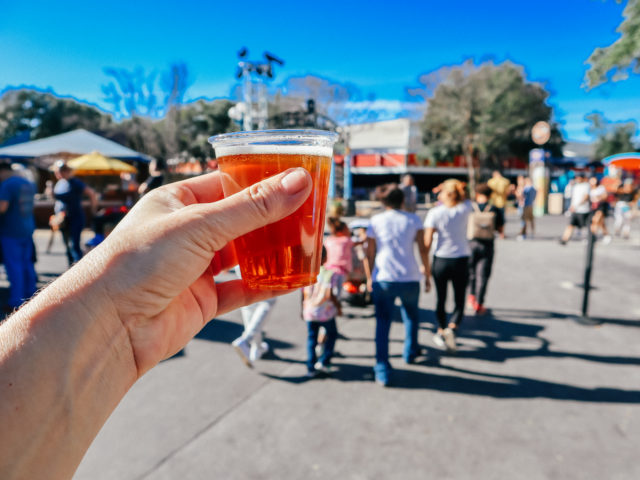 If you love Oktoberfest traditions, Bier Fest is a fun addition to your day at SeaWorld. Bier Fest features a variety of beers from around the world, including some local favorites, like Shiner. You can purchase individual full size beers or a sample punch lanyard – 10 samples for $35.
There's German entertainment in the beer garden area (next to the Nautilus Amphitheater) and that area is family friendly. Grab a beer and get your kids a soda or a snack from one of the nearby concessions and enjoy some oom pah pah.
*21 and older. Please drink responsibly.
Halloween at SeaWorld San Antonio – Health and Safety
Reservations are no longer required at SeaWorld San Antonio. There are no longer temperature checks upon entrance to the park. I didn't see any social distance markers, which seem to be becoming a thing of the past just about everywhere, and shows seemed to be a full capacity.
Masks are not required although I did see signs on every building stating that masks were recommended indoors.
You might also like:
Pumpkin Patches in San Antonio – Updated for 2021
Disney's Boo Bash 2021 – Worth the money?