Places to visit in Montana that aren't Yellowstone or Glacier
(This post may contain affiliate links. Read my full disclosure.)
The week I spent with my two sons in Southeast Montana is in the books as one of our most memorable trips. You know the sign of a really great trip is when your kids ask if they can stay "just one more day" and talk about how much they miss their vacation destination when they get home. I'm excited to share my thoughts on some places to visit in Montana that aren't Yellowstone or Glacier.
When we were getting ready to take our trip to Montana the reaction of our friends and family was "Cool! Glacier or Yellowstone?" When we told them we were going to neither but exploring Southeast and Central Montana instead, we usually drew blank looks. It was as if people weren't aware that there was a Montana to explore beyond Glacier or Yellowstone. There are so many things to do in Southeast Montana and Central Montana. This will make you want to plan a trip there!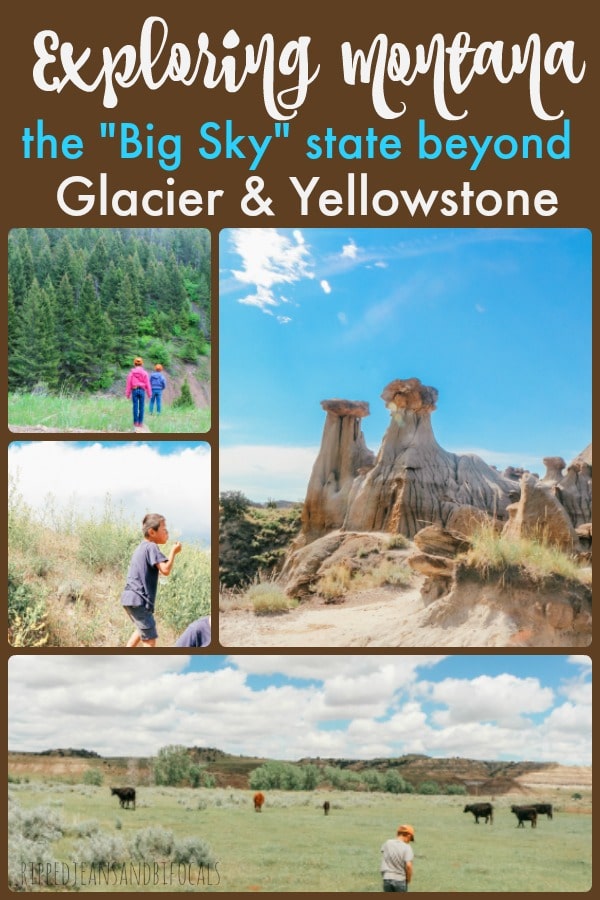 My family was hosted by Southeast Montana and their partners. All opinions are mine.
Now. I've never been to Glacier or Yellowstone. Those destinations are on my travel bucket list and I know I'll get there. I have a lot of places on my travel bucket list – okay pretty much everywhere I haven't been is on my travel bucket list but I feel confident that we'll visit Glacier and Yellowstone within the next few years. As for Southeast Montana and Central Montana being better than Glacier or Yellowstone? I can't speak to that. What I can tell you they were absolutely majestic and fun and awesome and that you should make room in your travel schedule to see more of the Big Sky State than just the "popular" parts and and experience the things we experienced.
This was honestly one of the best family trips we've ever taken and we can't wait to go back and explore more of the state. I'm actually trying to convince my husband that our forever home is somewhere in Central Montana, perhaps in the vicinity of Great Falls. He's not quite there yet but I'm working on him.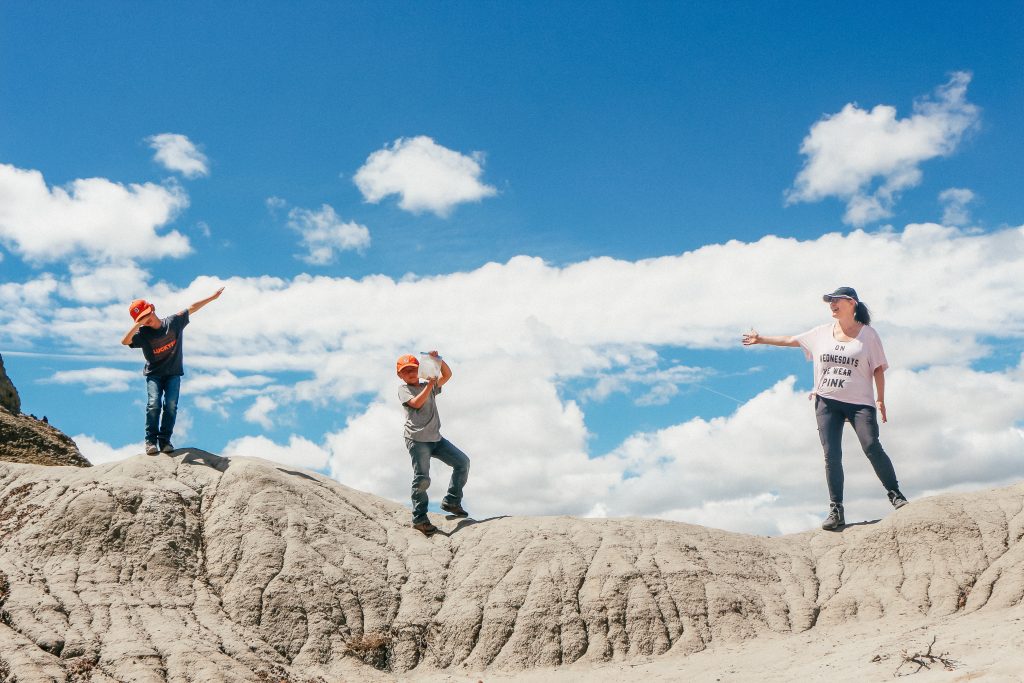 The destinations on this list are in Southeast Montana and Central Montana. Keep in mind, Montana is a large state and there are lots of places in Montana I haven't been to yet. If you don't see your favorite spot on this list, it's because we just haven't made it there yet. See also tell me what your favorite places to visit in Montana are so I can make sure it's on my radar for future travel.
Places to visit in Montana that aren't Yellowstone or Glacier
If you want to replicate our itinerary,
read here
. You'll find lots of things to do in Southeast Montana and Central Montana. We thought this was the perfect family driving trip for summer. You have lots of choices on places to visit in Montana but these stops might not be on your radar and they need to be!
1. Billings
Billings is the largest city in Montana (although not the state capital) and it's got a lot of activities to keep your kids entertained as well as a great food scene. It's got an small but very nice airport and it's fairly easy to get in and out of. We flew into and out of Billings, although if I had a do-over, I would have driven the entire way since there's so much beauty in Montana and the surrounding area.
If you're exploring southeast Montana, Billings is a great base. I found this one of the most kid-friendly places to visit in Montana.
Want great outdoor fun? Billings has it.
Billings offers multiple hiking trails and parks to enjoy. My kids and I did Four Dances Recreation Area and Pictograph Caves State Park, which are located close enough together to make it easy to do both in one outing.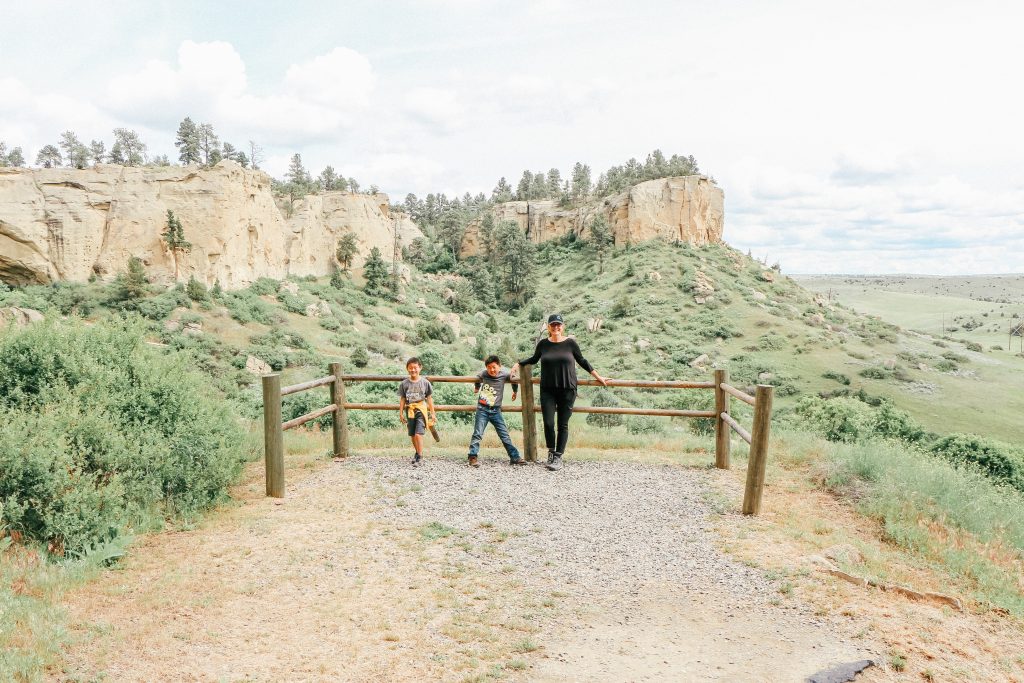 Four Dances Recreation Area is free – there's a sign at the entrance that will indicate whether or not an attendant on duty and if he is, ask for some stickers. Pictograph Caves State Park is free if you have Montana plates on your car. Both hikes have easy, kid-friendly trails.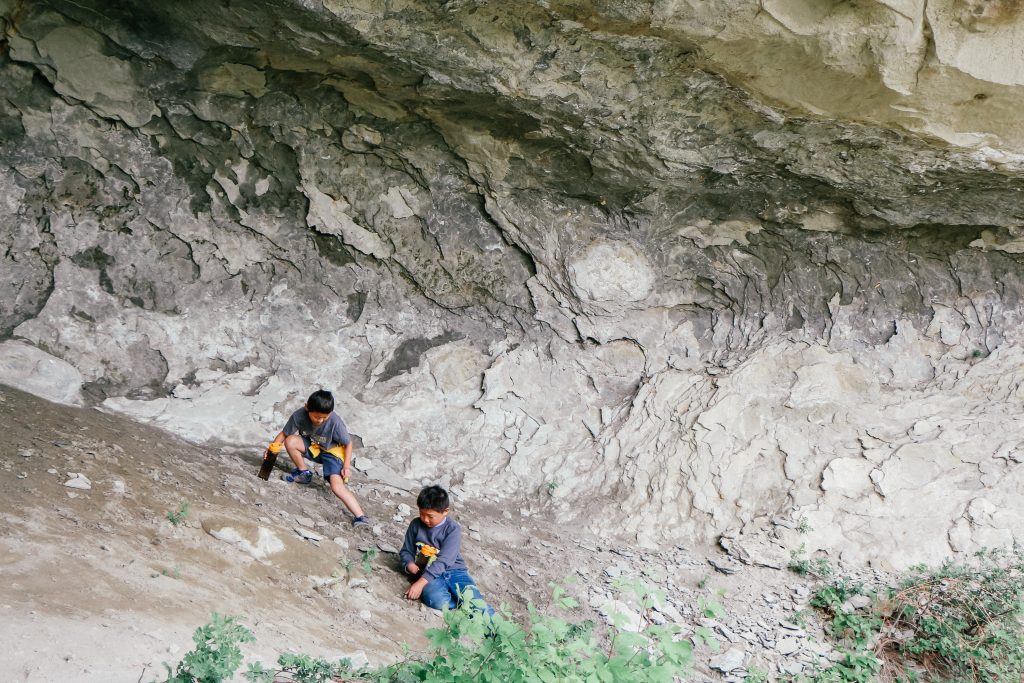 For more hiking adventures, check out Swords Rimrock Park and Dover Memorial Park.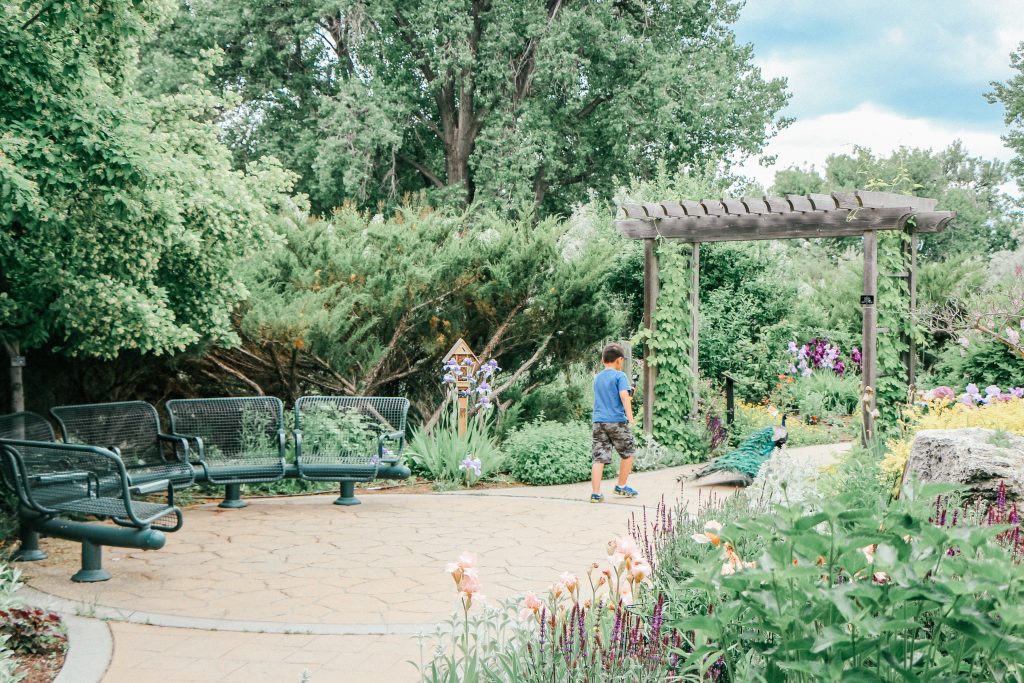 Billings also is home to ZooMontana which is a zoo unlike any zoo I've ever seen before. It's very lush and green and park-like and doesn't have a commercial feel to it like a lot of the zoos I've been to. ZooMontana has a grizzly bear exhibit which we thought was very cool. Our local zoo has a black bear and a speckled bear but getting to see a grizzly up close was pretty cool.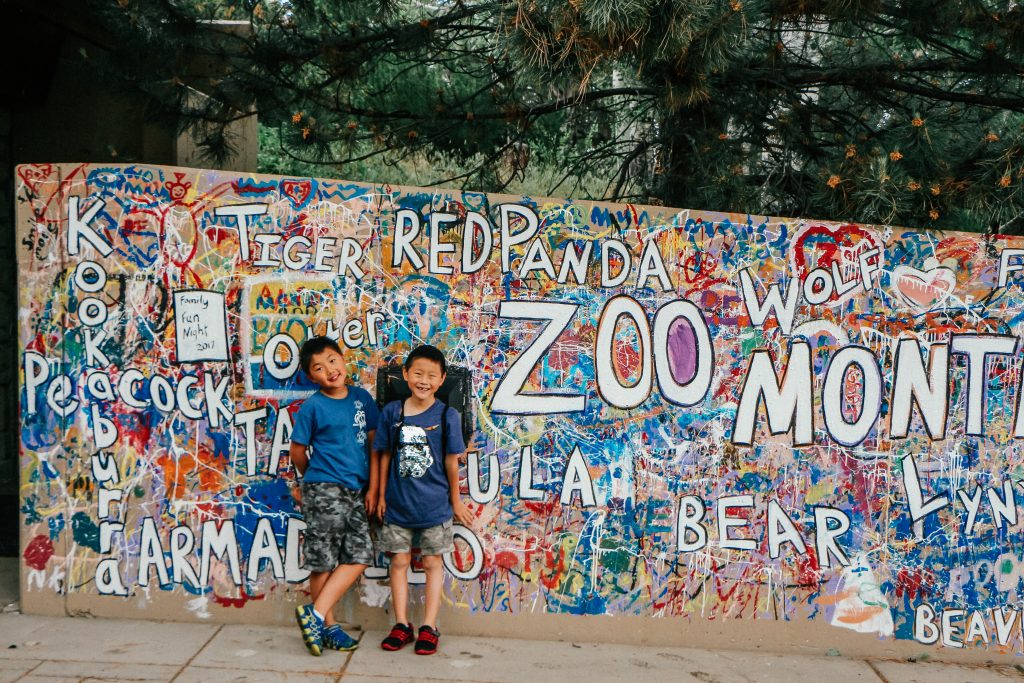 There's indoor fun, too
If you're looking for indoor fun, check out Yellowstone County Museum, Yellowstone Art Museum or Wise Wonders Children's Museum. Wise Wonders is suited toward younger children, so if you're visiting with preschool age kids, this is a great choice.
One of our favorite spots in Billings was Scheels Sporting Goods. This is a massively large outdoor store that has an indoor Ferris Wheel, as well as other interactive exhibits that will entertain people of all ages. We ate at Bullman's Pizza (a Montana pizza chain) and then walked along the outdoor shopping center over to Scheels. We spent about an hour inside the store and my kids left very unwillingly. It might sound like an odd spot to visit if you're a tourist but your kids will love it here.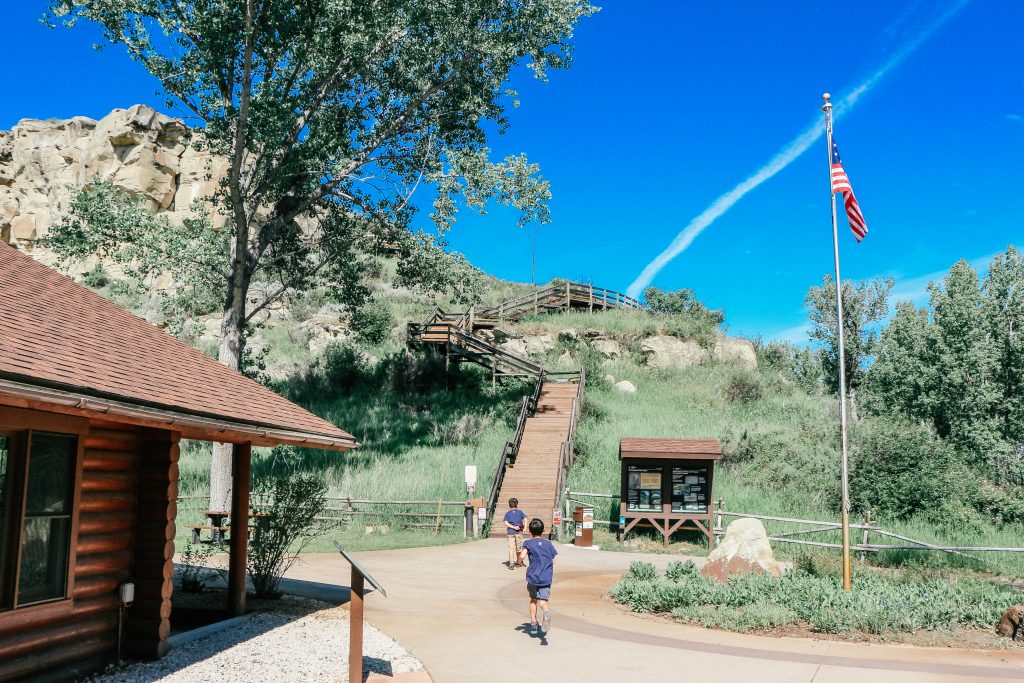 Although substantially outside of Billings (about 30 miles to the east) don't leave the area without a visit to Pompey's Pillar National Monument. This was one of my kids' favorite places to visit in Montana. Pompey's Pillar is a rock cropping that contains the only physical evidence of the Lewis and Clark expedition. William Clark's signature is carved in the rock formation and it's a fun, easy climb to the top (be sure to count the steps.) There's also a museum area inside and places to picnic and take pictures outside.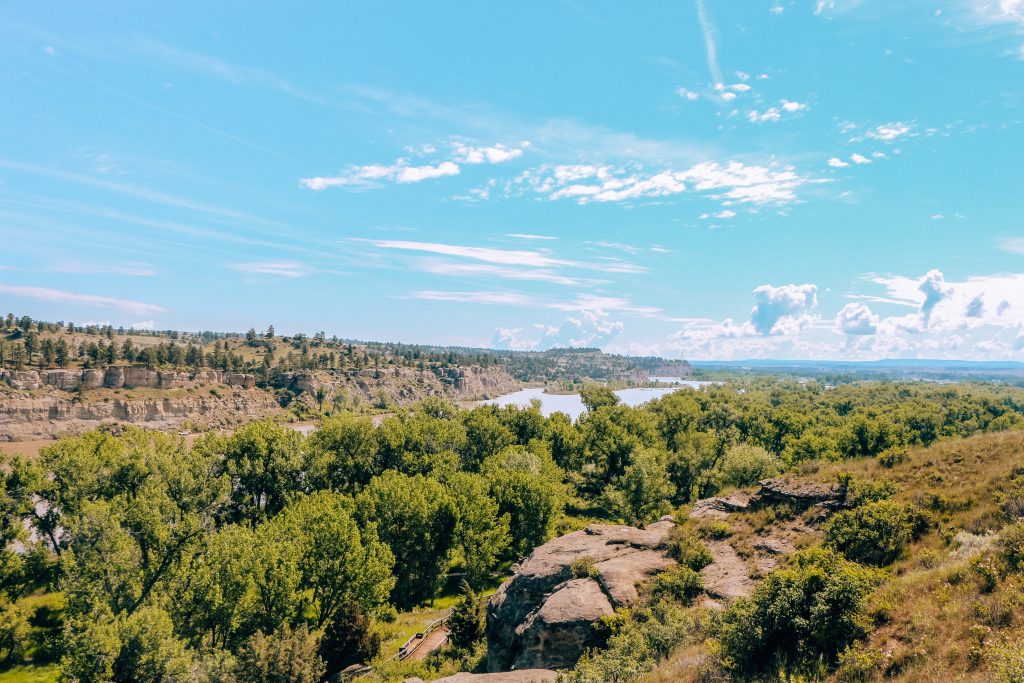 Also easily driveable from Billings is Tippet Rise Art Center. Tippet Rise Art Center is an art and cultural mecca nestled at in the Beartooth Mountains. Time Magazine named Tippet Rise Art Center as one of the greatest places to visit in 2018. It really is an amazing place and worth the bit of effort it take to get here.
Before including Tippet Rise in your plans, take some time to get familiar with their website and when you can and can't visit. Don't let the restrictive nature of their policies scare you off – they're in place to preserve the natural beauty and experience wouldn't be the same if visitors could come in droves. It's definitely worth taking the time to visit.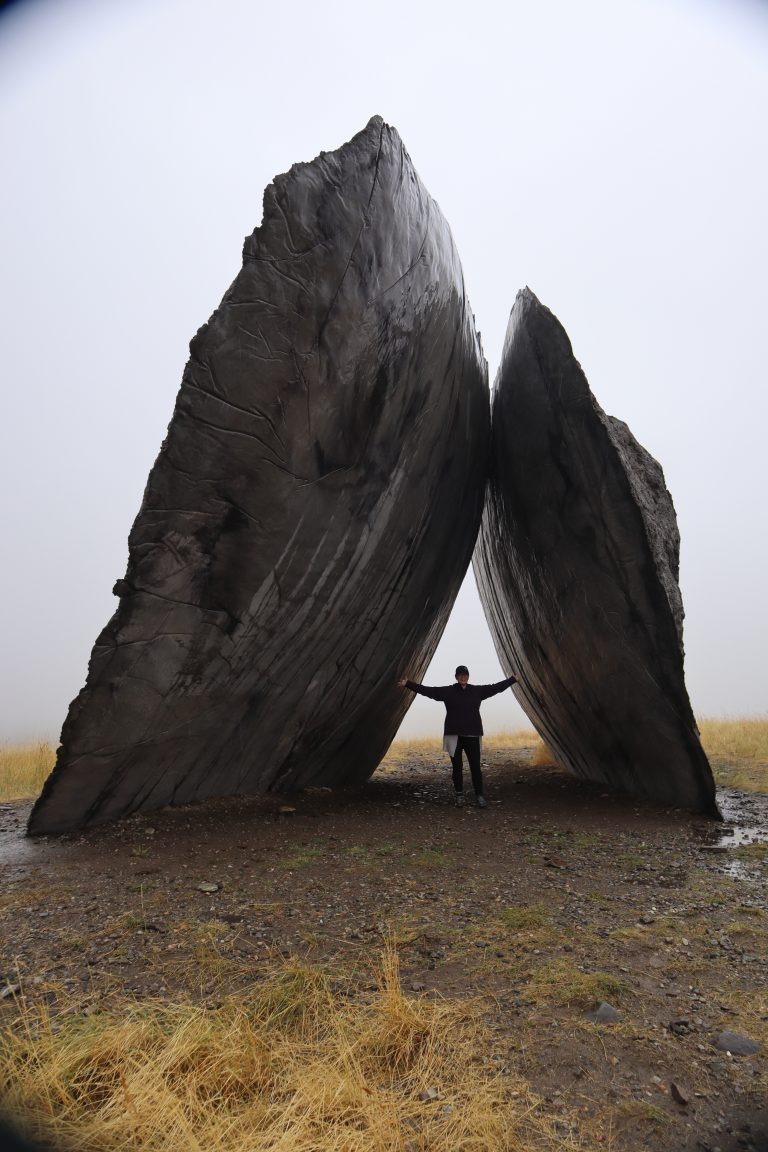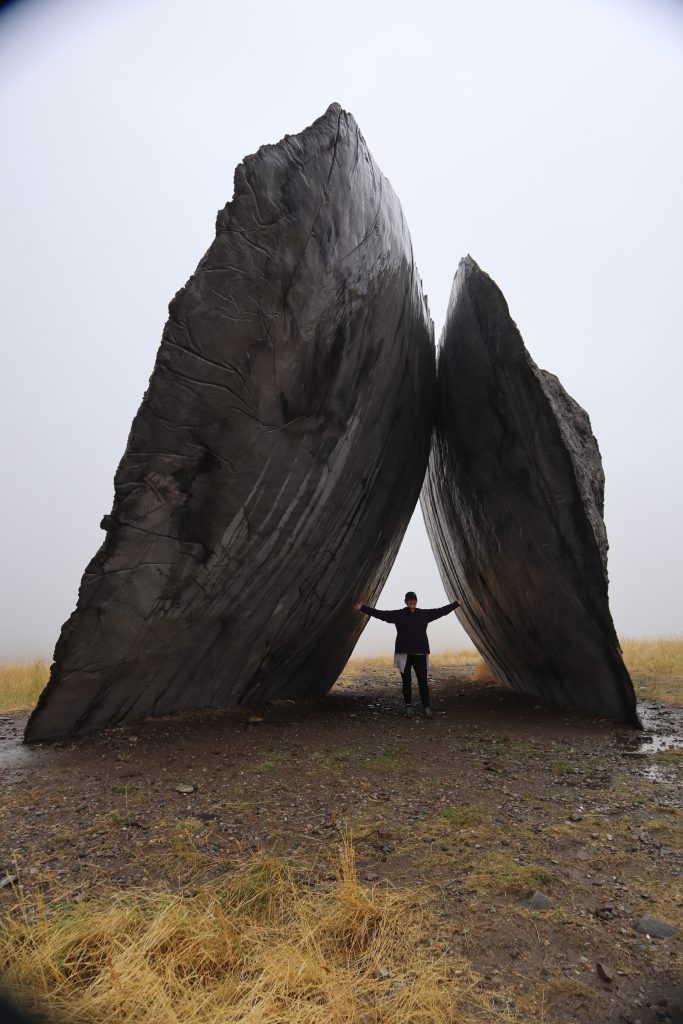 Want more of a deep dive into things to do in Billings? Read this post.
But what about the food?
You won't lack for great food in Billings. It's a large enough city to have franchise restaurants like Olive Garden and Red Lobster, as well as familiar fast food options but we ate local, as we always do. In addition to Bullman's, I recommend The Divide (try to sit outside), Last Chance Pub and Cider Mill, and the Sassy Biscuit Company for breakfast, lunch or brunch. Y'all need to listen to me on the Sassy Biscuit. Trust me. The Burger Dive was also strongly recommended to me but we didn't get a chance to try it out. If you like ice cream, stop by The Big Dipper.
There are lots of lodging options in Billings. You'll find familiar franchises such as the Holiday Inn Express and Hampton Inn. I also recommend Boothill Inn and Suites, which is located near the airport. They have an A+ breakfast buffet.
2. Miles City – A must on your list of things to do in Southeast Montana
Miles City Montana is about 140 miles east of Billings. The drive takes about two hours, without stopping and there aren't really many places to stop. If you're traveling from Billings to Miles City, I recommend stopping at Pompey's Pillar on your way there or back.
Downtown Miles city is "cute on a stick."
Miles City has a fun main street area with a variety of shopping and dining experiences. You can get coffee as well as breakfast or lunch items at Main Street Grind or Spoonful. Check out Vintage and Rustics (they also serve food) and Miles City Saddlery. Another retail shop worth a look is Girl Ran Away With the Spoon, which features jewelry and other handicraft items made from cutlery and other unpredictable objects.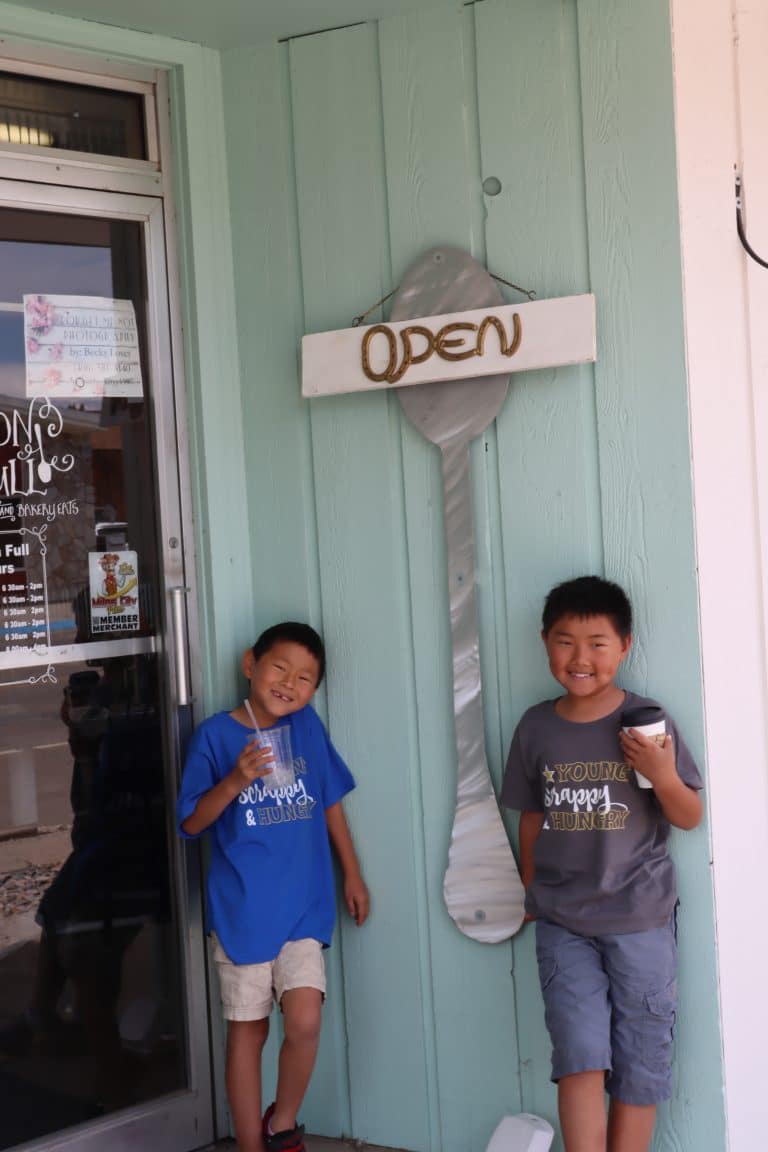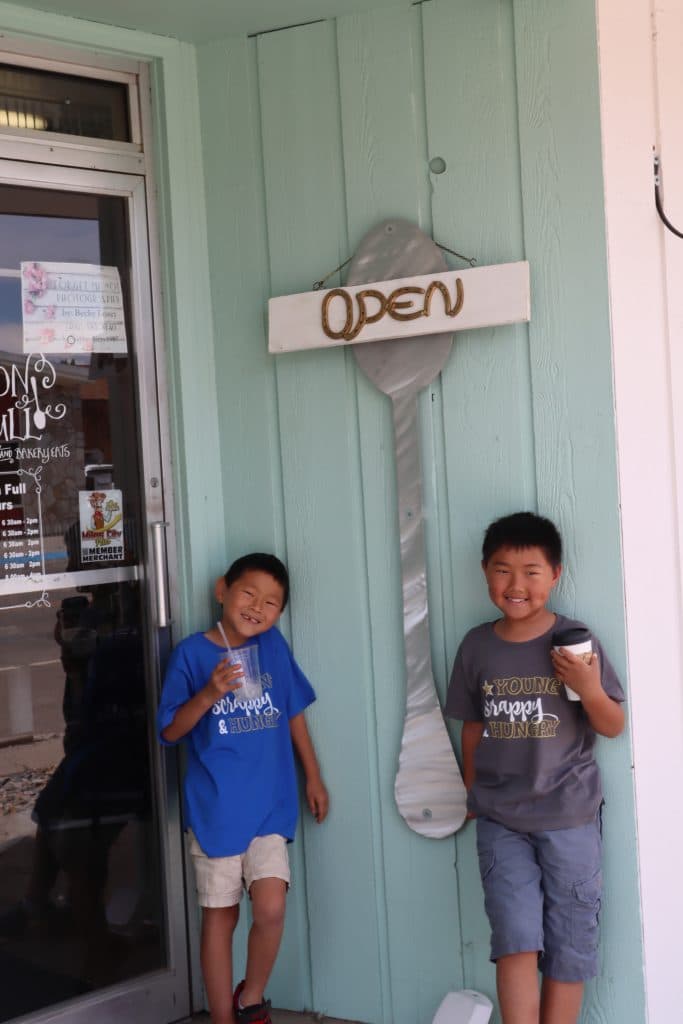 If you're interested in museums, Miles City has two: Range Riders Museum and the Water Works Art Museum. We visited Range Riders and it had several rooms of old west memorabilia to include a few interactive dioramas. There's also a really cute outdoor area with old buildings, buggies, and carriages. We didn't get a chance to visit the Water Works Art Museum but it is so named because it's housed in the old water holding tanks.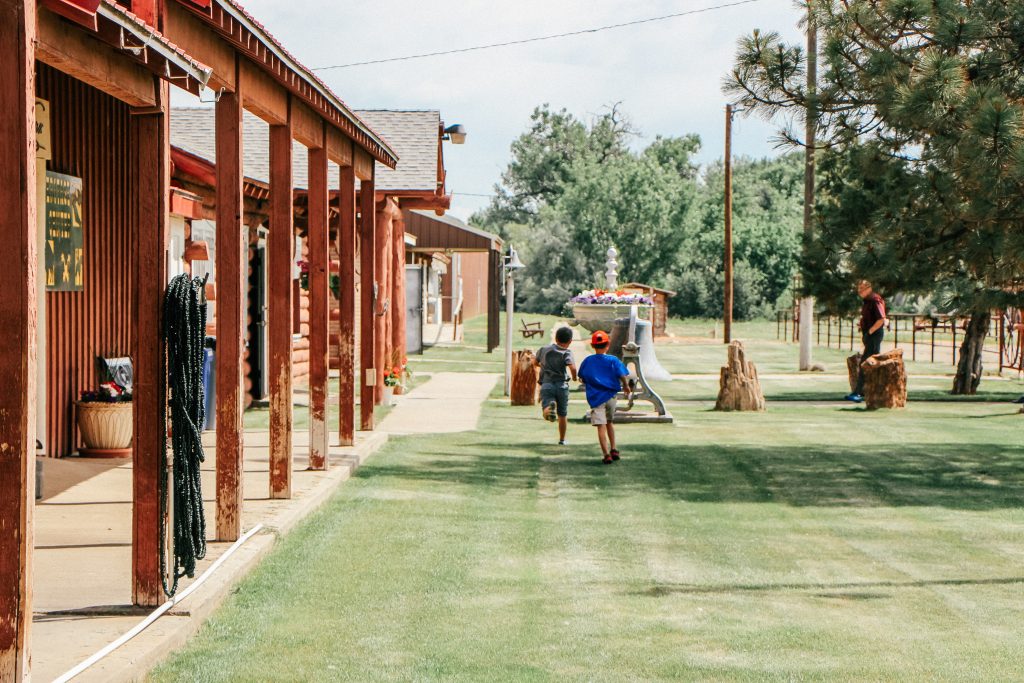 Whatever you do, don't miss this hike…
My favorite thing to do in Miles City was to visit Strawberry Hill Recreation Area. Strawberry Hill is over 4,000 acres of hiking trails and beautiful views. Camping is also permitted. There is no entrance fee and any seasonal restrictions you need to be aware of will be posted in the parking area. No fireworks and you'll need to pack out your trash.
Strawberry Hill Recreation Area was one of my absolute favorite places to visit in Montana.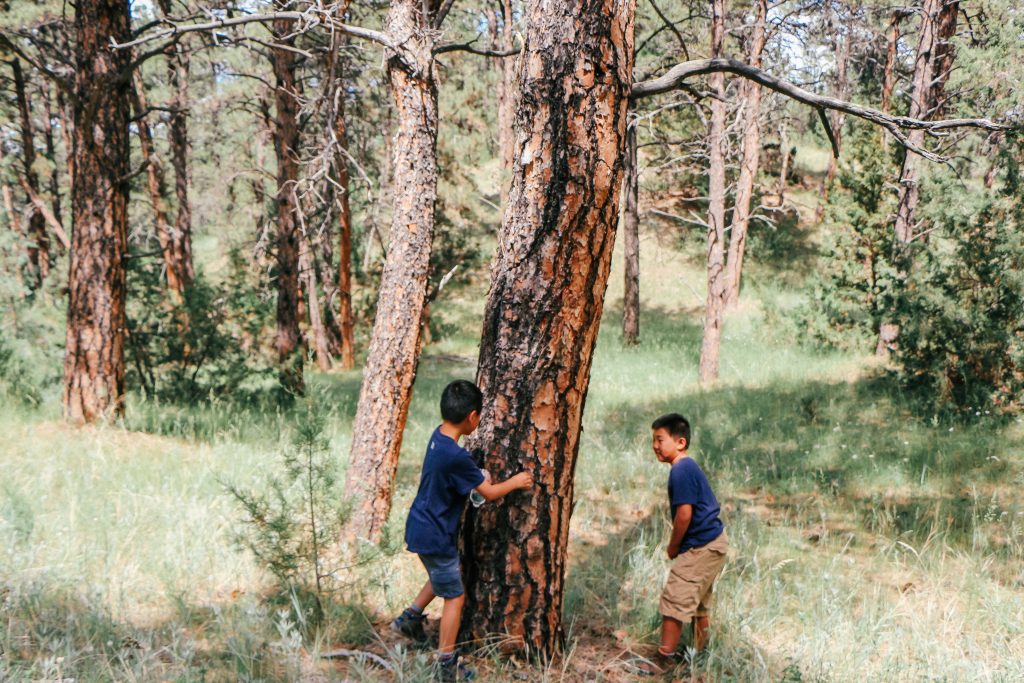 We found the trails to be pretty easy to navigate and did a long loop around the area. We went on a weekday in June and had the place to ourselves. Strawberry Hill is owned by the Bureau of Land Management. I think this was one of my favorite stops in Southeast Montana…although I find myself saying that about a lot of places. It's hard to have a favorite!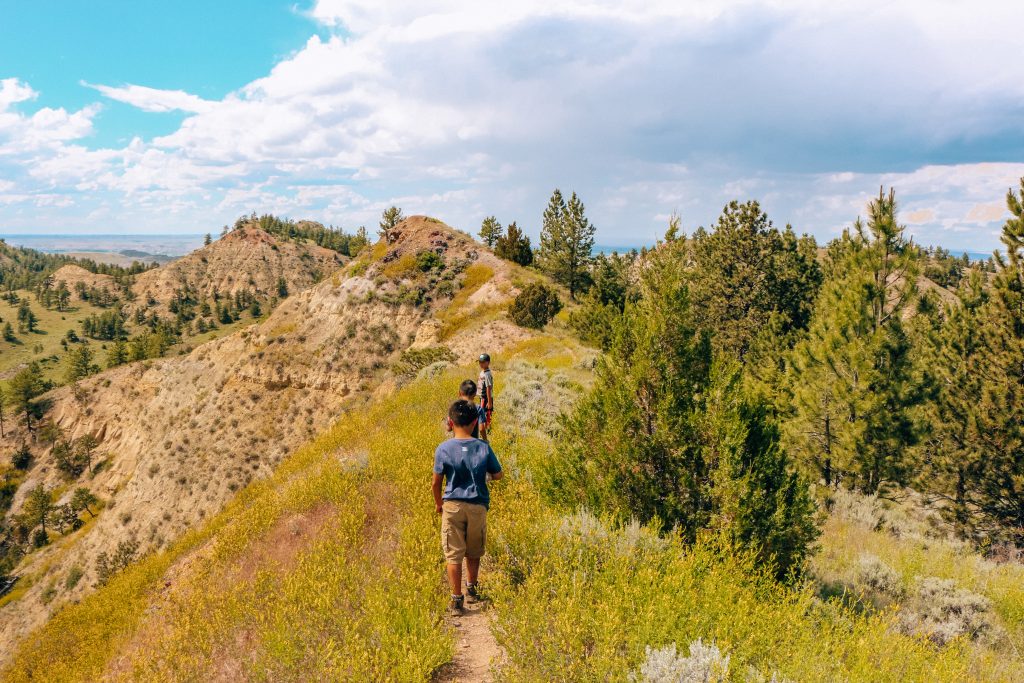 Seriously…any photos I took absolutely don't do the beauty of this scenery justice.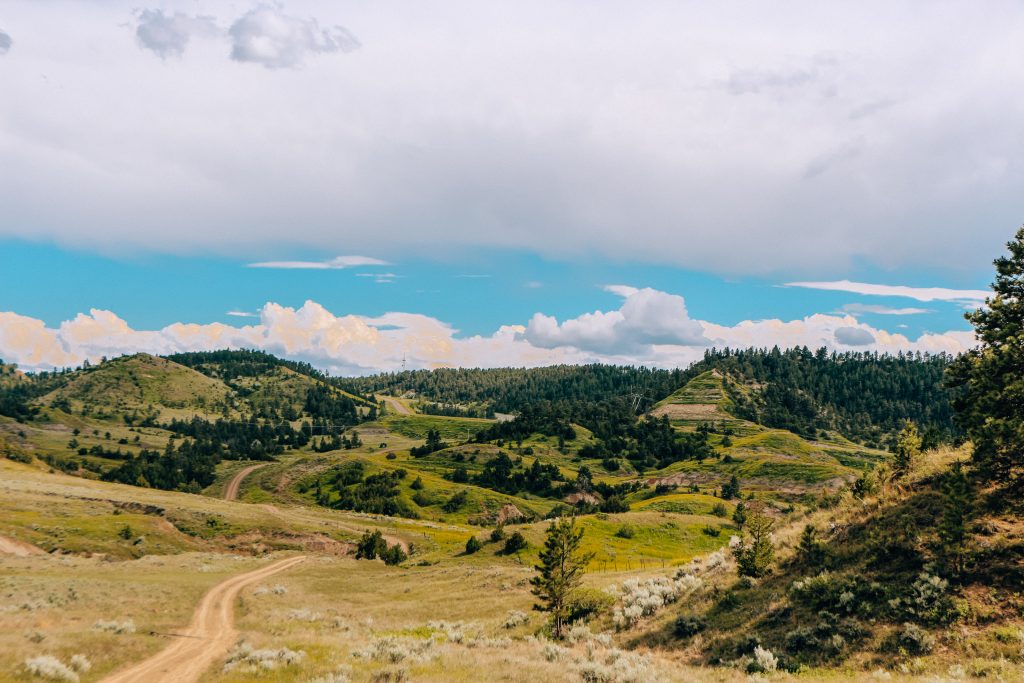 But what about the food (y'all know I'm all about the food.)
For food in Miles City, I recommend Main Street Grind and Spoonful for breakfast, lunch and coffee treats. Main Street Grind offers a slightly more robust lunch menu, with lots of sandwich, salad, and soup choices but the atmosphere at Spoonful is delightfully quirky. Spoonful is right across the street from Girl Ran Away with the Spoon, so even if you don't eat here, pop in for a quick coffee after shopping. We had dinner at The Black Iron Grill, which offered a lot of dining options, to include steaks and a large selection of appetizers. Tilt Wurks Brew House was also recommended to us. A peek at their menu revealed several options for burgers, sandwiches, salads and appetizers and they also have a large selection of beers and wines, as you'd expect from a place with "brew house" in their name. Comparing the two menus side-by-side, we'd probably have chosen Tilt Wurks Brew House but The Black Iron Grill was right across from our hotel and we were tired, so that won. We were not disappointed and loved our choices.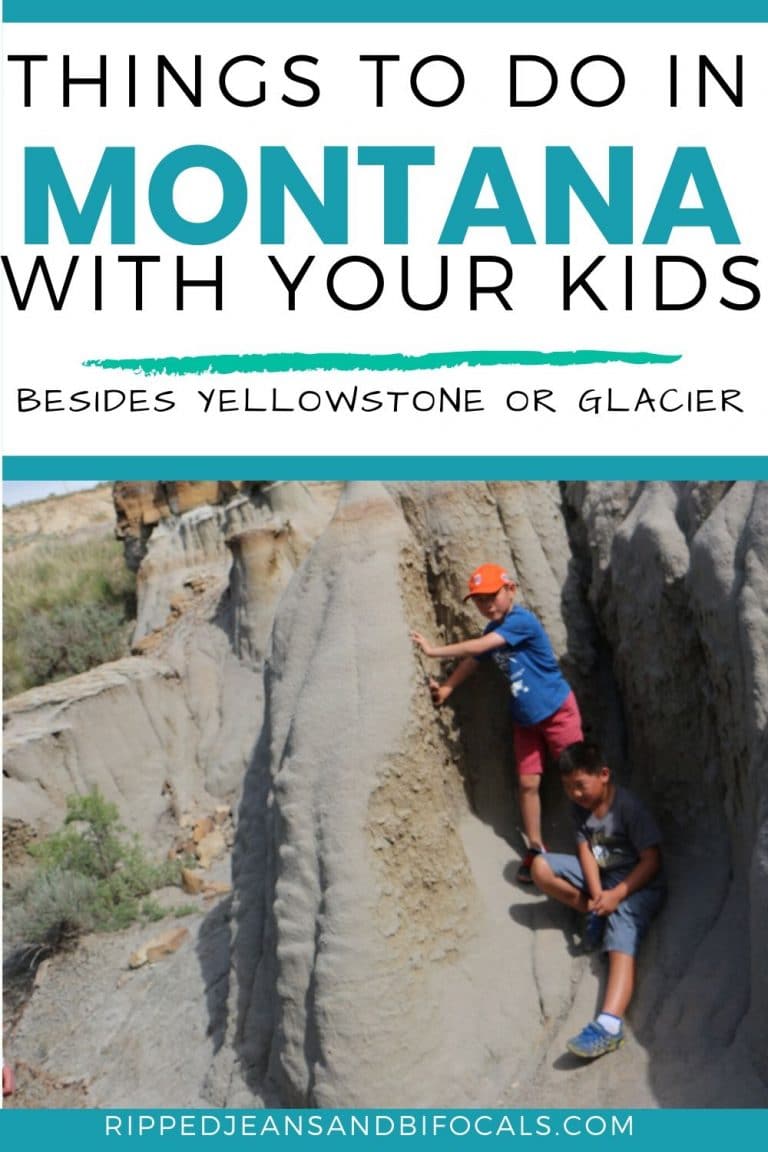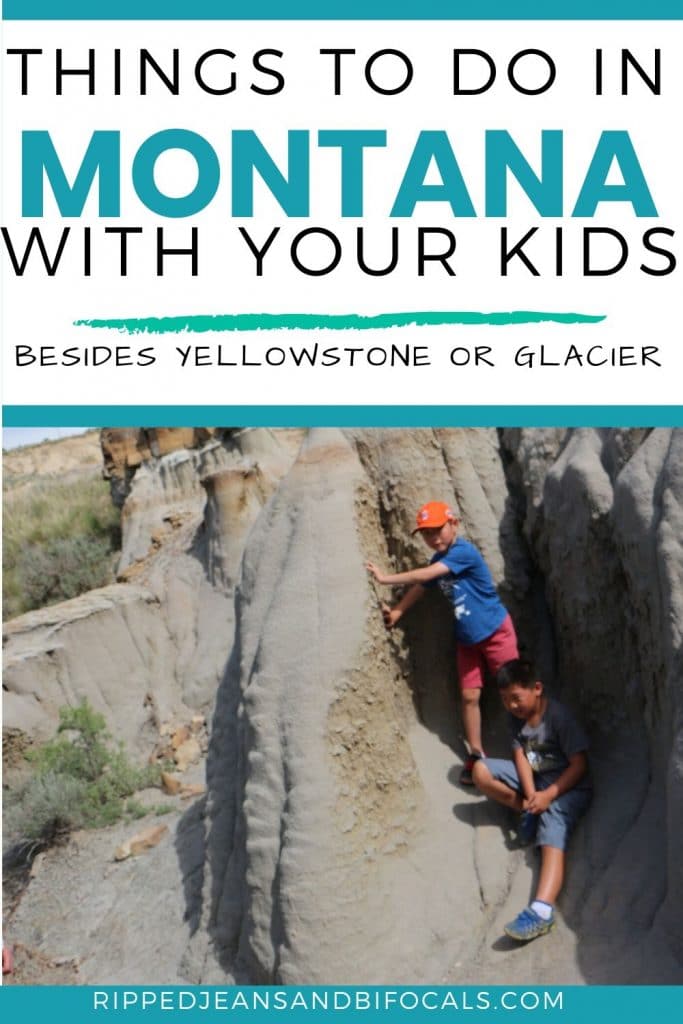 We stayed in the Miles City Hotel and Suites…your options for lodging in Miles City aren't super plentiful. The Miles City Hotel and Suites was a clean and comfortable place to stay. It was quiet, close to places to eat, and the WiFi was strong. Their breakfast buffet is very extensive: two waffle irons, an omelet bar, biscuits and gravy, fresh fruit, and more. If you see homemade cinnamon roles, GRAB one. I got the last one and my boys and I split it. The lady offered to get a fresh one and frost it for us, which I thought was really sweet. The Miles City Hotel and Suites also serves hot soup in the evenings and cookies upon arrival.
I recommend two days in Miles City, although you could probably stretch it to three if you wanted to. Also, check out their Chamber of Commerce website in advance of your visit to see if there's any special events happening that you want to include.
3. Glendive – A must do on the Montana Dinosaur Trail
Glendive Montana is about 200 miles from Billings and about 75 miles from Miles City if you're driving eastward. You can also fly into Glendive from Billings on Cape Air inexpensively if you don't mind very small planes. We chose to drive.
Dinosaurs galore
If you're interested in dinosaurs and/or the Montana Dinosaur Trail, don't miss Glendive. Nearly everything in town is centered around Dinosaurs and it's a lot of fun and stunningly beautiful. I always imagined the badlands as ugly, desolate scenery and that could not be further from the truth. The badlands are so named because the soil conditions aren't great for crops or farming.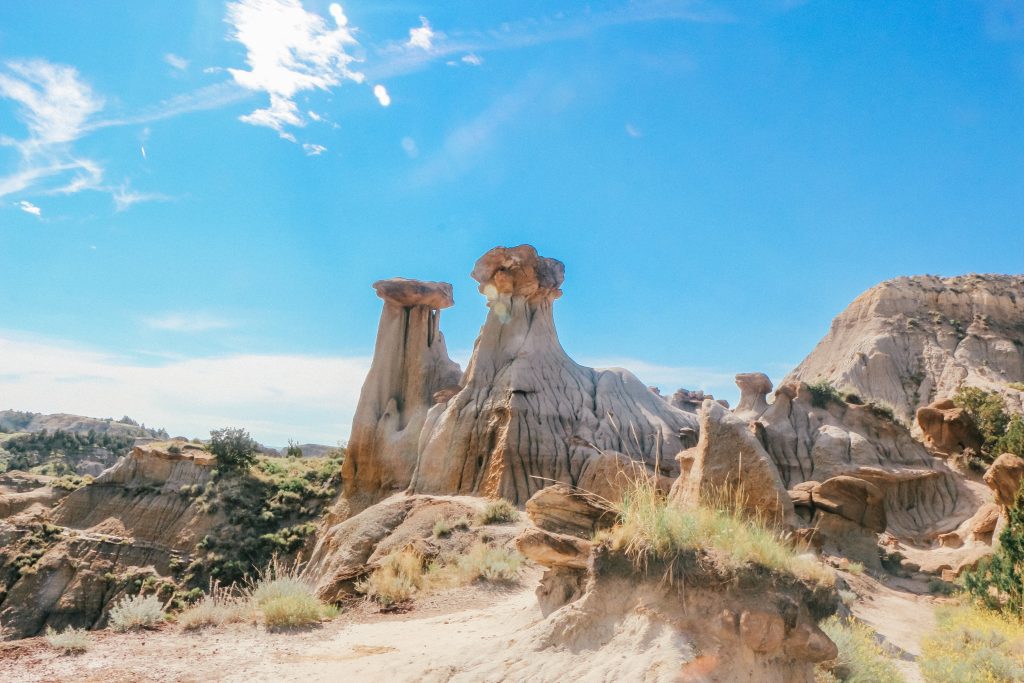 Several dinosaur bones have been found in this area – specifically T-Rex, Triceratops and Edmontosaurus, so if you're interested in paleontology, there's a lot here to keep your interest.
To learn more about the Montana Dinosaur Trail read here.
Don't miss Makoshika State Park. Makoshika is a Lakota phrase that means "bad land" or "bad spirit." You'll find friendly rangers at the Visitor's Center and a great educational display about fossils and the dinosaur days. There's also lots of hiking trails and, of course, camping. You can actually rent this teepee and camp in it and one of the park rangers told me they're adding a yurt soon. I mean…who doesn't want to spend the night in a yurt?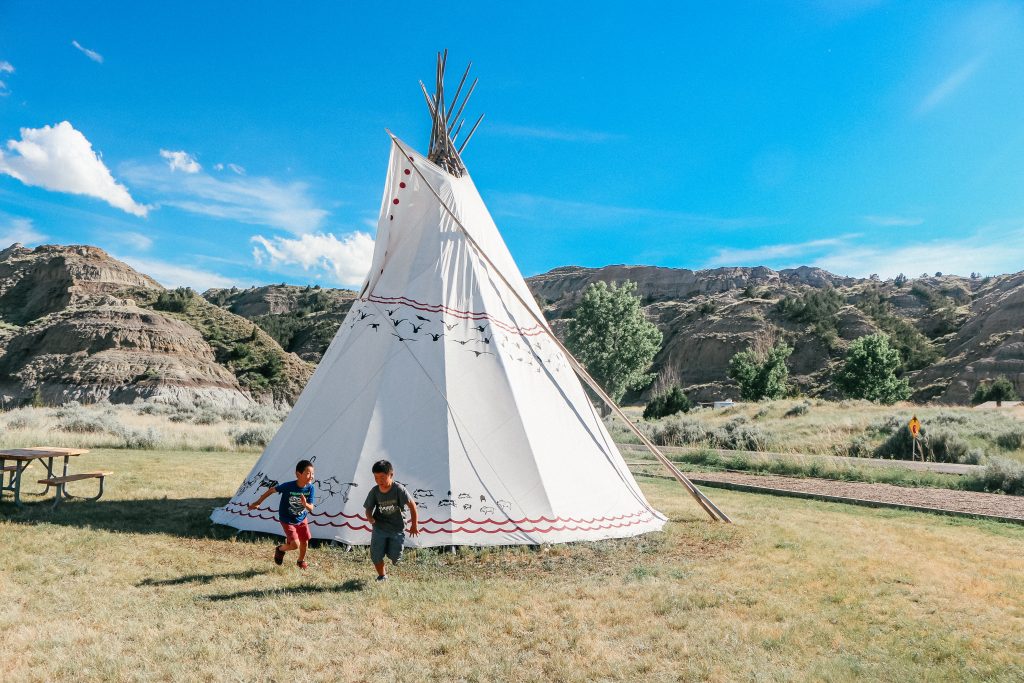 The most popular trails in Makoshika State Park are the Diane Gabriel Trail and the Kinney Coulee Trail. My kids and I hiked the Kinney Coulee Trail with two of the park rangers and while it was magnificent, it would have been way too ambitious of a hike if it had just been me alone with my kids and I'm glad I had the rangers with me. There are some spots where you could really hurt yourself if you lose your footing but now that it's all said and done, I'm going to say the pictures were worth it.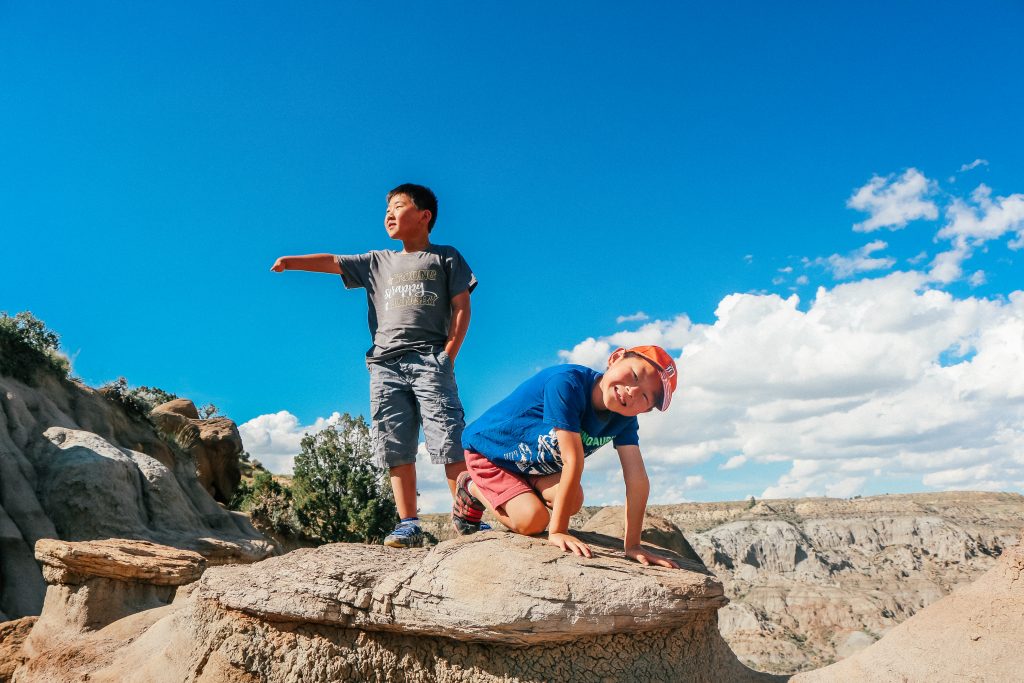 When I'm out on the trails with my kids, I gauge risk in terms of "that would probably be a broken arm" and "that would be a broken neck" and there were a few spots on the trail in the latter category. I have one child that has zero fear but I have enough for him and me and probably a few other people. We loved Makoshika State Park and could have easily spent a full day plus exploring.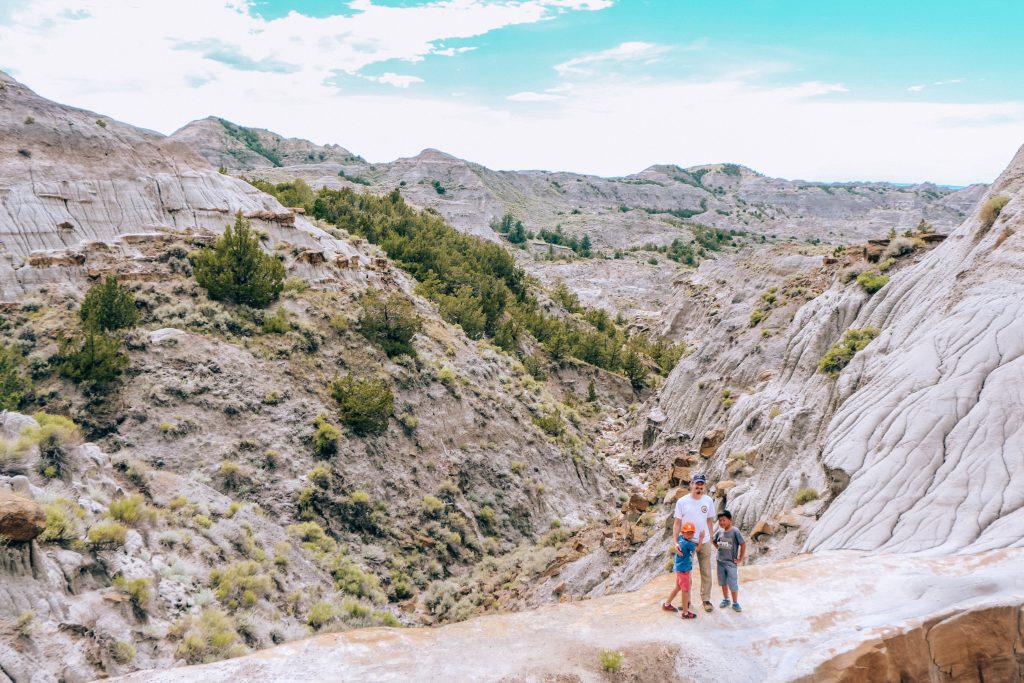 There are two museums dedicated to dinosaurs in Glendive that you'll want to check out. The first is Glendive Dinosaur and Fossil Museum. This is a very well done museum with two levels of exhibits, a movie theater and a gift shop. To know before you go: the somewhat unconventional philosophy of the museum. They strongly subscribe to the theory of a young earth and that humans and dinosaurs lived on earth together. There are many exhibits in the museum that suggest the reason dinosaurs became extinct is because Noah didn't take them on the arc. This museum isn't an official stop on the Montana Dinosaur trail but it compliments everything else Glendive has to offer.
An unusual paleontology theory
As an adult, I found the museum's philosophies to be very pervasive and almost "in your face." My kids, however, enjoyed the museum for what it was: dinosaur stuff. If you're in Glendive, I say it's a don't miss but it might help to know the belief system behind the exhibits before you visit. I was a little taken back by it and the theory remains controversial among the locals and the paleontology community.
Right next door to the Glendive Dinosaur and fossil museum is the Frontier Gateway Museum. You'll also find dinosaur and fossil exhibits here but you'll also find exhibits about the history of the area, to include some outdoor/open air exhibits in the back. This museum is free, so make sure you stop by and check it out. I love a good freebie, don't you?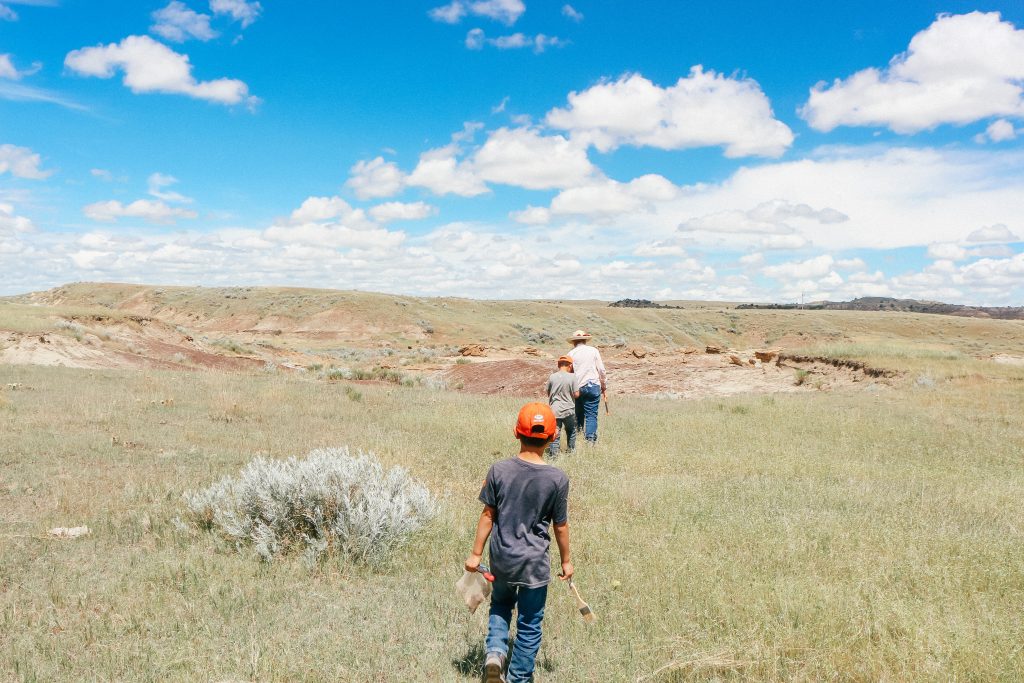 And, while not a museum, stop in and see the 38 foot replica of a T-Rex at Hell Creek Music on Merrill Avenue. After you've gotten a gander at this big beast, walk a couple of blocks down and get yourself some ice cream or a coffee at Cravins.
If you do both museums and Hell Creek Music, allow at least 2.5 hours. You'll be able to get through the Frontier Gateway Museum fairly quickly and unless you want to browse the music store, there's not much reason to linger in with the 38 foot T-Rex but I'd recommend at least 90-minutes in the Glendive Dinosaur and Fossil Museum. Even though I'm pretty skeptical of the theories they're pushing, it was still a really well-done museum and we could have easily spent more time here than we did.
Another fun thing to do in Glendive is book a dig through Baisch's Dinosaur Digs. Located just outside Glendive, this 7,000 acre private ranch is home to petrified wood, fossils and dinosaur bones. There's a small, onsite museum that shows some of the things that have been found on the ranch as well as some examples of what to look for on a dig.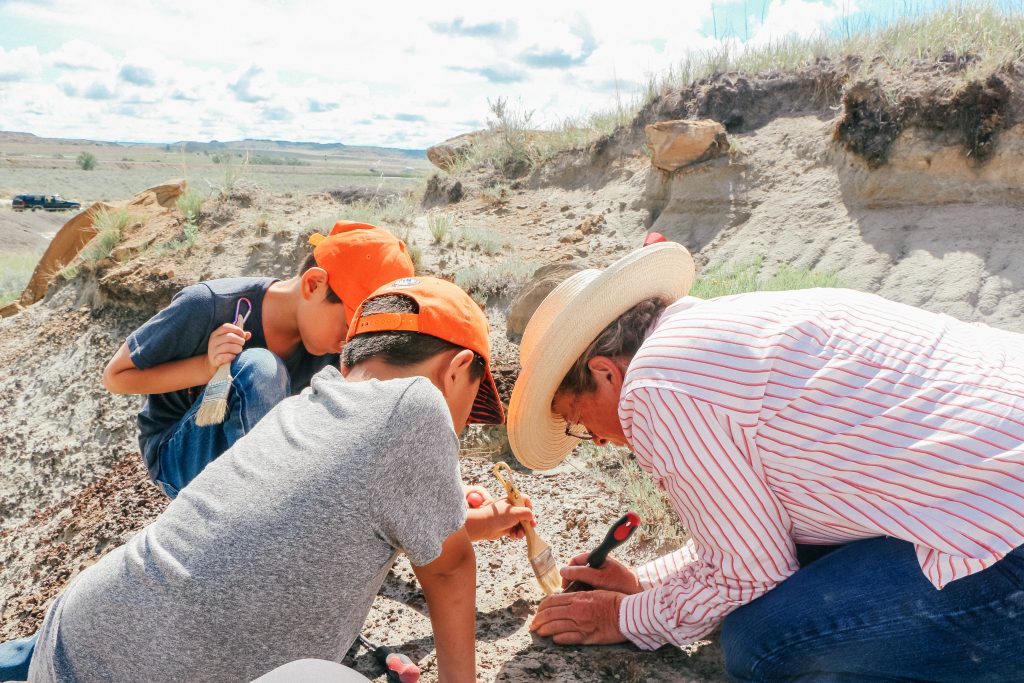 You can spend a full day or a half day on a real fossil dig and you never know what you're going to find. There's some opportunities to hike and explore the rugged beauty of the badlands and learn about the area from an exceptional and knowledgeable guide. Everything you need to know about a trip to Baisch's Dinosaur digs is here. If you have a true lover of fossils or dinosaurs in your family, the trip to Glendive might be worth it for this activity alone. It was one of our favorite things to do in Southeast Montana.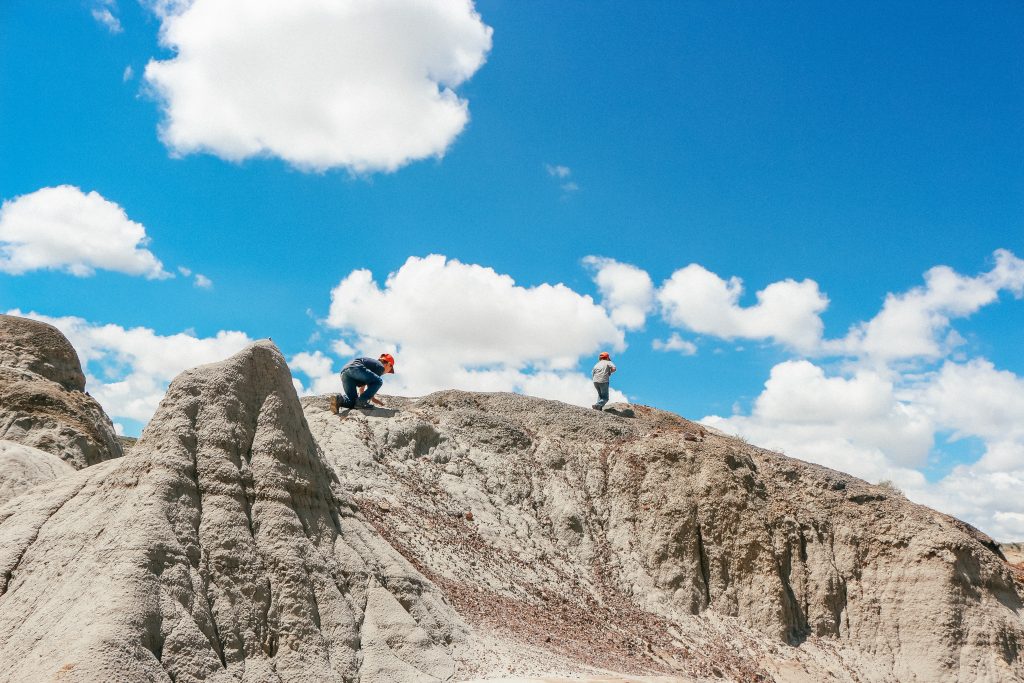 Yes, of course I'm going to tell you about the food
We had lunch at Bloom Coffeehouse and Eatery, which is an adorable coffee/sandwich shop with both indoor and outdoor seating. I will always remember this spot as the place where my kids discovered Italian Sodas. This isn't something we see a lot of where we live and now they're hooked so I have to figure out how to make them, I guess.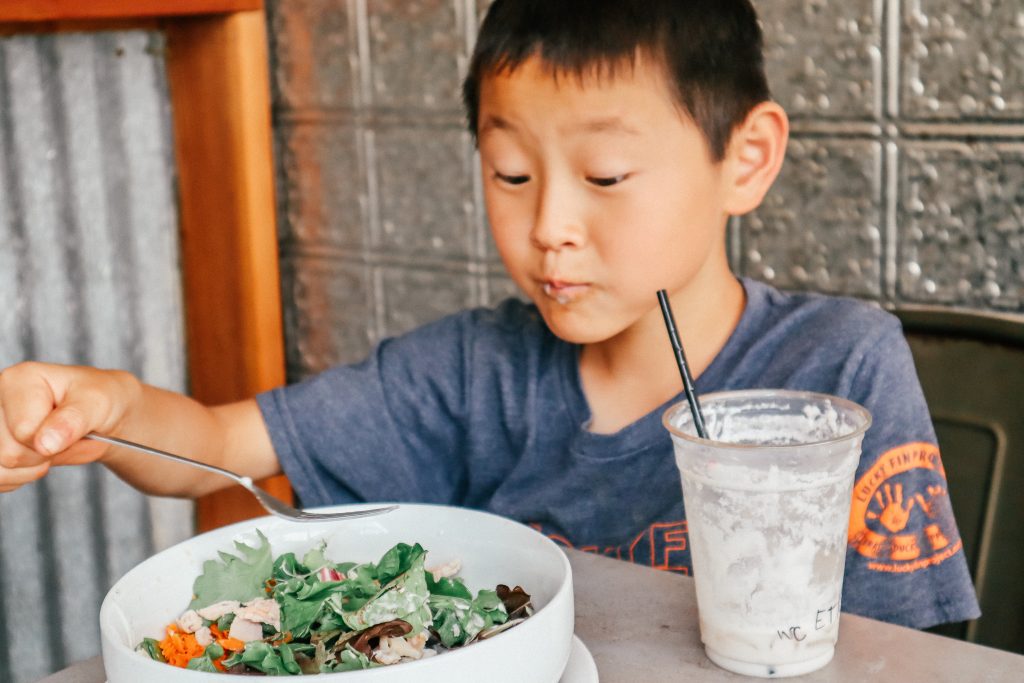 For dinner options, check out Cross Country Brewery, The Gust Hauf, Monte Carlo or Frosty's. We ate pizza at the Gust Hauf and loved it. It was a long day and pizza and beer were just the ticket.
If you're spending the night in Glendive, you'll have lots of familiar options. We stayed in the Comfort Inn were pretty happy with it. It's basic hotel but the indoor pool was great. Breakfast is included and coffee, cookies and ice water are available during the day. Our room also had a microwave and a fridge. Here's more information on available hotels in Glendive.
I recommend two-three days in Glendive to fully explore and do everything I mentioned. You'll need to allow one full day for exploring Makoshika State Park. Doing the half-day dig at Baisch's Dinosaur Digs and the museums in one day is feasible but it is a long day and you'll be tired.
4. Jordan – Venturing towards Central Montana
The tiny town of Jordan Montana is about 80 miles from Glendive. Plan on a couple of hours of drive time if you want to see this important spot on the Montana Dinosaur Trail. You'll be driving through rural roads (although they are very well-maintained roads) and there will be limited opportunities to stop. This takes you into Central Montana territory and it's a truly beautiful drive, as long as you are prepared for the remoteness.
Out of the way but a don't miss for die-hard dino lovers
The terrain in and around Jordan is famous in paleontology circles for being rich in fossils. If you really know your dinosaur history, you know that this is where T-Rex was initially discovered. You can check out the Garfield County Museum to see memorabilia relating to the discovery of the T-Rex as well as a Triceratops cast. This museum also gives a lot of information on the history and settlement of the area. One of the great things about the Garfield County Museum? It's totally free.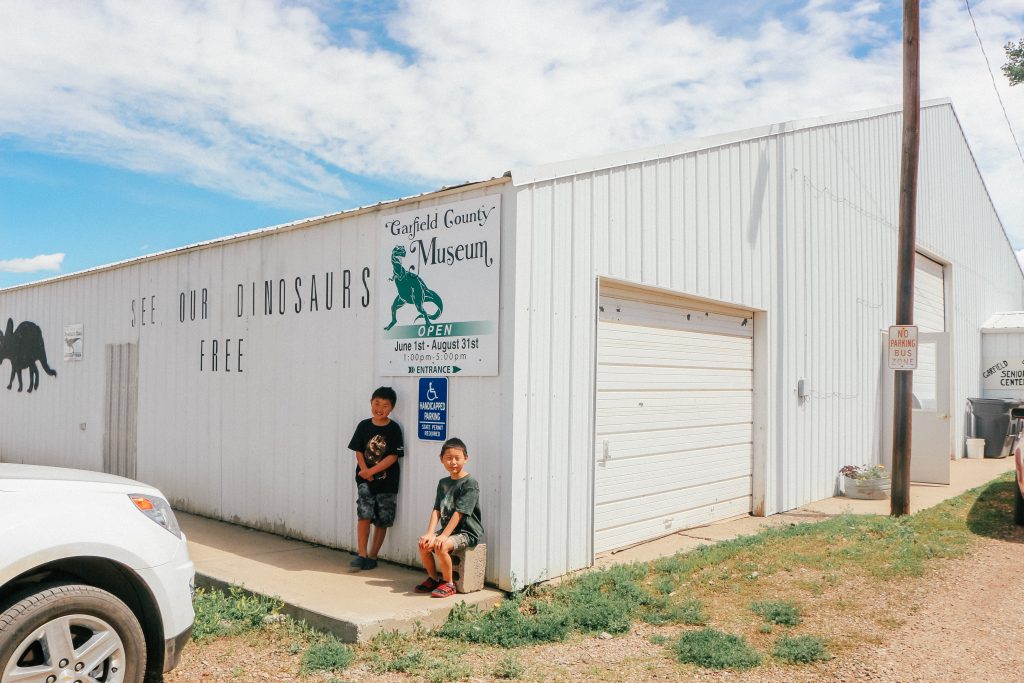 The downside to Jordan is there's not a whole lot else there. We spent about an hour in the museum, which the museum volunteer told us was about average. If you're looking for something else to explore in the area, you might want to check out the Charles M. Russell National Wildlife Refuge or Hell Creek State Park, although exploring either of those might necessitate finding lodging in the Jordan area, which depending on your tastes, might be a challenge. More info here.
We ate at the Summit Corral, which has a little bit of everything at reasonable prices. Trip Advisor also lists Hell Creek Bar and Rancher's Bar and Cafe, both with good ratings.
6. Lewistown and Surrounding Area – Add this to your list of places to visit in Montana
Lewistown, in Central Montana is a former mining town with a lot of modern-day charm, which it managed without being overly modern. You can check out the Central Montana Museum which features history of the area and a dinosaur specimen found in the area. If you have time, you can make reservations for the Charlie Russell Chew-Choo, which is a train ride that offers dinner and entertainment with scenic central Montana as a backdrop. If you plan to be in this area, I recommend taking a look at the Central Montana tourism website. They have detailed information on what's available in every every community and you might see something that's off the beaten path that piques your interest.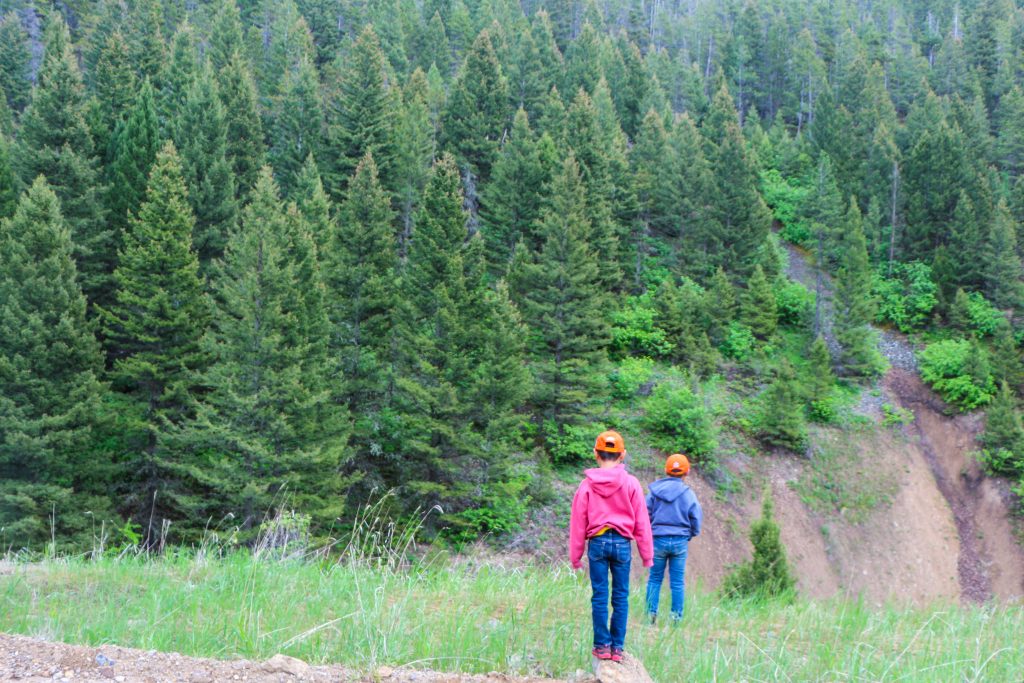 Central Montana is beautiful beyond belief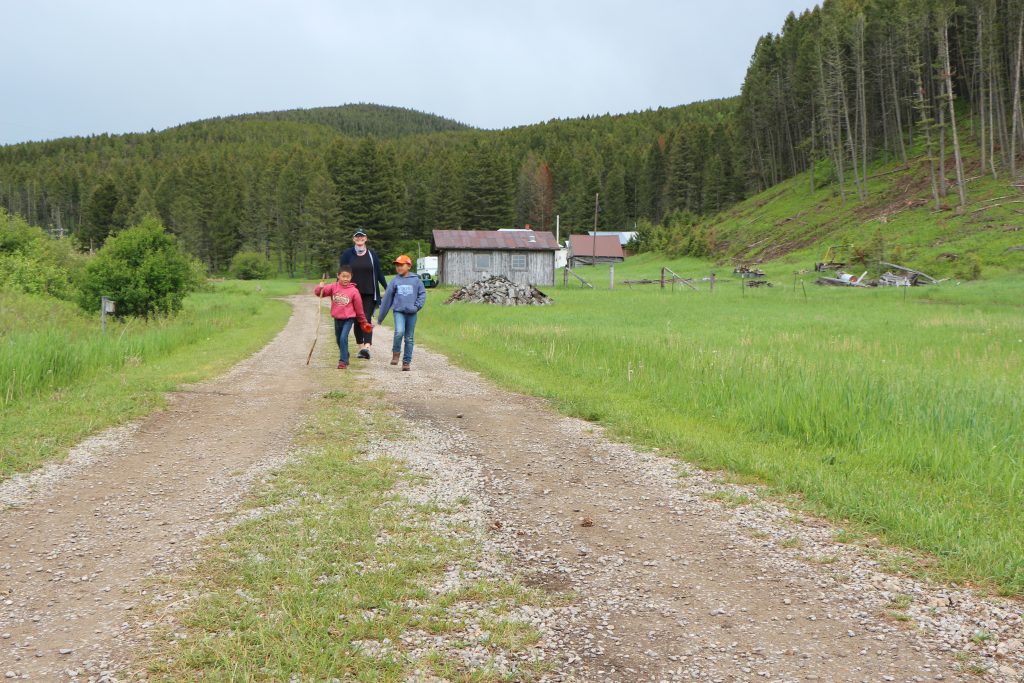 Outside of Lewistown is the location of my future log cabin – Maiden Canyon and Gilt Edge, located in the Judith Mountains.
If you're flying in to Montana, Lewistown is about a two hour drive from Billings and a little bit less of a two hour drive from Great Falls. You'll need to rent a car at the airport and drive into Lewistown. You'll be treated to some beautiful scenery along the way – and probably not much cell reception so plan for that.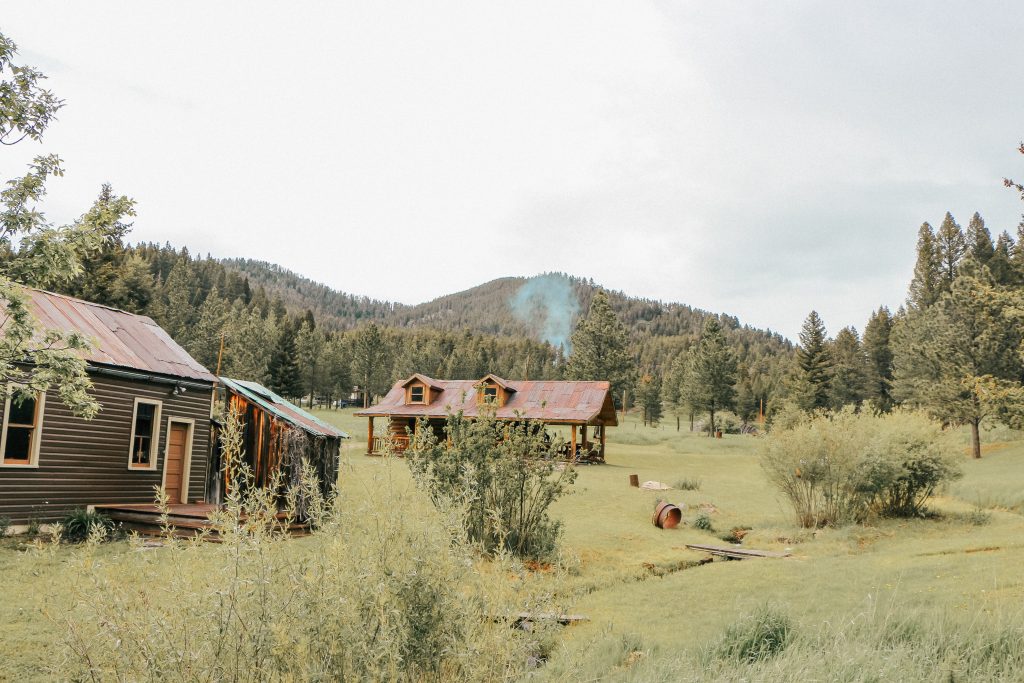 If you're in the area, driving through the east side of the Judith Mountains through the ghost town of Gilt Edge is a must. The ruins of the abandoned buildings make great backdrops for photos and it's fun to imagine what life was like during the gold mining days. If you're exploring, make note of the private property signs. There are plenty of public roads to explore but be mindful of the "private property" signs.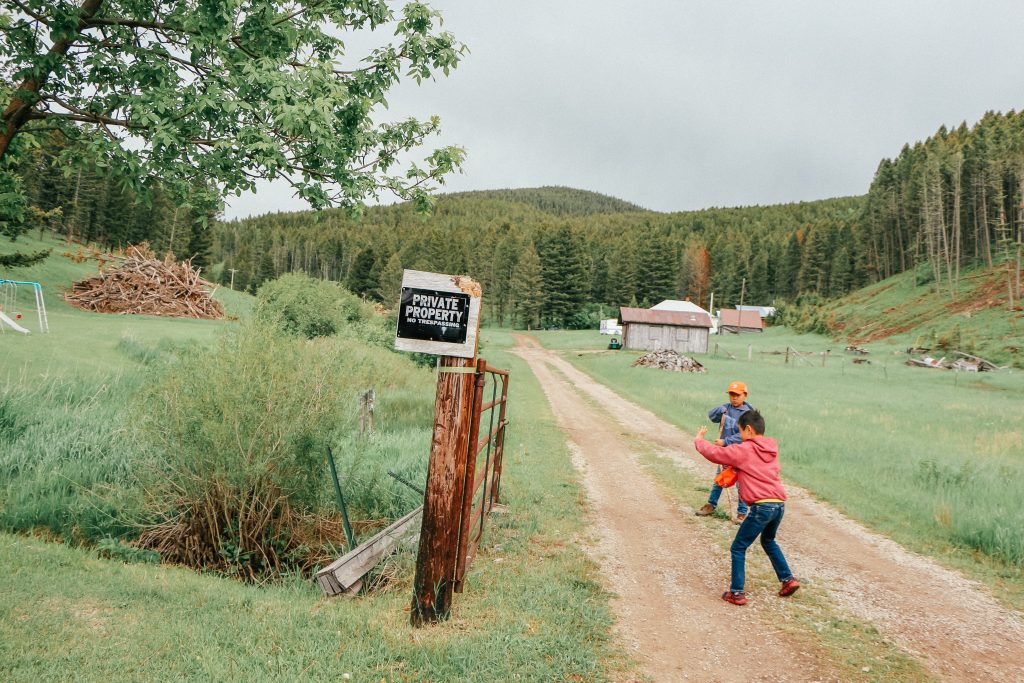 As with most small towns, Lewistown has it's festivals and special events, so check their website or visit the Central Montana website when you're planning your visit to see what's happening.
And, there's pie.
Also something else to think about when you're planning a trip through this region: pie. That's right, pie. I love me some pie and there's apparently a a whole trail dedicated to pie. Obviously I'll need a gym in my log cabin because I will be checking out that pie. Because pie.
If you stay in Lewistown, have lunch or dinner at Central Feed, in the heart of downtown. They serve locally made beers and have a small but interesting menu that includes appetizers, burgers and sandwiches, as well as some lighter options like salads and a quinoa bowl. If you're looking for coffee, breakfast, a sandwich, or just to hang out with the locals, check out Rising Trout Coffee Shop and Bookstore on Main Street.
If you are looking to explore this part of Montana and want to use Lewistown as base camp, I'd suggest a stay length of anywhere between three and five days, depending on how far you want to roam. We loved our adventures in this part of the state and based on my conversations with the locals, I could have easily entertained my kids in this area for another several days. And, as a Texan, I found this area an awesome place to be in the summertime.
6. Harlowtown
If you're following the dinosaur trail through central and southeast Montana, Harlowtown is a don't miss stop. If you are driving, you can easily do Harlowtown as a pit stop on the way into our out of Lewistown but check to see what's going on in town. We missed a music festival by one day, so if you can plan your visit around one of these small town events, you should definitely consider it.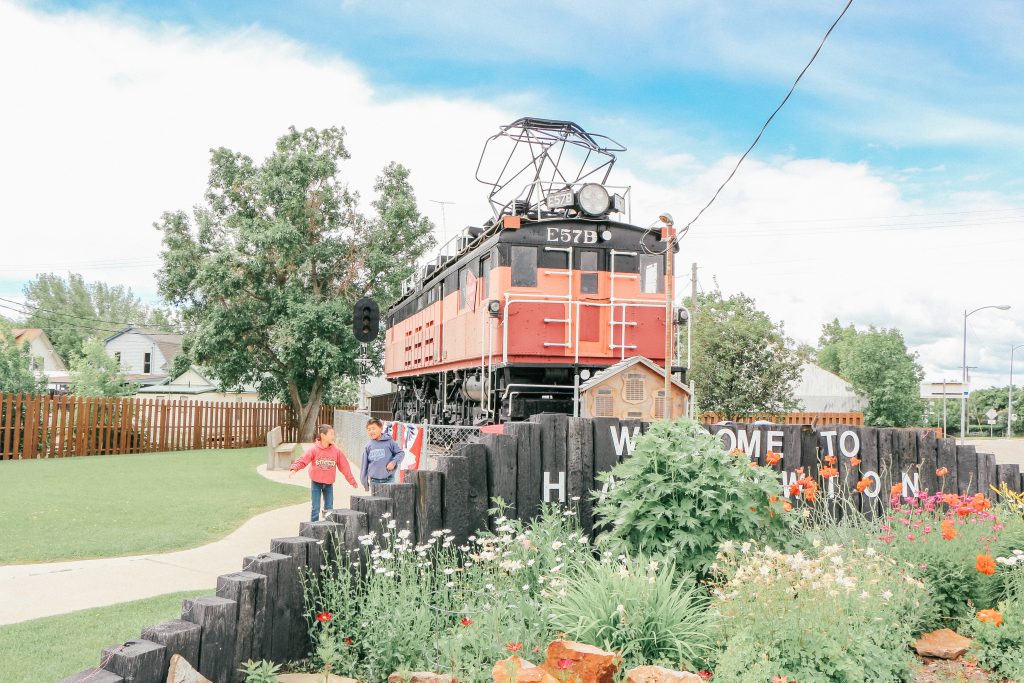 Tiny town with the BEST museum in Central Montana
Harlowtown is home to the Upper Musselshell Museum which, like a lot of the museums I've mentioned so far has ties to the Montana Dinosaur Trail. This was my favorite museum on this trip to Montana. It was so well organized and nicely broke up into dinosaur stuff and history of the area stuff. The staff was really nice as well and gave us lots of information about the museum and the surrounding area.
Don't miss the full-size cast of the Avaceratops, which is a small ceratopsian dinosaur discovered in 1981. I'd never heard of the Ava before so that was a really neat, educational moment. This museum also has some hands-on activities for children. If you're looking for educational places to visit in Central Montana, this is a don't miss.
For lunch or coffee, make sure you check out Sun Dog Coffee Company. They have lots of baked goods as well as sandwiches and soups. if you're going to be in the area, make sure you're following them on Facebook. They do a great job at letting you know what their specials are and what flavors of ice cream they're serving. Important stuff.
7. Roundup – Our last stop in Southeast Montana
Roundup Montana is on my "if we had a do-over" places to visit in Montana list. We did make a quick pit stop here (and even if you just make a quick pit stop, it's worth going a little out of your way for) but there was more we wanted to see. We were limited by time and mud near the riverbanks but this cute little town is so close to Billings – around an hour, maybe a little less. If you're visiting Billings (or if you live there) Roundup is great day tripping distance. If you're looking for places to visit in Montana and your starting (or ending) point is Billings, you really need to consider this one.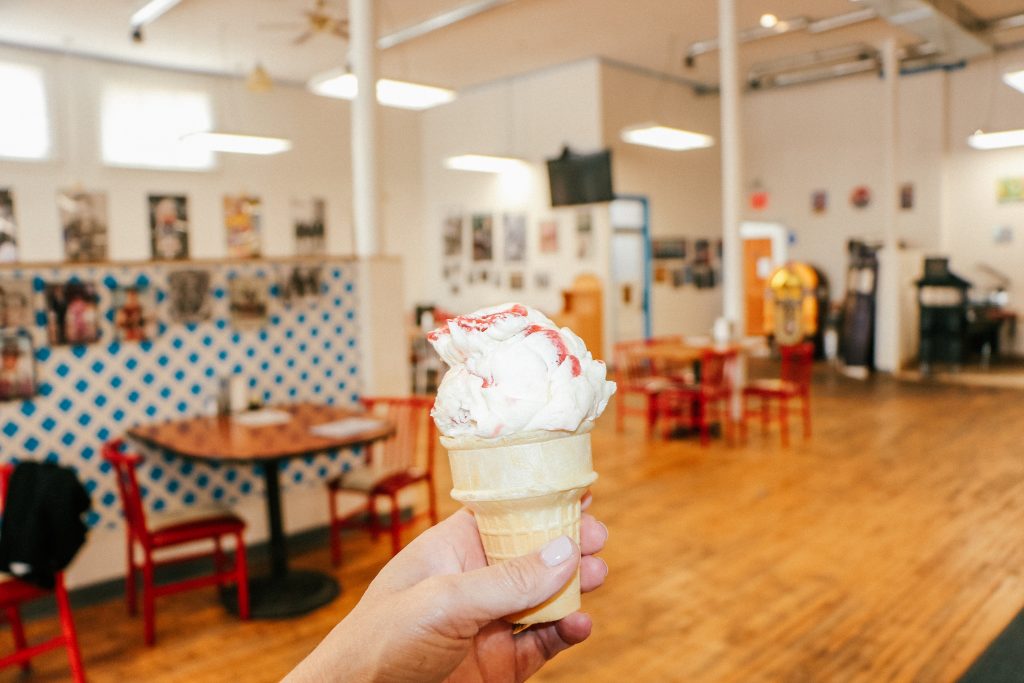 My recommended "don't miss it" in Roundup is the Corner Cafe and Malt Shop. They serve all kinds of food but if you're looking for a great ice cream cone or a milkshake, this won't disappoint and the atmosphere is really fun and kitschy. It has a very fifties feel and there's lots of decor to check out, to include some dinosaur bones.
If you have time for a walk, check out the Roundup Heritage Riverwalk or the Roundup Historical Walk. Info on both can be found on the Roundup Chamber of Commerce Website.
Other Southeast Montana Travel Tips/Things to Note When Considering Places to Visit in Montana
I traveled to Southeast Montana and Central Montana in June. All my suggestions for places to visit in Montana are based on warm weather travel…well, warm for Montana. If you're traveling to Montana in Winter, you're not going to have the same kind of trip I had and you'll need to make different plans.
Some parts of Southeast Montana and Central Montana are very remote. Cell service may be limited.
Get a map. Yes, a real paper map or an Atlas. I am completely reliant on GPS and my car's built-in navigation system and I had zero reception during one leg of my trip. I had to stop and ask directions, which is something I haven't done in years.
Check the weather often and when you're working on your list of places to visit in Montana. Check to see what typical temperatures are during the time of year you'll visit. Montana summer is about equal to Texas winter – I'm not entirely joking about that – and different spots/elevations will have entirely different weather. We could easily wear shorts in Billings in June but needed long pants and jackets in parts of Central Montana in June.
Car care is super important. Make sure your vehicle is in great working order. Know how to change a tire and above all, fill up your tank when you get the chance. Never get below half a tank or assume there will be a gas station at the next exit. There are so many cool places to visit in Montana but a lot of them are remote. Being a city girl, I had an idea of what I thought was remote but actually being out there was different.
The Montana locals are delightful. Everyone I talked to was exceptionally friendly and curious about what brought me to Southeast and Central Montana. The western parts of the state, such as Yellowstone and Glacier, get most of the attention and the rest of the state doesn't get as much tourist traffic, which was part of the reason we liked it so much.
For more information on places to visit in Montana or to get help with planning your own Southeast Montana adventure, check out the Visit Southeast Montana Website.
For more info on things to do in Central Montana, visit their website.
If you're looking for places to visit in Montana, you can't really go wrong, in my opinion. You can also check out my posts about Butte Montana and Phillipsburg Montana if you're looking to explore more.
You might also like: