One week Southeast Montana Itinerary
(This post may contain affiliate links. Read my full disclosure.)
Have you ever wanted to explore Southeast Montana? I can help you plan the perfect summer trip. Mention Montana to a potential traveler and thoughts may jump to Yellowstone National Park and Glacier National Park, which are popular spots to explore in big sky country. I have something going the opposite direction – a one week Southeast Montana Itinerary that starts and ends in Billings and takes you through some of the state's most rugged and beautiful terrain.
I'm sharing my itinerary exactly as I traveled it, along with suggestions on what you might want to do differently or what I wished I had done differently, although looking at things from this side, it was a pretty perfect trip. You can plan this trip as a stand alone or combine it with a visit to Western Montana.
One week Southeast Montana Itinerary – Duplicate our trip
My family was hosted by Southeast Montana and their partners. All opinions are mine.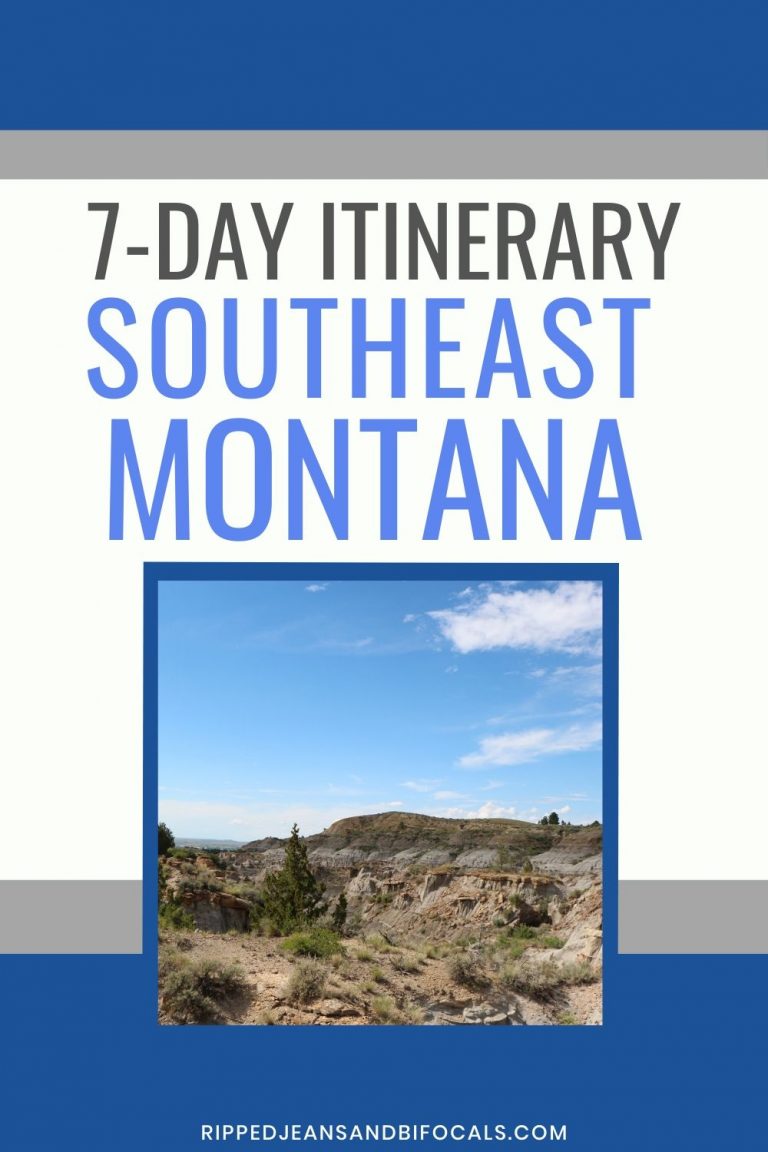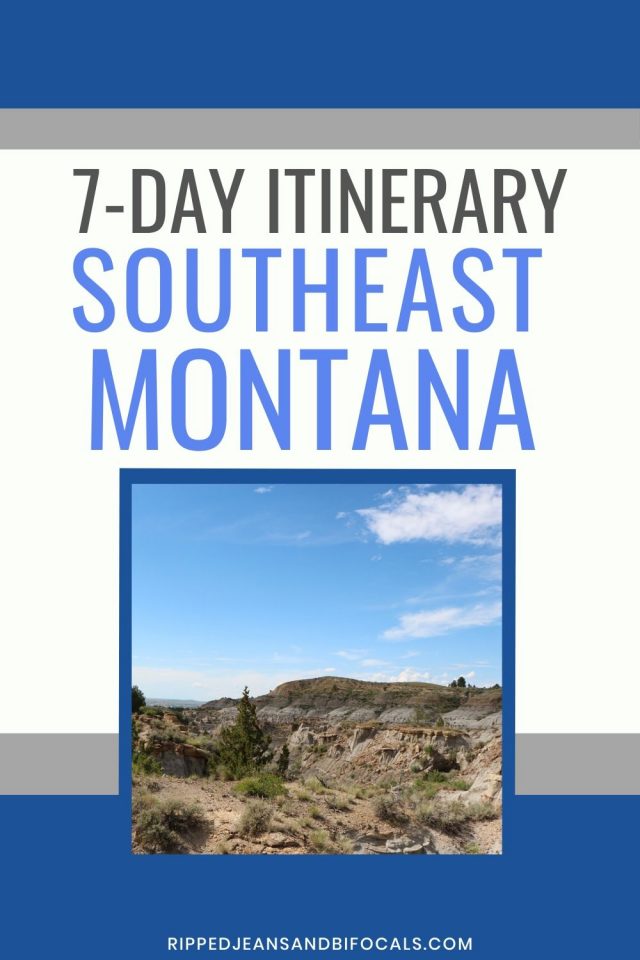 Day Zero: Arrive in Billings Montana
If you're flying from a major U.S. western city, such as Los Angeles, Denver, or Salt Lake City, you should have good luck with direct flights. If you're flying from somewhere else, you'll need to connect. We flew from San Antonio to Salt Lake City and then on to Billings from Salt Lake City. This was the first time I'd flown Delta in a while and I was pretty impressed.
We took a 6:00 a.m. flight out of San Antonio and arrived in Billings at mid-day. Those early a.m. flights aren't much fun but we love the idea of getting where we're going at a decent hour and to have a chance to look around a bit and maybe do an activity before we hit the hay. If you take a later flight and encounter delays, you'll arrive in Billings at a very late hour or even get stuck someplace else for the night so go with the "OMG it's so early" flights and just get there.
For this itinerary, you'll need to rent a car. Since Billings is a smaller airport, you'll want to reserve in advance and not get there and hope they have something available (which is a terrible practice under any circumstance). The car rental counters at the Billings airport are located right next to baggage claim and the actual cars are picked up just outside. Couldn't be easier.
We rented a Ford Explorer from Alamo, which was the perfect car for this trip. If I'm traveling with my family, I usually rent a mid-size SUV at minimum. My kids still sit in booster seats and we need the roomy back seat plus room in the back for everyone's bags.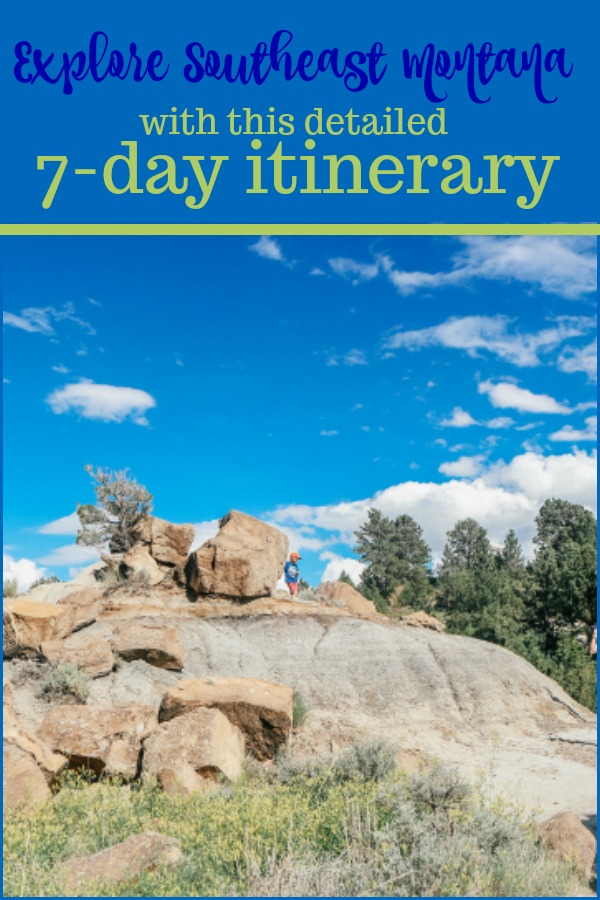 If you have time, check out the exhibits near the baggage claim area. It's like a mini-museum and there's lots to see.
Check in to your hotel/explore ZooMontana.
We stayed at The Boothill Inn and Suites, which is a modestly priced inside corridor hotel near the airport. The Boothill Inn and Suites offers a spectacular free breakfast as well as cookies and milk in the evenings. It's a basic and comfortable hotel and we recommend it for budget or family travelers.
We arrived at The Boothill in and Suites at about 1:30 p.m. and were allowed early check-in, so we dropped our bags and headed toward ZooMontana, which was about a 15-minute drive away.
I recommend spending two-three hours at ZooMontana. After, you can go back to your room and freshen up and then have a later dinner or just head on to dinner as you are.
Every restaurant in Billings is come as you are. Casual is absolutely OK.
I recommend having your "Welcome to Southeast Montana Dinner" at The Divide and to sit outside if you can. The view from the patio is spectacular and you'll no doubt enjoy the glorious Montana summer weather.
Day Two – Goodbye (for now) Billings and Hello Miles City
I recommend getting an early start…although not ridiculously early. If you can have breakfast and be on the road by about 8:00 p.m., you're good. Also The Boothill Inn and Suites has a very extensive breakfast buffet, so you'll want to devote some time to getting your grub on.
After breakfast, load 'em up and head to Pompey's Pillar National Monument. Pompey's Pillar is a rock cropping that contains the only physical evidence of the Lewis and Clark expedition. William Clark's signature is carved in the rock formation and it's a fun, easy climb to the top (be sure to count the steps.) It will take you about an hour to get from Billings to Pompey's Pillar.
If you have a National Parks Pass or Passport Book, make sure you take them with you.
I recommend spending at least two hours at Pompey's Pillar. We were there for about an hour and would have loved more time. An hour is enough time to climb to the top, snap a few photos and briefly walk down to see the Yellowstone River. There's some exhibits to check out inside the Visitor's Center that we didn't get time to look at.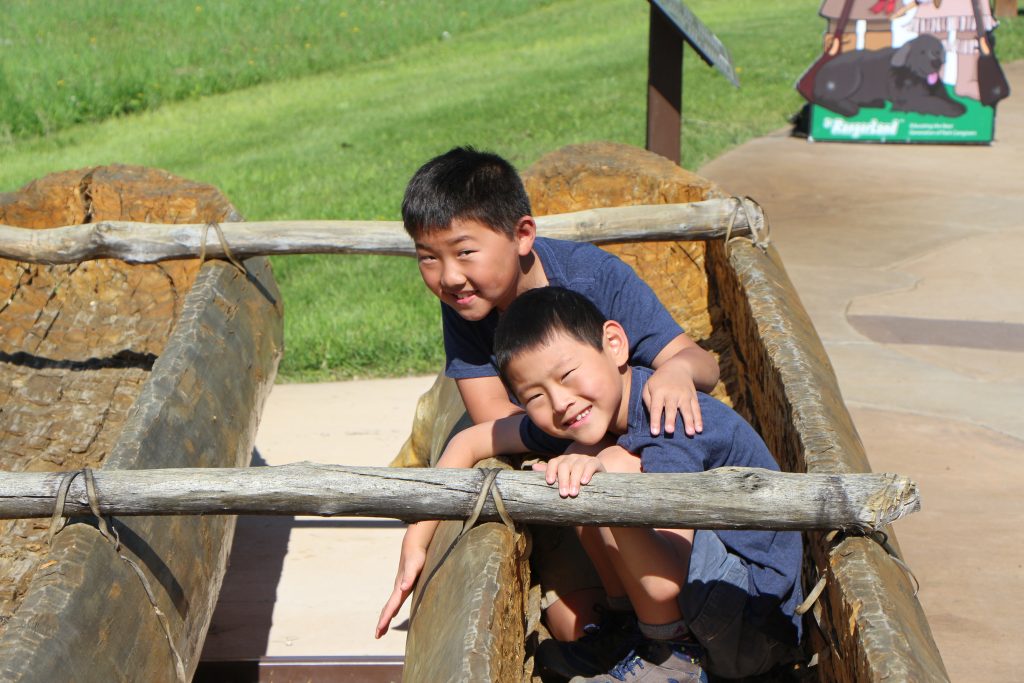 If you want to pack a picnic lunch, there's places to sit and eat at Pompey's Pillar. There's not much I saw along the way from Billings where you could get food, so you'd need to probably hit up a grocery store in Billings for lunch fixings before you set out.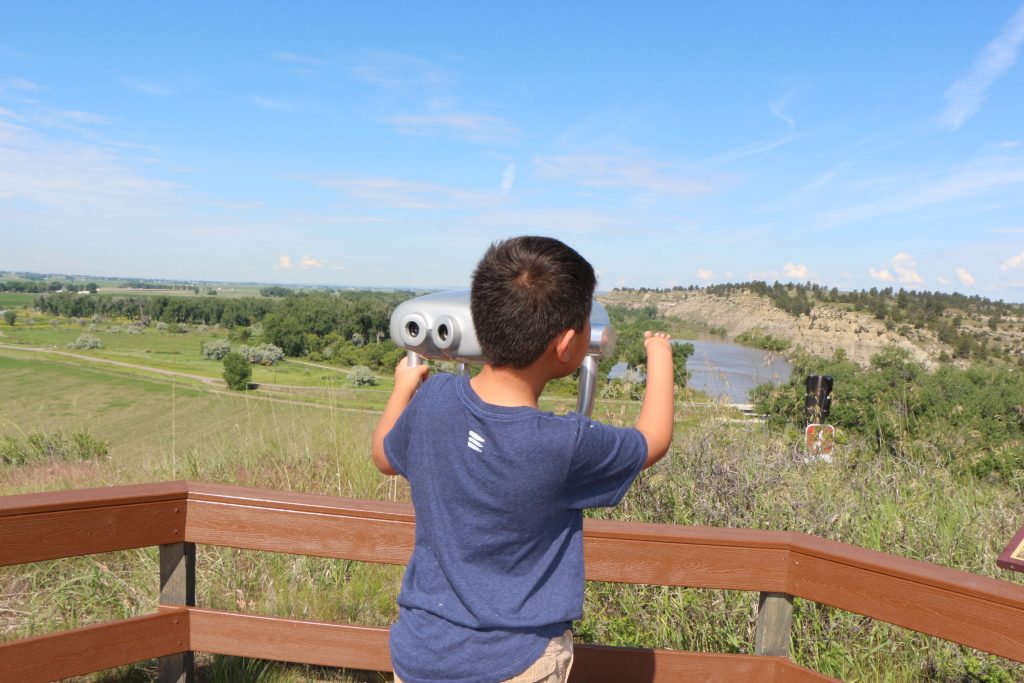 Miles City is about an hour and a half from Pompey's Pillar. There aren't many places to stop, so potty it up before you leave.
You'll probably be rolling in to Miles City around 12:30 – 1:00. If you didn't eat at Pompey's Pillar, you'll be ready for lunch. Stop for some food at Main Street Grind or Spoonful. Eat a quick lunch (or get it to go) and hit the hiking trails at Strawberry Hill Recreation Area.
Best. Hike. EVAH.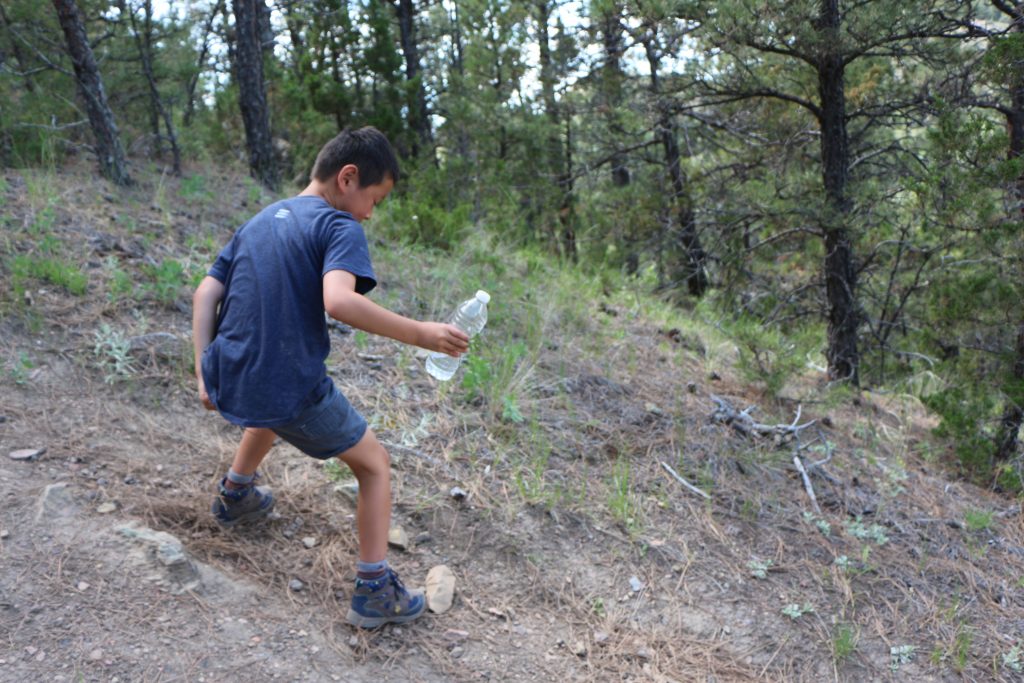 Plan to spend between two-four hours at Strawberry Hill. It's absolutely spectacular and we could have easily stayed longer than we did. We did the main loop trail and it took two hours and change but we could have spent more time out here and not been mad about it.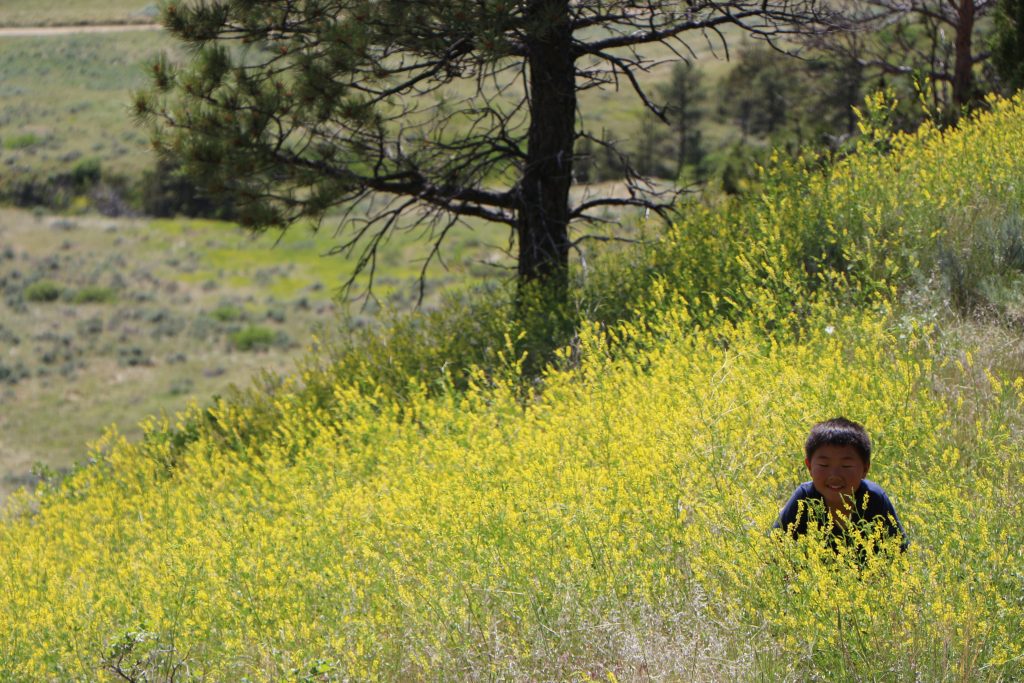 Check in to the Miles City Hotel and Suites before dinner.
Miles City Hotel and Suites is a budget and family friendly hotel in the heart of Miles City. This is an inside corridor hotel that offers free breakfast and free soup and cookies in the evening. If you're traveling on a shoestring, you could take advantage of these offerings and snag a few things off the breakfast buffet for your lunch. This might be particular to the room we stayed in, but if you take a hot shower, make sure you close the bathroom door. The steam from the shower set off our smoke alarm and it turned in to kind of an "incident" for one of my kids
Have dinner at The Black Iron Grill, which offers lots of options, including steaks and a large selection of appetizers. They also have a kids menu. Another option is Tilt Wurks Brew House. Tilt Wurks offers burgers, sandwiches, salads and appetizers and they also have a large selection of beers and wines, as you'd expect from a place with "brew house" in their name.
The Black Iron Grill is across the street from the Miles City Hotel and Suites and we were tired from our busy day, so that's the reason we chose it. It's not like Tilt Wurks was exactly far away, but the close proximity to where we were staying swayed us. The food at The Black Iron Grill was great.
Day Three – Explore Miles City and Travel to Glendive
Have breakfast at the hotel and spend the morning exploring Miles City. Depending on what you want to do, you can have a little bit of a leisure morning.
Museum options are Range Riders Museum and the Water Works Art Museum. There are lots of shops to explore on Main Street and the locals are fun to talk to. For lunch, you can try Main Street Grind or Spoonful again or eat Vintage and Rustics which is a really fun store on Main Street that also serves food and baked goods. If they have the doughnut with bacon on top, get it and eat it for me. I have huge regrets for not trying it.
Leave for Glendive after lunch (by 1:00 p.m. at the latest) and head straight for Makoshika State Park.
Welcome to the Badlands.
If you leave Miles City at 1:00*, you'll be at Makoshika State Park by 2:30 at the latest. Fill up your gas tank before you leave Miles City. There's not many places to fill up between Miles City and Glendive and you'll be below half a tank by now. Not letting your car get below half a tank is a good southeast Montana rule of thumb. This isn't "gas station on every corner" country.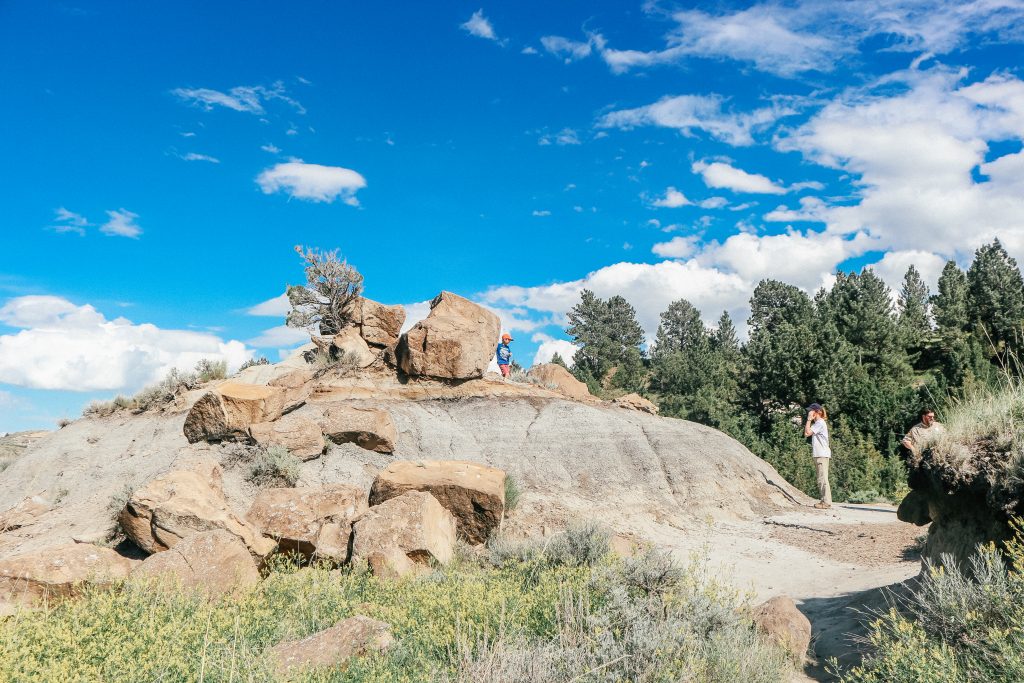 Enjoy your time at Makoshika State Park. To explore the Visitor's Center (there's some exhibits on the lower level to explore), hike the Kinney Coley Trail and the Diane Gabriel Trail as well as get some pictures of the hoodoos near the amphitheater you'll need about three hours. If no one is staying in this fun teepee, this is also a great spot to take pictures. It's available to rent as a campsite, so obviously, if it is occupied, you're not going to want to get all up in this space. The ranger told me there's a yurt coming soon. I think that would be really cool.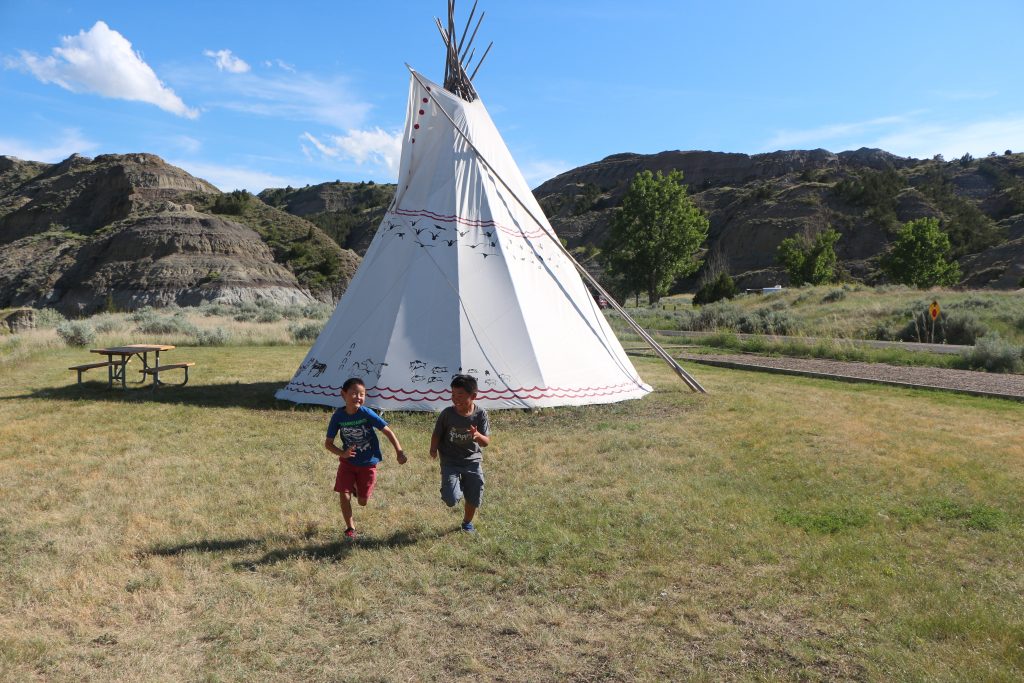 Make sure you spend some time chatting with the rangers to see what's happening at the park during your visit. They often have special events during the summer and a lot of them are free. We went to a lecture in the evening and learned about the Dark Skies Project and light pollution, which we found super interesting. It also gave us an opportunity to meet some of the locals and my kids had fun with that. Plus, we learned something, so double win.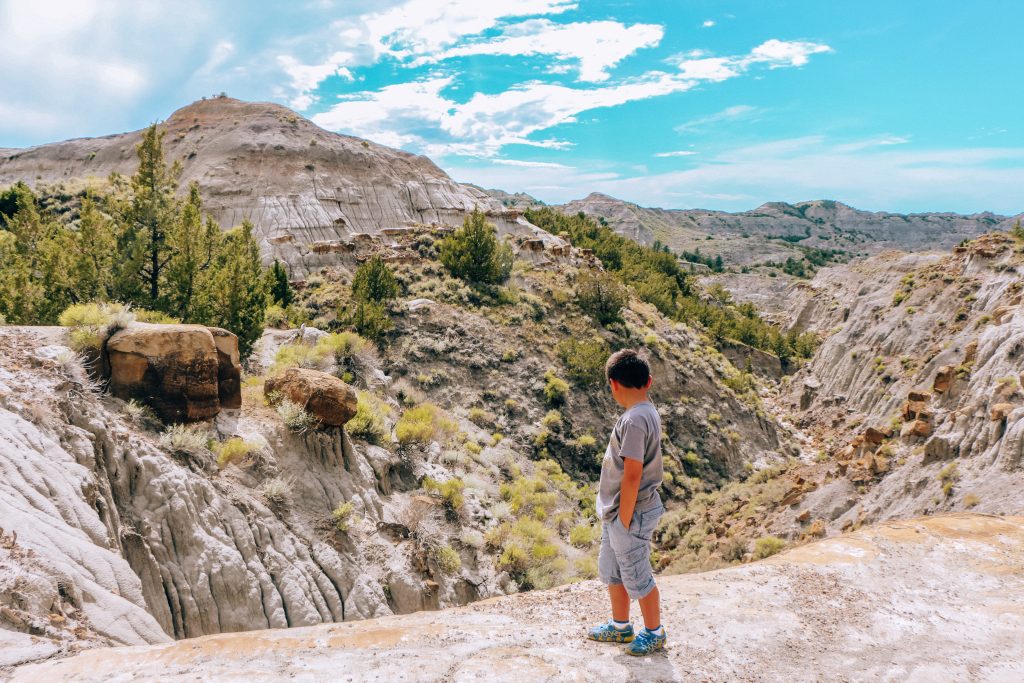 Check into your hotel, have dinner and relax.
We had dinner at The Gust Hauf because it just felt like a beer and pizza kind of day. Beer was for me, not my kids, but y'all knew that, right? Our waitress described the small pizzas as "personal size" so we ordered three. Each pizza had eight slices so we had some leftover pizza. Our room at The Comfort Inn in Glendive thankfully had a fridge and a microwave.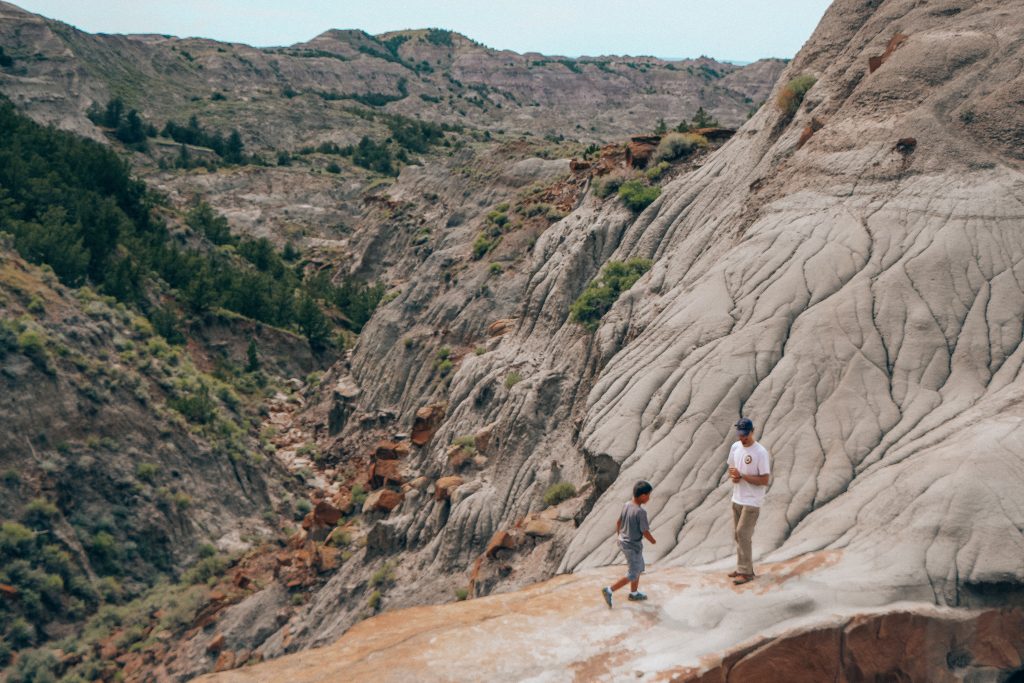 You have a lot of options for lodging in Glendive. They have names you'll recognize…in addition to The Comfort Inn, there's a Wyndam and a Holiday Inn Express. We found The Comfort Inn to be adequate. The room was basic but it was clean and and included breakfast. The indoor pool and hot tub area was great and we hung out here both evenings during our stay.
For more detail on the Montana Dinosaur Trail, read here.
*If you want a longer day at Makoshika State Park, I recommend having a shorter morning in Miles City or skipping some of the dinosaur activities I've listed for day four. If you can't get into (or don't want to pay for) Baisch's Dinosaur Digs, you can insert some extra park time there and adjust.
For more detail on Miles City, read here.
Day Four – Continue to Explore Glendive
Day four on this itinerary is all about dinosaurs. You'll start your day bright and early with breakfast at your hotel. I can vouch for the free hot breakfast at The Comfort Inn, so if you stay somewhere else, you'll have to make sure breakfast is included.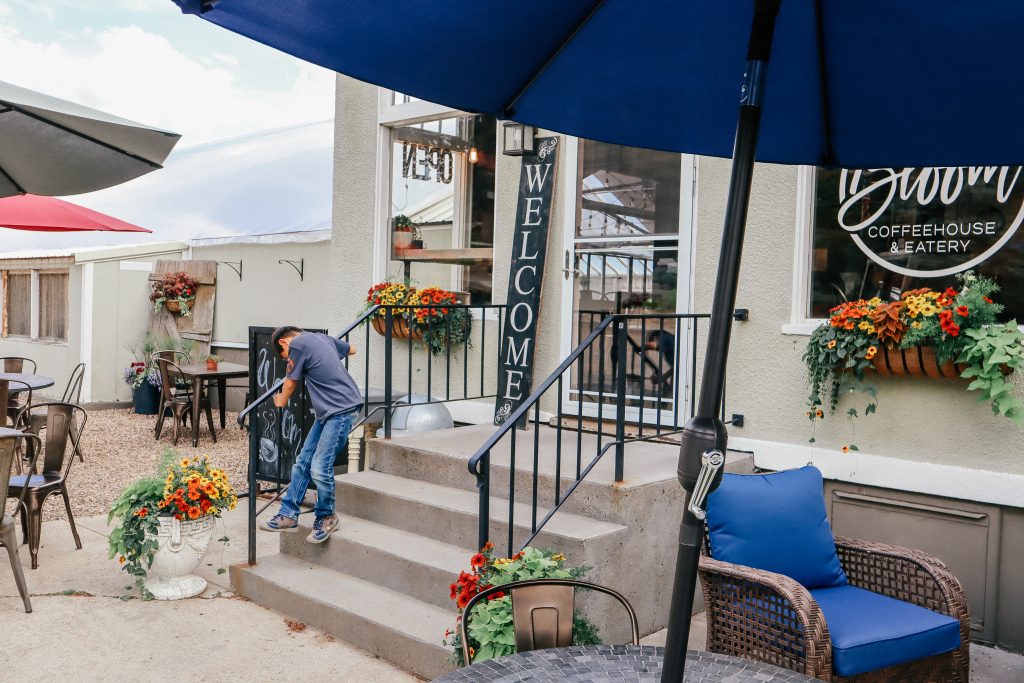 First on the agenda is a half-day dig at Baisch's Dinosaur Digs – make sure you're booked in advance and make sure you have all the required items you're supposed to bring. Our dig was scheduled to start at 8:00 a.m. so it was early to rise for us. We ended up getting started about an hour later because of mud from rains the previous night and our dig went a little bit longer than we'd planned, which was okay with us. We were having quite the time.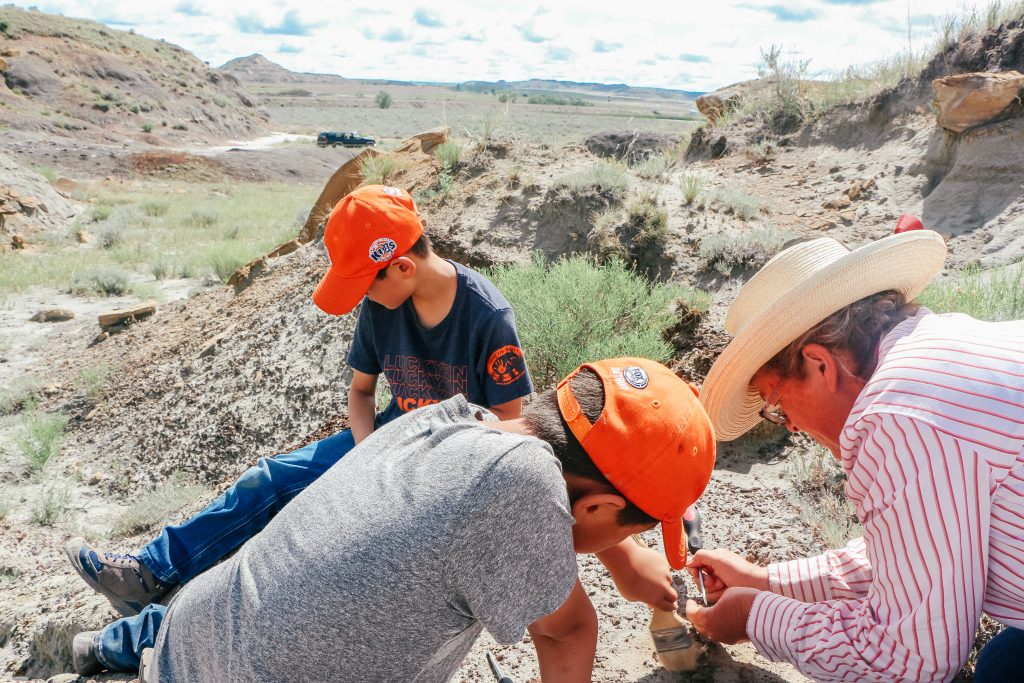 Even if you're doing the half-day dig, I recommend you take some hearty snacks, like energy bars, nuts, or beef sticks. You're probably going to get hungry out there and food isn't provided. Needless to say, there are no vending machines in the badlands.
After your dig, go for lunch and a coffee break (I needed caffeine sustenance by this time) at Bloom Coffeehouse and Eatery You'll find fresh ingredients, quick service, and a fun atmosphere. You can certainly linger if you want to but you want to make sure you have ample time to check out all the dinosaur museums.
You're in dino country now…
There are two museums dedicated to dinosaurs in Glendive that you'll want to check out. The first is Glendive Dinosaur and Fossil Museum. Right next door is the Frontier Gateway Museum. The Glendive Dinosaur and Fossil Museum is a very well put together museum with two levels of exhibits, a movie theater and a gift shop. The museum has a somewhat unconventional philosophy about dinosaurs, which you can read more about on their website. Even if you scoff at their theories, your kids will enjoy this museum for what it is on the surface: cool dinosaur stuff.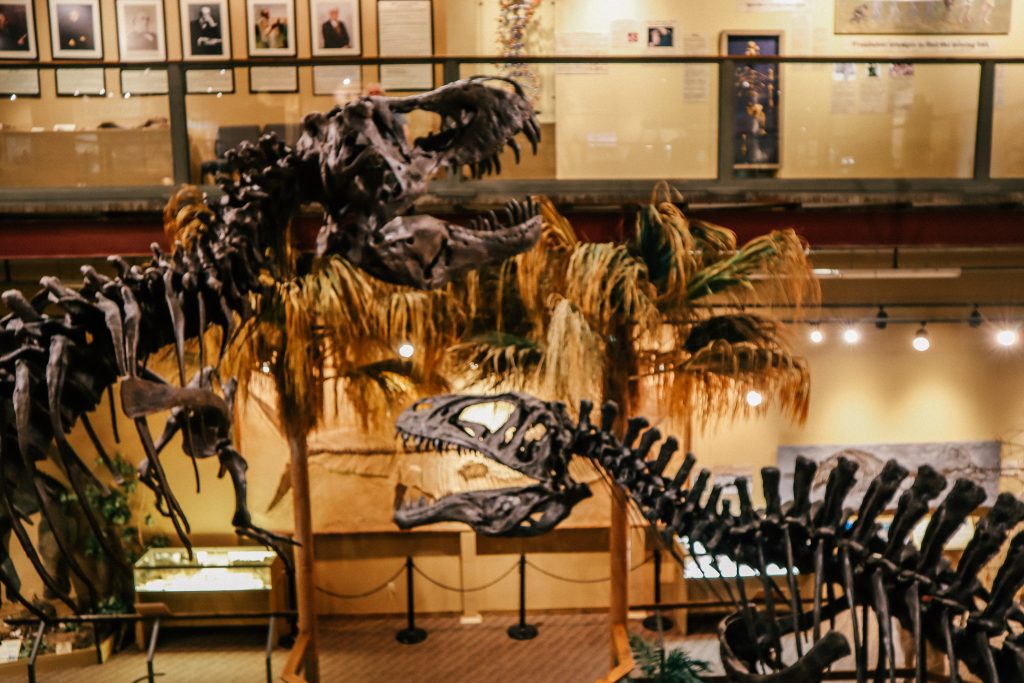 The Frontier Gateway Museum has some dinosaur exhibits as well but they also cover more history of the local area. www.of the museum. They strongly subscribe to the theory of a young earth and that humans and dinosaurs lived on earth together. There are many exhibits in the museum that suggest the reason dinosaurs became extinct is because Noah didn't take them on the arc.
Next on the agenda is an early dinner, a swim or soak in the hot tub and then bed. Unless you have super-human stamina, you're probably tired by this point. We had leftover pizza from the precious night so we had that, along with a swim and then early to bed.
For more detail on Glendive, read here.
Day Five – Goodbye Glendive and hello Jordan and Lewistown
This leg of the trip will take you through Montana's Missouri River Valley and into Central Montana. A couple of important things to remember before you start out on today's adventures: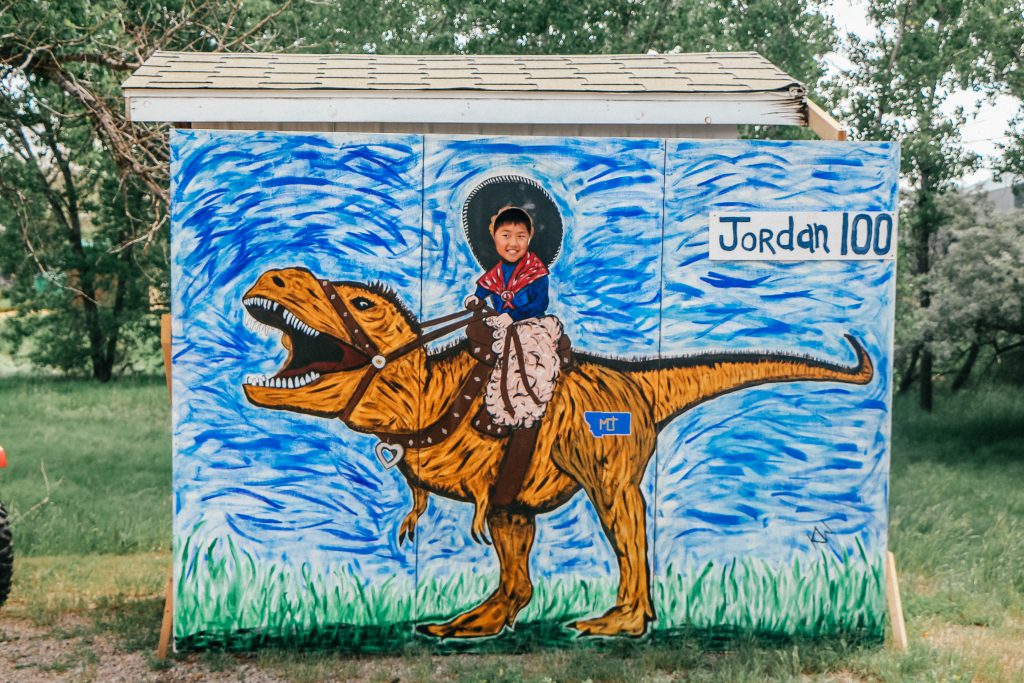 Fill up your car with gas.
I know I'm sounding like a broken record but this is important advice. Also do another preventive maintenance check of your car. Check your fluids, make sure you have a solid spare, etc.
Look at a map. Yes, a real paper map.
Your route is going to take you through some pockets where you won't find cell service or places that have public wifi. There's really only one way to get where you're going but don't rely on Google Maps or your car's navigation system to guide you.
Your first stop will be Jordan and the Garfield County Museum. The museum is a free one and a part of the Montana Dinosaur Trail. It will take you about an hour to get through the museum. Top off your tank and grab some food at Summit Corral as you head out of Jordan toward Lewistown.
The drive to Lewistown will take about two hours. There are limited places to stop and there was road construction when I drove through (mid-June 2019) that delayed me another half hour. There is a rest area about halfway between Jordan and Lewistown, which is about the only place you can stop if nature is calling your name.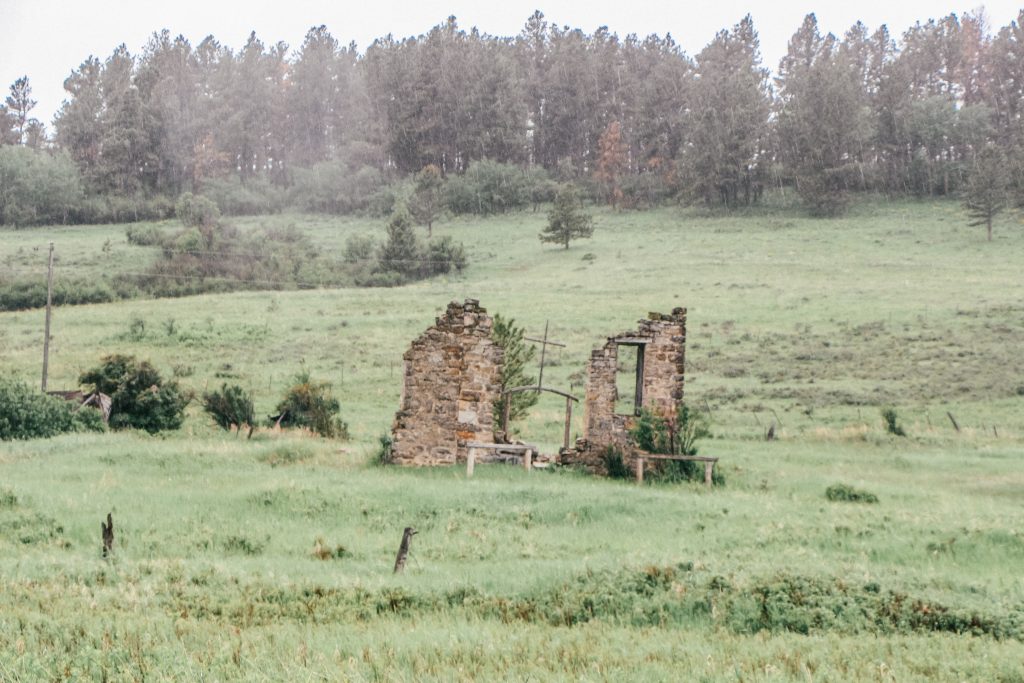 On your way into Lewistown, stop by Gilt Edge, which is a ghost town along the road up to Maiden Canyon. The ruins of the abandoned buildings make great backdrops for photos and it's fun to imagine what life was like during the gold mining days. If you're exploring, make note of the private property signs. There are plenty of public roads to explore but be mindful of the "private property" signs.
The road through Gilt Edge/Maiden Canyon is a good one – and watch for wildlife sightings. It really is beautiful country and out of all the places we visited in Montana, this had the strongest "I could live here" vibe. I could have happily spent more time here. If you're interested in a private guide or further info on this area, I recommend you check out the Central Montana Tourism website. If you'd like to contact me directly, I can recommend our guide, Jerry, and put you in touch with him.
After checking in to the Yogo Inn, relax a bit or take a pre-dinner swim before heading to dinner. I recommend having dinner at Central Feed, which is just a short walk from your hotel. They serve locally made beers and have a small but interesting menu that includes appetizers, burgers and sandwiches, as well as some lighter options like salads and a quinoa bowl. You can also enjoy the restaurant at the Yogo Inn, Stetson's or have a drink in the Golden Spike Lounge, which gives you a fun opportunity to visit with the locals.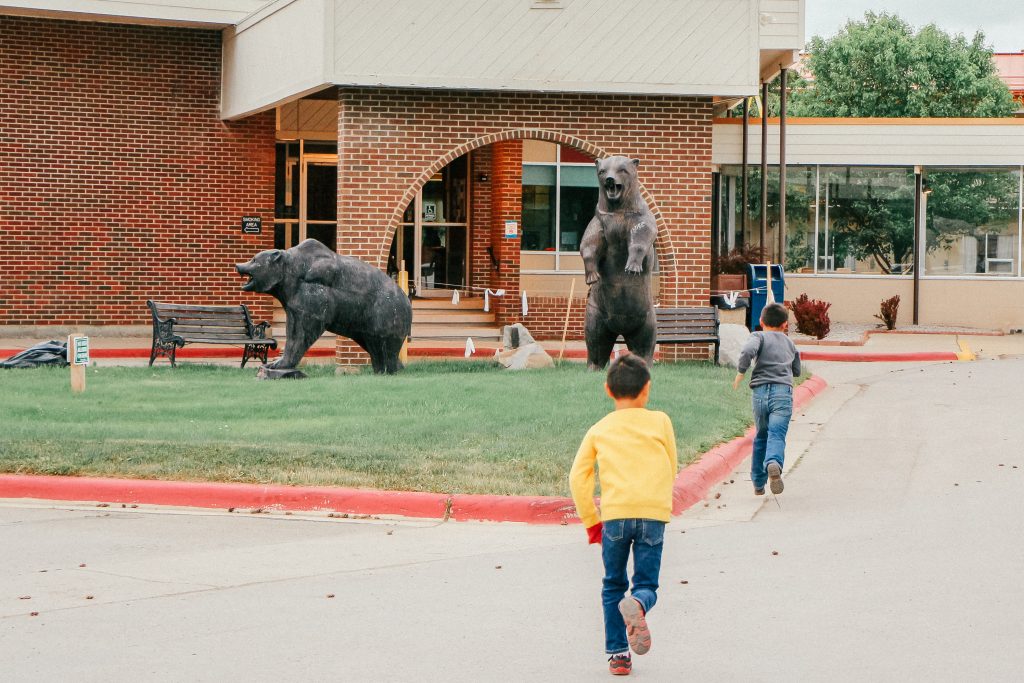 We found The Yogo Inn to be budget-friendly and comfortable. The indoor pool area was great. We stayed in a poolside room which had a sliding glass door that opened directly to the pool area as well as our regular exterior (outside corridor) door.
For more on Lewistown and the surrounding area, read here.
Day Six – Harlowtown, Roundup and then back to Billings
Depending on what you want to accomplish in the morning, you can have a little bit of leisure time, meaning you don't have to get up at the crack of dawn. Stetson's serves breakfast but it is not included in the price of your room. If you're looking for coffee, breakfast, a sandwich, or just to hang out with the locals, check out Rising Trout Coffee Shop and Bookstore on Main Street. This is a short walk from the hotel and will give you the opportunity to look around a little bit.
There are some trails you can explore in Lewistown if you have time and we had every intention of getting out a little bit earlier than we did and going for a quick hike before breakfast but my kids and I were both pretty tired at this point and opted to sleep a little bit more. We could only squeeze so much in to this one week Southeast Montana itinerary but it would be fairly easy to make modifications based on interests.
Check out of your hotel and head for Harlowtown. We left at about 9:30, so if you're okay with a later arrival, you could sleep in a little longer or explore more of Lewistown. For more info on Lewistown, check out this post.
Harlowtown is about an hour's drive from Lewistown. If you have time, stop and check out the town of Judith Gap. We didn't get to do this but there was just something about it that was appealing and we'd have loved to stop and see what there is to see.
Harlowtown is home to the Upper Musselshell Museum which, like a lot of the museums I've mentioned so far has ties to the Montana Dinosaur Trail. This was my favorite museum on this trip to Montana. It was so well organized and nicely broke up into dinosaur stuff and history of the area stuff. The staff was really nice as well and gave us lots of information about the museum and the surrounding area.
If you're doing the Montana Dinosaur Trail, Harlowtown is a don't miss.
You can easily spend an hour exploring the museum and the staff are nice to talk to.
If you need lunch or a coffee at this point in your day, check out Sun Dog Coffee Company. They have lots of baked goods as well as sandwiches and soups. if you're going to be in the area, make sure you're following them on Facebook. They do a great job at letting you know what their specials are and what flavors of ice cream they're serving. Important stuff.
It was a little early for lunch for us, so my kids had Italian sodas, I had some coffee and my one kid that said he was hungry ate a bowl of homemade soup.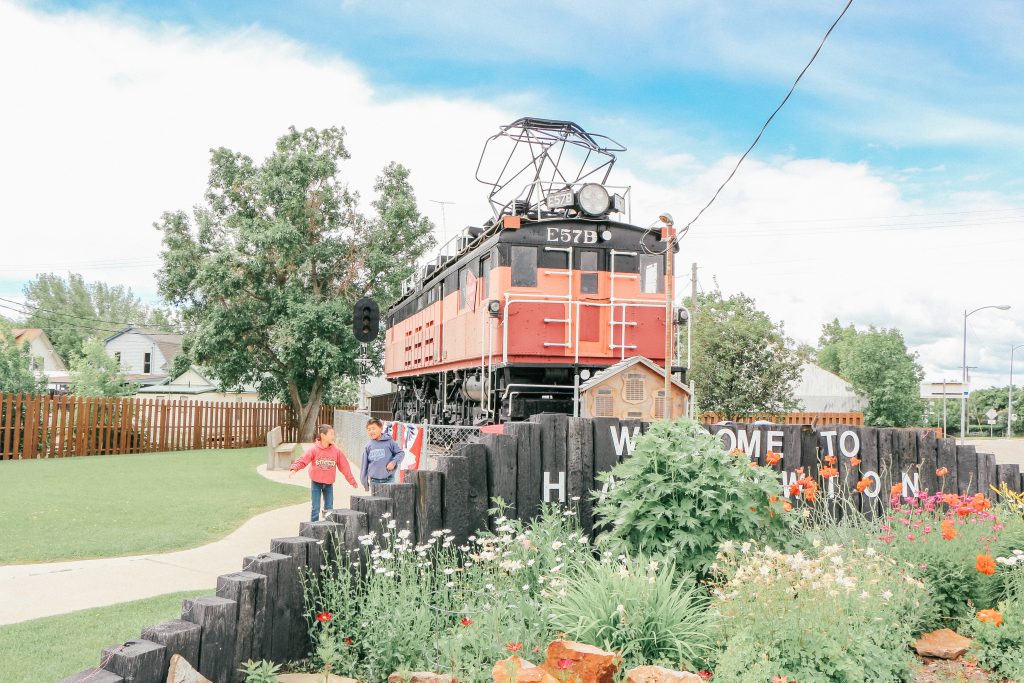 Get on the road at about 1:30 p.m. and head back to Billings via Roundup.
My recommended "don't miss it" in Roundup is the Corner Cafe and Malt Shop. They serve all kinds of food but if you're looking for a great ice cream cone or a milkshake, this won't disappoint and the atmosphere is really fun and kitschy. It has a very fifties feel and there's lots of decor to check out, to include some dinosaur bones.
If you have time for a walk, check out the Roundup Heritage Riverwalk or the Roundup Historical Walk. Info on both can be found on the Roundup Chamber of Commerce Website.
You could skip Roundup and squeeze in another activity in Billings. For us, it broke up the trip nicely and we got back to Billings and checked in to The Hampton Inn at about 4:30.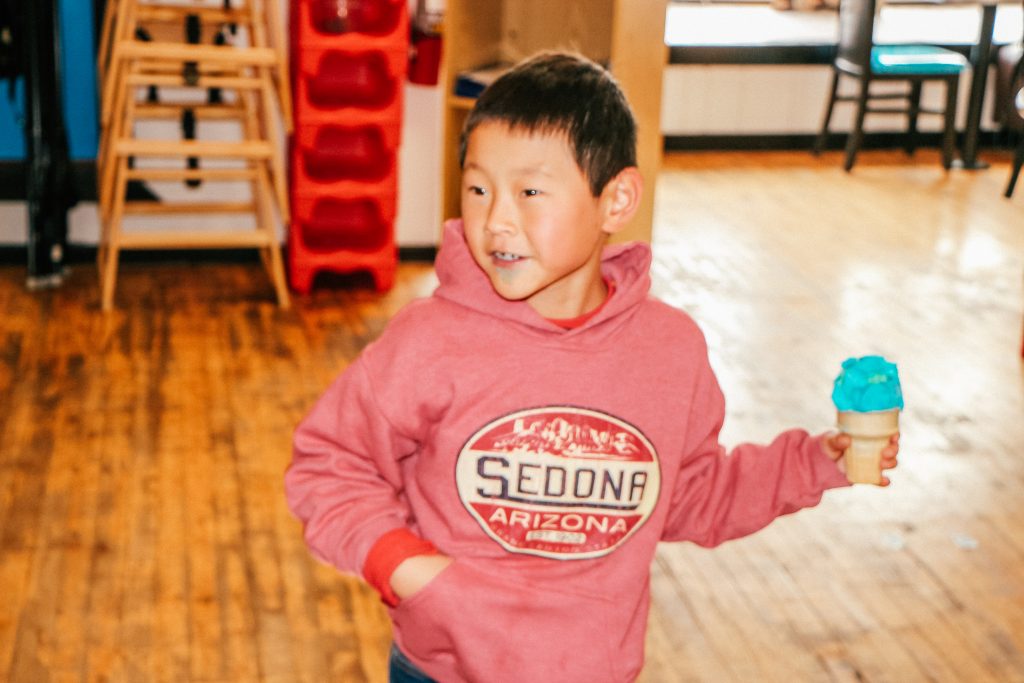 Have dinner at Bullman's Pizza and Explore Shiloh Crossing. They have delicious, wood fired pizza in a casual and fun atmosphere. Afterwards, walk over to Scheel's Sporting Goods store and have a look around inside. I'm not kidding. This is way more than a sporting goods store. They have an indoor Ferris Wheel and other interactive exhibits that will keep you entertained for a while. They do sell sporting goods but there's a lot to do inside this store besides shop. There's also a frozen yogurt place and a movie theater in this same shopping center so if you're still hungry or not tired, you've got options.
Day 7 – Exploring Billings
Although I have listed some indoor options for you here, I recommend savoring outdoor time. Billings offers multiple hiking trails and parks to enjoy. My kids and I did Four Dances Recreation Area and Pictograph Caves State Park, which are located close enough together to make it easy to do both in one outing. We spent about an hour and a half at each location, although you could easily extend your time.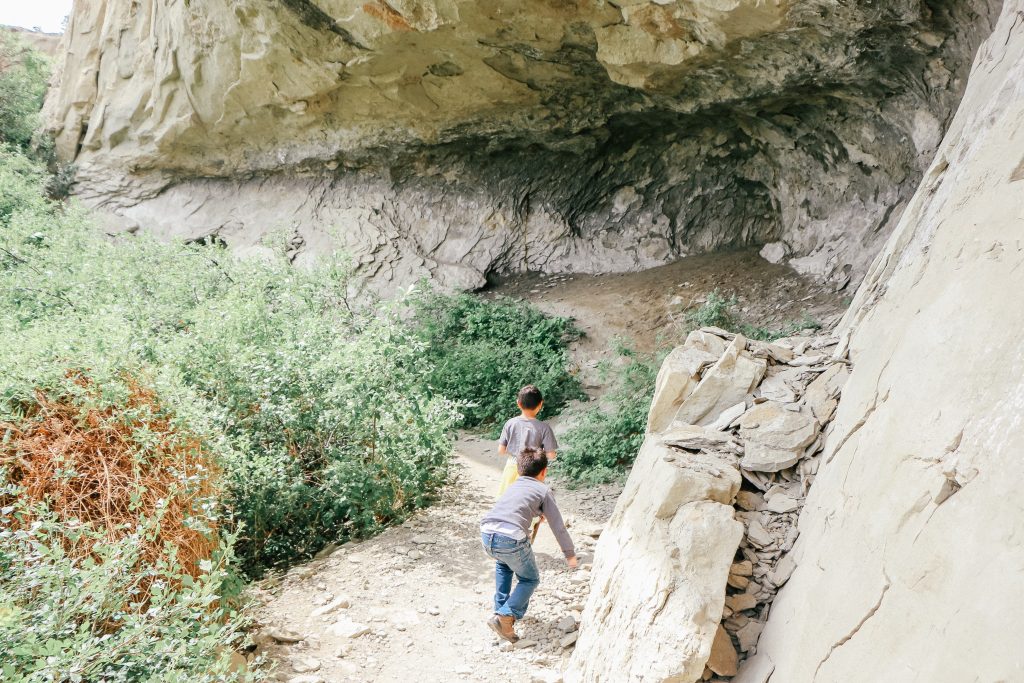 For more hiking adventures, check out Swords Rimrock Park and Dover Memorial Park. We'd intended to spend most of the day hiking but the weather didn't cooperate the first half of the day and we skipped Swords Rimrock Park and Dover Memorial Park. Billings does have some options for indoor fun (and don't forget, there's also Shiloh Crossing Shopping Center and Scheels) Yellowstone County Museum, Yellowstone Art Museum or Wise Wonders Children's Museum. Wise Wonders is suited toward younger children, so if you're visiting with preschool age kids, this is a great choice.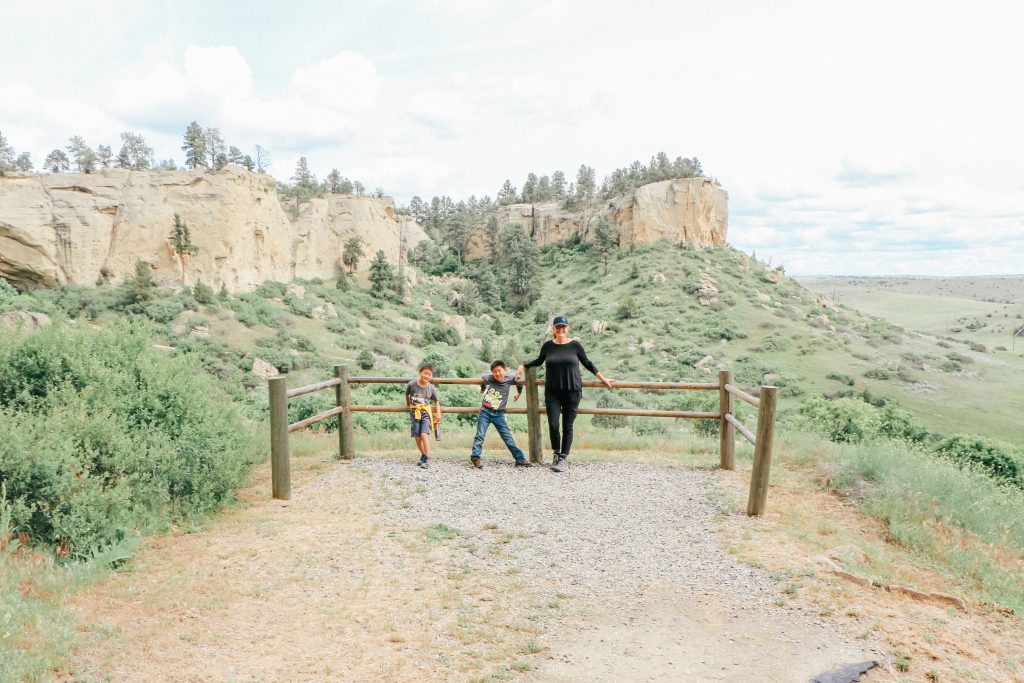 We wanted some down time at this point in our trip so we had a very leisurely brunch at The Sassy Biscuit and then spent two hours at the hotel pool. You know what they say…it doesn't matter how cool the trip is or how crappy the hotel pool is, the hotel pool will always win. The pool at the Hampton Inn was far from crappy but it was time to dial back the go-g0-go.
Day 8 – Say "see you later" to Southeast Montana
If you're driving, you'll set your departure time in line with where you need to be. If you're flying, you might have time to sneak in another breakfast (although the Hampton Inn has complimentary hot breakfast) or a short hike. Our flight home left at 11:00 a.m. and we opted to sleep in a little bit and eat breakfast at the hotel, but if you want to get up early, you have options.
Both the Hampton Inn and the Boothill Inn and Suites are a short drive to the airport. You're unlikely to encounter traffic and the rental car return process is very simple, so I'm comfortable recommending you leave 90 minutes prior to your flight. It took us less than 30 minutes to get from our hotel to the gate. Caveat: we have TSA pre-check. I'm a "don't cut it too close" kind of girl so although we could have left later, it's just not how I travel.
I say "see you later" because it's not goodbye. If visiting this area taught me anything, it's that I want to see more of this state and explore more "off the beaten path" places with my kids. I hope you've enjoyed following our one week Southeast Montana itinerary. If you have questions, I'm happy to answer them – just send me an email or contact me via social media.
For more detail on Billings, read here.
More Southeast Montana Travel Tips
We've shared quite a bit of detail in this one week Southeast Montana itinerary but here's some generic Southeast Montana travel tips, no matter how long you're staying.
What to pack:
For this particular trip, we each packed two pairs of long pants, two pairs of shorts, four short-sleeved tee shirts, two long sleeved tee-shirts and a two sweatshirts, plus pajamas, underclothes, and swimwear. I also packed a black travel dress in case I needed something more elevated (I didn't). We each had a baseball cap, hiking boots, and one extra pair of shoes.
We actually needed a heavier outer layer. It was 41 degrees up in the Judith Mountains and it was raining. We made do by layering all of our clothes but a heavier, waterproof outer layer would have been better.
We did laundry once on this trip. We like to pack pretty light and on trips that last more than a few days, we schedule in a day to do laundry. We scoped out the facilities at the hotels we'd be staying in and planned out which day would be laundry day.
Hotels in general:
Most of the hotels we stayed in were pretty basic and would fall into the category of budget accommodations. If you're used to amenities like room service, on-site restaurants, and a "what kind of pillows do you like" questionnaire, you probably won't find it in Southeast Montana. If you're a travel snob, you might struggle a little bit but honestly? I am a little bit of a travel snob and I was fine. Every place we stayed was clean and comfortable with staff that went out of their way to make our stay the best it could be. All hotels except one had breakfast included and cookies out during the afternoon.
At most of these locations, there are options to camp, so if you want something more rugged than the hotels I've listed, you can certainly have that. You have lots of options in Billings and several in Glendive, but in many of my stops, there's not a lot of choices on where to stay. If you stay at the hotels I've recommended, you'll have a positive experience.
Also, most hotels in Southeast Montana will have a respectable indoor pool area so bring those suits.
As I get older, I like (and am willing to pay for) luxury more. See also as I get older, I appreciate the opportunity to adventure more and explore out of the way places. It's about balance.
Car care:
I can't stress preventive car care enough. Make sure your car is in good working order before you set out. If you're renting, make sure you understand what your company's roadside assistance/emergency policy in case you have a problem along the route I've laid out for you. Also, never let your tank get below half a tank.
Look at your route on a map:
I know I've mentioned this before but it bears repeating, especially if you're a city person who isn't used to not having service. You won't have phone service for a portion of this trip. Wifi won't always be there when you need it so have a basic idea of what roads you need to take. Using this route, there aren't a lot of options for roads to take so getting lost would probably require some real effort.
Talk to the locals:
People in Southeast Montana and Central Montana will be friendly and curious about your travels through their neck of the woods. Tell them your plans and ask questions like "What else do I need to see?" Eat local and ask your server for recommendations. Yes, in most places you can find McDonalds or something else familiar but make an effort to eat in local restaurants and sample local beer and specialties.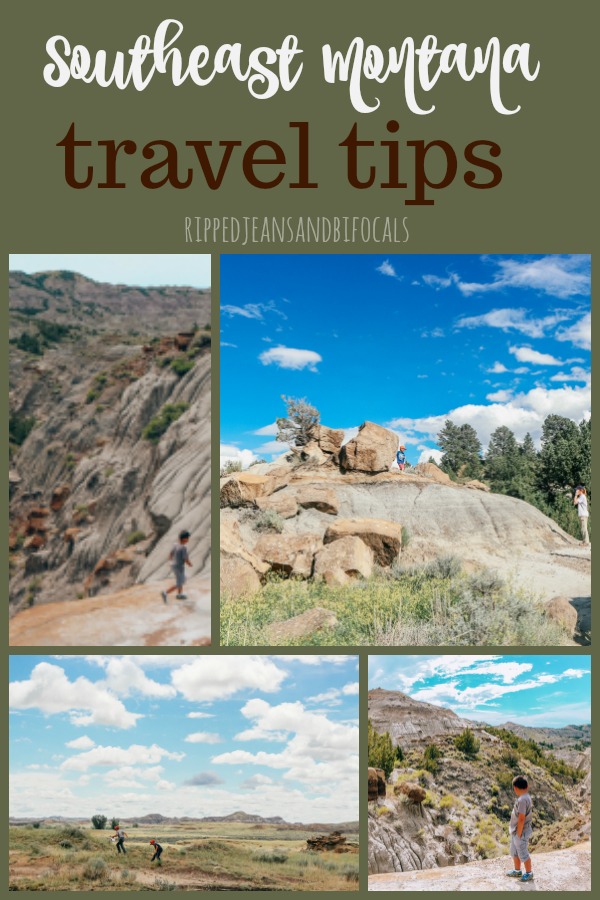 You might also like:
Places to visit in Montana that aren't Yellowstone or Glacier