Tips for putting your kids in ski school – What you need to know
(This post may contain affiliate links. Read my full disclosure.)
If you're thinking about hitting the slopes with your kids this winter, I've got tips for skiing with kids and tips for putting your kids in ski school. Here's what you need to know.
Tips for putting your kids in ski school – What you need to know
My son Zack and I were hosted by Keystone Resort.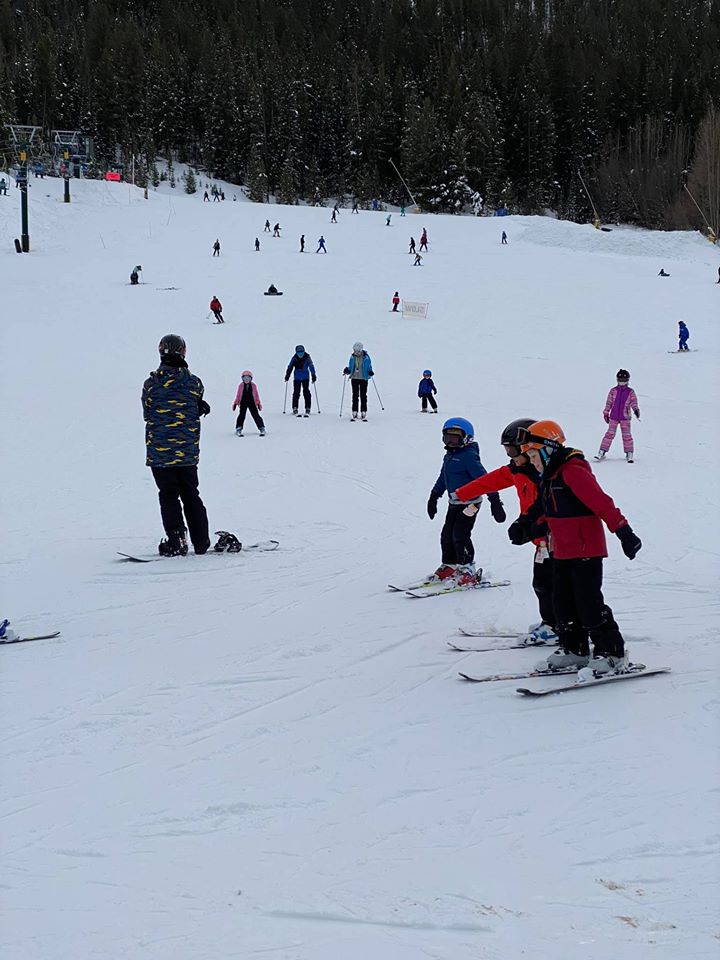 1. Realize that yes, your kids do need ski school and commit to making that happen
Ski school will get your first-time skiers off to the very best start they can have. They'll learn good technique and how to use their equipment properly. Skiing is a very expensive sport and you might be looking for ways to cut costs – I don't blame you. This is one area, though, not to scrimp on.
Read more: All about Colorado Mountain Towns
Even if your kids do have some skiing experience, you might still want to consider a day of ski school to allow them to work on their turn intensity and build their confidence. My son did awesome on his first two lessons and he's chomping at the bit to hit the slopes again. I would absolutely book more lessons for him, even though he thinks he's an expert. Gotta love the confidence, though.
Group ski lessons allow kids to learn with other kids of their same age and experience level. They'll also have the benefit of someone who is familiar with the resort, how the lift lines work, what runs are suitable, etc. One of the great things about ski school is that it gave Zack some familiarity with other kids he saw around the resort. Our trip came at a time when he was struggling with his best friend moving away and a general loss in confidence and getting the opportunity to learn with new friends was huge for us.
Even if you're an Olympic caliber skier and feel like you're capable of teaching your child (and if that is the case, I'm betting you wouldn't be here reading this) consider having someone else teach your child. Kids sometimes learn better from someone who isn't their parent.
Want another perspective on packing for a ski trip? Read Catherine's (AKA Carful of Kids) perspective
2. Get the right gear…
…and make sure it fits properly. Being warm climate people who had never skied before, we had to do some "phone a friend" to figure out what we needed in terms of gear. Make sure you do this! If you haven't stayed outdoors for an extended period of time in really cold weather (and no, Texans…46 degrees is not the really cold weather I'm talking about) you're going to want to make extra sure you're outfitting your child (and you!) properly. You'll need snow pants, or overalls, a parka, goggles, gloves, and good waterproof snow boots as well as layers to wear underneath it all.
This is the ski jacket we got for our nine-year-old. It's pricey but it's a fantastic jacket and, if you live in a colder climate, you'll get more use out of it.
We rented helmets and ski boots through the resort and it was a very easy process. Make sure you know what your destination offers before you go. We knew Keystone Resort would fit us with helmets and ski boots as a part of our ski rental package so we didn't have to worry about packing those. Your child will need good, sturdy water proof boots if they're going to snowboard. You'll also need good boots to wear around the resort when you're participating in activities off the slopes. Most of the ladies were wearing boots similar to these.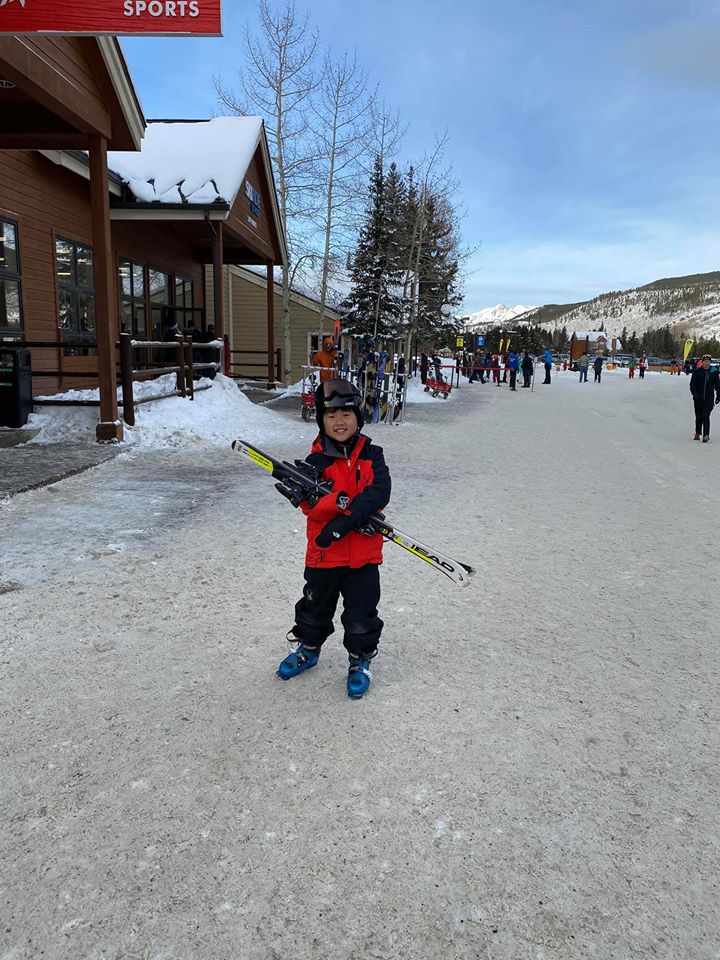 We rented our ski pants, parkas, gloves and goggles through a company called Kit Lender. We selected our gear online and had it shipped to our resort. You'll send the gear back in the same box it came in using a pre-addressed FedEx label. It was an easy process – the only negative was having to deal with finding a FedEx office while on vacation. I recommend doing your legwork in advance so you won't be scrambling to find the FedEx office and figuring out how you're going to get there at the last minute.
Kit Lender does not rent long johns and socks but you can purchase those things through Kit Lender and have them shipped with your order. You'll need, at a minimum, long underwear (both top and bottom) and long wool socks. Do not wear cotton socks. Depending on how cold it is, you may need another layer (such as a fleece or sweater) and a neck gaiter. Yes, I had to ask my Michigander husband what a neck gaiter was. They're not a thing where I live but trust me, if you go skiing, you want one.
Keystone Resort had lots of shops to buy gear in the River Run area but I wouldn't have wanted to chance not finding what we needed in stock – better to buy beforehand. Their ski rental shop had a little area that sold hats, headbands, socks and gloves – things that you might lose or forget. The prices were comparable to what I found on Amazon and other retailers.
I also recommend checking out thrift shops, garage sales or borrowing from friends to outfit your child in ski gear. It's on the expensive side and unless you ski all the time, brand-new ski gear might not be worth the investment. If you only ski once a year, your child is probably going to outgrow their ski clothes before they wear them again and that's what made Kit Lender an attractive option for me. It was about $28 per day to completely outfit my child for skiing.
Wherever and however you outfit your kids for skiing, one of the most important tips for putting your kids in ski school and tips for skiing with kids in general is to make sure they're dressed appropriately.
3. When putting your kids in ski school, communicate with the instructor…
…and then let them do their thing. I signed Zack up for ski school in advance of our visit and our check in process at ski school was really seamless. I made sure I told the instructor Zack had never been on skis before and then left to watch from a distance.
Your kids will probably be in ski school the entire day – most ski schools include lunch as the one in Keystone did. Make sure you're on time to pick up your kids and take a little time to get the instructor's take on how your child did and what they recommend for the next step, especially if you only have your child in ski school that one day. If they're going to ski with your family or on their own the next day, get the instructor's honest assessment on what they're ready or not ready for.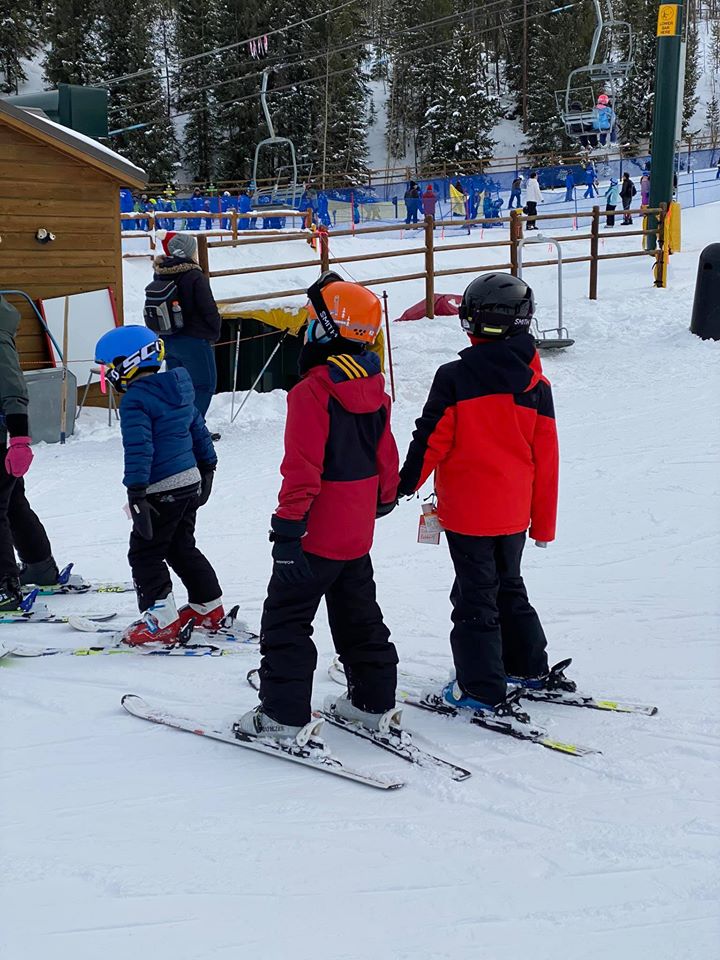 My son was convinced he knew how to ski because he'd seen skiing on YouTube so make sure you're getting a realistic idea of where your child is at.
And, don't hover or coach from the sidelines. Your child is in good hands with people who know what they're doing at any reputable ski school for kids. I know this might be hard if you're even a little bit helicopter-y but trust me – your child will get more out of the experience if you let the coach do what you're paying them to do.
Most places that have ski school for kids will have a place to watch near the instruction area/bunny slopes. Don't get me wrong – I loved watching my child tackle something new and so will you. Just keep your distance, take pictures, and don't try to be the teacher, even if you're a great skier yourself.
4. If at all possible, splurge for a private lesson or private family lessons
One of my best tips for putting kids in ski school is to get private lessons, if you can financially swing it – even for just one day. I'm convinced it makes a huge difference.
Zack had a full day of ski school followed by a half day private lesson. We were supposed to have a private family lesson and I ended up sitting out for a couple of different reasons. I'd taken a fall the day before that left me a little shaken and also, after a day of ski school, my kid was way better than I was.
The time he had with just he and the instructor was priceless. A private lesson will allow you to skip the lift lines and make the most of your time.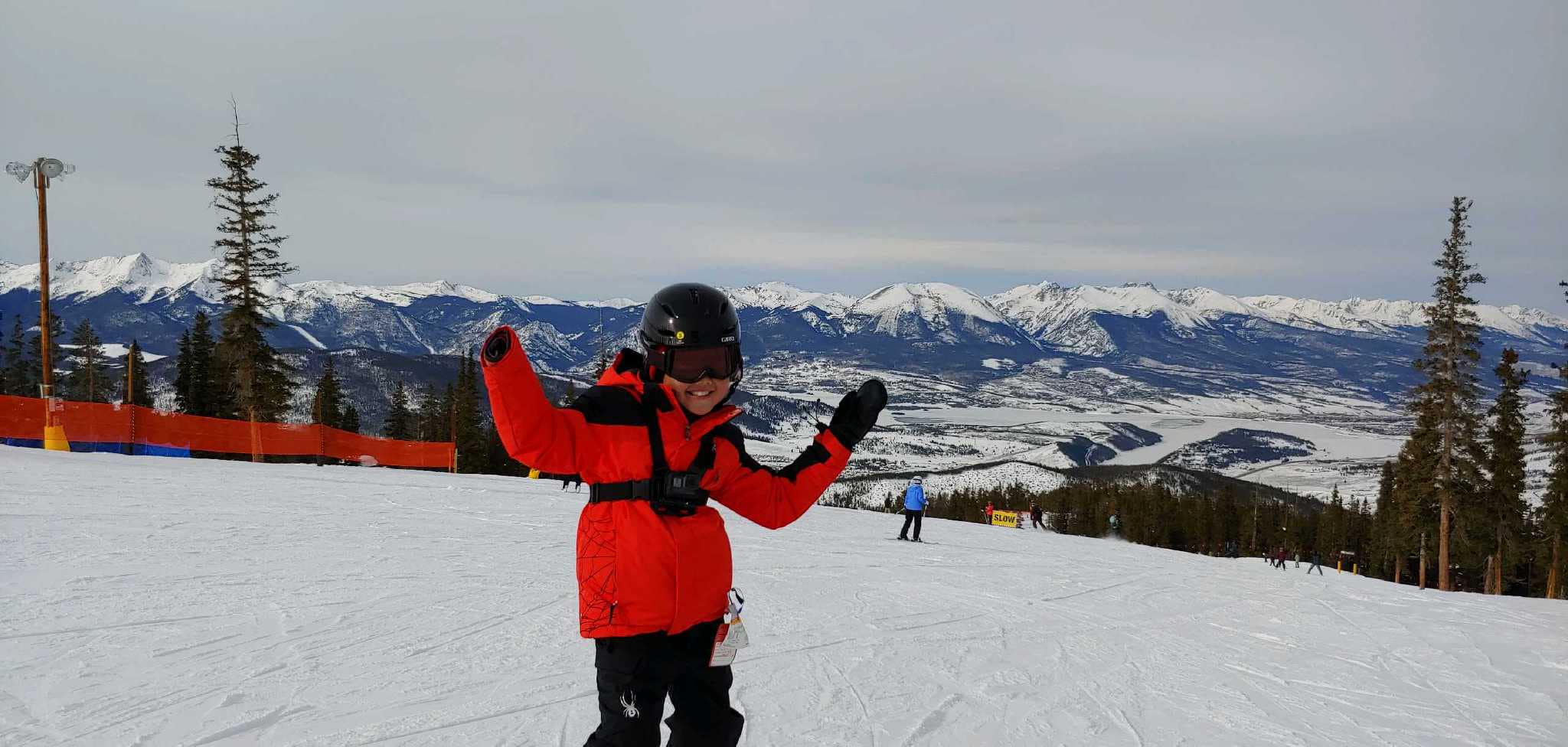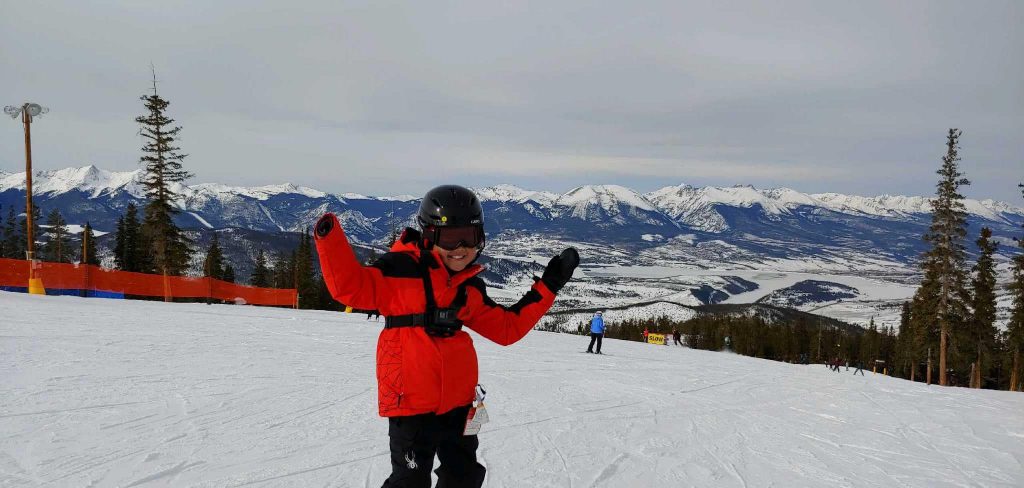 You can also do a private family lesson in lieu of (or in addition to) putting your kids in ski school but I think kids learn best when they're with a group of their peers. Also, if you've got first time kid skiers and first time adult skiers, the kids are probably going to pick it up faster.
We were lucky enough to have the instructor from Zack's group ski lesson has his private instructor the next day. If you visit Keystone resort and get Coach Shane, count yourself as super lucky. He was absolutely fantastic and Zack learned a ton from him. I have no doubt we would have been happy with any of their team of instructors in their ski school for kids (AKA Blueberries because they wear bright blue ski clothes) but I think we won the prize with Shane and we'll ask for him when we go back. You should ask for him, too. Unless we're there at the same time, then DIBS.
5. Ski school for kids: A chance for you to enjoy your kid-free time!
One of the perks of putting your kids in ski school is that…well, they're not with you for an extended period of time. Does that sound bad?
This gives you the opportunity to do runs on your own or do something else…or to do nothing else. There are a ton of non-ski amenities at Keystone Resort, including fitness and yoga, spa services, and eating. And, sometimes parents just need a break, right? This is a beautiful place to enjoy doing a lot of nothing and I don't see how anyone could possibly get tired of the views.
If you book your resort stay through Keystone, you do get lots of perks, including free skiing for your kids and a free fitness class. We loved staying at the resort and had a comfy two bedroom condo with a fireplace and a view to come back to.
I hope my tips for putting your kids in ski school have been valuable. To get more info on your ski school options at Keystone, read here.
And don't forget Kit Lender for equipment rental. They also have other sporting equipment available for rent.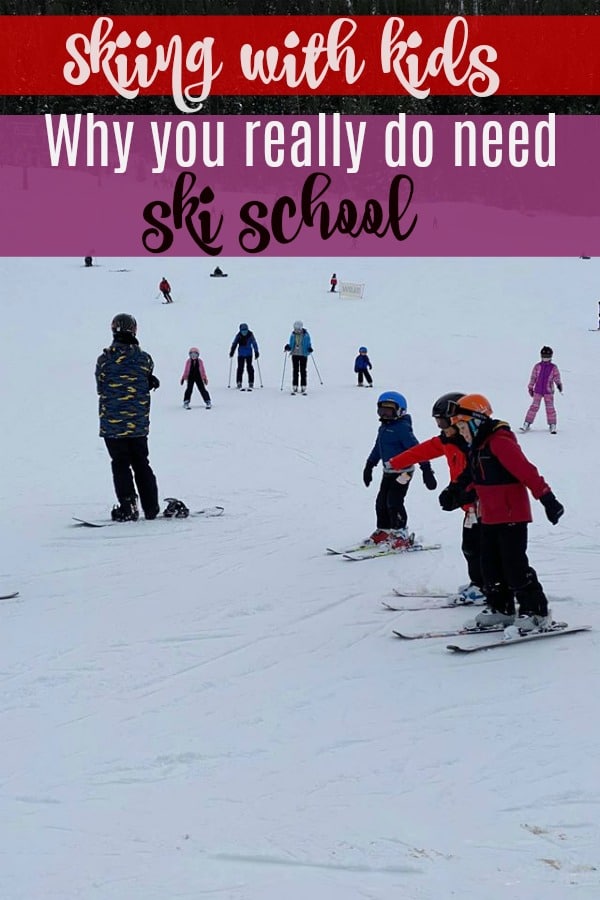 You might also like:
How to survive a time share sales pitch
Hyatt Lost Pines Resort – Why this is the best Texas getaway