Palo Duro Canyon State Park During the Off Season
(This post may contain affiliate links. Read my full disclosure.)
I wrote a while back about the benefits of taking a vacation in the winter. If you live in a warm climate like we do, you can go on a ski-break. If you're braving the cold weather (and how about those crazy snows up North this year?) then a vacation getaway somewhere warm and sunny in the winter can give you some respite from the snow shoveling and some much-needed Vitamin D. Depending on when your kids get vacation from school, travel through the winter months may be the perfect fit. Our school doesn't get a mid-winter break, just a long Christmas break and a spring break in March but if we did, we'd definitely be planning travel for that time, because we're always planning travel.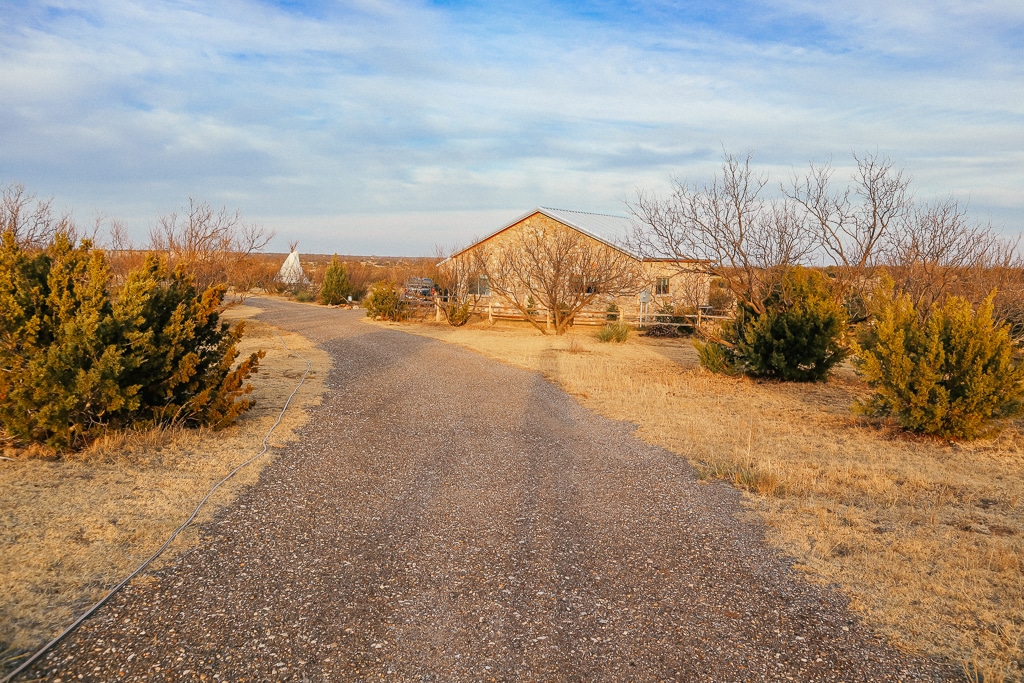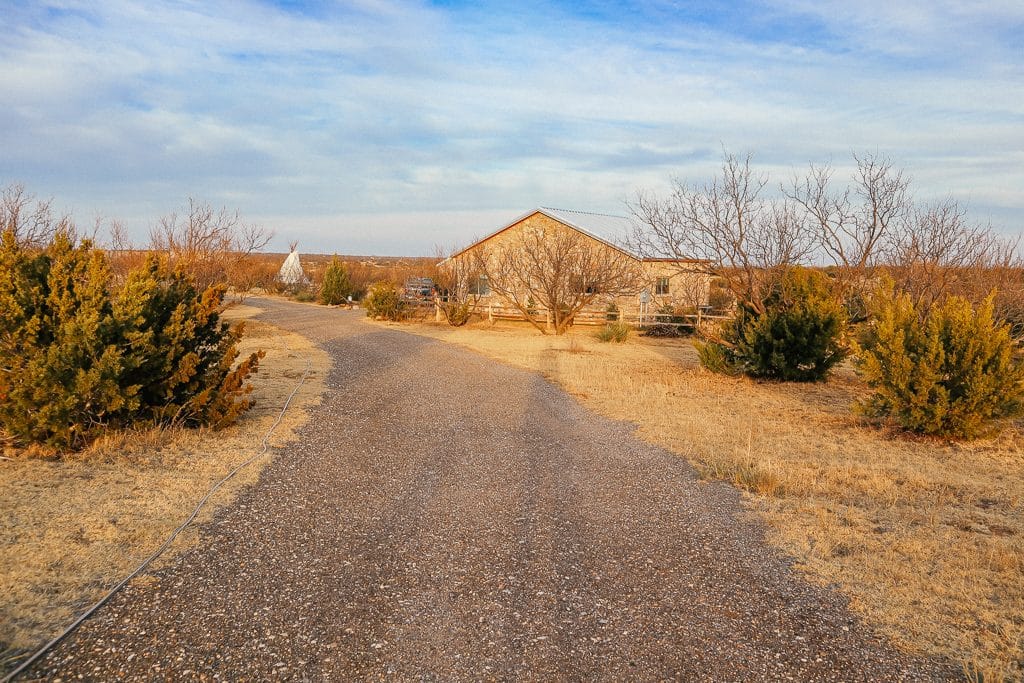 This post is written in collaboration with Vrbo. Affiliate links may be used. All opinions are mine.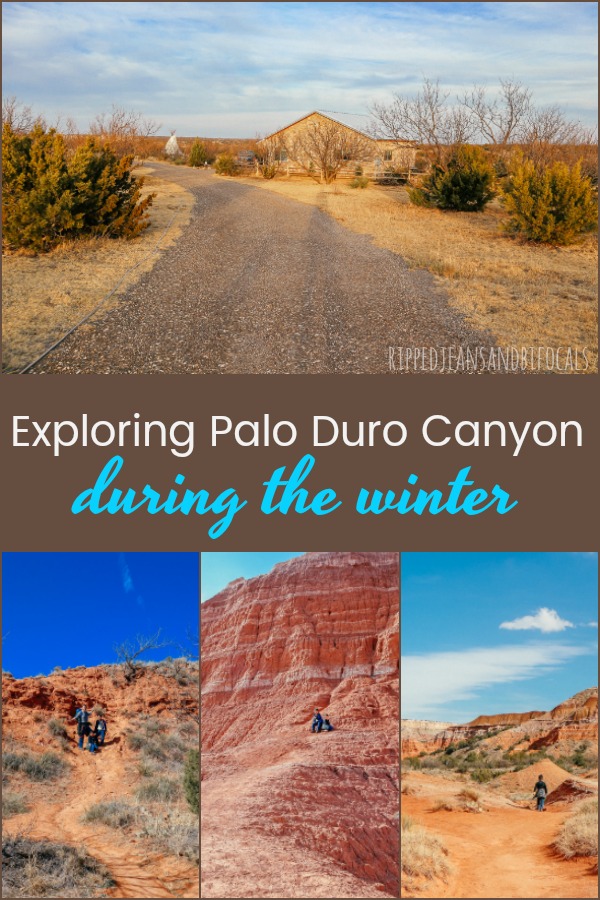 Palo Duro Canyon State Park During the Off Season
We planned our winter vacation back in October. I typically plan at least one season ahead and since I knew this was going to be a shorter break, I felt comfortable with less lead time. You might be thinking I'm a uber rigid planner who doesn't appreciate spontaneity, and that's partially true. I do like spur of the moment fun and planning something at the last-minute but I've found we get a better value and have a better experience when things are planned out a little more in advance.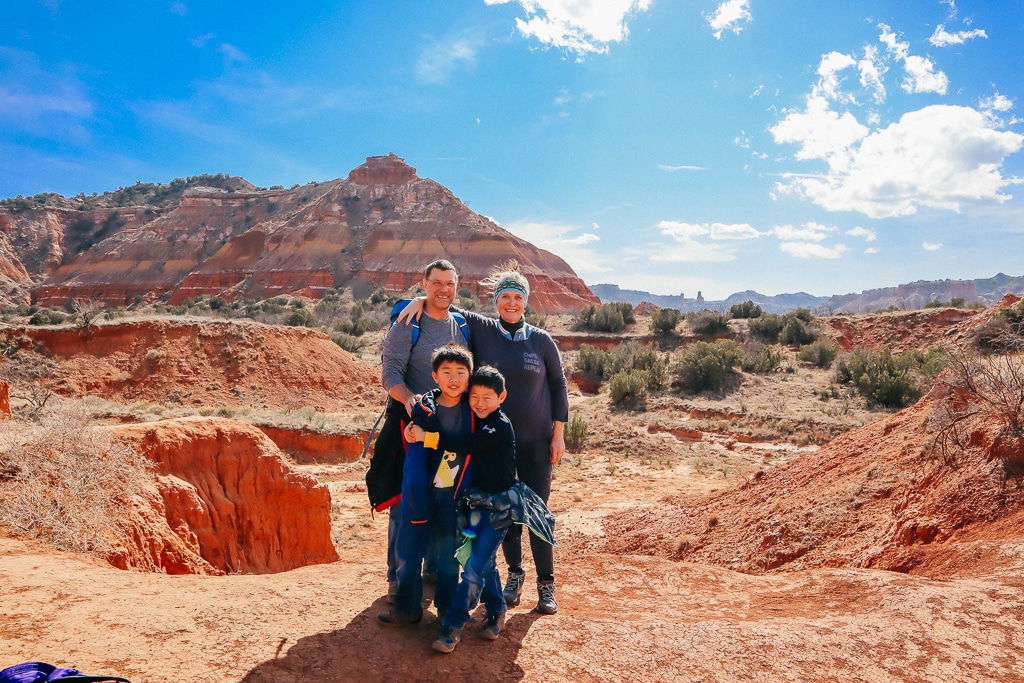 Our winter vacation was supposed to take place over the Martin Luther King weekend. While I do let my kids miss school for travel, I am conscious of how many days they're allowed to miss, and tacking on an extra day over a long weekend is usually pretty manageable for my kids and keeps us (mostly) in the teachers' good graces. We'd planned a to visit Big Bend National Park, which has long been a bucket list destination of mine. It's one of the more remote national parks and it's not really "near" anything or on the way to anything. It's also in West Texas and given the rugged location and high summer temps, the winter months are the perfect time to visit. Unfortunately, the recent government shutdown threw a wrench into our plans and we had to regroup.
Want more info on National Parks in Texas? Check out what Carful of Kids has to say.
We shifted our plans to mid-February, over Presidents' Day Weekend and chose Palo Duro Canyon State Park, near Amarillo. Palo Duro Canyon State Park has long been one of my bucket list items as well, and since it was a Texas State Park versus a National Park, we felt secure making plans during a time when we weren't sure what federal agency supported properties were going to be open.
Palo Duro Canyon State Park is awesome during the off season, although I will say we got very lucky with the weather. The Texas panhandle has more seasonal weather than we do down in San Antonio and they were having more traditional winter weather when we visited. We had mostly sunshine during our visit but it was cold and snow was in the forecast the day we left.
Where we stayed
One of the things that made our winter vacation "just right" was our vacation rental we found via the Vacation Rental By Owner (VRBO) website.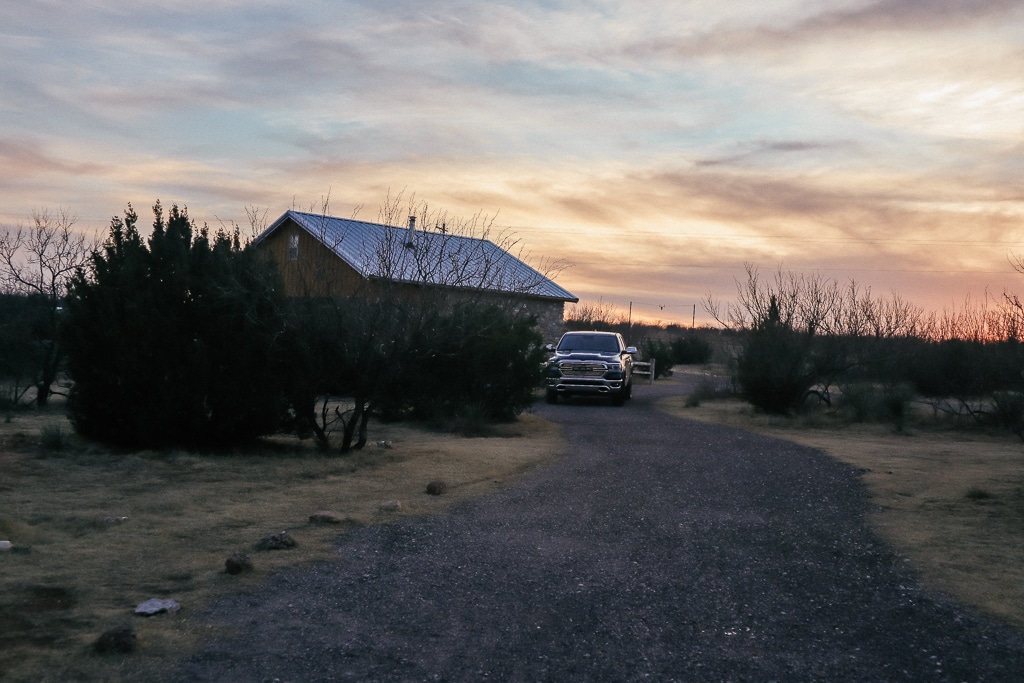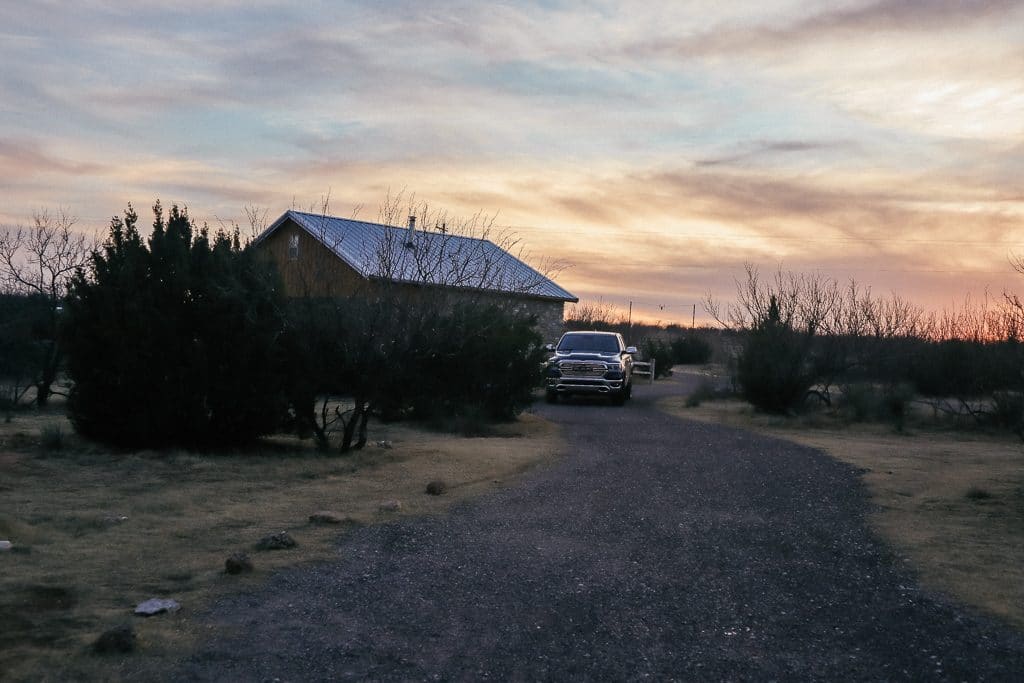 I am a big fan of vacation rentals when traveling with my family and I was so surprised when I learned how affordable they can be. I always heard my friends talking about how they'd forgo staying in a hotel in favor of a three bedroom house with a pool and I'd think to myself, "Must be nice to be able to afford that."
Want more info on Palo Duro Creek Ranch (AKA Elkins Ranch?) Check out my full review.
But, it really is affordable.
The Hideout at Palo Duro Canyon is listed on Vrbo. We found it on HomeAway by searching for units near Palo Duro Canyon State Park and it was the first thing that popped up when we plugged in our dates and number of people. You can search directly for "Hideout at Palo Duro Canyon" on Vrbo. If it isn't available on your dates, there are lots of other properties in the area that will meet your needs nicely, but we're really glad we chose what we did because it was absolutely perfect for us.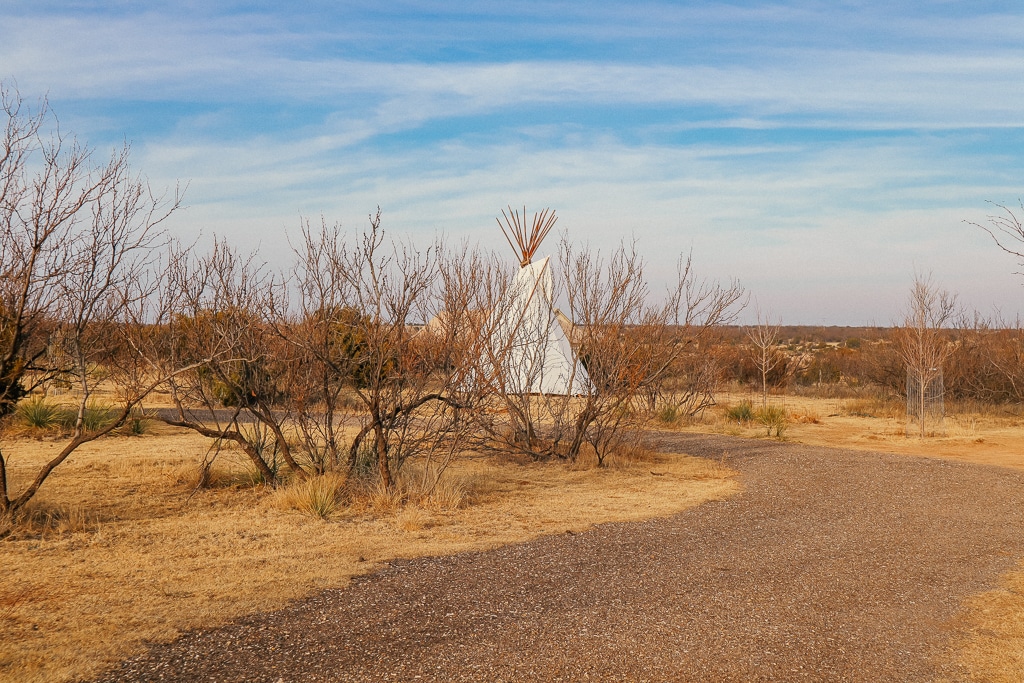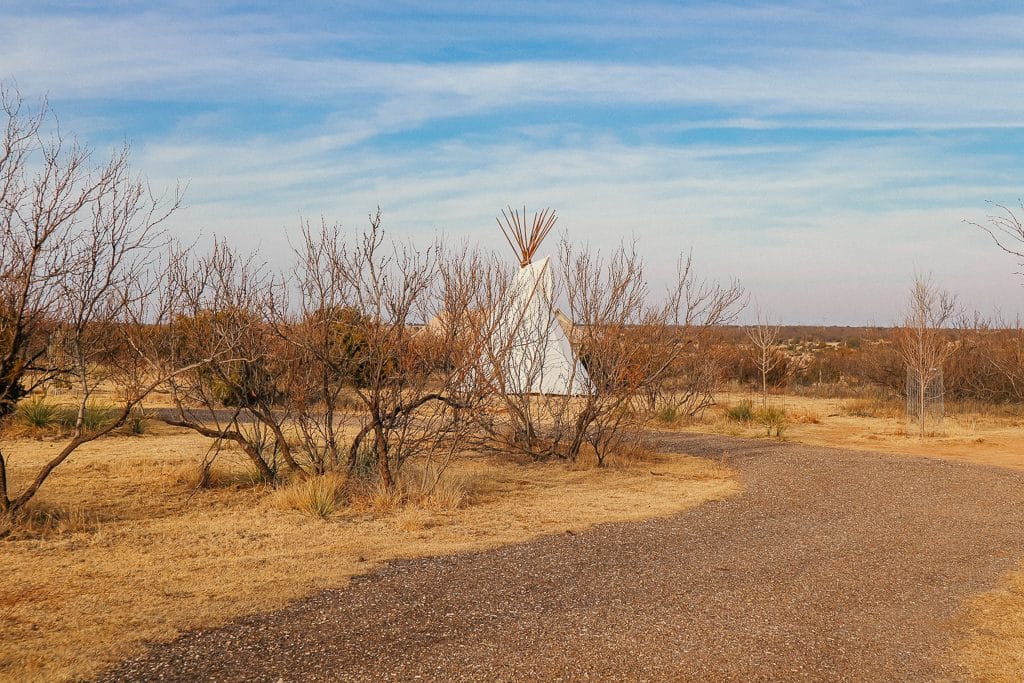 The Hideout is on six and a half secluded acres, which gave us the feeling of stillness and privacy that I craved, without being too far from civilization. The town of Canyon is just a short drive away (15 minutes) and the larger city of Amarillo is about a 30 minute drive to the north. Even though The Hideout had a feeling of remoteness, it really wasn't far from things we wanted to do and it was just a short drive from the state park entrance.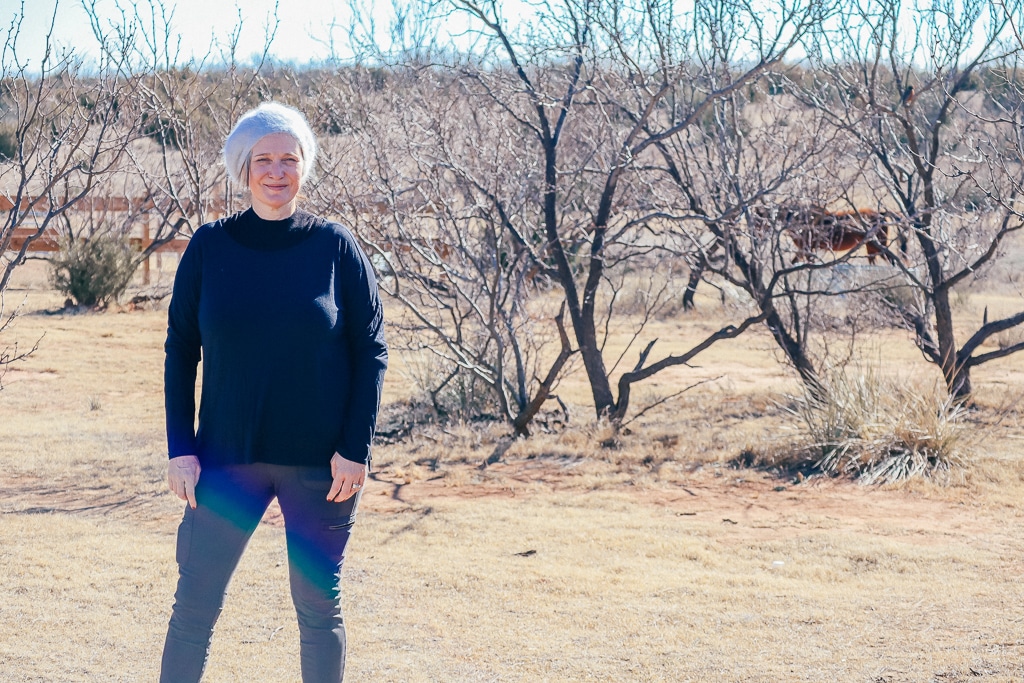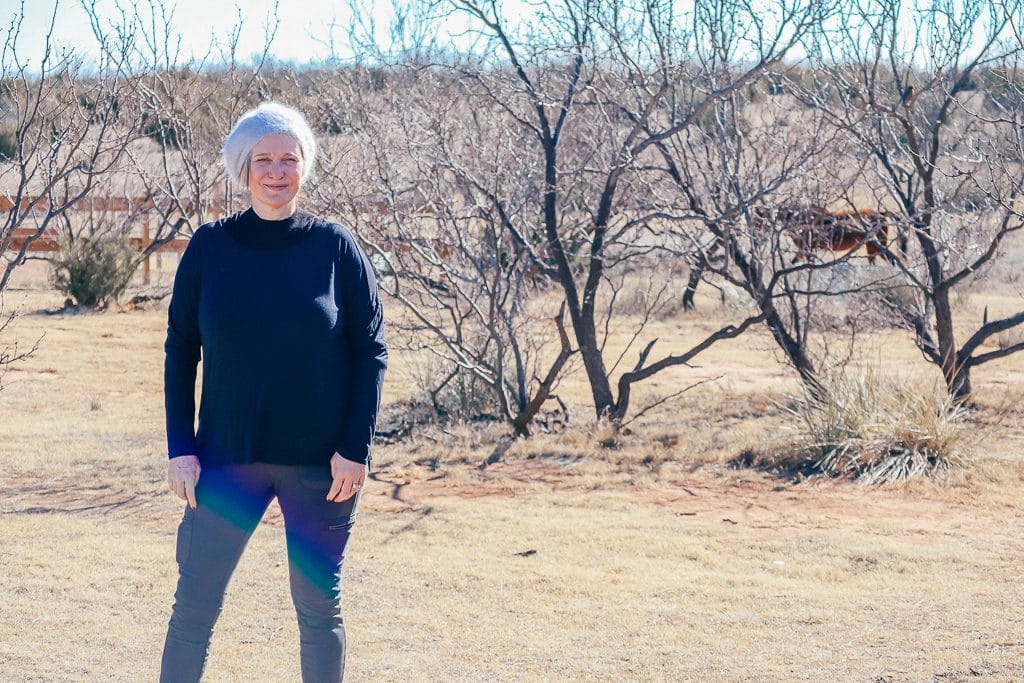 The Hideout sleeps five…or nine. The main house has two sleeping areas. The king-sized bed is on the main level and there's a loft off the main room that has a twin and a full bed. If you need more room, there's an additional space over the stables that sleeps four.
A fully stocked kitchen is included and the owner provided a bottle of champagne and fixings for breakfast. All the kitchen equipment is very high end and although we ate pretty simple foods (hot dogs, sandwiches, chili) we could have made pretty much anything we'd have wanted. There's also a kitchenette in the unit over the stable.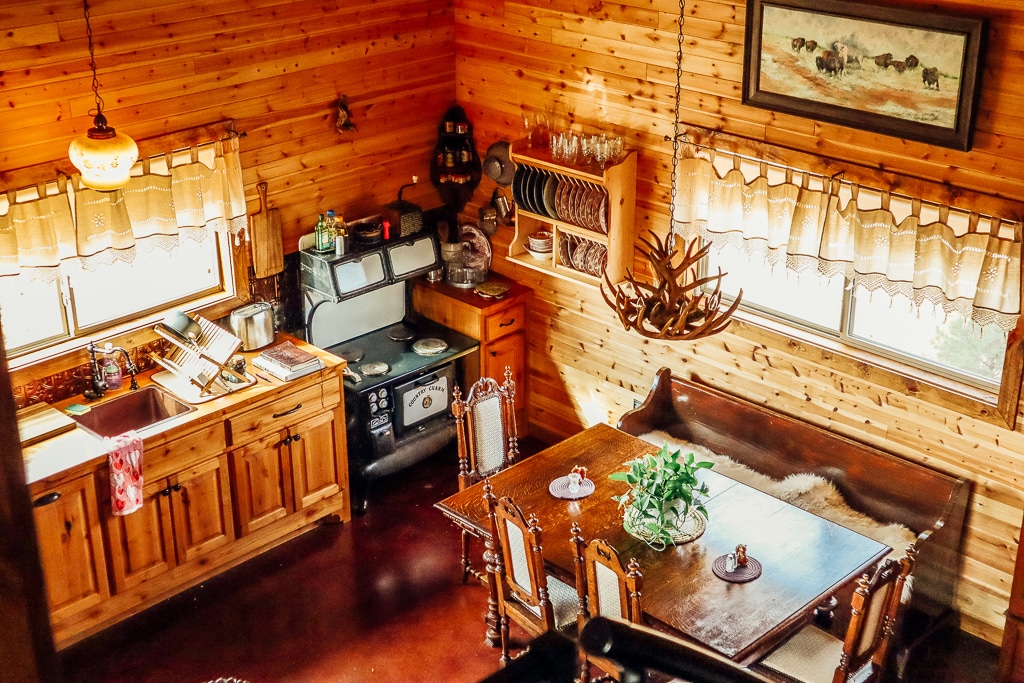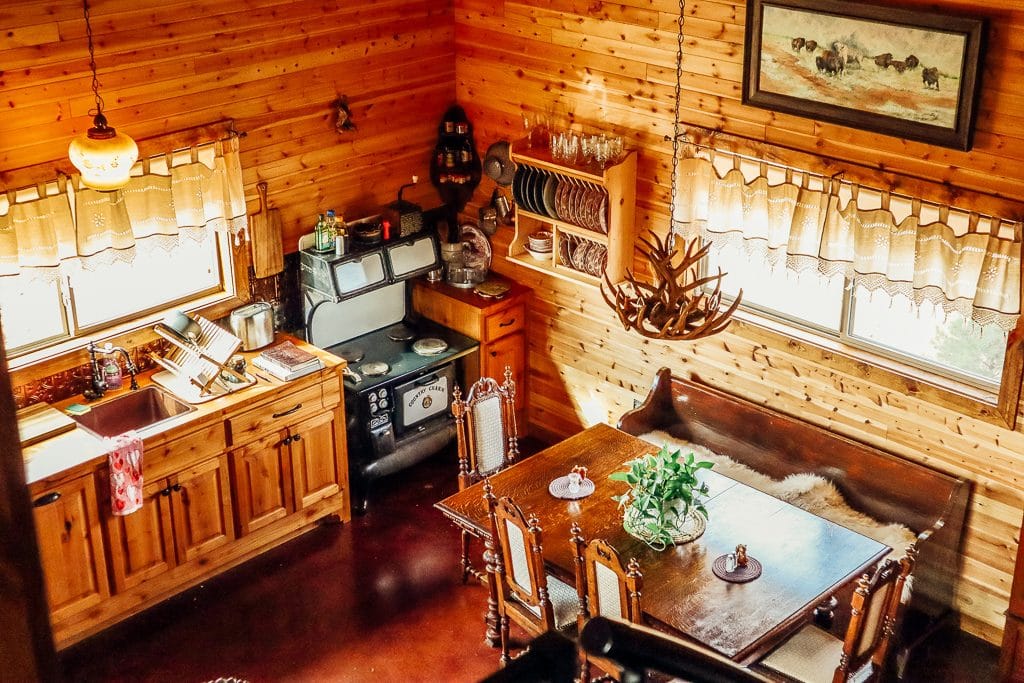 The Hideout has one bathroom with a claw foot tub. If you prefer a shower, there's a nice walk-in shower in the stable area, which is just a short walk from the main cabin.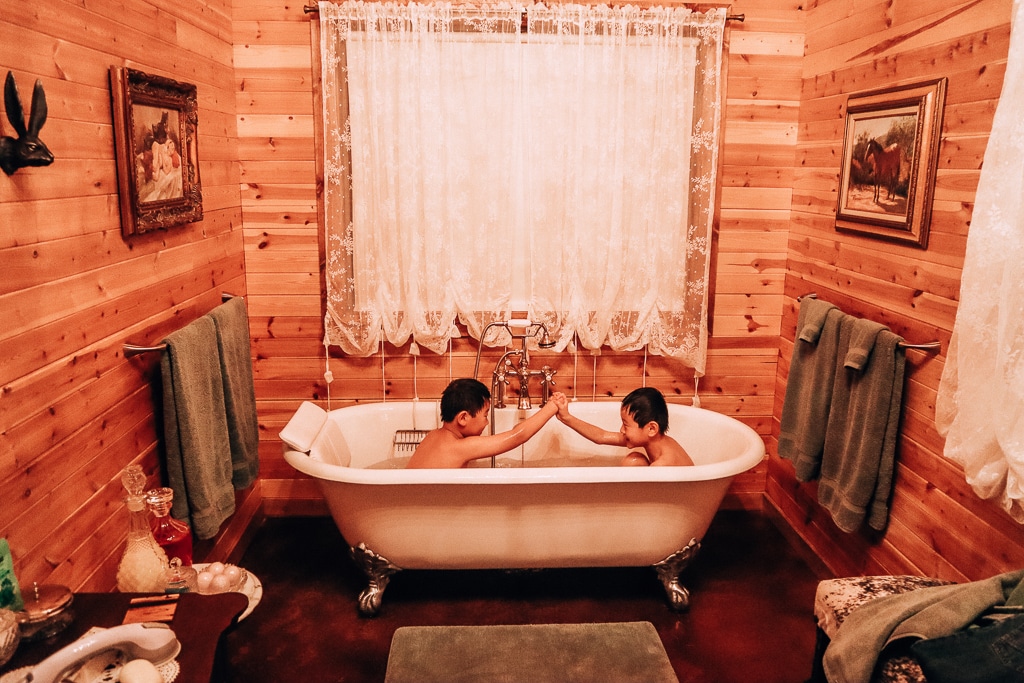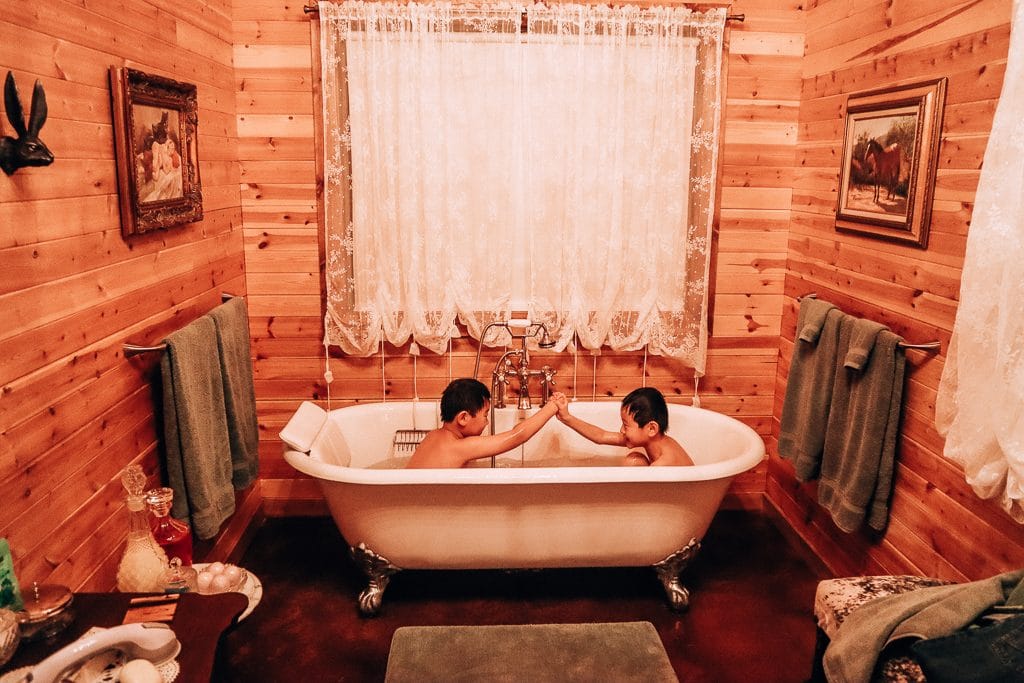 Although the vibe is rustic, this place was very cozy and had all the modern comforts of home. There's heating and air conditioning as well as great, fast wifi. There's a television in the upstairs loft that plays movies (a few were included) and a larger television that has Netflix in the room above the stables.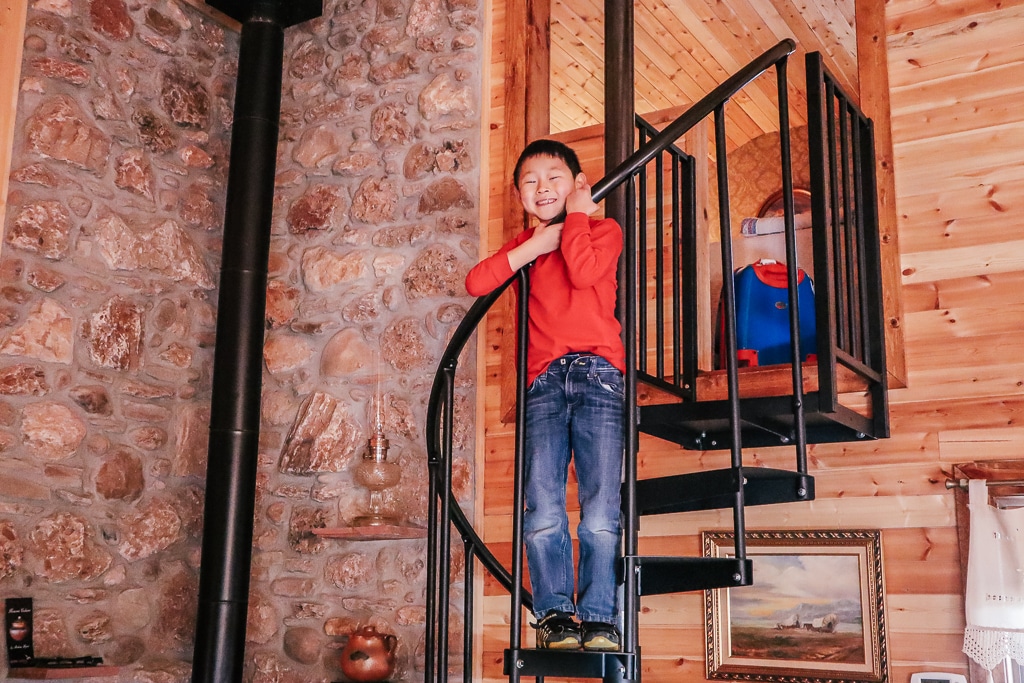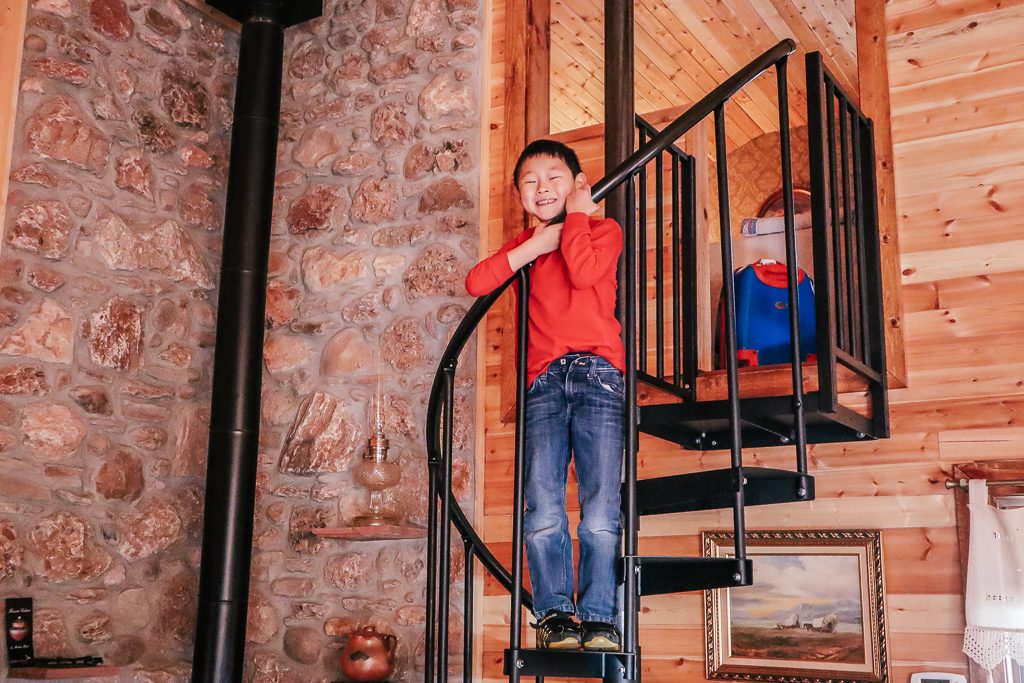 The price per night runs about $230, which is a steal when you consider all the space and privacy you have. We have always been amazed at the bang for our buck when we stay in a vacation rental. We stayed here for three days and didn't eat one single meal in a restaurant, which is fairly unusual for us when we travel. We spent about $60 on groceries during our stay, making this a trip that had a luxury feel at a bargain price. Winning.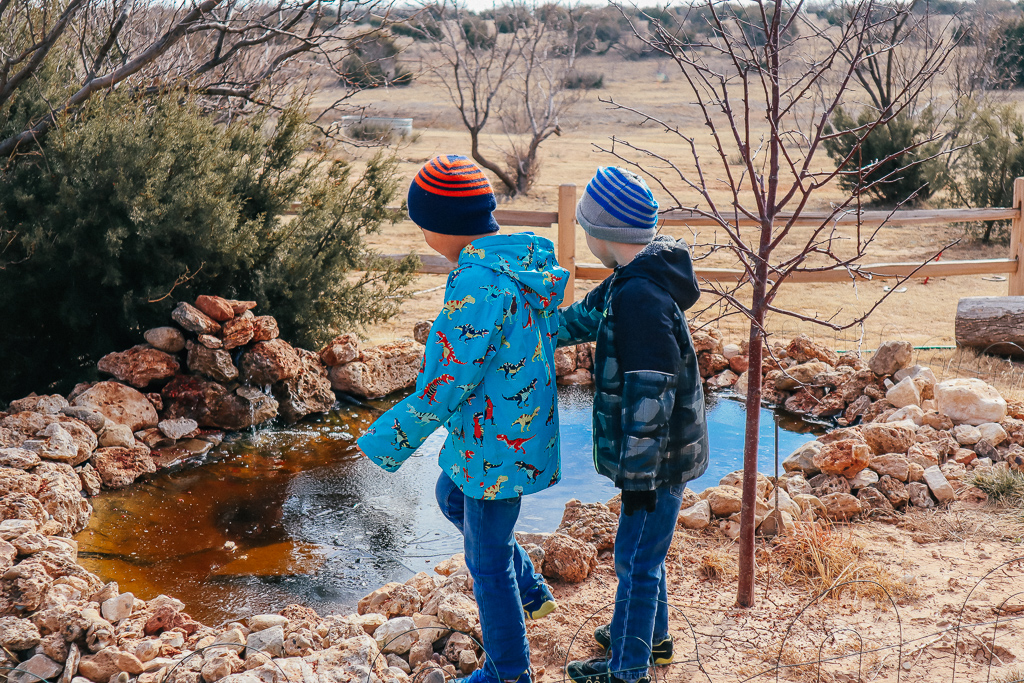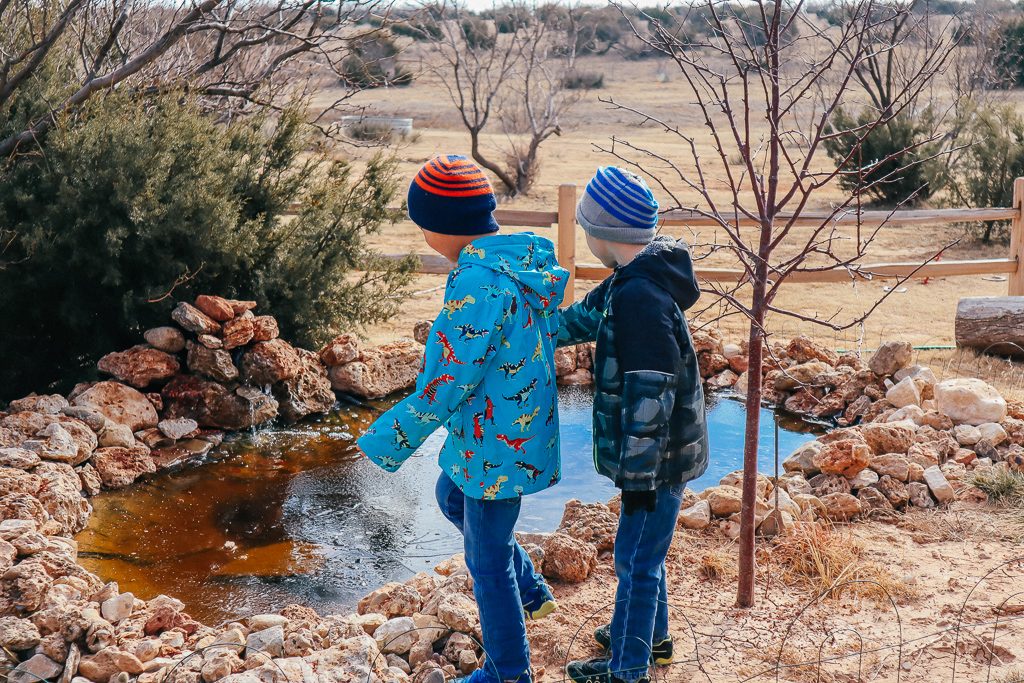 I hate the term "budget travel" because it implies you're going cheap or not getting what you want, but it is possible to get an amazing rental for a budget price with Vrbo. Plus, having room to spread out (AKA my kids not being on top of me in a small hotel room) made the trip that much more enjoyable.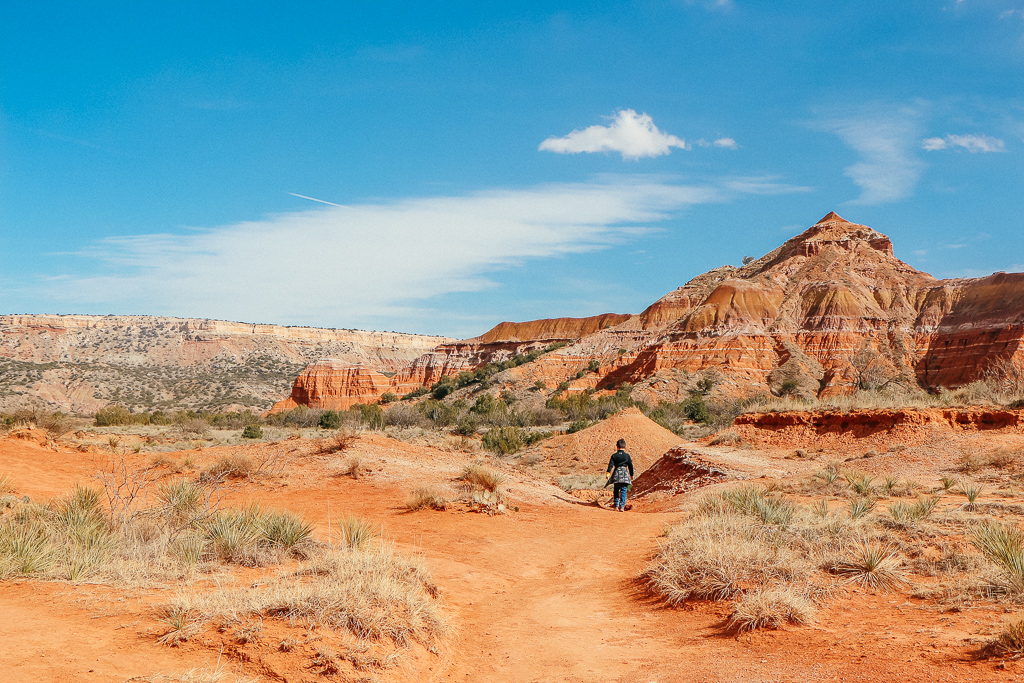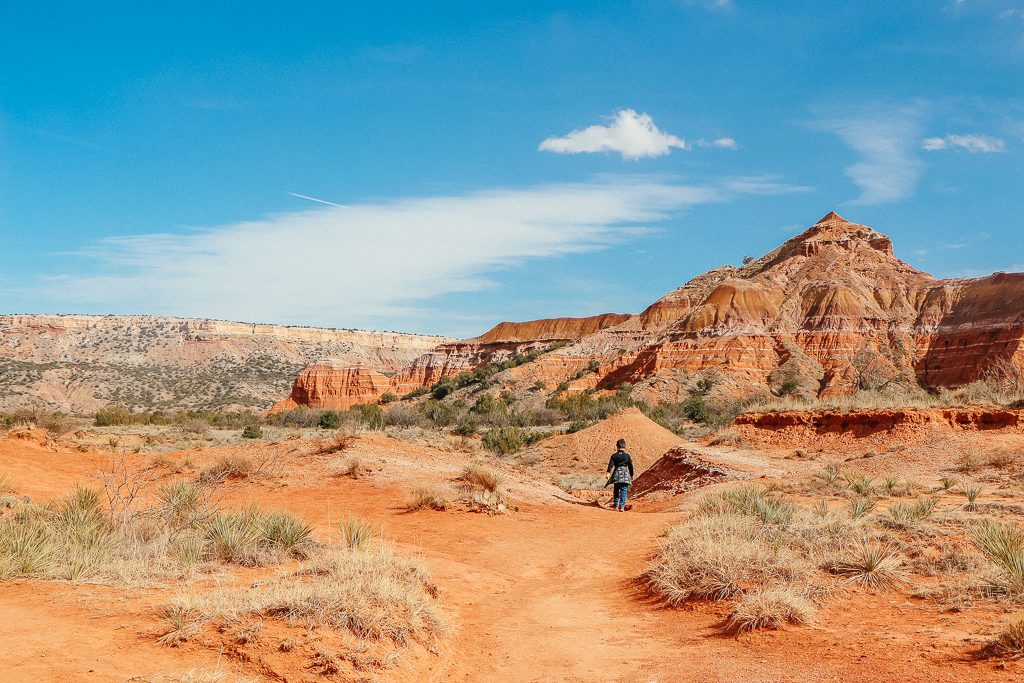 Palo Duro Canyon State Park
Palo Duro Canyon State Park is known as the "Grand Canyon of Texas." Actually, it's the second largest canyon in the United States, and while nothing can compete with the majesty of the actual Grand Canyon, Palo Duro Canyon is pretty impressive on its own and I can't wait to go back.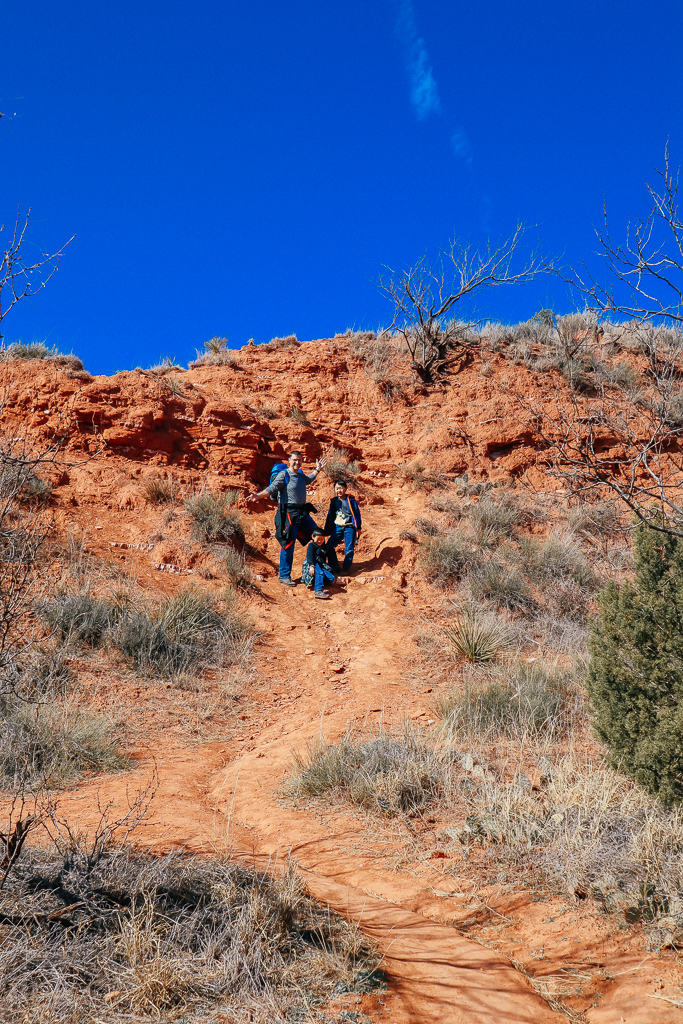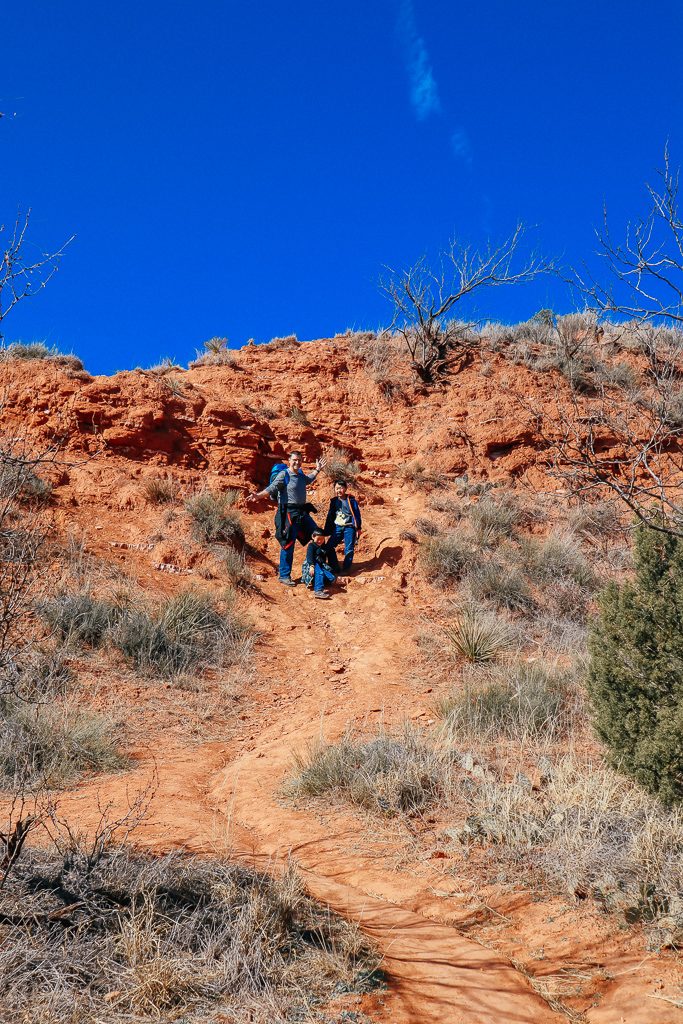 Palo Duro Canyon State Park offers camping hookups, cabins, various hiking, biking, and equestrian trails, and a visitor's center/gift shop. There's also a small store/cantina that sells grocery items, souvenirs, and sells fast food.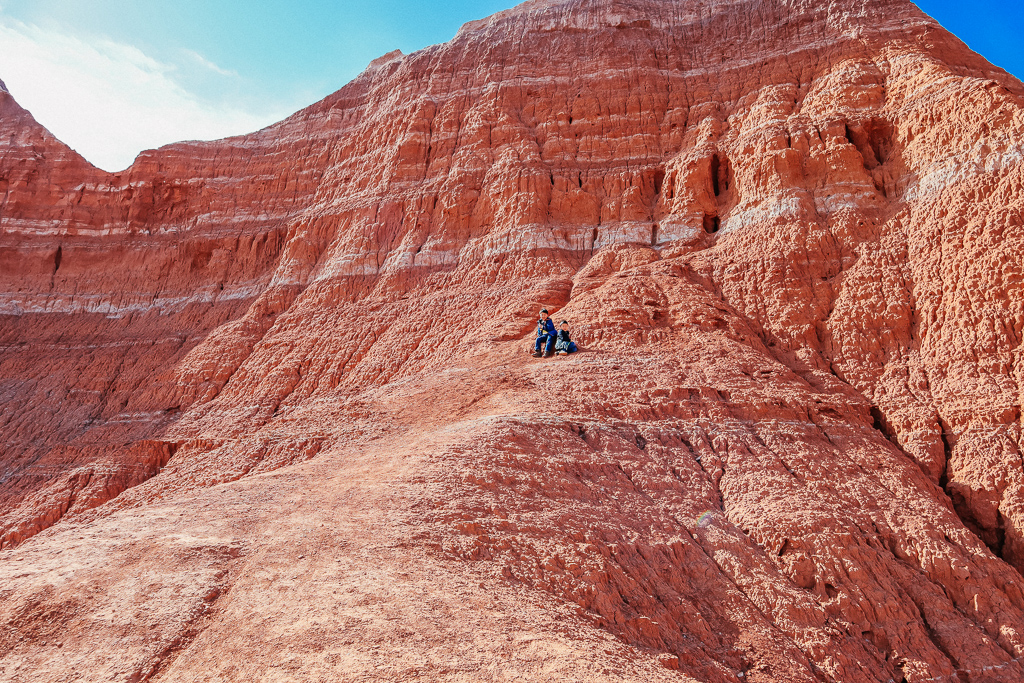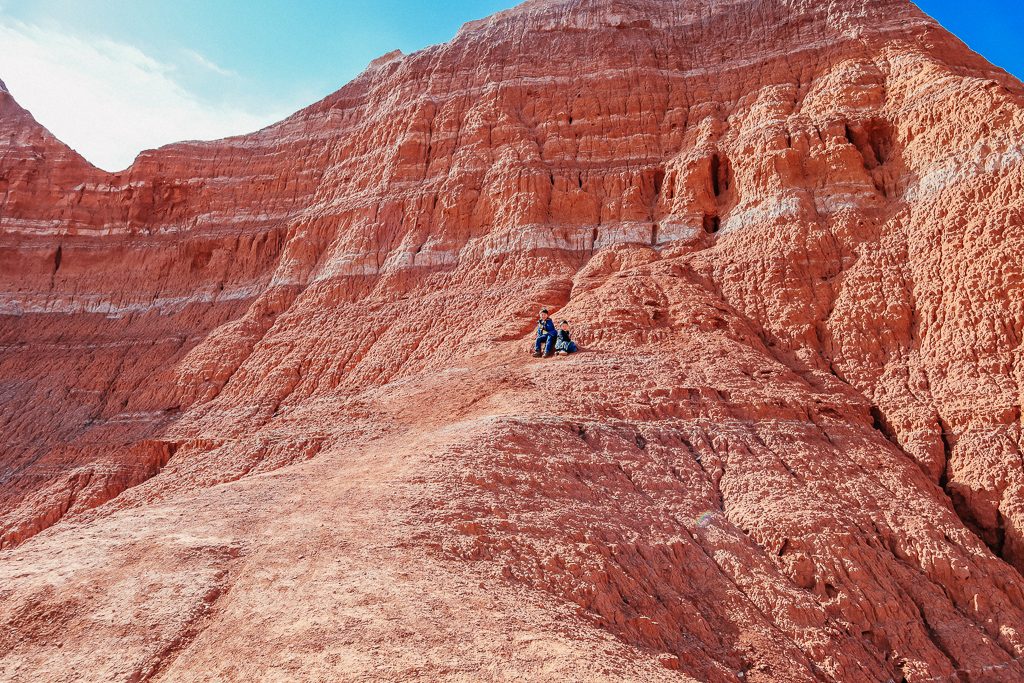 We hiked a portion of the Lighthouse Trail, which is what the park ranger recommended for us (and what seemed to be the most popular trail.) The full trail is 2.72 miles each way and is estimated to take two hours each way. Because of time and high winds, we walked about half of that, turning around at the 1.5 mile point. The winds in the canyon had kicked up to about 30 mph by the time we returned, which made about the last 20 minutes of our hike pretty unpleasant because of all the dust it kicked up.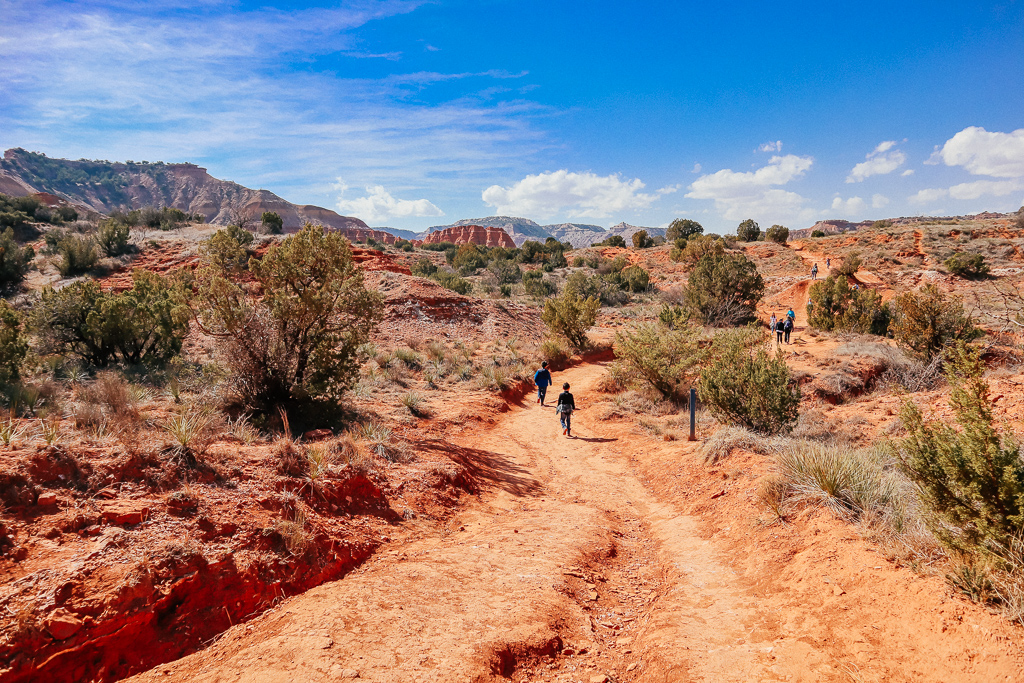 You can download a trail map here.
I think February was the perfect time to explore Palo Duro Canyon. The sunny day had brought out a lot of hikers, bikers, and families. We started our hike after lunch and had great weather until the wind got to us there at the end.
This would have been the kind of trail you'd do early in the morning during the summer months, so I liked being able to sleep late, have breakfast at The Hideout, and take our time getting to the park. The trail is listed as "moderate" and we found it to be pretty easy. We saw lots of families with small children on this one. Unless you have mobility or health issues, you'll probably find it to be easy as well. Some of the trails I want to go back to are listed as "difficult" so I'm really curious about how difficult they really are.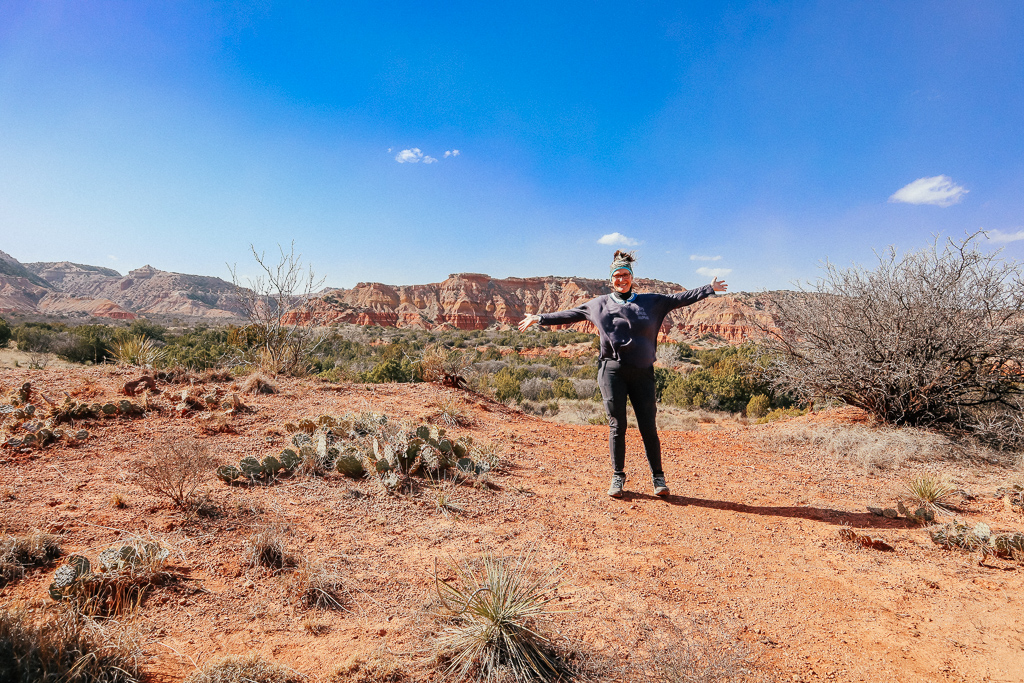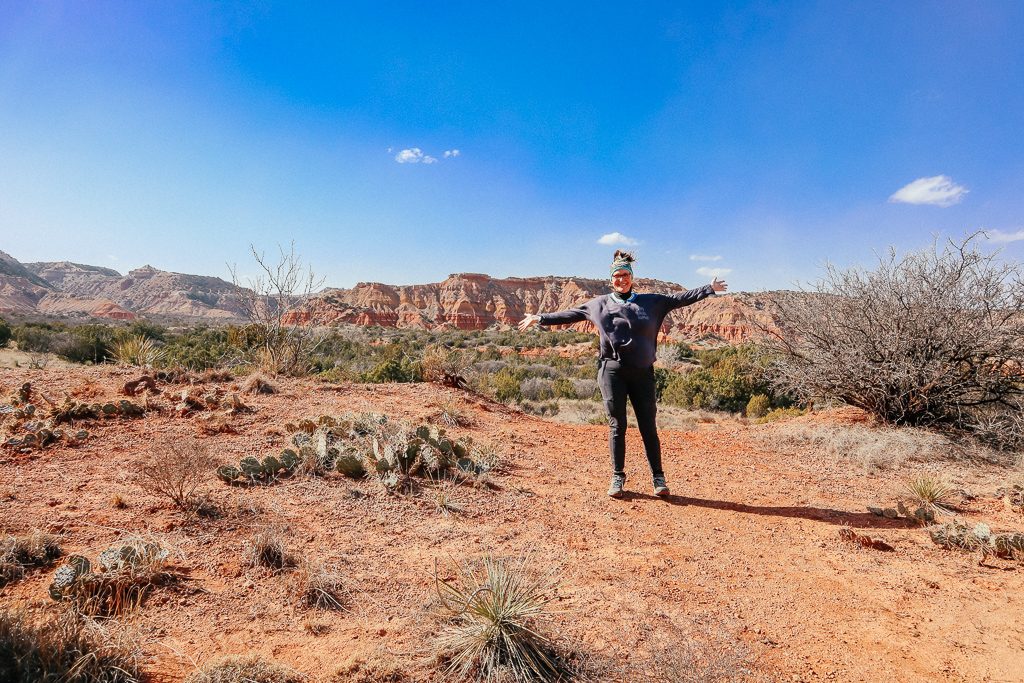 We were all wearing hiking shoes and were carrying enough water for the afternoon, so the fact that we were appropriately dressed and hydrated probably contributed to our perception of "easy." That and we've been hiking with our kids since they were about four, so your mileage may vary. We did have several people warn us that people die of exposure and dehydration every summer in the canyon. You're not immune to those things in the colder months but just make sure to do your homework before setting out on a trail. Check with the park headquarters if you need advice or guidance on where or how to explore. If you're exploring alone, tell someone where you plan to go and what time to expect you back.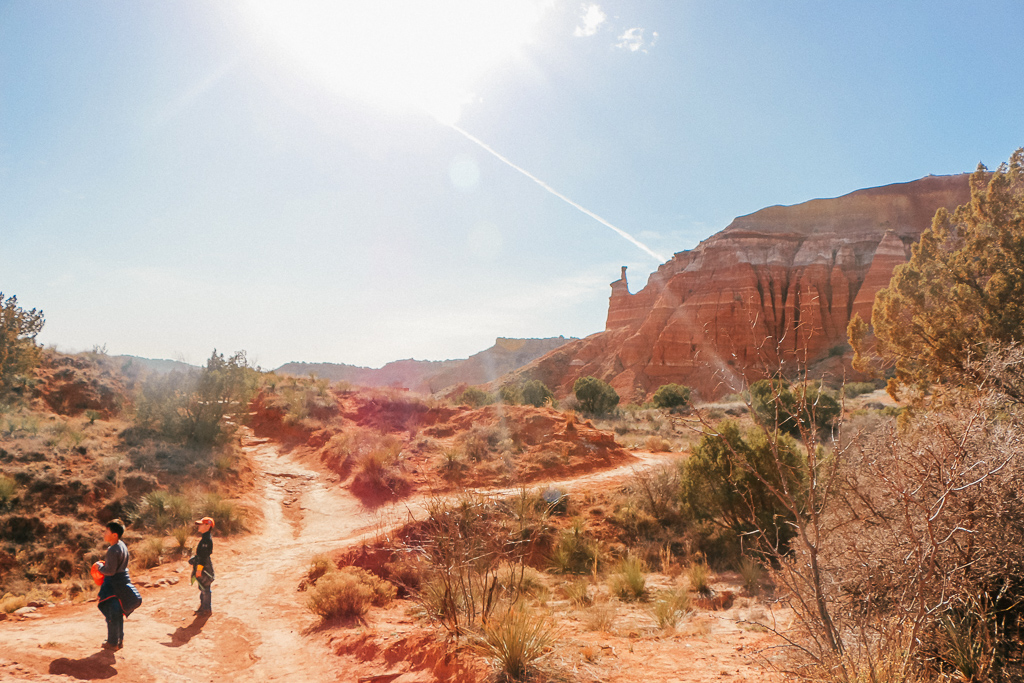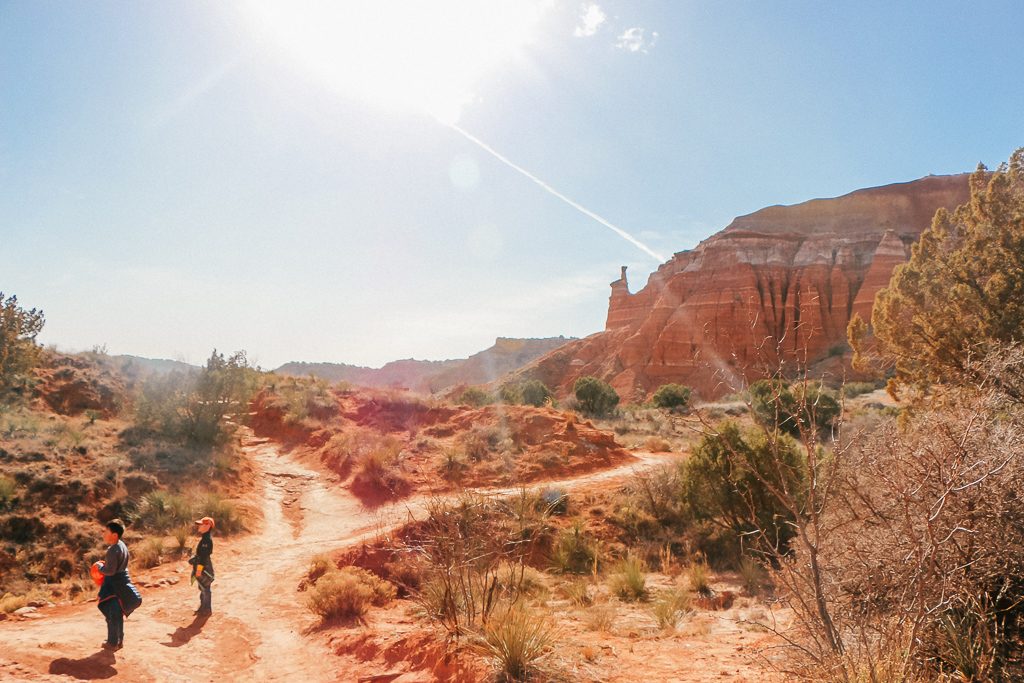 Day entrance to Palo Duro Canyon State Park is $8 for adults. Kids under 12 are free.
It really is one of the most breathtaking parks I've ever been in. I still have Big Bend on my travel bucket list but I definitely want to come back here.
Spring and Summer are the more popular times to visit the canyon. There's a show, Texas, which runs Tuesday through Sunday June 1st through August 17th in the park's amphitheater. Texas is a musical variety show with state-of-the-art special effects and fireworks. There are also events and attractions in and around the canyon that aren't open during the off season, such as zip lining, jeep tours, Chuckwagon style breakfasts and dinners, and more. There were lots of things we'd probably have liked to do that just weren't available on the off season. While this definitely entices me to plan a return trip, I'm happy with the slower paced, less crowded visit we enjoyed during the off-season.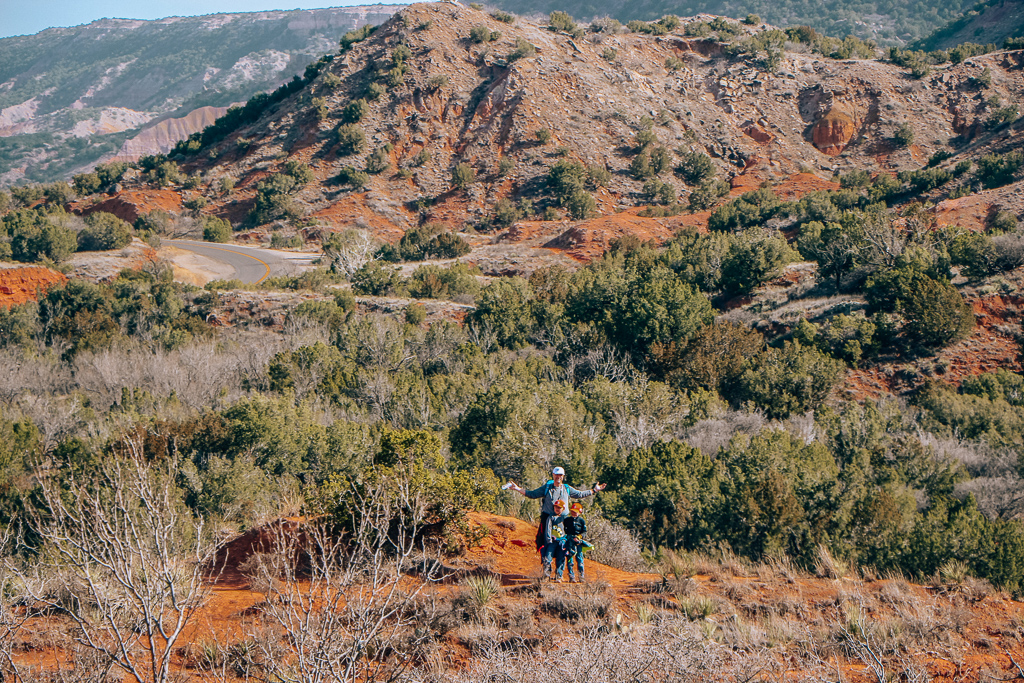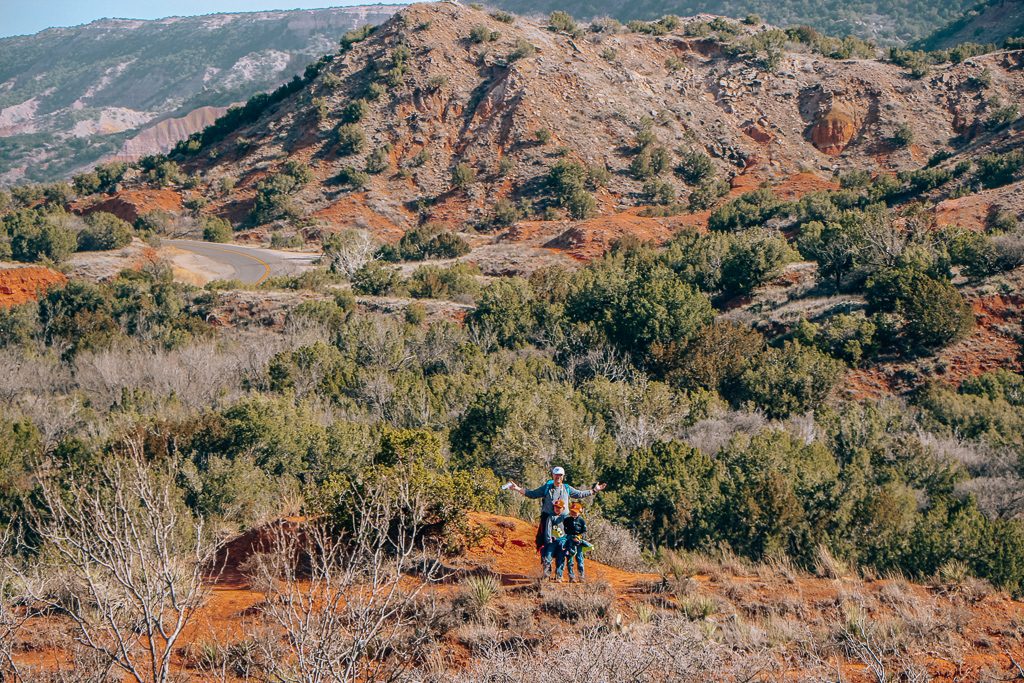 Spoiler alert – my family did get a jeep tour from Palo Duro Creek Ranch, even though they're were not officially open for the season yet. Read about my experience here.
More about Vrbo
What really made the trip amazing for us was our vacation rental. We could have never had that level of experience in a hotel room. The average vacation home rental through Vrbo is 1500 square feet compared to the average hotel room, which is 300 feet. Boy, those hotel rooms feel A LOT smaller when you're there for an extended stay with two kids. With a vacation rental, we can enjoy more privacy and not have to worry about whether or not my loud kids are disturbing the people in the room next door.
You can do things in a vacation rental you normally wouldn't be able to do in a hotel room. We decorated cookies, played cards after dinner, and watched our kids play in the front yard from a front porch swing. Some vacation rentals offer pools, hot tubs, pool tables and all sorts of other amenities. Plus, many of the units are pet friendly. I use the filters feature when using the HomeAway website. If you want a waterfront condo with a washer and dryer, the page allows you to filter your search using that criteria, so you can find a place with the features that are important to you.
Another thing I love about the Vrbo site is the level of detail. You can see a thumbnail description of the property and think, "Oh, that looks good" but you can keep scrolling to read more in-depth information, see more pictures and read reviews. There's also a feature built in to the pages where you can ask the owner a question and communicate through the site as you work out the details of your reservation.
If you've never taken a vacation during the off season, think about it. Although I'd love to explore the Palo Duro Canyon area when all the activities are in full swing, our quiet little retreat is what made me fall in love with the area and I'll never forget that.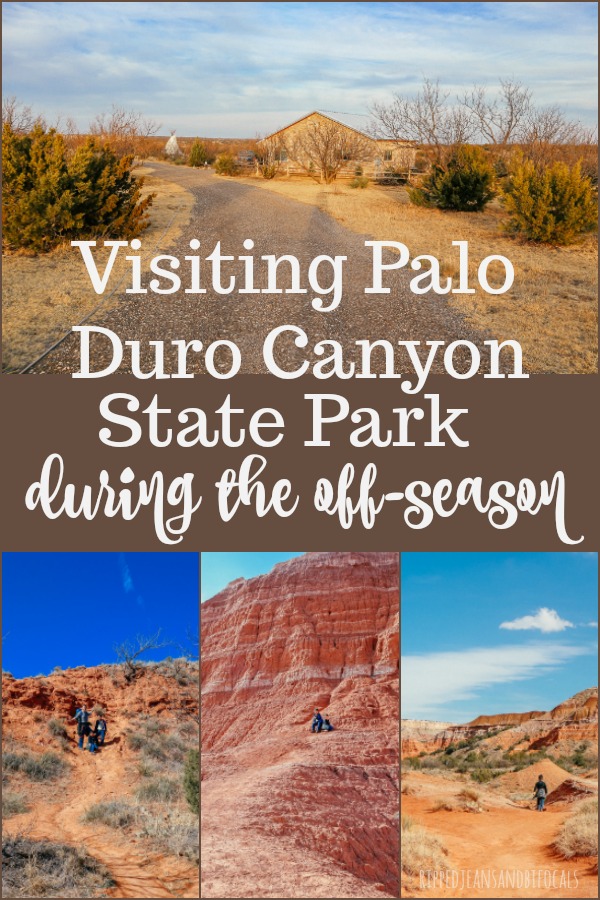 More info:
Texas Parks and Wildlife – Palo Duro Canyon State Park
How to book with HomeAway for your family's best vacation ever
Six Reasons Why Families Should Stay at a HomeAway Vacation Rental