The Inside Scoop on Toy Story Land
(This post may contain affiliate links. Read my full disclosure.)
Toy Story Land (affectionately known as "The Land" by Walt Disney World insiders) is now open at Disney's Hollywood Studios. I had the opportunity to attend the media preview just prior to opening week and I have the inside scoop on Toy Story Land for you here.
Thank you to Disney for providing tickets and hotel to attend the Grand Opening of Toy Story Land. All opinions are my own.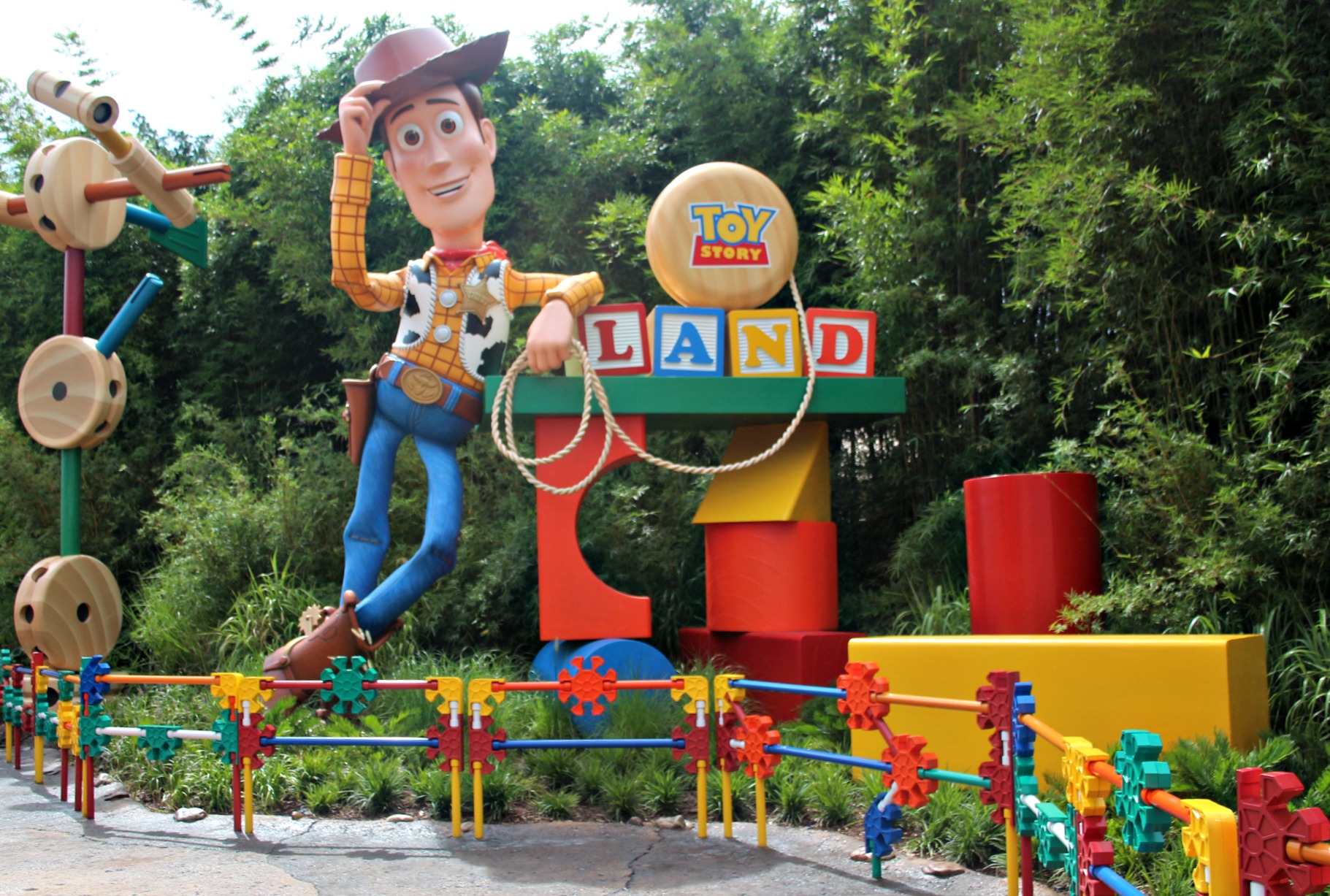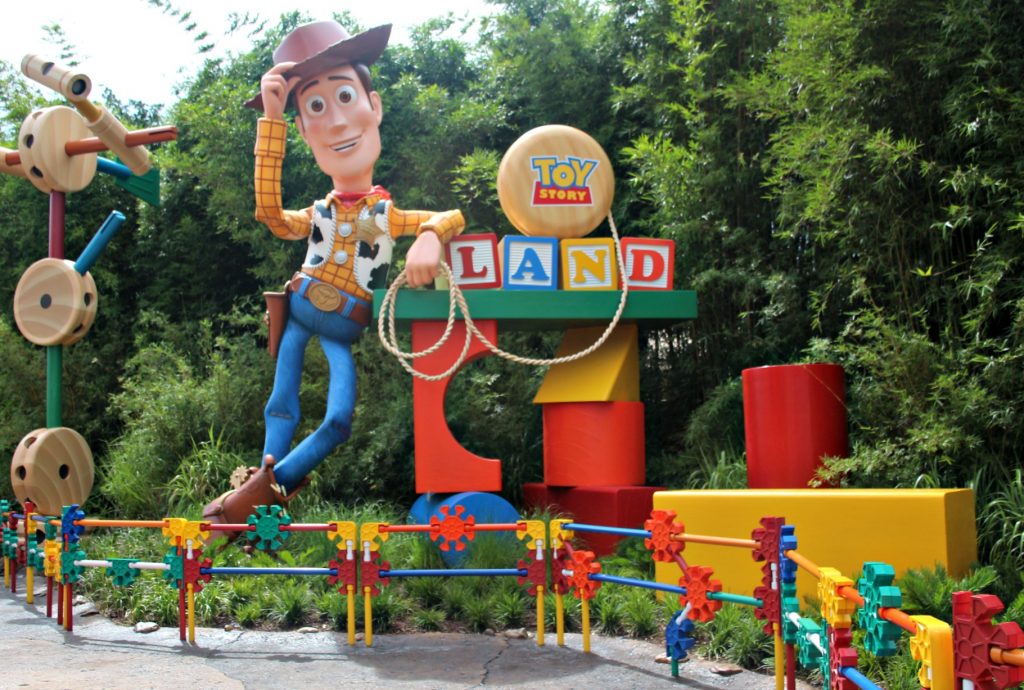 The inside scoop on Toy Story Land
[Tweet "Toy Story Land opened at Disney's Hollywood Studios June 30th. Here's the scoop #ToyStoryLand"]
Toy Story Land is now open at Disney's Hollywood Studios. I was lucky enough to attend the Toy Story Land Grand Opening, and we were surprised by Tim Allen, voice of Buzz Lightyear at the dedication ceremony the day before opening day. You can see the video of the dedication here…and can I just say the banter between Tim and Buzz is pretty stinkin' adorable?
Toy Story Land opened to the public on June 30, 2018!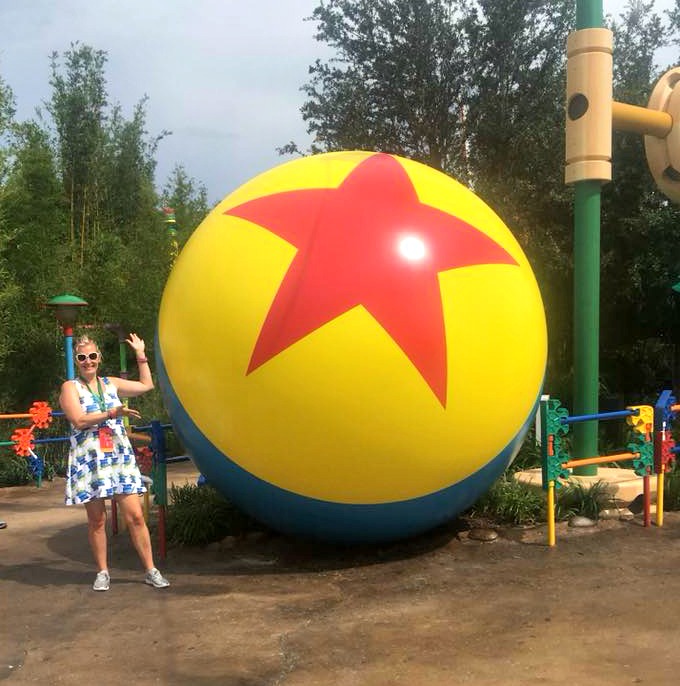 The basics
Toy Story Land is located in Disney's Hollywood Studios. The idea is that guests are toys…in fact, Disney Cast Members welcoming guests into the land will greet you with "Welcome toys" when you enter. Everything in Toy Story Land is larger than life. Visitor's get to experience the toy's eye view from Andy's backyard. Andy has constructed an amazing play place out of his toys (you will see some nostalgic favorites) but Andy is nowhere to be found.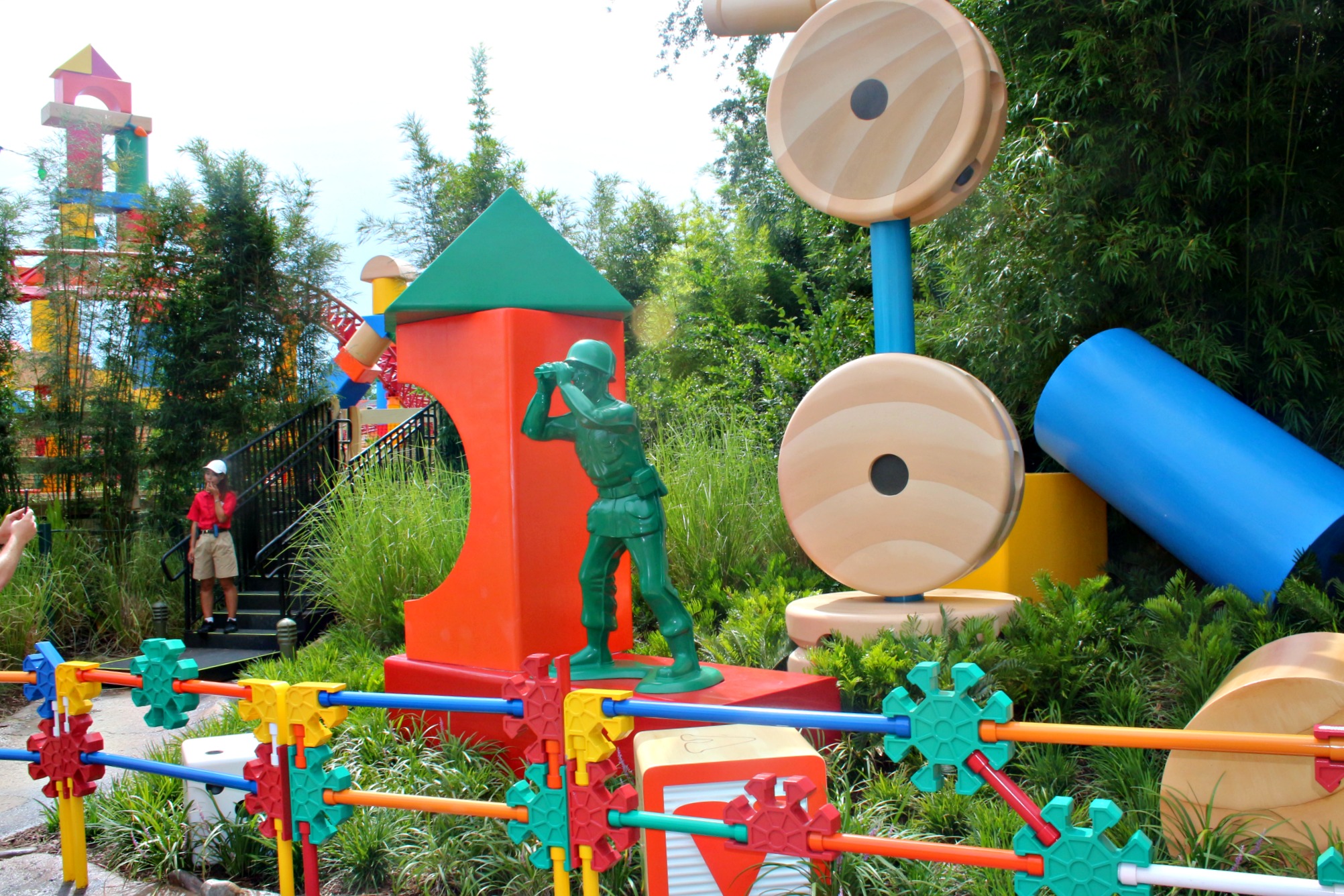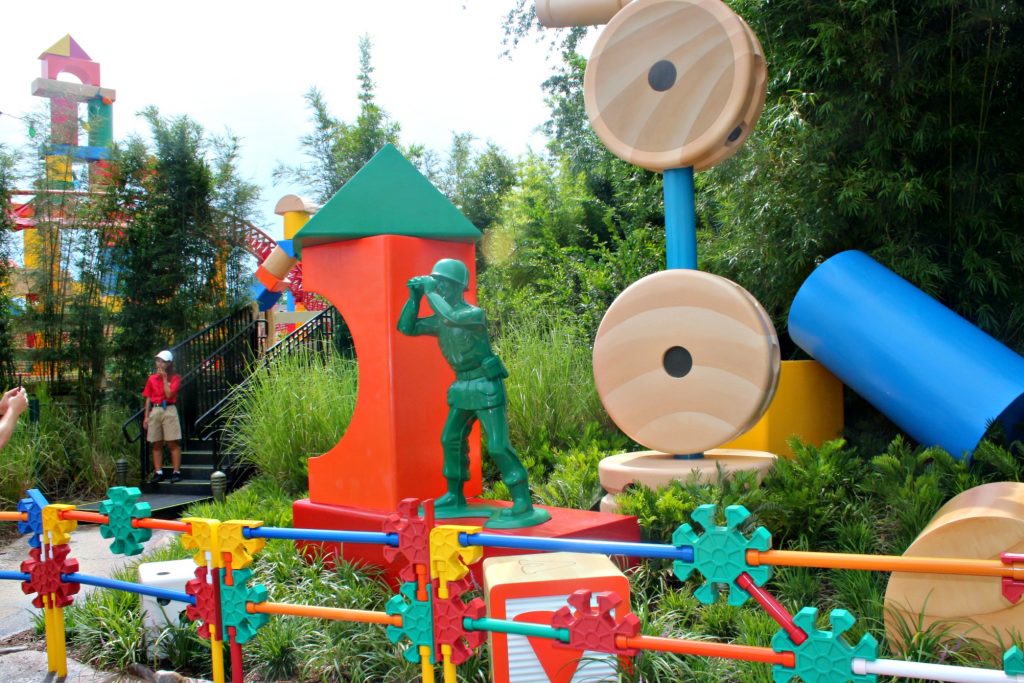 The Green Army Patrol keep watch so that the other toys will know when Andy is near so that they can turn back into…well, ya know…toys. Andy's footprints are located throughout Toy Story Land. They are larger than life so if you're looking for teeny tiny kid sneaker prints, think bigger.
Three New Attractions…Sort of
There are three new attractions in Toy Story Land…sort of. Brand new are the Slinky Dog Dash and the Alien Swirling Saucers. The Slinky Dog Dash is a fun family coaster that thrills the rider with twists and dips. The height requirement is 38 inches so I expected this to be a tame kid coaster that families with small humans take the obligatory ride on because it's not too scary (see also not very thrilling.)
The Slinky Dog Dash is definitely not a scary coaster but it does have enough twists, turns, and thrills to delight the tweens, teens and grownup roller coaster enthusiasts. Plus, there is so much cute Toy Story themeing going on here and so much to see that you just can't not love this ride. The wait on opening day of Toy Story Land was as long as five hours, so make sure you plan for this one and reserve your FastPass+ as soon as you're able to do so.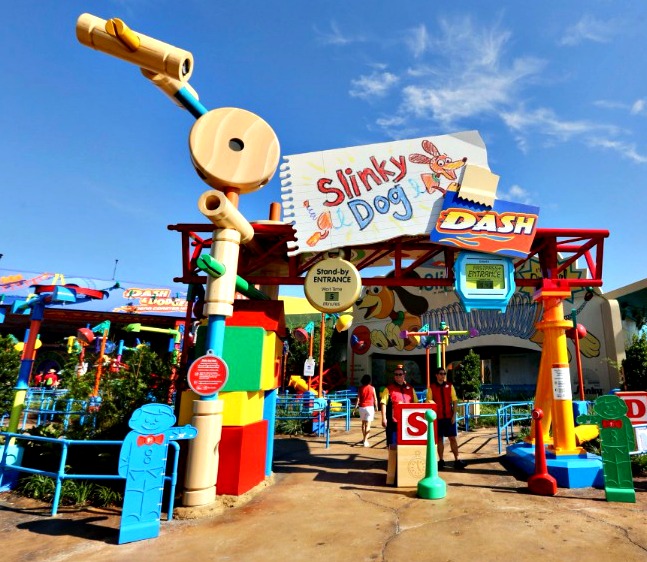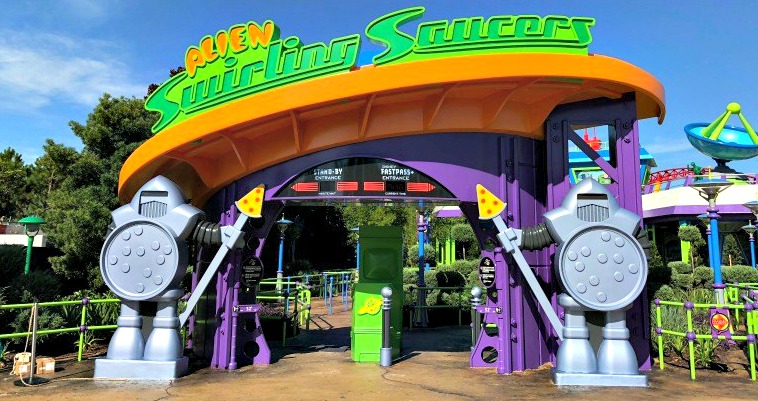 The Alien Swirling Saucers is a fun, spinning ride featuring the play set that Andy won at Pizza Planet. Hold on for some wild fun as your toy rocket takes off, while electronic space music adds to your immersive intergalactic experience. Watch out for the claw! Alien Swirling Saucers is a family ride with a height requirement of 32 inches. I'll add that this ride isn't "too spinny." My husband and I have been known to "flip for it" when it comes to who will ride the Teacups with our kids but I didn't feel dizzy at all when I exited the ride and could have gone right back for a second ride immediately.
Rounding out the attractions in Toy Story Land is Toy Story Mania, which isn't exactly new but there are some changes. A third track as been added and the entrance to the ride has been moved so that Toy Story Mania is officially inside Toy Story Land. If you haven't experienced Toy Story Mania, you should definitely give it a go. It's a fun midway themed ride featuring all of your fave Toy Story friends and is open to guests of any age and height. It also brings out that competitive spirit so if you want to challenge your family and friends to a friendly shootout, this is your ride.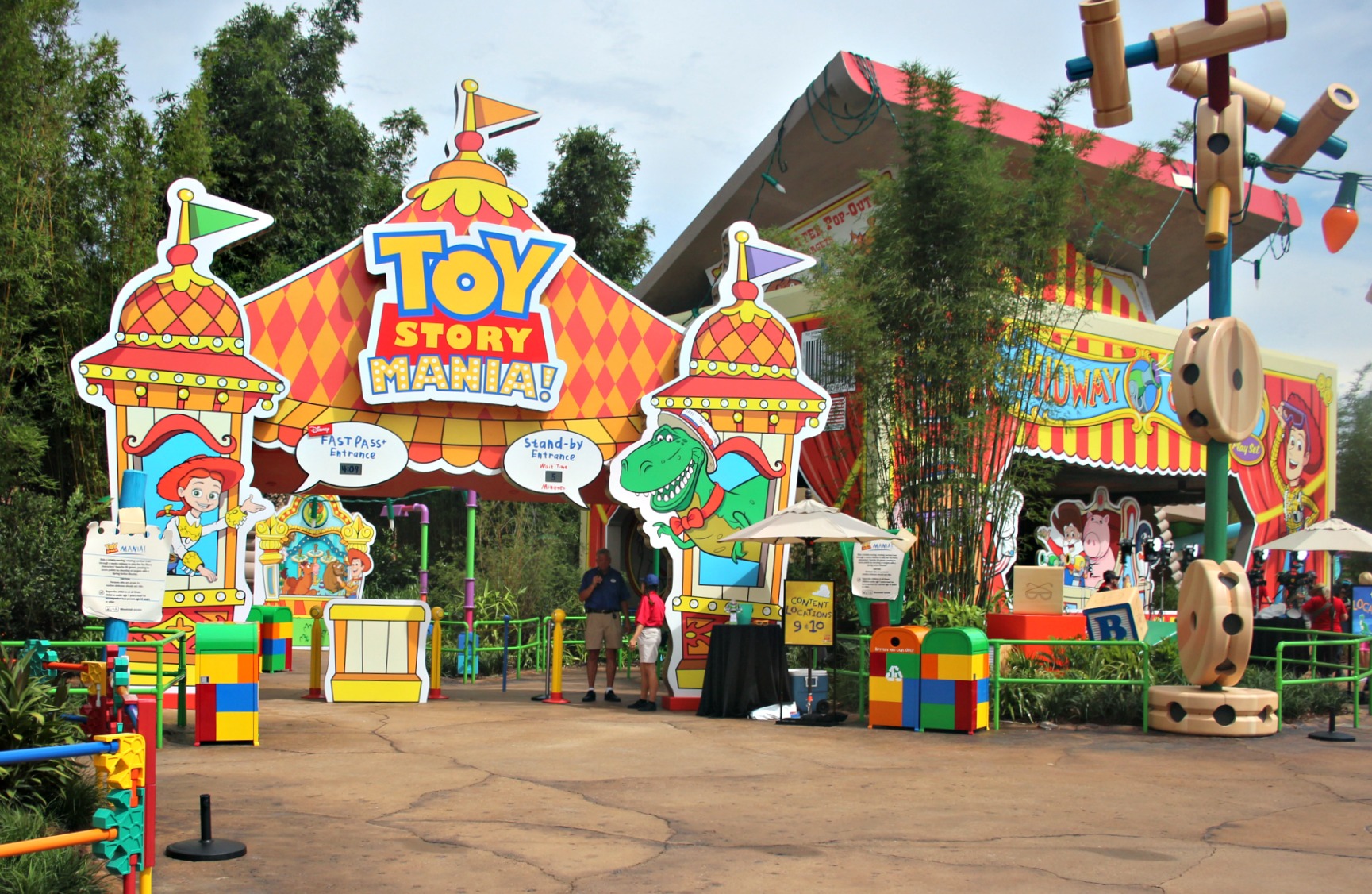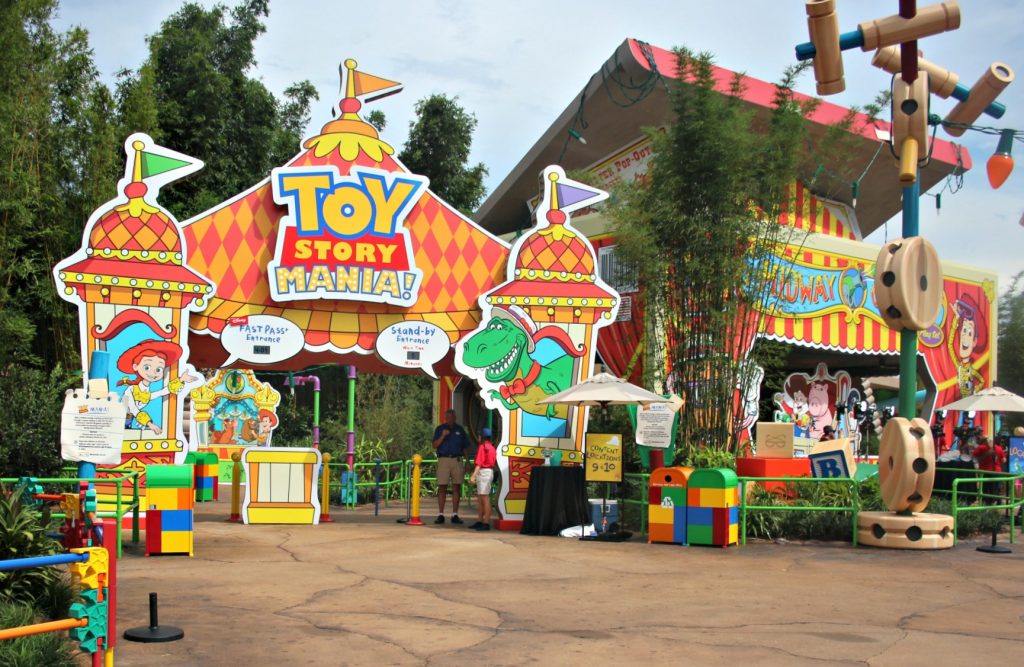 The entrance to Toy Story Mania has been moved and one additional track has been added.
New Dining Experience at Toy Story Land
Sample Disney's newest quick serve dining option, Woody's Lunchbox. Woody's Lunchbox is super cute and it serves breakfast (can anyone say S'mores French Toast???) lunch and dinner. Woody's Lunchbox offers an array of unique grilled sandwiches, soups, and something called "Totchos" which is tater tots with chili, cheese, and other good stuff loaded on top. Yum, right? I know I want some Totchos and I'm kicking myself for not trying them when I was at Toy Story Land. Always leave something for your next visit, right?
You can use Disney's mobile ordering at Woody's Lunchbox. I haven't tried this yet but others have really good things to say.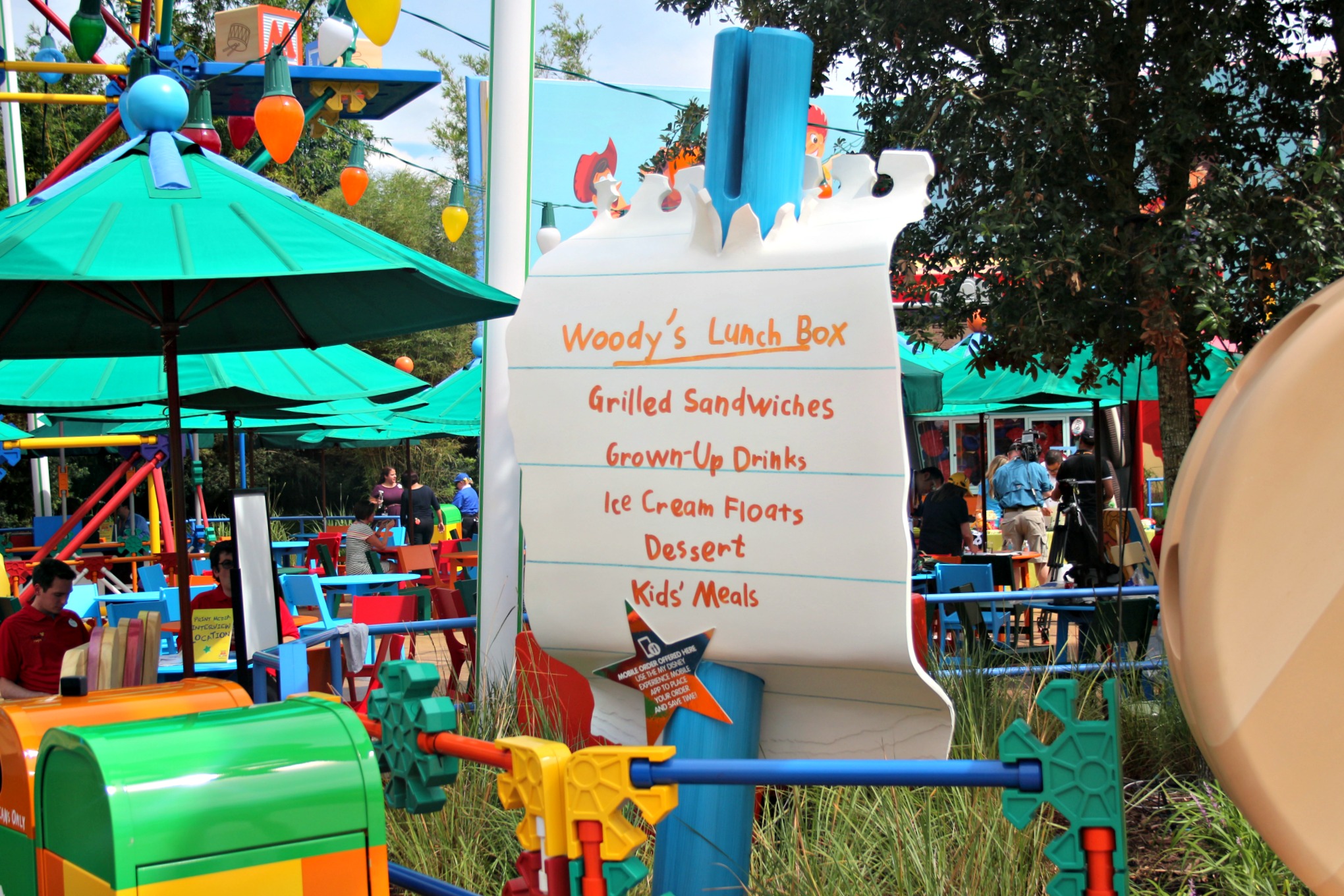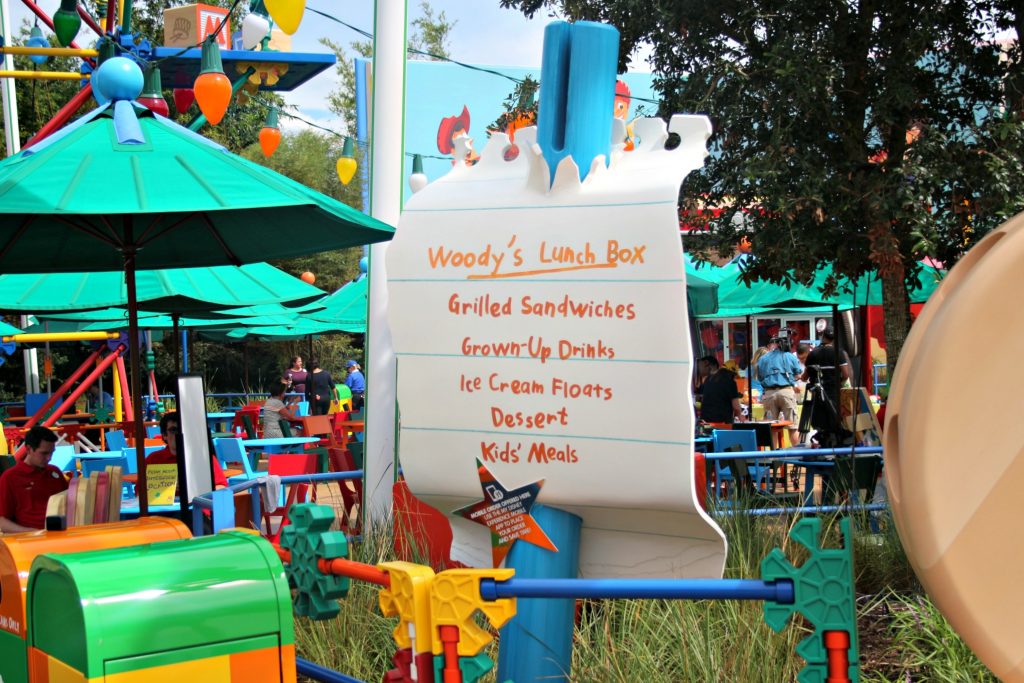 Also, Woody's Lunchbox offers "grownup drinks." I got to sample the Grownup's Lemonade and it's really yummy on a hot summer day (or pretty much year 'round in sunny Orland0.)
Character Meet and Greets
You can meet Woody, Buzz and Jessie in Toy Story Land. I've heard rumors that other Toy Story characters may be added later, but don't hold me to that. In addition to Woody, Buzz, and Jessie, there are some fun static toys that make for fun photo opportunities.
My favorite is the Green Army Patrol which isn't technically a character meet and greet but there is plenty of interaction and entertainment. The Green Army Patrol loves to play (and encourage kids of all others to play as well) and if you get lucky enough to catch their drum corps, you'll definitely want to dance and clap your hands. They are so much fun and their costumes are amazing.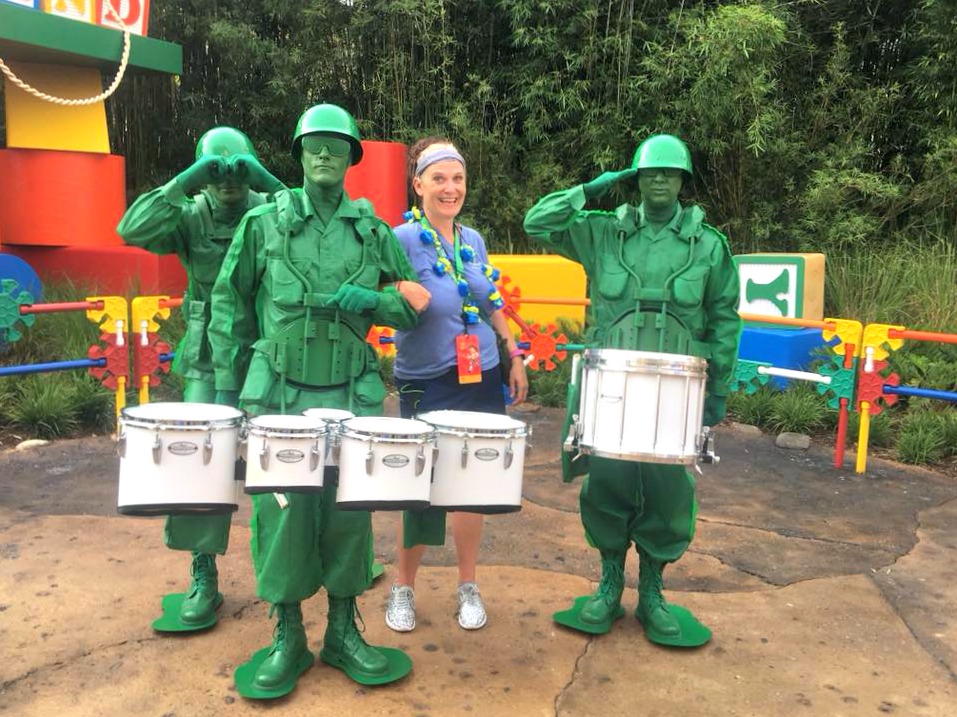 Merchandise
Toy Story Land has two merchandise kiosks that are built to look like toys. They sell a variety of Toy Story Land themed memorabilia and clothing. My favorites are the light-up Slinky Dog, the Slinky Dog and Alien Headbands and the Buzz Lightyear bubble toy. And yes, of course they sell Toy Story Land pins, so if you're a pin collector, you'll need to make sure you add these to your collection!
Other tips…
Consider visiting at night. Toy Story Land is amazing at night – there are so many lights (see also opportunities to buy light-up toys that your kids are going to want) and as amazing and fun as The Land is during the day, it's really awesome after dark. The Slinky Dog Dash is especially fun to ride at night when the park is lit up. Also, the lines for Slinky Dog Dash (and perhaps FastPass+ availability) might be easier to deal with in the evenings.
Rain. Rain showers are very common in Central Florida. It's not at all unusual for there to be rain or even thunderstorms at least once during any given day, especially in the summer. The good news is that the storms usually pass quickly. Put a poncho in your backpack and keep on playing. The Slinky Dog Dash will close during periods of heavy rain or lightning.
Toy Story Land is very Instagrammable. The popsiclle stick wall and benches, the wall of blocks, Andy's larger than life drawings, and my favorite, the giant Pixar ball.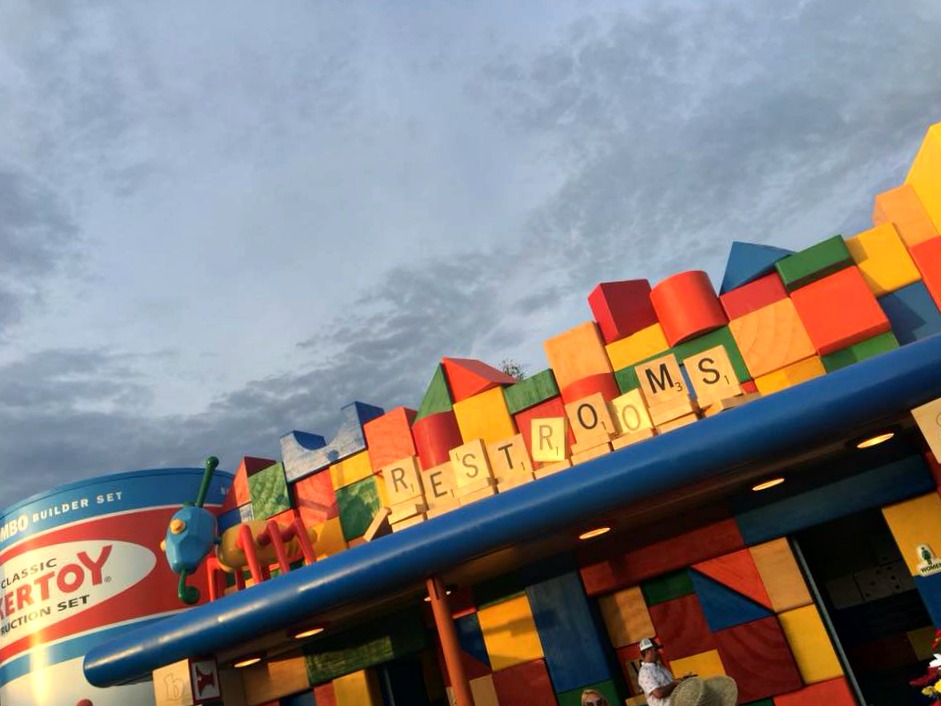 The one negative in my book? There is very little shade and no places to escape the heat. Woody's Lunchbox doesn't offer indoor seating. They have outdoor tables with umbrellas but that probably won't cut it during the heat of a Florida summer day. If you're looking to duck into a store to beat the heat and shop a little, nope. There are just the two merchandise kiosks.
If there's one thing I hope Disney adds or changes with Toy Story Land, it's a true inside space with some air conditioning. That said, my Toy Story Land experience was overwhelmingly positive and magical in the way only Disney can make it. I definitely recommend visiting. Andy's backyard holds tremendous appeal for kids of all ages. Hope you've enjoyed my inside scoop on Toy Story Land and I hope you get to visit soon!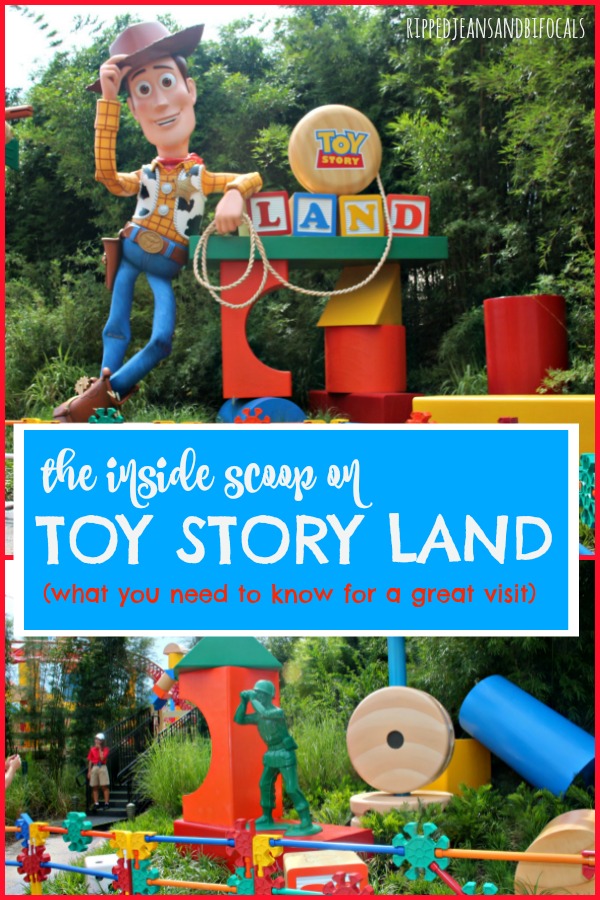 If you liked this post, read these before you go:
Toy Story Land opens June 30th and here's what we know
The best Disney character breakfast ever
Read what others are saying:
Insider tips for visiting Toy Story Land
7 tips to make the most out of Toy Story Land
Take a trip into Andy's Backyard
5 Adorable details at Toy Story Land
Toy Story Land Secrets and Tips
Instagram Walls in Toy Story Land
The one thing you need to know about Toy Story Land