Why the DIY Studio Decatur needs to be the spot for your next couple's retreat or girlfriend getaway
(This post may contain affiliate links. Read my full disclosure.)
As a mom, I cherish family time. I love doing things with my husband and kids. But. I love my time with my husband AWAY from my kids and I love my time away from the whole lot of them, too. As much as I love being a wife and a mom, I need some activities outside those roles, too. You probably feel the same way. If you're looking for an activity that goes beyond "dinner and a movie" or a great place to weekend that might be just a little outside the box, I have the perfect place for you to go: The DIY Studio Decatur Texas.
I was hosted by the DIY Studio Decatur. All opinions are my own.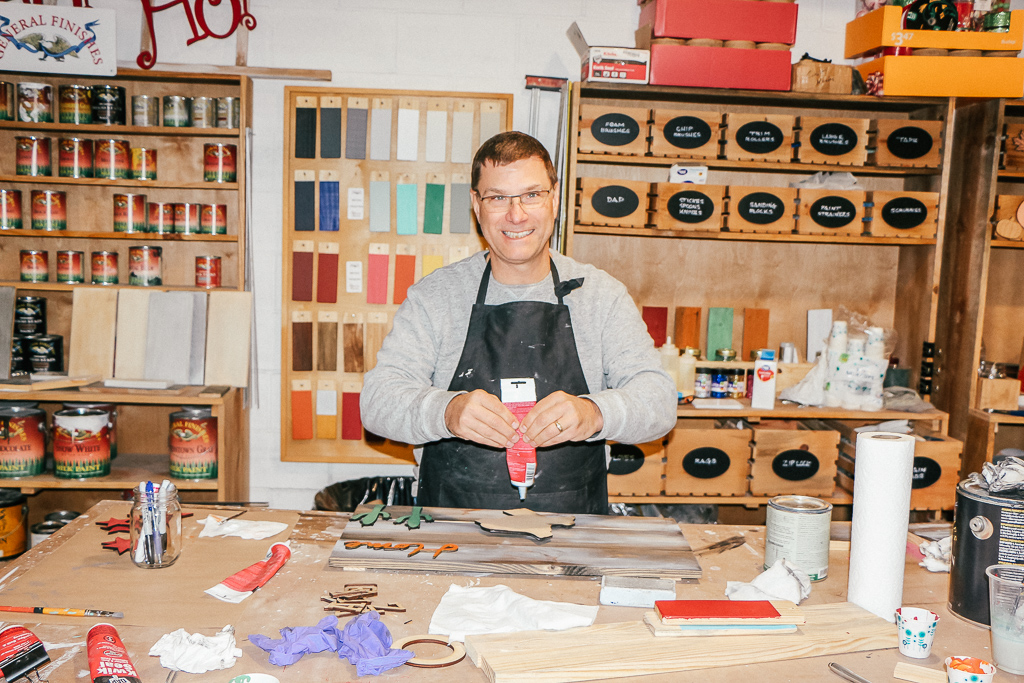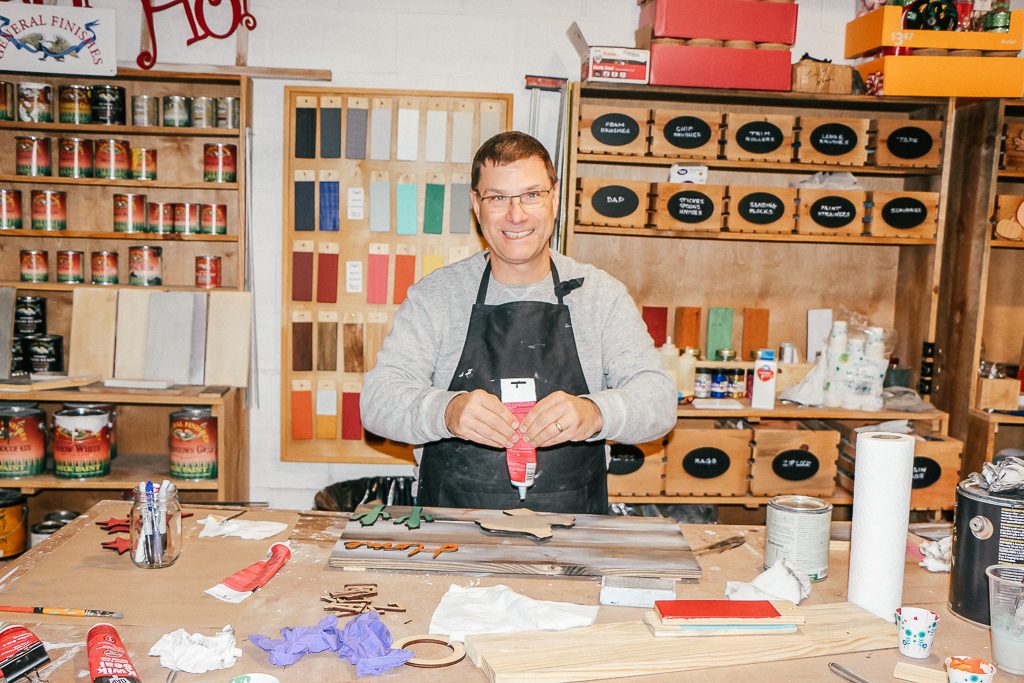 Why the DIY Studio Decatur needs to be the spot for your next couple's retreat or girlfriend getaway
If you're looking for a place to have a couple's retreat or want to find a cool place to get together with your best girlfriends, you're going to want to have some sort of agenda. Do you really want to stay holed up in a hotel room all weekend drinking mimosas or do you want to get out and experience something new. Don't get me wrong…there's nothing wrong with hotel room lounging or mimosas, but no matter what you're planning, you need to sort of…well, plan something.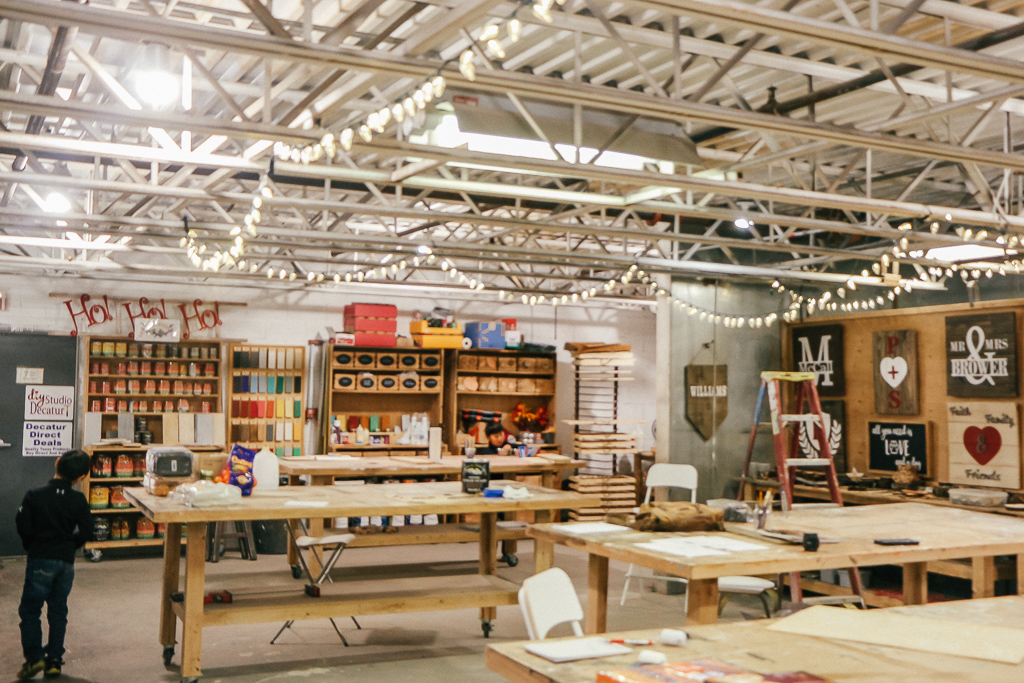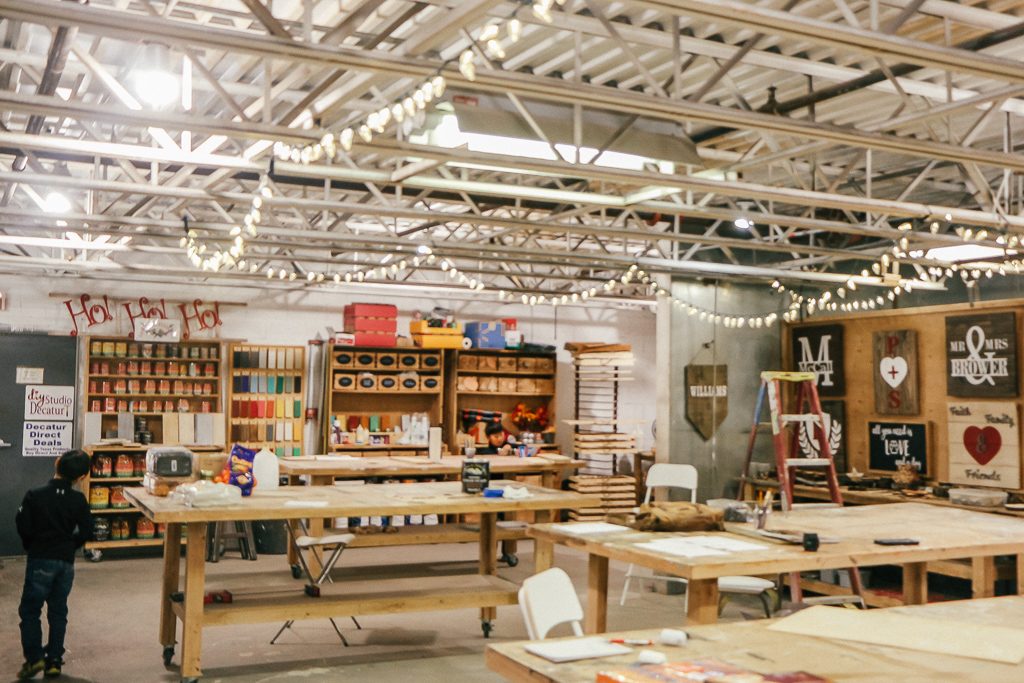 Experiential dates and get-togethers are gaining popularity. It's fun to get out of your comfort zone and do something that's different from your everyday. That's why the DIY Studio Decatur is the perfect place to make your day trip or weekend trip extra special.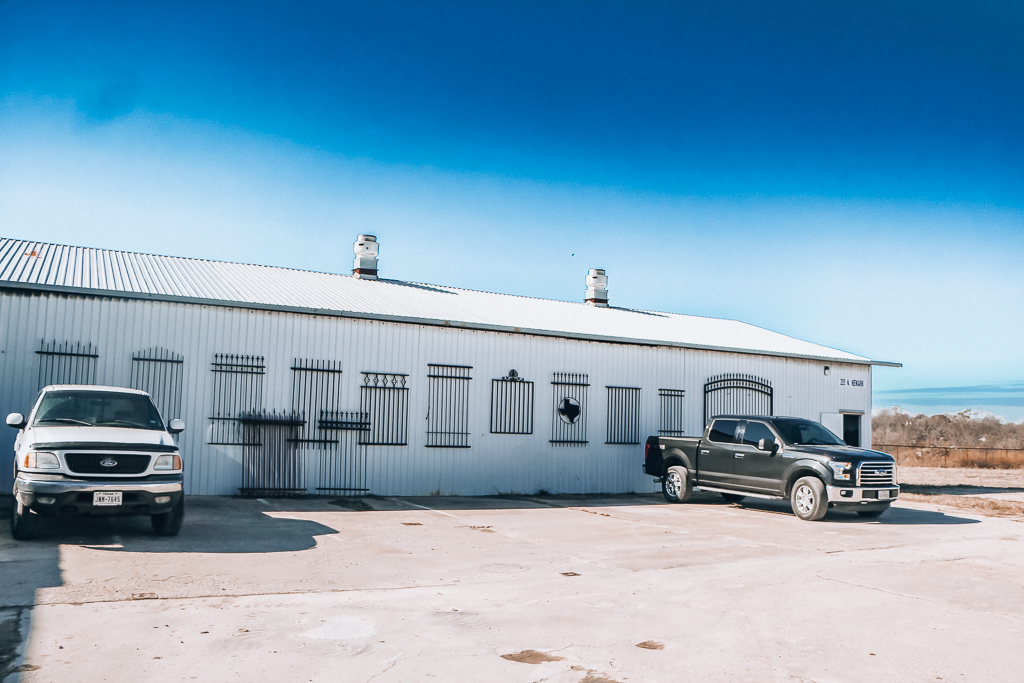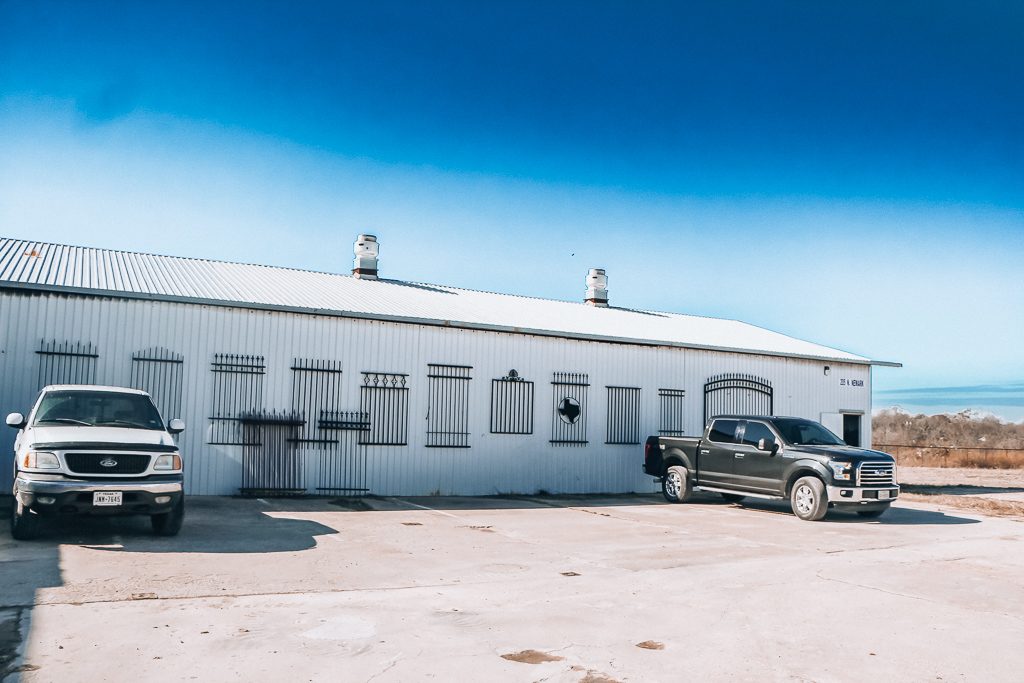 Where is Decatur Texas?
Decatur is 25 miles northwest of Fort Worth and 45 miles northwest of Dallas. If you fly into the DFW airport, you can rent a car and it's an easy drive. If you're driving from elsewhere in Texas, Decatur is about a four and a half hour drive from either Houston or San Antonio and about a three and a half hour drive from Austin. And, if you're drawn to the Lone Star State because of Waco and the famed Magnolia Market, Decatur is less than a two hour drive…and if you like small Texas towns (and what's not to like) it would be a shame to miss Decatur.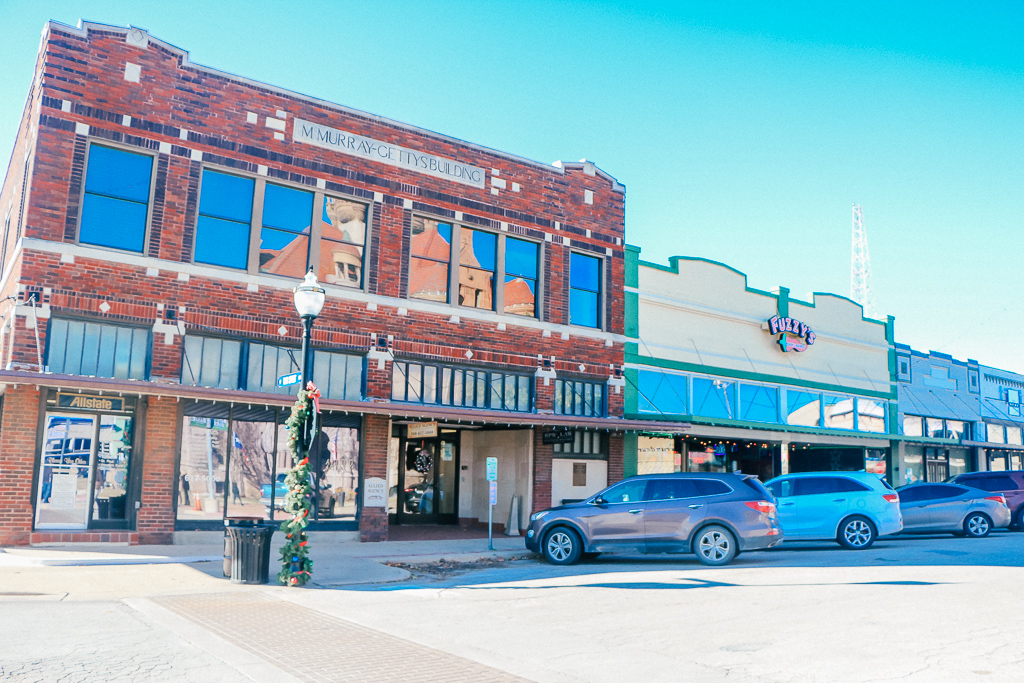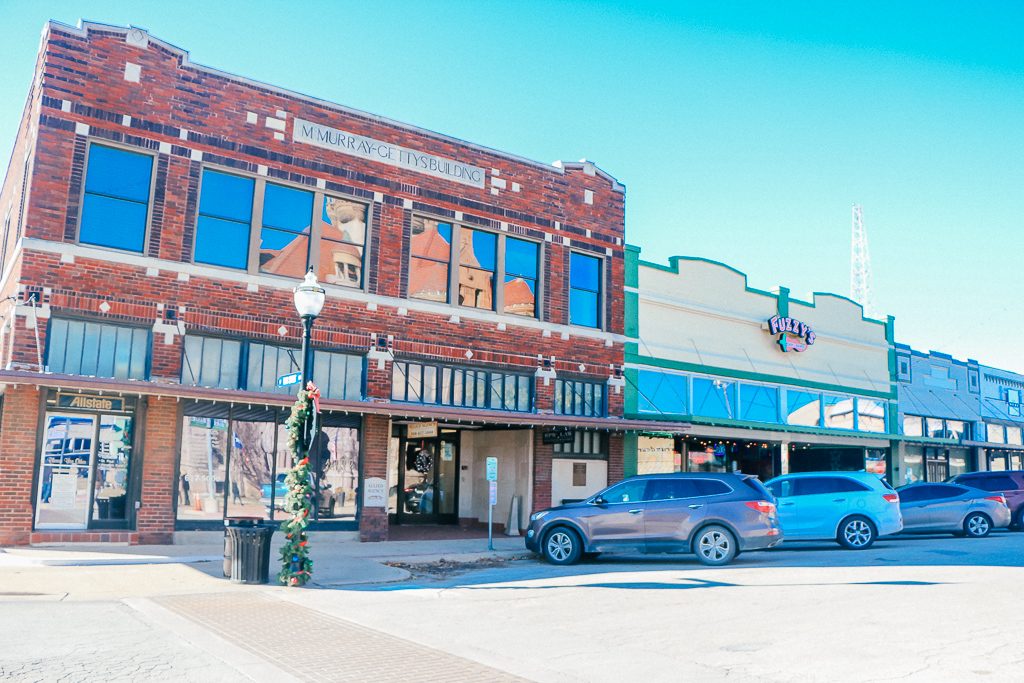 What is the DIY Studio Decatur?
The DIY Studio Decatur is a gigantic warehouse with every kind of tool you could think of where people go to make cool stuff.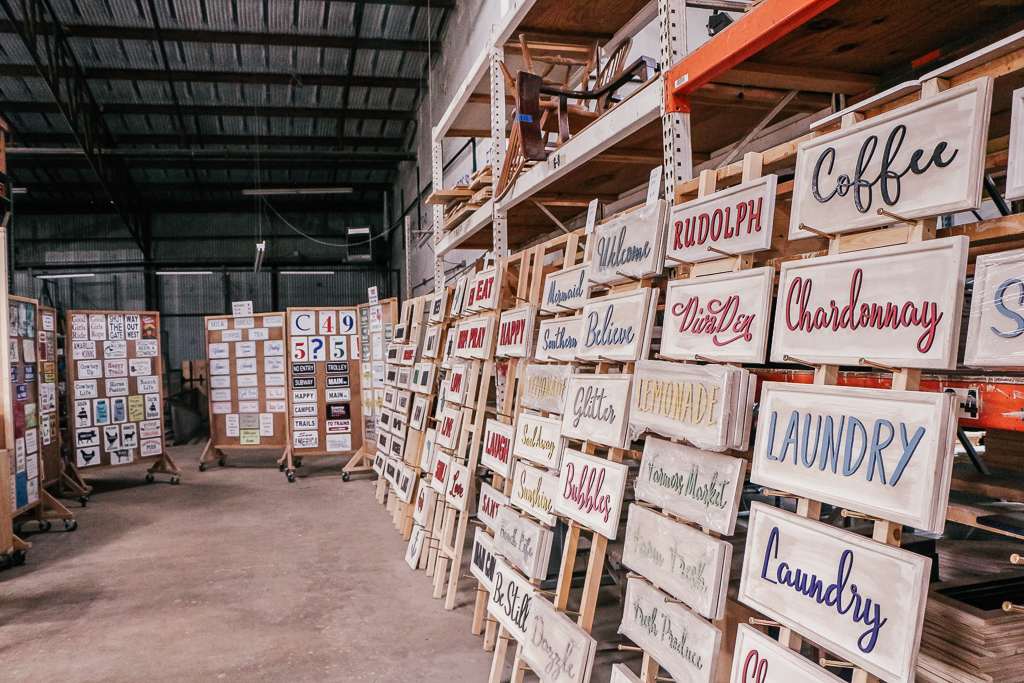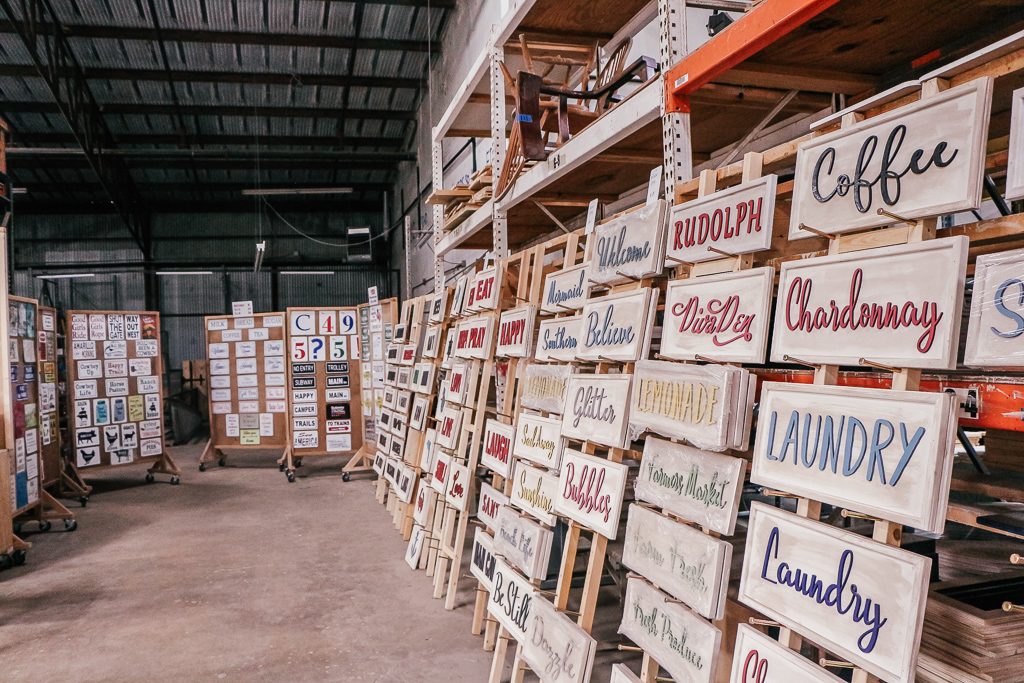 If you like those boutique painting classes where you can bring your own wine and snacks in and do a "paint by numbers kicked up a few notches", you'll like the DIY Studio Decatur so much more. Don't get me wrong…those painting classes are super fun, but Ben and his team will help you create something one-of-a-kind that you'll be proud to display in your home, instead of something that's a "you" version of what everyone else is making. You'll have fun, learn new things and maybe even get outside your comfort zone a little.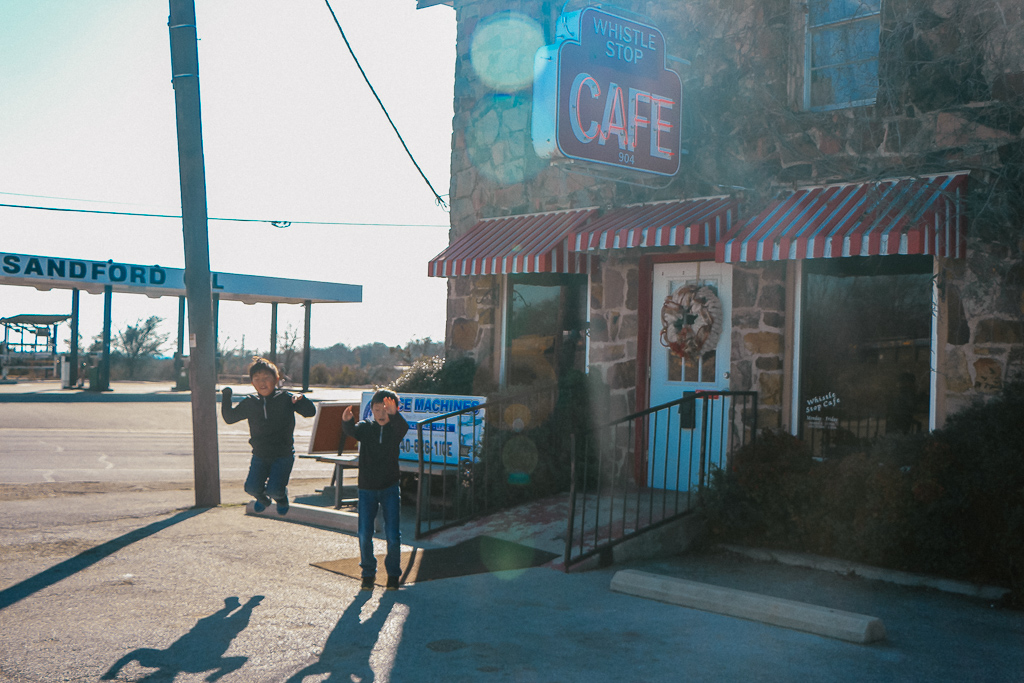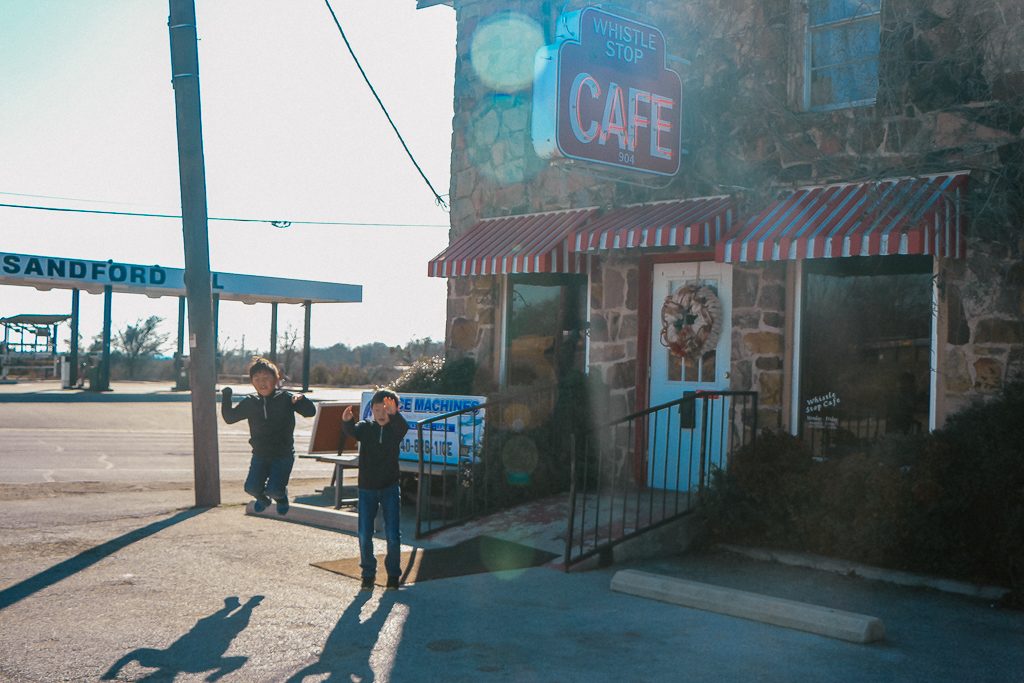 Oh, and you can still bring the wine and snacks, so winning.
For more ideas on what to do in the area, check out CARE Tiger Sanctuary. It was one of the most surprising things on our trip to Decatur.
What kind of projects are available?
The most popular projects are the wooden signs. You can do so much with those signs. There's shiplap style signs and also different style cutout signs. There's a bunch of samples in their work room to give you some inspiration and ideas and you can go from there. There are tons of paint choices, font choices and boxes and baskets of cutouts. I am confident in saying that what you need to make a sign that is pure you is already there…and if it isn't, they can probably figure out a way to make it.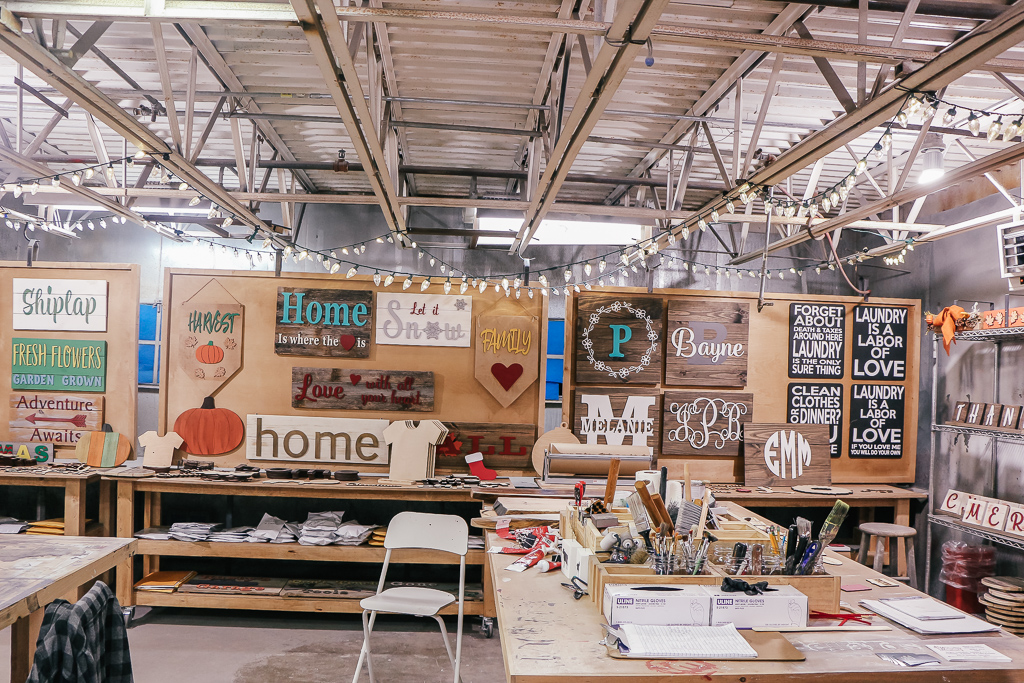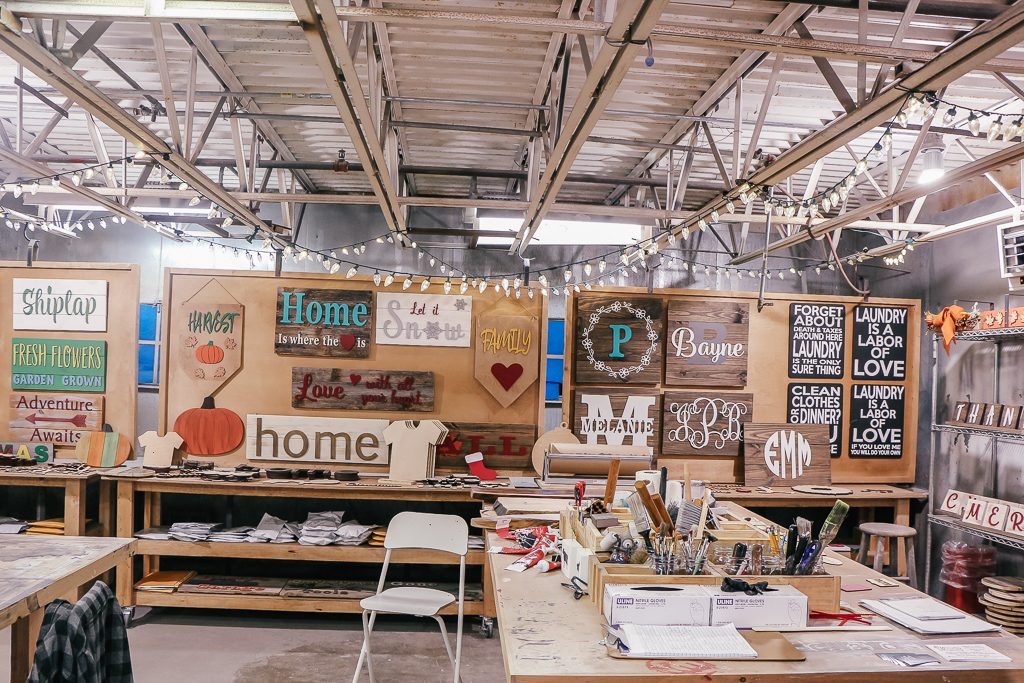 You can go in knowing exactly what you want (although you're likely to change your mind when you see all. those. choices.) or having no clue what you want…although I recommend browsing Pinterest for wooden sign or home decor ideas before your class, just to give you some ideas for what you do and don't like. Checking out their Instagram feed and their project gallery can also give you some ideas.
During the holidays, the DIY Studio Decatur may host a wreath-making class. If you're not interested in making wooden signs and want to make jewelry, leather goods, or some other type of craft or project, just ask. There's a lot of different skill sets (and a LOT of different tools and supplies on hand, so if you've got an idea for a project in your head, these folks can probably make it a reality.
Cornhole boards are also a very popular option for couples classes or girl's night classes. Every backyard needs a set of cornhole boards and these would be so much fun to personalize. They also make great housewarming, wedding, or engagement gifts.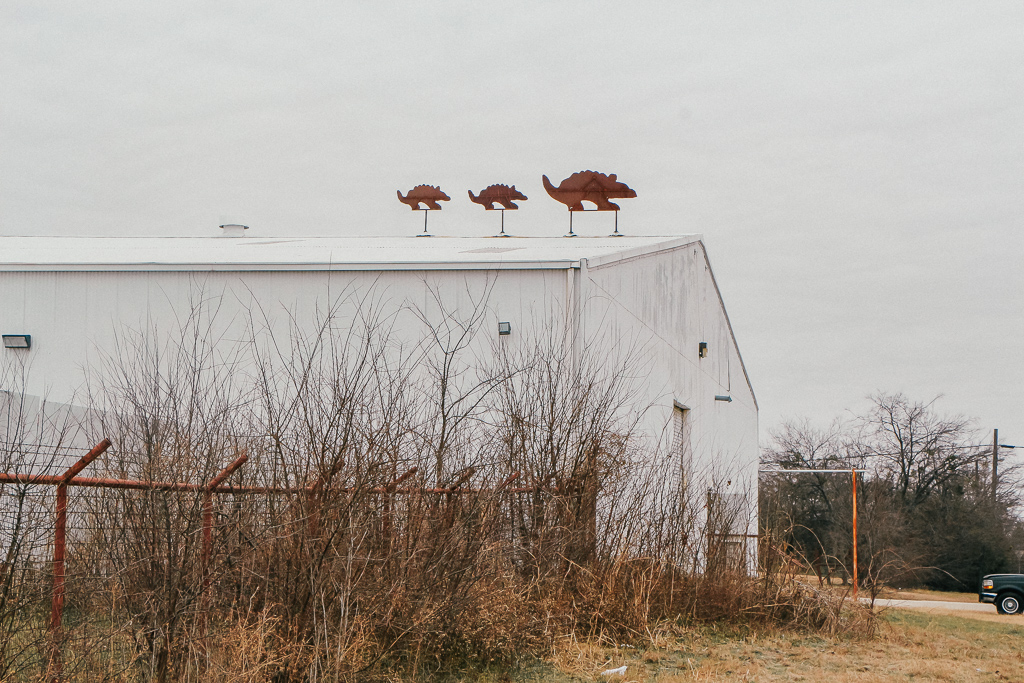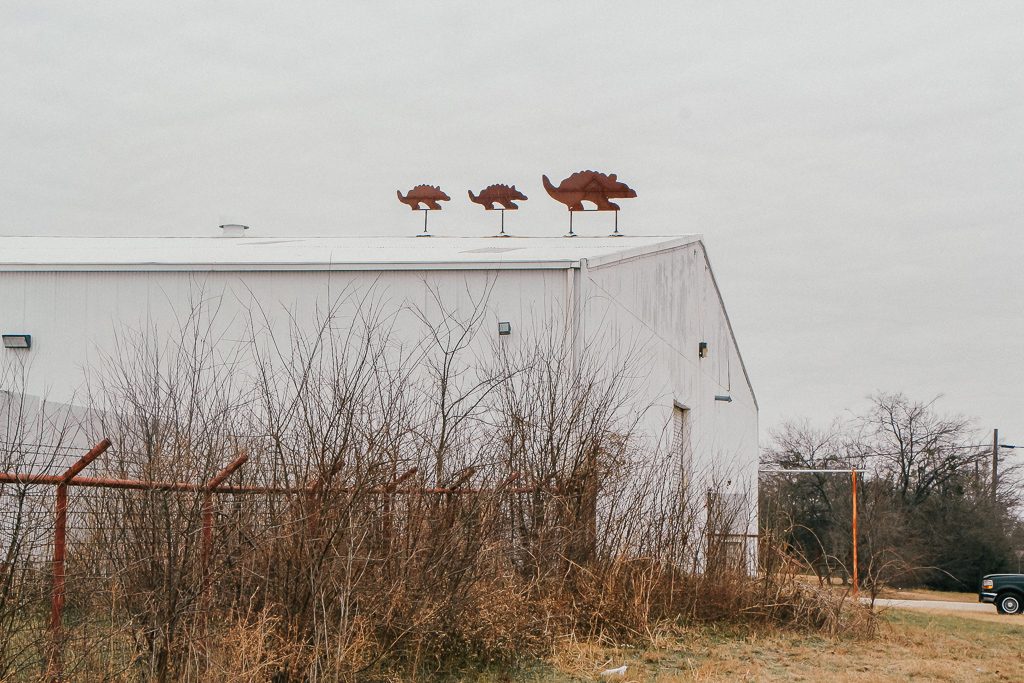 Who can participate?
Pretty much anyone who wants to make something awesome and have a good time doing it. There are classes geared toward couples where you work on a project together, which is what my husband and I did. And, I know what you're thinking. All the pictures are of him making the project and you don't really see me working. Because I'm always the one behind the camera, there's usually not a ton of pictures of ME unless I make a concentrated effort to tell someone to take one (and HOW to take it and where to stand and all the other bossy things, but that is another story) you don't see much of me.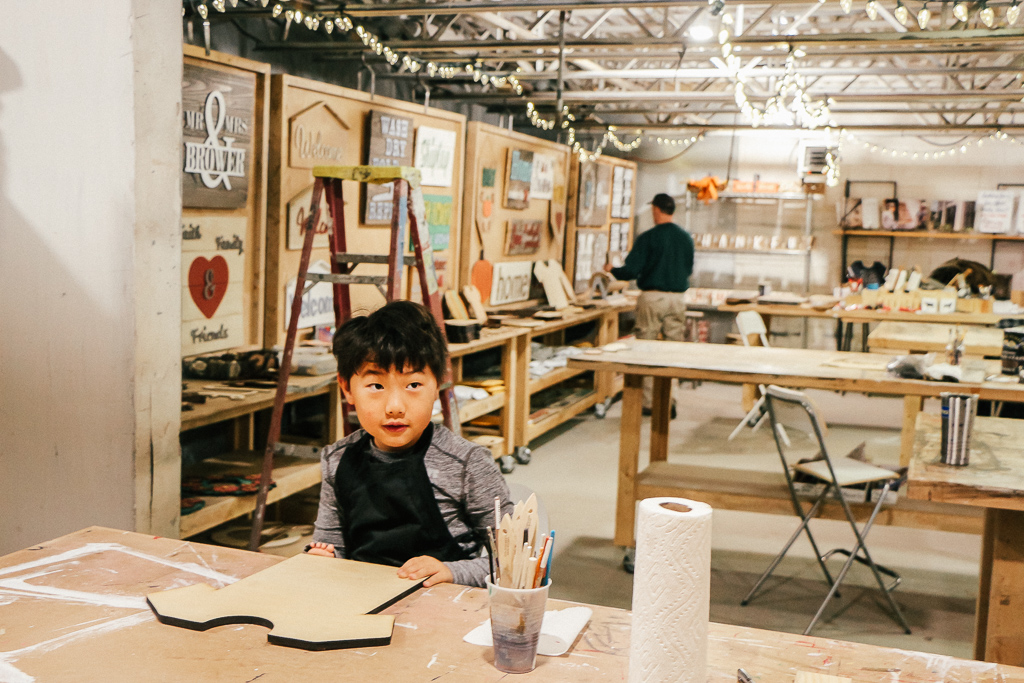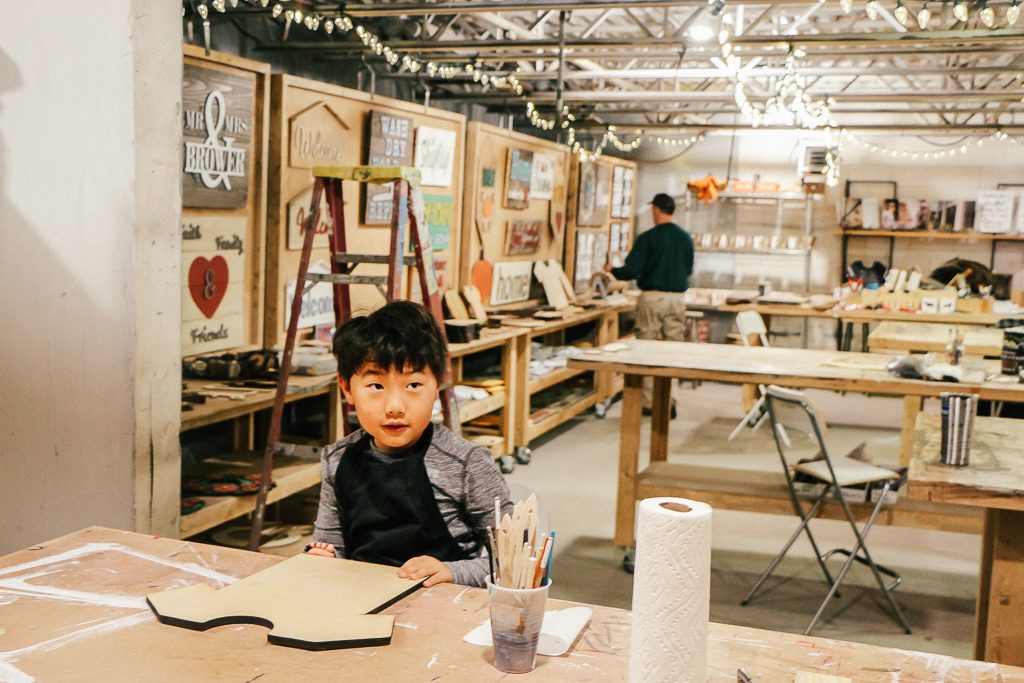 This is a really fun "date night" or "date day." It's outside the box of dinner and a movie and you get to work together and bring home something tangible you can display in your home. I love displaying things in my home that have stories behind them and our couple's project is definitely that. I do recommend having some sort of idea of what you want to make if you're doing a joint project, otherwise there's going to be a lot of "I don't know, what do you want to do?" going on at the onset of your class and don't you have enough of that conversation when you're trying to pick a movie?
Kids can also participate as well. My boys are both eight and they were able to do a lot of the work themselves, with some assistance. If you have a couple of extra pairs of hands and a simple project, you could even do a small birthday party here. It's definitely a departure from some of the other kid party options that are out there and it's kind of fun to do something that stands out, huh? It's definitely cooler than the pizza place or the bouncy jumpy place. Please note that there are some age limitations on afternoon and evening classes. My best advice is to talk to Ben or the staff at the DIY Studio and let them help you plan your class that includes kids.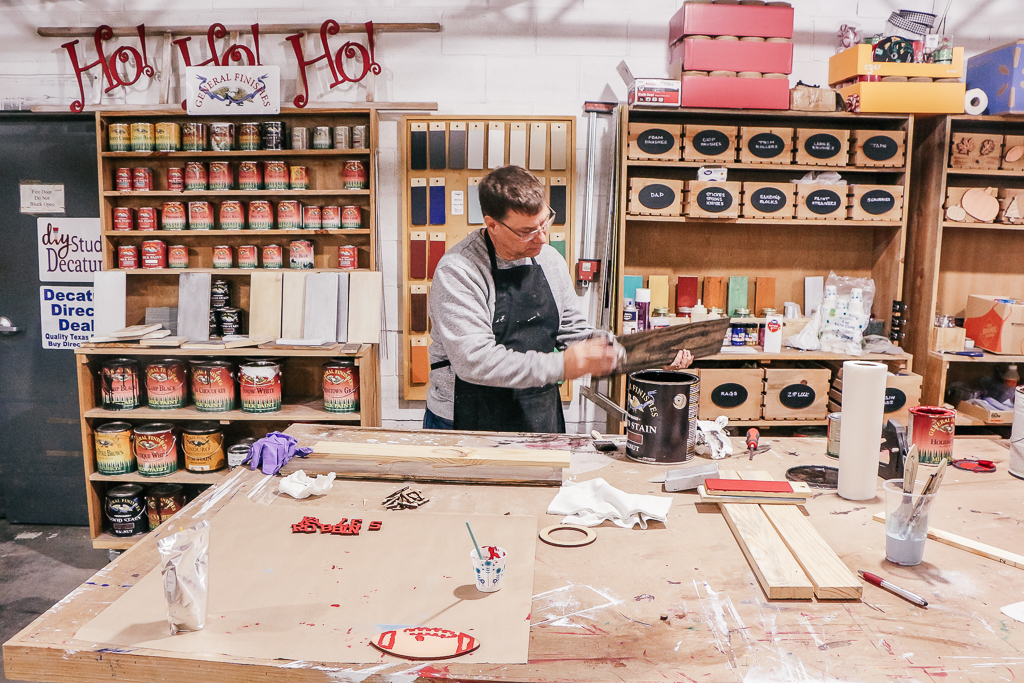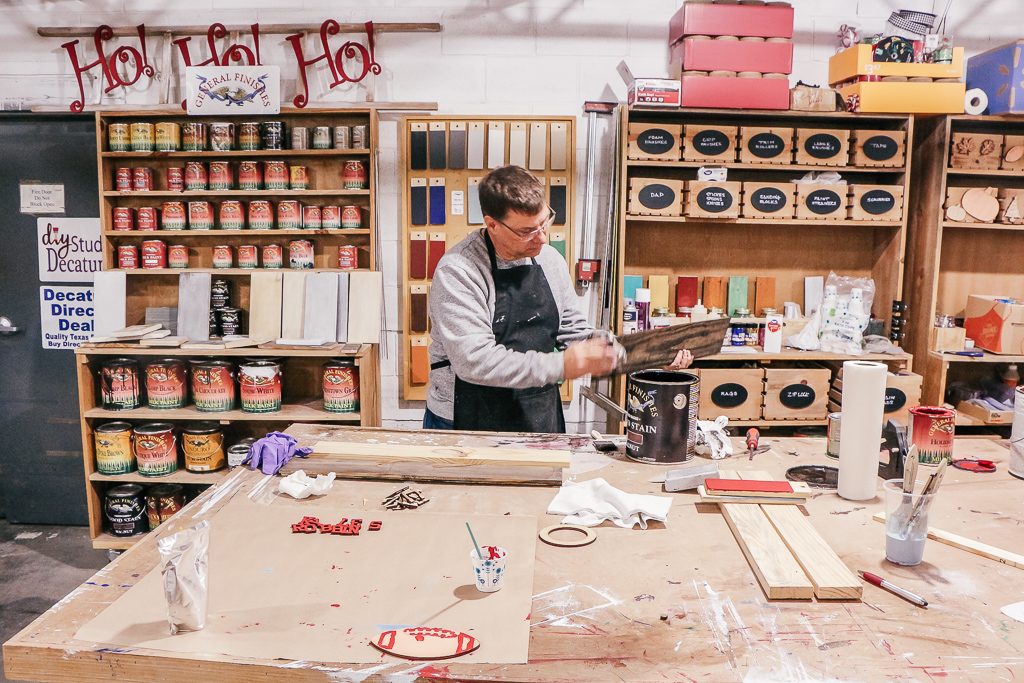 There's also a nearby field where you can "pick glass." The DIY Studio Decatur used to be a glass factory and there's all kinds of interesting, vintage glass coming up in the soil. It's some kind of reverse erosion science thing, but Lynne, one of the owners, told me she's picked buckets of it and more always pops up.
As much fun as I had with my husband and my kids at the DIY Studio Decatur, I think where this venue really shines is girl's days or corporate events. I would love to grab a few friends and some munchies and drinks and spend an few hours chatting, laughing, and listening to music while making a project…with no kids, husbands, or responsibilities for doing anything else except having fun and making something you're proud of. This is an EASY day trip from lots of places in Texas and such a fun weekend spot if you want to make a fun girls weekend of it or even organize a retreat for a group with more structured needs.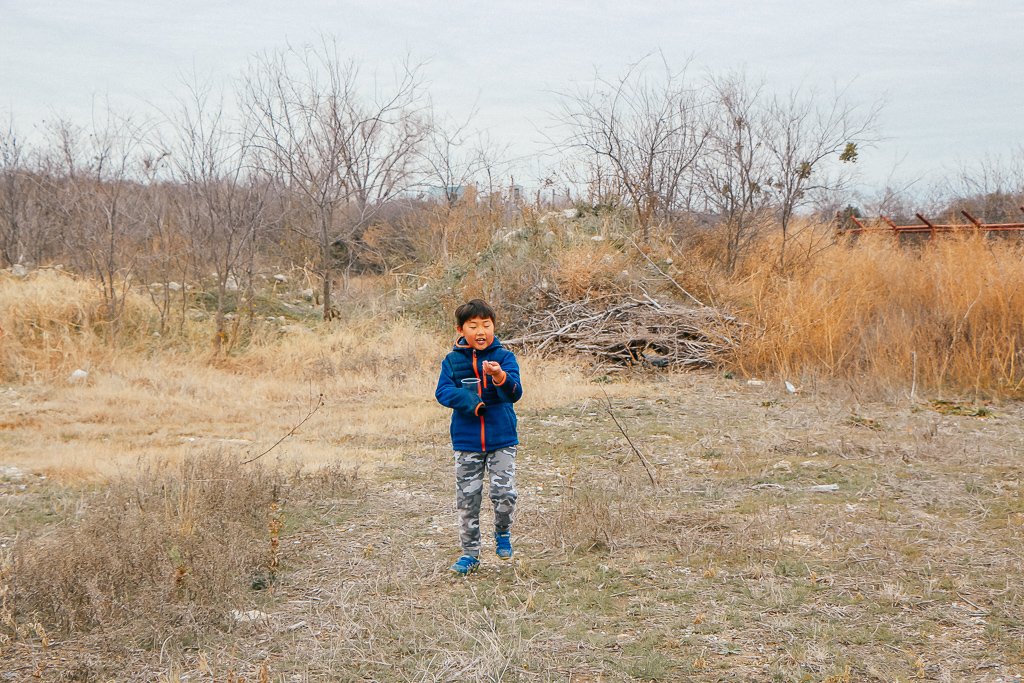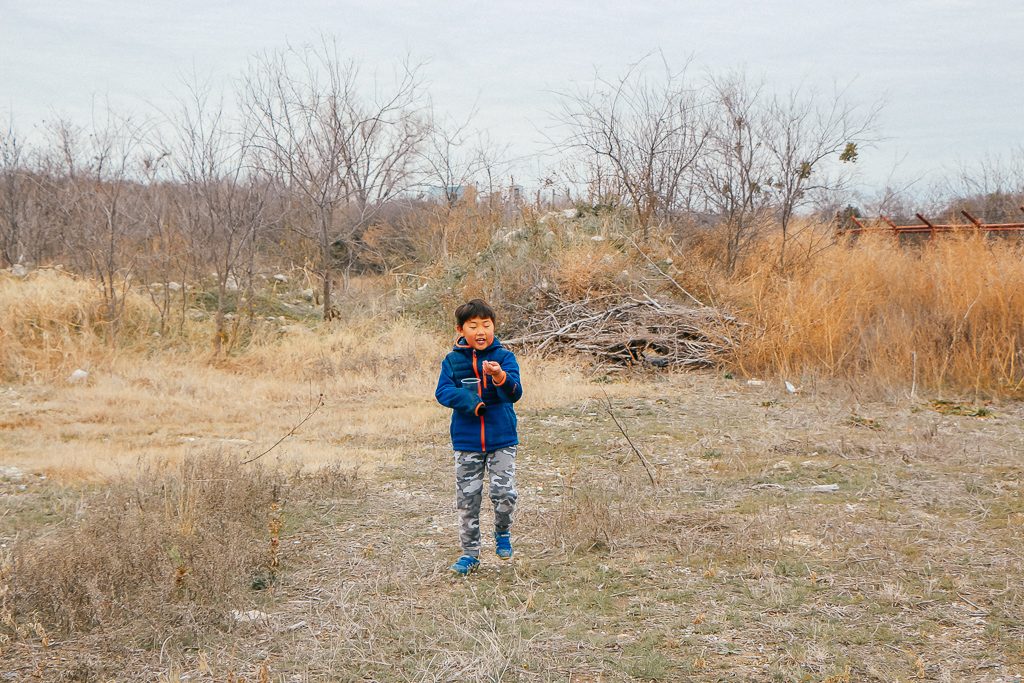 This is the perfect spot for reunions, bridal showers, church retreats or any other group you can think of. And, corporate team building events are becoming more and more popular. This would be a great place to scope out for a team building day. There's so much space and so much you could do.
Do I need reservations?
Yes. You can join an existing class that's already on the books or book your own group but either way you need to book your classes ahead of time. Booking ahead of time allows the DIY Studio Decatur to prepare for your class by having the necessary experts and materials on hand to make your class rock.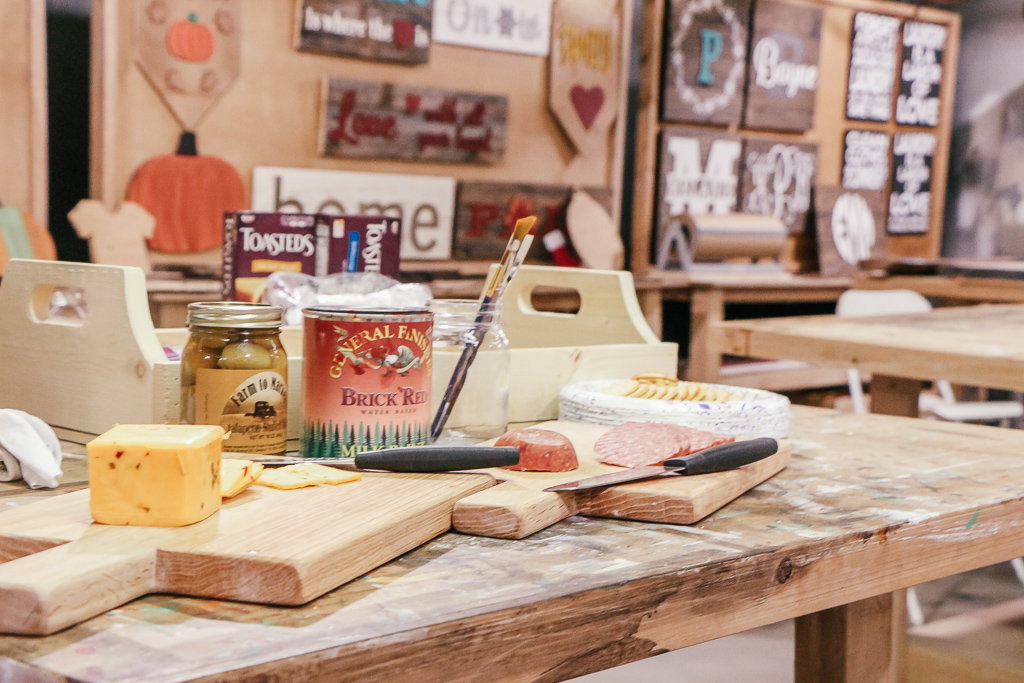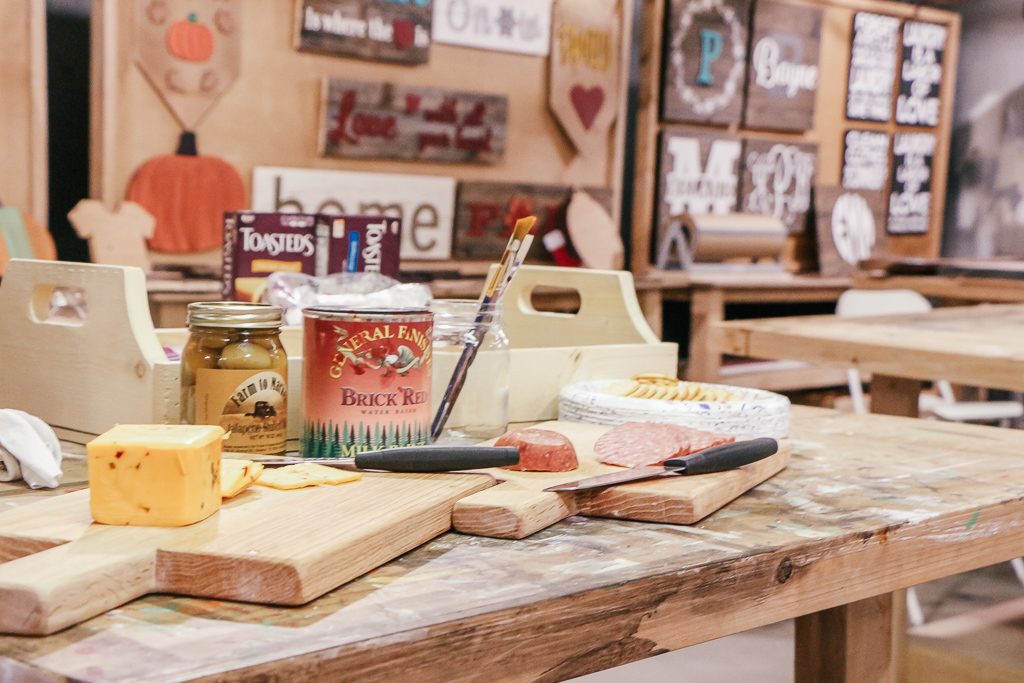 What else do I need to know?
The average cost of a project is $45.
If you need to reschedule a class you've already booked, any credit can be applied toward existing classes.
Wear clothes you don't mind getting a little paint on.
You can shop the warehouse and sample projects in the studio. There are an awesome selection of wooden cutting boards – if you don't see them, ask to see them.
If you're interested in mobile classes – as in having the DIY Studio Decatur folks come to you instead of vice-versa – that can be done…just know your choices of projects will be more limited.
The building the DIY Studio Decatur is housed in has a really fun history. It was once home to a company called Texglass, Inc., which closed 40 years ago. Texglass was started by an Austrian Jew who fled his home country due to Nazi occupation, eventually settling in Texas. The company made glass tableware and was best known for their thumbprint style drinking glasses – which you can find on ebay if you've got some extra money to spend. The story of the Rosenzweigs is pretty impressive and maybe part of the reason the building and grounds have such a clean and cheerful vibe. I believe places have personalities that are shaped by the people who inhabit them – maybe a little new age and obviously, you don't have to buy into that, but it is a good vibe kind of place. But feel free to not take my word for it and check it out for yourself.
You will have the absolute best time. Bring your snacks, bring your beverages (water is provided) and your sense of fun.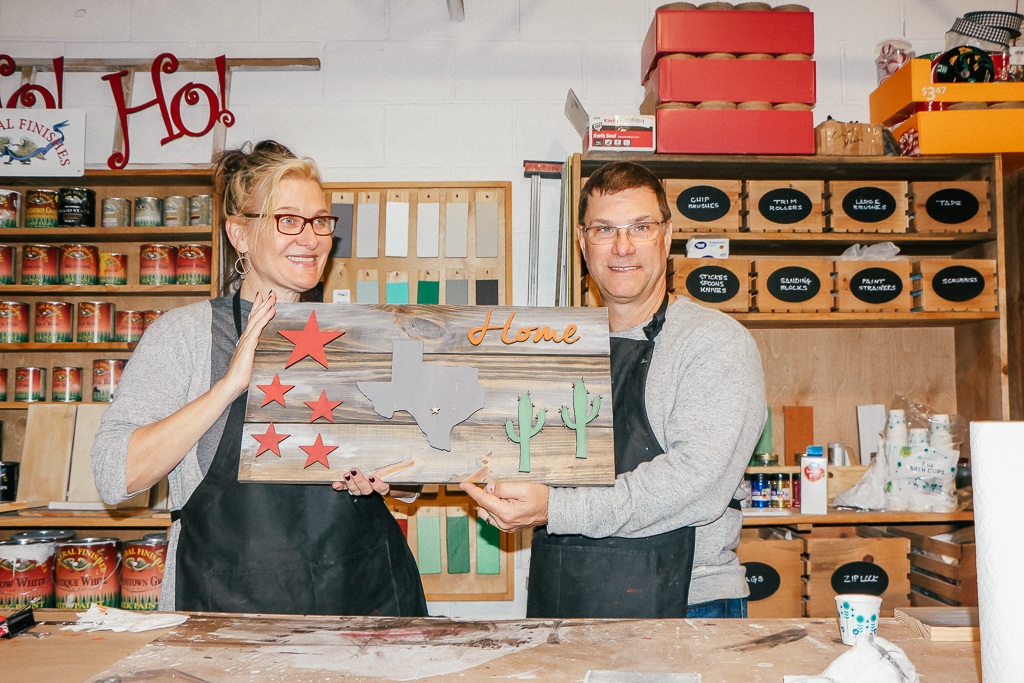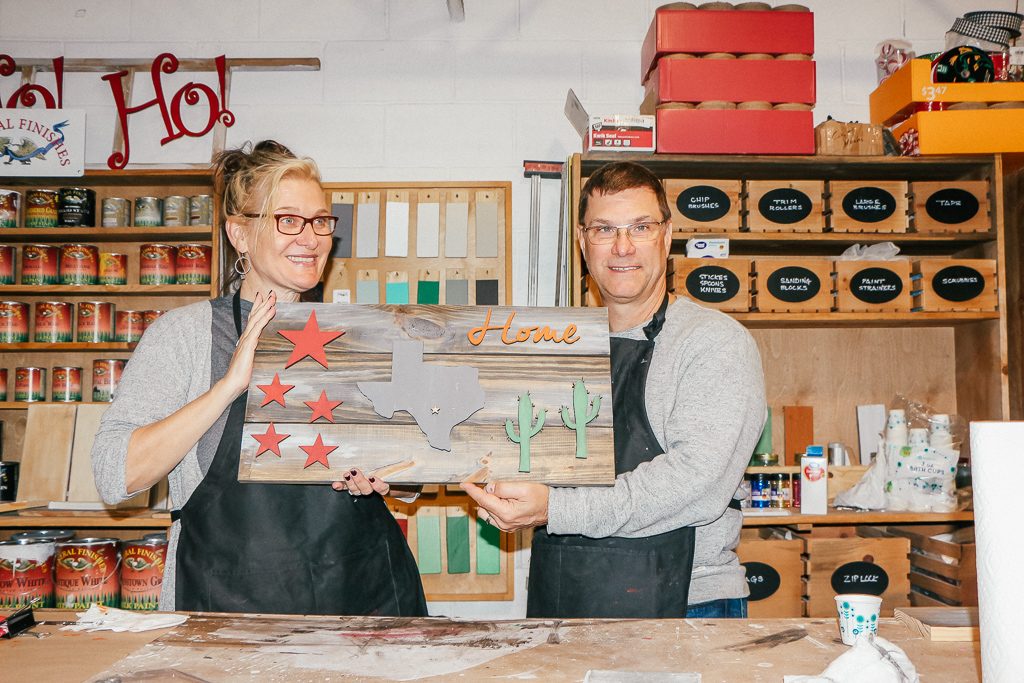 Other things in Decatur Texas
If you're doing a couple's retreat or a girlfriend's weekend, you'll probably want something to do outside of visiting the DIY Studio. Decatur Texas has lots of places to go for a nice lunch or dinner, and if you really want to schedule some other activities, there's archery classes (they even offer date night archery), yoga, and more. There's also great shopping and cool, quirky spots to take lots of pictures. Where else are you going to have your picture taken in front of a mural of a T-Rex wearing a saddle and a cowboy hat? Yes, you read that right. Here's proof: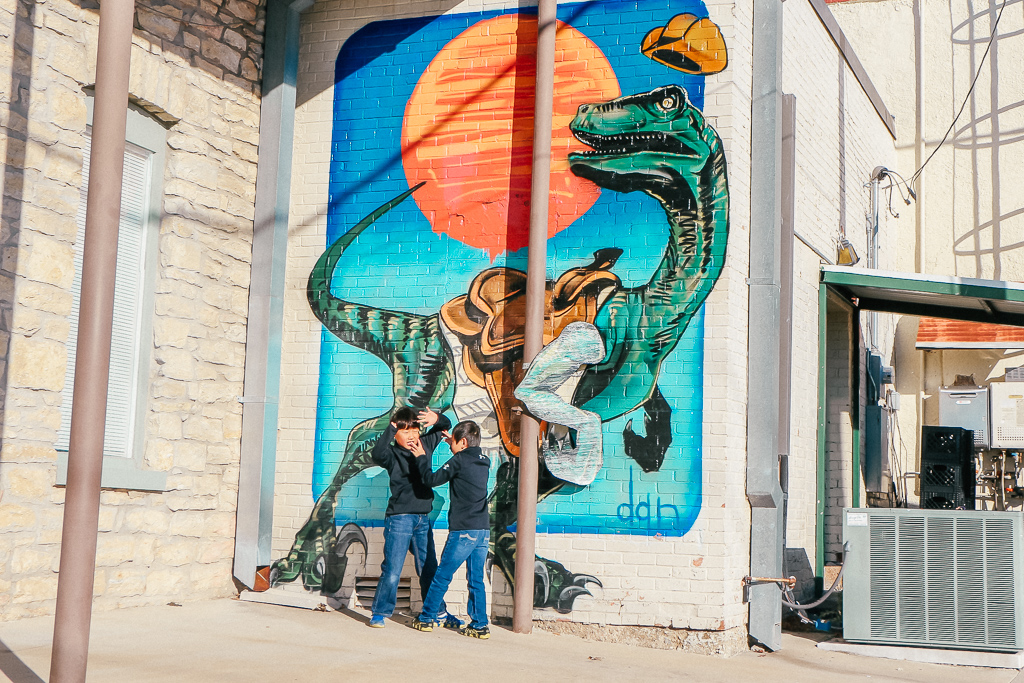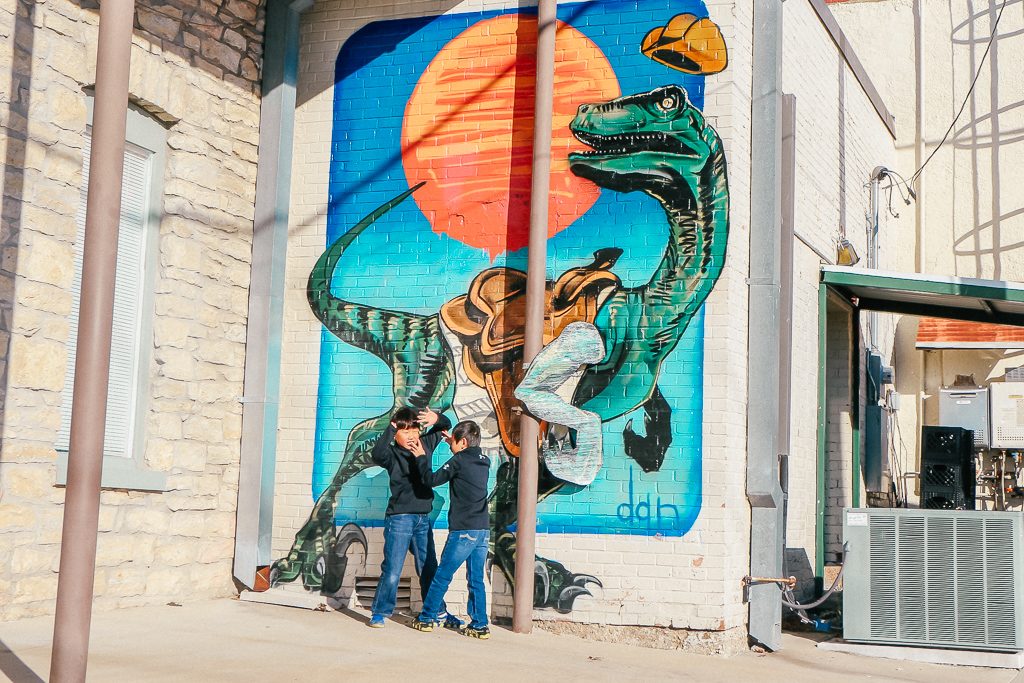 Where to stay in Decatur Texas
If you're spending the night in Decatur, I recommend the Fairfield Inn and Conference Center. It's located near the town square and all the activity and has everything you need. I've stayed in a lot of Fairfield Inns while traveling with my family and this is one of the very nicest I've stayed in. There's an attached conference center if you need meeting space of any kind, and as with all Fairfield Inns, free hot breakfast is included.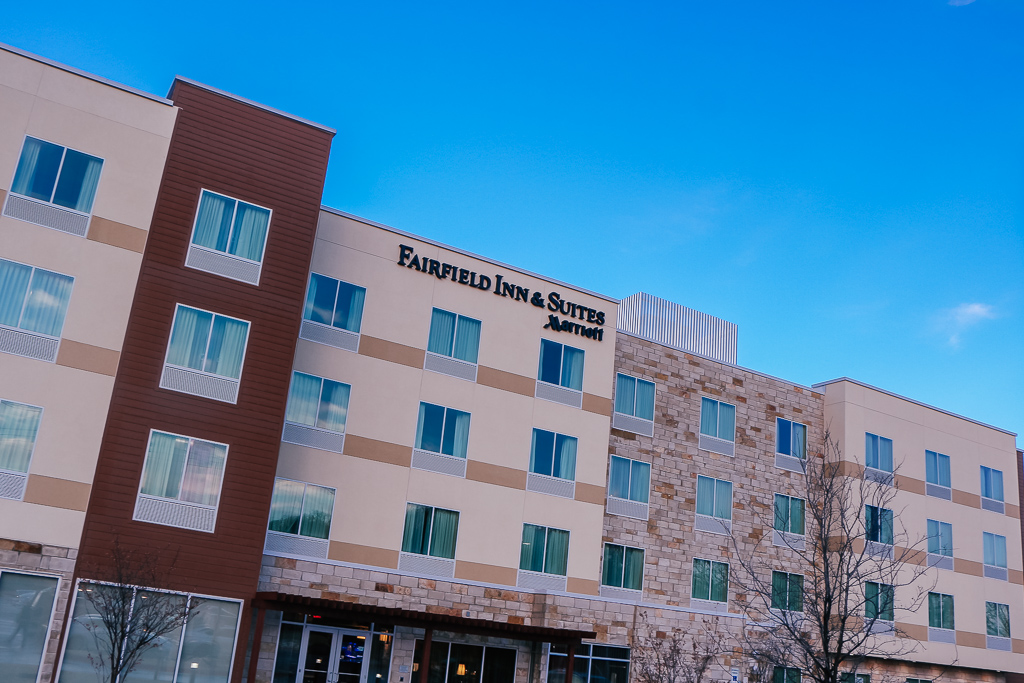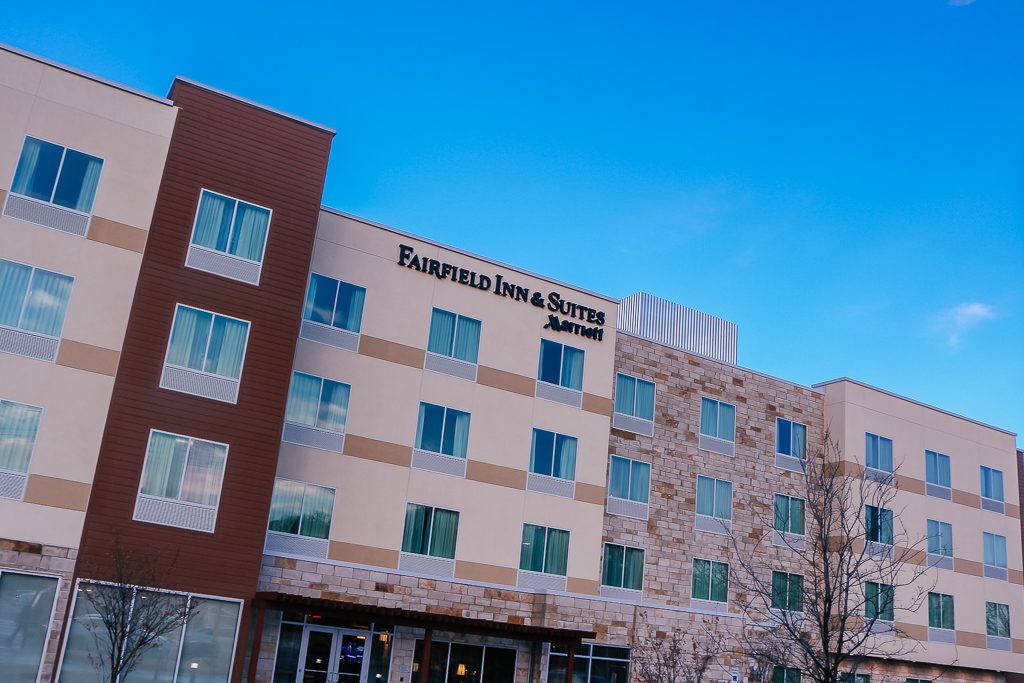 The location is great, the people are nice and the gym equipment was brand new. I saw it while looking in the window of the gym…I didn't actually use it or anything (although working out while traveling is one of my 2019 goals.)
Check out THIS POST for more info about Decatur Texas.
Check out THIS LINK for more information about the DIY Studio Decatur and to make your reservation.