My 20 Best Disney Cruise Tips
(This post may contain affiliate links. Read my full disclosure.)
Are you thinking about going on a Disney Cruise and wondering if it's the vacation for you? I'm sharing some of my best Disney Cruise tips and tricks that will get you ready for what will be your most magical cruise ever. Cruise Tips
My 20 Best Disney Cruise Tips
Here are 20 of my best Disney Cruise tips that will help you make the most of your magical time on the high seas.
1. Consider using a travel agent
You won't pay any extra for by using a travel agent who will earn their commission from the cruise line. Even though I feel very confident that I know the in's and out's of Disney cruises, I use a travel planner because they have access to the cruise line that I don't have.
As of May 2022, Disney Cruise Line is having some serious customer service issues and passengers are reporting 5+ hour wait times on the phone. The service on board the ship is still stellar (our most recent disembarkation is May 8, 2022) but their call center service has some issues.
If you use a travel agent to book a Disney Cruise, use one that specializes in Disney Cruises and Disney Parks.
2. Download the Disney Cruise App
Download the free Disney Cruise app, The Navigator, from the iTunes or Google Play Store as soon as you book your cruise. You can use the app before you board to book activities or check in (although I personally prefer doing this on a computer) and once on board, you can use it to view activities schedules, communicate with other passengers, and even book a placeholder for a future cruise.
The Navigator also features a Disney Cruise countdown. It's a fun way to keep that dream vacation in sight and share with your friends.
Note: Once you're on board the ship, put your phone on airplane mode and log in to the app. You can get access the Navigator, which will give you the scoop on all of the on-board fun, and if you want to purchase wifi to stay connected at sea, you can do that, too.
3. Book port excursions and on board activities as far in advance as possible
First-timer Disney Cruisers: 75 days
Castaway Club Silver: 90 days
Castaway Club Gold: 105 days
Concierge/Castaway Club Platinum: 120 days
Not knowing the timeline on booking activities was one of the Disney Cruise tips I really could have used on my first Disney Cruise. I waited way too late and popular excursions and on-board activities book up quickly.
I log in to my account at midnight Eastern time the day my booking window opens and I know I'm getting a jump on passengers who don't do this or don't know to do this. I've usually not had trouble booking the activities I want but I can tell you from experience, waiting until the last minute leaves very slim pickings.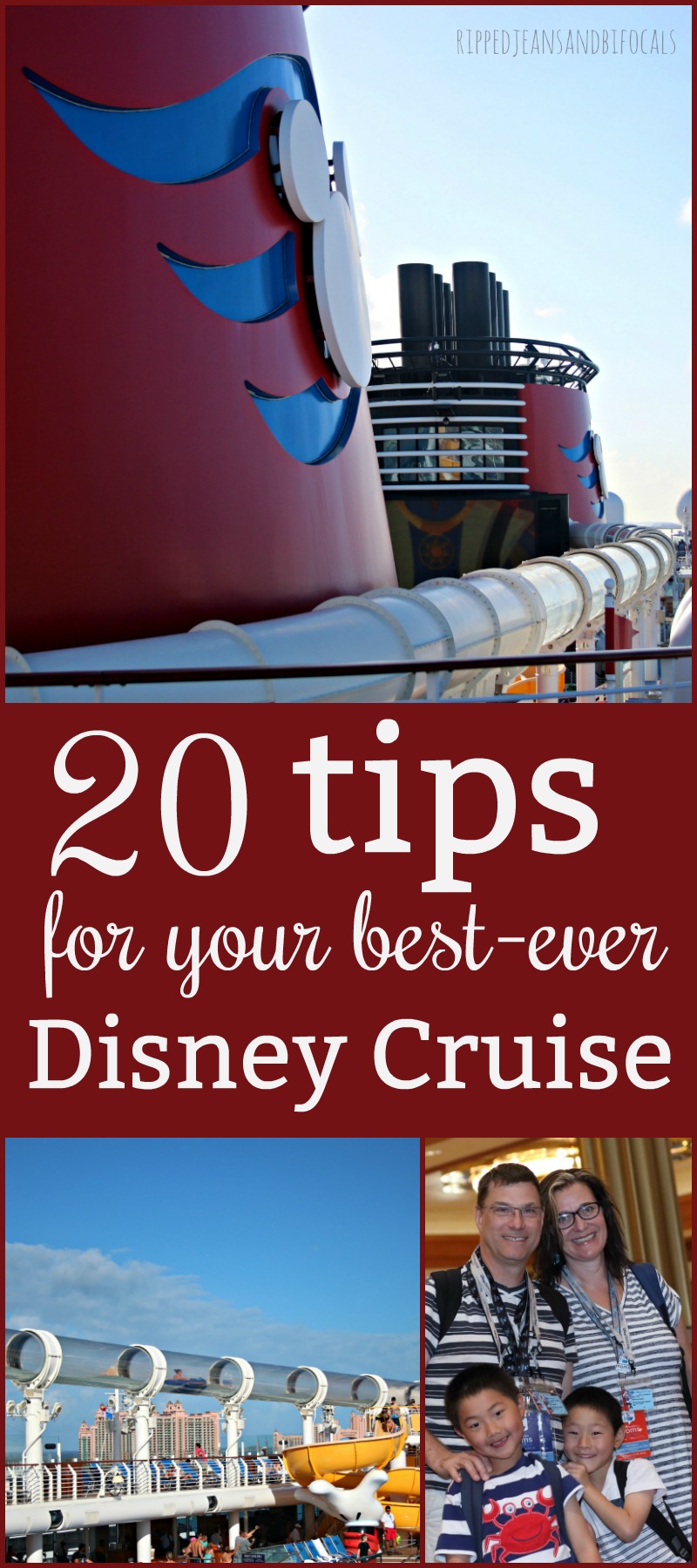 4. Plan, Plan, Plan
There are probably plenty of people that will disagree with this, but plan what you're going to do on board your Disney Cruise. If you adopt the "go with the flow" attitude, you're probably going to miss out on some opportunities.
Some activities need to be booked in advance and come with an extra charge and others you'll see in your the app once you get on board and adjust your app settings to show you're on board.
There is SO MUCH to do on board a Disney Cruise and you will never be able to do it all, especially on a shorter sailing. After your booking window opens you'll be able to see your exact options for port adventures and on board experiences as well as what days and times those activities are available.
I recommend spending some time browsing through the website to see what type of options are likely to be offered. Talk to your travel agent, if you're using one. If you know you want to book an alcohol tasting seminar or a certain kind of spa experience, be ready to book them when your window opens. They may not be there if you wait.
Other things to do include Broadway quality shows, first run movies, pools, splash pads, waterslide, trivia, family games, dancing, spa experiences, character meet and greets, and more. There is SO MUCH stuff that you will NEVER be able to do it all…so make a short list of what you'll be disappointed if you don't do and work from there.
5. Book on-board special experiences early
There is a ton that's included on a Disney Cruise, much more than any other cruise line. There are some experiences that need to be reserved and paid for separately, such as spa services and alcohol tasting seminars and some free experiences that need to be reserved, such as certain character meets.
If you're interested in taking your pirate or princess to the on-board Bibbidi Bobbidi Boutique, you will want to need to reserve while you're still on land. Ditto for spa experiences, signature dining and some character experiences.
If you're interested in booking port excursions, don't wait until you're on board because you'll get the slim pickings. Don't get me wrong, you will always find wonderful things to do but if you have your heart set on particular experiences, book them before you sail.
If your requested experience is unavailable, go straight to Guest Services once you get on board and see if you're able to book. If you've got your heart set on a certain experience, keep checking back or ask if you can be put on a wait list. Cancellations do happen.
6. Order Room Service
You will enjoy complimentary room service as part of your cruise package price. In most hotels and resorts, room service is pretty pricey, so take advantage of this on a Disney cruise.
We love ordering continental breakfast from room service. This allows us to enjoy our coffee and some light bites from the privacy of our own room. You can also order cookies and milk or a Mickey ice cream bar before bed, which is really fun.
Read the fine print – while there are a large variety of free items available from room service, there are a few menu items that are not free.
7. Pack your day bag
You'll typically check your suitcases with a porter before getting on the ship (make sure you tip) and your luggage will be brought to your room later on embarkation day. You will receive luggage tags from Disney Cruise Line before your trip so they'll know what stateroom to bring your bags to. Your luggage will be placed outside your stateroom door and you'll be responsible for hauling it inside.
Note: If you travel really, really light, you can bypass the porters and carry your bags on the ship with you. The upside is you'll won't have to wait for your bags (although speed of delivery is something I think Disney is really on the ball with) and the downside is you'll have to carry your bag all over the ship until your room is ready – typically about 2:30 p.m.
Related: One of my favorite day bags
You might board as early as 11:30 p.m. so that leaves you lots of time to enjoy the ship before you can access your stateroom so you'll want to carry on everything you'll need for your first few hours on board with you.
Things to carry on:
Swimsuits and sunscreen
Essential medications
Travel documents
Phone charging cables
Power supply
Any other item you'd be uncomfortable without for a few hours
Although I've never had my luggage show up late on a Disney Cruise, wear something your first day you're OK going to dinner in. First night dress is usually cruise casual in the dining rooms.
8. One of the Disney Cruise tips you need to be in the know about – The alcohol policy
Each guest 21 years of age or older can bring two bottles of wine or six beers on board. These must be carried on, not packed in your checked baggage.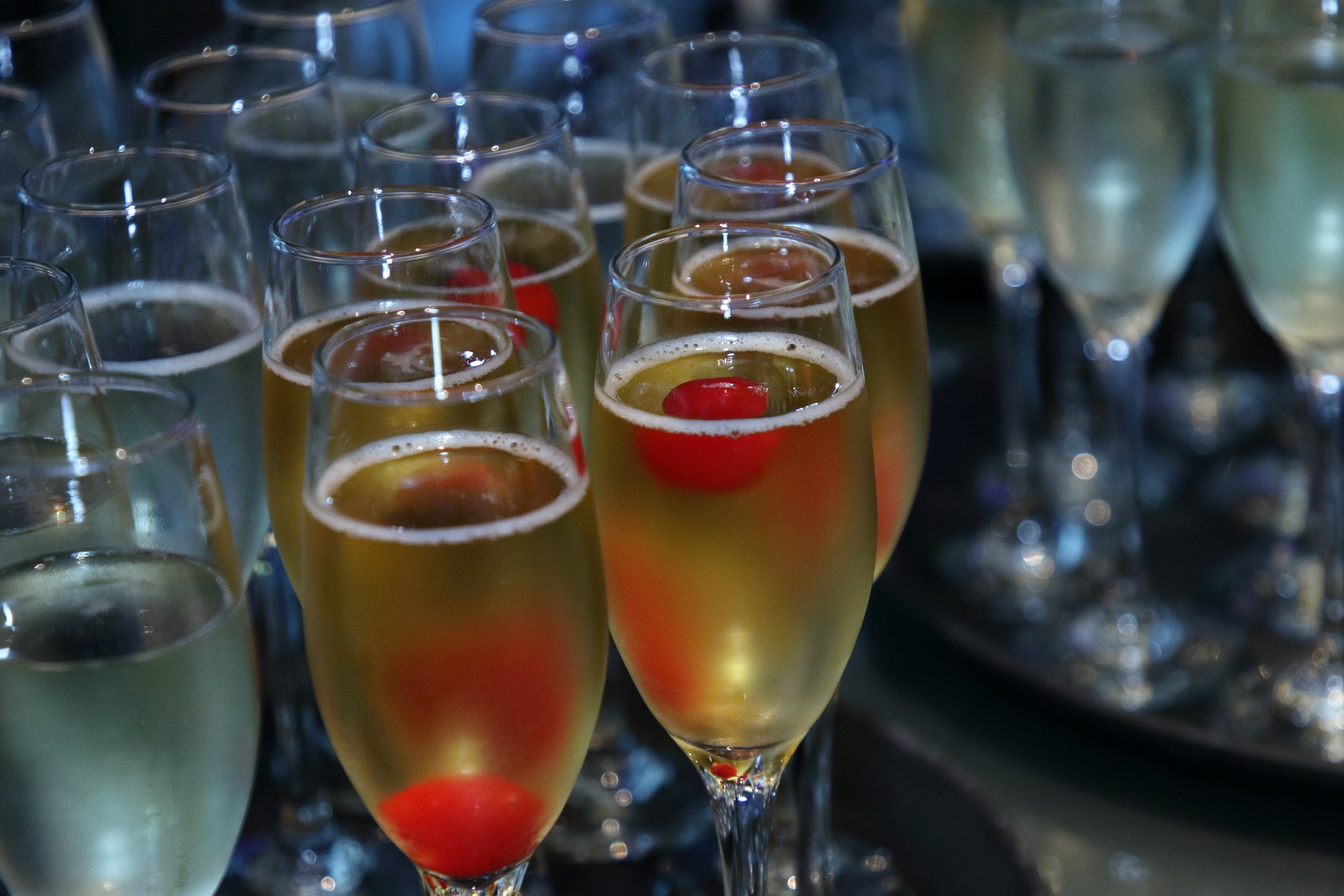 If you consume the wine you bring on board in one of the dining rooms you will be charged a $25 uncorking fee. For more on Disney Cruise Line's alcohol policy, read here before you sail. Specific fluid ounce limits and other things apply. I recommend pouring your wine in your room and taking it into the dining room with you versus paying an uncorking fee. I'd walk back to my stateroom for a refill before I'd pay someone $25 to open my $12.99 bottle of wine.
Disney does not offer alcohol packages as some other cruise lines do. You can purchase a wine package in the dining room but the unlimited alcohol for a flat daily rate isn't available on a Disney Cruise. They do have "the drink of the day" which will usually run about $5 (versus the $8-$10 the price of a regular cocktail will run you) and there are happy hours which will offer between 30 and 50 percent off drinks. These are advertised in your navigator.
9. Have a first day plan
Have some idea of what you want to do during your first couple of hours on board. Seeing all the things can be a little overwhelming for a first-timer and here's where that planning kicks in. Most people head towards the food to get a jump on that awesome Disney Cruise Line dining. The buffets are great but they're typically crowded so as soon as you get on the ship is a great time to enjoy fewer guests in the space.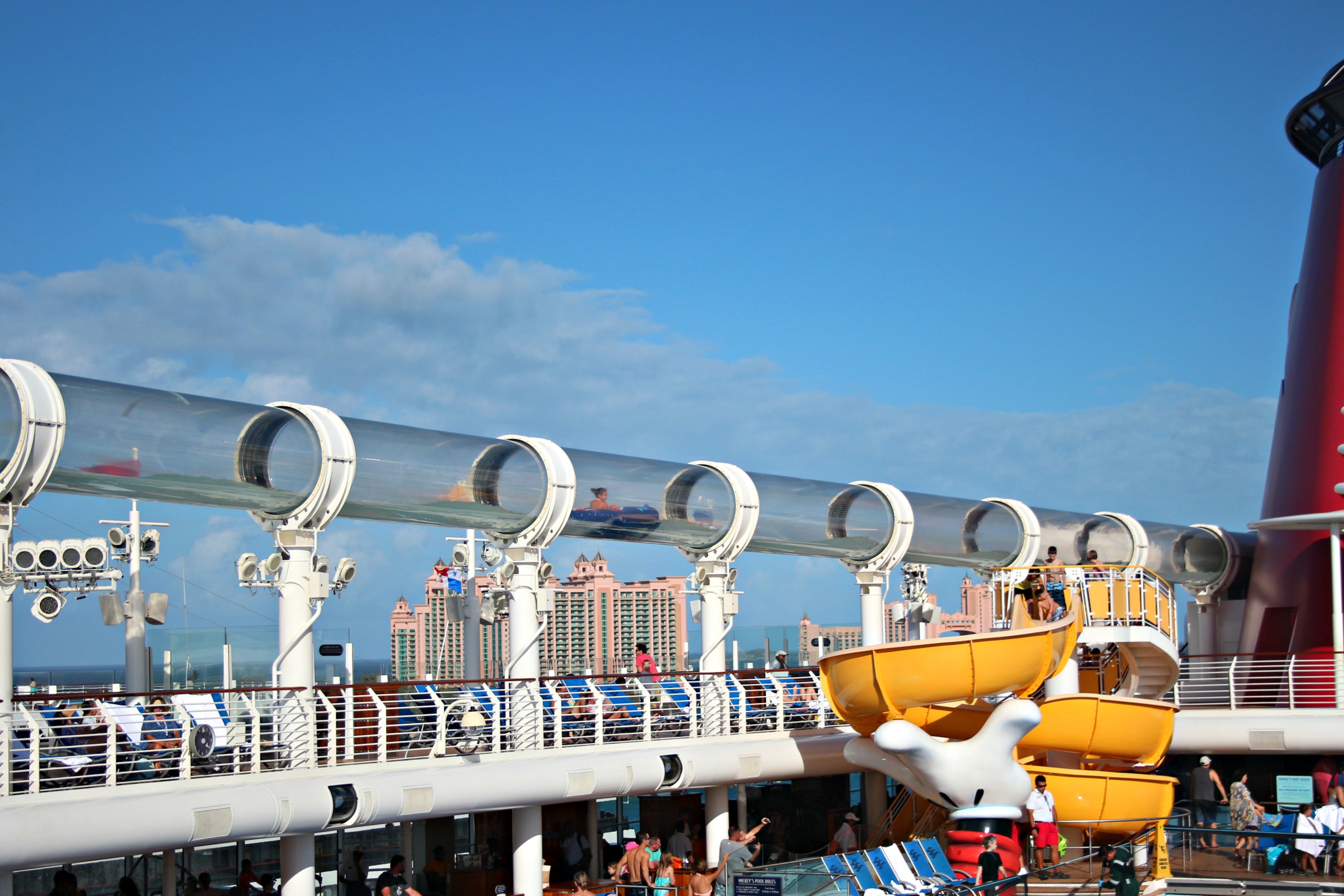 The on board water slides are very popular. The Dream and the Fantasy have the AquaDuck, a water coaster that travels around the ship. Riders are seated in a two-person raft and slide around the ship in a clear tube, getting ocean and pool deck views. The Magic has the AquaDunk, a short, powerful water slide that begins with the floor dropping out from under you and shooting you into the slide. The Disney Wonder has a tamer water slide.
These water slides are popular with wait times as long as an hour. Embarkation day is your best shot at a short line. Many cruisers wear their swimsuits under their clothes and head straight for the slides.
No matter what you choose to do, have some idea of where you'll head once you get on the ship. If you didn't get into that Mixology Class or Palo brunch reservation, you'll want to stop at guest services as soon as you get on board to see if they can secure you a spot. No guarantees but if you didn't get to register for something you were interested in, ask as soon as you board.
10. Film your embarkation
Make sure you've got your video on when you get on the ship. When you get to the end of the gangway, a Disney Cast Member will ask the name of your party and you're going to want to capture the magic that happens after that.
11. Eat lunch at a table-service restaurant on embarkation day
The Disney Cruise Line app, the Navigator, will tell you what dining room as serving lunch on embarkation day. You can also ask a crew member.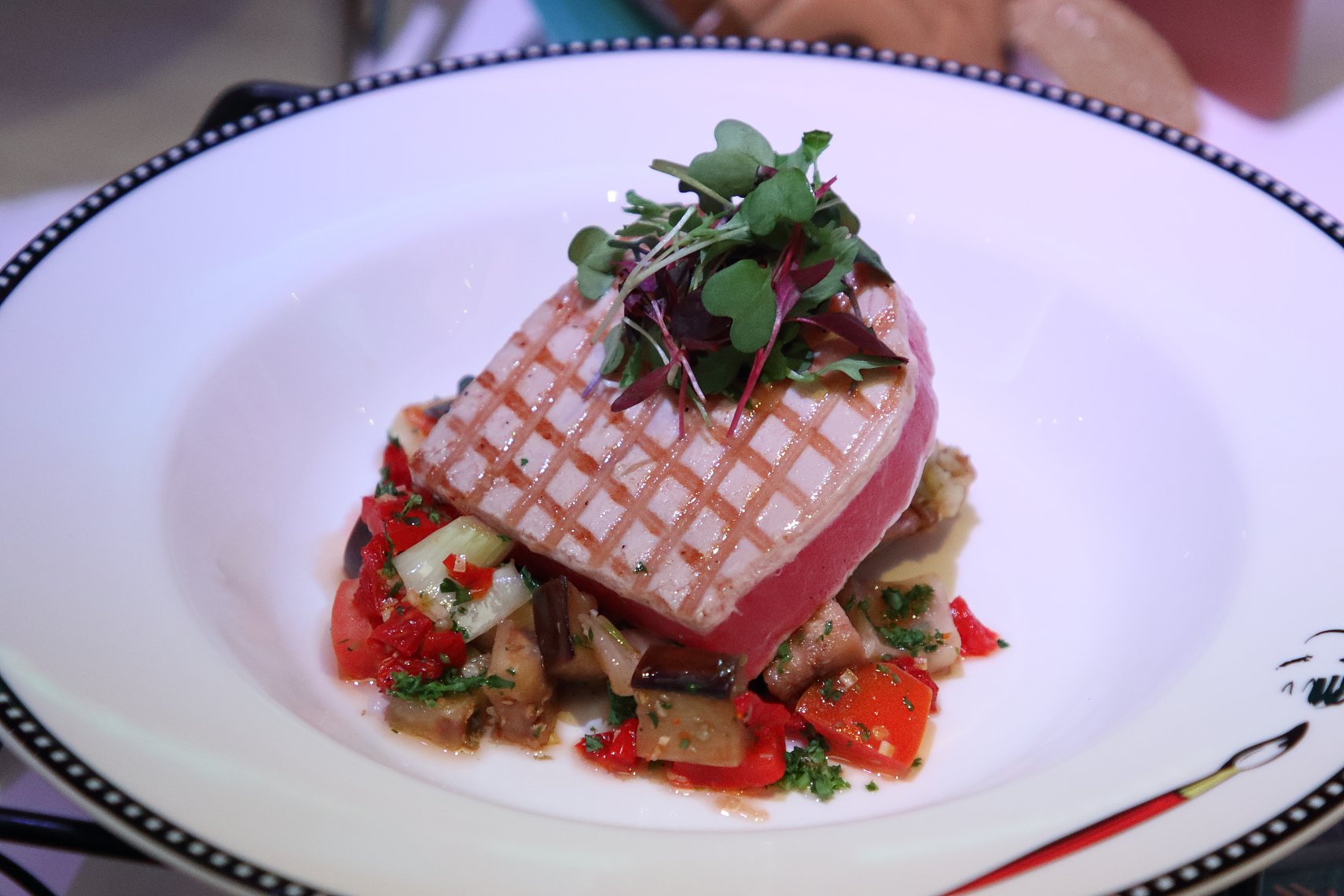 The grilled Tuna Steak from Animator's Palette. The chef recommends the tuna cooked rare. Note: This picture was taken in early 2018 on the Disney Dream at lunch.We always skip the buffet on the first day and usually prefer eating lunch in the dining room versus the buffet. We like the quieter pace of table service and it's just a more luxurious experience that sets the tone for our cruise in a way that elbowing your way through a buffet doesn't. Don't get me wrong – Cabanas is great but the more relaxed (and less crowded) atmosphere in the table service restaurants is an experience you shouldn't miss.
12. One of the Disney Cruise tips you really need: BYOC (bring your own candy)
Most of the food on a Disney Cruise is included in the cost of your cruise but there area a few things that incur an additional charge. One of those is the theater concessions. The Broadway caliber stage shows and Disney movies, even first-run movies, are all included but your popcorn and candy isn't.
To avoid spending the extra money grab your Junior Mints, Good and Plenty, Milk Duds before you sail. Yes, it's one more thing to pack but the savings is worth it. Check out this candy bundle – it's got all of your favorites.
Also, sodas in the dining rooms and from the self serve fountains on deck are included in the cost of your Disney Cruise but if you order sodas in the lounges, at the movie theater concessions or from a server in the actual theater, you'll be charged.
14. Register for Kid's Programs before you sail and plan to attend open house
Registering the kids ahead of time will make your embarkation much easier, although you can register at the port or in the kid's club. It doesn't take long to register online but if you wait until embarkation day to do it, you might find yourself in line behind other people.
If you get to the cruise port without registering and you see a line at the port, try your luck at the actual kids club. You'll be asked to provide details on who can sign out your kids and whether they're allowed to sign themselves out. For Edge and Vibe, the tween and teen clubs, simply visit on the first day and get a sticker on your child's Key to the World Card.
If you or your kids aren't sold on the kid's club, go to open house on the first day and check them out. We loved visiting Edge and Vibe before our kids were old enough to go so they could get a peep at what the next level would look like. I've included a breakdown of the kid's clubs below.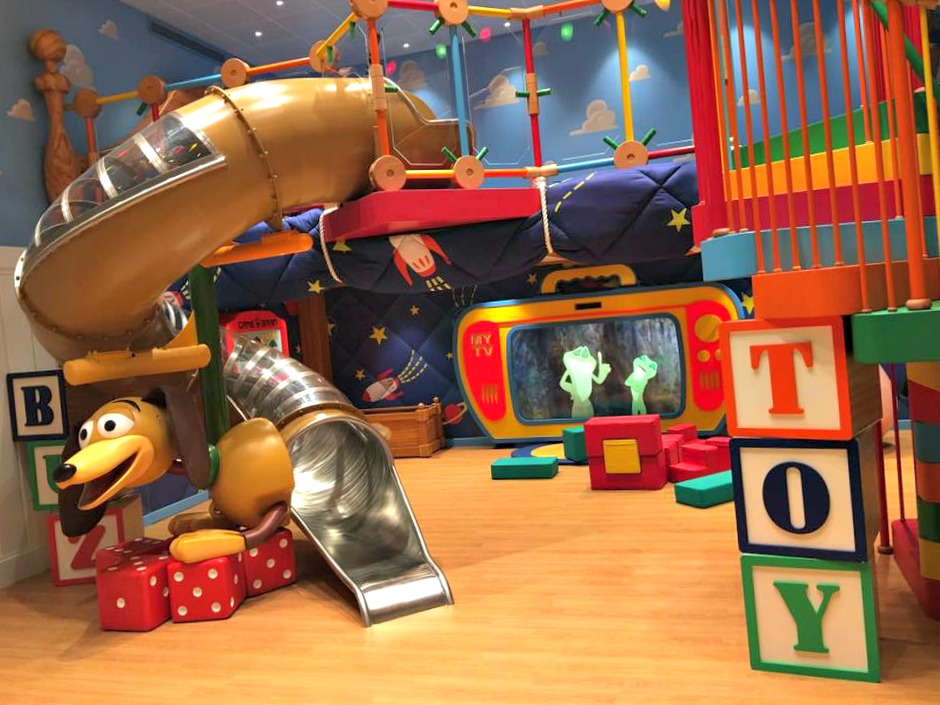 Kids Clubs on Disney Cruise Line:
Small world nursery
f your kids are younger, the It's a Small World Nursery is for kiddos ages six months through three years. Since our kids are older, I don't have firsthand experience with this service but you can check out the specifics here.
Oceaneer Club and Oceaneer Lab
For ages three to 12, there's the Oceaneer Lab and the Oceaneer Club. The Oceaneer Lab offers fun through imaginative themed activities and games. Kids can take part in self-guided or group activities. The Oceaneer Club was simply amazing. If you're the type that suffers mom guilt for "dumping" your kids while you go have fun, you will feel good about letting your littles enjoy the kid's activities on a Disney cruise.
One of the COOLEST things about the Oceaneer Club is that it moves to Castaway Cay when the ship stops at that port. They have an awesome sand play area, playground and splash pad.
Teen and Tween Clubs
If you have tweens (11-14) check out Edge and for the 14 and up, there's Vibe. We were seriously impressed the Oceaneer Club. I completely understand why my kids loved it so much. If you want an up-to-date run down of the youth activities on all four of the DCL ships, go here.
15. Unpack
Staterooms are small but designed to be efficient. There's ample storage space under the bed for your luggage and the storage units are designed for your ease.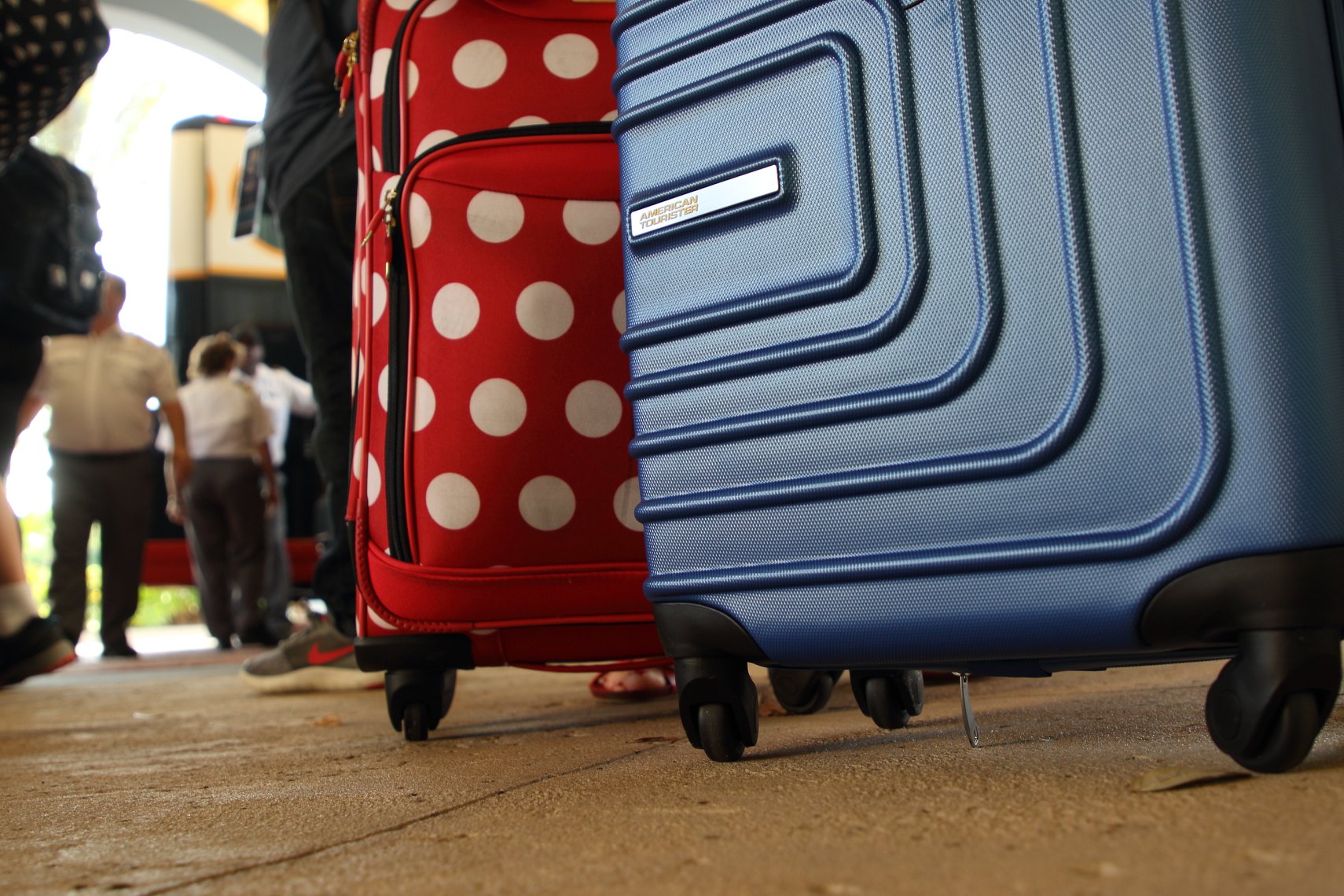 I recommend taking your clothes out of your suitcases and hanging them up or putting them in drawers. When you're in a small space, digging through suitcases every time you need to change clothes or find something is a pain. Take a few minutes and get situated and you'll find it easier to find things during your cruise.
Check out these luggage recommendations – we are big fans of carry-on sized American Tourister hard sided luggage:
16. on a tight budget? Pick an inside stateroom
A stateroom on board a cruise ship is much (much, much, much) smaller than your average hotel room. We've stayed in a Deluxe Oceanview Stateroom with Verandah (balcony) which is approximately 246 square feet, including the verandah space. We've also stayed in a Deluxe Inside Stateroom, which is 218 square feet.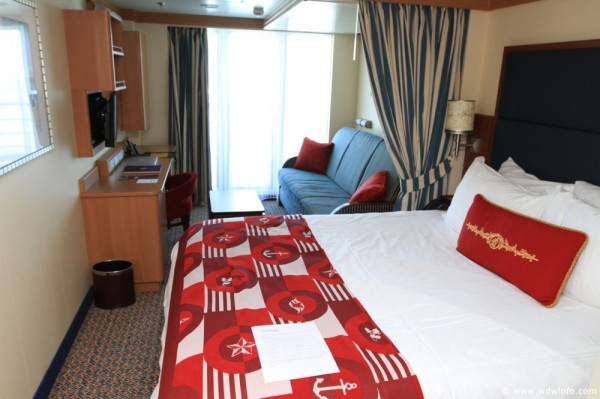 We have always stayed in verandah staterooms but we decided to book an inside stateroom on our most recent cruise on the Disney Magic, just to see what they're like. We found we didn't miss the verandah at all and loved the dark stateroom for sleeping. The usable space was about the same, maybe slightly smaller.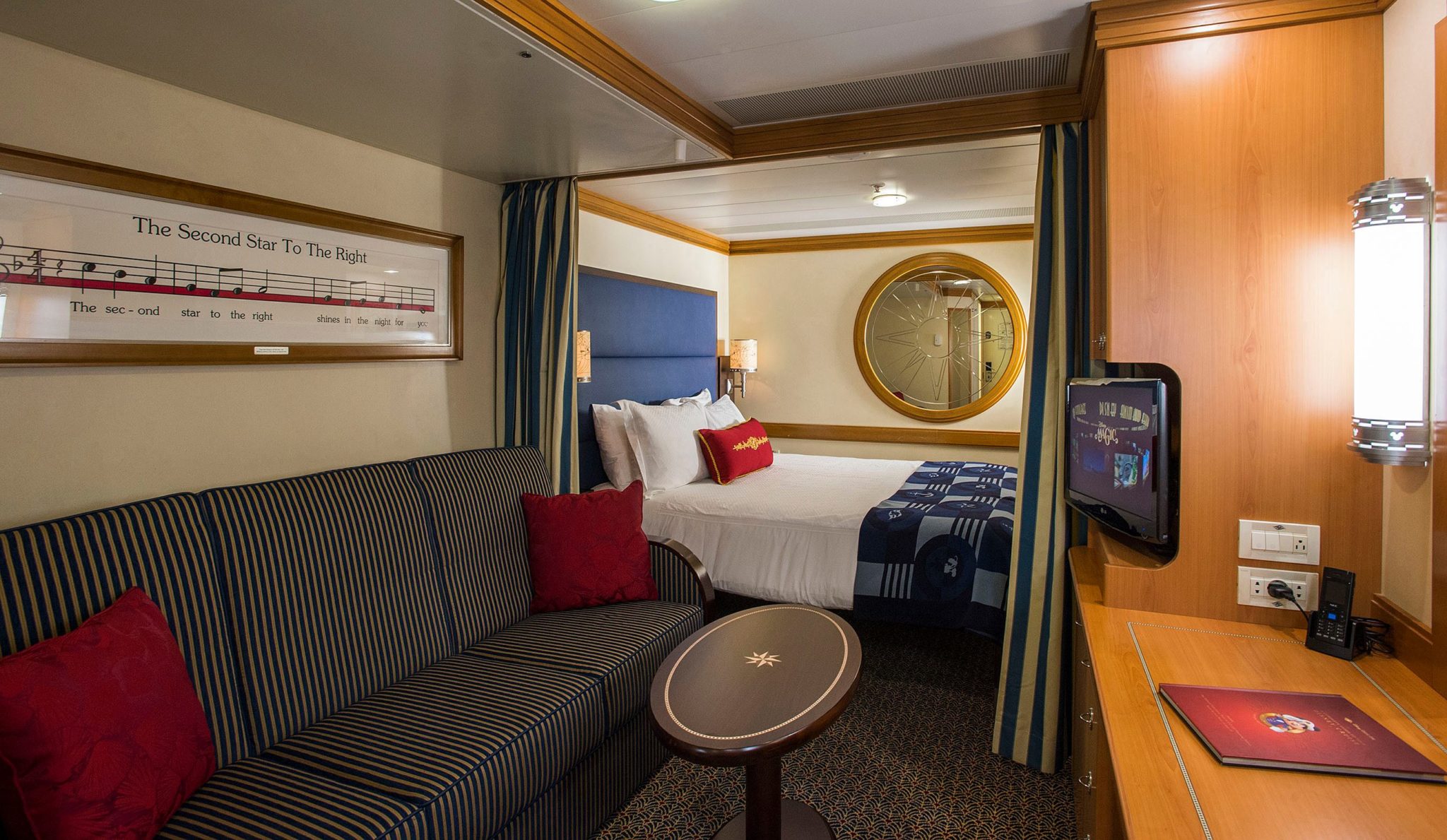 The next step up is Concierge Level. Concierge staterooms are larger and come with lots of perks, such as priority boarding and lounge access.
17. Check out the Spa
The Senses Spa on board the Disney Cruise Line offer an awesome array of treatments. To get the exact treatment you want, it's always best to book while you're still on land but you'll find opportunities and specials when you get on board, too.
The Senses Spa usually offers a giveaway the first day of your cruise, so if you're really interested in a spa treatment, go say say hi and see what's available. In my experience, you have to be present to win and there's only one person who wins a true freebie. Lots of secondary "prizes" were given out but it seems lke go and say hi and see what's available. I've found the giveaways to be Check out the Rainforest Package, which allows you access to spa showers, steam rooms and heated loungers by the day or for the duration of your cruise. You can book a one day Rainforest Pass by contacting Disney Cruise Line directly. If you want a longer duration, you'll have to book on board.
Full disclosure, we haven't tried the Rainforest Package (totally doing that next time) but their massages are the real deal. The spa treatments are pricey but you might find them worth the splurge. We did.
18. Plan your day at Castaway Cay
If your Disney Cruise includes a stop at Castway Cay, take some time to figure out what you want to do during this magical stop. And yes, making a plan to do absolutely nothing is still a plan!
Castaway Cay is Disney's private island in the Bahamas. You can read more about it here.
There are a lot of fun port excursions available at Castaway Cay…if you're interested in one of those, book as early as you can to ensure you get what you want. Be aware that some Castaway Cay excursions might be cancelled due to weather.
There are so many options: fun water slides, bike riding, snorkeling, eating, shopping, or doing not much of anything on the adult's only beach, Serenity Bay (which lives up to it's name.) You can also get awesome beach front massages on Castaway Cay. These are glorious and I know this from firsthand experience. Make sure you book Castaway Cay spa treatment in advance.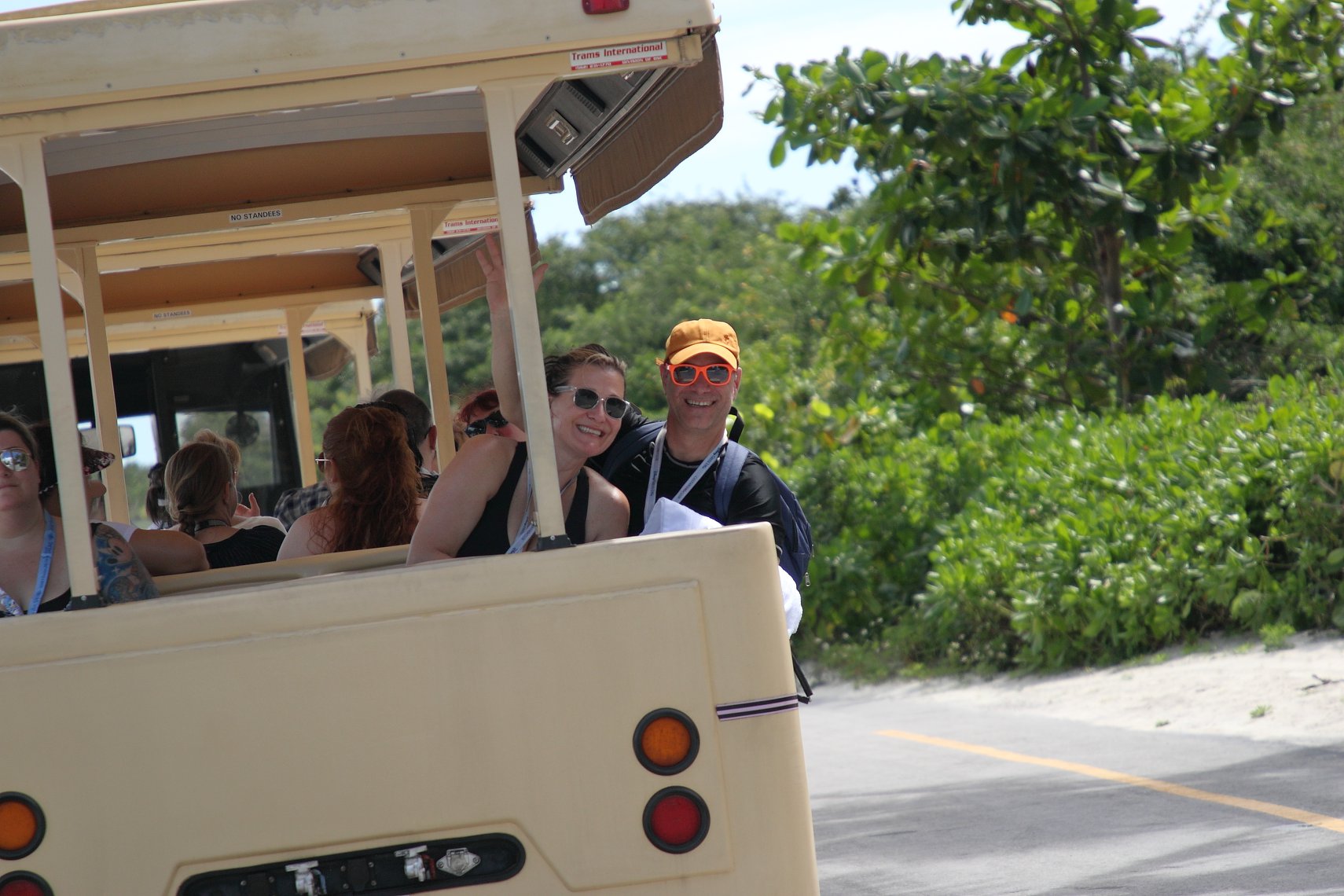 I highly recommend snorkeling on Castaway Cay. You can bring your own equipment with you but it's inexpensive to rent on the island and it takes up room in your luggage. If you plan to snorkel, do it early in the day. If you snorkel late in the day, the water gets stirred up and cloudy and you won't be able to see as much stuff.
Swim out to the end of the buoys to see colorful fish and sea turtles. Ask Cast Members on Castaway Cay where the underwater hidden Mickey's are. If you have a GoPro or an underwater camera, make sure to bring that and take lots of pictures.
Related post: The best travel gifts for kids
19. Do the Castaway Cay 5K…
…even if you're not a runner.
You get off the ship before everyone else and you get a fun, early morning look at the island. You can take your beach bag with you on the way to the race and drop it on a beach chair to reserve your spot.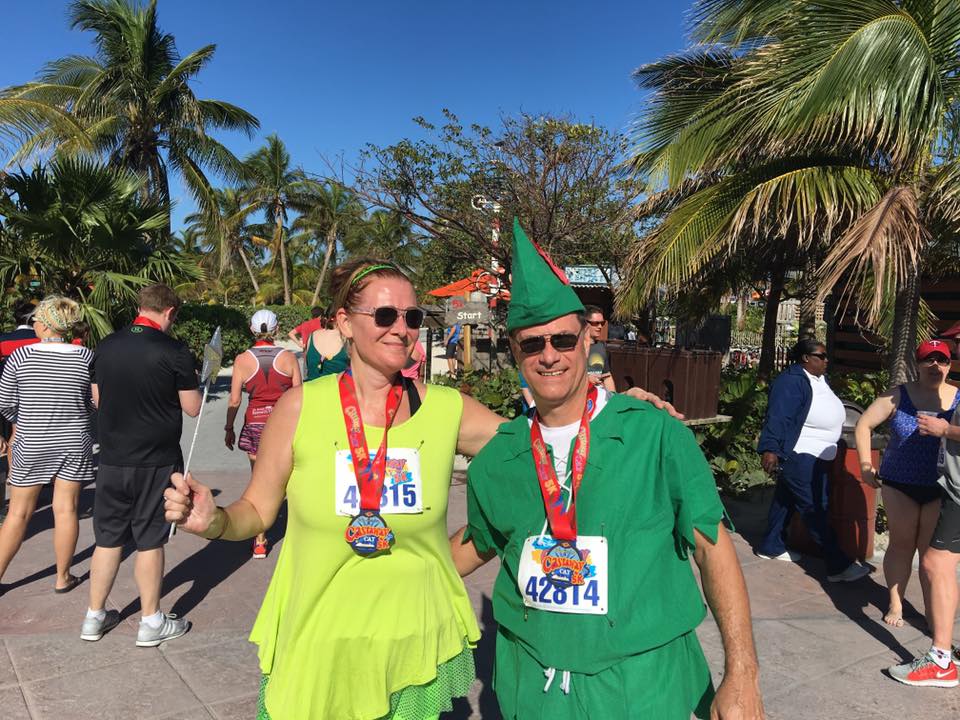 Lots of people walk the Castaway Cay 5K so even if you're not up to an intense workout first thing in the morning, it's still a fun experience. Lots of people run in costumes and every finisher gets a fun medal, so there are lots of photo opps.
20. One of the Disney Cruise tips you won't regret paying attention to: Take the pictures
A Disney Cruise is the vacation of a lifetime. You are making awesome family memories and you want to capture them. Whether you do this with your phone or a fancier setup like a GoPro or DSLR or whether you take advantage of the professional photography packages on board, make sure you capture this awesomeness on film. Yes, the on-board photography is pricey but it's a chance to get some wonderful photos of your family that are great quality and can be enjoyed for years to come.
And moms, I'm talking to you. Get out from behind that camera. Even if you don't purchase the photo package, hand your camera to a Disney Cast Member or another mom and get in there with your family.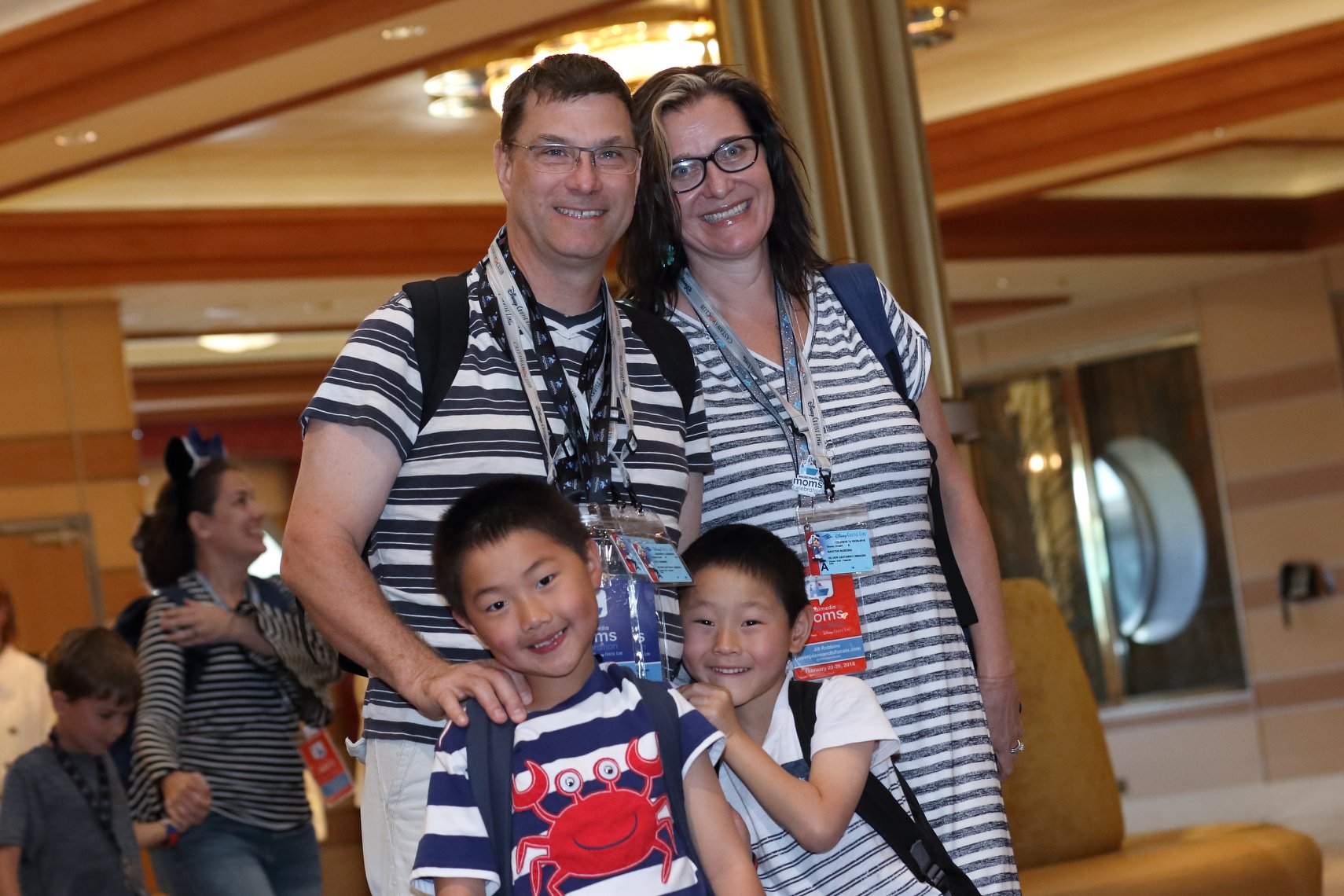 If you're interested, here's the camera equipment I use when I travel. I consider myself an amateur photographer and it's something I enjoy. Carting all of this plus my GoPro around gets a little heavy and cumbersome sometimes, so if photographer isn't your thing, this might not be for you.
I used a Canon Rebel T6 which is not the newest thing out there (and not my newest camera but what I took to San Angelo with me.) Here's a bundle on Amazon that has a good compliment of lenses and other stuff:
You can tell from the price that it's not the fanciest, latest and greatest that's out there but I just started using the Canon EOS M50 Mirrorless like this one:
and I have to say…I like my trusty Rebel a lot better.
I hope you've found my Disney Cruise tips helpful. If you've found one or more of these tips to be particularly helpful, please leave a comment and let me know.
Do you have some favorite Disney Cruise tips that aren't on this list? Please share and let me know what's worked for you.
If you're planning your own Disney Cruise, I'm so excited for you…it's truly a magical vacation that you won't soon forget.
You might also like:
14 things that are awesome about a Disney Cruise
10 tips to help you get the most out of Castaway Cay
Ultimate Disney Cruise Packing List for Families