When I think of marshmallows, I think of S'Mores and camping…or Peeps at Easter, both of which I love. I'm a firm believer that there are two kinds of people in the world: people who love Peeps and people who don't.
There are so many cool things to do with the ooey, gooey, sticky, sugary goodness that go outside of the box of what you might associate with marshmallow-y goodness. Cupcakes. Buttercream frosting (yes, please!). Sweet potato pie. Pumpkin spice latte. Cupcakes. Ice cream yumminess. Hot cocoa. I could go on (and on and on) but you get the idea. Marshmallows = awesomness.
If you're on the "sugar is bad, blah blah blah" bandwagon, you might want to look away. And truly, I get the appeal and the importance of living a healthy lifestyle and using sugar in moderation.
Buy moderation doesn't mean deprivation, right?
You gotta treat yoself once in awhile. Check out all this deliciousness: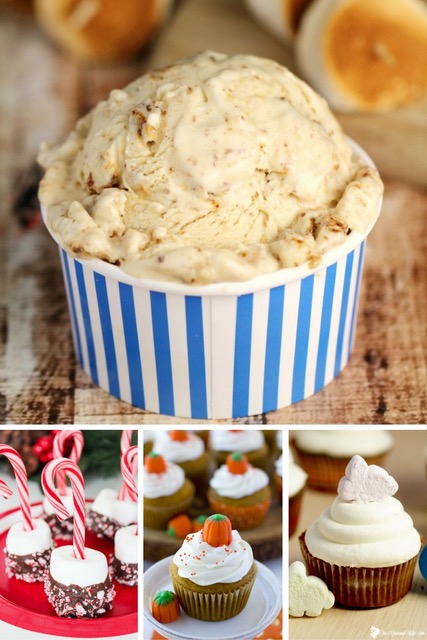 1. Marshmallow Apple Treats
2. Pumpkin Spice Latte
3. Mint Oreo Marshmallow Brownies
4. Marshmallow Frosting Recipe
5. Toasted Marshmallow Ice Cream
6. Nutella and Marshmallow Crescent Rolls
7. Peanut Butter Marshmallow Fudge
8. Roasted Marshmallow Ice Cream
9. Crock Pot Sweet Potatoes Marshmallows
10. Marshmallow Boo Boo Cold Pack
11. Marshmallow Buttercream
12. Pumpkin Cupcakes
13. Marshmallow Magic Mud
14. Homemade Snowmen Marshmallow Straws
15. Dark Chocolate Toasted Marshmallow Smore Ice Cream
16. Pumpkin Spice Marshmallow Pops
17. Caramel Pumpkin Spice Cupcakes with Marshmallow Frosting
18. Pumpkin Spiced Cocoa with Roasted Marshmallow Creme
19. Peppermint and Chocolate Covered Marshmallows
20. Toasted Marshmallow and Sweet Potato Pie
If you've got a hankering for some sweet, gooey goodness, I hope this has given you some great ideas to for whetting that sugar urge or making a really fun treat for the people you love.
Amazon sells marshmallows in bulk packaging – because of course they do. Affiliate link.
Thank you for reading!
If you enjoyed reading this post, please give me a vote on Top Mommy Blogs my clicking the button below. It's super easy and helps my site A TON.