Minivan to MX-5 – Review of the Mazda Miata
(This post may contain affiliate links. Read my full disclosure.)
My husband and I bought our first (and only, to date) minivan five years ago. The Chrysler Town and Country is my everyday ride and, although I like to joke that part of me died a little the day we signed the papers, she's been a good vehicle that meets the needs of our busy life with kids. I told myself I was okay with the lack of coolness that went with driving the people mover…and then I drove a compact, sporty red convertible for two weeks. I went from minivan to MX5 and today, sharing my experiences with you: what it's like to drive a Mazda Miata after driving a minivan, what I liked, what I didn't, and all the details if you're considering making the Mazda Miata your next car: My review of the Mazda Miata.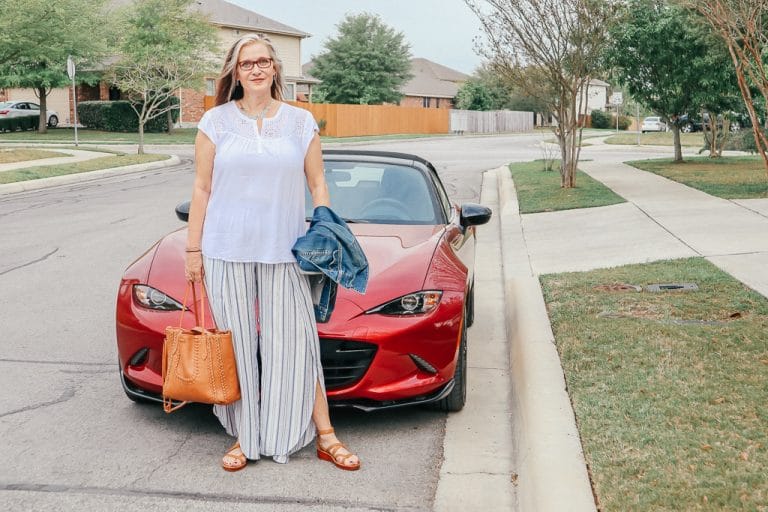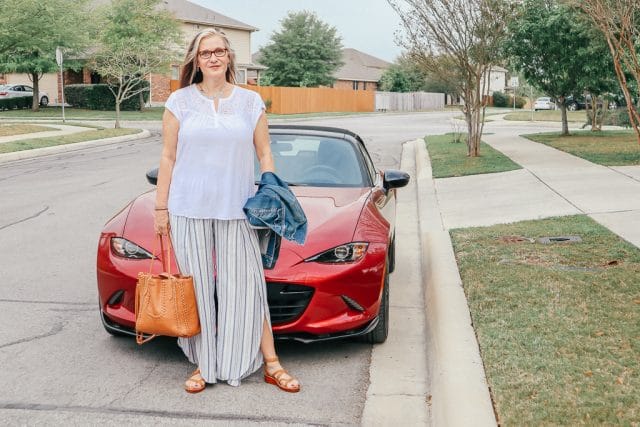 I drove the 2019 Mazda MX-5 Miata Club in Soul Red/Crystal Black. This car was loaned to me by Mazda USA for review purposes. All opinions are mine.
Minivan to MX5 – Review of the Mazda Miata
I drove the Mazda Miata for two weeks and that was a good amount of time to form an opinion on it. If you're looking for a super technical car review talking about torque and side-bolstering, you'll probably want to hop over to Motor Trend or Car and Driver. I'm giving you my completely honest perspective on what I liked about the car, what I didn't like about the car, and how it fit into my life. If you're considering swapping your mom mobile for something sportier, or adding a second car, this review will answer some of your questions.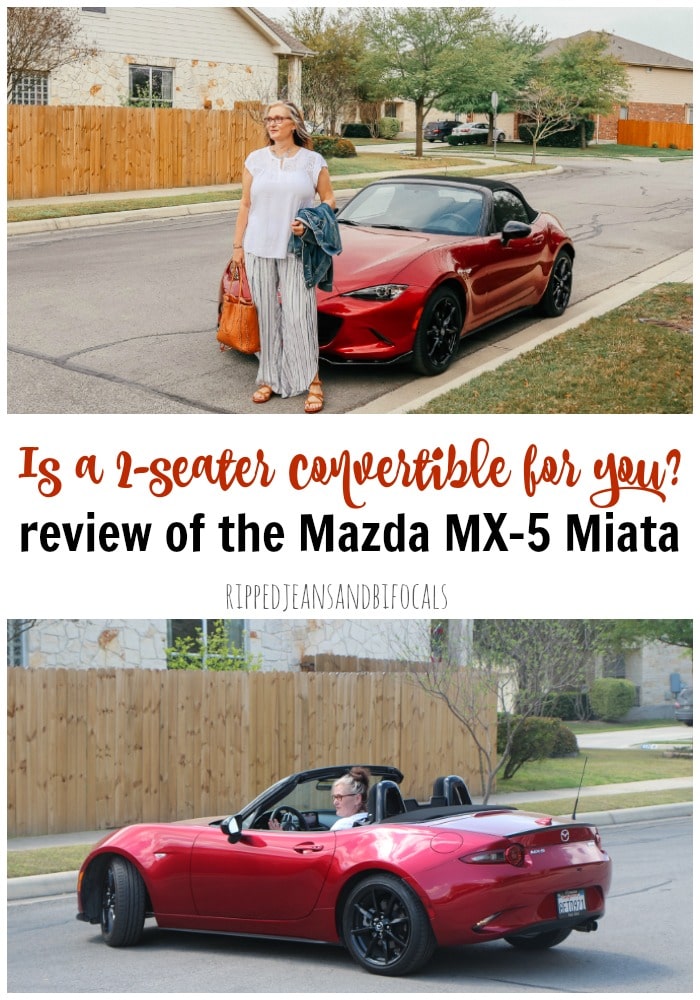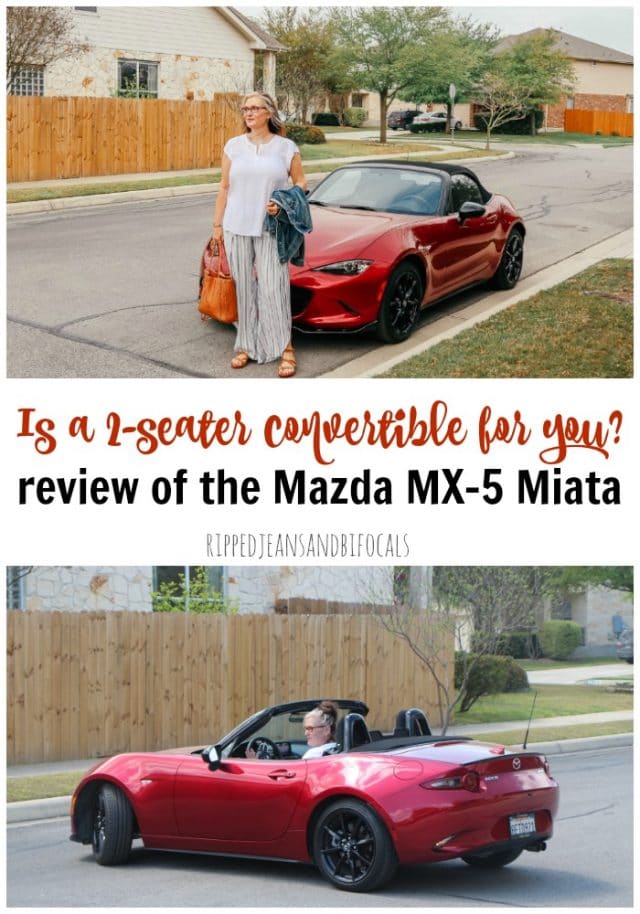 What I didn't like about the MX-5 Mazda Miata
It only seats two people
This one is obvious but if I were considering purchasing this car, the lack of a backseat would probably be the deal-breaker. I could seeing it be my everyday runaround car or something my husband and I took out when it was just the two of us but have absolutely zero options to transport my kids in a pinch? Unless we had the budget for a third car, this wouldn't be for us.
The feeling of being so low to the ground
Not only am I used to sitting up high, I'm used to climbing up into the driver's seat, not lowering myself into it. Getting into and out of the Mx-5 in a skirt or heels is tricky. I'll also add that I'm 5'10, so someone with a more petite build might not have this same issue.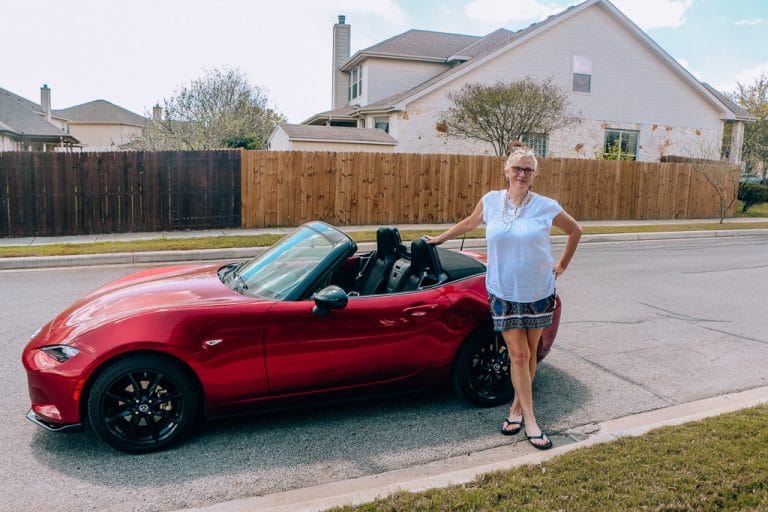 The lack of console space
There's no glove box. Instead there's a small compartment behind the driver's seat you can use to house your insurance and registration papers. There are two cup holders but they're located at the driver's elbow level. While you can use these holders to store your coffee or water bottle, you can't reach for them without twisting your torso around and that's not a safe or comfortable move to make while driving.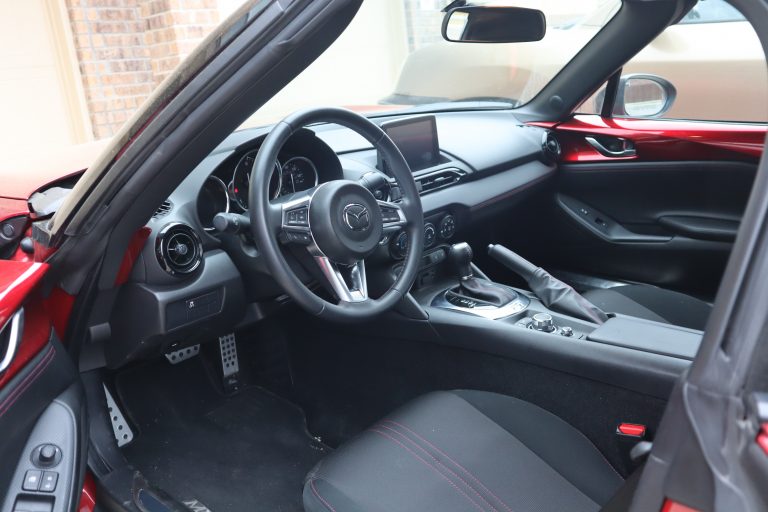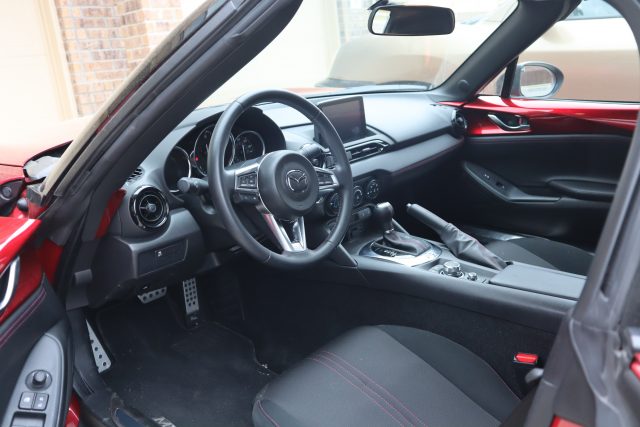 I took the Miata on a trip from San Antonio to Dallas and I always have to have water handy when I'm driving. I had to drive with the bottle between my knees four hours there and back. I made it work but it felt awkward and I would have liked a cup holder I could reach easily.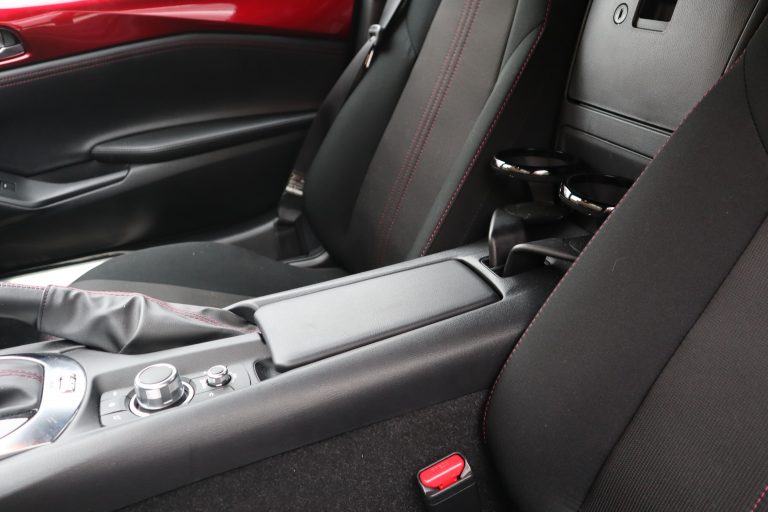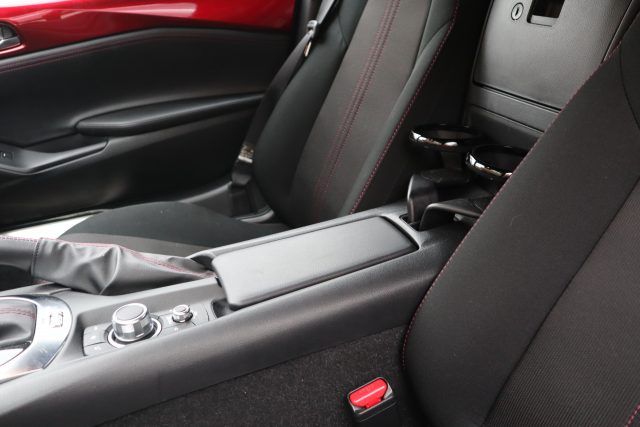 I didn't feel super safe on the highway
Nothing against the way the Mazda MX-5 is engineered but it is a tiny, tiny little car. Being alongside or sandwiched between semi trucks on the interstate was unnerving. I did get used to it it but I didn't like being in front of a larger vehicle on the highway. The MX-5 is a rag top so you hear different road noises than you do inside a completely hard-sided vehicle and when that noise is an 18-wheeler on your bumper that looks like it's looming over your itty bitty sports car in the rear view mirror, that is a little bit scary.
It looks sporty and cool but it isn't a serious sports car
I didn't do any extreme speeds or drag racing during the two weeks I drove this car (honest, I didn't, Mazda…I took very good care of your cute little red car.) Despite being fun and sporty looking, this Miata didn't have a whole lot of giddy up and I had to really push the pedal down to get it to accelerate. It was actually fun to drive but if you have the need for speed, this probably isn't your car. It's a cute little roadster but it's not a power car. It is fun to drive, though.
What I did like about the MX-5 Mazda Miata
It's easy to maneuver
Switching lanes, whipping in and out of traffic and finding a parking space – all a cinch. The small size was a negative for me in some ways but a positive in many others.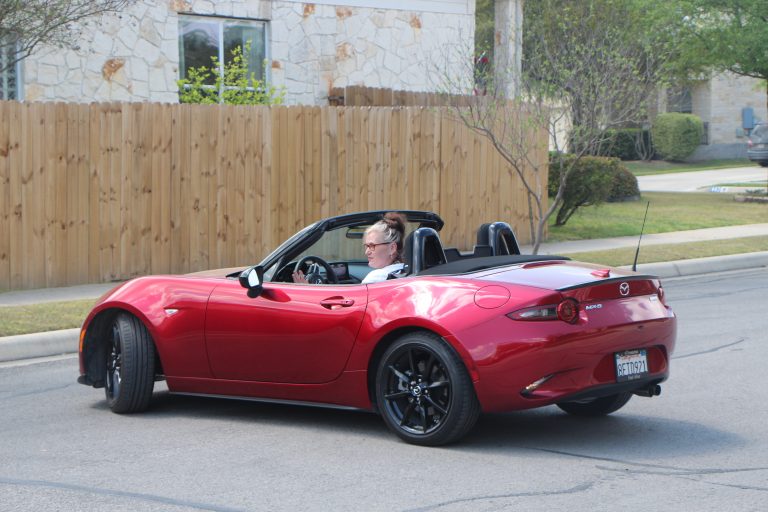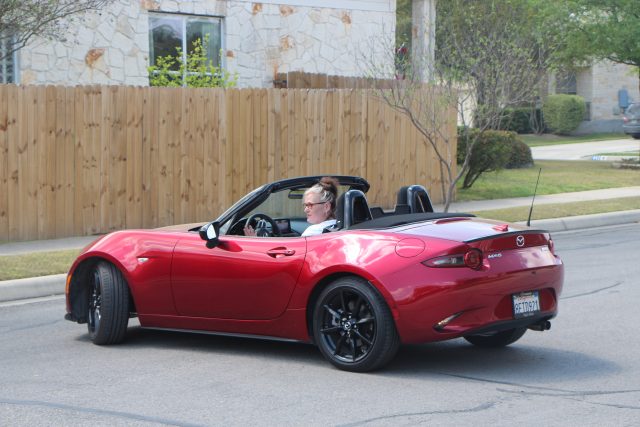 The gas mileage is awesome
If you're used to filling up a larger vehicle, the much smaller dollar amount on the gas pump will be a welcome surprise. The first time I put gas in the Miata, I thought to myself "that just can't be right."
The trunk has a surprising amount of space
When I first looked at the trunk, I thought it wouldn't hold very much. It holds more than you might think. I drove the Miata to the grocery store for "just a few things." You can probably guess how that worked out. I ended up buying what I'd call an average grocery cart load for my family of four and all my grocery bags fit. I was surprised.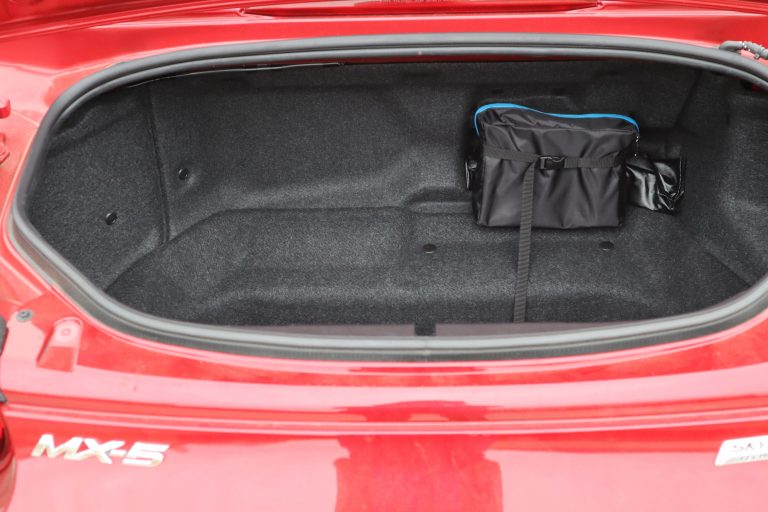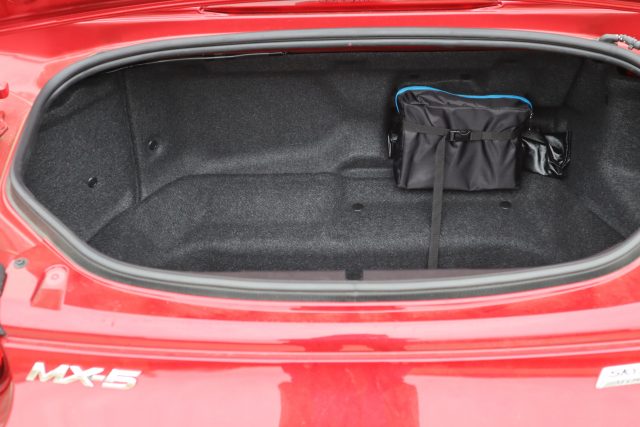 However, if you're going to use the Mazda Miata as a road trip car, you'll need to be conservative with what you pack and what you bring home. I took a solo trip to Dallas and I had a small suitcase and a backpack with my camera equipment and that pretty much used all the space in the trunk. You could maximize space by sharing a suitcase with your partner or using soft-sided bags. You'd also be very limited on what you could transport back, so the Miata probably isn't the ideal car to take on a major shopping spree.
It's a cool looking car
Looks count. They're not the only thing that counts but you're in your car every day and driving something you think it ugly isn't fun. Trust me, I've been there. People look at your different when you're driving a sleek little red sports car. Not that this should be the sole reason you should spend $30K but I think it's worth mentioning that people look at you differently when you're rocking a sexy red convertible than they do when you're behind the wheel of your trusty people mover.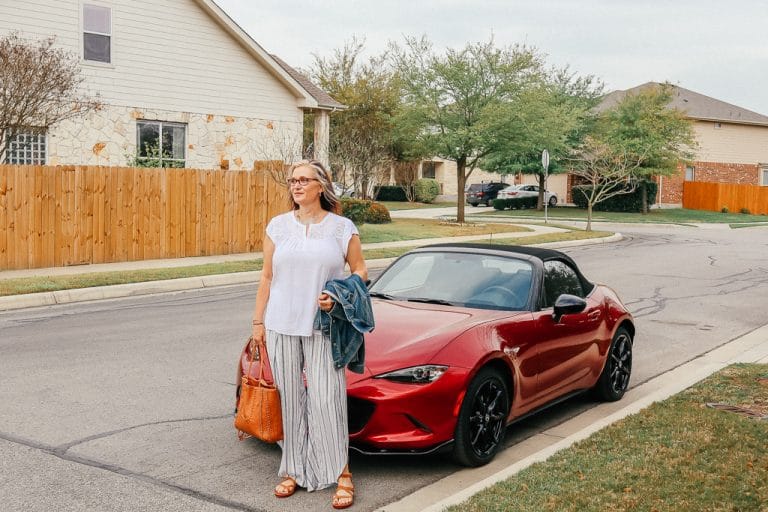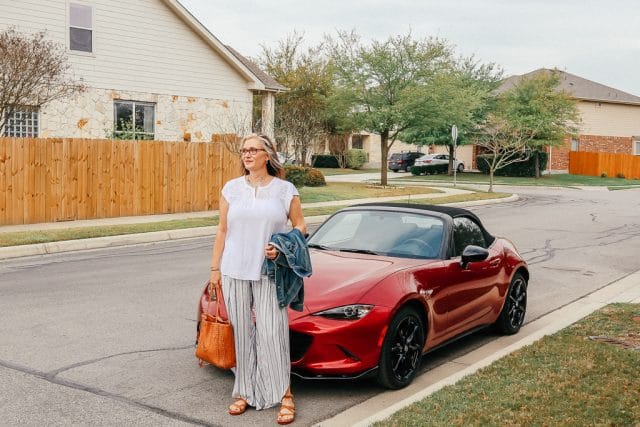 It's really fun to drive
It took me the better part of a week to really appreciate the MX-5 Miata. Having to fold myself in half to get into the car took some getting used to and the fact that I couldn't easily reach my cup holders when I was driving drove me nuts but it's a really fun little car to run around in. If I could afford a third, "fun car" I could drive during the day when I didn't need to take my kids somewhere (which is actually quite a bit) or for date night with my husband, I'd consider this one. This beauty can be had for around $25K so if an extra or "just for fun" car is in your budget at all, it can be quite affordable.
Car Facts – Mazda MX-5 Miata:
Fuel economy: You'll average 30 MPG, 26 on the highway and 35 in the city
Price: MSRP is just over $30K. The model I drove was $32K
Front and rear stabilizers bars
Power windows with one touch down
Power automatic door locks
Leather wrapped steering wheel with audio/Bluetooth/cruise controls
Heated cloth trimmed sport seats
Rear view camera
Side impact door beams
LED tail light
Rear cross traffic alert and blind spot monitoring
Advanced keyless entry system and push-button start
For more info visit Mazda's website.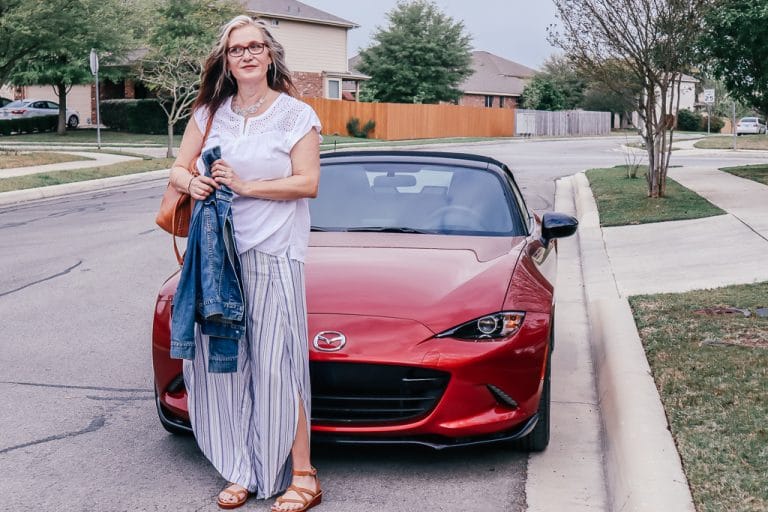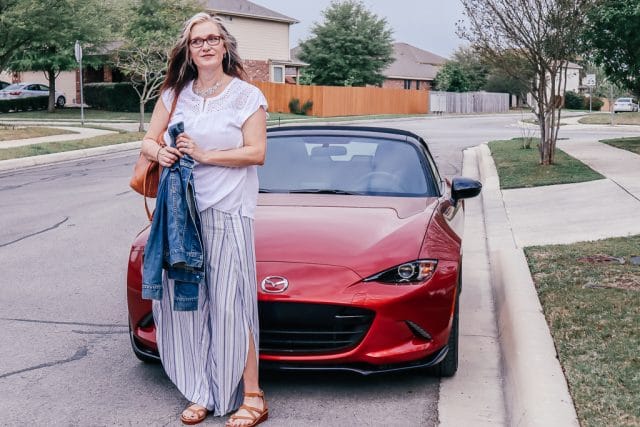 You might also like: