An uncommon date night – iFly San Antonio
(This post may contain affiliate links. Read my full disclosure.)
I received an invitation for complimentary flights at iFLY San Antonio in exchange for this blog post, but all opinions are my own. 
I love my kids but I love spending time without them. I refuse to feel bad about that. An evening (or even a whole weekend) where I don't have to nag someone to finish their food or referee and argument about Minecraft is pretty awesome. Yes, those things are part of everyday mom life but moms (and dads) need a break from parenting and time to focus on each other as a couple and as human beings.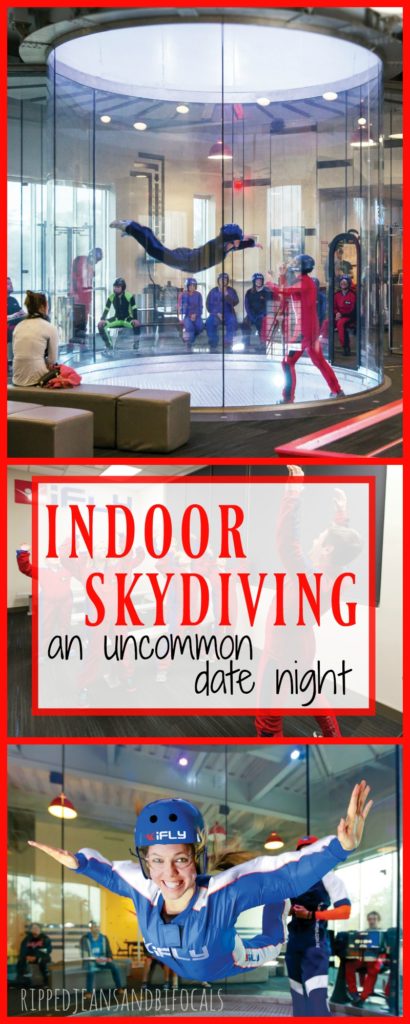 Date night is important. We try to do something without our kids at least once a month. We usually end up talking about our kids when we go out without them, but that's okay. We still have fun. And, while date night is usually dinner somewhere fancy (and by fancy I mean a place without plastic cutlery) eaten without being interrupted by small humans, it's fun to change it up now and then. Don't get me wrong, dinner dates and movie date are great and we have our fair share of those, but recently, we decided to change things up and go indoor skydiving.
I am not that much of a thrill-seeker and no one would ever call me an adrenaline junkie. I try not to use the word "never" but I can pretty safely say that jumping out of an airplane or bungee jumping are not things I ever consider doing.
[Tweet "Take date night up a notch with @IFlyUS #IFlySanAntonio"]
When I received the invitation from iFly San Antonio, I posed it to my husband as "This isn't something you'd really want to do, is it?" To my surprise, he was really into the idea, so I responded with a yes. As it turns out, it took us almost four months to actually get into the tunnel. I blame my kids. Seriously, it's their fault. Soccer games, meet your teacher night, trips to Universal Orlando Resort all conflicted with every effort the folks at iFly made to get us to come in.
Lee (that's my husband) never stopped asking "When are we going to do that skydiving thing" so we kept rescheduling and eventually, the stars lined up. Babysitter? Check. An evening free from any other obligations? Check. Haven't been on a date night in a while? Definitely check.
iFly San Antonio is located at I-10 and 1604. If you're looking to grab dinner or drinks before or after, there's plenty of places nearby. There's a ton of places to eat and drink at The Rim and, if Stone Oak is on your way, that's an easy stop with lots of options.
We filled out our waivers online and showed up to check in for our flights. The check-in process is pretty simple. We're weighed (not my favorite part), given a wristband, and taken into a training room.
Pre-flight training consists of watching a short video and a demonstration by one of iFlight's instructors. We had Dave and he was great. If we go back again, we'll definitely ask for him. The training was easy – you have to learn a few hand signals because the noise inside the tunnel prohibits talking. We were given the opportunity to ask questions and then it was time to suit up.
You don't need any special equipment to fly at iFly – everything is provided for you. You are required to wear lace-up shoes and remove any jewelry. Lockers are provided for your valuables. If you have longer hair, I strongly recommend braiding it tightly. I had my hair in a loose, low ponytail and I had mega tangles when I came out. See also, this isn't the kind of date night you get super gussied up for, which is pretty refreshing. I wore the "I love Jesus but I cuss a little" tee-shirt and jeans I'd had on all day, laced up my Chucks and called it good.
Your flight suit and other safety gear go on over your clothes. I'm not sure what else to say about this look.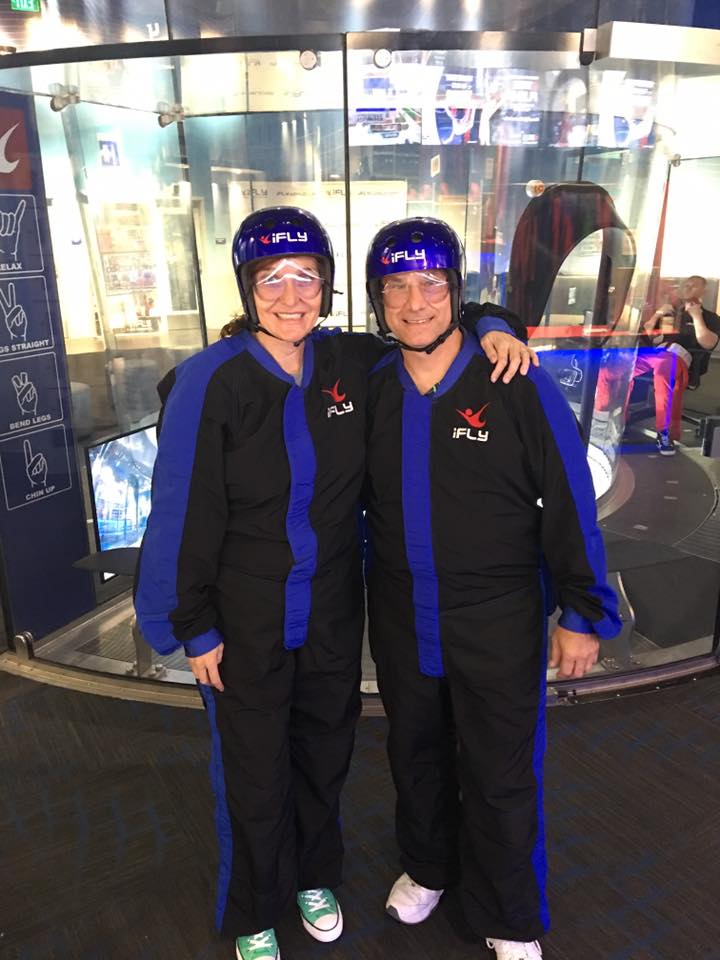 I don't consider myself to be all that fashionable but this takes things to a while new level. Yeah, we look pretty dorky, but so what?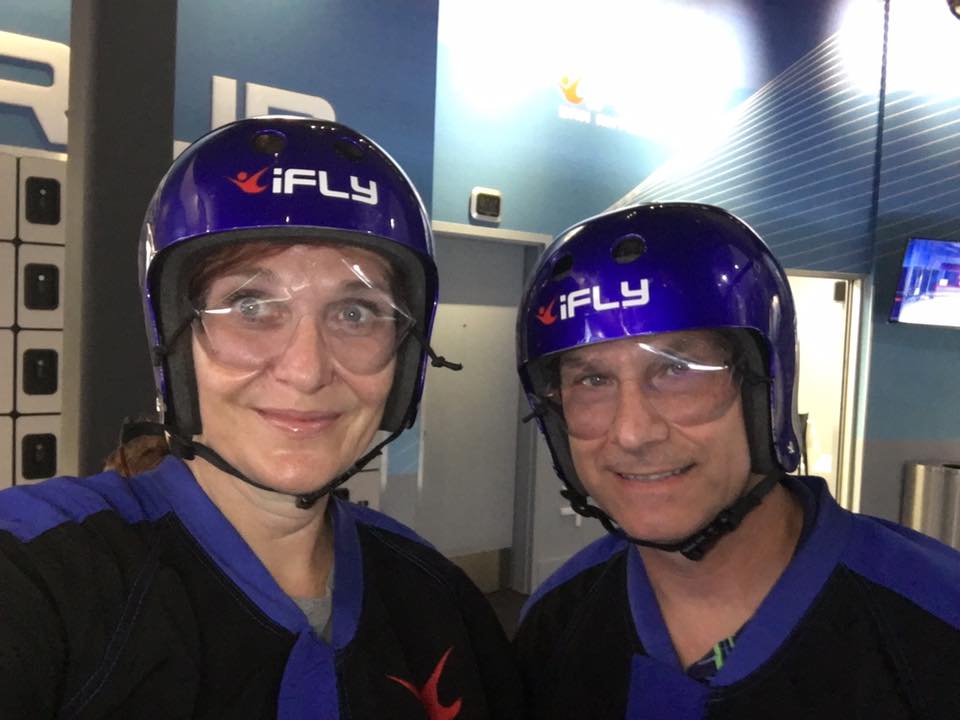 Your instructor will walk you through absolutely everything. By the time you step into the chamber, you'll have an idea of how things are going to go down. Anyone can enjoy iFly. The minimum age is three and there is no maximum age. I started to wish we'd brought our boys along with us because I knew they'd really enjoy this experience, too. We usually talk about our kids on date night but rarely do I wish for them to actually be there.
This was the exception.
We went on a Monday night and iFly San Antonio wasn't crowded at all. We pretty much had the place to ourselves so maybe we're onto something with this weeknight date night idea.
I decided I was going to go first. I'm a little bit of a weenie and I was afraid that I'd chicken out if I watched and waited. My first flight didn't go at all well. Although things started off great, I started to panic about thirty seconds into the two-minute flight. The noise and the pressure on my face from the wind and the unfamiliar feeling of the safety helmet and goggles gave me sensory overload and I knew I was done. My husband said he could tell from my face that I wasn't having a good time. I started flailing my hands, which meant "Get me out of here." The instructor caught on and pushed me out of the tunnel.
"What happened?" he asked. "You were doing great."
I wasn't sure how to answer. I'm pretty anxious and I thought maybe the unfamiliar situation combined with the sensory overload were working against me.
I decided I wanted to try again after my husband did his first flight. I thought I would do better now that I knew what to expect and I did. I'm glad I didn't give up because I had an amazing time.
Although jumping out of an airplane for kicks is still not on my bucket list, I get why people do it. The only way I can describe the feeling of spinning and floating high above the ground is "pretty badass."
As you can see, I hit the side of the tunnel at about the 30-second mark and came tumbling down. The fall didn't seem like any big deal to me at the time. Dave helped me get back up and the rest of my flight was great. I did have some bruising and pain in my ribs over the next few days and I was sore from locking my arms out in front of me but I'd still do this again and let my kids do it. I'm kind of a klutz and this falls into the "only me" category. I was having so much fun that I didn't realize I'd banged my ribcage until I stretched out the next day.
If you're worried about safety, don't. In addition to being very nice and helpful, the instructors are well trained and they're in the tunnel with you (and usually holding onto you) to keep you safe. There are opportunities for more advanced instruction if you want to do things like this:
Dave showed us some pretty cool stunts after we'd finished our flights, and while acrobatic moves probably aren't going to be my thing, it did make me want to take flight again. There's just no feeling like it. I felt alive and exhilerated and that was…well, it was a pretty freaking awesome way to spend a Monday night.
There are various packages available for purchase at iFly. I recommend the "Spread Your Wings for Two" package for date night. This includes two flights for each person, a personalized flight certificate and of course, all your gear and training. This package also includes video clips of your flight. Video clips and certificates? You know it. We all want bragging rights.
With the holidays coming up, consider giving some flight time as a gift. I can't stand giving my kids more stuff at Christmas and we usually do a trip or some kind of special experience in lieu of buying more toys. This would be perfect.
In addition to date nights, iFly also does kids' birthday parties and corporate team-building events. They have a dedicated party room and another larger room for meetings.
If you're willing to step out of your comfort zone a little bit and want a date night that's more than just dinner and a movie, check out iFly San Antonio or whatever location is near you. Date night is about having fun and being together and that's exactly what happened.