Things to do in Eau Claire in Winter
(This post may contain affiliate links. Read my full disclosure.)
Eau Claire (meaning 'clear water') is a small, friendly city in Northwest Wisconsin with lots of possibilities for winter fun. Located at the confluence of the Chippewa and Eau Claire Rivers, this friendly college town has no shortage of things to do year-round, and my 12-year-old son and I spent two jampacked days exploring, eating, and playing in the abundant snow. Here are 4+ kid-friendly things to do in Eau Claire in Winter.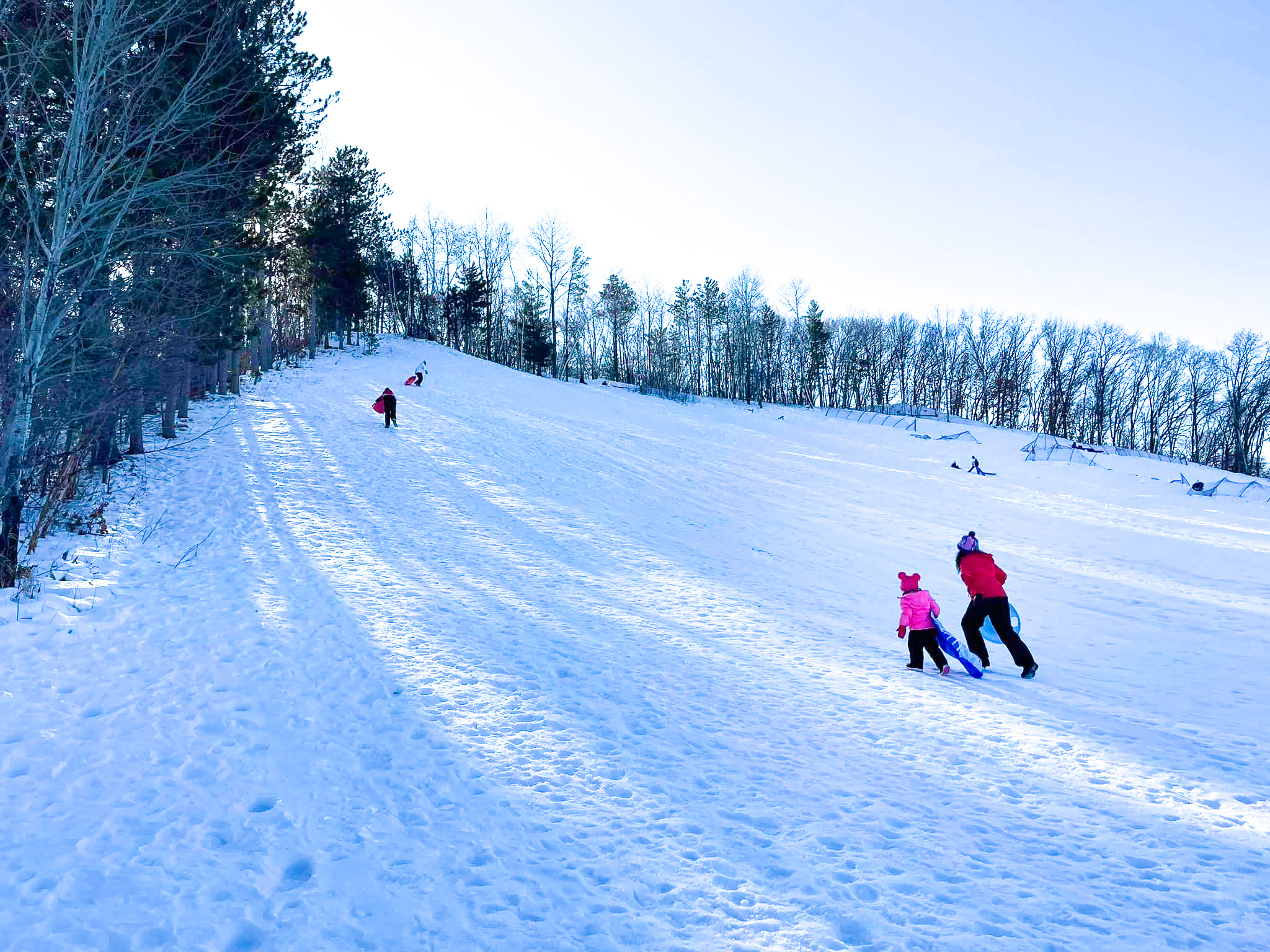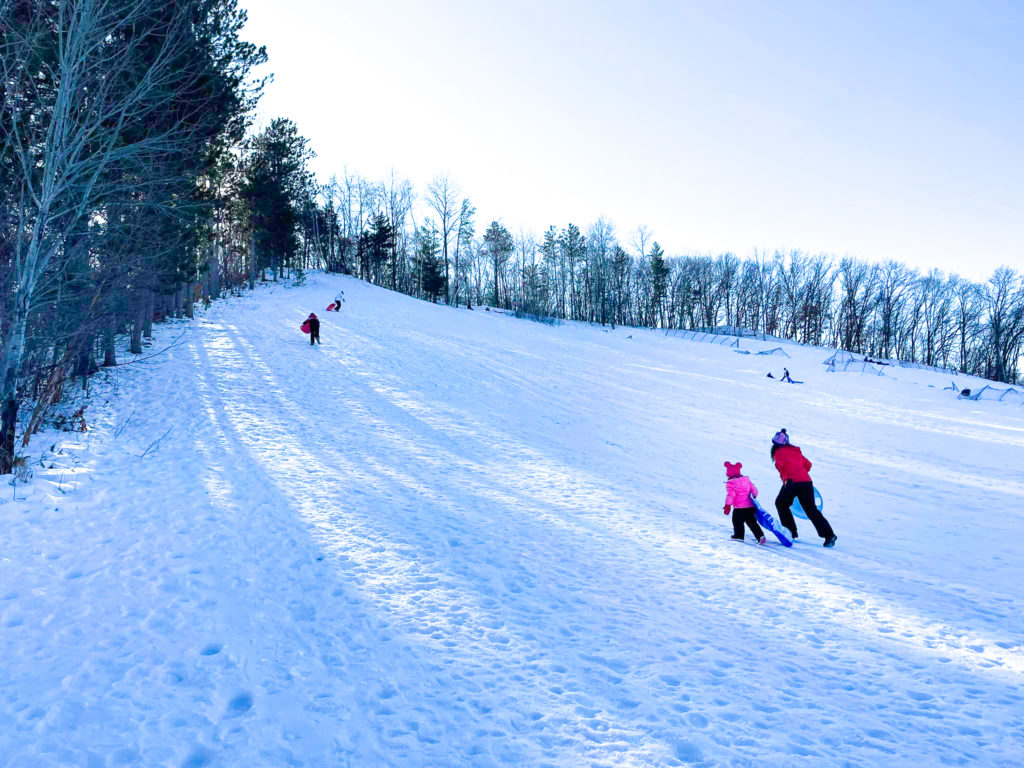 4 Kid-Friendly Things to do in Eau Claire in Winter
These kid-friendly things to do in Eau Claire in Winter are a great mix of getting active outdoors and warm, indoor activities.
Kyle and I were hosted by Visit Eau Claire.
Getting to Eau Claire from San Antonio
Eau Claire is 1,315 miles from my house but it was surprisingly easy (and quick) to get from point A to point B. Kyle and I hopped on a direct flight from San Antonio to Minneapolis-St. Paul (MSP) which is a huge hub with lots of flights in and out. We rented a car and drove the 92 miles to downtown Eau Claire in about 90 minutes. The route is easy – mostly highway driving along I-94.
If you want to fly into Eau Claire, check out flight options at the Chippewa Valley Airport. You will need a car to get around Eau Claire, though, so I'm happy we chose to fly into MSP. Our flight left at 2:30 p.m. and we were eating pizza in Eau Claire by 9:30 p.m. and that was with a late arrival and a snag with our rental car. It was an easy trip.
Along the drive to Eau Claire, I saw signs for Chippewa Falls, which my sparked something in my memory. It took me a minute, and then I heard Leo DiCaprio say as clear as day, "No, uh, the Chippewa Falls Dawsons, actually" and had all the Titanic flashbacks, which I thought was a fun little pop culture reference.
Where to stay in Eau Claire Wisconsin
Kyle and I stayed in the Lismore Hotel in downtown Eau Claire. It's in a great location where you can walk to a lot of downtown area attractions (including the Eau Claire Children's Museum) and restaurants. The Lismore Hotel is Hilton/Doubletree branded, so expect that warm chocolate chip cookie when you check-in.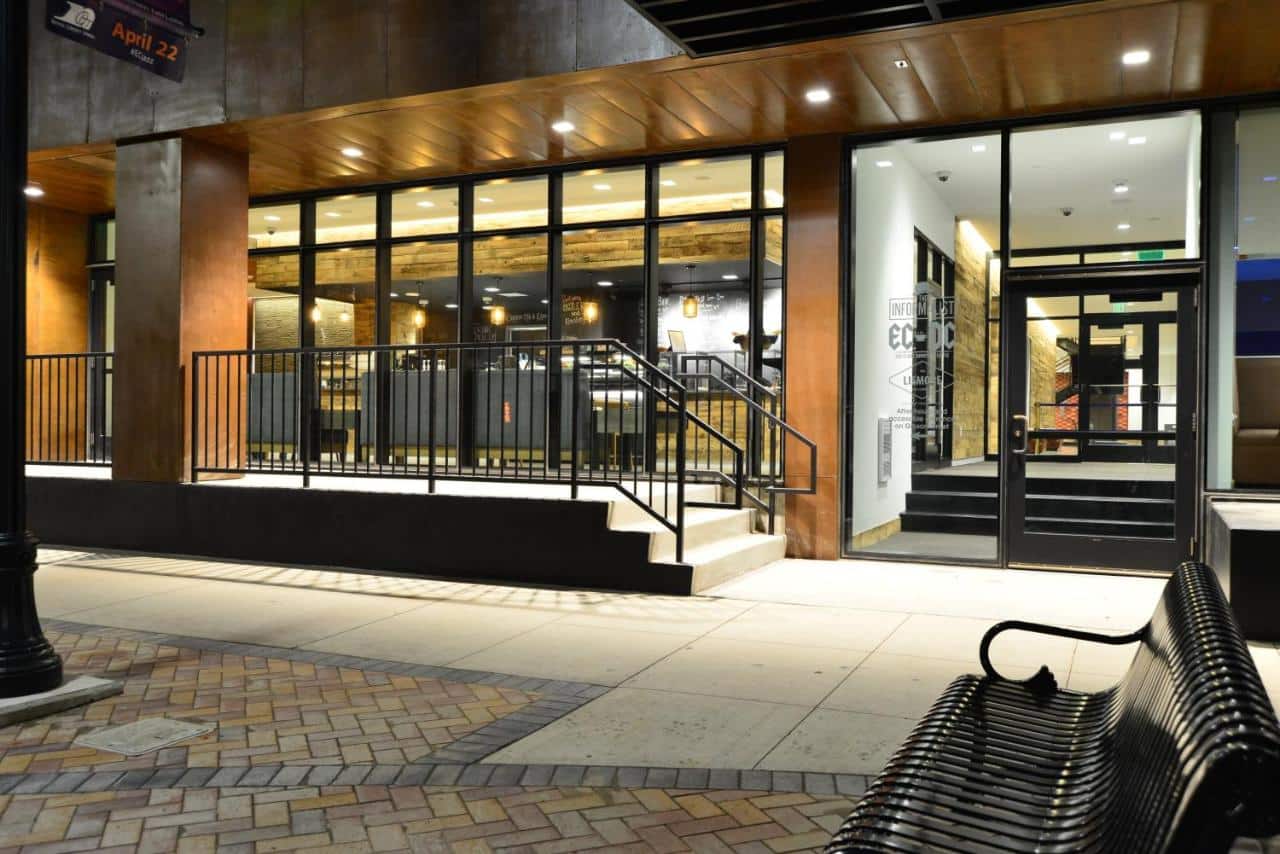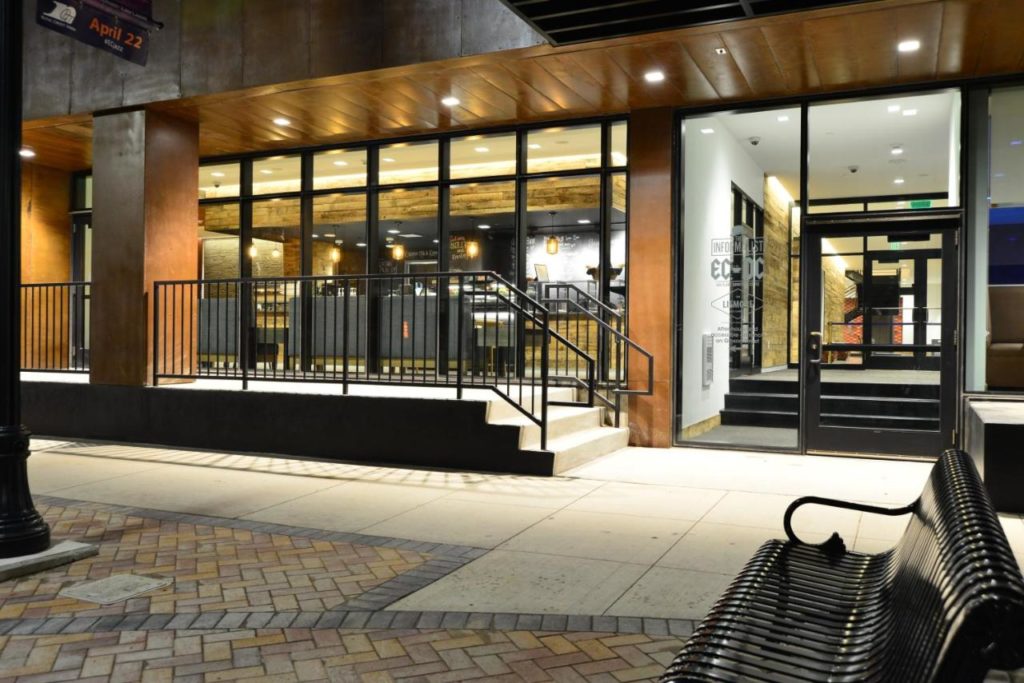 There's an onsite restaurant, The Informalist, that serves delicious breakfast, dinner, and a late-night menu that's heavy on wood-fired pizza. The Informalist is both hip and welcoming. Other amenities at the Lismore Hotel included a well-appointed fitness center with two Peloton bikes, a rooftop bar, and garage parking. We stayed in a room with two queen beds, a smart TV, and a mini-fridge. We had plenty of storage and plenty of floor space.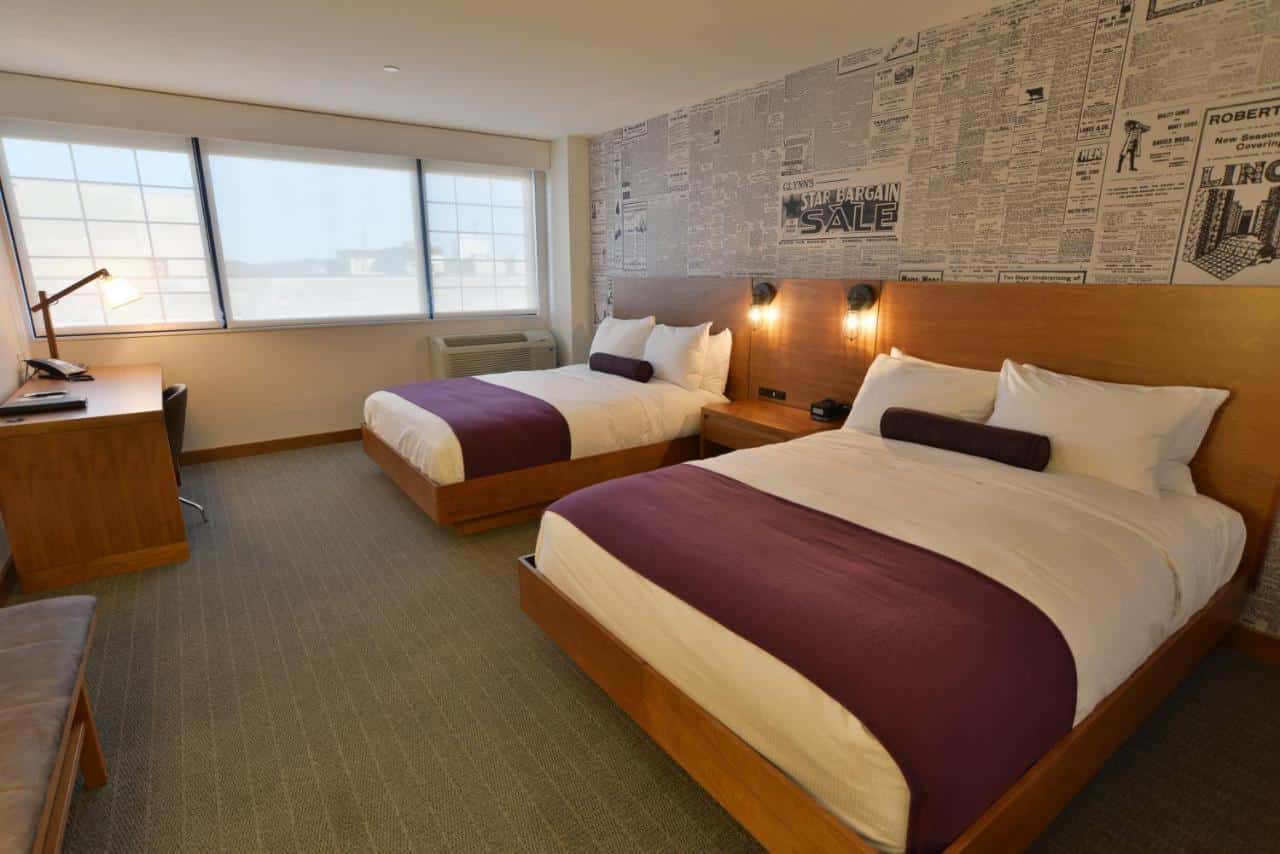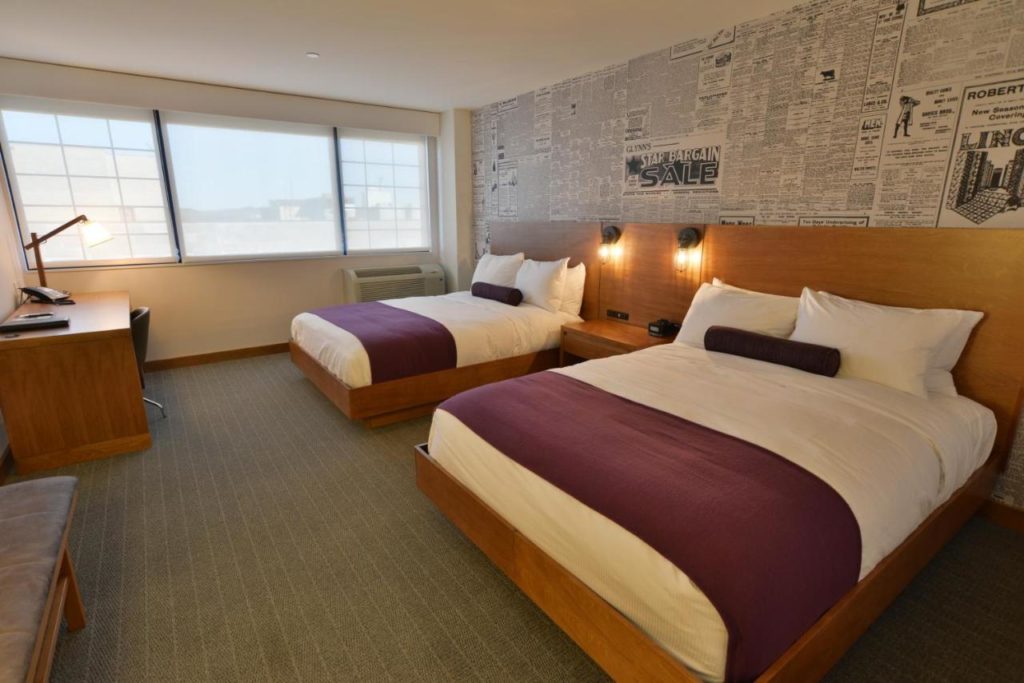 1. Explore Beaver Creek Reserve
Beaver Creek Reserve, located about a 15-minute drive from downtown Eau Claire, offers a variety of year-round activities but during the winter, there are nine miles of hiking trails you can explore on snowshoes or cross-country skis. My son and I decided to try snowshoeing and rented snowshoes and poles for $20.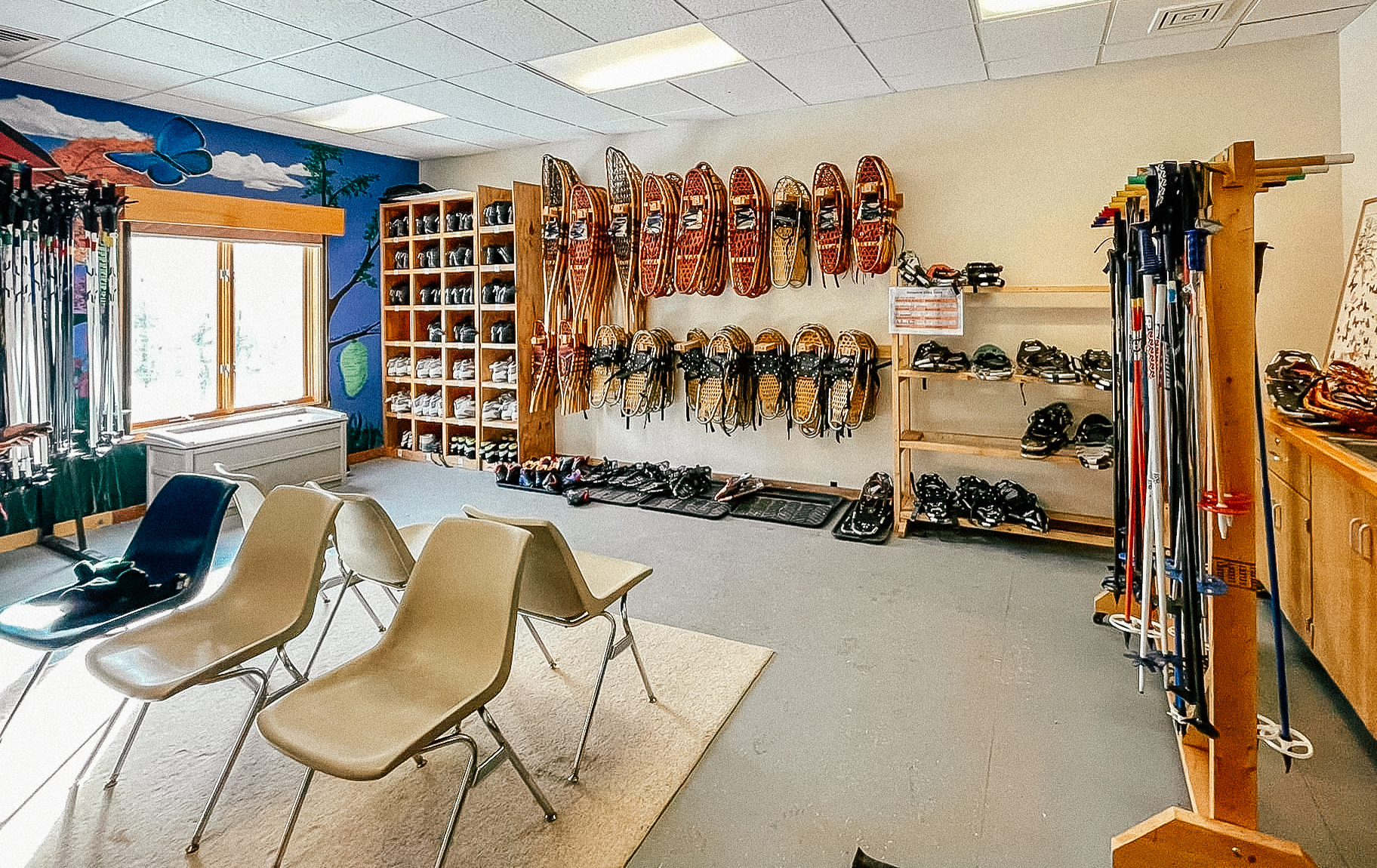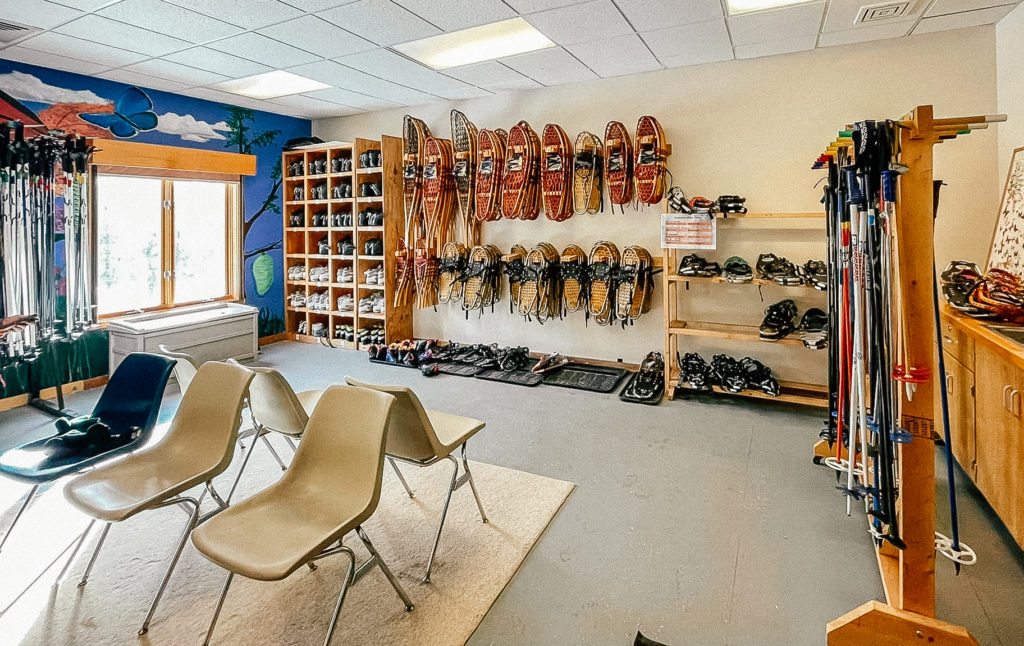 Park at the all-solar-powered Wise Nature Center and ask about gear rental at the front desk.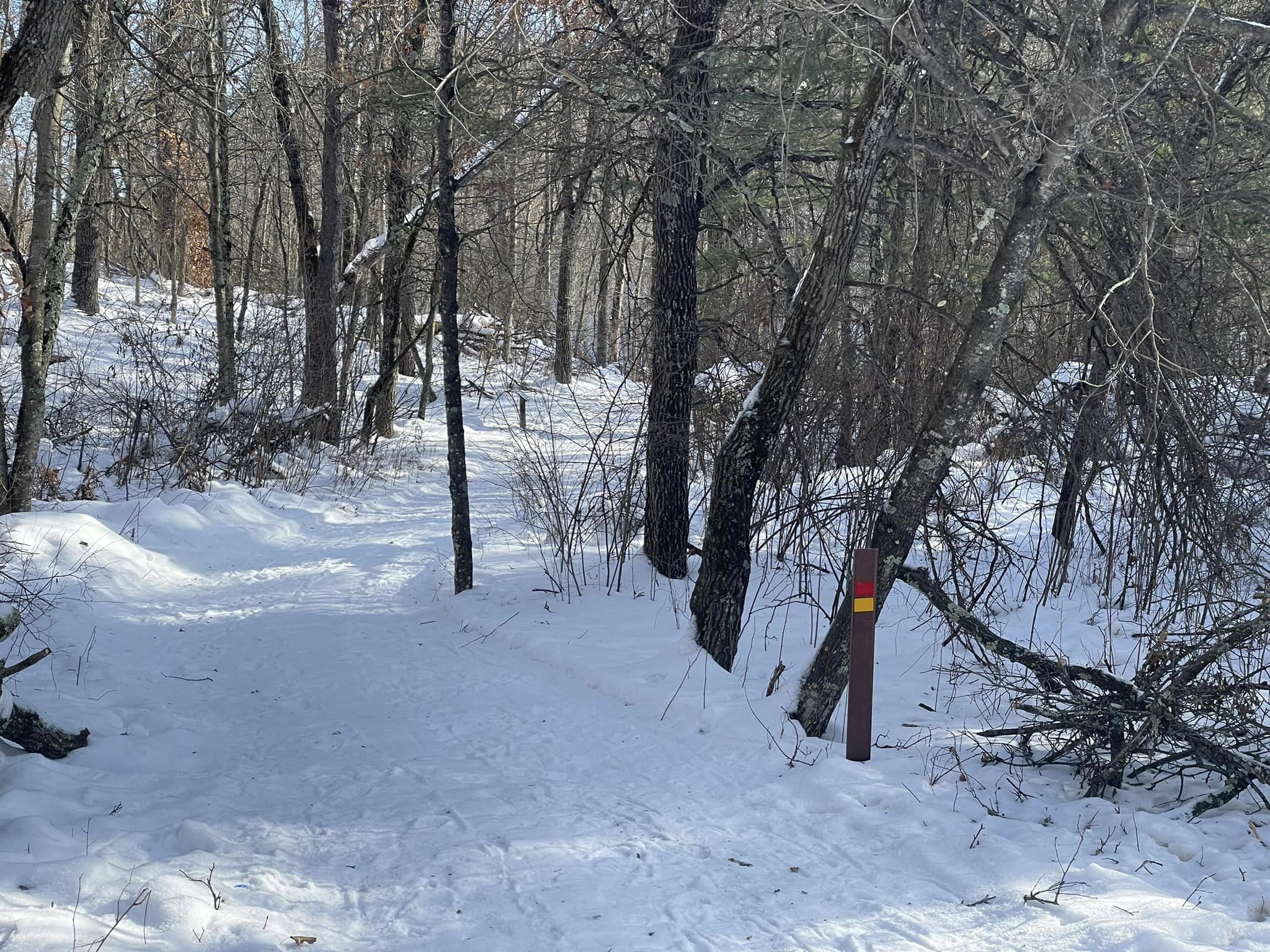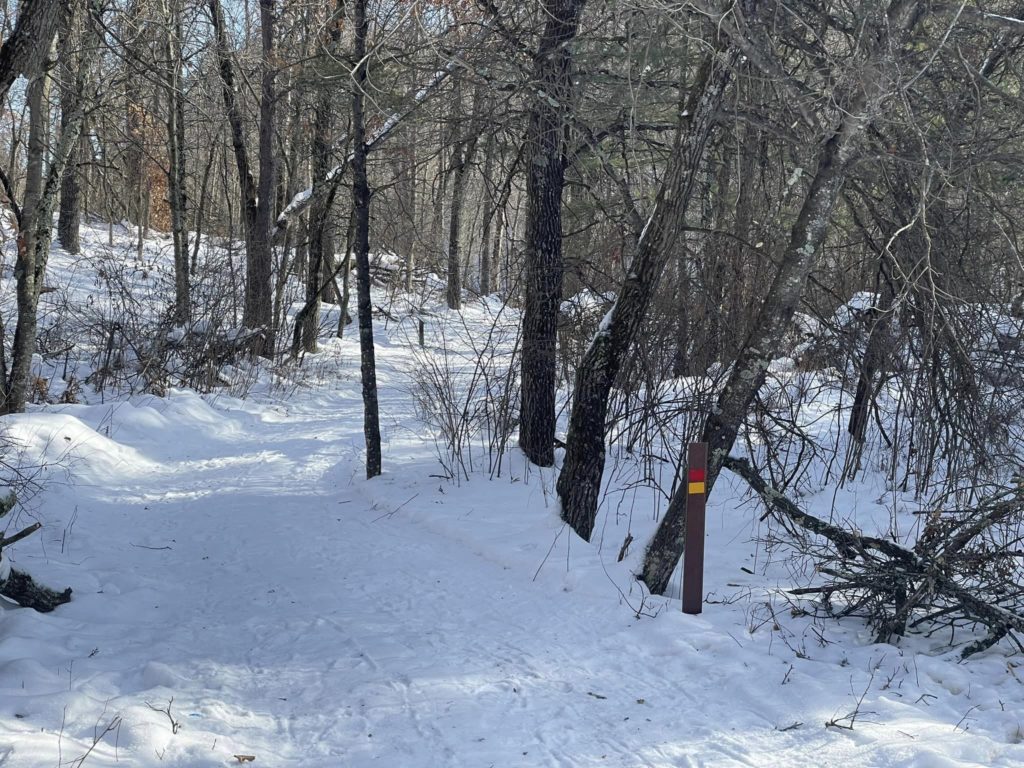 We did the Savannah Loop, the Marsh Loop, and parts of the Boundary Loop. We doubled back in a few spots when we ran into stairs we were uncomfortable attempting in snowshoes. Kyle and I got about two and a half miles in. Click here to download a copy of the winter trail map.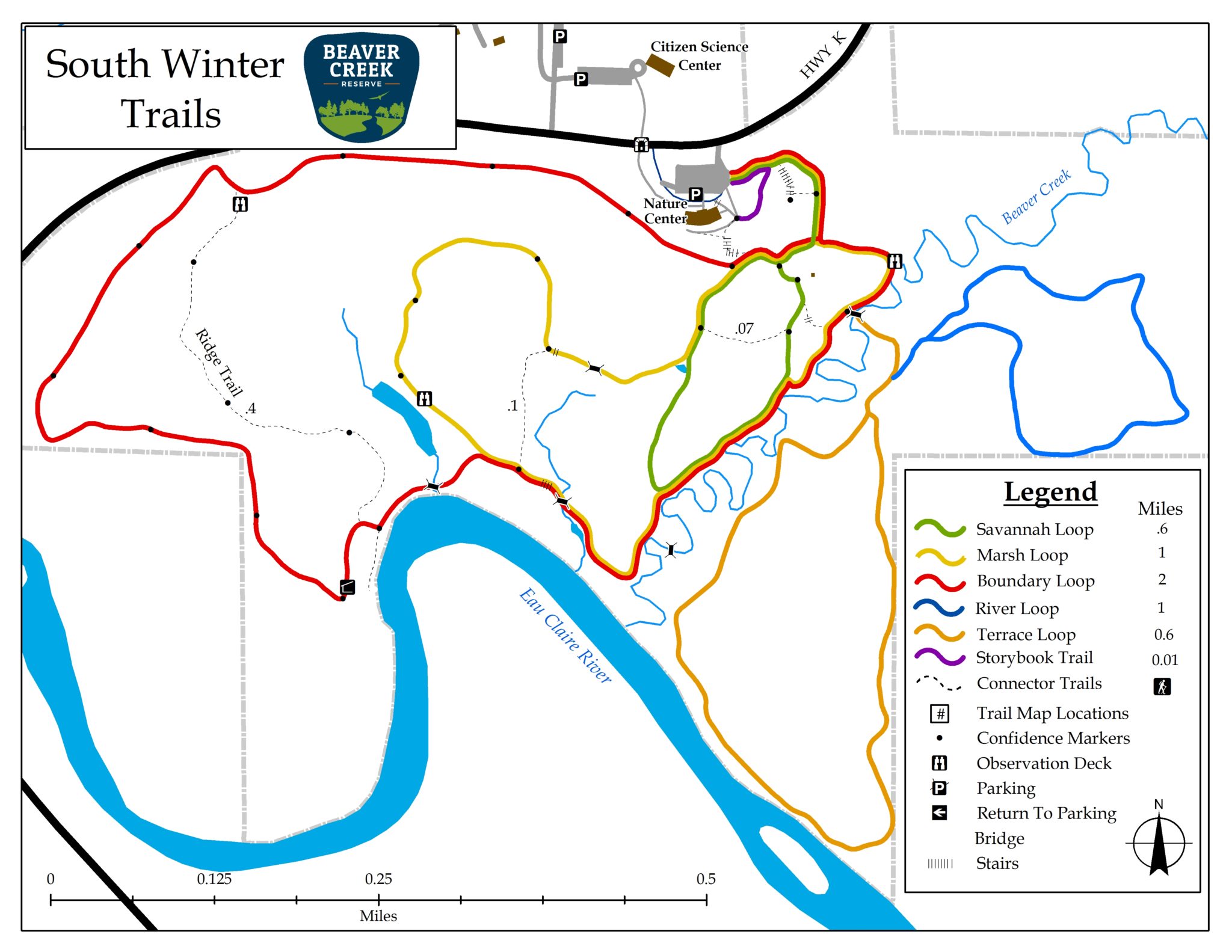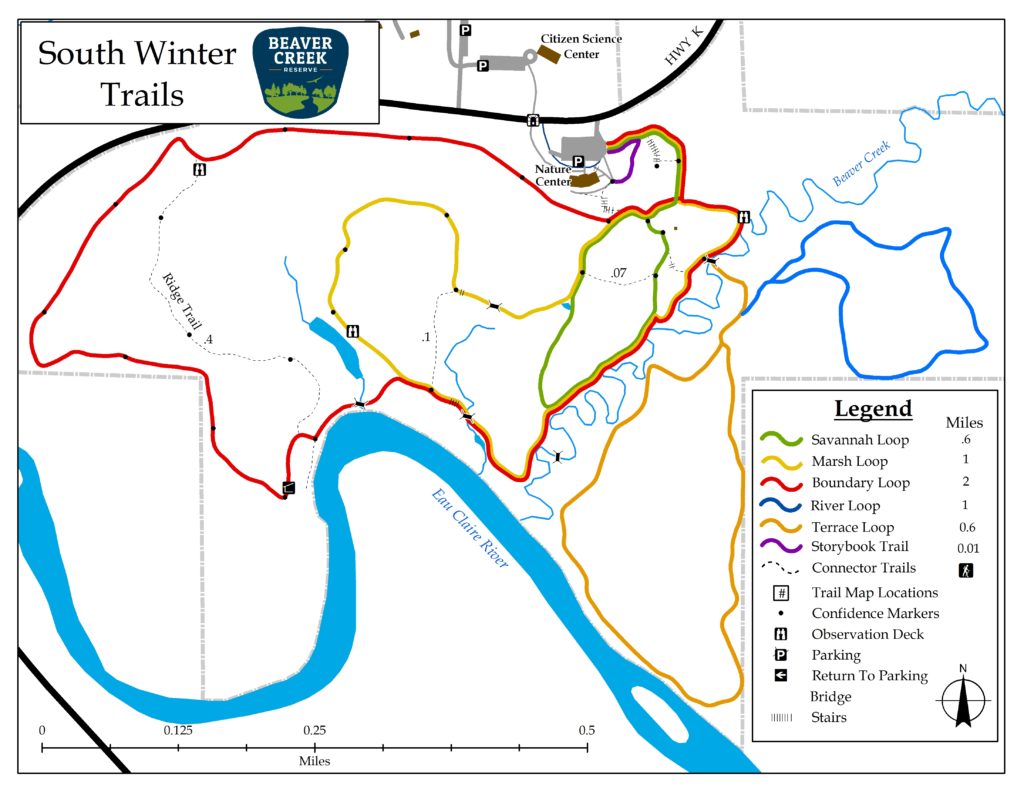 2. Check out the gear share at Pinehurst Park
Pinehurst Park is a Chippewa Valley bike and snow park that offers tons of free fun during the winter. Here you'll find sledding and snowboarding hills, outdoor ice rinks, and trails suitable for cross-country skiing and snowshoeing. There's also an outdoor firepit and concessions.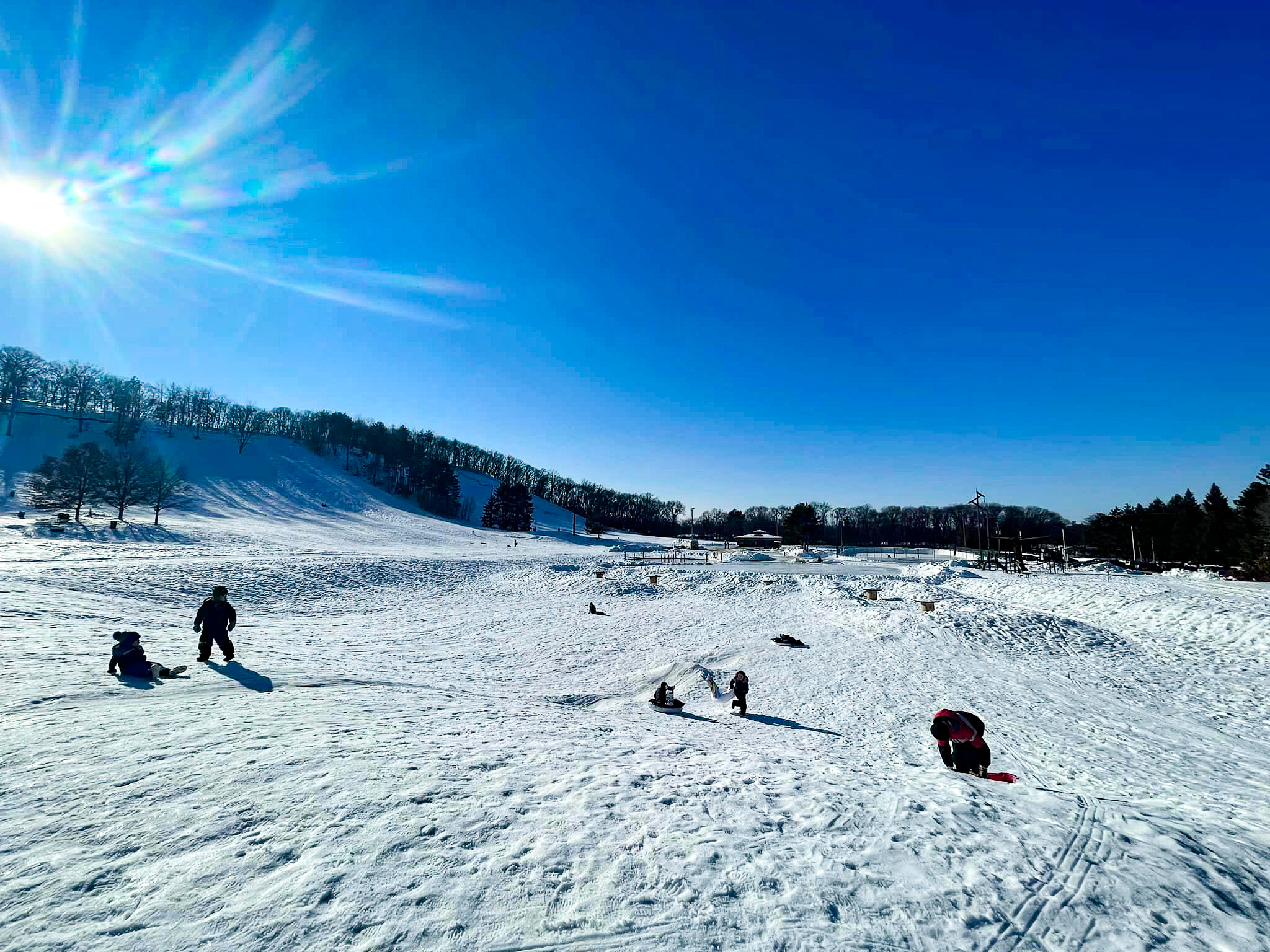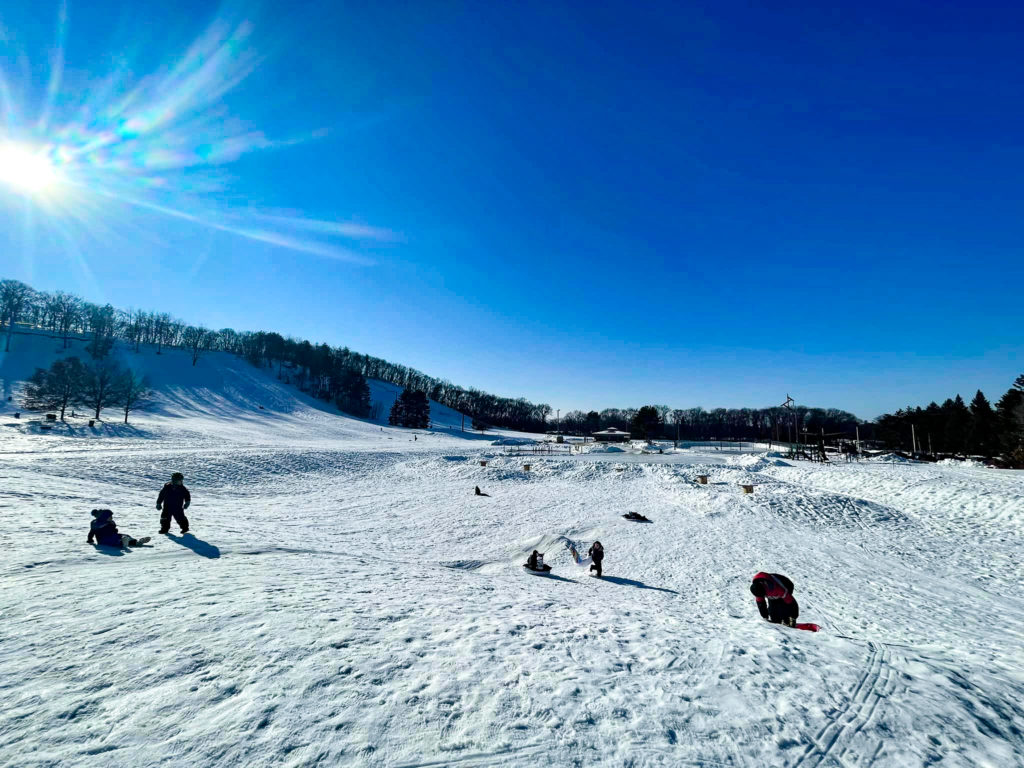 Pinehurst Park is part of Eau Claire's Wintermission initiative, a project that encourages locals to embrace the season by engaging in outdoor winter events and saying no to the social isolation that winter sometimes brings. Wintermission was responsible for the gear share/gear exchange that allowed my son an afternoon on the sledding hills without any money coming out of my pocket.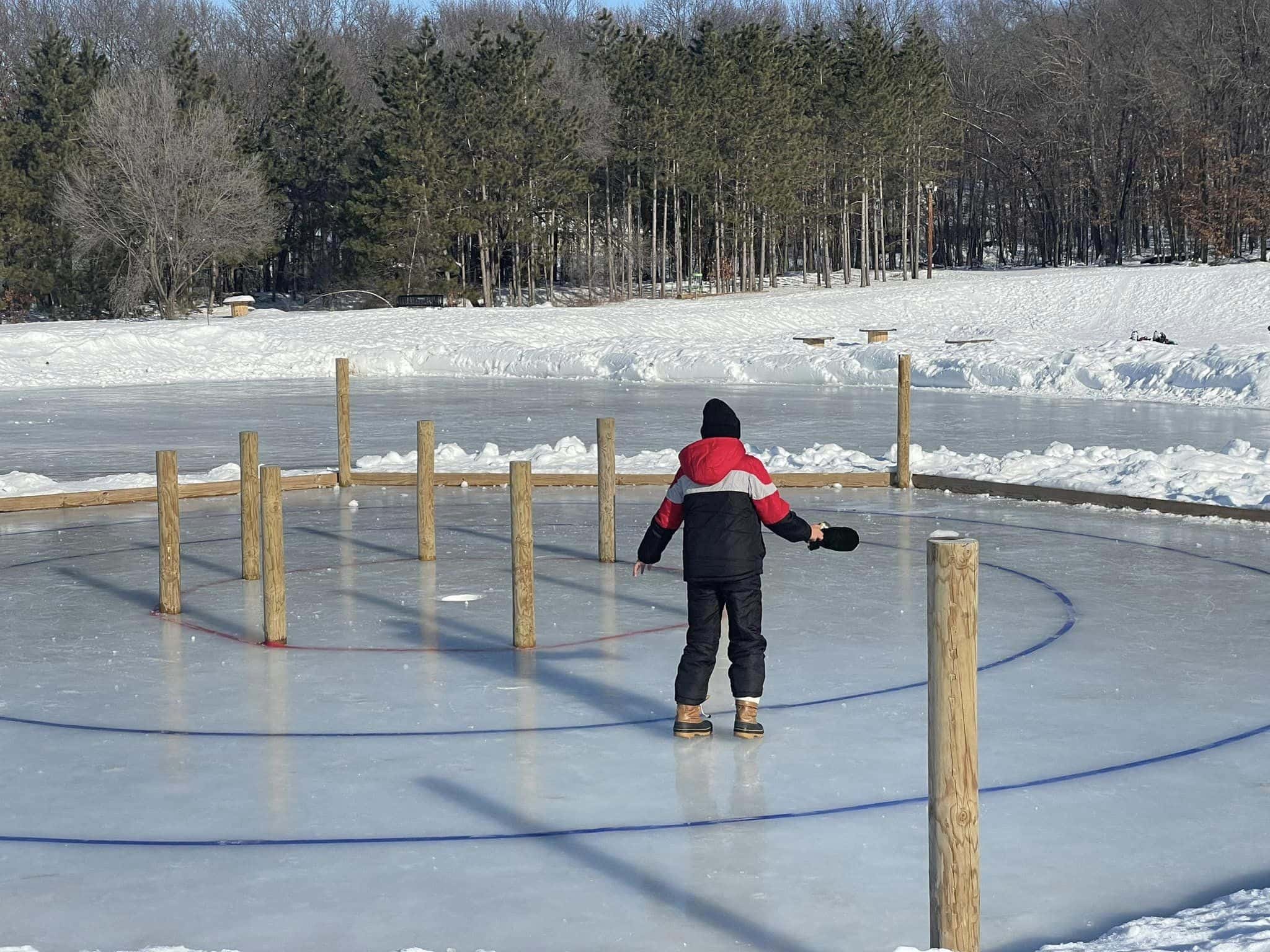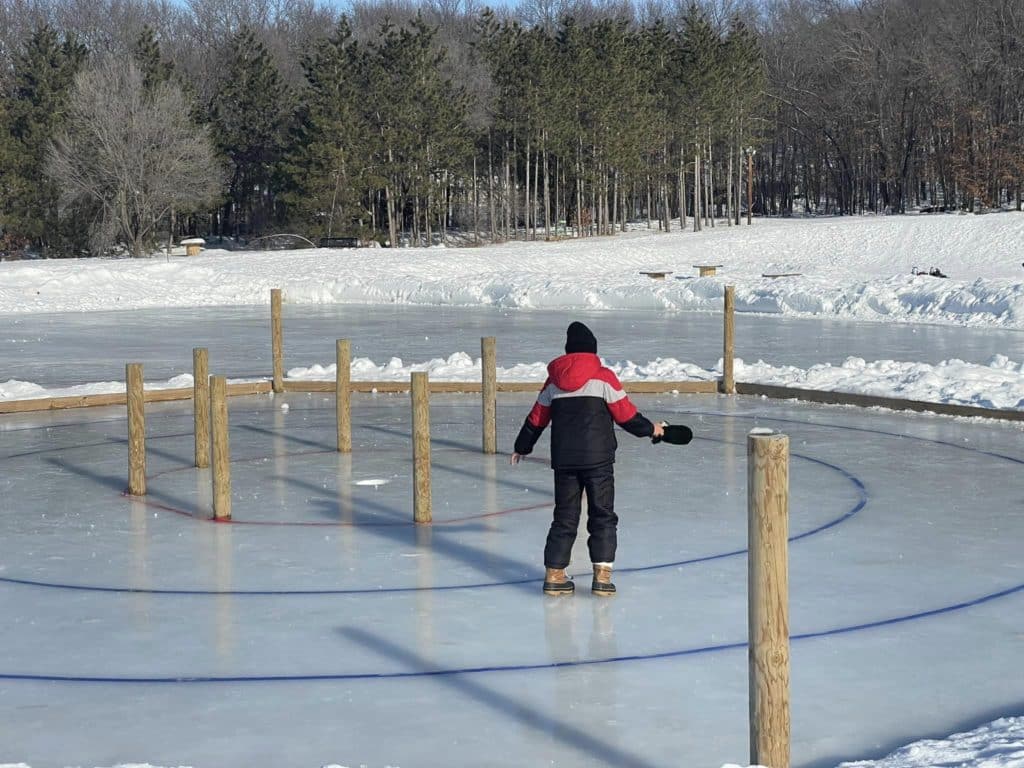 We appreciated the convenience because visitors from Texas are unlikely to bring their sleds with them to Wisconsin (or even own a sled) but as a parent, I appreciated the free activity that allows families to get out of the house and be active during the winter. While the snow was a novelty for us, I can see how cold weather can keep people shut inside their houses when engaging in movement, and getting fresh air would be more beneficial. Available to rent were cross-country skis, snowshoes, hockey sticks, and broomball equipment. Unfortunately, there weren't any skates available to rent, so if you want to skate at Pinehurst Park, you'll need your skates.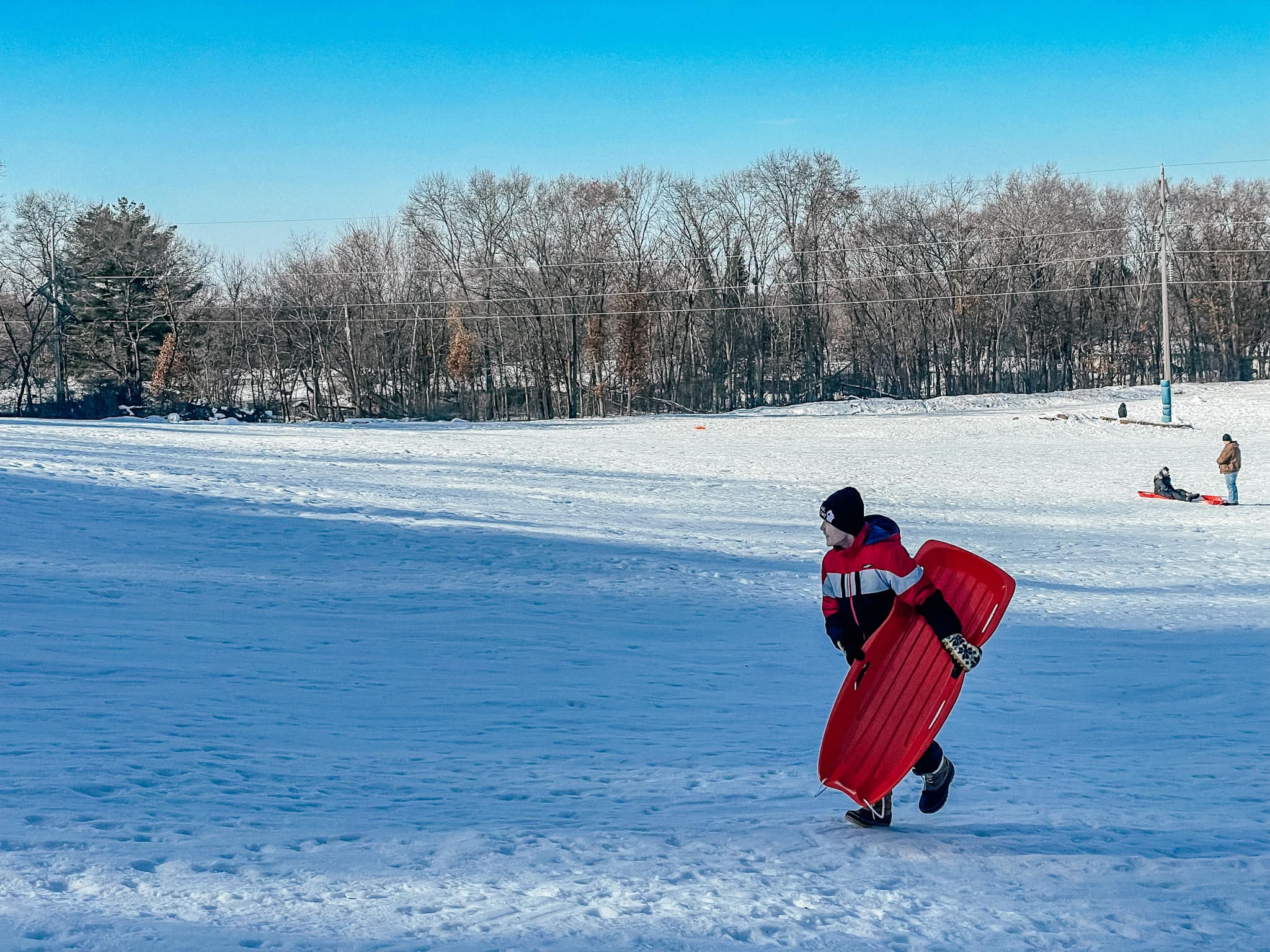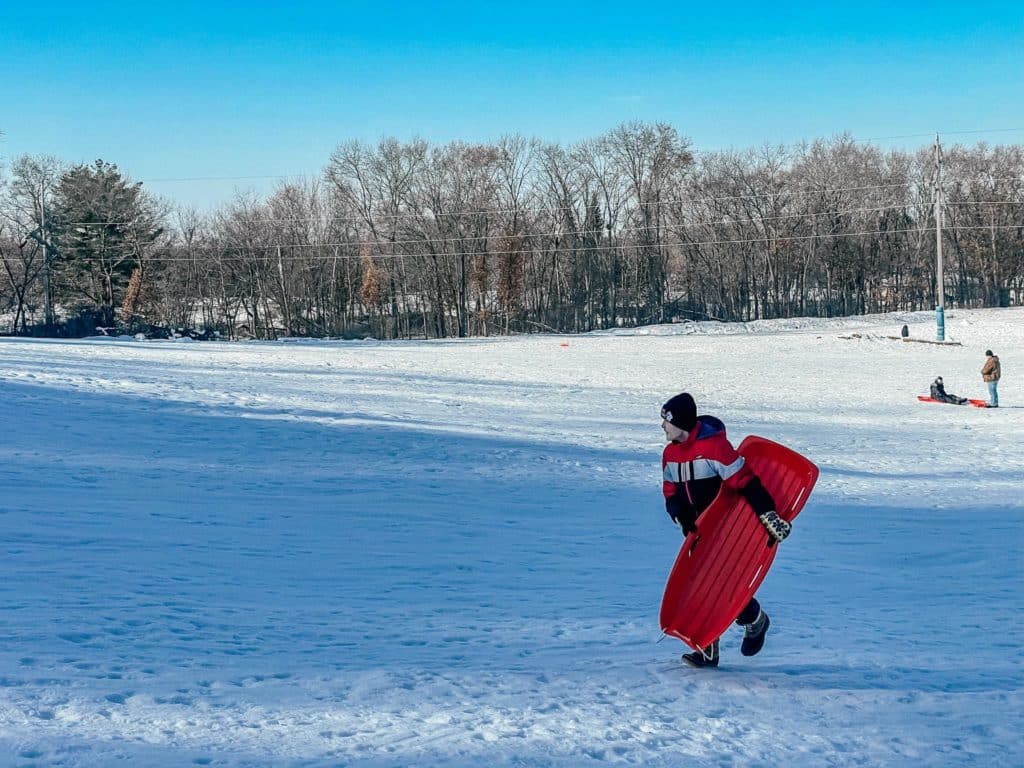 3. the Children's Museum of Eau Claire
This newly-opened space for kids is a world-class space for imaginative play. There are lots of hands-on activities that promote creativity, problem-solving, and movement, and encourage a love of the Wisconsin outdoors.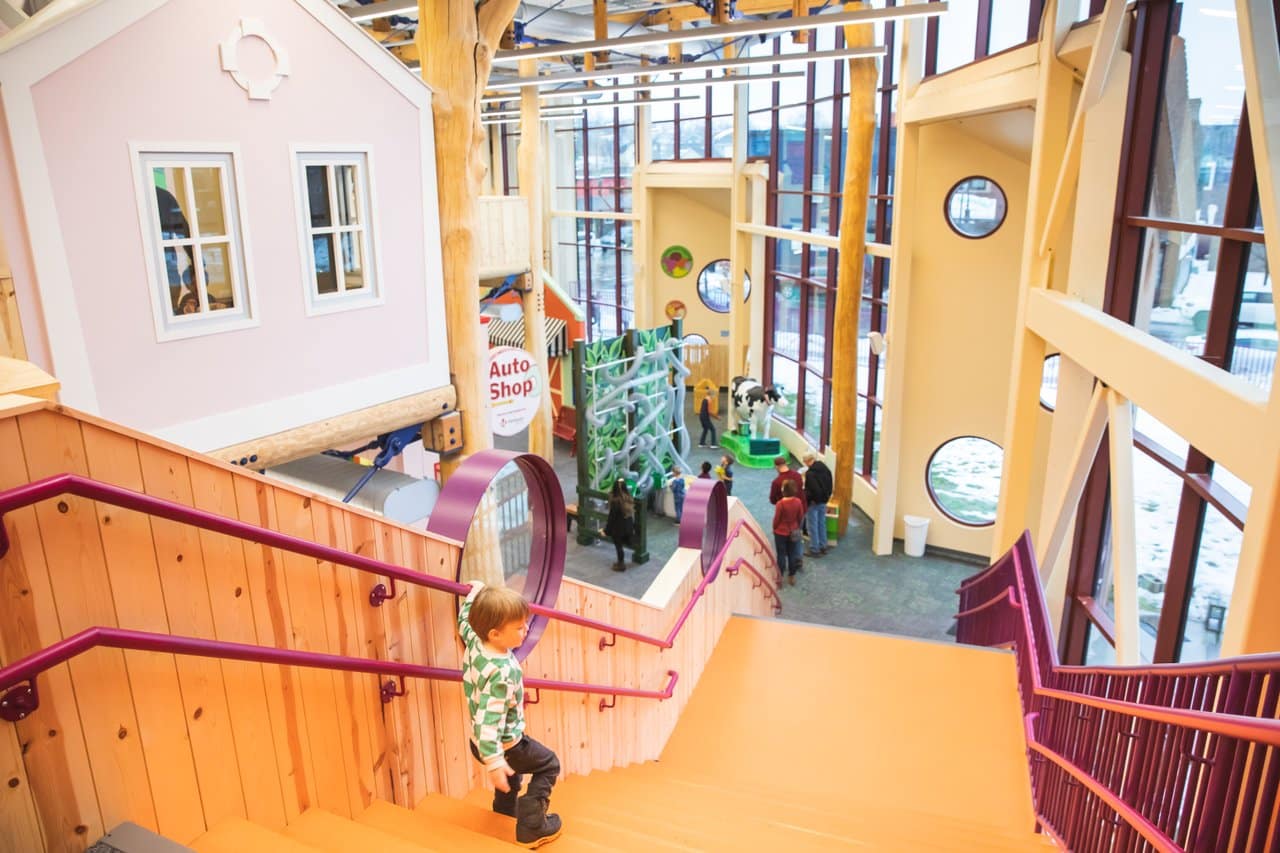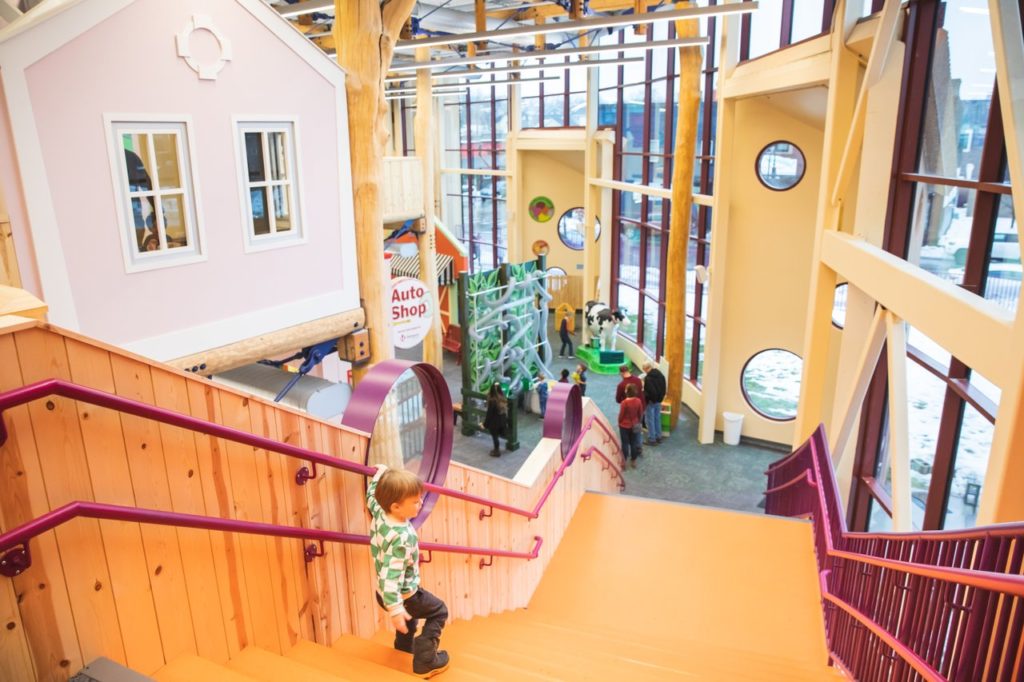 The Children's Museum of Eau Claire is probably best suited for kids under 10. There are a lot of opportunities for pretend play, such as putting antifreeze in a car, raking leaves, fishing, and more. There's also a climbing wall and a measured long jump space. My 12-year-old was on the upper end of the age limit but he did have a good time checking out the play spaces.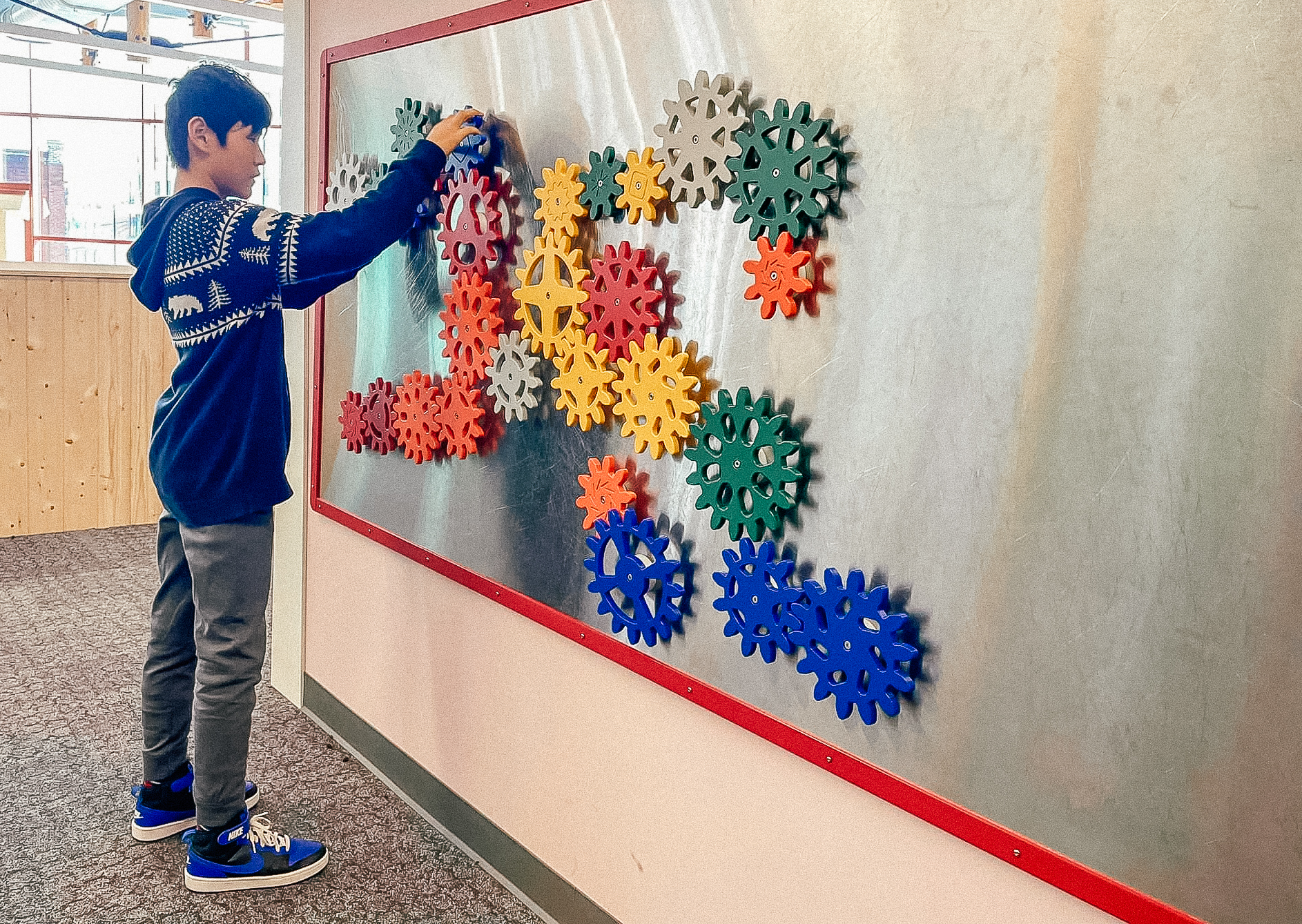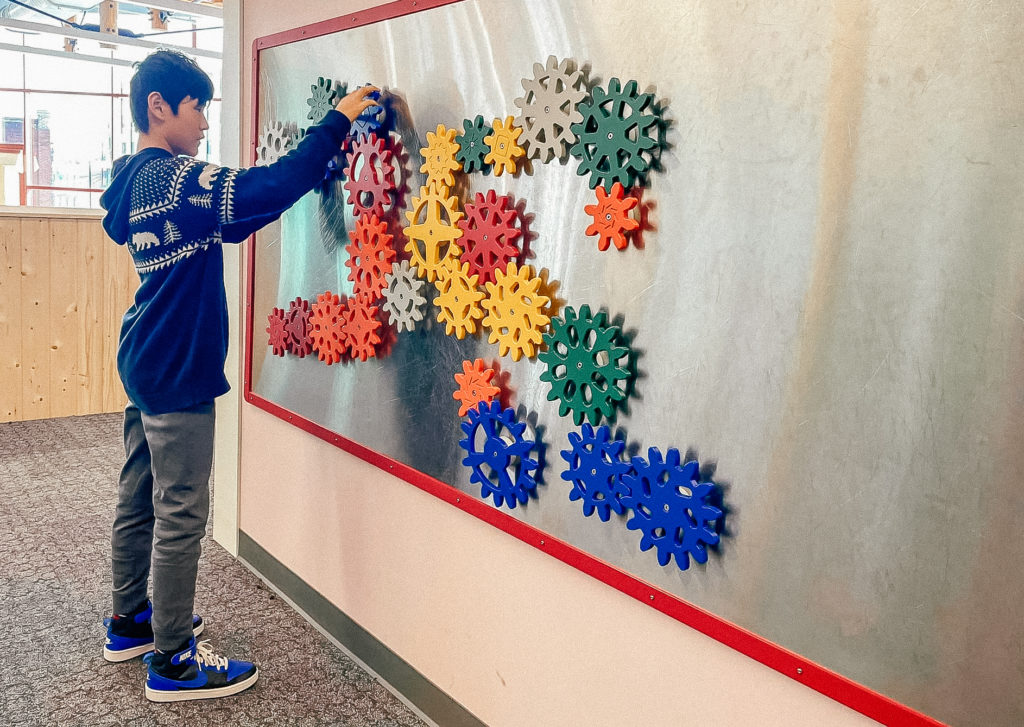 Even though this is an indoor space, there are lots of windows that let in natural light. There's also a coat room off the entrance to store heavy winter gear.
4. Warm up with a great cup of hot chocolate
While there are many places to get a warm drink in Eau Claire, our top pick for hot chocolate is Shift. Shift is a combination bike shop and coffee shop. It's a little bit of a novel concept but it's an inviting place to sit and have a hot chocolate or a latte.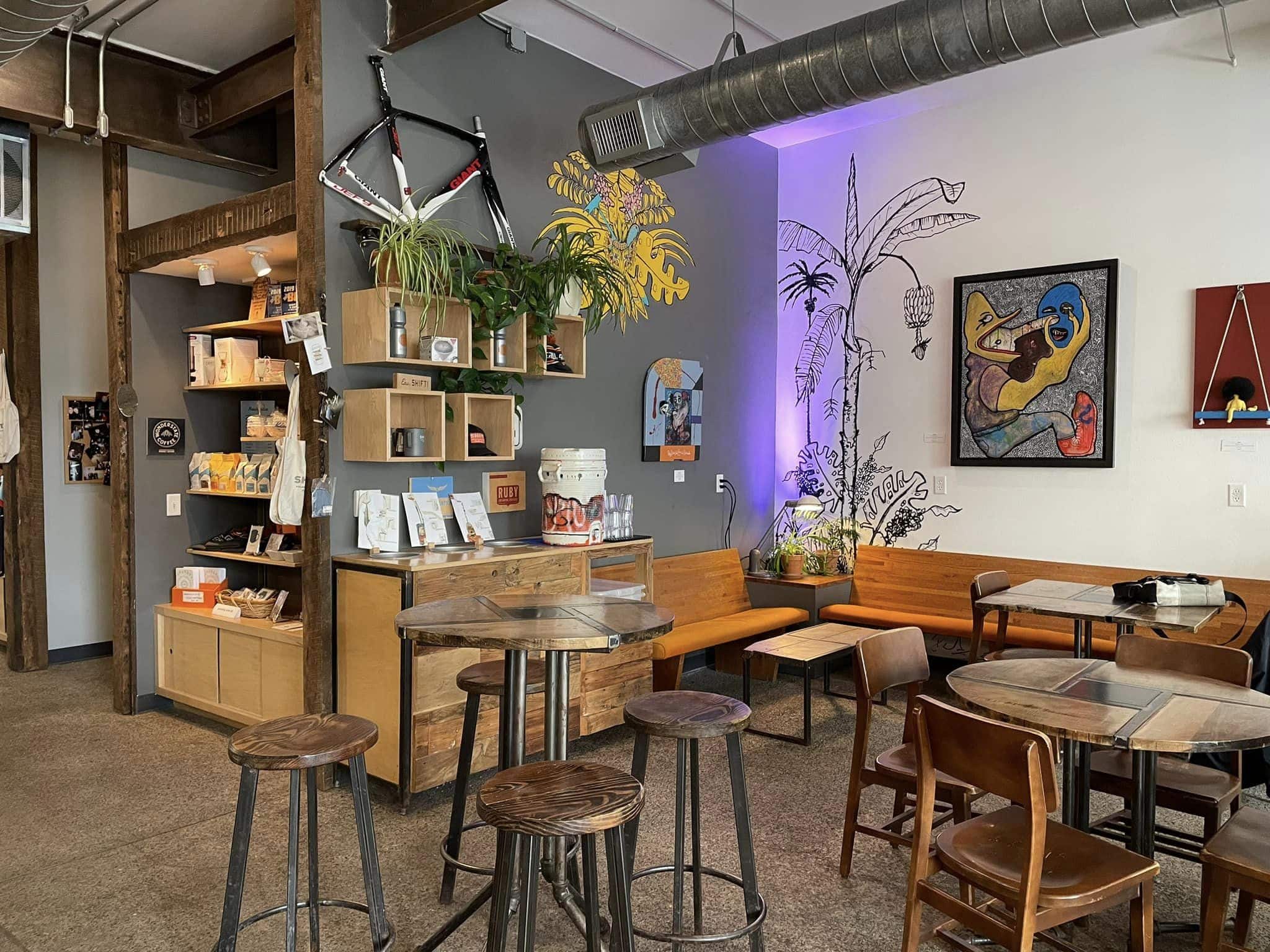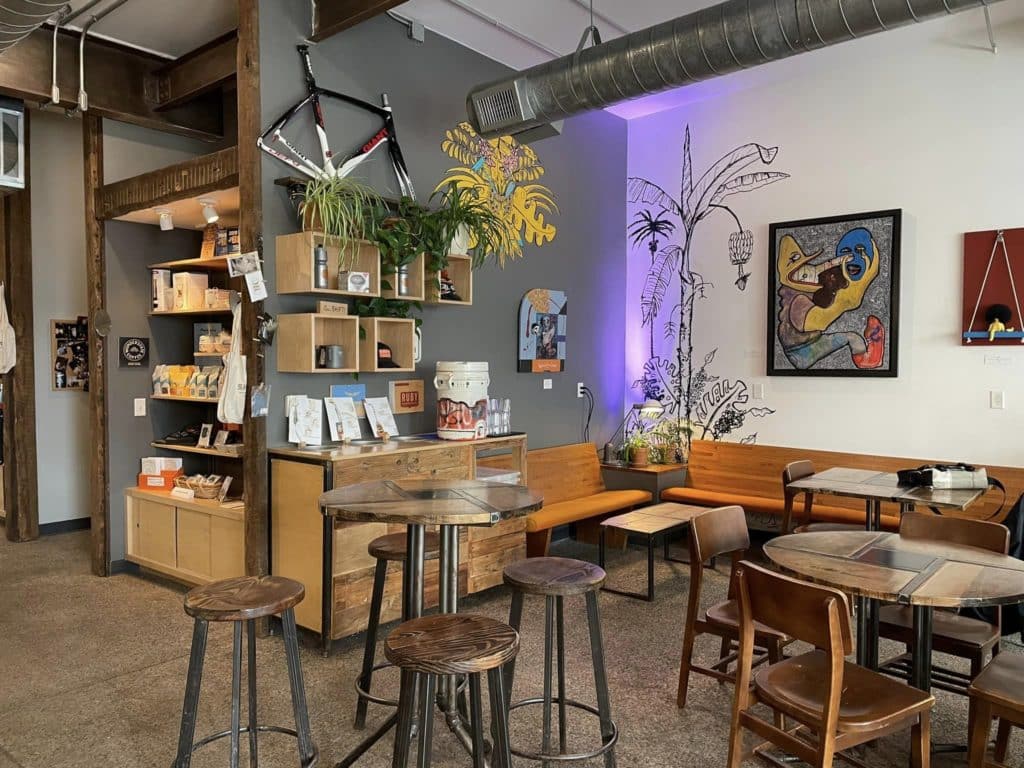 5. More to do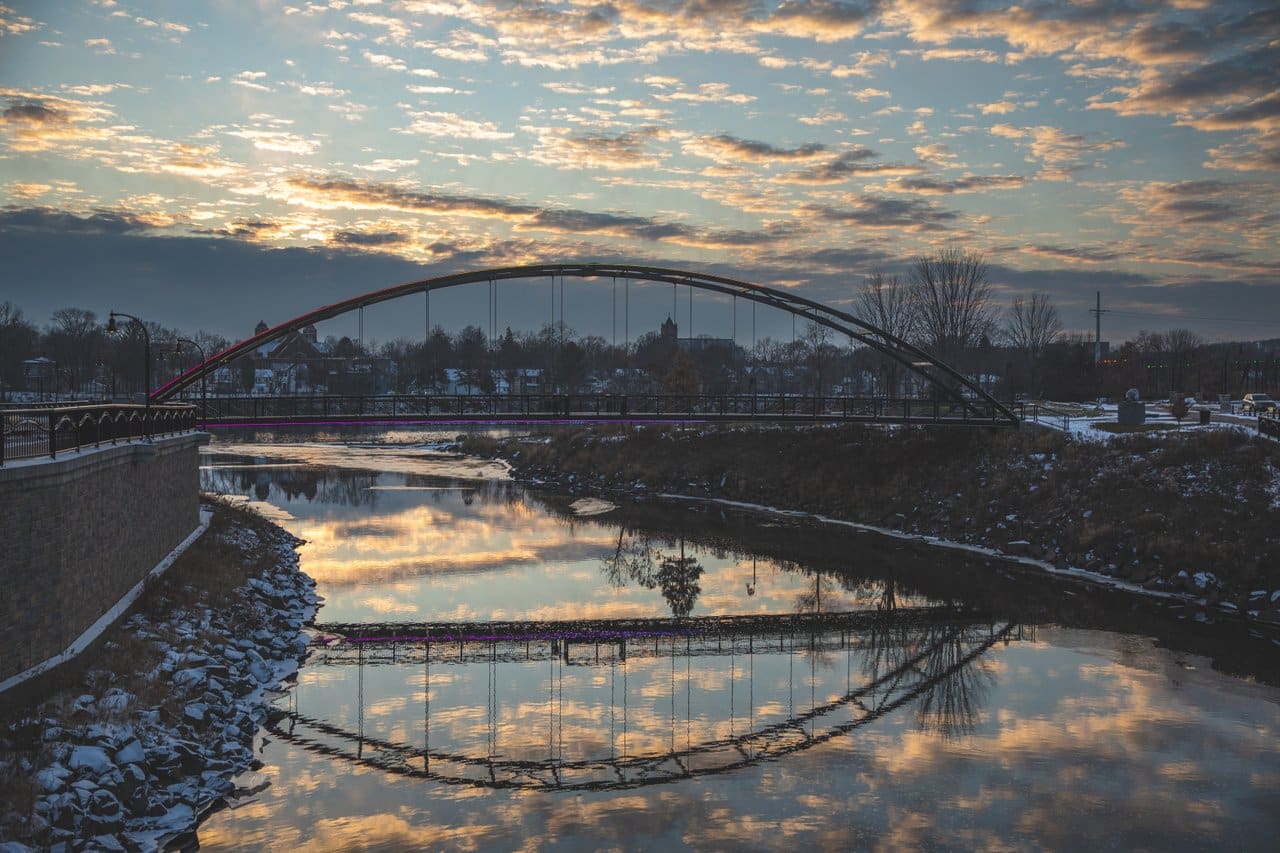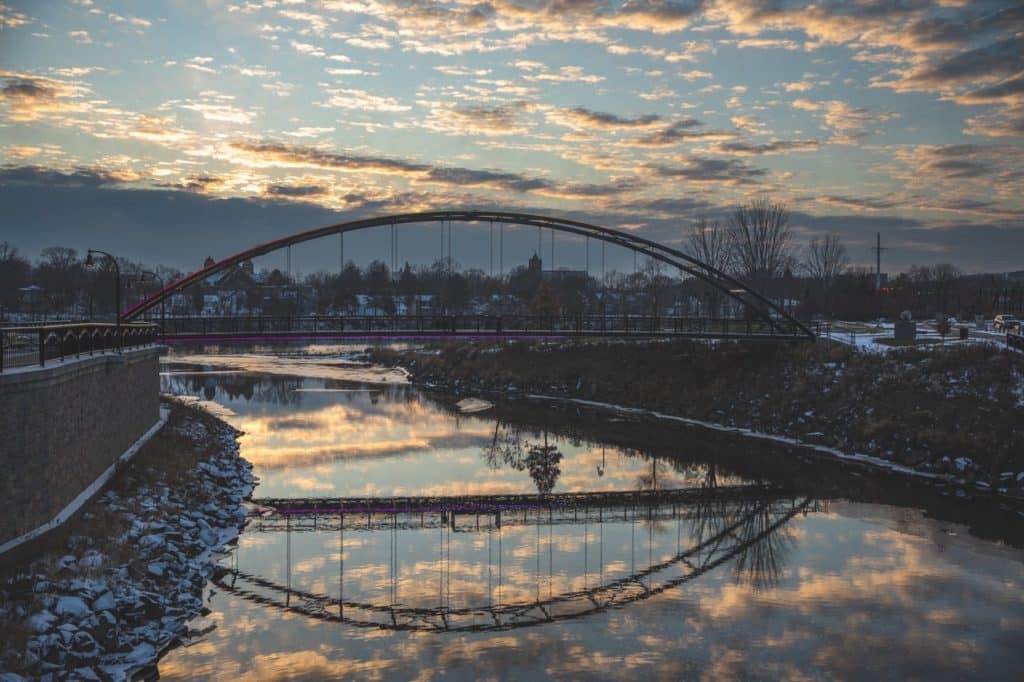 Our Eau Claire winter gear
We might be from Texas, where it hardly ever snows, but we know how to suit up for cold weather.
I was gifted a pair of Reimot cold weather boots. They're nothing fancy to look at but they're warm, comfortable, and they kept my feet dry.
I have waterproof, windproof hiking style pants and a plain parka, both from Amazon:
Kyle had these waterproof boots:
And this set that included bib snow pants and a parka:
We both had a good base layer and wool socks (not cotton) are a must for keeping your feet warm when you're out in the snow. Visit Eau Claire gifted us with beanie style hats and warm mittens. When your hands, feet, and head are warm, you don't feel the effects of the cold as much.