Home for the Holidays in Galveston this winter break
(This post may contain affiliate links. Read my full disclosure.)
Enjoy the holiday spirit this season with a bit of sun instead of snow in Galveston, Texas. An easy drive from Houston and a few hours more from Central Texas, Galveston offers lots of activities to celebrate the season without the heavy coats and ice-glazed winds. Here are the top things to do for the holidays in Galveston.
This is a guest article by Catherine Parker
Home for the Holidays in Galveston this Winter Break – Top things to do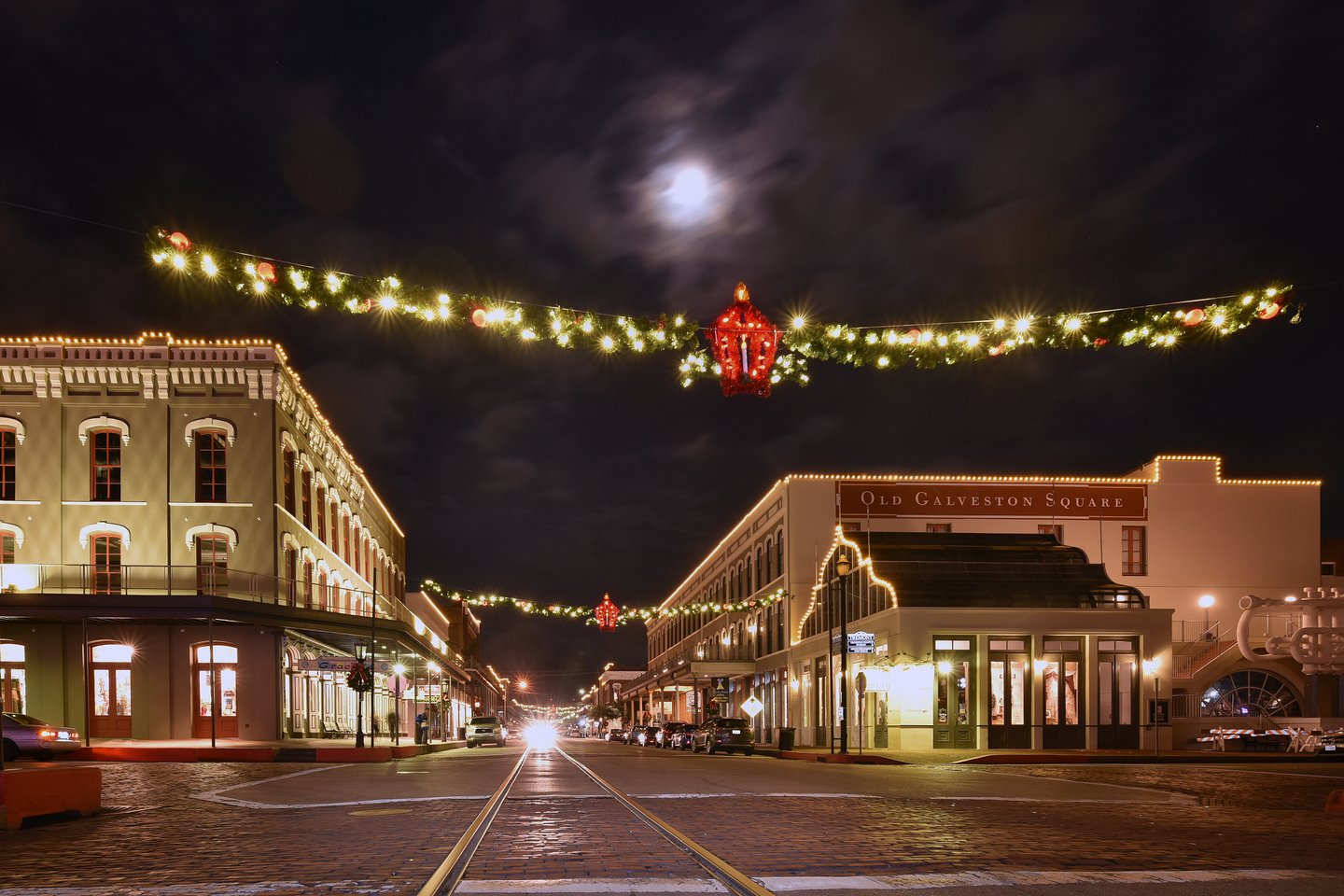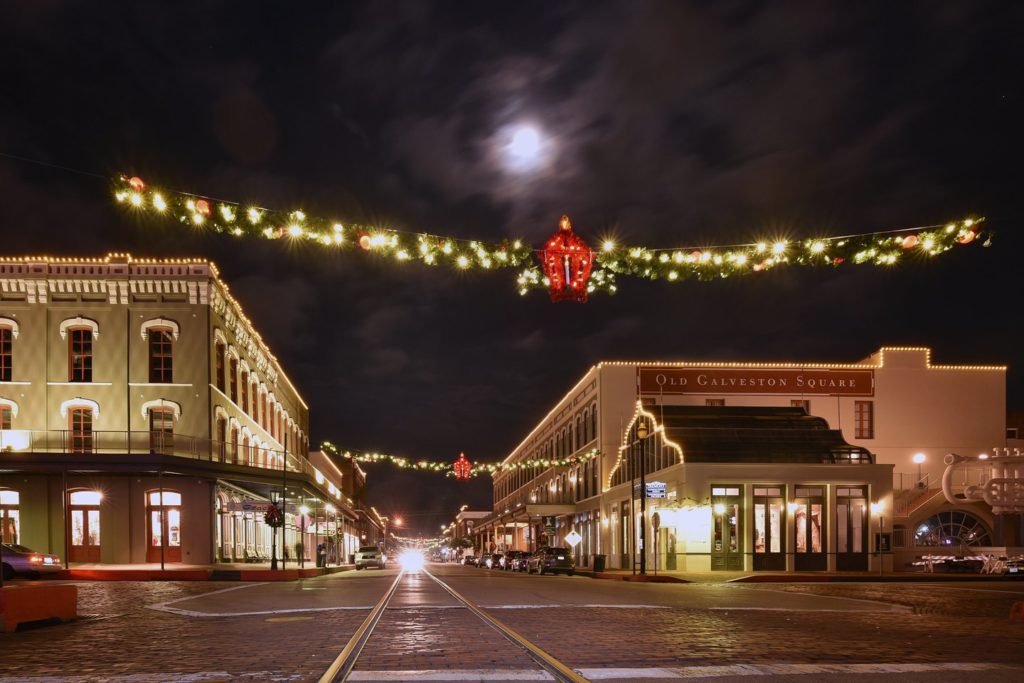 Ice Land at Moody Gardens
Experience the magic of winter during a Galveston getaway with the return of Ice Land at Moody Gardens. Inside the 28,000 square-foot insulated tent, Chinese ice carvers from Harbin, China, meticulously carved 2 million pounds of colored ice beginning in October.
Inside of the specially insulated tent, families can explore Ice Land: Ice Sculptures, A Caribbean Christmas as they meander through towering ice carved into beloved creatures of the Gulf of Mexico and the Caribbean Sea. The marine life from the Flower Garden Banks is re-created in ice, a marine sanctuary 100 nautical miles from Galveston protecting the northernmost coral in the U.S. Additionally, visitors will see eagle rays, dolphins and even hammerhead sharks depicted in ice. Of course, kids will find a ship in the mix.
With the temperature at a constant 9 degrees Fahrenheit, guests can use the coats provided by Ice Land, with sizes from toddlers to adults. For adults, Shivers is an ice bar featuring holiday cocktails.
While visiting the Moody Gardens, extend your visit after dark and walk through its Festival of Lights, a mile-long holiday-themed trail with 2 million individual lights and sound-enhanced animated displays.
The holiday merriment doesn't end there. Families can also ice skate at a covered outdoor ice rink. Or slide down the Arctic Slide, an ice slide and take a ride on its train.
Land: Ice Sculptures, A Caribbean Christmas and the Festival of Lights is open daily from Saturday, November 19 (the first weekend of Thanksgiving break) to Saturday, January 7 from 10 a.m. to 10 p.m. on peak days and 11 a.m. to 9 p.m. on non-peak days. Adult holiday pass is $65-$70 depending on the day, kids and senior holiday pass is $45-$50 and include Iceland, Festival of Lights, a movie, Arctic Slide, ice skating (skate rental extra) and the pyramid.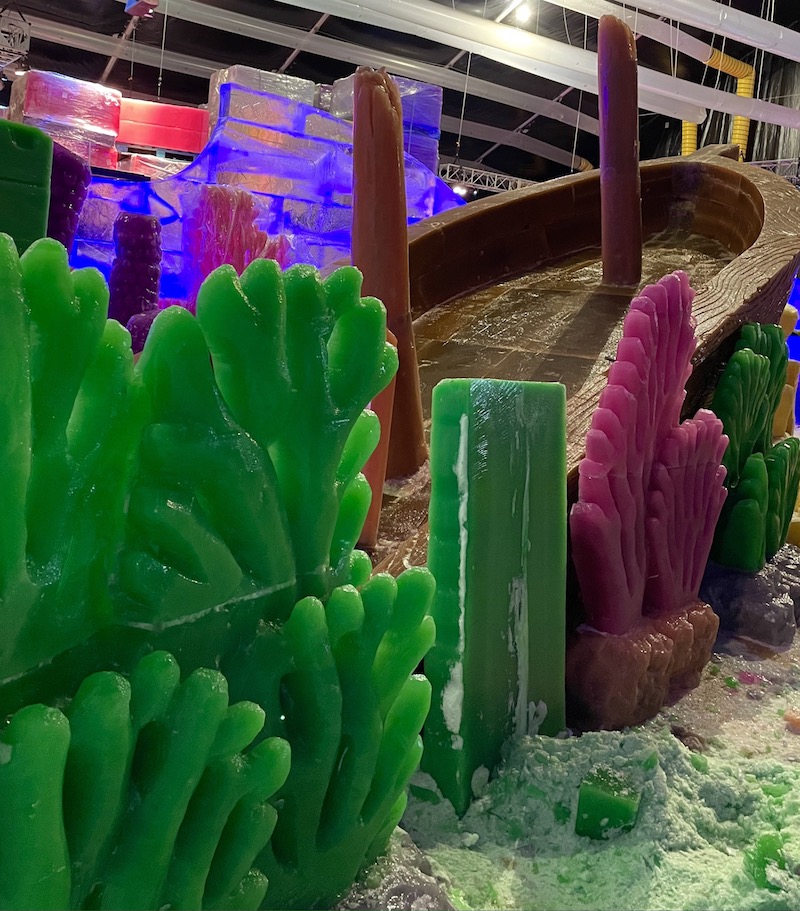 Moody Gardens
As an educational facility focusing on conservation, the centerpiece of Moody Gardens is its three glass pyramids. Each pyramid offers a different focus.
The tallest of the pyramid is the largest aquarium in Texas. Visitors will find displays like the Gulf of Mexico oil rig exhibit, a jellyfish gallery, a penguin exhibit along with a Caribbean shipwreck. Also guests can arrange animal encounters inside the aquarium.
The rainforest pyramid is 10-stories high and houses 1,000 plants and animals, like giant Amazon river otters along with monkeys and a kimono dragon. The rainforest features free-flying birds. The water features in the rainforest are home to several varieties of fish.
Many of the animals are free-roaming. Though some enclosed habitats can be found with insects, like the leaf-cutter ants, along with several bats like the vampire bats.
The Discovery pyramid focuses on science exhibits. Additionally a 3D and 4D theater is showing several different movies throughout the year, like the seasonal favorite, Rudolph the Red-Nosed Reindeer.
The Moody Gardens features the Colonel, a paddlewheel boat offering an hour-long cruise. Guests will find a ropes course and a zip line (open on weekends). The outdoor water park is open during the summer.
Moody Gardens offers a convention center, on-site hotel and golf course too.
Located at 1 Hope Blvd. Open every day from 10 a.m. to 4 p.m. Moody Gardens offers free parking.
Celebrate the holidays in Galveston with a special train ride
As a must for train enthusiasts and families with train kids, take a special journey aboard the Polar Express. The journey begins at the 1932 Gulf, Colorado and Santa Fe Depot, located at one end of The Strand.
Starting with a reading of the iconic holiday book, families gather (and kids are encouraged to wear their jammies) as they board the decorated vintage train cars. During their ride, Santa and Mrs. Claus visit each passenger. With hot cocoa and cookies, the ride on the Polar Express is a holiday tradition for many.
The Galveston Railroad Museum features the specially painted Santa Fe warbonnet engines reminiscent of the Texas Chief that operated from Galveston to Chicago. In addition, see the rest of the locomotives and freight cars at the Galveston Railroad Museum, like a pullman (sleeping) car, dining car and a post office car.
Located at 2602 Santa Fe Plaza. Reserve Polar Express tickets in advance and lap children are free. The Polar Express runs from Friday, November 11 to Friday, December 23. November departures are Friday, Saturday and Sunday. December departures are Thursday through Sunday along with the entire week before Christmas. Reservations are required and tickets start at $30 per passenger. Each date offers several departure times.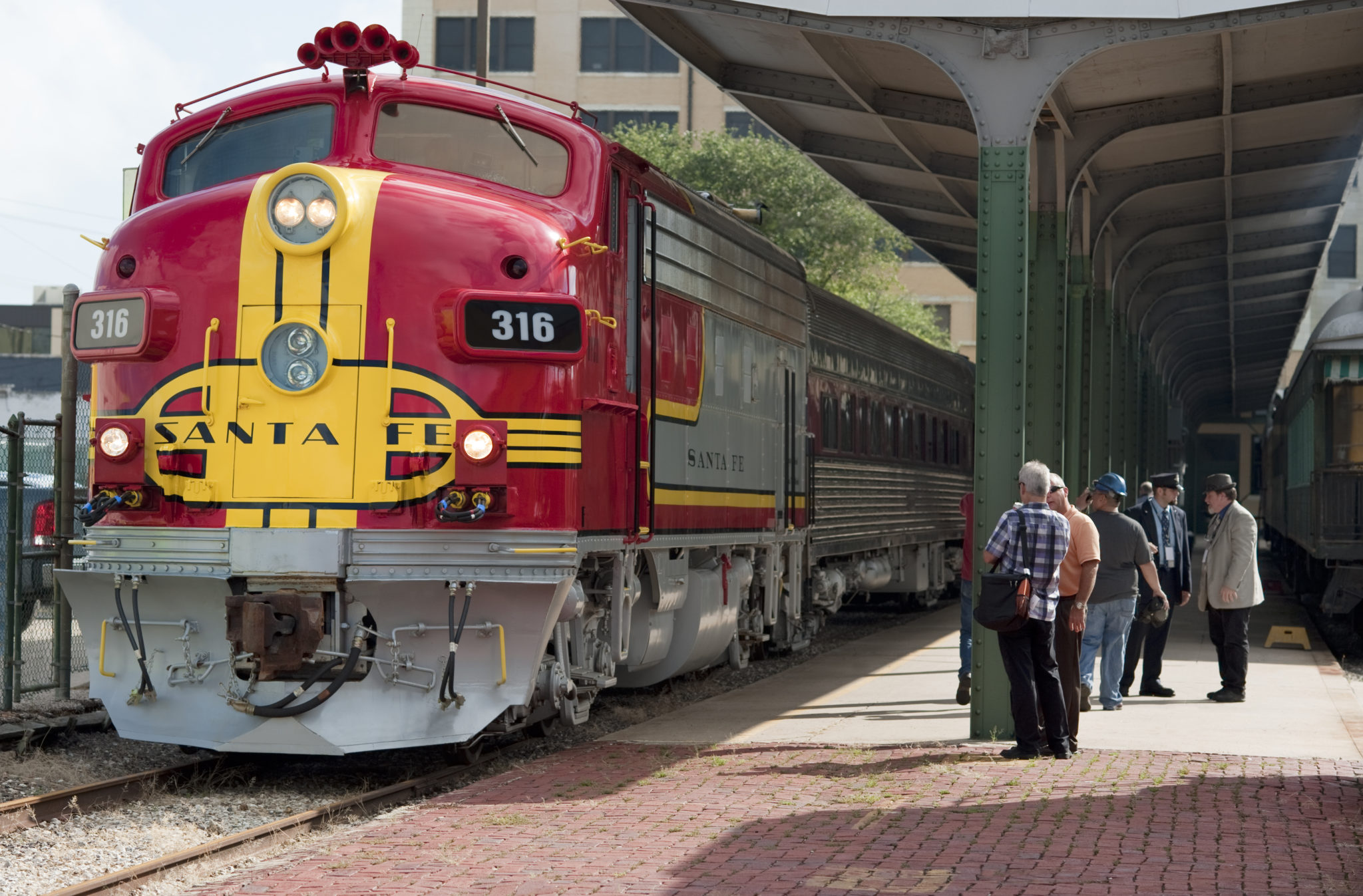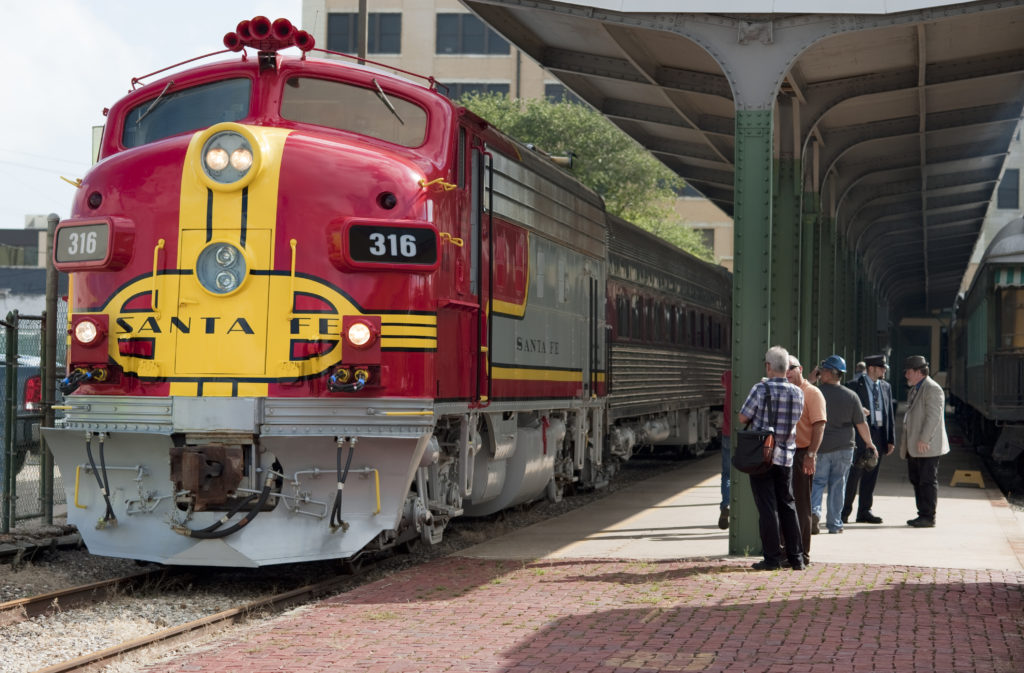 Dickens on the Strand
Get transported to Victorian England with the food, the drinks and the sounds of the season. From the strolling carolers to the smell of roasting chestnuts, revelers can join in the fun with their own version of a Dickens-era costume at the 49th annual Dickens on the Strand.
The historic Strand District offers lots of room for artisan demonstrations along with holiday craft booths. Don't miss the parade for the costumes and the merriment.
Located in the Historic Strand District from 22nd St. to 25th St. and along Mechanic St. and The Strand. Dickens on the Strand will be Friday, December 2 from 5 p.m. to 9 p.m. with free admission. Open from admission 10 a.m. to 9 p.m. on Saturday, December 3. Admission is $18 for adults, $13 for kids (7 – 12) and kids 11 and younger are free. Open from noon to 6 p.m. on Sunday, December 4. Admission is $18 for adults, $13 for kids (7 – 12) and kids 11 and younger are free.
The Grand 1894 Opera Hous
e
A special place for Galvestonians, the opera house survived the devastating 1900 hurricane and is a home for the arts in Galveston. For 2022, visitors find several seasonal performances at the historic Grand 1894 Opera House with classics like "A Christmas Carol" and "The Nutcracker" performed by the Houston Ballet.
Located at 2020 Post Office St. For more information, its schedule and tickets, visit its website.
Santa Hustle Galveston 5K Half Marathon and Kids Dash
For runners, the ideal time to take in the beach is a run on Galveston Island. For the Santa Hustle, kids can get it on the fun too. The route goes along the seawall with views of the beach and Santa costumes are encouraged. As a bonus, runners can eat cookies and candy along the route.
Located at Beach Central at the Grand Galvez on Sunday, December 18, 2022, starting at 7:30 a.m. Register in advance. For more information, visit its website.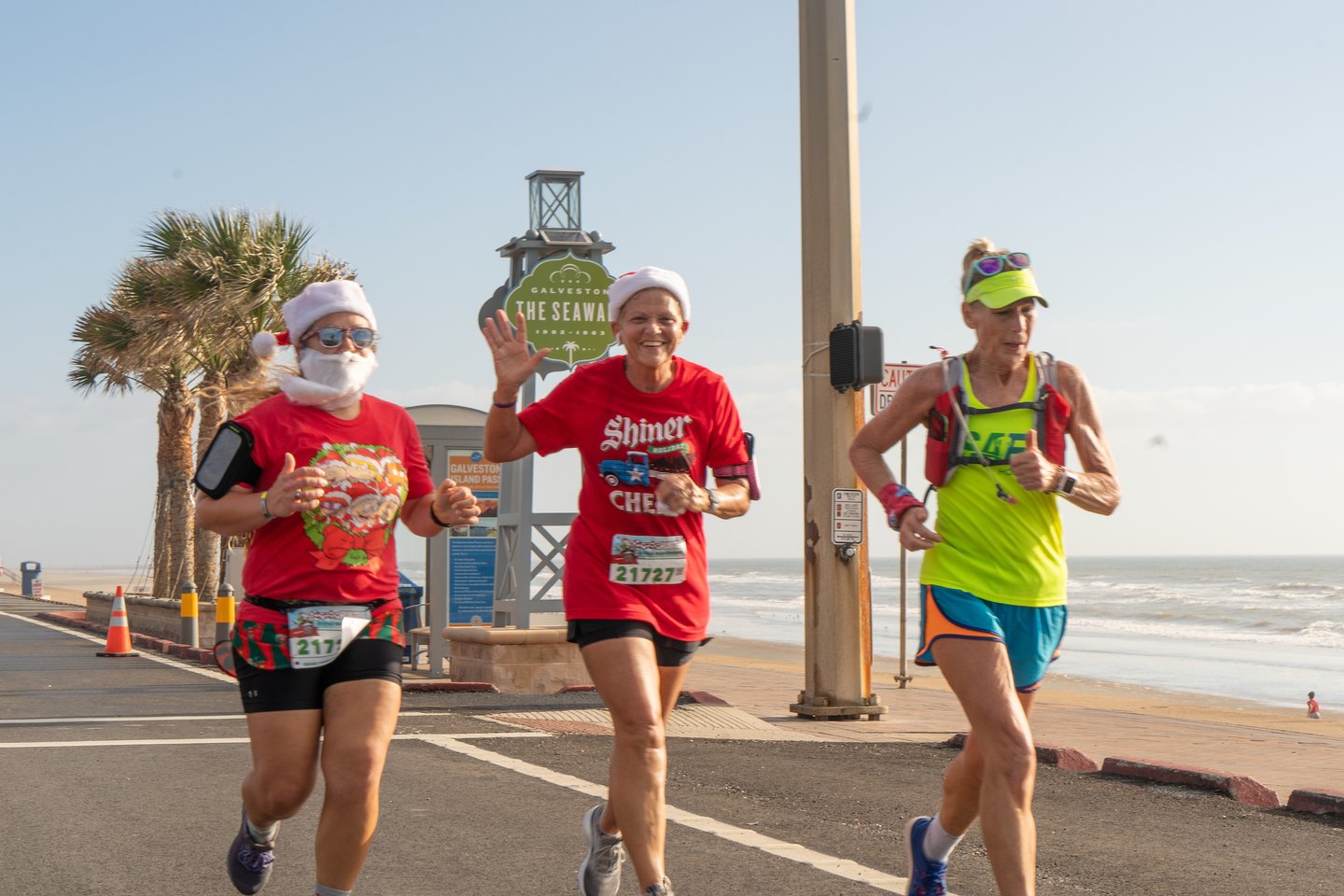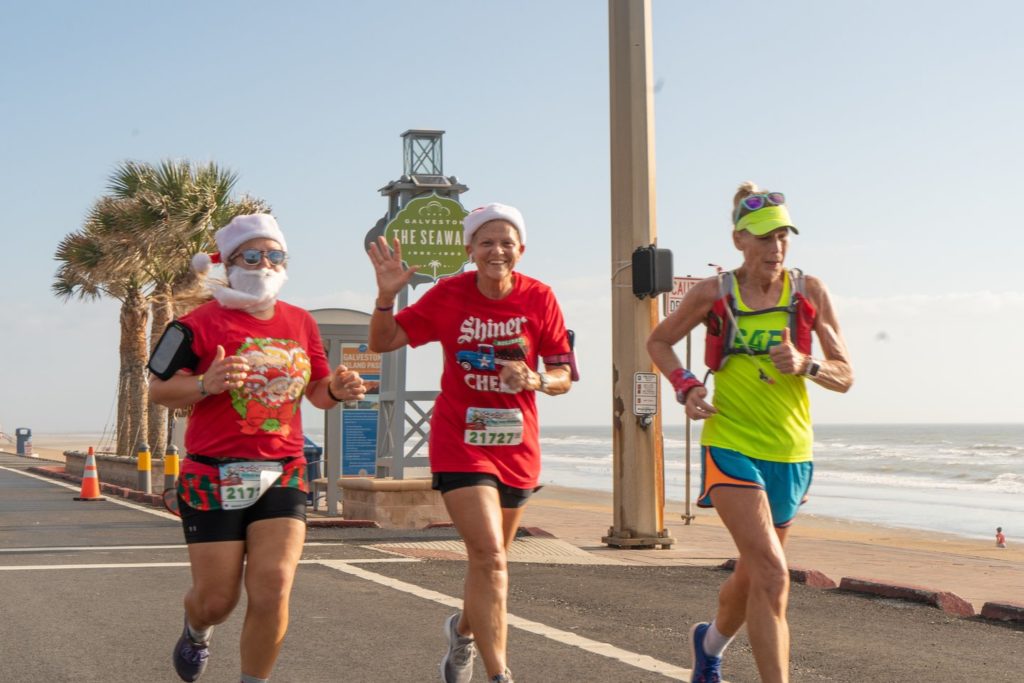 Holiday Delights at the Bryan Museum
In 2015 The Bryan Museum opened in a building that was once the former Galveston Orphan's Home, built in 1895. In this museum, learn about the history of Galveston and the entire state of Texas. It also houses the world's largest collection of historical artifacts related to Texas and the American West.
For its annual Holiday Delights event, guests can take pictures with Santa along visit the petting zoo, write letters to Santa, enjoy food and crafts along with live music.
Located at 1315 21st. St. Open from 11 a.m. to 5 p.m. Wednesdays through Sundays (closed Mondays and Tuesdays). Adult admission is $14, students are $10, kids from 6 to 12 are $5 and kids 5 and under are free.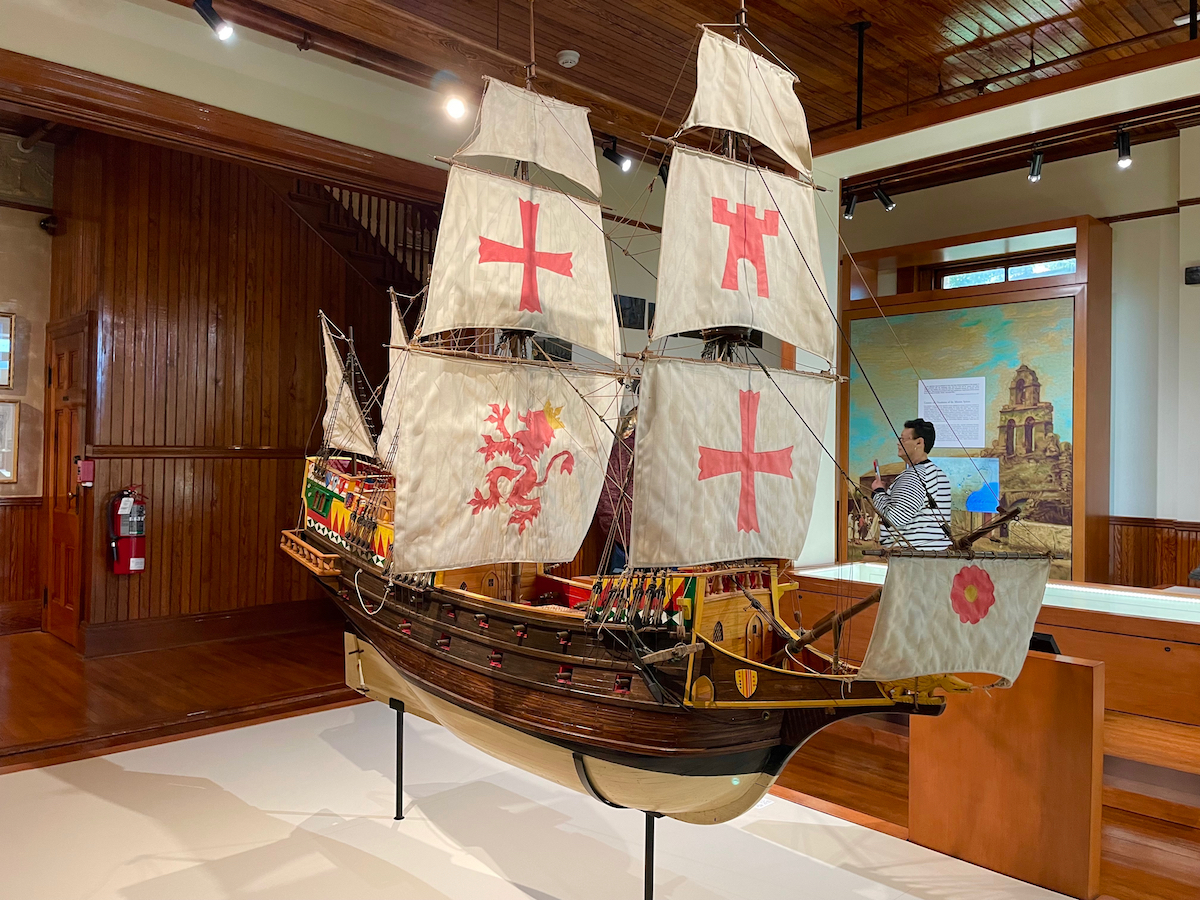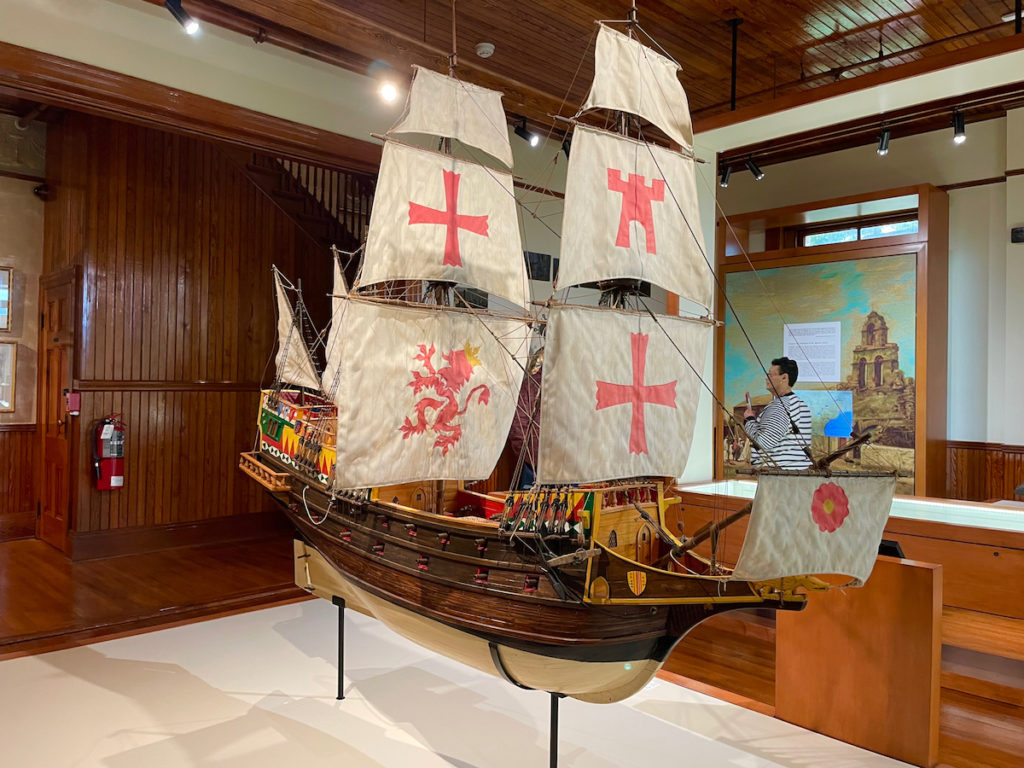 Holiday with the Cranes
It's not the in-laws, it's the feathered winter Texans. The Sandhill Cranes, three to four-foot tall cranes with a distinctive red head, spend the winter in the Galveston area. This event combines observing the cranes at sunrise along with a speaker.
Located at 1700 Syndor Lane and organized by the Galveston Island Nature Tourism Council. This year's event is Saturday and Sunday, December 10-11, 2022. For more information, visit its website.
Public Art around Galveston
Galveston offers public art across the island. Visitors can find the painted turtles, decorated by local artists to raise awareness for Texas' own, Kemp's Ridley sea turtles.
After Hurricane Ike flooded much of the island and damaged many of the trees, sculptors shaped the trunks into tree sculptures.
Holidays in Galveston – Where to Eat and stay
With its location on the water, seafood comes to mind for a Galveston getaway.
The Grand Galvez Sunday Brunch
After a recent multi-million dollar renovation, the Grand Galvez is still the place for a sumptuous brunch. With multiple stations, guests can enjoy a raw bar with Texas oysters and shrimp along with smoked salmon, accented with an ice sculpture. The salad bar offers leafy greens along with crudite, artisan cheeses, and pastries.
Guests can step up to the hot stations for made-to-order omelets, pasta, and waffles along with prime rib and pork loin carved-to-order. In addition to the made-to-order stations, the Grand Galvez brunch offers eggs Benedict along with regional favorites like gumbo.
Though guests should save for the dessert buffet that runs the entire length of the dining room. It features favorites like chocolate cakes, pecan pie along with individual parfaits and more.
Located at 2024 Seawall Boulevard. Brunch is served from 11 a.m. to 2 p.m. Adults are $79.49 and kids are $29.99 (6 -12).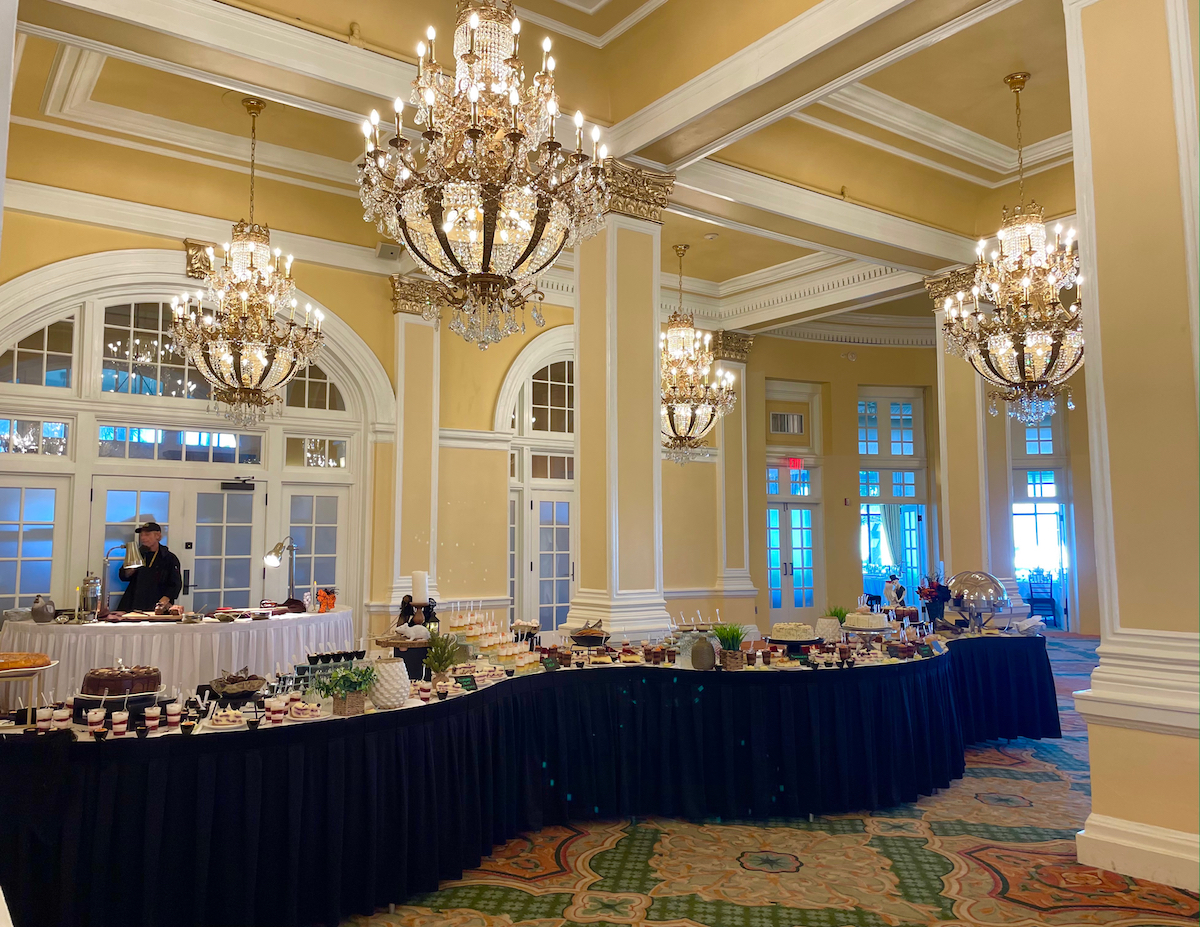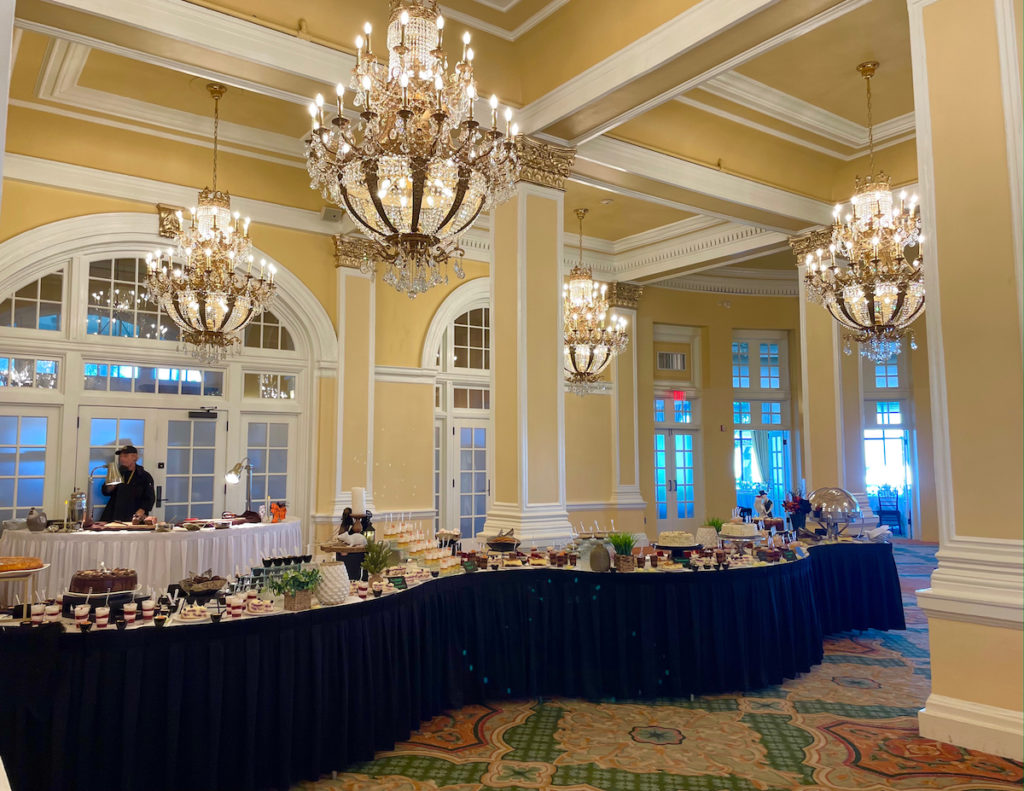 Mosquito Cafe
Start the day out with the Mosquito Cafe's hearty breakfast, like the Shrimp and Grits or the Crabby Mosquito. It also serves lunch and dinner.
Located at 628 14th St. Open Tuesday to Saturday 8 a.m. to 8:30 p.m. and Sunday 8 a.m. to 3 p.m.
Taquilo's
Get a dose of Tex-Mex favorites in Galveston from shrimp tacos to enchiladas.
Located at 2101 Postoffice St. Open daily from 11 a.m. to 9 p.m.
La King's Confectionery
An old-fashioned candy store that the kids will spot before the adults.
Located at 2323 Strand St. Open Sunday through Thursday from 11 a.m. to 7 p.m., Friday from 11 a.m. to 8 p.m. and Saturday from 11 a.m. to 9 p.m.
Gaido's Seafood Restaurant
Opening in 1911, Gaido's Famous Restaurant is a Galveston icon and offers a large selection of seafood entrees, from fried favorites to its daily specials. The pecan pie is a stand-out. Though don't wander in wearing a wet bathing suit and sandy feet.
Located at 3828 Seawall Blvd. Open Sunday to Thursday from 11 a.m. to 9 p.m., Friday and Saturday from 11 a.m. to 10 p.m.
Where to Stay in Galveston
With its extensive property, stay in the Moody Gardens Hotel is a AAA four-diamond property with a resort-style pool within walking distance of Moody Gardens. The Moody Gardens Hotel is an ideal choice for a stay when celebrating the holidays in Galveston.
Located at 1 Hope Boulevard.
Related reading: