Flying with kids – the 8 tips you need to know
(This post may contain affiliate links. Read my full disclosure.)
Flying is not my favorite thing but as someone who travels frequently and writes about family travel, travel by air (and flying with kids) is a fact of life. And, even though I enjoy traveling with my kids, I don't love flying with my kids. Although I love exploring with them and having new experiences with them, the process of moving them and all their stuff from one place to the next isn't the fun part. But, I've picked up a few tips about flying with kids. If you're planning a trip or if you think you can't brave a plane ride with your kids (you can) this may help you.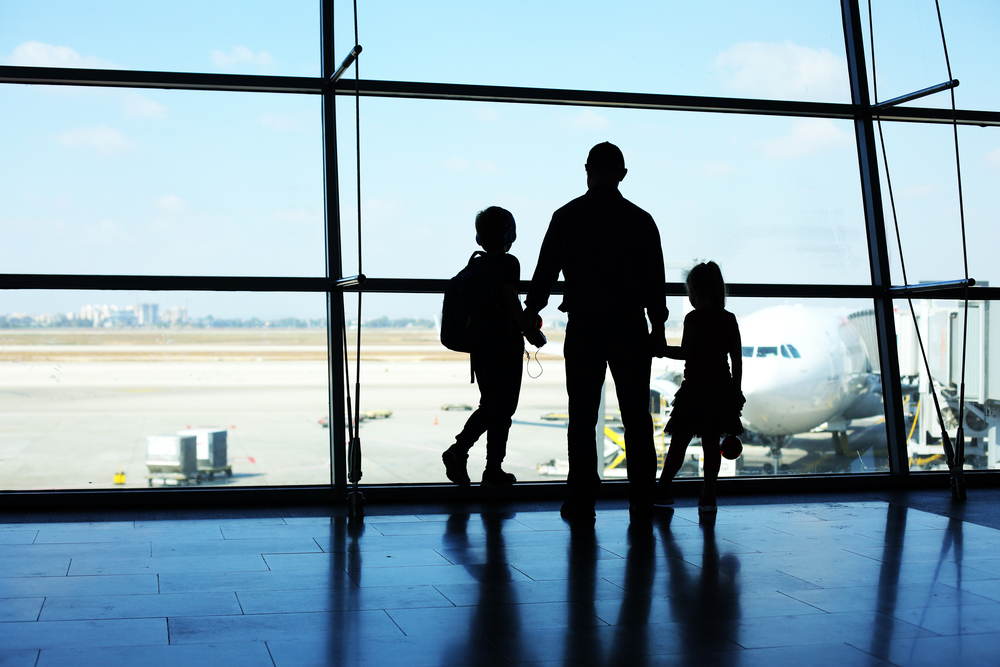 Flying with kids – the 8 tips you need to know
Disclaimer: We are a participant in the Amazon Services LLC Associates Program, an affiliate advertising program designed to provide a means for us to earn fees by linking to Amazin and affiliated sites. This post may also contain affiliate links to other websites. If you make a purchase from one of my links, the seller pays me a small commission.
1. Take the first flight of the day
Taking the first flight of the day ups your chances of getting where you're going on time. Flight schedules can get backed up or fall behind for lots of different reasons and even though taking the early a.m. flight out isn't a guarantee that something won't happen to delay your flight, it's been my experience that your odds of leaving on time are better earlier in the day. Besides, you get where you're going faster and your kids are probably so sleepy from the early a.m. wakeup that they'll sleep on the plane.
Or so you hope.
2. Talk to them about what's going to happen…
…even if you don't think they're old enough to understand. Even if you've flown lots and lots of times.
"When we go through security, you're going to have to take your shoes and jacket off."
"We have to stay in our seats until the pilot tells us it's okay to get up and move around. It might be a little bit before we can get a drink or go to the restroom."
"It will take three hours to get to where we're going and then we have to ride in the car for 30 minutes to get to our hotel."
Going over the details – in detail – helps make kids comfortable and when they have an idea of what's going to happen from one minute to the next, it makes everything flow more smoothly and saves you from having to answer questions about trip details over and over.
My kids travel often and I always make time to go over the details of our trip both as we're planning our travel and just before we leave. Some kids will stress about new situations or unknowns and they might not be aware enough of their stress to tell you about it. Getting them as much information up front can help.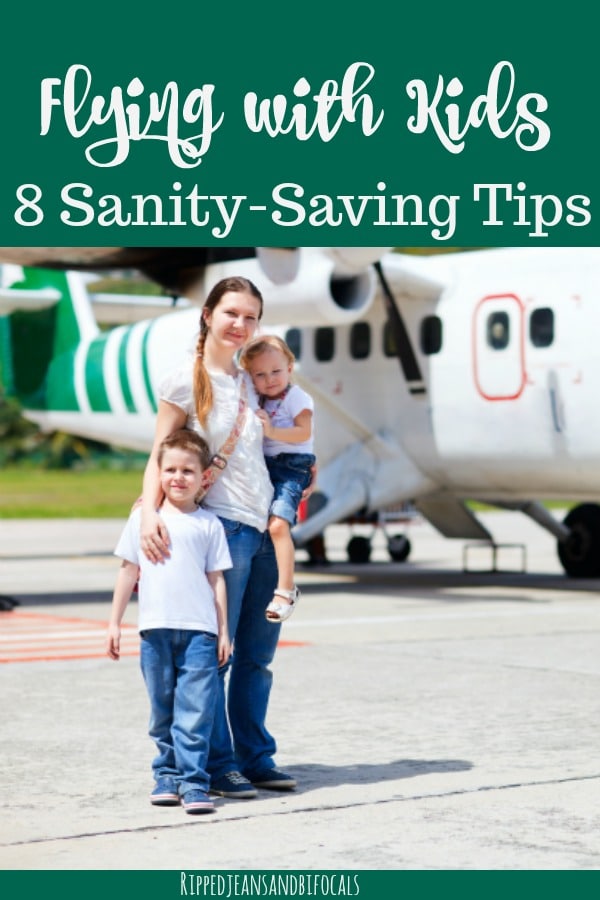 3. Be nice to to the flight attendant
I mean…being nice any time is always good advice but smile and say hello when you board the airplane. Go really crazy and ask how they're doing.
Being pleasant isn't necessarily going to get you upgraded to first class (although I guarantee you the person who has a crappy attitude isn't going to get that level of perk) but it will make the flight attendant remember you in a positive way if you need some assistance during the flight. My kids have gotten extra little treats from the flight attendants and one even got to help pass out snacks just because we went a little out of our way to show the flight attendant some basic courtesy as we were coming on the plane.
Reminding your kids to say please and thank you and making sure everyone is ready with their drink selection will win you even more brownie points. I mean…do you know how many times those folks hear "What do you have?" in one day? Hint: it's always printed in the in-flight magazine.
4. Pack snacks
It's a Parenting 101 rule to always have the snacks, right? Even though you may anticipate snack or meal service on a flight, it helps to have backup. Your child may not like the selection that's offered or the cabin service might be delayed or not happen due to turbulence.
Make sure you're prepared with an stash of things that will sub as a meal (think protein bars or nuts) and something sweet or fun, like Pringles or a non-messy sweet treat. My kids love the Reese's Popped Snack Mix and it's not something I buy for them every day, so they love finding it in my travel bag as a treat. And, make sure you put your snack food in the bag you're going to stow under the seat in front of you versus in the bag you put in the overhead bin. If your flight is a bumpy one, you're not supposed to get up at all when the fasten seat belt sign is on. Some flight attendants will look away if they see you're just trying to get something out of your bag quickly, but the rule really is there for your safety, so be prepared.
We always travel with empty reusable water bottles in our backpack and fill them up at the fountain/hydration station once we get past security. Here is a bottle we like:
Obviously, "Unicorn Dream" might not be your thing but it comes in lots of colors and patterns.
5. Gate check strollers and car seats
Gate checking means handing the item over to airline personnel just as you're boarding the plane versus checking it as baggage. Gate checking a stroller is pretty easy – you can keep your child in the stroller as you roll down the jetway – but schlepping a car seat all the way to the gate can be a nuisance. Still, it's worth the trouble. Gate checking lessens your chance of your belongings getting lost and causing delays when you get where you're going.
I'm a big fan of checking exactly NOTHING with the airline but gate checking gives me the peace of mind that someone actually took it from my hands and put it on the same plane as we're going on. Sort of. Nothing's certain, which is why I almost never check but if your child needs a car seat or a stroller, gate check is your best bet.
6. Sitting together – do what it takes
I hate that airlines charge extra for reserving a seat in advance. Yes, you can save a few bucks by having your seat assigned at the gate but your family is all but guaranteed NOT to be sitting together if you take this route. In order to pick your seats – together – in advance of the flight, you have to pay an upgraded fee. I think it's a slimy, greedy tactic and it makes family travel more stressful than it already is.
I prefer to fly Southwest Airlines, which doesn't assign seats. You board the plane in boarding groups and if you're in an early boarding group, you board earlier and have a good shot at getting seats all together. You can bump yourself up in line by printing your boarding pass/checking in online exactly at the 24 hour mark, or paying a small fee to move up in the line. Again…not a tactic I like very much but it seems a little more family friendly and a little more manageable.
Whether you fork over the extra money or not, it's important to know what the airline's policy is. If you find yourself in a situation where you're not sitting with your children, you can either throw yourself on the mercy of other passengers and ask them to switch or hope that someone hears you explaining to your kid "Mommy will be back in row 28. If you have a problem, tell the flight attendant to come get me in row 28." and then find the flight attendant and let him or her know, too. This may or may not evoke sympathy in another passenger who will offer to switch out of the goodness of their heart.
But…don't count on it. Those people may have paid a higher ticket price to sit where they're sitting and they're entitled not to accommodate you because you planned differently.
7. Seating placement – it matters
If I'm traveling alone with my two sons, I make them sit in the middle and window seats and I sit in the aisle. I try to avoid sitting them next to a stranger, if at all possible. It helps me to relax to know that the only adult my kid is going to come in physical contact with is me…kicking the back of the seat in front of you doesn't count.
While I don't love to be woken up from my snooze at 37,000 feet because one of my kids wants to crawl over me to use the lavatory, I'd rather them e crawling over me versus someone we don't know.
8.Prepare for the worst
Pack extra clothes (for you and your kids) ziplock bags. Pack wet wipes even if your child is out of the baby/toddler stage. Pack a small selection of medications your child might need, especially if the flight is on the longer side. And…it goes without saying that all this needs to go in your carry on and not in your checked bags, right?
Don't expect your usually well-behaved child to behave well on the plane. It's a small, confined, usually boring space that can impact a person physically – i.e ears popping and motion sickness. Some children react badly to being thrown off routine.
As wonderful as traveling is, there's so many things that can go wrong on a flight. Don't spend time catasrophizing over what could happen but do take some time to prepare yourself with things that will make you more comfortable if you encounter airsickness or a diaper blowout.
You might also like: