BlogHer 16 – Lots of memories, laughs and swag
BlogHer 16 is the largest conference in the world for women in social media. This was my second BlogHer – I attended last year's conference in New York City.
This was my first time to visit Los Angeles. I've connected through LAX a couple of times but I've never been outside the airport. Because I was in town for a conference, I didn't get a huge opportunity to look around but I did fall in love with the weather. It was in the low eighties when I arrived and it seemed like the temps stayed in the eighties most of the time, cooling off enough for a sweater or light jacket at night.
I spent the first day hanging out with my friend and fellow conference attendee Rosemond from Round and Round Rosie. She is the real deal and the best example of how internet friends are real friends.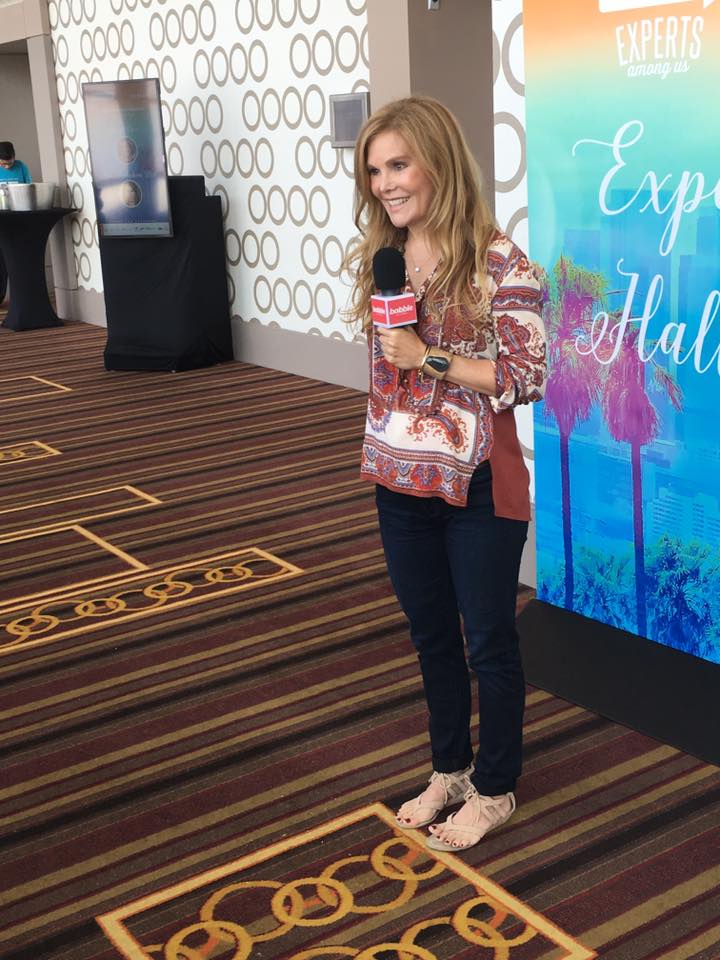 She took me for coffee and we drove around and looked at some of the celebrity homes. Here's where Ozzy Osborne lives: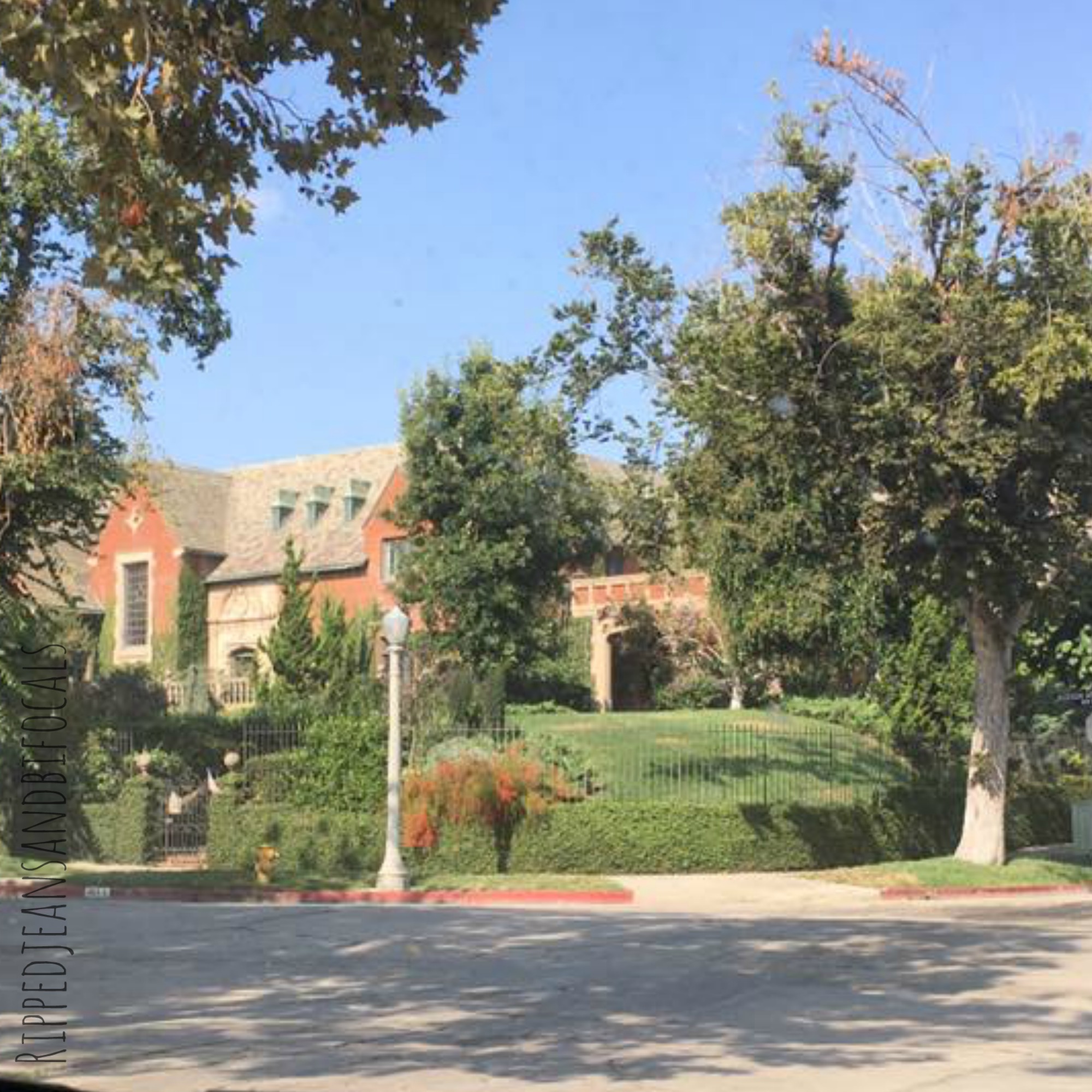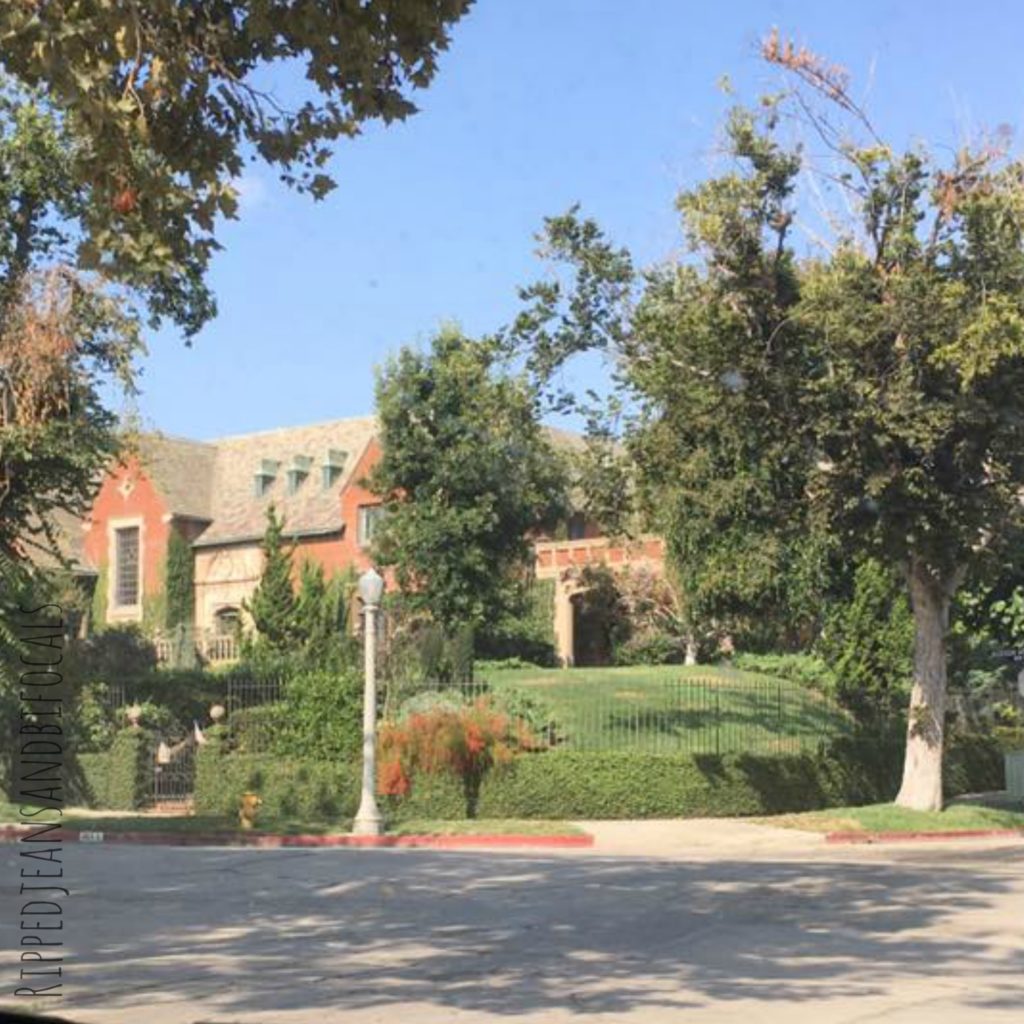 I thought about stopping by but it would have been rude to do so without calling first. Just KIDDING! I have no desire to see the inside of their house.
After checking in, my first event was the "Wine and Gyn." The idea behind the event was "who wouldn't like to sit down and have a glass of wine with their gynecologist?" Actually, not me, but there was wine, so…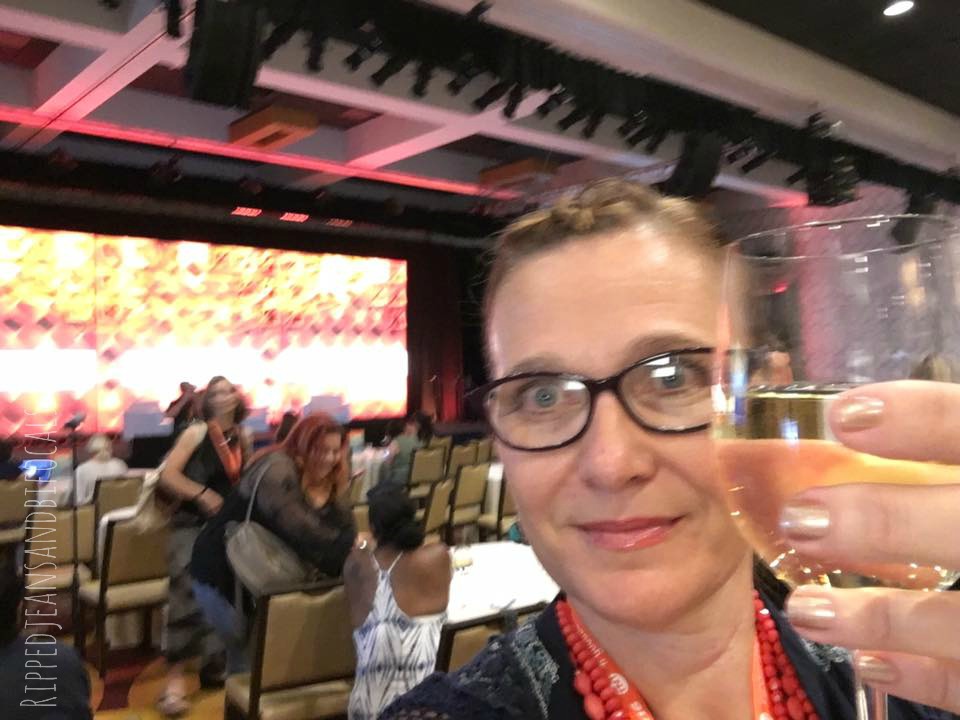 The "Wine and Gyn" included free wine (actually, the cocktails were free-flowing throughout all of the BlogHer sponsored events, which was nice) and a panel discussion with the founder of Hello Flo, a gynecologist and some other lady whose credentials I wasn't clear on. Call me a prude, but the discussion was a little too graphic when the call to action to "go back to my hotel room later and check out my lady bits with a hand mirror" came, I left my glass of wine on the table and exited.
And yes, totally out of character for me to leave good wine on the table.
The Evening at the Expo was a lot of fun. A lot of great sponsors, fun swag and of course, wine and snacks. Thankfully, no one tried to talk to me about vaginas at the expo.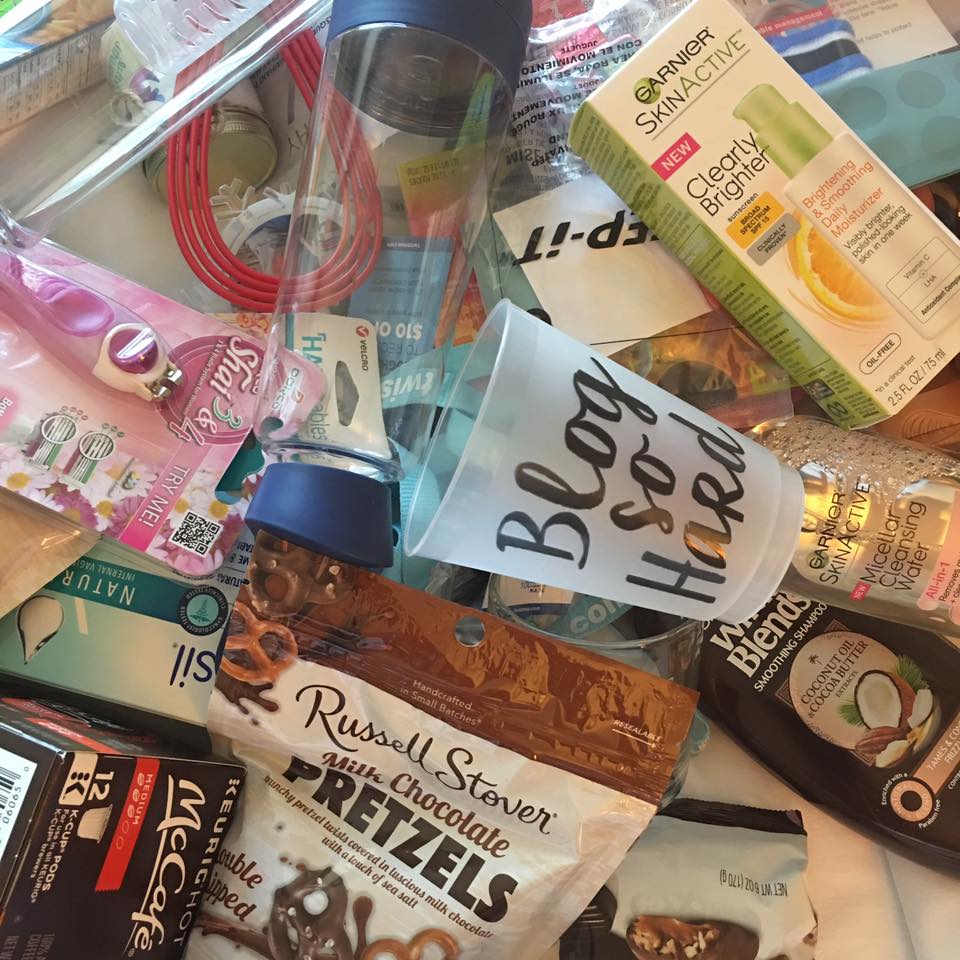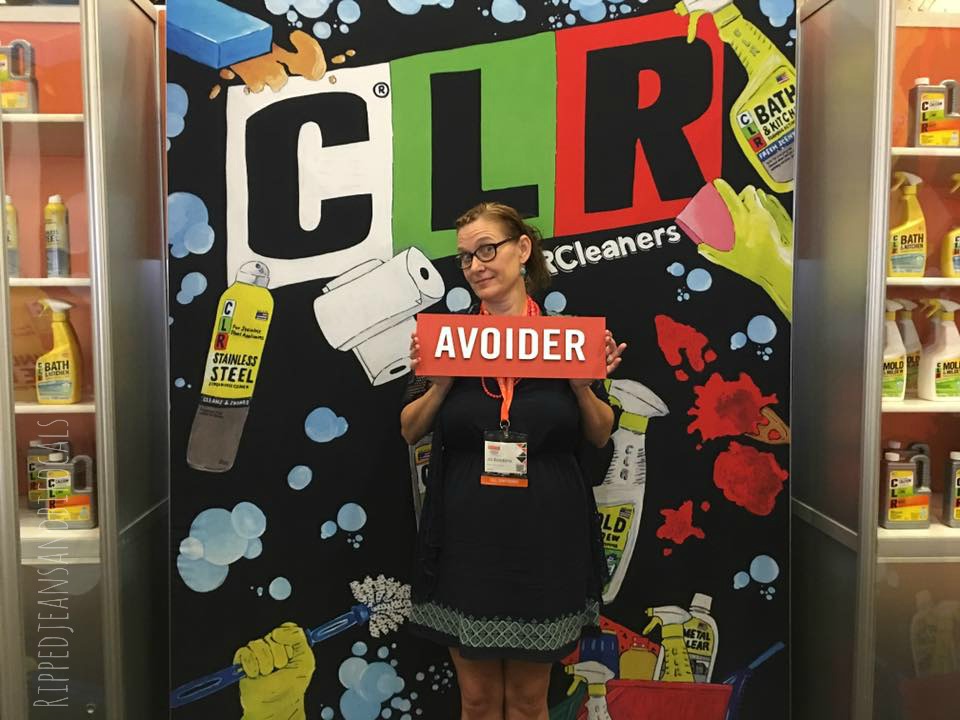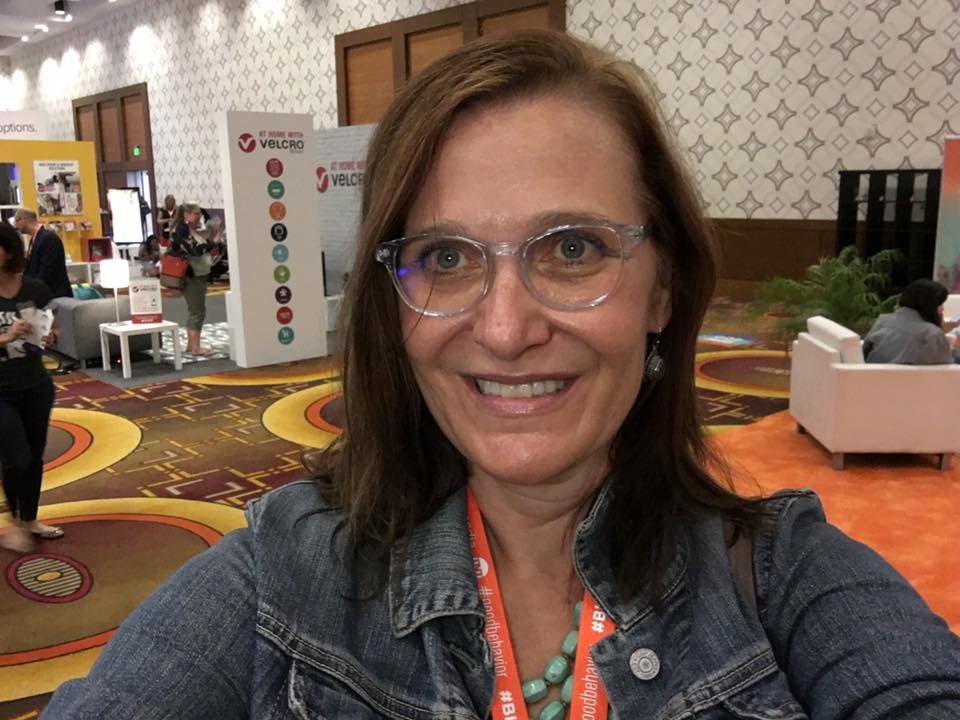 I loved hanging out at the Melissa and Doug Booth, the Embassy Suites Booth and of course, the Best Buy Booth is always my favorite. Check out this washing machine – it does two loads at once. I need this in my life, especially with two boys doing two sports this fall. Oy.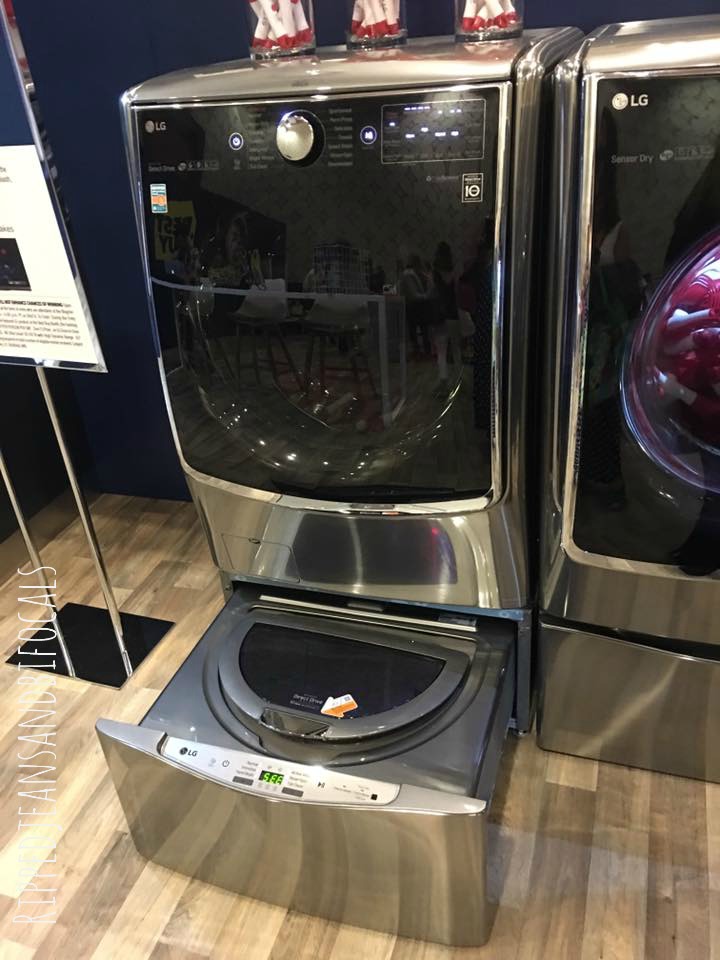 Friday was the first full conference day. It felt like Saturday all day…conference time is a funny thing. I was invited to attend the Staples Breakfast and I got to hang with fun celebs like volleyball player Gabby Reece, actress Lori Loughlin, and Elle from What's Up Moms.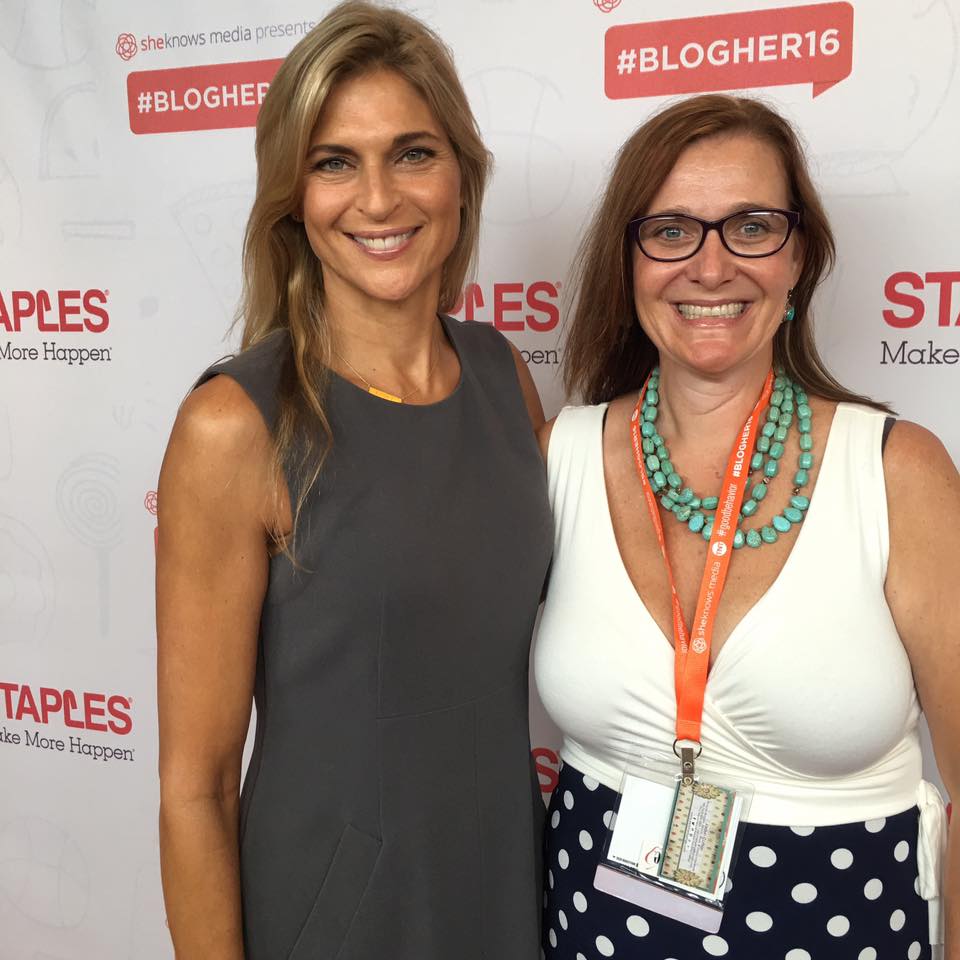 They also had the absolute cutest table decorations and I WISH I'd taken a picture of them. I got a great back to school swag bag from Staples that I'm pretty sure is supposed to be for my kids…but no. They wouldn't appreciate these cute pineapple push pins and there's only one water bottle and they'd fight over it, so…
The day one lunch keynote featured Sheryl Crow and Kim Kardashian. I love Sheryl Crow even more than I did before and although I remain "meh" about Kim K., I wasn't going to pass up the chance to look at that giant booty in person.
I have to say, the booty was impressive but I was really disappointed in the response to the announcement that Kim was keynoting. I'm not a fan but the some of the trollish hatred I saw online was OTT. BlogHer is a huge conference and Kim talked for MAYBE 15 minutes. Her words weren't inspirational for me or even entertaining but I'm sure they were for some. I came away from listening to her speak with the impression that she's a pretty happy person with a pretty happy marriage and a good mother. And, a big thump on the head to those of you that were making snide comments under your breath (or in some cases in your full inside voice) while she was being interviewed.  You know who you are.
Also on the agenda for Saturday Friday was an event sponsored by McDonalds. I had fun taking a break from the conference environment and sitting outside the pool drinking some iced coffee and sampling some smoothies. Who wouldn't like that?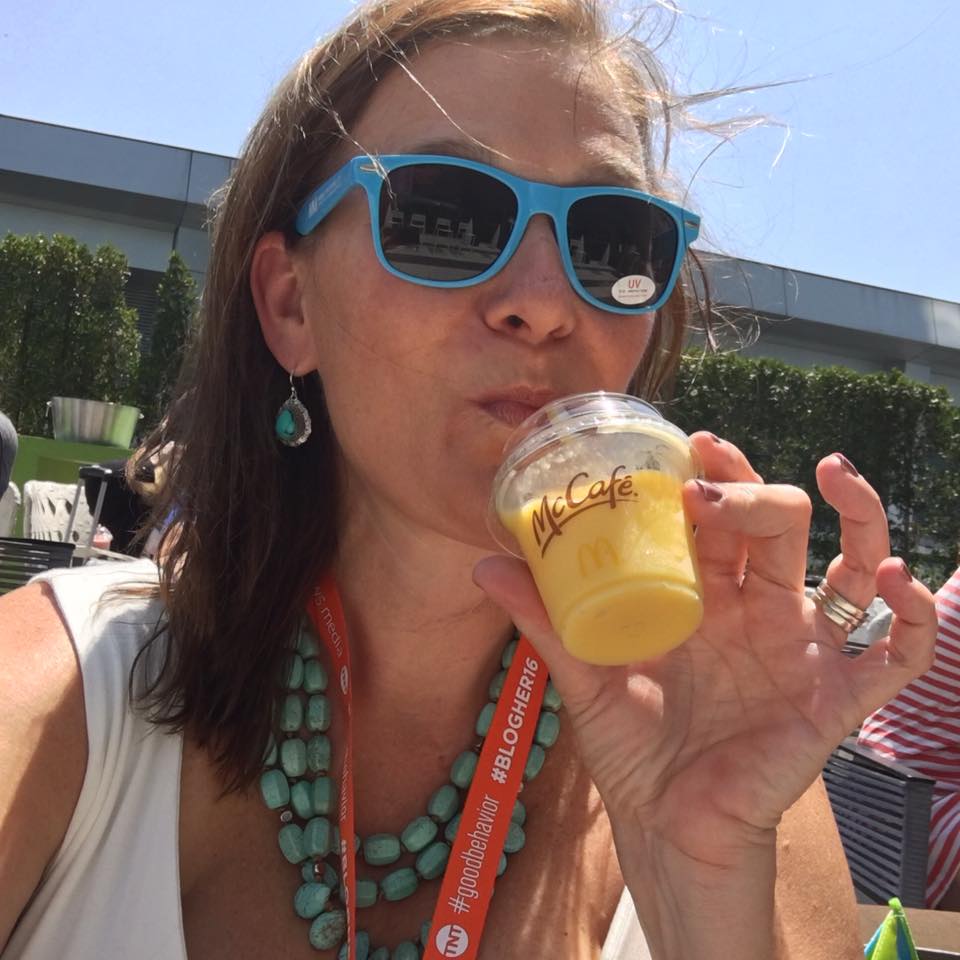 We got to meet some of the execs and PR people from corporate McD's but the BEST part was getting some unexpected food photography tips…and of course the really fun French fry  swag bag that contained a coffee mug, 12 K-cups and some vouchers for free Happy Meals. McD's obviously speaks my love language.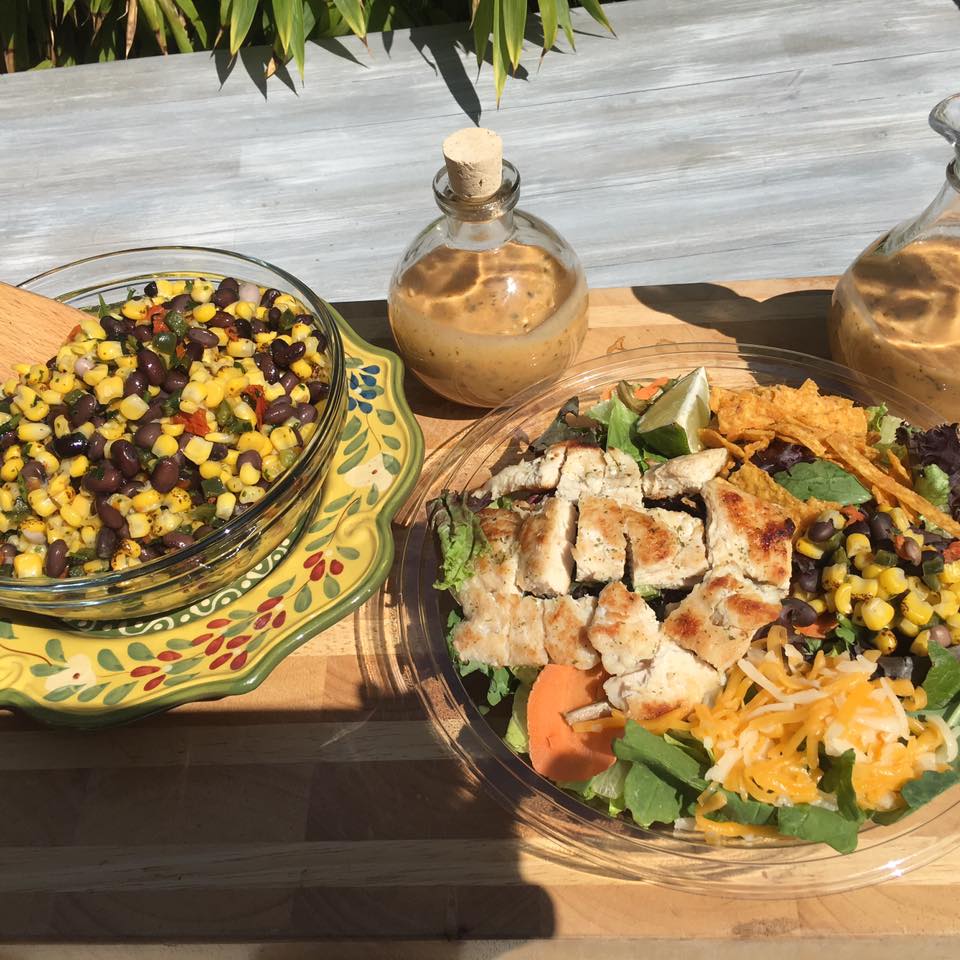 Honorable mention: The Aldi sponsor suite on the sixth floor. This setup was geared toward selling baby products, which I don't really need, although I do know a lot of women having babies, but it was the COOLEST atmosphere. There were mimosas and cupcakes and I got to sit down, chillax and make some brown sugar vanilla scrub. So, if you're a fan of Aldi and are interested in baby stuff, check them out. They've got a whole line of baby care products.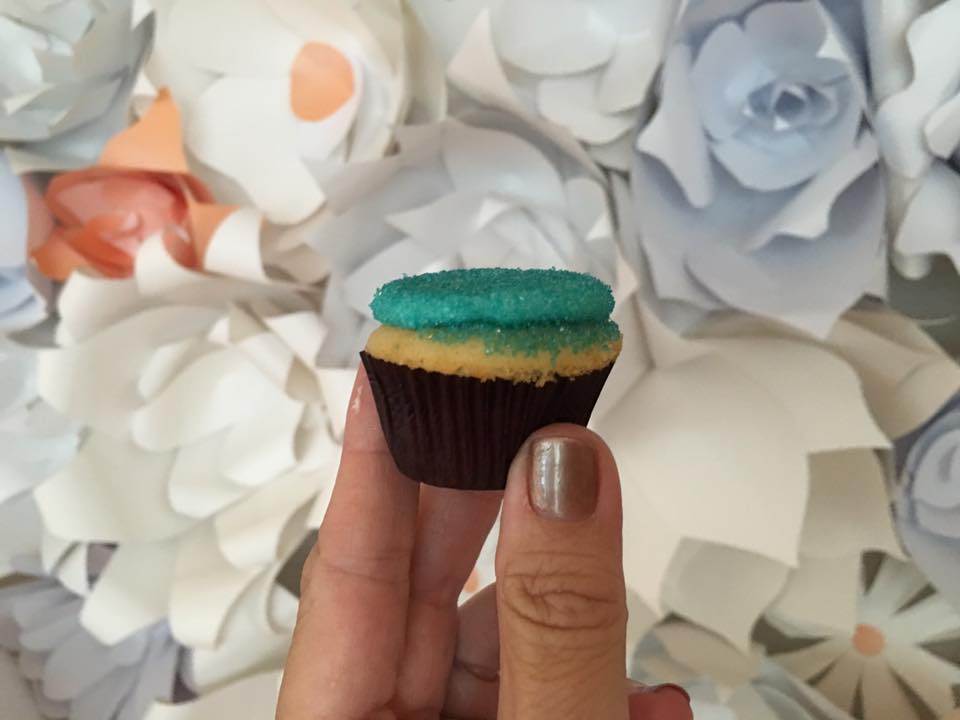 The SUPER highlight of my conference Friday was meeting two of the editors from Babble and getting to tape some live video for their site. Babble is a Disney owned parenting website and I've been writing for them since November of 2014. It was so fun to meet some of the team in person and I'm only sorry that I didn't get pictures with them. Megan, Robin and Alex, you were AWESOMENESS!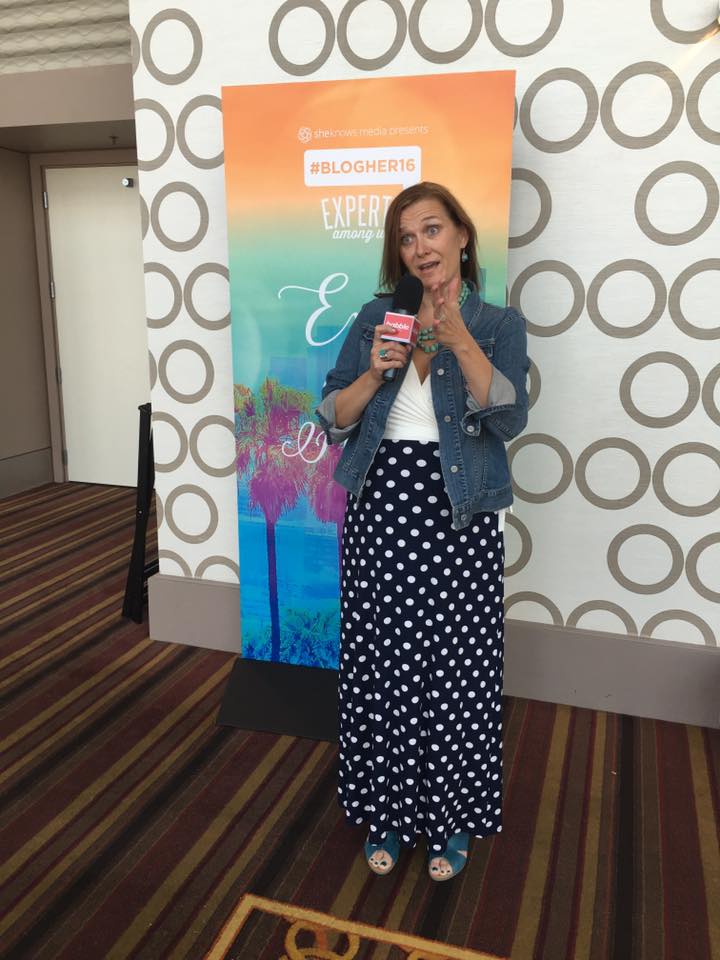 I ended my night by popping into the Open Mic Night sponsored by Listen to Your Mother. Meeting Ann Imig, Stephanie Precourt and Melisa Wells in person was fantastic and I have so much love for the movement. Seeing these fabulous women get up on stage to give a voice to their written words is an experience that will never cease to amaze me and I'm so excited to play a little part in the LTYM movement…and very grateful that the BlogHer attendees get a taste of it.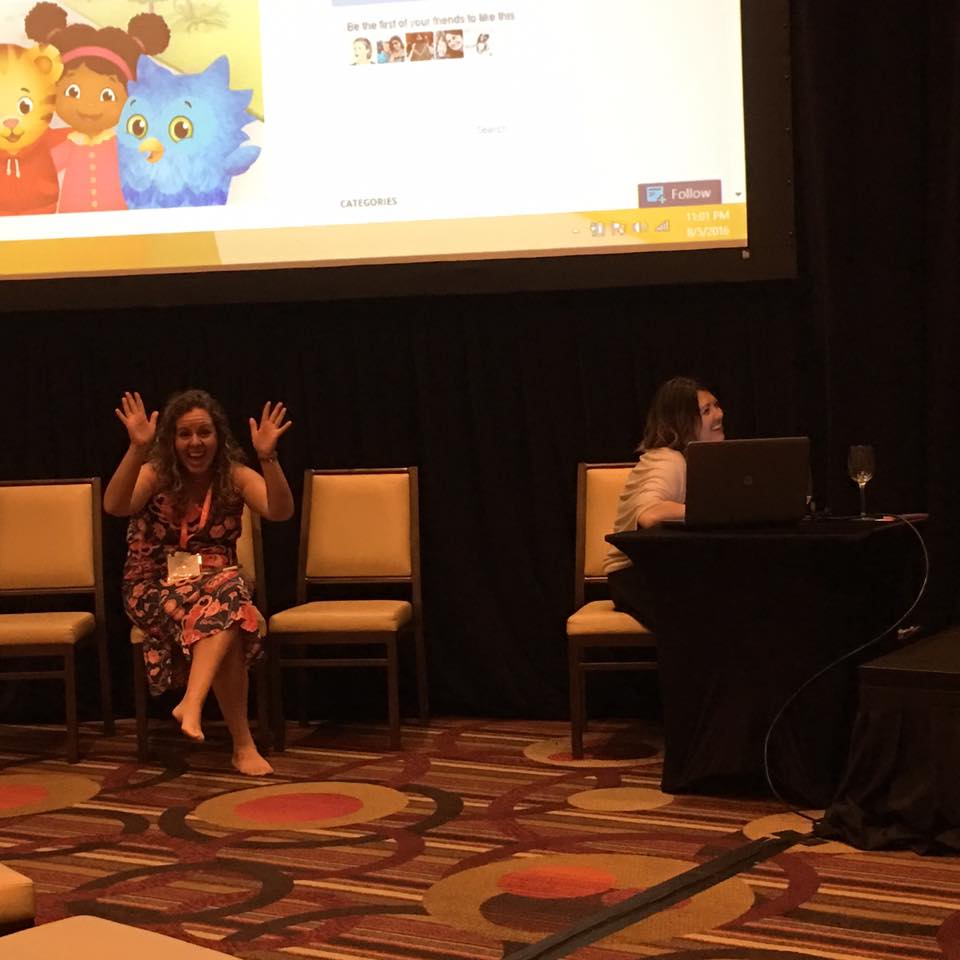 Saturday was a day for learning. I went to two different sessions and took some great notes on making pretty images and making videos. My favorite session was the one with Lynne Chen and Jessi Sanfillipo, AKA Shuggilippo. They were sweet, down to earth, and super informative. As always, there were a ton of sessions to choose from.
We finished up with a party at the Conga Room and just like that, my whirlwind weekend was over.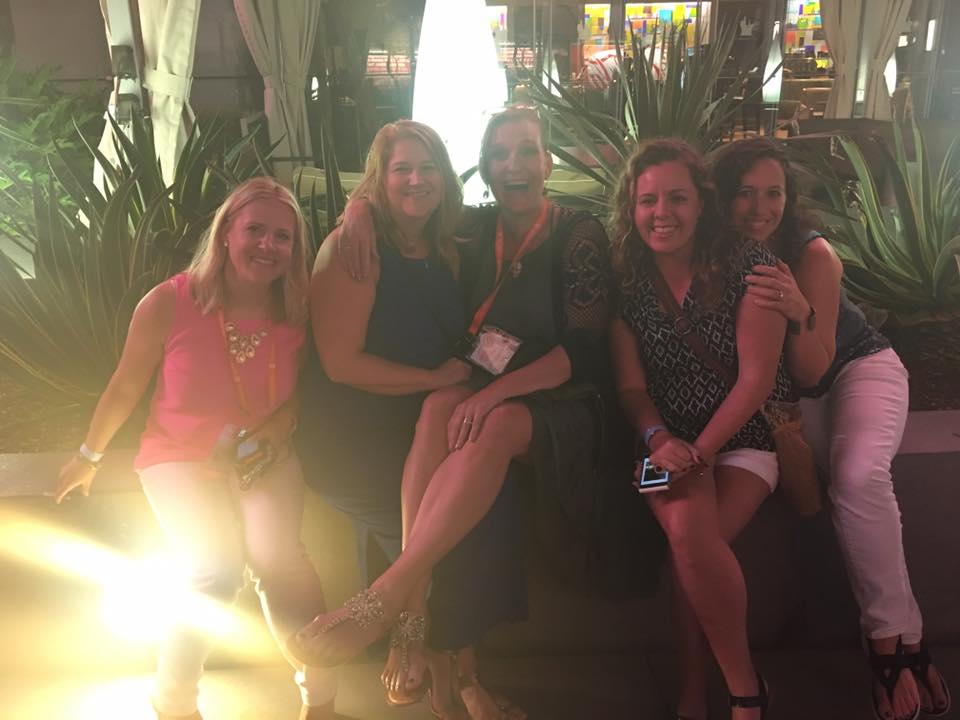 I am a big fan of blogging conferences and the BlogHer/SheKnows powerhouse in general. I've been connected with BlogHer since I started blogging in 2014 and they've been very good to me and I'll always be a fan. Although there are a lot of e-courses and webinars that teach the tools of the trade, there's no substitution for the community and the opportunity to connect that only a large conference like this can offer. That, and it was nice to have a whole bed to myself for a few days.
Did you know I write regularly for SheKnows Parenting and Living sections? I do!  Check out my full list of articles!
I'm excited to see where BlogHer17 will be held and already looking forward to BlogHer Food in October, which will be held in Austin. I'll be working the conference so if you're planning to be there, come and say hi.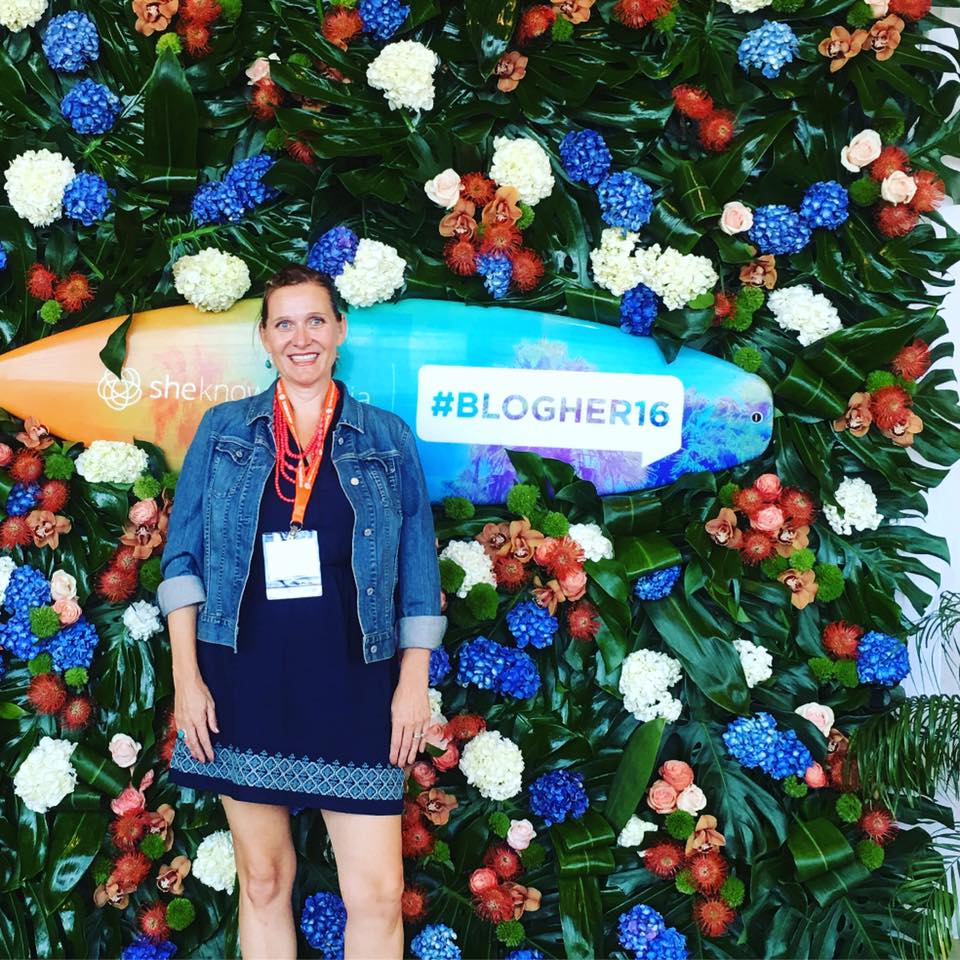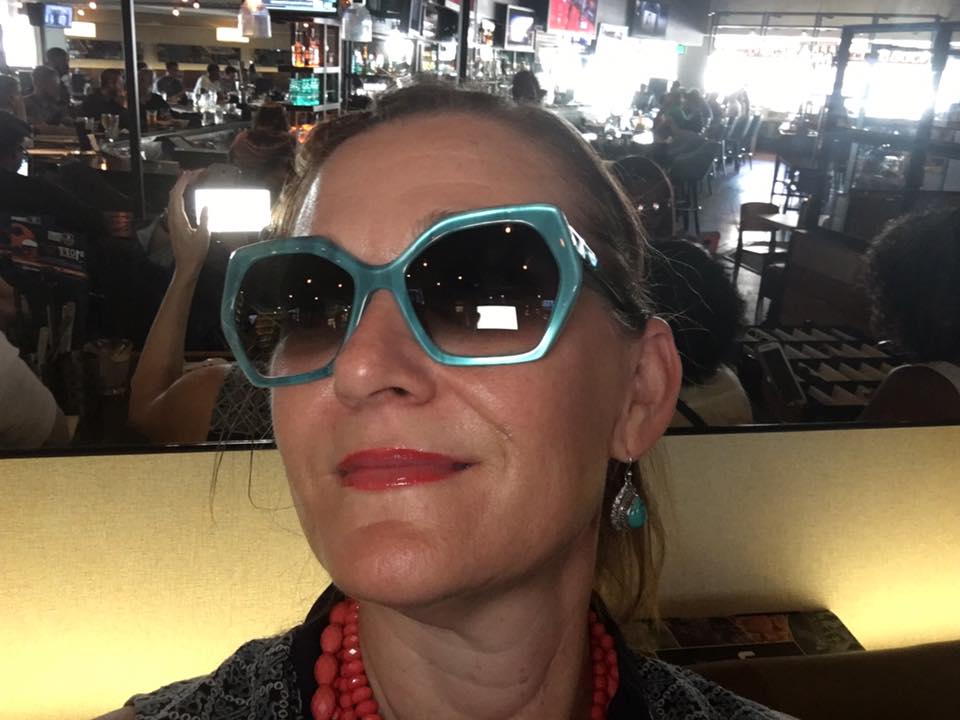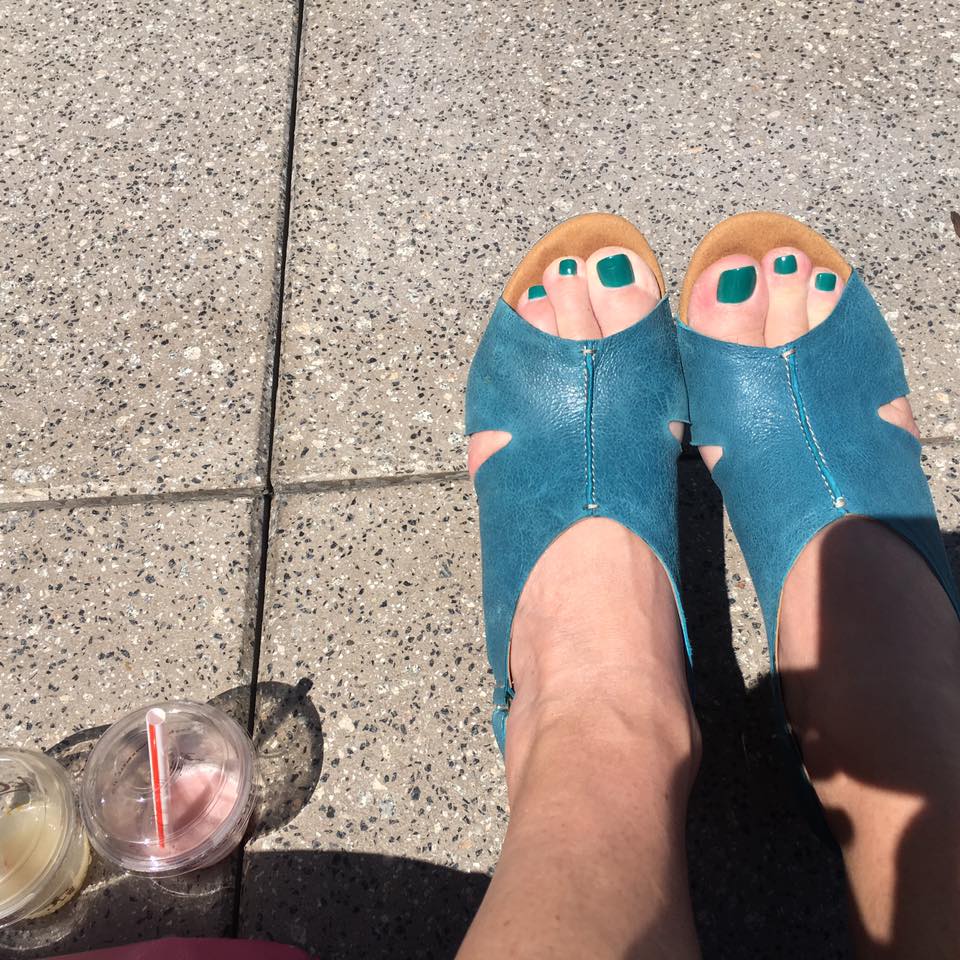 Hopefully, you've enjoyed this little peek behind the curtain. If you're a blogger wondering if you should go to a blogging conference, GO! If you're not a blogger, I hope you've loved reading a little bit about the weekend where I didn't have to wipe anyone's behind or make anyone a snack. Every mama needs that now and then. If you're curious about BlogHer, you can see some of the conference highlights on video. It's really a great, all-around platform for women in publishing. Check them out and feel free to ask me anything about BlogHer, BlogHer conferences or conferences in general. Sound off in the comments, y'all!


Thank you for reading!

Follow Ripped Jeans and Bifocals's board All things blogging on Pinterest.
A vote on Top Mommy Blogs helps my site a ton. It's super easy & one click helps my to be able to continue to bring you great content. Totally non-spammy…I promise!