Halloween is literally right around the corner and every year, I make grand plans to whip up some of the cutest and most simple Halloween treats that I can find. This year, I'm on the ball. I've got my list ready, my ingredients on my shopping list and for the few weeks prior to Halloween, I'm going to be creating, making and baking anything and everything Halloween. High hopes, right? As with anything, I start out with the best of intentions and like to plan ahead. If you have kiddos like I do, then you know that Halloween is a HUGE deal. From the costumes to the perfect candy selection, everything has to be on point. And who could forget about the class parties and celebrations? Everywhere you look, Halloween treats, candy and cookies are staring right back at you!
And ya'll…I don't set anybody up for a Pinterest fail, m'kay? When I say simple, I really do mean it. These are easy and you can do it…yes, even you.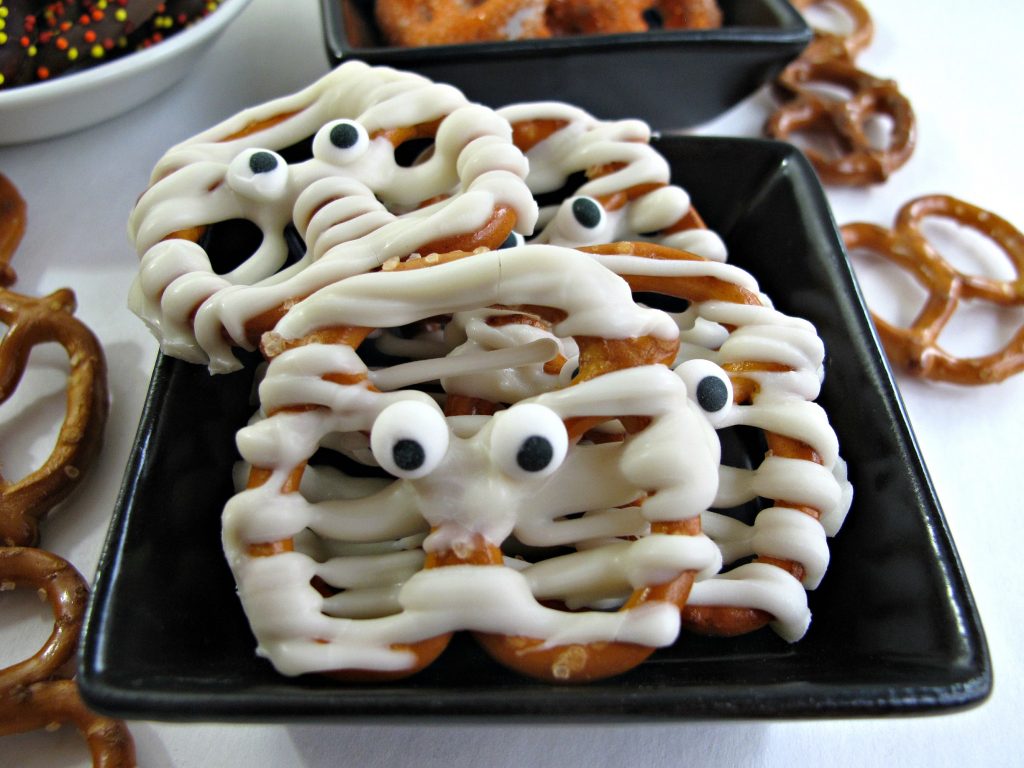 Thankfully, with the help of these recipes for simple Halloween treats, I'm prepared and ready this year. I was on the hunt for Halloween treats that anyone can make, and I've delivered! These Halloween recipes are simple, easy, and adorable. Is there any other combo out there that can beat that trio?
Super Simple Halloween Treats that Anyone Can Make!
Halloween Spider Cookies by Cincy Shopper
Witches Broomsticks by Mom Foodie
Halloween Monster Marshmallows by Finding Zest
String Cheese Ghosts by Thrifty Jinxy
Spider Donuts by Jinxy Kids
Monster Halloween Popcorn by Recipes From A Pantry
Mummy Sweet Potato Brownies by Little Sunny Kitchen
Hocus Pocus Potion Sugar Cookies by The Awesome Muse
Pumpkin Candy Bark by Grace Love Life
Mint Chocolate Monster Milkshake by Gimme Chocolate
Halloween Pretzels by The Monday Box
Candy Corn Jello by Cincy Shopper
Spiderweb Oreos by Food Fun & Faraway Places
Dracula Donuts by Mommy Musings
Ghost Lollipop by Messy Little Monster
Homemade Caramel Apples by Thrifty Jinxy
Chocolate Cyclops Cookies by The Anthony Kitchen
Bat Cupcakes by Spaceships & Laser Beams
Spider Cake Balls by Mom Foodie
Creepy Edible Worms by Ashlee Marie
PEEPS Ghost Brownies by Cincy Shopper
Chocolate Pear Ghosts by Fab Food 4 All
Halloween Bark by Family Food & Travel
Told you these Halloween treats were festive and on point!
While you may not have time to make them all, you have plenty of time to try a few! And with how fun they are, you'll likely have plenty of little hands wanting to help you out in the kitchen!
Have fun creating these adorable Halloween treats! You'll be the hit of the class parties and Halloween trick or treaters for certain! (And if you happen to make a few extra batches to keep at home for yourself, no judgment here!)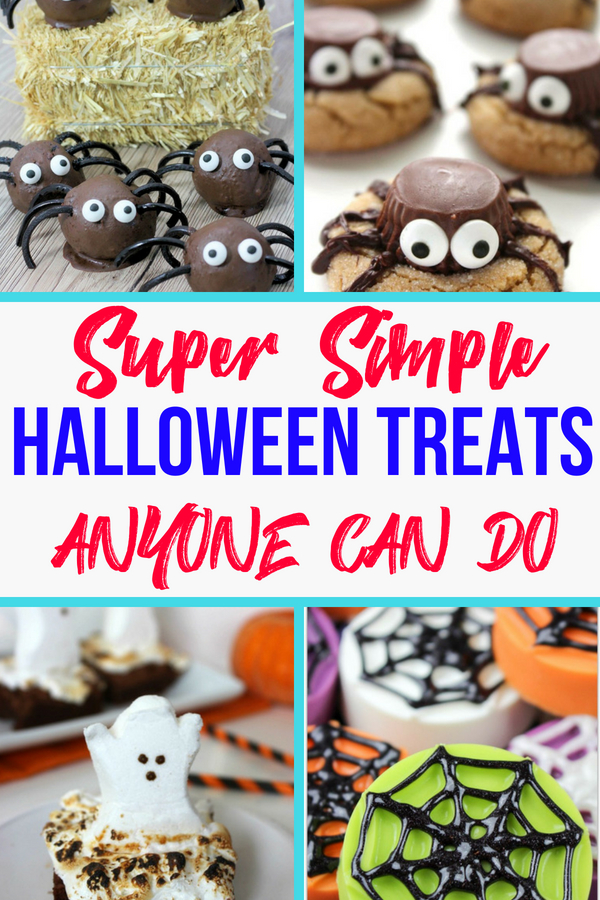 Want to add YOUR favorite easy Halloween treat to this list? Yasss you can. Email me at rippedjeansandbifocalsblog @ gmail dot com and we'll hook you right up.
You might also like: