Is the Mazda CX-3 Your Next Family Car?
(This post may contain affiliate links. Read my full disclosure.)
We have a 16 year-old SUV (yes, really!) and a six year-old minivan (not sexy, but super practical.) We just put what we swore was going to be the last chunk of money into our SUV – which is what my husband drives to work ever day (4o miles round trip) and we're trying to figure out what our next car is going to be. We had the opportunity to drive the Mazda CX-3 for a week and to test out whether or not that would be a good choice for us and we can now help answer the question: Is the Mazda CX-3 your next family car?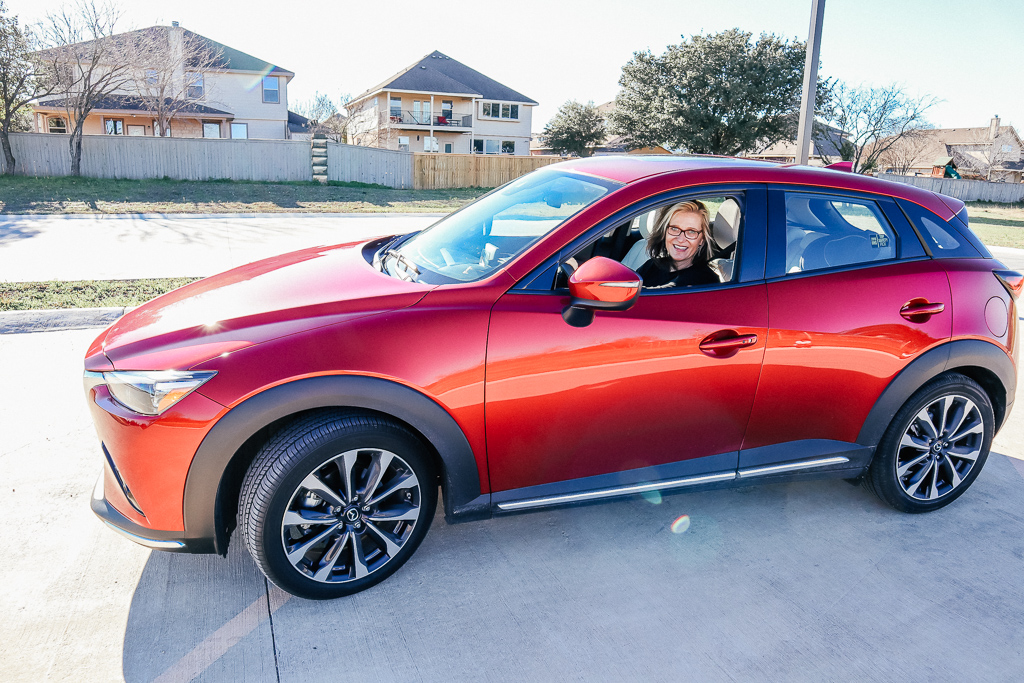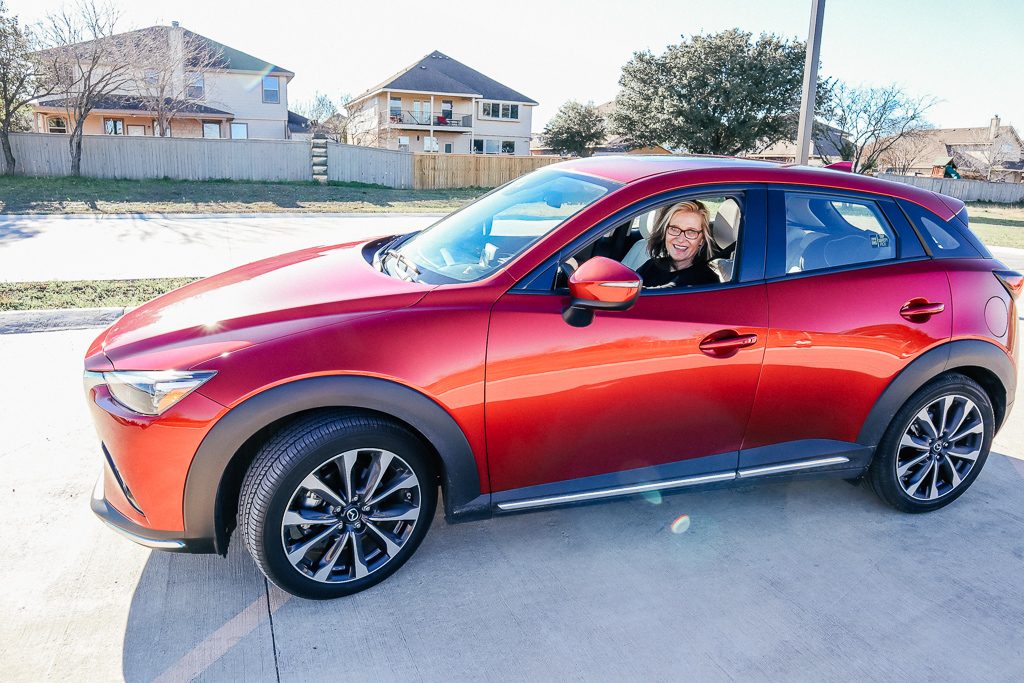 We appreciate our friends at Mazda for loaning us the CX-3 Grand Touring for review. My car reviews are free of technical jargon…you'll find easy to understand facts and my honest mom opinion…if you want to hear talk about torque and suspension, I'm not your girl. 
[Tweet "Is the Mazda CX-3 your next family car? #DriveMazda @MazdaUSA #AGirlsGuideToCars"]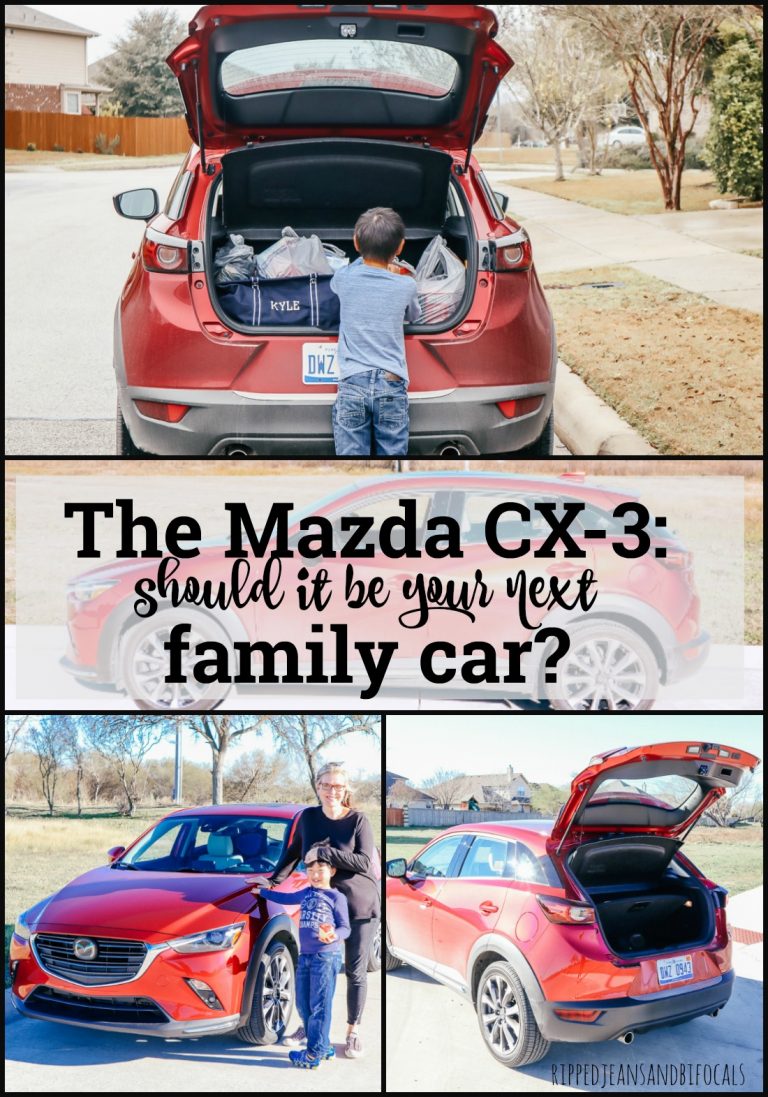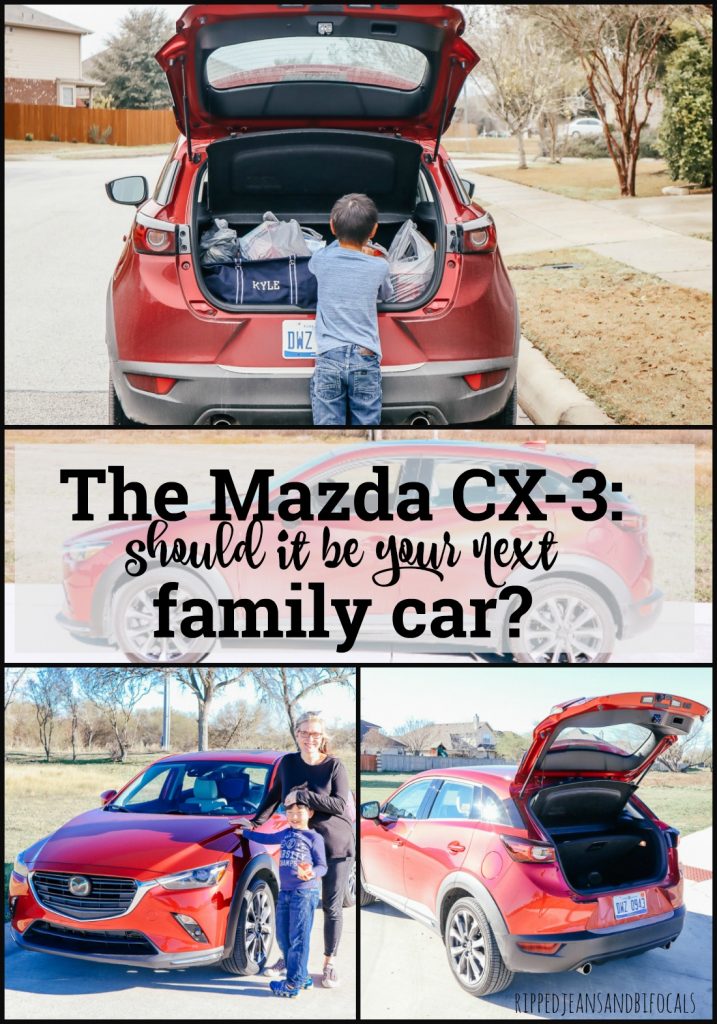 Is the Mazda CX-3 Your Next Family Car?
About the Mazda CX-3
The Mazdda CX-3 has been referred to as a mini utility vehicle or subcompact SUV, which I don't think is entirely accurate. It's low to the ground – like a car – which I didn't like, but the body size is comparable to a small to mid-size crossover.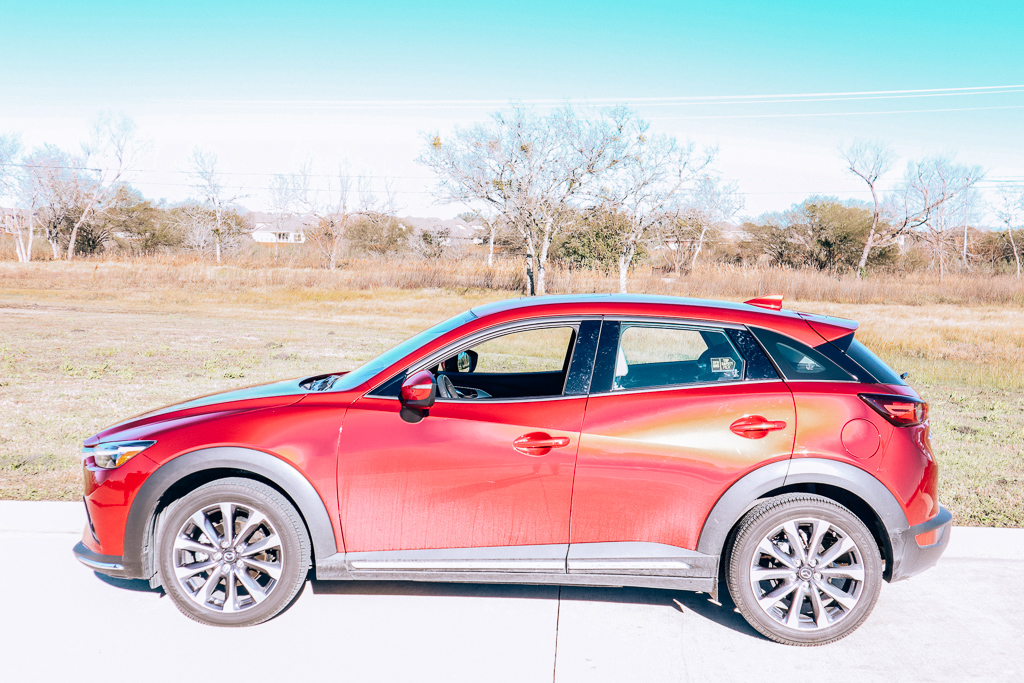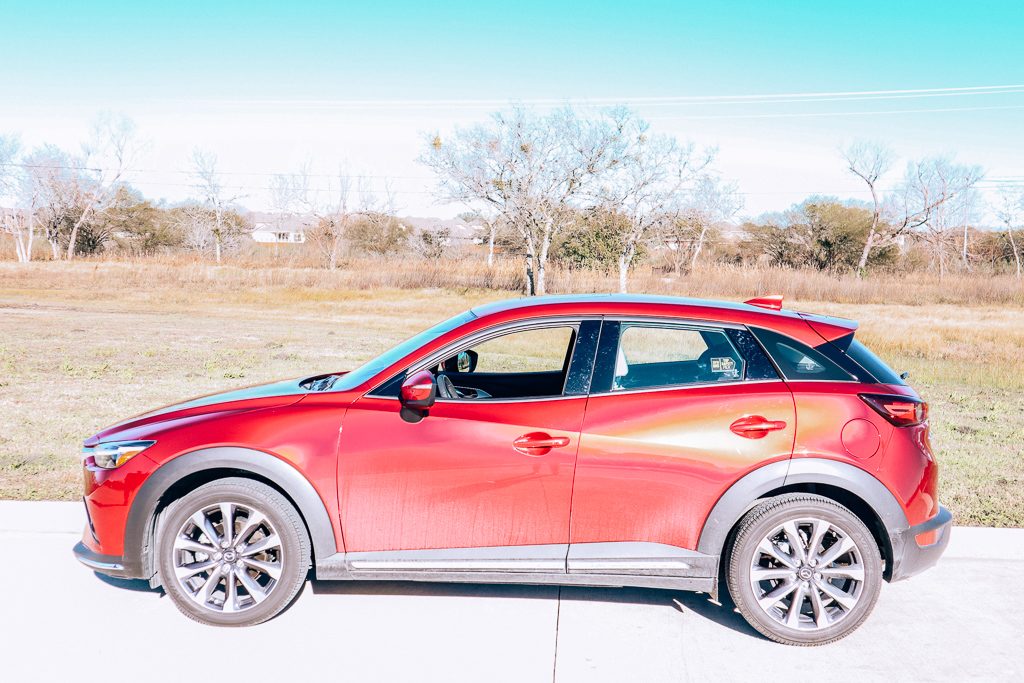 Under the hood you'll find a 146 hp four-cylinder engine, which probably won't satisfy your need for speed, but I found it fun to drive, with the exception of not liking how low I sat. I'm so accustomed to driving an SUV or minivan that I've decided a sedan is out for our next car purchase, just because sitting so low to the ground seems so weird now.
It's available in Sport, Touring and Grand Touring.
Price Point
The Mazda CX-3 will be in the $21-$26K range, depending on what options you choose.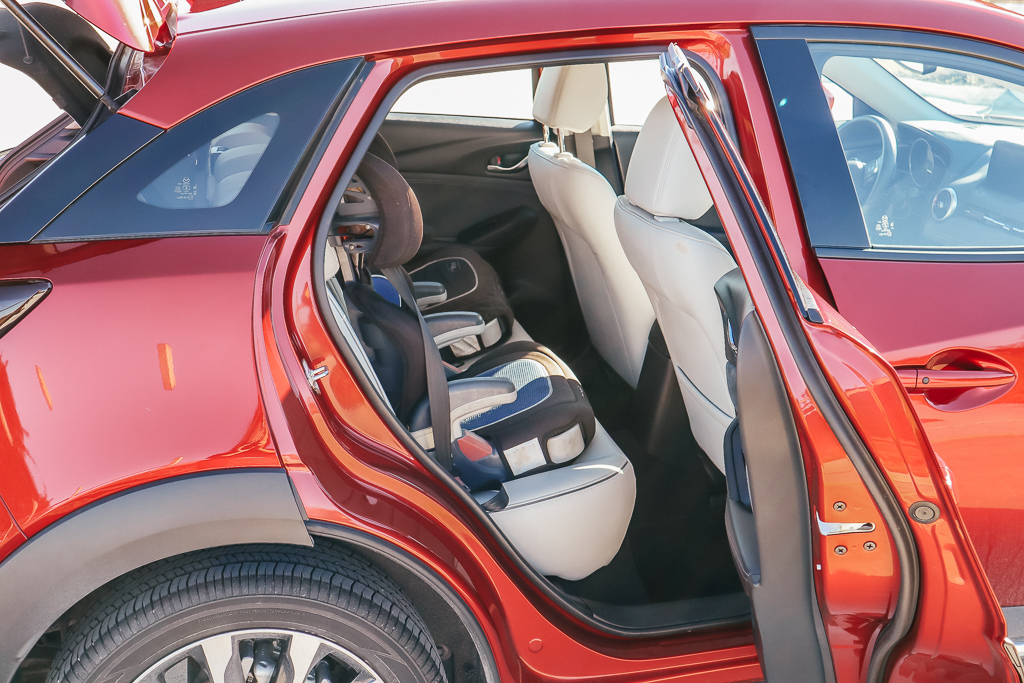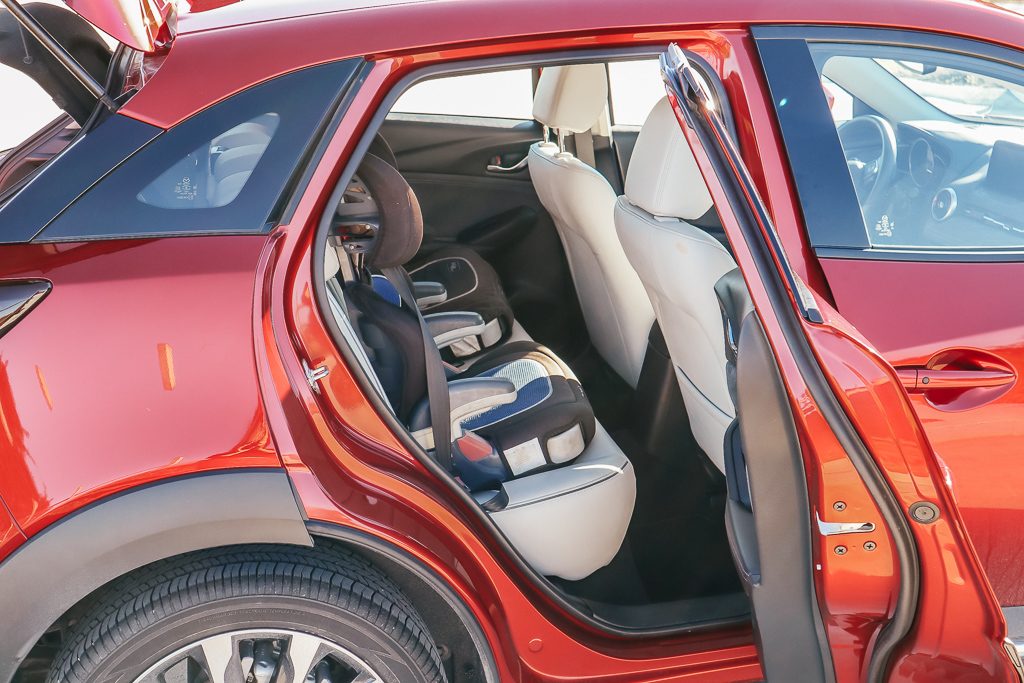 Fun Features
We liked the 7″ touch screen infotainment system. I found it easy to get around and find what I needed without having to read the manual…and when I say "read the manual" I mean ask Google or my husband. I like an infotainment system that's intuitive and this one was. I was able to navigate it without frustration…which is a big deal for me.
It also has blind-spot monitoring, rear cross-traffic alert, adaptive cruise control, and lane-departure warning. It has two cupholders in the front seat, which is pretty standard issue and the backseat armrest has cupholders as well. There are two USB ports in the front seat.
The CX-3 is fun to drive and is a very good-looking and sporty car.
Fuel Economy
Car and Driver reports up to 29 mpg for city driving and 34 for highway. We found this to be accurate. My husband got great gas mileage during his commute and that alone might sway us to purchase this as a second car.
If it weren't for…
What I didn't love
Sitting down so low, but I've mentioned that before. My kids are small so the backseat legroom wasn't an issue. Surprisingly, we had ample room for not one but two booster seats. Adult passengers sitting in the back seat are another story…unless you're super short, you're going to feel cramped.
If we were going to use this as a family car, we'd want to see more charging ports, and at least one in the back seat.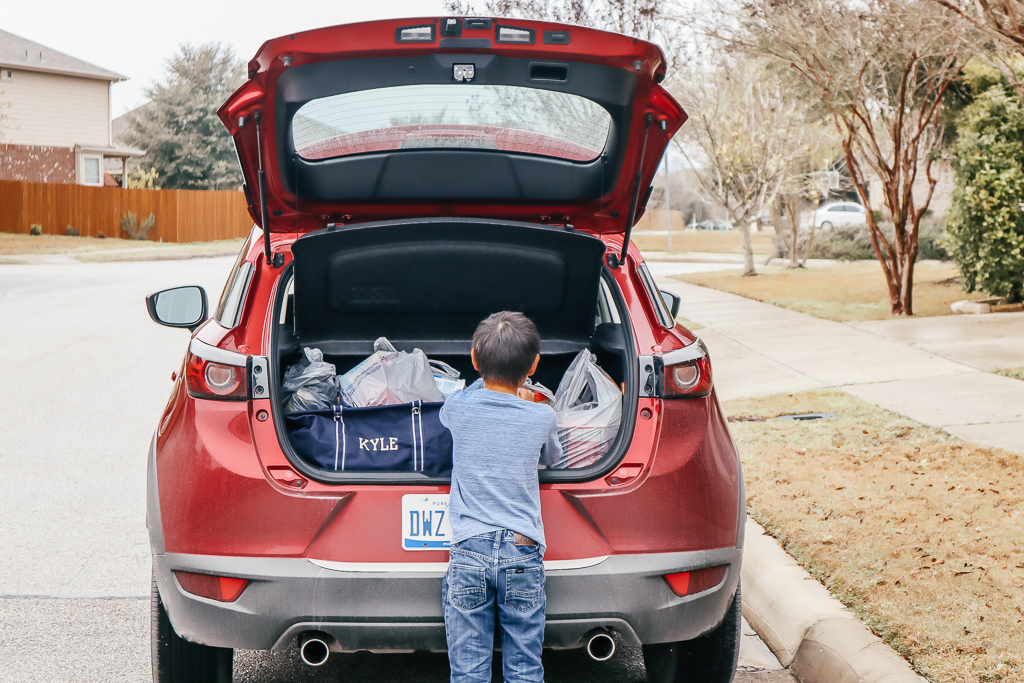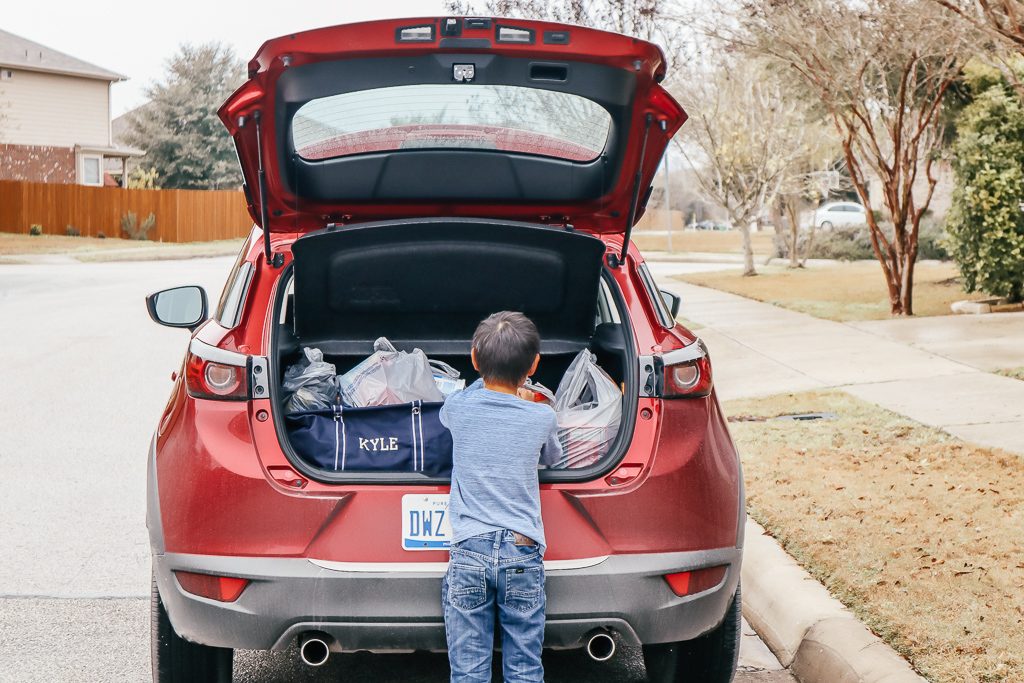 The rear storage space was also a little stingy for our needs. While it fit a small load of groceries + some of my kids' sports equipment, I can't see this space being able to handle our bags for a weekend away. We tend to be pretty minimalist packers and I think we'd struggle to make this space work, even for a shorter trip.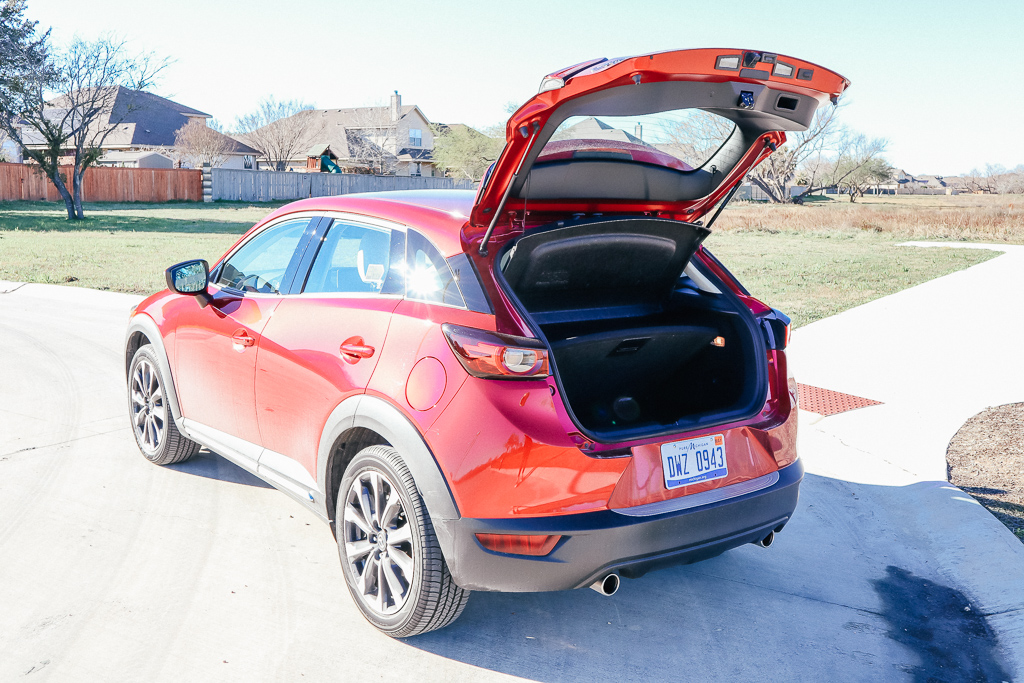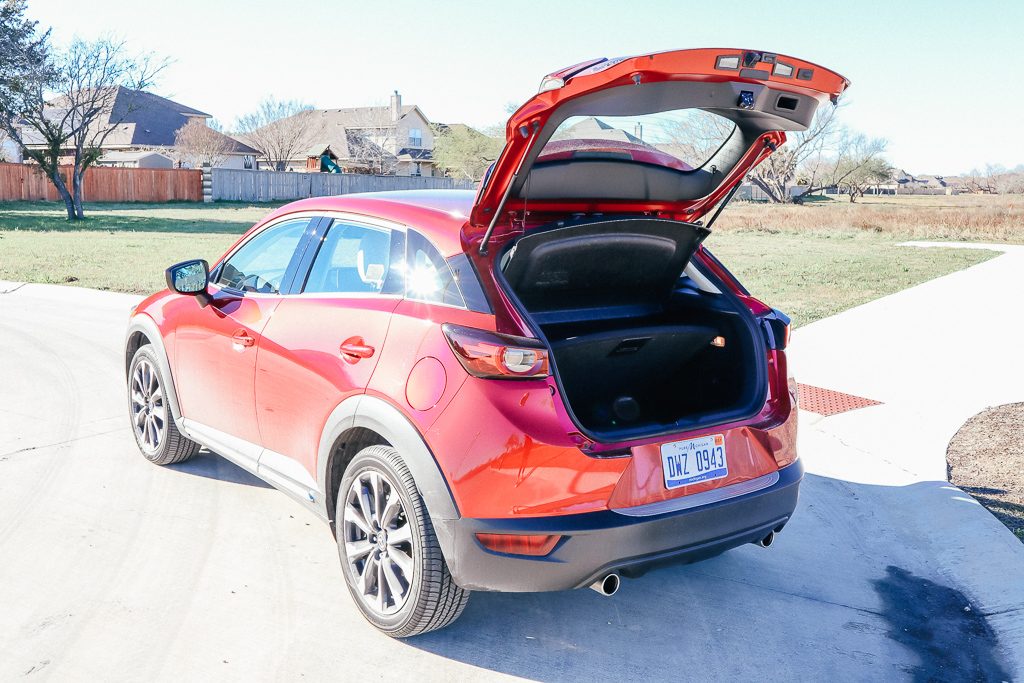 Who should drive this car?
This is potentially a great car for a small family or for a young family. It's also a great starter car (based on the price point) for a young professional, although I wouldn't want to ask clients over 5'5 to sit in the backseat for an extended period of time.
If we were looking for a vehicle that would solely be a commuter car for my husband and/or the car for us to have an occasional kid-free day, night, or weekend in, this would be perfect. It looks good and it has some vroom vroom vroom (although if you're really into speed, probably not enough.)
It's OK for short trips but for buying a full-size haul of groceries for a family of four or supporting all of our gear for a long weekend, it doesn't work.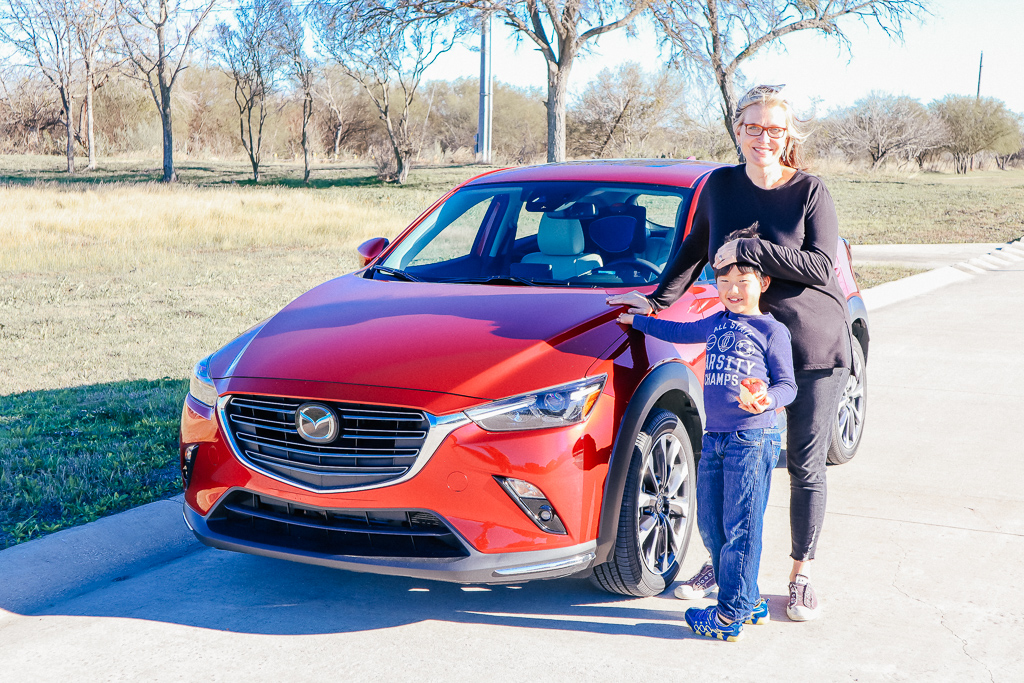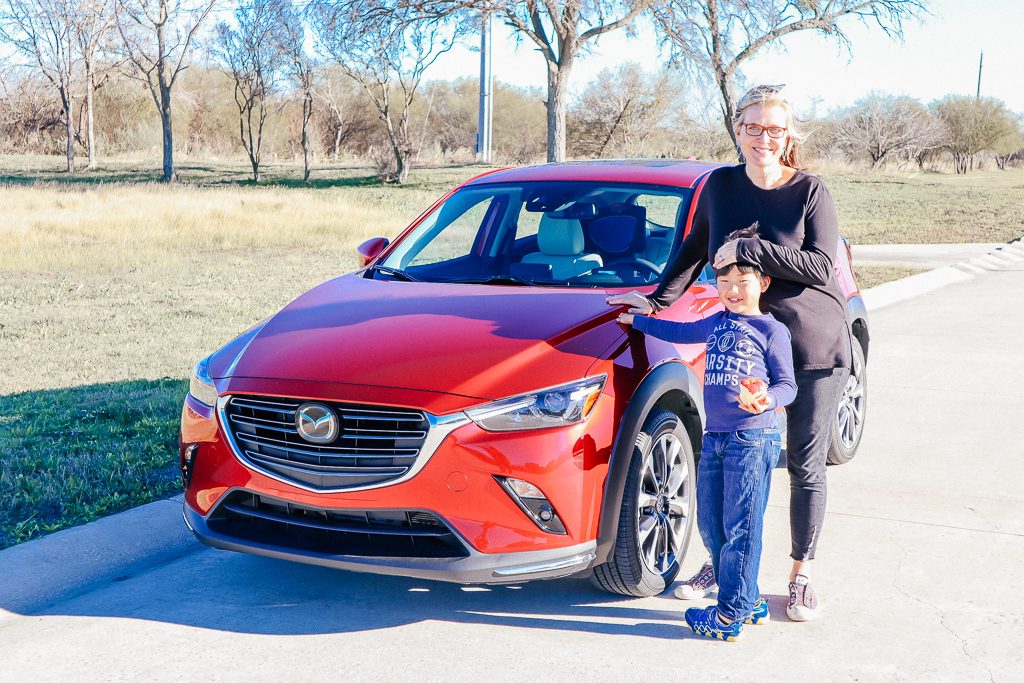 We love Mazda and it's one of the top auto brands we're looking at to replace our (still kicking) 2003 SUV but I don't think the CX-3 is it.
For more info:
https://www.mazdausa.com/vehicles/cx-3
You might also like:
Taking the Mazda3 Four-Door Grand Touring to San Angelo Texas
Car-ED: The new car-buying tool you need to check out right now
The 2019 Volkswagen Passat: A sporty and stylish way to explore Palm Springs