3 Restaurants in Kissimmee Florida to try on your next trip to Orlando
(This post may contain affiliate links. Read my full disclosure.)
If you're planning a trip to the Orlando theme parks, I've got some restaurant recommendations for places to nosh that might not be on your radar. Here are three restaurants in Kissimmee Florida to try on your next trip to Orlando. All of these are in the Promenade at Sunset Walk along with many other options for dining.
3 Restaurants in Kissimmee Florida to try on your next trip to Orlando
If you're staying on property at Walt Disney World or Universal Orlando Resort, you'll probably plan to dine in the parks, at your resort or at Disney Springs or City Walk. If you want to venture out of the bubble a little bit, there's some really great food to be had at the Promenade at Sunset Walk.
What's the Promenade at Sunset Walk?
The Promenade at Sunset Walk is a shopping, dining, and entertainment complex located adjacent to Margaritaville Resort Orlando, in Kissimmee. If you're hopping over to the Promenade at Sunset Walk from Walt Disney World, it's about five miles, depending on where you are coming from on the Disney property.
You'll find lots of choices for casual dining and sit down meals here as well as plenty of free parking. I've been to three of the restaurants and was wowed by the food and fun atmosphere at each location. I found the prices to be less than the table service restaurants at the Orlando theme parks or resorts. We are frequent visitors to Orlando and Walt Disney World and were excited to find some new favorites.
1. Capone's Coal Fired Pizza
If you love a good pizza, a visit to Capone's is a no-brainer. Their tagline is "Pizza so good it should be illegal."
If you're not up on your original gangster (and I do mean the original original gangster) knowledge, Google Al Capone before you visit. The nomenclature of the menu items and the prohibition era decor is a lot of fun and it will be more meaningful if you brush up on your history first.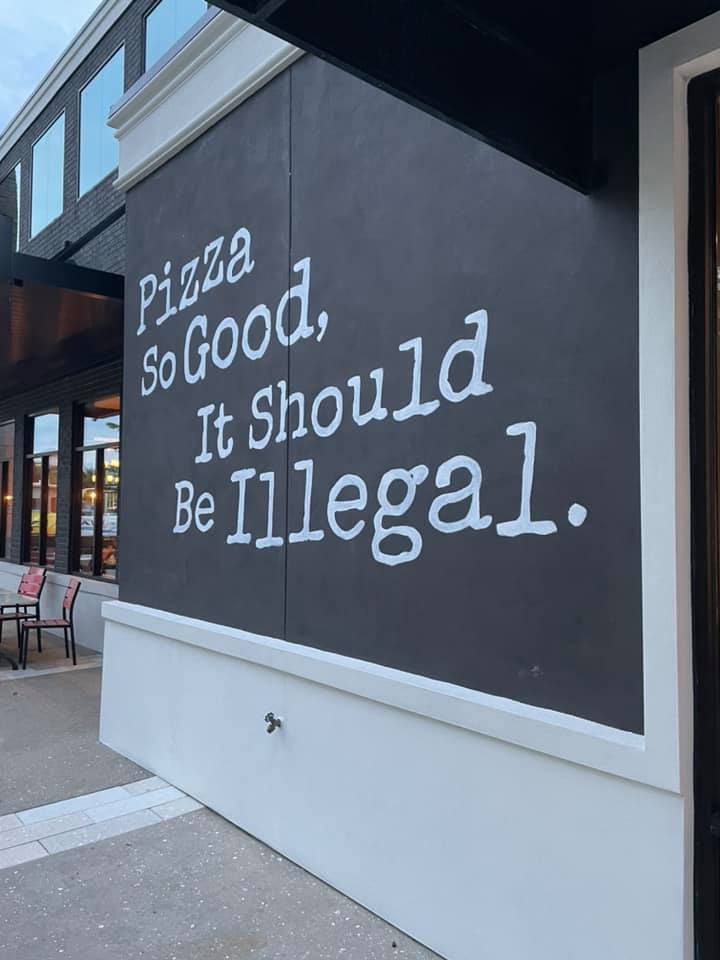 Although I loved Capone's pizza (so much so that thinking about it is making me hungry) the pizza was not my favorite item on the menu. The bruschetta, Mama Capone's meatballs, and the caprese salad were my favorites.
They also offer oven roasted chicken wings and various pasta dishes. If you can handle a little heat, they've got a spicy shrimp pasta dish that is divine.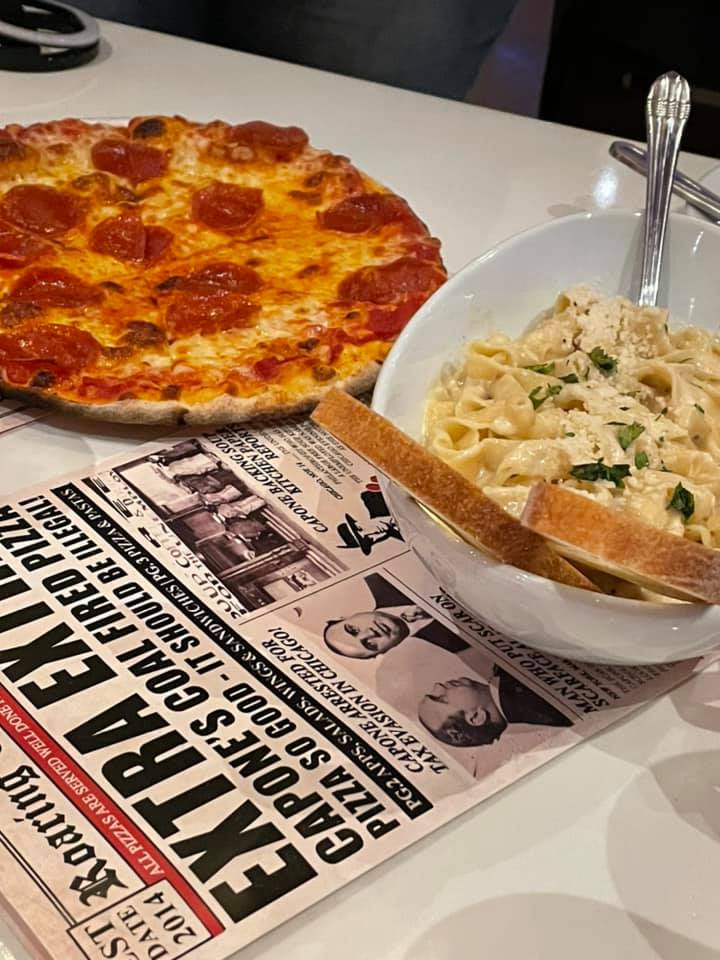 They also offer a full bar featuring a menu of cleverly named craft cocktails and a selection of desserts.
If you can keep room in your belly for something sweet after eating pizza and pasta, I recommend the cannoli, although their tiramisu is a close runner up. If you're looking for new restaurants in Kissimmee Florida, Capone's won't disappoint, especially if you're a pizza lover.
2. Ford's Garage
If you fancy a juicy burger in a fun, retro setting, look no further than Ford's Garage. Our host told us Ford's Garage was known for the three B's: burgers, beers, and bathrooms. The burger and beer part made sense but that last one was a little bit of a head scratcher. More on than in a minute.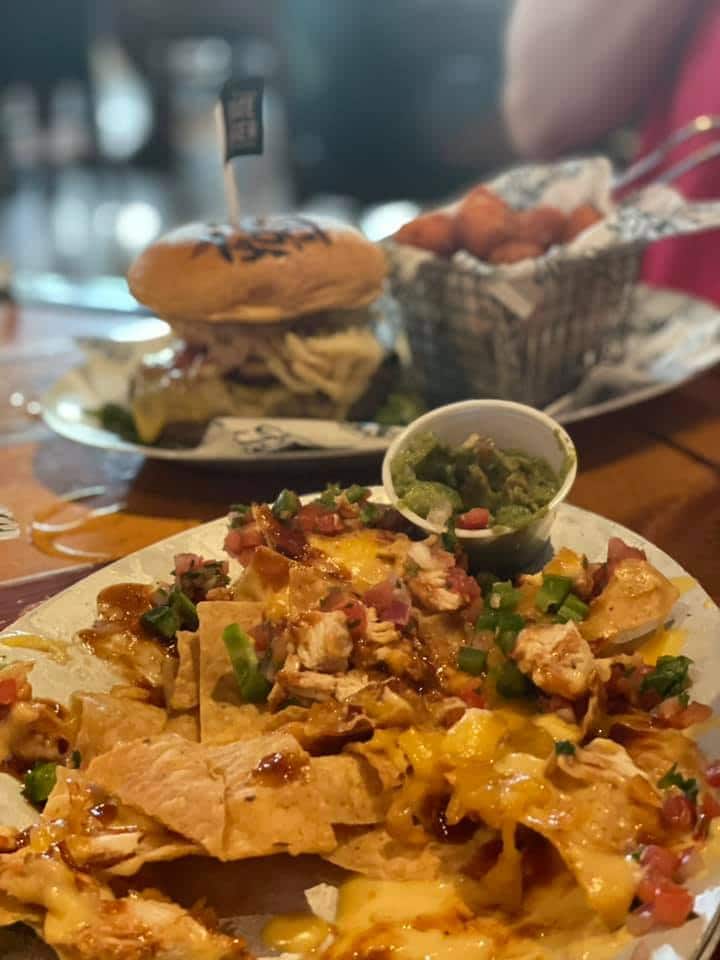 Ford's Garage has a robust selection of 1/2 pound prime burger offerings, although they have lots of other menu items, too.
Here's the part I feel a little sheepish about: I ordered a salad.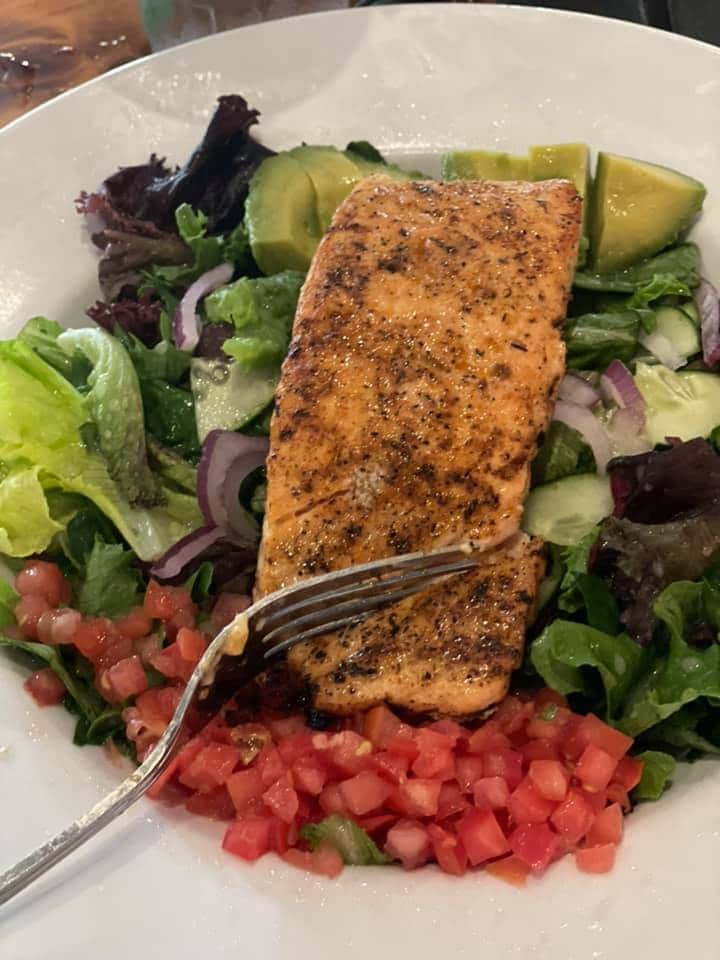 Anyone who has ever seen me eat knows I'm not the "orders a salad at a burger place" kind of gal but I'd had a large, late breakfast and wanted something lighter. The blackened salmon salad was fresh and delicious and just one of several choices for salads. There are also other entrees as well as a mac n' cheese bar.
Who wouldn't like a mac n' cheese bar?
If you want something to get your appetite revved up, Ford's Garage has lots of starters. Our table had the nachos with chicken and the fried pickles. Whoever put our nachos together knew what they were doing. They were most perfectly layered.
My friends raved over the fried pickles, which I did not try. If you are a pickle person, which I'm not, they come highly recommended.
If you're up for something sweet after your meal, Ford's Garage won't leave you hanging. Their dessert menu features handmade shakes and two skillet dessert options.
About those bathrooms…
The bathrooms at Ford's Garage are really clever and fun. The sinks in the ladies rooms were framed with tires and the door handles were gas pumps. It's definitely worth a bathroom selfie.
Ford's Garage could be one of my new favorite restaurants in Kissimmee Florida. I need a do-over where I show up really hungry and grab on to one of those burgers with both hands.
3. Yeoman's Lion and Cask
Did you know there was a British pub in Kissimmee? I sure didn't but I do now. The decor is a mix of pop culture and British pub memorabilia. There's a red British phone booth outside that's a most perfect photo opportunity.
I enjoyed my meal and service at Yeoman's Lion and Cask immensely. Their menu is extensive and all palates will be able to find something they fancy.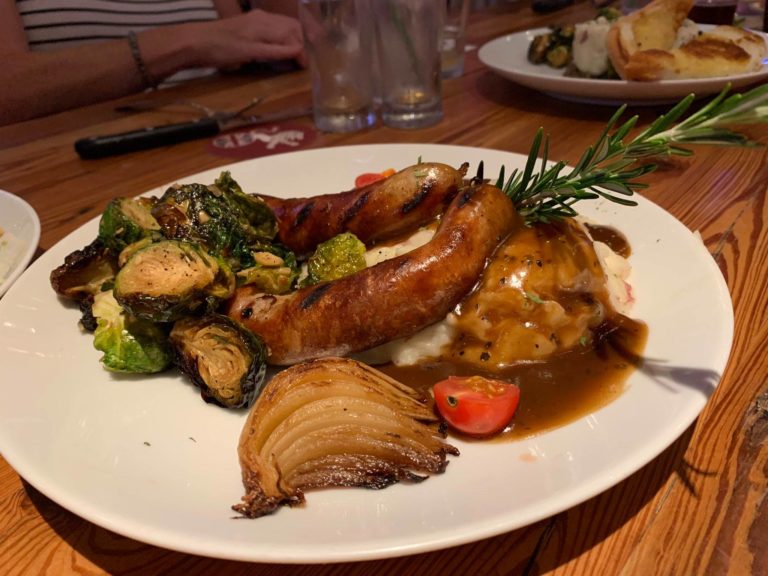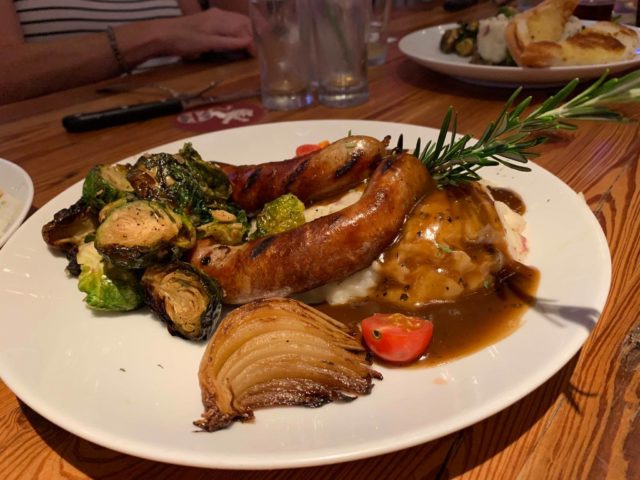 I lived in England for almost five years and I'm no stranger to pub grub. Not everything on the menu is pub inspired or authentic but I think they offer a good mix of traditional pub food and a few across the board favorites and crowd pleasers.
Yeoman's Lion and Cask did a special tasting menu for us, which allowed our group to sample a wide variety of food. We tried bangers (sausage) and mash, shepherd's pie, UK meatloaf, seafood and lobster mac, and fish n' chips. They also brought us out a salad topped with chicken breast.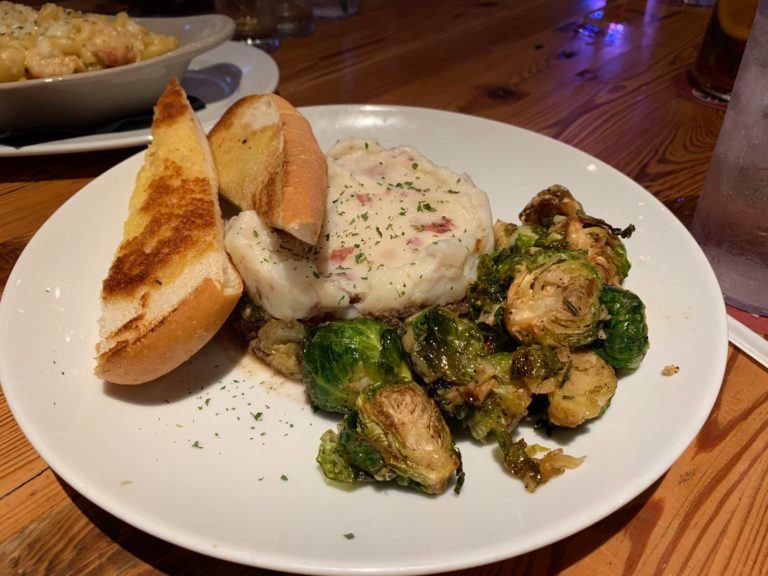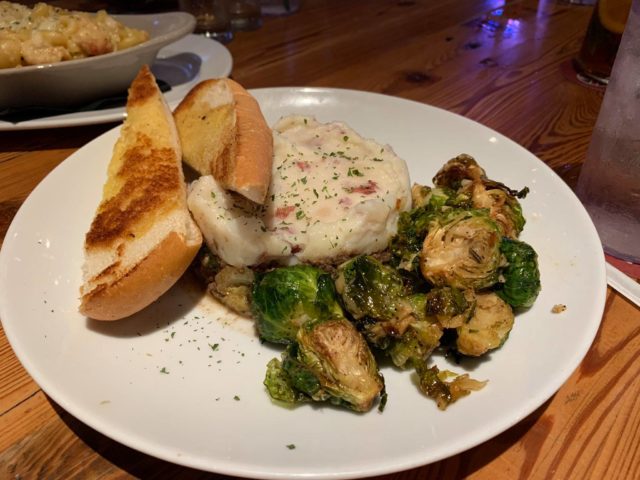 We also tried the Brussel sprouts appetizer, wings, a Scotch egg, and nachos made with potato crisps.
My favorites were the bangers and mash, the meatloaf and the shepherd's pie. I'm not sure if meatloaf is truly traditional pub fare but this one gets an A+ on its own.
Yeoman's Lion and Cask has a full selection of English beers and ales as well as a full bar. They serve brunch on the weekends. Traditional English breakfast is available on the regular lunch/dinner menu.
More food options at the Promenade at Sunset Walk
I was in the Kissimmee/Orlando area for a week and I ate way more things than I needed to. Zero regrets. There are other options for restaurants in Kissimmee Florida at the Promenade at Sunset Walk if you want to explore a different kind of cuisine.
Estefan Kitchen Orlando (I WILL be trying this one on my next trip to Orlando. Bongos was my favorite place to eat at Disney Springs.)
Bento Asian Kitchen + Sushi
BURGERFI
El Jefe Tequila and Taco Kitchen
Lizzie's Memphis Style BBQ
Rock N' Brew
You can see a complete list here.
I'm sure these the places I've mentioned just scratch the surface of the great restaurants in Kissimmee Florida but it is a start to get you branching out beyond the theme parks to experience something different and tasty.
Our group was hosted for these meals as part of a partnership with the We Grow Retreat. All opinions are mine.
You might also like:
The ultimate guide to Disney's Blizzard Beach Water Park