Texas Hill Country Hikes for Fall
(This post may contain affiliate links. Read my full disclosure.)
Fall is the time when the Texas Hill Country really shines when it comes to outdoor activities. While summers are usually too hot for middle-of-the-day outdoor activities not involving a body of water, November brings cooler temperatures that are perfect for hitting the trails. Here are four Texas Hill Country hikes to put on your list.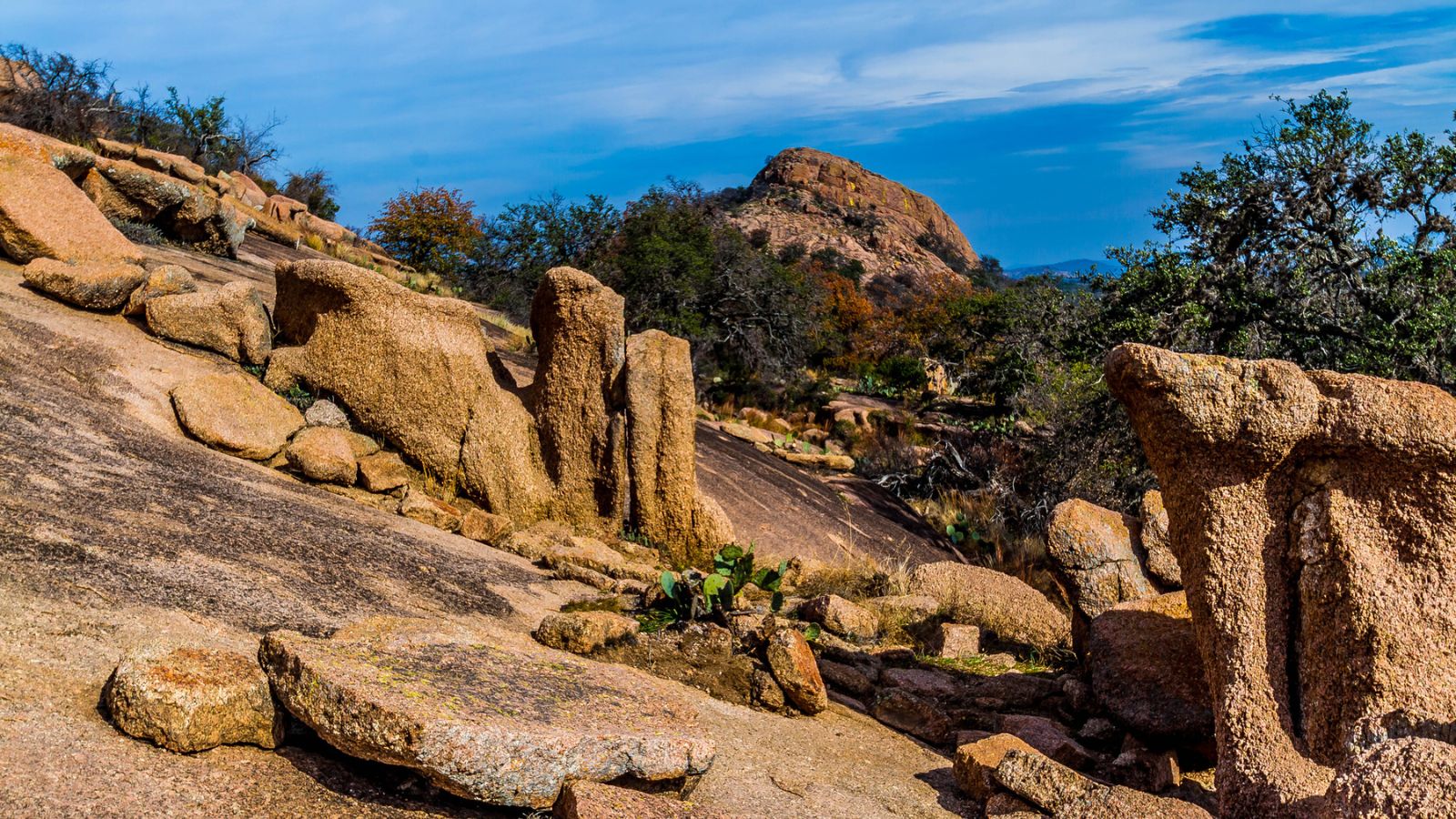 1. Pedernales Falls State Park
2585 Park Road 6026, Johnson City
This state park is located 9 miles east of Johnson City and offers more than 20 hiking trails of varying lengths, elevation gains, and difficulties. It's a popular camping spot for San Antonio and Austin families and many of the hikers you'll meet along the trails are overnight campers.
The Pedernales Falls Trail and the Twin Falls Nature Trail are two of the most popular hikes for families. Both are short (less than a mile) and listed as easy, although the Twin Falls Trail falls on the upper end of what most hikers would categorize as easy. The trails are rocky and can be slippery when wet. Unless there have been recent rains, the waterfalls may be more of a trickle than what you see in photos online. Dogs on a leash are permitted but dogs aren't allowed in certain parts of the water. Heed posted signs or check with a park ranger if in doubt. Day use is $6, and kids 12 and under are free. If you have a Texas Parks and Wildlife Pass, this will cover your entry.
You might also like: Fall Hikes in San Antonio
2. McKinney Falls State Park
5808 McKinney Falls Pkwy., Austin
Gorgeous scenery awaits at this beautiful park in Austin featuring water from Onion Creek rushing over limestone. The park is also a popular spot for camping, fishing, and swimming. There are several trails listed as easy, but hikers up for a challenge may want to choose the Onion Creek and Homestead Trail Loop. The full loop is nearly 7 miles and shady with little elevation gain. Depending on recent rains, you may have to cross a portion of Onion Creek to complete the full loop. This hike is best for experienced hikers without young kids or pets in tow, although it's easy to turn around if you encounter an obstacle that you're not comfortable with. Dogs on a leash are permitted but dogs aren't allowed in the water. Day use is $6, and kids 12 and under are free. If you have a Texas Parks and Wildlife Pass, this will cover your entry.
3. Hamilton Pool Preserve
24300 Hamilton Road Dripping Springs
Hamilton Pool has long been a popular natural swimming hole in Central Texas, but swimming isn't guaranteed and rarely happens (at least this year) due to bacteria levels and other factors. Still, Hamilton Pool Preserve stands alone as a hiking trail. The hike to the pool from the trailhead is 0.25 miles down a steep hill. The other side of the preserve has a moderately easy trail that leads to the Pedernales River. If you hike down to the pool and then over to the river trail and back up to the trailhead, you'll travel a moderate 1.8 miles. While the hike overall is not difficult, younger kids or pets who want to play in the water might not enjoy it as much as the hiker who's there to appreciate the scenery fully. Pets are not permitted. Hamilton Pool Preserve is operated by Travis County Parks and Recreation. Reservations ($12 plus a $1 processing fee) are required to enter the park. Admission is $8 per person and $3 for seniors 62 and older. Children 12 and under and disabled veterans (50 percent and up) are free. Reservations are in morning and afternoon blocks, so there's a limit on how long you can be in the park.
Pro Tip: Explore nearby Driftwood TX
4. Enchanted Rock State Natural Area
16710 Ranch Road 965, Fredericksburg
This is by no means a hidden gem, but the 425-foot pink granite formation located 18 miles north of Fredericksburg is a worthwhile visit for any Texan. Along with the steep hike up the rock (Summit Trail), there are 10-plus miles of other trails worth your time. The Summit Trail is strenuous, but the views are spectacular. There's very little shade here so this makes an excellent hike on a cooler day. Pets are allowed in the campground/picnic areas and on the Loop Trail only. Reservations are required on weekends and holidays and are recommended at all other times. Entrance is $8, and kids 12 and under are free. If you have a Texas Parks and Wildlife Pass, this will cover your entry.
Four Tips for Fall Hiking
Choose your Route: Most of the parks we've listed have more than one trail to select from, so scope out online trail maps or check a peer-reviewed site such as All Trails to get more info to help you plan a hike.
Hydrate: Fall days are still warm. Experts recommend taking half a liter of water per person, per hour of hiking.
Plan for Pets: If you want to hike with pets, make sure they're permitted and that you carry enough water for them, too. Some parks don't allow pets while others only allow them on certain trails.
Go Off Grid: Don't rely on cell service. Download digital maps or snap pictures of the maps at the visitor's center or trailhead.