4 Ways to take care of YOU (when you're a hopeless Type A)
(This post may contain affiliate links. Read my full disclosure.)
I received compensation from Aleve to write this post. All opinions are entirely my own. #NeverBackDown #Aleve #CollectiveBias #advertisement
Are you one of those "all-in" kind of people? I am. I don't think I really know the meaning of "take it easy" and although I don't have a problem fitting in fun, entertainment and recreation, I struggle with actual downtime, which I know isn't always a good thing. I've recognized that my go-go-go lifestyle can take a toll on my health and well-being and that I need to be careful not to burn myself out and to recognize when I need to stop, rest, and think about self-care. Here are four ways to take care of YOU (when you're a hopeless Type A person like me) and yes, I'm working really hard to practice what I preach!
4 Ways to take care of YOU (when you're a hopeless Type A)
1. TRY TO STAY ORGANIZED
Sometimes I think I'm going a million miles a minute because I'm flying by the seat of my pants. I have a thriving small business. I have two kids in elementary school that are in multiple activities…keeping up with their school work and where they have to be and what they need to have with them is my biggest challenge. The boys are eight and although we're trying to instill a sense of responsibility in them, it's still my job to remember they need shin guards for soccer and all other the things.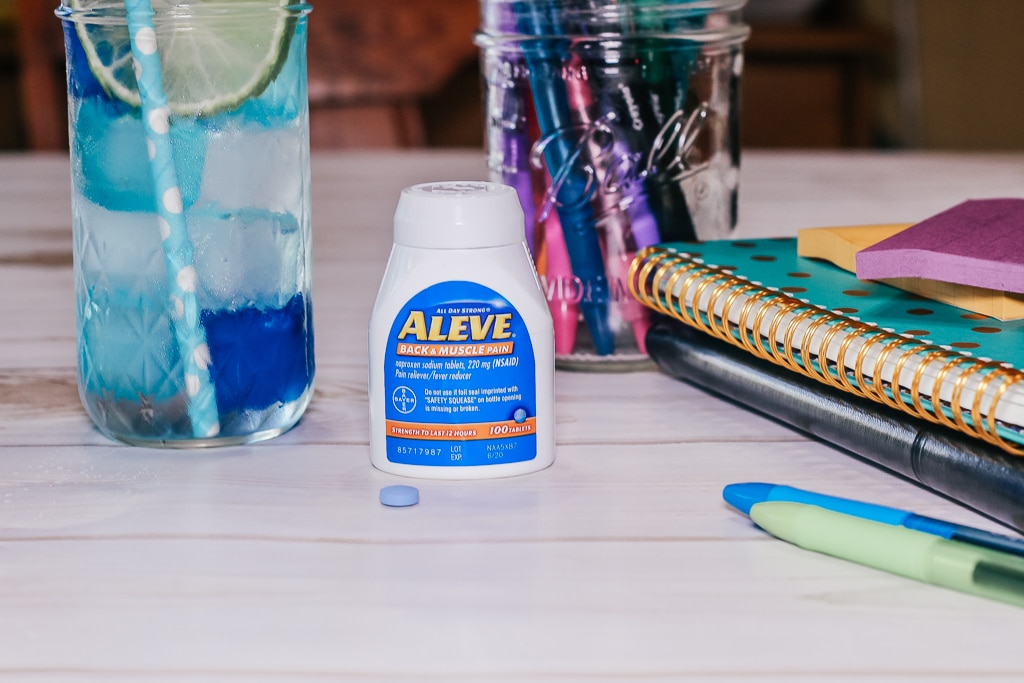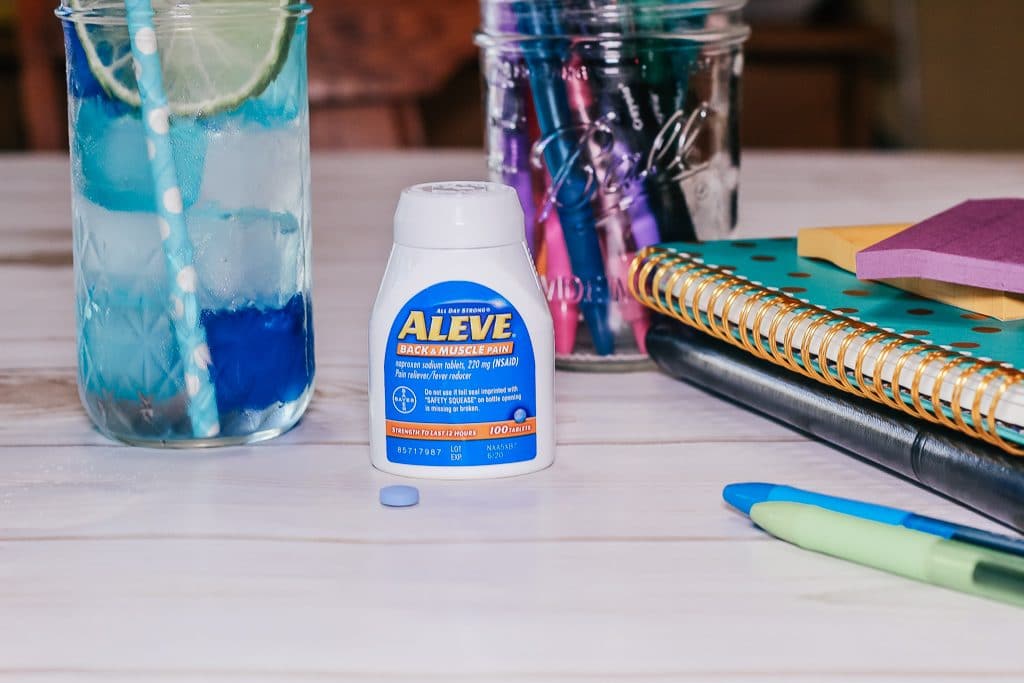 For me, being organized is being diligent about writing appointments and deadlines in my planner, leaving sticky notes all over my house, and talking to my husband about our different commitments. When I'm totally driven by my inbox or struggling just to tread water, my stress goes into overdrive. While I think I, like many Type A's out there, thrive on some degree of stress, I definitely make things harder than they need to be sometimes by not slowing my roll long enough to organize myself.
2. FIND A PAIN RELIEVER THAT "GETS YOU BACK OUT THERE"
I just turned (gulp) 52. While you can score major brownie points by telling me "Why Jill, I had no idea. You look fabulous!" the truth is, our fifties can (and should) be some of the most robust and active years of our lives. You shouldn't have to tell me I look great at 52. You should expect it.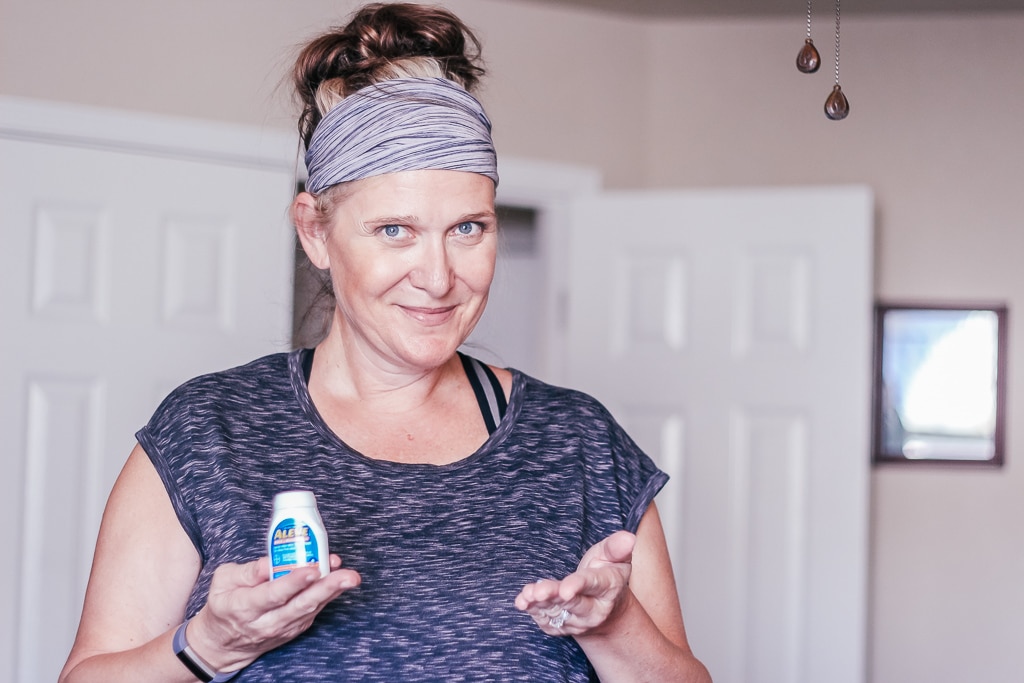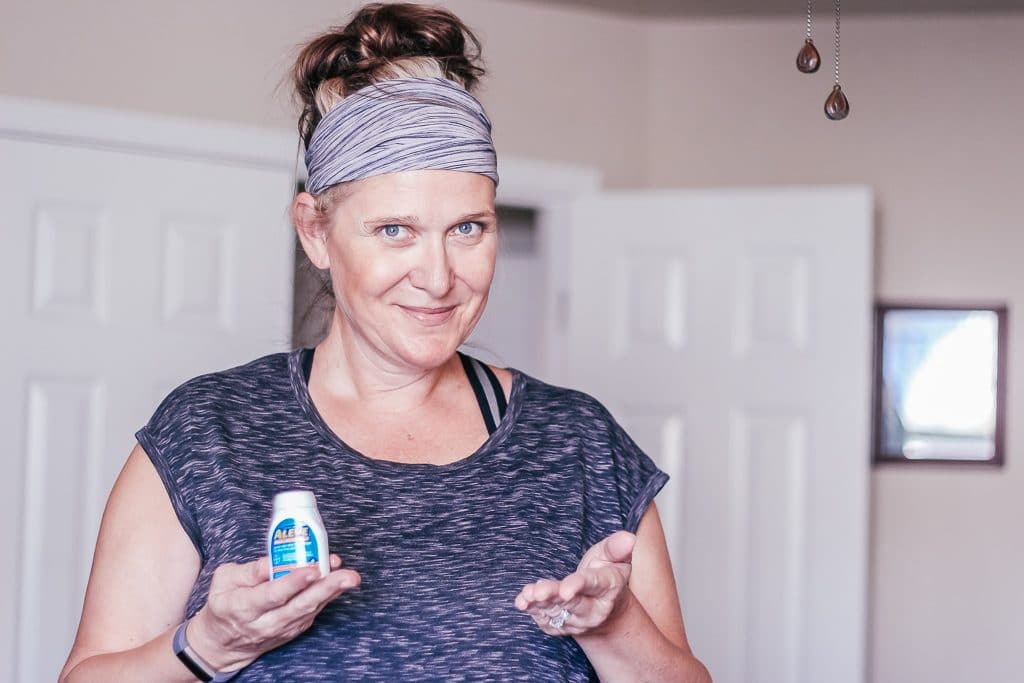 My husband and I are signed up to run three fall half marathons. He's been prohibited from signing us up for any more road races, by the way. I enjoy running but our fall/winter running schedule is full enough thankyouverymuch. We run as a family (my husband and me and both of our sons) with a neighborhood running group every week. We're getting ready for fall hiking season…we live in Texas and the fall and early spring are prime times to hike, since it starts getting a little cooler…or at least what we consider cool in these parts.
I started taking barre classes this fall, which I like to call a combination of Pilates and torture. I'm exercising more, I'm using muscles I didn't know I even had, and all this is on top of my rigorous daily schedule.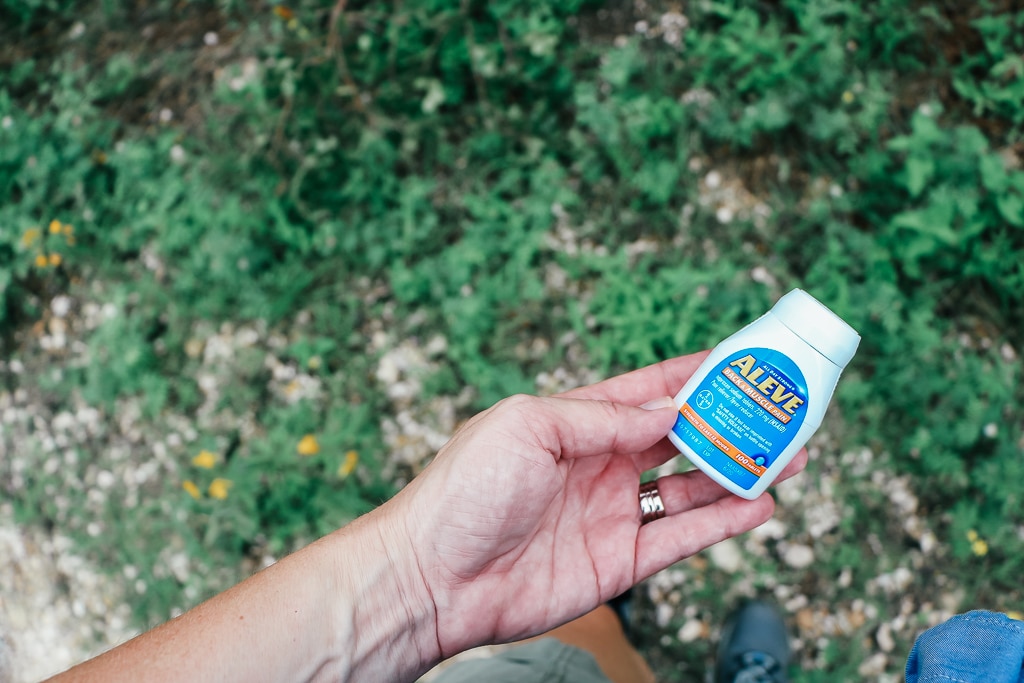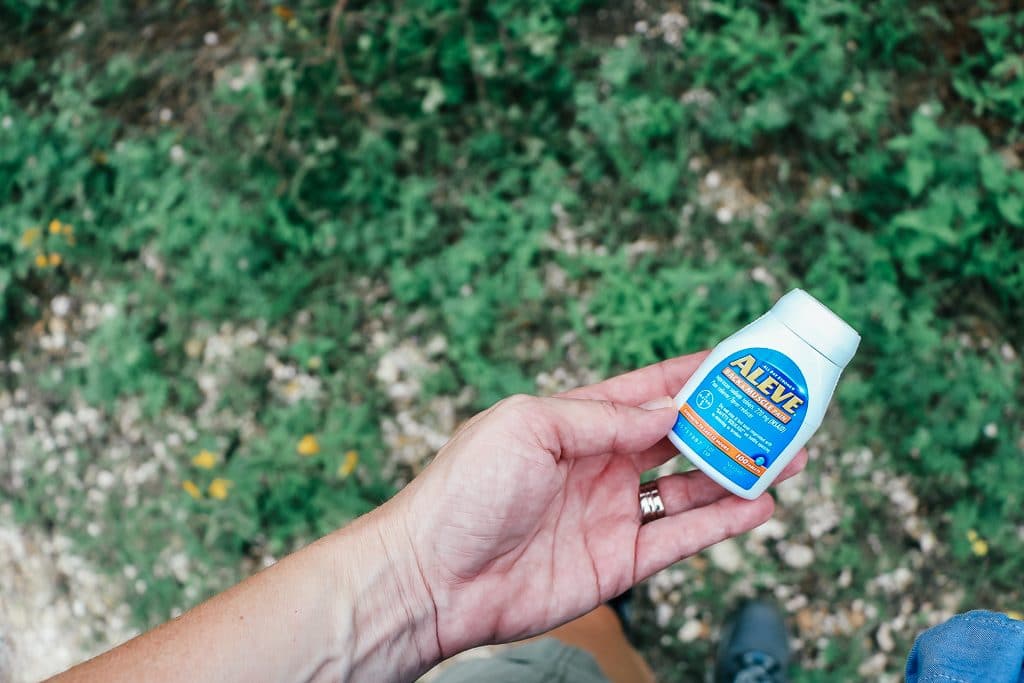 As much as I like to live in the moment and act as young as I feel, sometimes pain gets the best of me…but I have too much on my plate to slow down, and honestly? That's the way I like it.
I've got too much going on to be sidelined and I appreciate a pain reliever that gets me back out there faster. Aleve Back & Muscle Pain is my pain reliever of choice. I've stepped up my activity level and my back and muscle pains are stepping right up there, too.
I try to squeeze as much out of every moment that I can but sometimes, aches and pains from doing too much or pushing too hard can get in the way. Aleve provides all-day pain relief that stops tough pain so it doesn't stop me.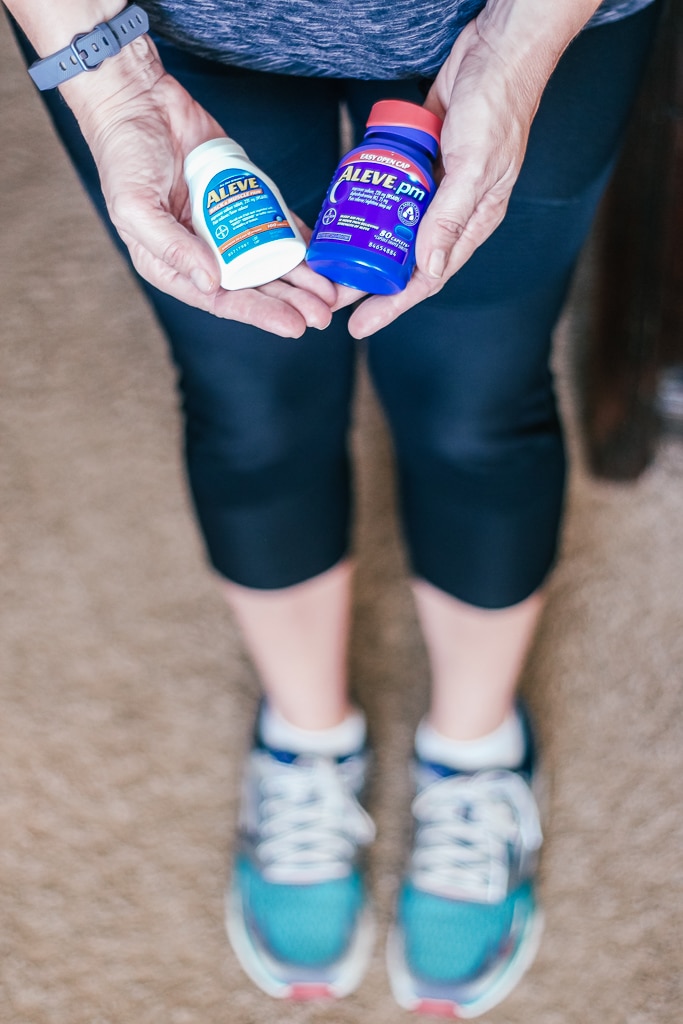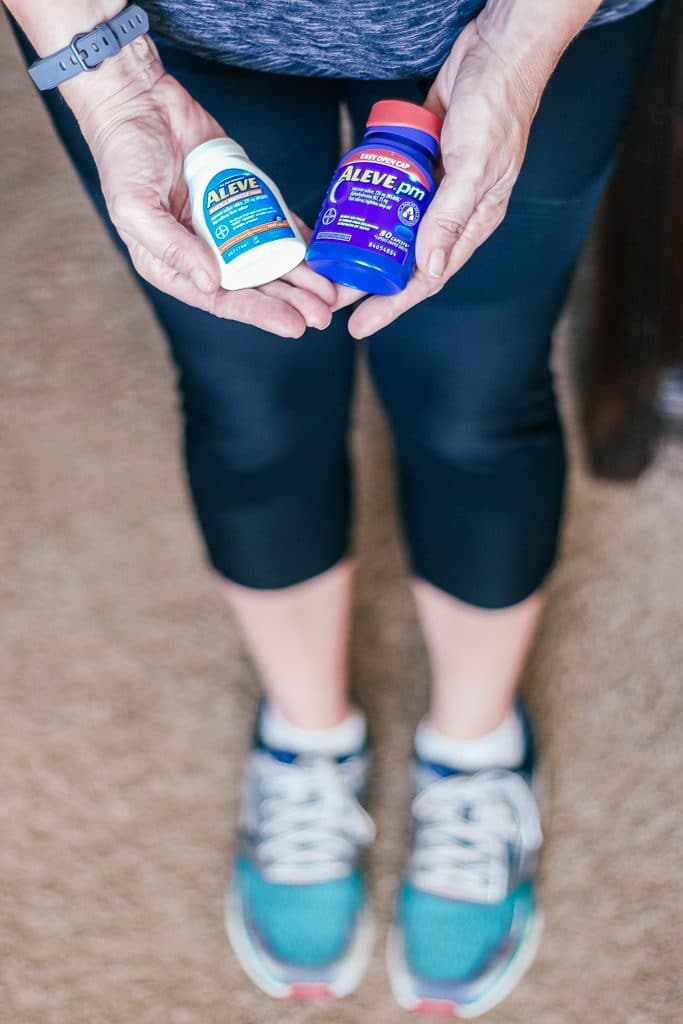 I love how Aleve provides all day pain relief that lets me keep on living that all-in life that us Type A's thrive on. Even though I'm not trying to set any records for midlife athleticism, I love that I'm setting an example for my kids on living a healthy, full, and active lifestyle. I hope my all-in, on-the-go way of attacking life is something they always remember about me and emulate. Right now, they complain about getting up at dawn to go to their grandmother's house so mom and dad can run a half marathon. I hope someday they remember that in a positive way. For occasional sleeplessness associated with minor pain try Aleve PM.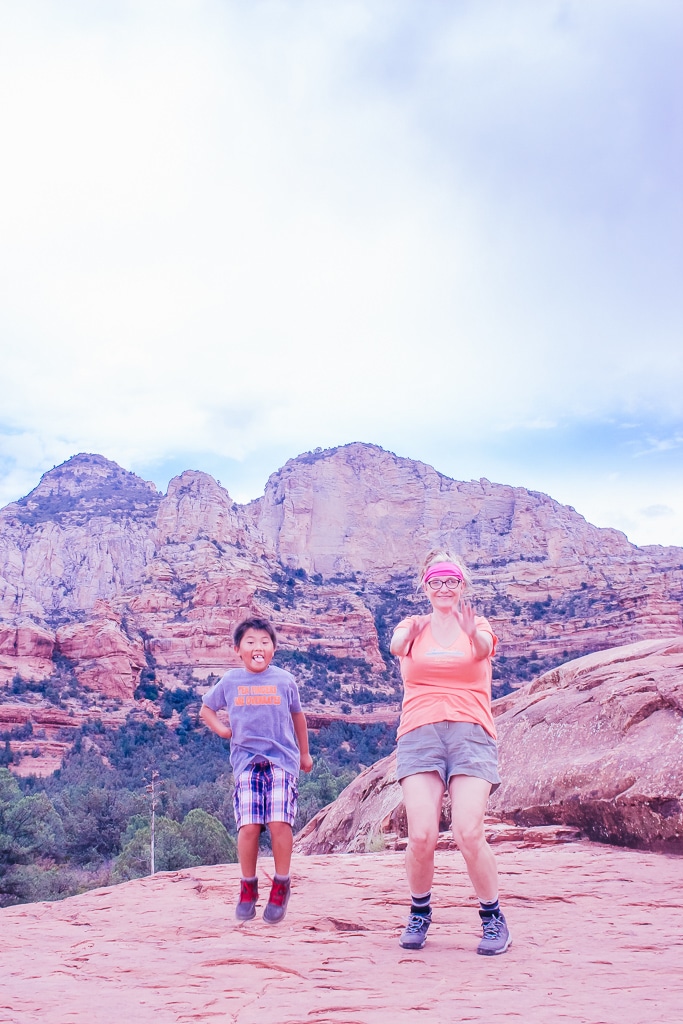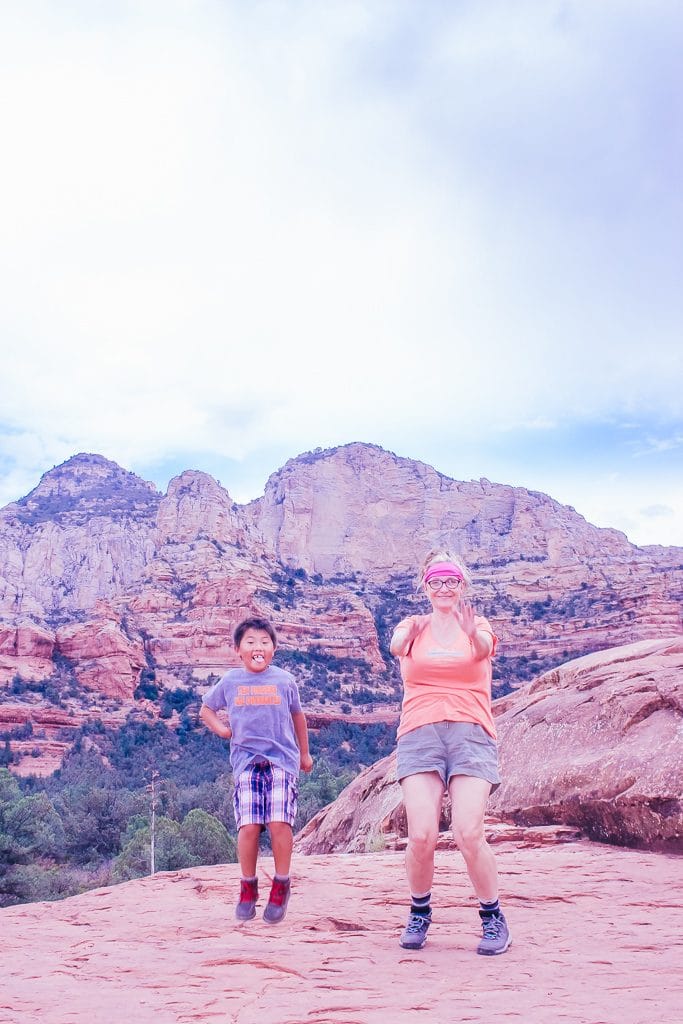 3. STAY POSITIVE AND BE RECEPTIVE TO BEING INSPIRED
When you're all in all the time, it's important to stay tuned in to people who inspire you and motivate you. It helps you realize what's possible and gives you the resolve to amp up your "go get 'em" for another day.Speaking of "Go get 'em" and #NeverBackDown, check out this fun Uncle Drew sweepstakes: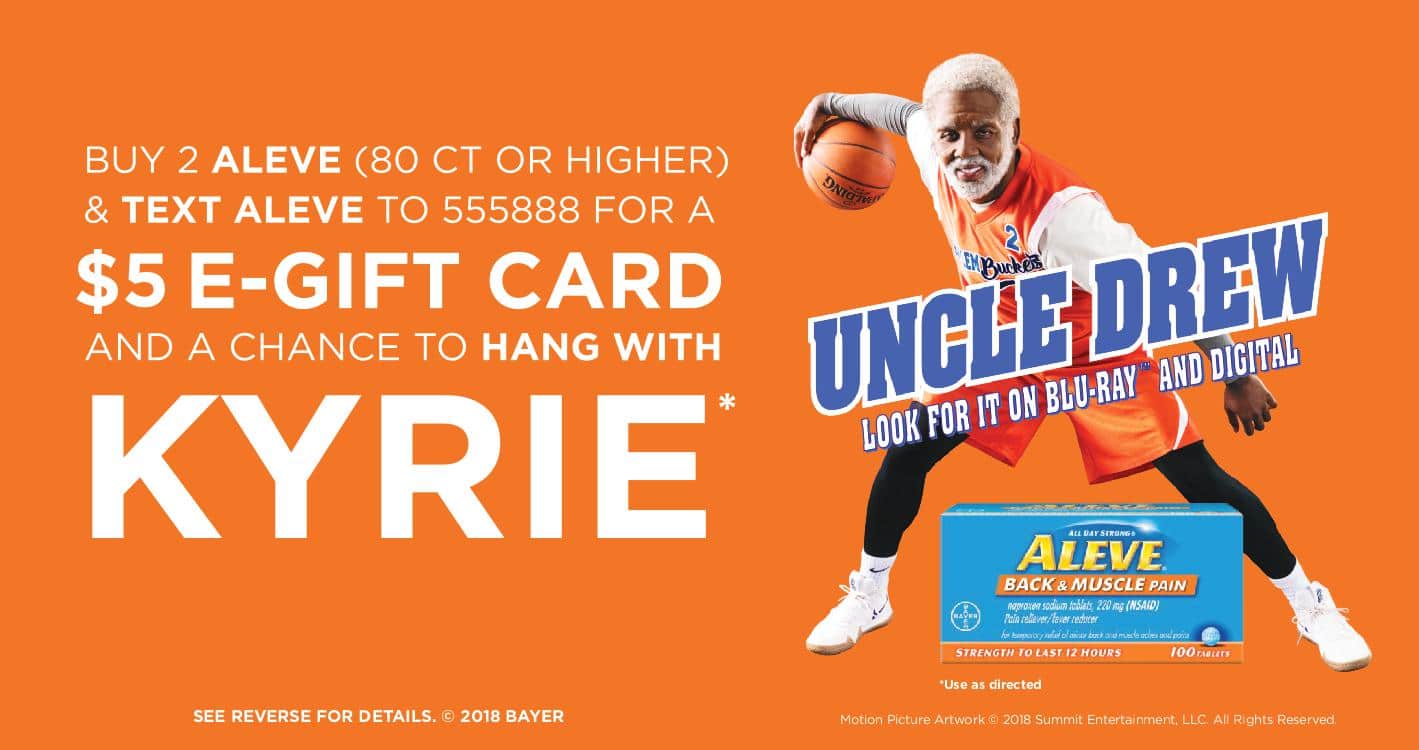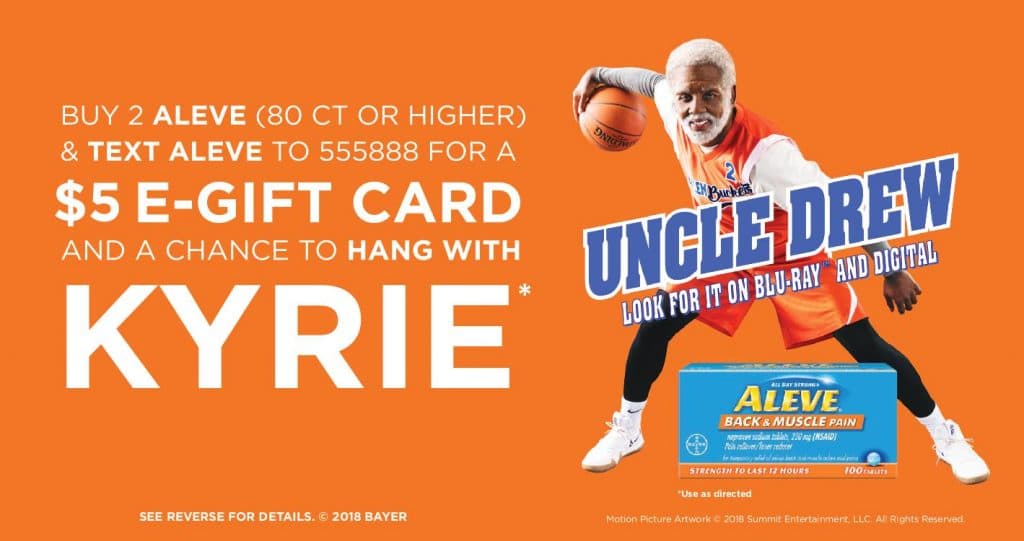 To claim rebate: purchase two (2) Aleve products (80ct or larger) at any retailer between 9/15/18-10/31/18 on a single receipt, and text ALEVE to 555888 to receive submission instructions.
Rebate: one (1) $5 Walmart eGift Card. Rebate offer valid 9/15/18-10/31/18, while supplies last. Limit one rebate per person. Allow 6-8 weeks for delivery. eGift Card subject to printed terms. Reply STOP to unsubscribe or HELP for help. 4 messages per month. Msg & Data rates may apply.
NO PURCHASE NECESSARY. Sweepstakes starts on 9/15/18 and ends 10/31/18, Legal residents of the 50 US/DC 18+. Void where prohibited. See Official Rules https://neverbackdownrules.pgtb.me/6SMMd8. Visit https://neverbackdown.pgtb.me/GRxbhS to enter. Legal residents of 50 US/DC only, 18 years of age or older.
Aleve Back and Muscle Pain is now available at Walmart. Only Aleve offers up to 12 hours of pain relief in just 1 pill*. All Day Strong, All Day long. *Among leading OTC brands,. based on minimum labelled dosing. Use as Directed.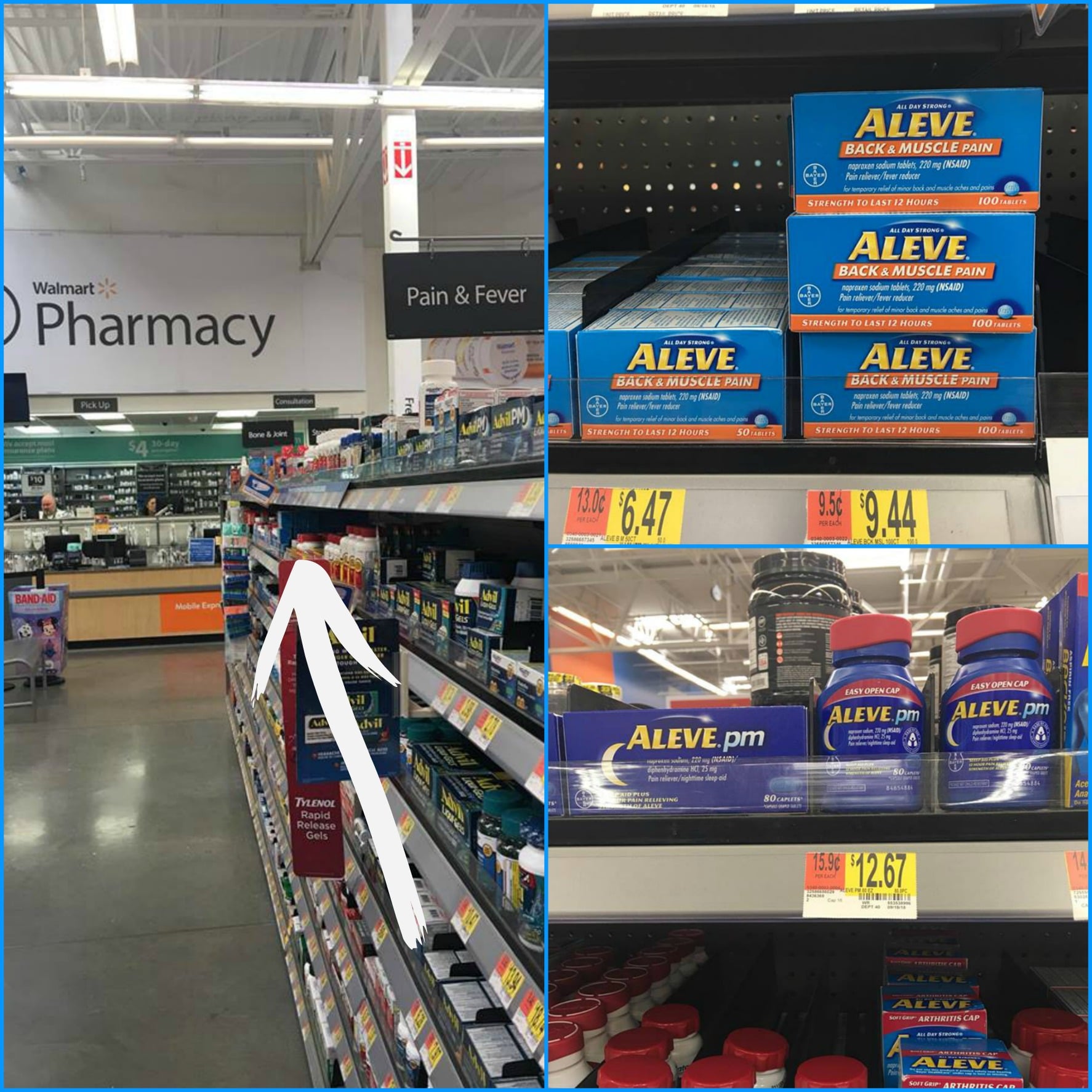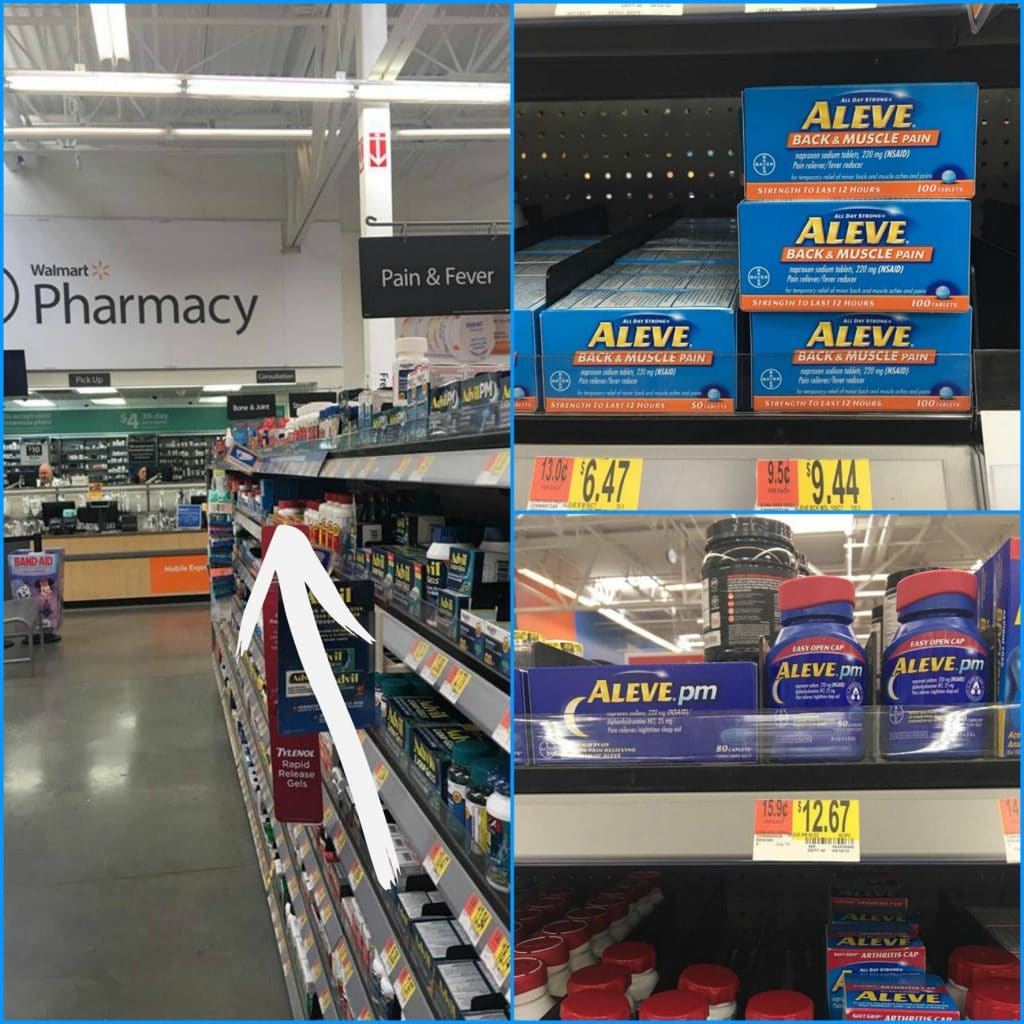 4. GIVE YOURSELF GRACE
If you think you do too much or if you think you do too little, cut yourself some slack and resolve to begin again tomorrow. I – all too often – end my day thinking I could have done more things or less things.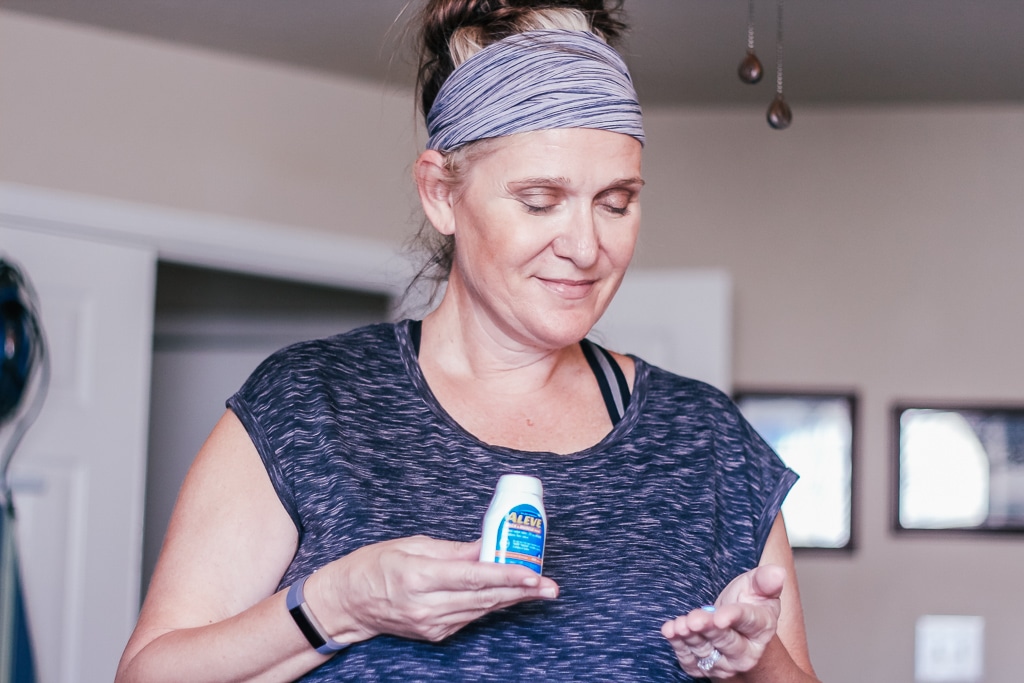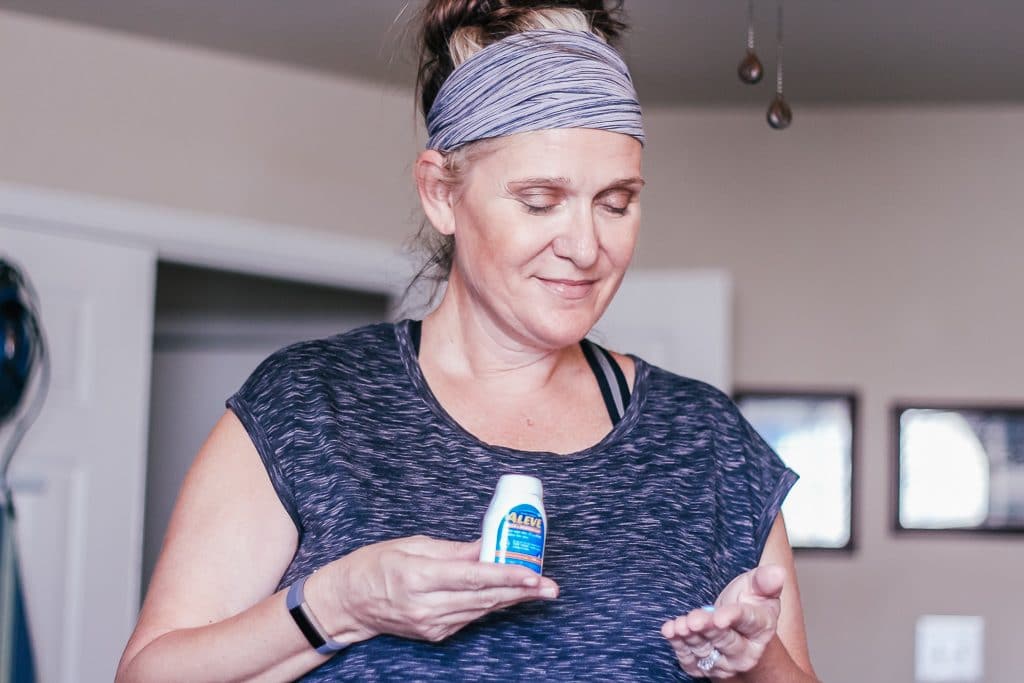 Give yourself grace, keep your health and self-care at the top of the list and then let it go. Do your thang. All in isn't a bad way to live your life…just moderate it with some self-care and don't let all the "must do's" on your list completely take over.
If you're a hopeless Type A like I am, you know what its like to be all in all the time. But, give yourself permission to relax and to focus on self-care and health and wellness and focus on these simple ways to take care of you when you're a hopeless Type A. You've only got one YOU, after all. And don't forget to take care of yourself when you've overdone it. An active, all-in lifestyle is going to produce some aches and pains now and then, especially you're (ahem) a certain age.) #NeverBackDown and let Aleve help you get back out there.