Want to know how to manage UTIs? ellura has a way!
(This post may contain affiliate links. Read my full disclosure.)
This is a sponsored post written by me on behalf of ellura. All opinions are my own.
UTIs just plain stink. Anyone who's ever suffered through a Urinary Tract Infection can agree on this. I've been prone to UTIs my entire life. For me, they've been pretty consistent (and also consistently annoying) throughout the various stages of my life.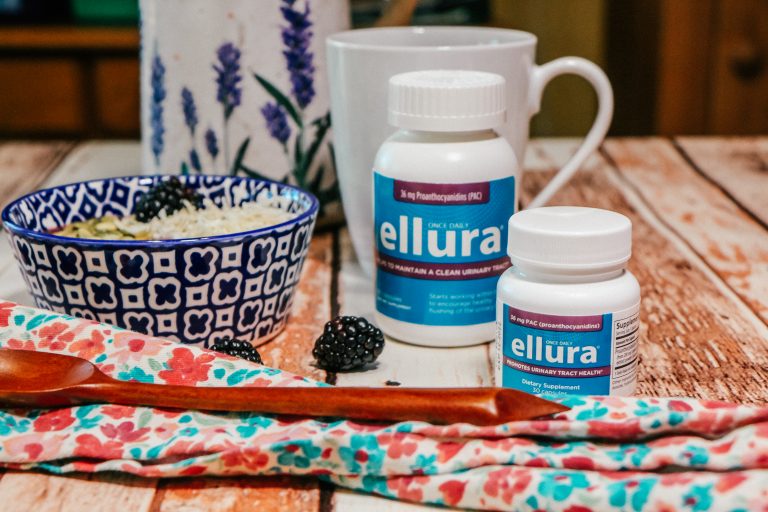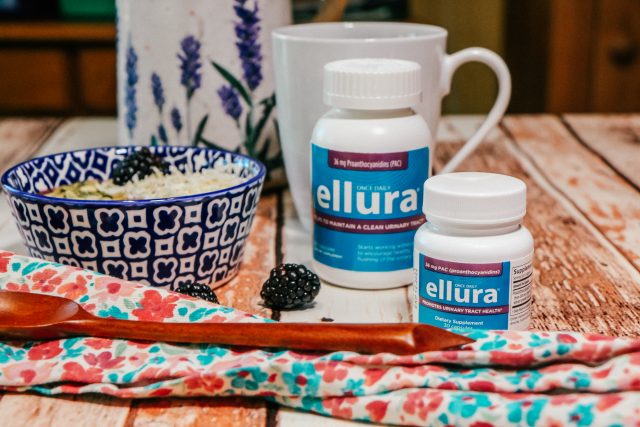 Do you suffer from frequent UTIs? If you do, keep reading and find out how to help prevent them with ellura!
Want to know how to help manage UTIs? ellura offers a way to do that
ellura offers a non-prescription, safe and effective way to manage and prevent UTIs. I'm so here for anything that makes things easier and keeps me safe and pain-free. I'm excited to share this information with YOU!
Do you suffer from frequent UTIs?
I get them more often than I wish. OK, let's be real: I wish I would get them exactly NEVER. I've talked to lots of women about this over the years. Although UTIs are unpleasant (I could think of other choice words but we'll stop at unpleasant), I do take some solace in knowing I'm not alone.
Women are more prone to UTIs than men…just one more fun aspect of being a girl…ha, ha not. The reason we're more susceptible to UTIs is because our urethra is shorter than a male's and that makes it easier for bacteria to reach our bladders. Lots of things can cause UTIs: sex, pregnancy, certain forms of birth control, certain medical conditions, and my personal favorite, menopause. I feel like menopause is that gift no one really wants but it keeps on giving. Read more about a woman's body and UTIs here.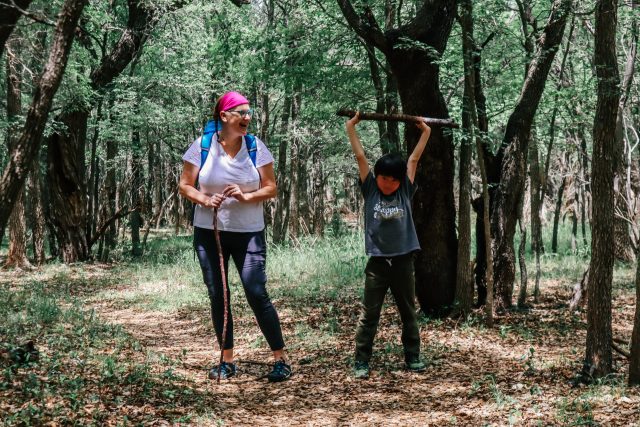 I'm a busy and active mom. UTIs? Nobody has time for that.
Aside from the fact that UTIs are uncomfortable and even painful, they put an extreme cramp in my style. I'm a busy mom. My kids need me to be 100 percent all the time, not sidelined because of a UTI.
An ounce of prevention…
If you suffer from frequent UTIs, you're probably tried different things (successful or not) to help prevent them from happening. The old saying "An ounce of prevention is worth a pound of cure" is certainly true when it comes to managing UTIs. In addition to being painful, UTIs can also impact you financially. In addition to the cost of a doctor's visit and medication, you might also be dealing with missed work time or not fully participating in family and recreational activities because you don't feel well. Plus, the antibiotics needed to fight a UTI that's already in full force can cause side effects that can make you feel worse before you feel better.
Antibiotics can help knock out a urinary tract infection but too-frequent use of antibiotics isn't good for us. ellura helps prevent UTIs so you can get back to living your life. I need to be at 100 percent when I give a jambalaya making lesson.
While antibiotics do the trick for me when I do get a UTI, I don't like the idea of taking them very often because the UTI-causing bacteria will develop a resistance to antibiotics which will ultimately make them less effective. Some women with really bad recurrent UTIs might take low dose antibiotics every day to help prevent UTIs — but most urologists agree that's probably not be the best plan. Not only does it mean the bacteria will become resistant over time, these medications also have many unwanted side effects – like stomach upset, allergic reactions or yeast infections – so you may be giving your body something it doesn't need. ellura is an effective alternative to low-dose antibiotics to help prevent UTIs, which is why I was happy to have found ellura about four months ago.
Frustration with UTIs (so.much.frustration)
Life when you're faced with current UTIs is stressful. I hate planning my activities with a "Well, let's think about what could go wrong here" mindset because that's not me. I love planning travel. That's part of what makes me, me. Having to formulate possible Plan B's or to think about sitting out an activity is what really drove the "Wow, I'm getting a lot of UTIs, aren't I?" home for me a few years ago.
The idea of coming back from a trip and answering the question "Did you have a great time?" with "Well, the hotel room was really great but I didn't see much of the sights because I wasn't feeling well." is sort of depressing, isn't it? Although I typically haven't broadcast the fact that I'm prone to UTIs, I'm starting to realize the need to normalize them, even if it is just within my circle of family and friends. I need people to understand how painful these are and how much they can throw women off their game, even if it feels a little bit uncomfortable to talk about.
But you know what's uncomfortable? A UTI, so maybe the more open we are about struggling with them, the more conversations we can open up about how to prevent them.
What bothers me the most about frequent UTIs (other than the fact that they hurt)
I think what used to bother me so much was the "vicious cycle" of UTIs. There's that "aaaah" sense of relief you get when you realize you're on the downslide. When the meds start to work and you realize you're not dreading the pain of having to pee. But, there's always the sense of "Well thank goodness THAT'S over…until next time" at the end of a UTI. Know what I mean?
This is a big deal for me. To not have that internal "Hope I don't get a UTI" every time I make plans or respond to an invitation or a "Why don't we do _____" suggestion from my husband. It's freeing. It might not sound something important but for me, it really is.
"Have a glass of cranberry juice."
I remember my first UTI and being given the advice "Just have a glass of cranberry juice." I'm not a doctor and I'm not giving medical advice but woman to woman, if you've already got a UTI, drinking cranberry juice probably won't do a lot for you.
Yes, cranberries can help prevent UTIs but even if you drink juice or eat cranberries regularly (which not all of us do), it is not enough so there's another way. I like cranberry juice well enough, but I don't want to drink it all the time. For me, juice is something I drink sparingly because of the sugar.
ellura – ellura vs. juice and other cranberry supplements
There is a connection between cranberries and UTI prevention though and that's where ellura comes in. Medical grade ellura has the most potent PAC extract. Unlike other products on the market, ellura is made from pure cranberry juice extract. The active ingredient in ellura (proanthocyanidins or PAC for short) binds to bad bacteria to keep it from sticking to the bladder and if bacteria can't stick, they can't grow and cause an infection.
Note: most supplements in your local grocery store/pharmacy have less than 36 mg PAC even if they claim to have that much, and many don't even include PAC on their labels. They are also made with all the sugar and other ingredients that are not ideal for sensitive bladders.
While you can look at cranberry supplements, ellura is more powerful because the concentrated PAC comes from pure cranberry juice extract, not the press cake or other parts of the fruit.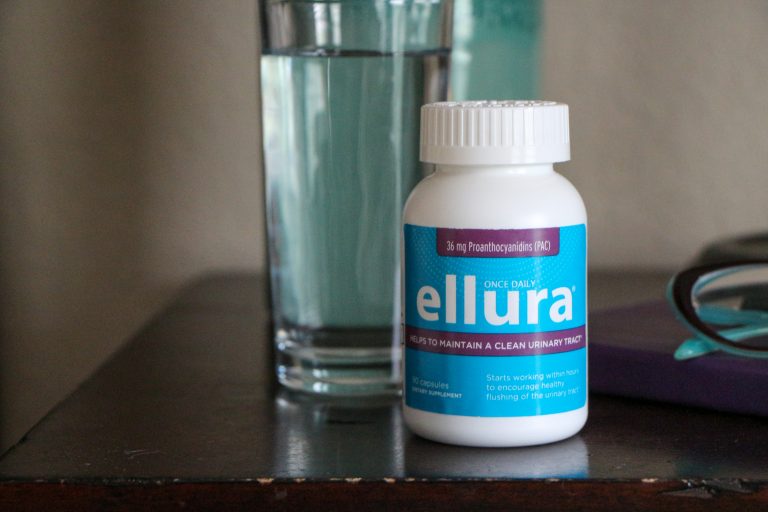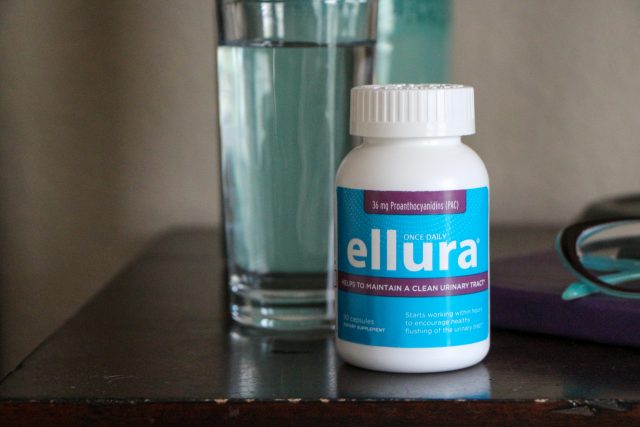 Being mindful about my water intake + keeping my supplements on my nightstand where I'll see them as soon as I get up = staying healthy.
Please note: ellura is naturally sourced and has no known side effects. If you have a red fruit allergy, please consult your doctor before you start.
I'm picky about what goes into my body. You probably are, too.
Ingredients matter to me, which is why I'm happy that the formula in ellura is ideal for more women who get UTIs. It contains virtually no sugar. If you're considering D-mannose, cranberry juice or other products, know that most are high in sugar.
The safe, healthy ingredients are a big deal for me. Health and longevity are important to me and I want something that's safe for me to take to prevent UTIs on a long-term basis and I'm happy ellura offers us that option.
I always joke about being the oldest mom with the youngest kids – although not a joke because it is usually true! – but the fact is, I am motivated to take better care of myself in little ways so I can stay healthy and run around with my kids for years to come.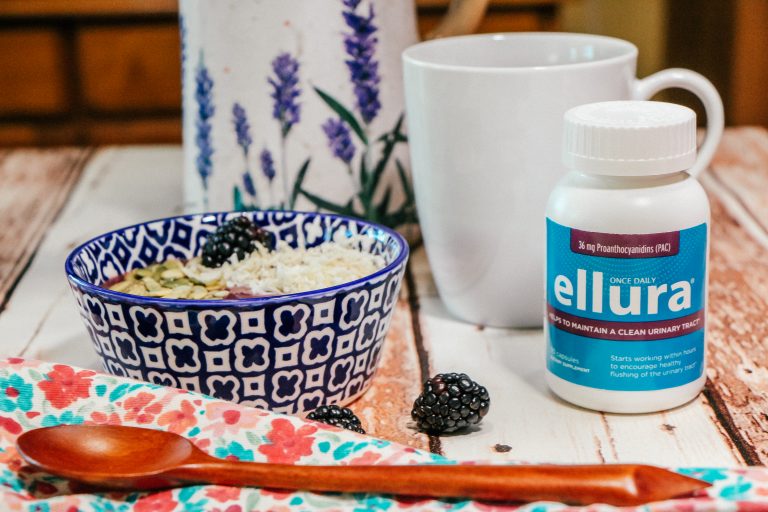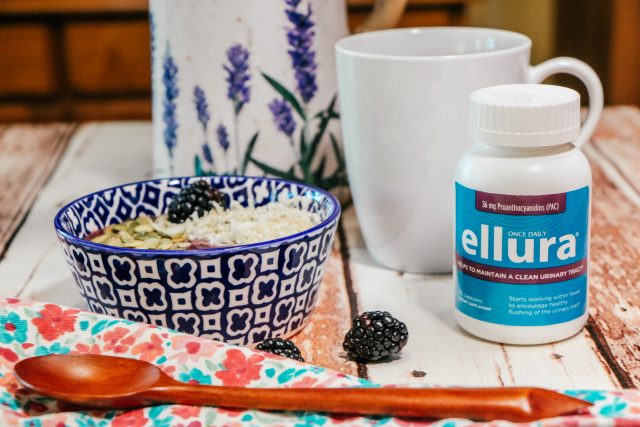 Try ellura for yourself. Here's how:
If you're struggling with frequent UTIs, try ellura. Use discount code JILLROBBINS for 50% off your first order at ellura.com. One use per customer, expires October 9th at 11:59 PM ET.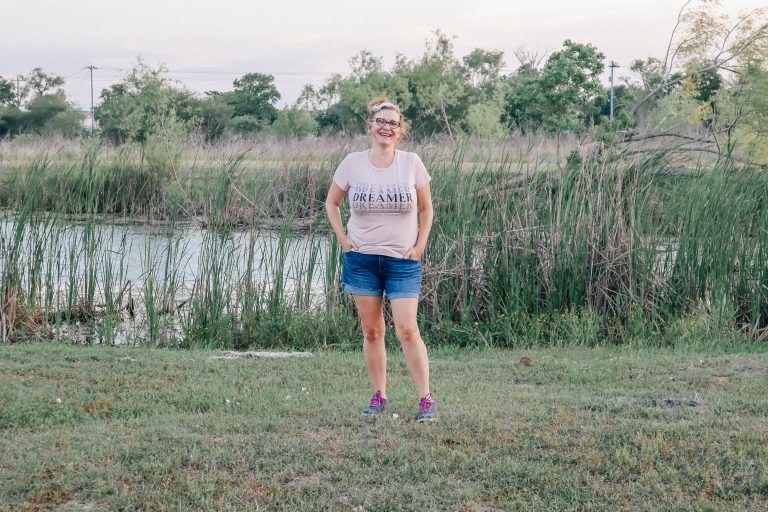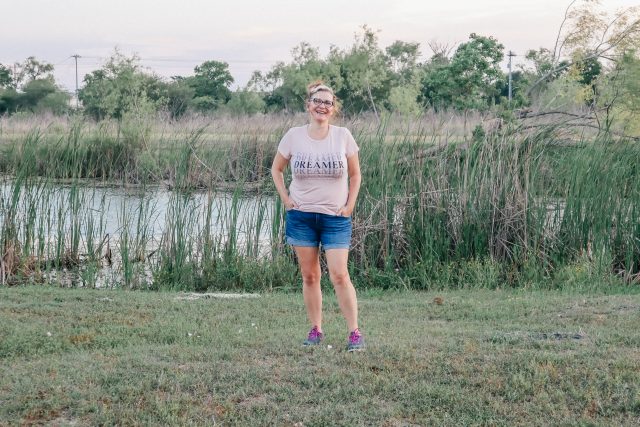 Want to prevent UTIs? Check out ellura, a medical-grade supplement for urinary tract health.
More about ellura:
ellura helps stop UTIs before they start. When lifestyle changes and self-care are not enough to prevent UTIs and low-dose antibiotics for prevention are not worth the risks, ellura has been proven effective as a non-antibiotic alternative for UTI prevention, without the side effects or bacterial resistance. Read more about antibiotic resistance here.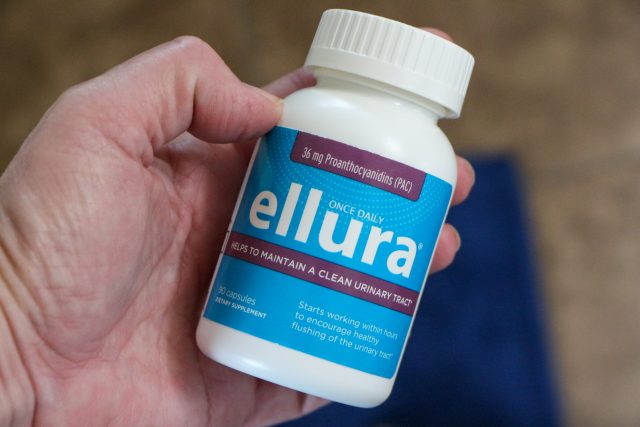 ellura helps prevent UTIs. If you worry about taking too many antibiotics to combat UTIs too often, give this powerful, non-prescription option a try!
ellura is not a treatment for UTIs, and using ellura should not replace the expert advice from your health care team.
This is a sponsored post written by me on behalf of ellura. All opinions are my own.