How to avoid getting sick while flying
Airplanes are some of the germiest places EVER. I fly a lot and most of the time, I like to avoid thinking about the level of hygiene of the person who last sat in my seat but there are some thing you can do to avoid getting sick while flying. In this time of heightened awareness of germ spreading and possible flight cancellations, I've put together a list of tips on how to avoid getting sick while flying.
Tis the season for cold and flu…and COVID-19 AKA CORONAVIRUS which is wreaking havoc with all kinds of plans. We hear a lot bout COVID-19 but it seems like we don't know more than we know. If you're still flying, here are some extra steps you can take to keep yourself safe and healthy and minimize exposure to germs on the plane.
We are a participant in the Amazon Services LLC Associates Program, an affiliate advertising program designed to provide a means for us to earn fees by linking to Amazon.com and affiliated sites.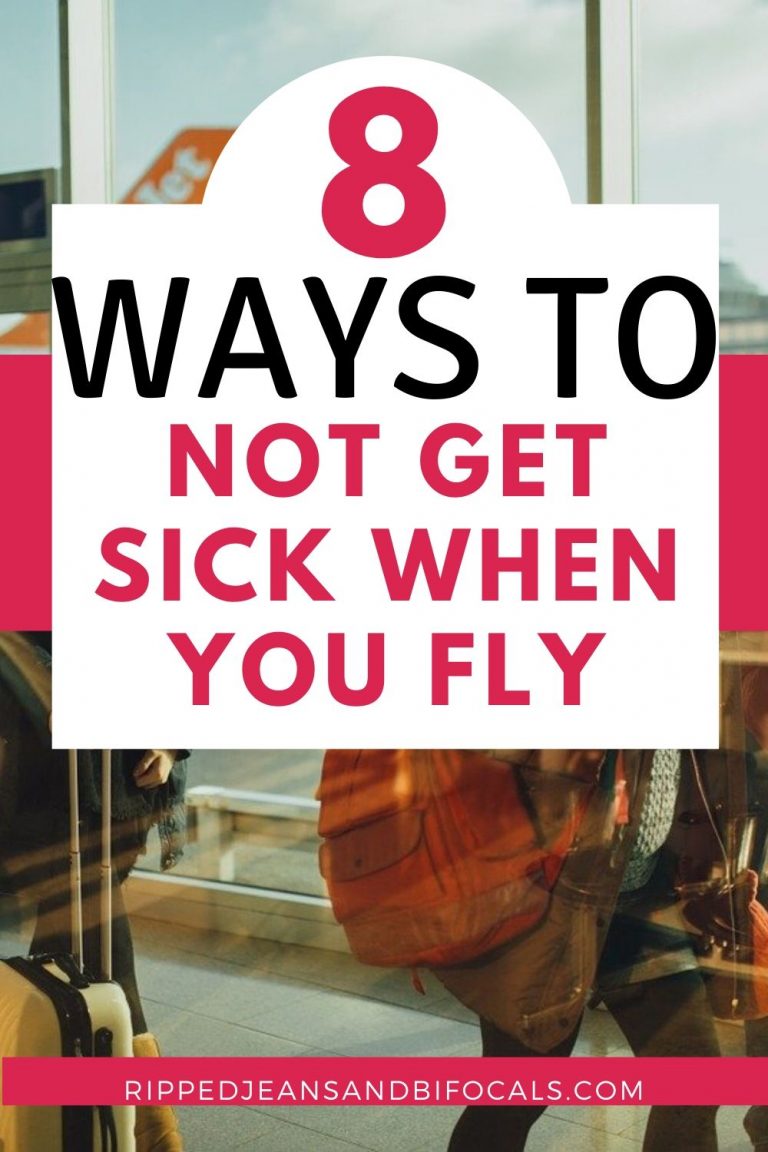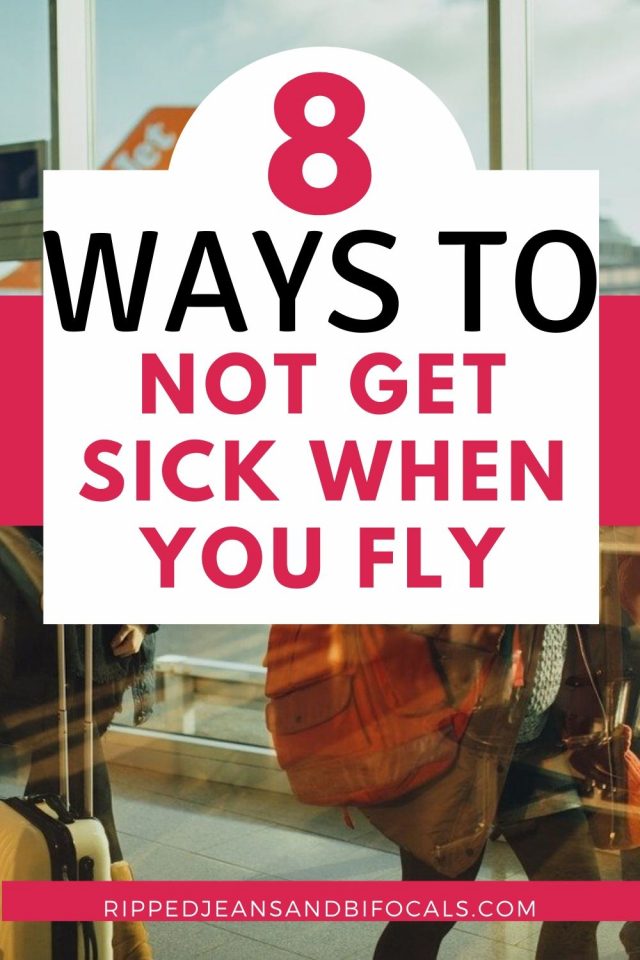 How to avoid getting sick while flying – Tips to held you stay healthy in the air
Even if you're doing your very best to stay healthy and take all the preventive measures in the world, spending time in an enclosed space, like an airplane cabin, with hundreds of strangers can challenge any immune system. While these tips on how to avoid getting sick while flying are definitely not fail safe, every little bit helps.
Hydrate
Flying dehydrates you so you'll have to work extra hard in the air to replenish that water. Also, a dehydrated body is more vulnerable to getting sick. Drinking water might seem overly simple but when you're looking for how to avoid getting sick while flying, it's important, especially for long haul flights.
I typically travel with a reusable water bottle. I fill it up after going through security, that way, I don't have to wait on the flight attendant when I'm thirsty. This collapsible bottle from Amazon is nice. It's a great space saver and it's got a D-ring so it can be hooked on to a backpack or bag.
And, alcohol and caffeine both have dehydrating effects so skip those or enjoy in moderation. I personally like my cocktail at 37,000 feet, especially when I have those Southwest drink coupons.
Fly when you're well rested
I know this is easier said than done. The night before a trip is usually the time where I lie awake and mentally go over things I might have forgotten. Also, super early wake-up times stress me out. I'll look at the clock and think stuff like "If I go to sleep in the next five minutes, I'll have a solid four hours" and then that makes me anxious and unable to sleep. Does that happen to you?
That said, a well rested body is in better condition to fight off illness and germs so make it a priority to get enough sleep the night before you travel. I've tried everything from lavender essential oils, lavender spray on my bedding, melatonin, or even a stronger over-the-counter sleep aide.
Related: Can you save seats on a Southwest Airlines flight?
Boost that immune system before you travel
In addition to making sure you've had enough rest at time of travel, consider immune boosting supplements. Some people prime their immune systems shortly before travel, others take these things as a matter of habit.
A lot of people swear by regular zinc and vitamin C. Elderberry syrup or gummies or EmergenC are also popular. A lot of people also swear by Airborne.
How to avoid getting sick while flying – Keep those hands clean
Carry hand sanitizer or sanitizing wipes and use them often. Even a non-antibacterial wipe like a baby wipe or water wipe is better than nothing. I also suggest bringing a couple of plastic bags to store your dirty wipes in until you can give them to the flight attendant to dispose of them.
Use plenty of soap and warm water when you're washing your hands and sing the ABC song – when the song is done you'll have washed your hands enough times to get rid of the germs.
The recent CORONA VIRUS outbreak has caused a shortage of hand sanitizer in stores and on amazon. Sigh. You can make your own with a few easy ingredients you probably already have on hand. Check out the recipe for DIY Hand Sanitizer here.
If you're traveling with kids, you'll need to remind them to wash their hands or wipe their hands down for them.
Wipe everything down
Tray table, armrests, seat belt buckle and entertainment touch screens. I'll be honest – I used to snicker at people who did this and call the germaphobes. But really…think about how gross some people are and how they've probably wiped their nose or scratched themselves and then touched all this stuff that's you're going to be near for the next several hours.
Think about the people who use the bathroom and don't wash their hands. I know you probably don't want to because it's kind of gross but it's true. What is the first thing that person does when they get back to their seat? They buckle their seat belt. I seriously doubt each and every seat belt gets wiped down between each flight. Bring your own antibacterial wipes in a ziplock bag and just do it.
Don't touch your face
Even if you disinfect your seat area, you're still dealing with buildup of germs on your plane, no matter how clean it looks. I know…I don't like thinking about it, either. But, no matter how vigilant you are about cleaning your hands and your surroundings, you're going to pick up stuff.
Try not to touch your face, especially your mouth or your eyes. If you do, make sure you sanitize your hands first. I was always taught that touching my face cause acne from the oils and dirt on your hands so I've kind of trained myself not to do it without washing my hands.
Related post: The five things you need in your travel bag
Love that aisle seat?
I do, too. I don't like being boxed in or having to climb over someone I don't know to get to the bathroom. Unless I'm traveling with my family, I hardly ever sit in the middle or aisle seats.
I don't have any scientific formula to tell you which seat on the plane is the dirtiest. Half the internet says the aisle seats are the dirtiest because they get touched and bumped against by more people when they're boarding and going to and from the bathrooms.
The other half of the internet says the window seats are definitely the dirtiest because the aisle seats get more attention when they planes are being clean. There's also more surface area that might not get thoroughly cleaned. My advice is to wipe things down before you settle in and try not to think about it.
Don't touch the restroom door
If you want to know how to avoid getting sick while flying, don't touch the restroom door. Take a tissue with you and use it to open the door on your way in and use a paper towel on the way out. People might look at you weird. That's OK. Some of those people didn't wash their hands after they wiped their butts and then touched that door handle. Every little step (even if it makes you look a little crazy) can help prevent illness.
Avoid the seat back pocket like the plague
This is one of the grossest places on the plane. Passengers often use this space to stow trash – anything from the plastic wrap around their pillow or used tissue or other things I don't want to think about.
I used to stow my glasses and my Kindle in the pocket until a flight attendant told me this is one of the dirtiest places on the plane. Ew, right?
Don't forget to take care of yourself post-flight
If you pick up something in flight, it might take a few days for symptoms to show up. Keep eating well, trying to get as much sleep as you can, and drinking your water. Continue with your immune boosters and vitamins until you're home. Sometimes, just being healthy and taking care of your basic health can help ward off illness that wants to take hold.