Southwest Airlines is by far my favorite way to fly. They offer the best value, they have outstanding service and 90 percent of the time, they fly where I need to go. One of things that makes Southwest Airlines a little different than other air lines is that they don't have assigned seating. It's a system that works for them and works for the passengers but learning to understand their seating policy before you fly will make the difference between a great experience and a frustrating one. But there's one question that comes up often but there's not really an answer to it: Can you save seats on Southwest Airlines flights?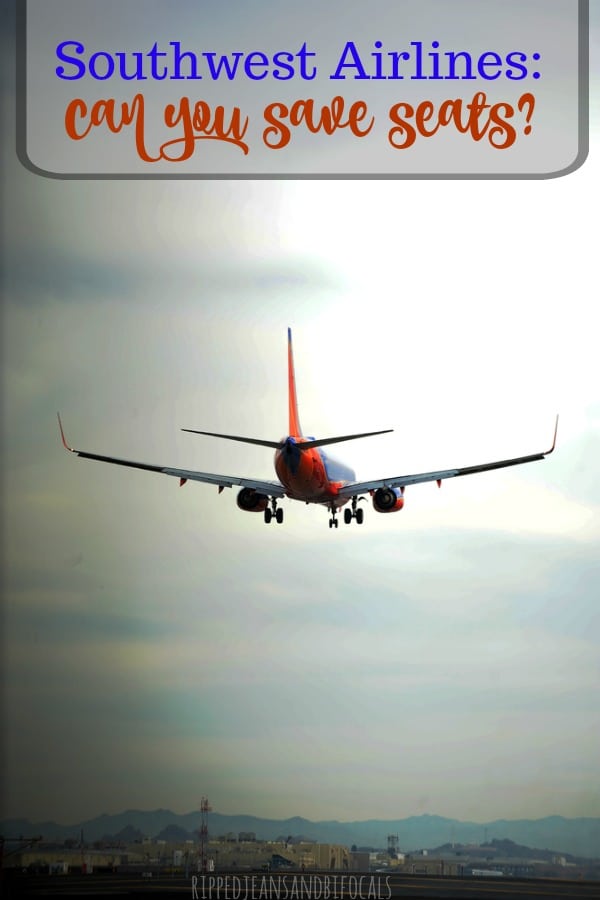 Can you save seats on Southwest Airlines flights?
The short answer
The short answer is, Southwest doesn't have a policy against saving seats on their flights so you can technically save seats on Southwest Airlines flights and not get ejected from the plane. I've never seen seat saving on Southwest flights become problematic but if you read the passenger forums on Southwest Airlines, there have been plenty of travelers who've expressed their displeasure on the subject and shared their "seat saving horror stories." The actual responses from Southwest are polite, courteous, and sympathetic, but they hold to the policy of not having a policy and say they don't disallow it unless it disrupts the boarding process, which I've never personally seen happen.
Read more: Want to better understand Southwest Airlines change policy?
Why is this even an issue?
Since Southwest doesn't assign seats in advance, your boarding position becomes all-important. Southwest's flights have three boarding groups: A, B, and C. If you're in the early A group, you're on the plan first and you have your pick of seats. If you're in the late C group, well…I hope you like that middle seat between two strangers…or new friends, however you choose to look at it.
Getting in the early boarding groups can happen several ways, to include paying for the highest fare category (Business Select) to being Johnny on the Spot at the 24-hour mark and being among the first to check in (and I do mean 24 hours on the nose, not 22 or even 23 and a half). You can also board between the A and B groups if you are flying with kids under four, which gives families a decent shot at being seated together.
So…what's up with savings seats?
To board early and get your pick of available seats usually involves paying more money. You can buy the Business Select fare (which gives you more Southwest Rapid Rewards points and a drink coupon in addition to priority boarding) or you can pay to upgrade your boarding position at the gate. However you slice it, you're paying for the convenience of being able to get on the plane first and choose the seat you want. If you are traveling with your family or a group, you're obviously paying more.
But, what if just one person paid for the Business Select fare or the upgraded boarding position? By boarding early, that designated person could save seats for the entire family, who just might be back in the C boarding group. That saves money and it assure you that your back of the line travel buddies can sit where they want to sit instead of scavenging for those middle seats and splitting the group up.
If you're the person who has paid for the upgraded boarding, it's understandably frustrating to be told you can't sit in an empty seat because someone is saving it. I haven't had that happen to me, not exactly, but I did have a woman on a recent flight ask if someone was sitting in the two seats next to me (I was in the aisle seat and my husband and two kids were in the row in front of me.) I smiled and said no, thinking the lady was going to sit there.
Instead, she tossed two blankets in the seat and moved on to the back of the plane. Her elderly parents came at the end of the C boarding group and claimed those seats in the front of the plane. I got the stink eye from several passengers who wanted the seats that it appeared I was saving. It was annoying and put me in the position of explaining to the dozen or so people who asked about those seats that some random woman had thrown blankets there and that I knew nothing. It didn't ruin my flight or my day but they were two seats together in the front of the plan that someone in A boarding group would have appreciated.
Southwest's Policy
As I mentioned, Southwest's policy is that they don't have a policy. I'm not sure what the flight attendant would have done if I'd have tossed those blankets to the side and allowed someone to sit next to me. I'm not sure what a flight attendant would do if a passenger insisted on sitting in a seat that was purported to be "reserved."
Their standard boarding announcement is "If you see a seat that matches your seat, that's your seat." As a passenger who who typically pays for upgraded boarding position, I'd probably not be thrilled with being told I couldn't sit at the front of the plane where there's plenty of overhead bin space when I'd paid the extra fee to travel how I want to travel. I don't know if I'd endure the kerfluffle and sitting next to someone who'd give me the stink face the entire flight. Maybe.
Takeaways – Is it OK to save seats on a Southwest Airlines flight?
I think people who save seats on Southwest flights are sort of douchey and gaming the system to get something they didn't pay for. While I love a good freebie, taking something from someone who paid for it…well, that kind of sounds like stealing, doesn't it? It hasn't yet personally caused me any heartburn but I think Southwest needs to pick a side on this one. It would be easy enough for them to draw the line in the sand and look the other way if seat saving if it truly weren't causing issues with boarding or customer dissatisfaction. I'd like to know the crew had my back if I challenged a seat saver.
I love Southwest and I'll continue to love them. When other airlines are charging for every little thing, Southwest continues to offer some of the best prices, free checked baggage, and the best on-time on U.S. domestic flights.