15 Fun and Unique Charcuterie Boards To Gift
(This post may contain affiliate links. Read my full disclosure.)
Whether you're looking to elevate your wine and cheese pairings or put together a no-cook meal on a busy weeknight, charcuterie boards are the new in thing. Check out these 15 Fun and Unique Charcuterie Boards that are fun to gift or to buy for yourself.
15 Fun and Unique Charcuterie Boards to Gift
I love it when the new in thing is easy and effortless. While some might say crafting a charcuterie board is more than just throwing some grapes and a couple of varieties of cheese on a plate, I say it is just that easy. Check out these fun charcuterie boards that pull it all together.
I don't think anyone would be mad about getting one of these fun charcuterie boards as a gift.
How to shop my picks for Charcuterie Boards
We are a participant in the Amazon Services LLC Associates Program, an affiliate advertising program designed to provide a means for us to earn fees by linking to Amazon and affiliated sites. This post may also contain affiliate links to other websites. If you make a purchase, the seller pays us a small commission.
Click any of the highlighted links or images to shop. Enjoy!
Looking for more gift guides? Check out these:
1. Compact Swivel Cheese Board – Uncommon Goods
Taking its cues from a wheel of cheese, this unique design starts as a wedge, and transforms to a tiered server for your favorite cheeses and appetizers. Buy here.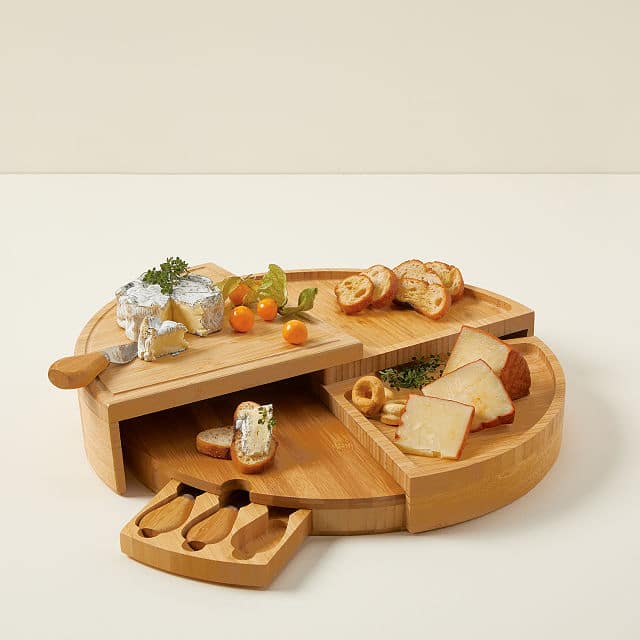 2. City Skyline Slate Cheese Board – Uncommon Goods
This City Skyline Slate Cheese Board let you pay tribute to the place you love most with a serving board that toasts its unique skyline. Decorated with hand-drawn views of New York, Boston, and five other cities, these elegant slabs of slate make it easy to serve up a side of hometown pride with your favorite cheese-and-fruit combos.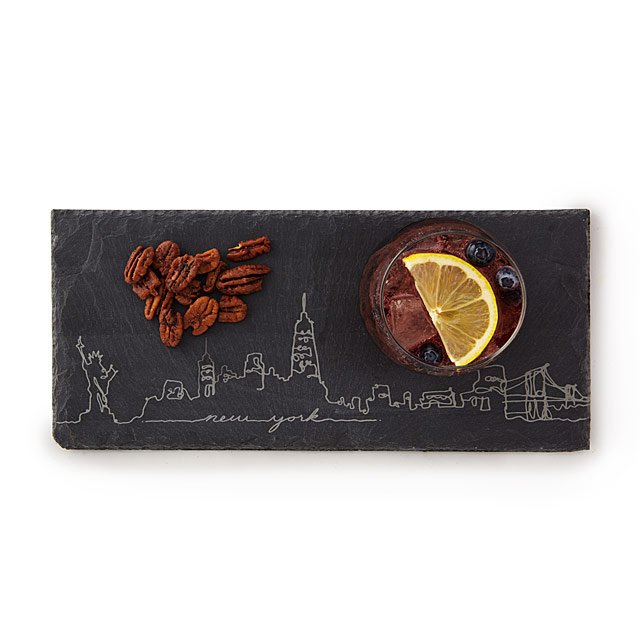 And here's an insider gifting tip: They make great tokens for friends who've newly moved—or for old pals who can't get enough of their city. Handmade in Vermont.
3. Personalized Wine and Cheese Carousel – Uncommon Goods
I like Uncommon Goods, which you're probably picking up on, huh? Whatever your favorite varieties of wine and cheese, they all pair well with this handmade cherry wood server. This clever creation combines the best of a cheese board, wine bar, and lazy Susan in one design.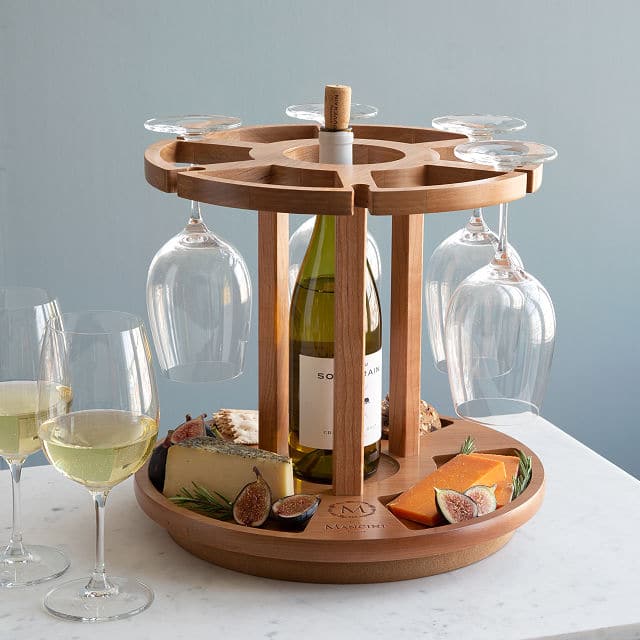 4. Premium Cheese Board – Amazon
This premium cheese board is made from sustainably grown and 100% natural bamboo. This cheese board will add a touch of elegance to every party or family gathering. The slide out Tray has 4 knives, that are made of high quality stainless steel with bamboo handles that are easy to grip. In addition the wooden board sets comes with 2 ceramic bowls, 2 plates, 3 Slat Labels, 2 markers and a wine opener. Everything you need.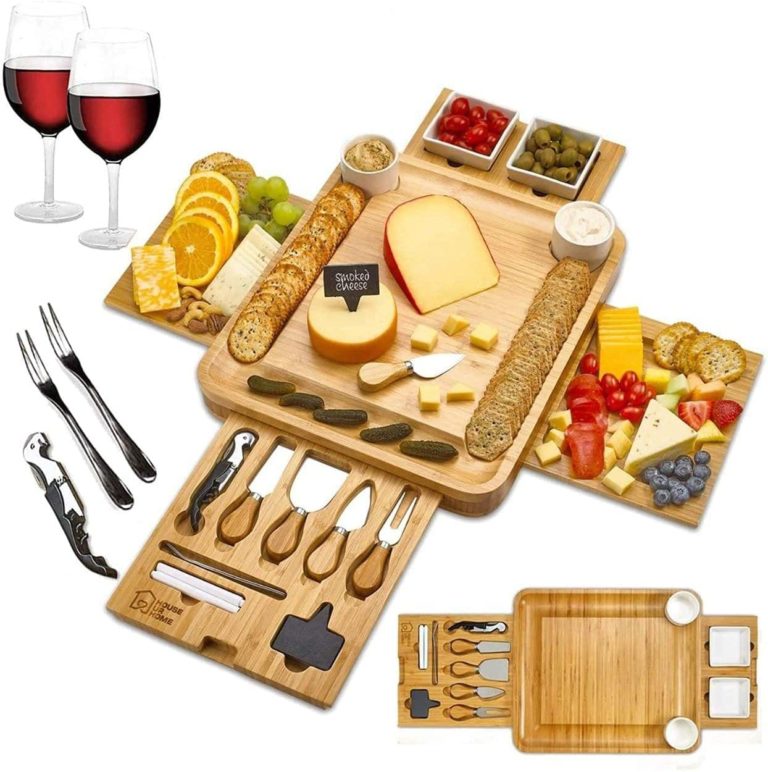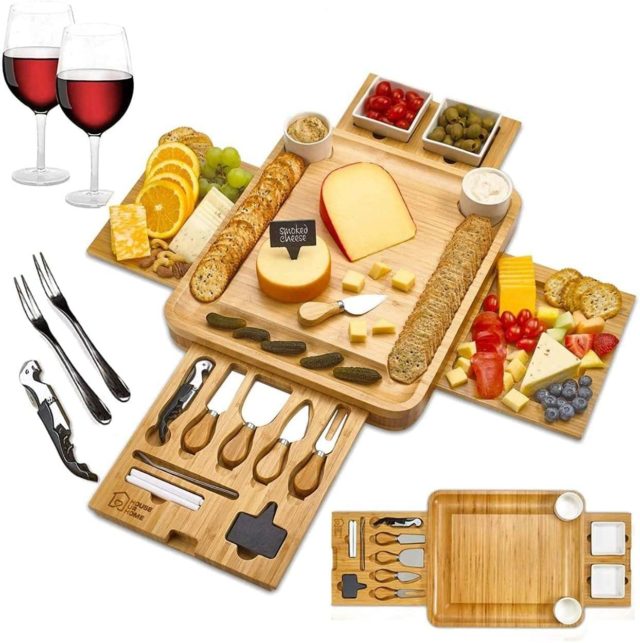 5. How to Charcute Board – Etsy
I love this quirky how-to charcuterie board. If you are stuck on how to put it all together, this is your board for sure. It easily maps out all of the necessary fancy finds needed to impress your guests. Where do the nuts go? What kind of cheese? All of these questions and more will be answered and more with this easy to follow board.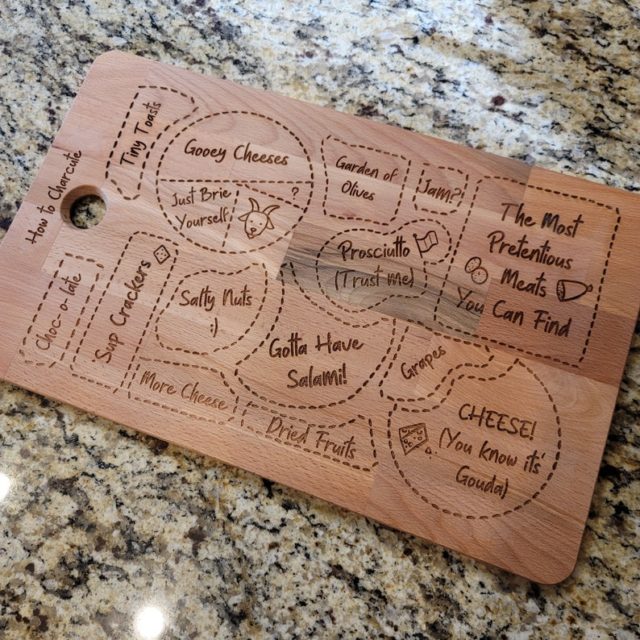 6. Personalized Charcuterie Plank – Etsy
If you want to serve your guests with style and panache, put your name on it. This personalized charcuterie board has compartments that make this board extra easy to assemble.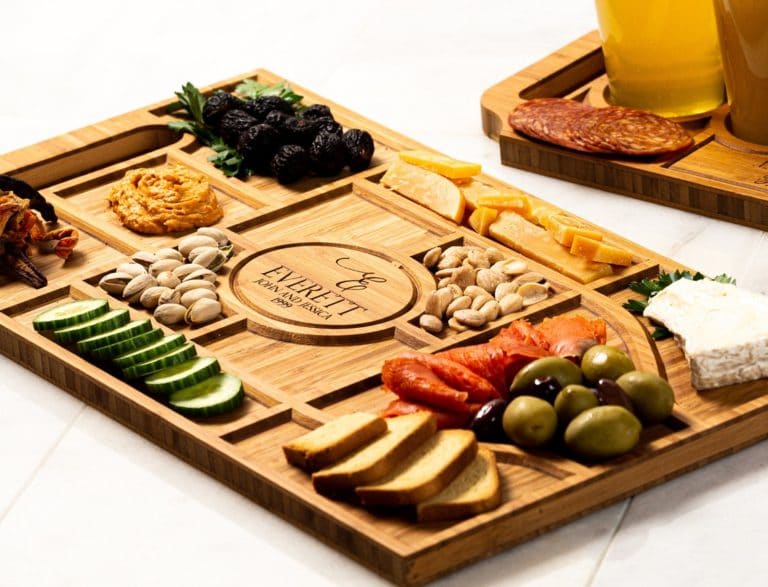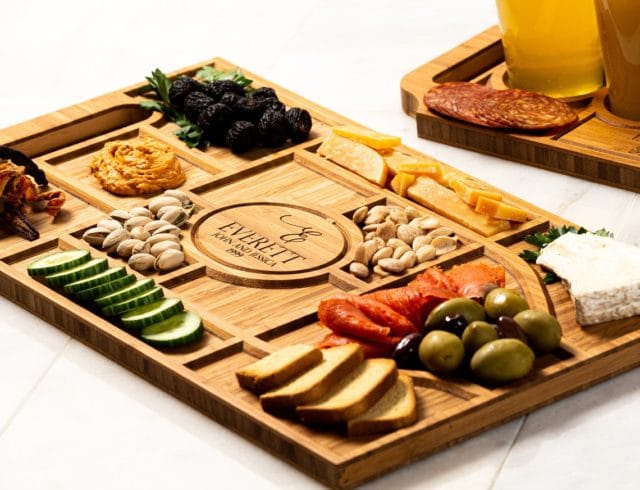 7. Chill and Serve Outdoor Cheese Board – Uncommon Goods
As a Texas gal, this chill and serve cheese board is near and dear to my heart. The slate disc keeps cheese and fruit chill so they remain at an optimal temperature, and the removable mesh dome serves as bug bouncer.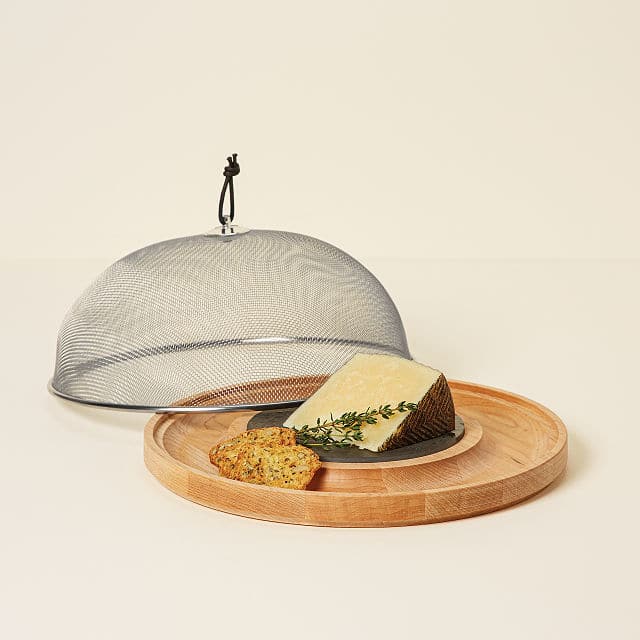 8. Snackgammon Cheese & Chess Board – Uncommon Goods
Is it a game board or a cheese board? You decide. This double-sided serving piece (with 64 squares on the front and 24 triangles on the back) transforms your crudité, cheese, and other snacks into chess and backgammon pieces.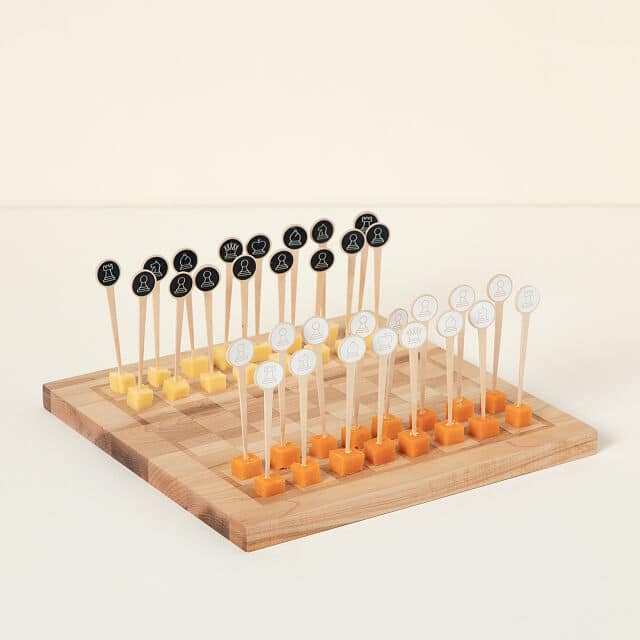 9. Ocean Inspired Charcuterie Board – Etsy
This one of a kind board will give a unique touch to your dinner gatherings. This is elegant and upscale without being stuffy or overly formal. The resin used is FDA approved for direct food contact.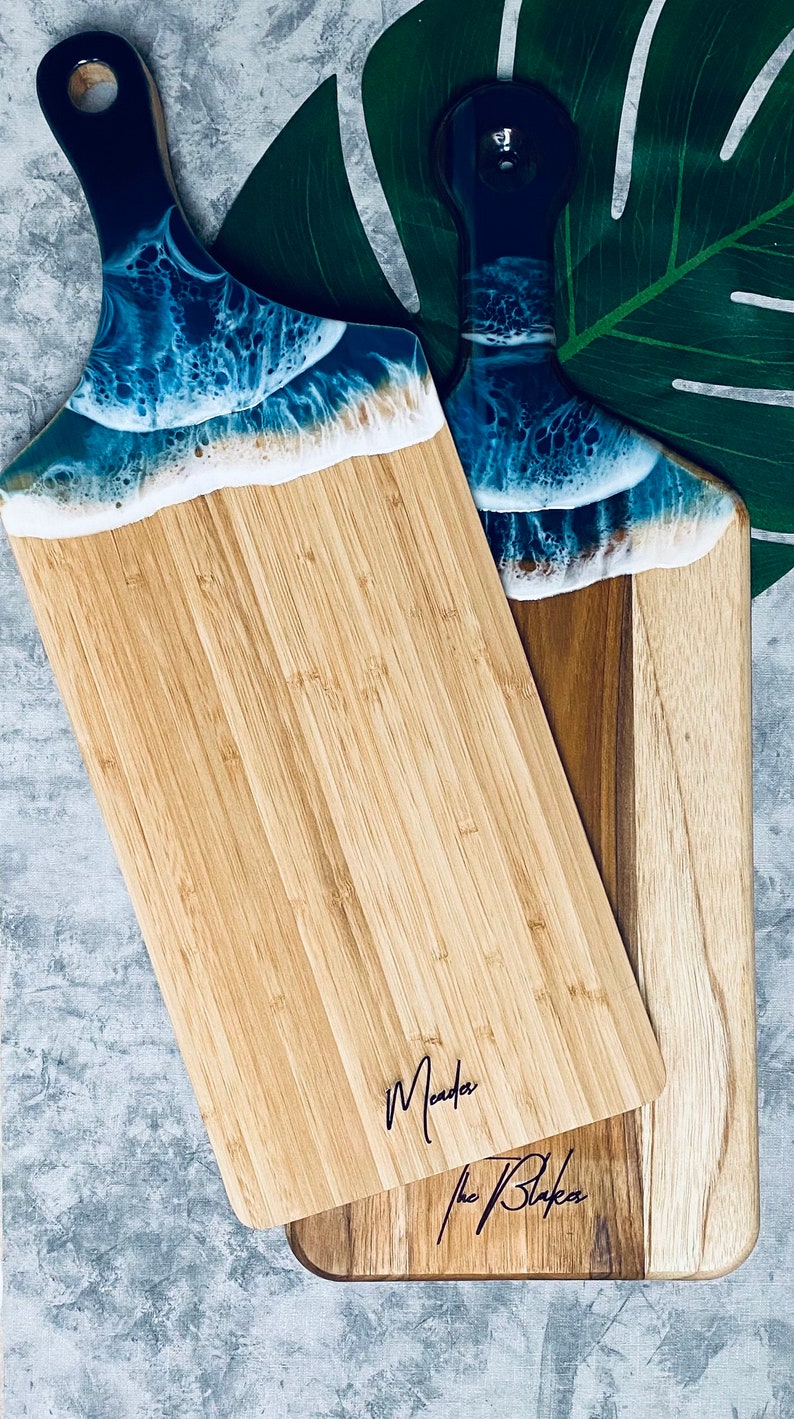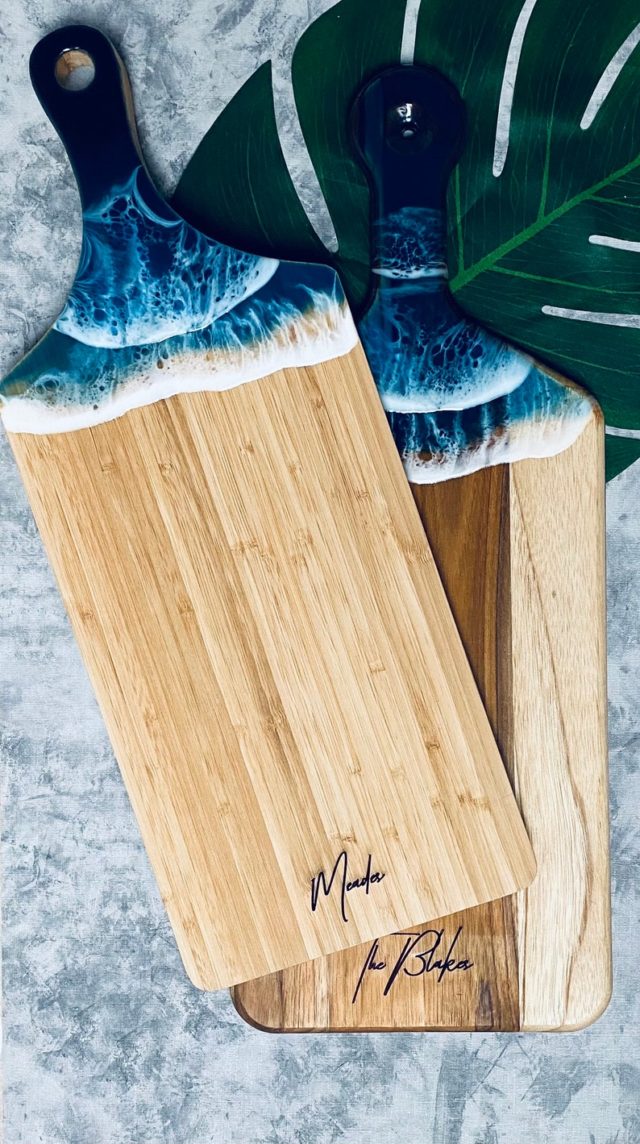 10. Recycled Wine Bottle Platter – Uncommon Goods
This platter is probably the most unique way I've ever seen a wine bottle upcycled. These one-of-a-kind glass platters are kiln-formed from recycled bottles gathered from the roadside and national forests in Wyoming. These gorgeous, glossy trays make the perfect cheese platter to accompany your bottle of wine.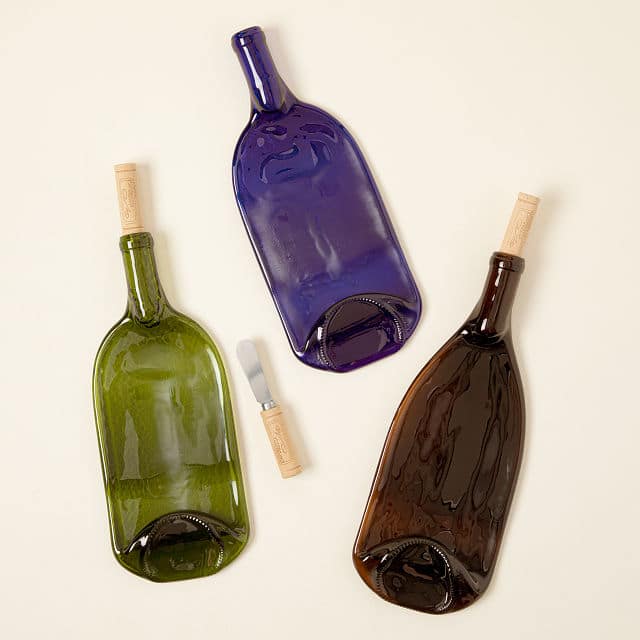 11. Cheesy Love Songs Board – Amazon
Who doesn't like a little mix tape action? This cheesy love songs board looks like a mixed tape and provides the perfect conversation starter for reminiscing about those old-school days.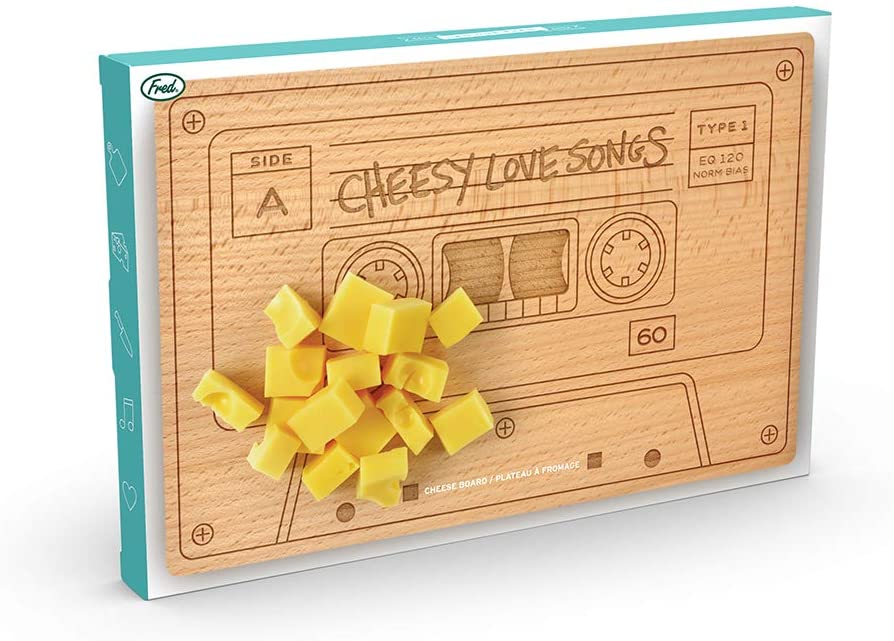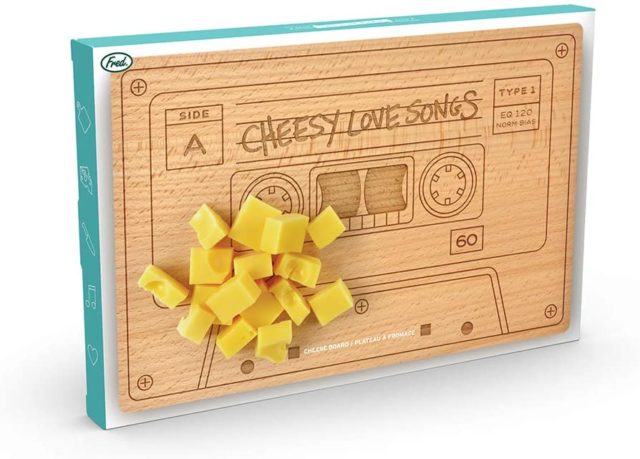 What's your favorite cheesy love song?
12. Shark Coochie – It has to be said
Charcuterie has become just a little bit more fun since someone on social media referred to it as "Shark Coochie." God bless you, ma'am, whoever you are. Here are a few of my top pics for shark coochie charcuterie boards.
Shark-Cuterie Board with Spoon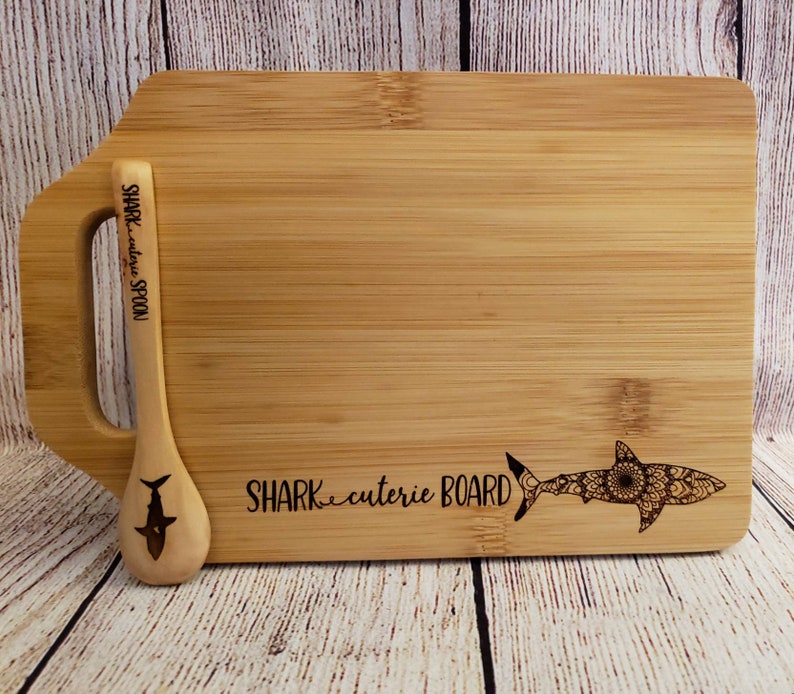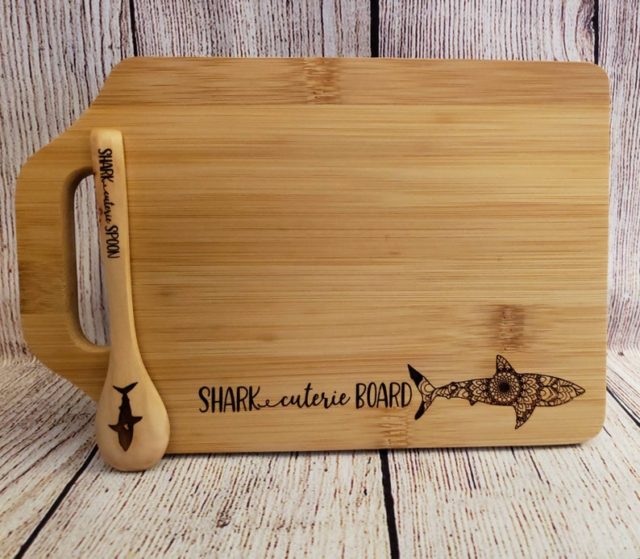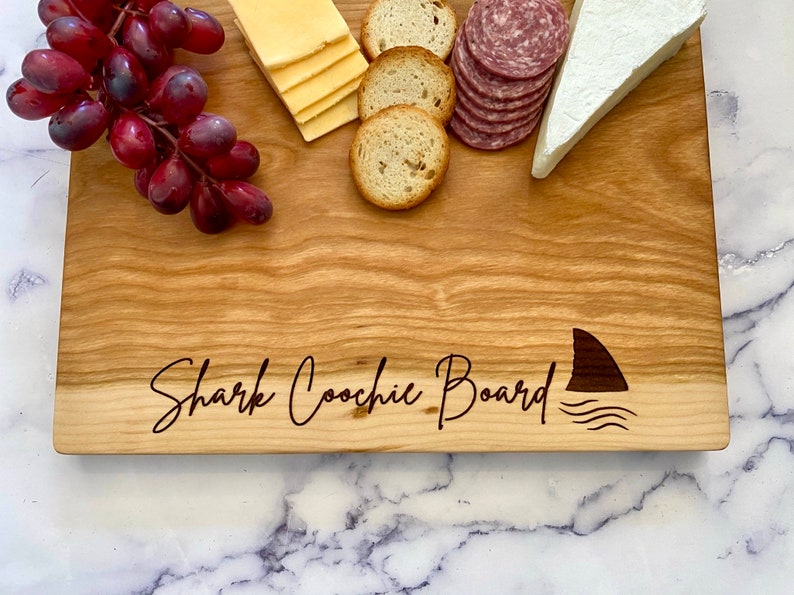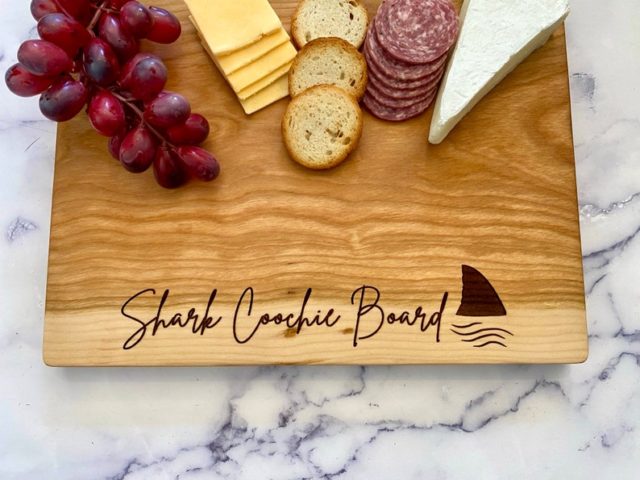 Surfboard Shaped Shark Coochie Board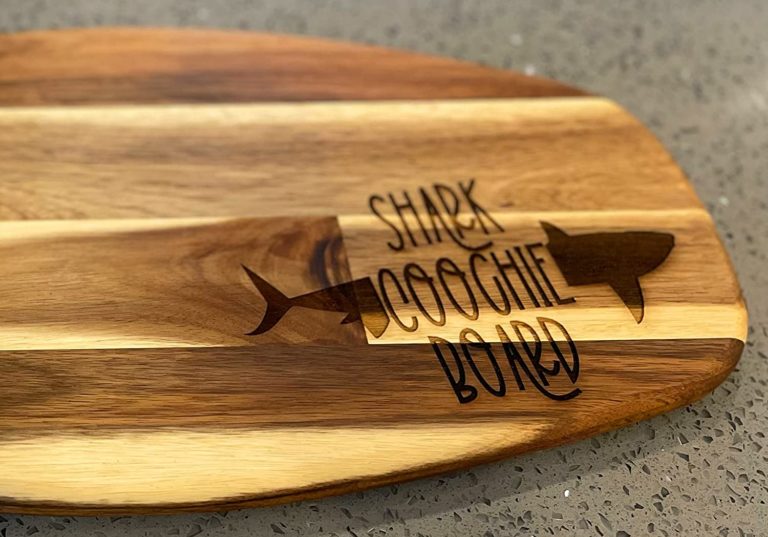 Name Personalized Shark Coochie Board